We all look out for great products and favorable prices when shopping for ourselves or buying goods for resale. Which is why you, like many other shoppers and entrepreneurs, may find yourself looking to shop in advanced manufacturing hubs like China.
However, while China presents countless shopping advantages, not enough is said about how to buy from China. What processes should you anticipate? Are there rules that importers should follow? How do you find suppliers or start shopping for products?
The truth is, with the right information, buying from China is a relatively easy process. So, in this guide, we take you through every step of the buying journey and offer insights on how you navigate it with ease.
Shall we begin?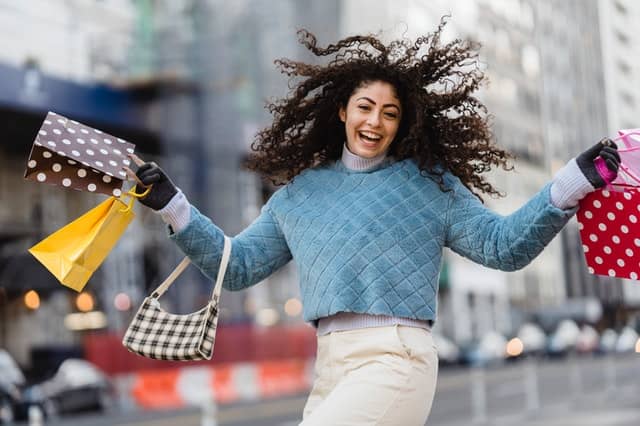 Identify the Products
The first step is to get a clear idea of what it is you would like to buy from China. This will help you figure out:
Whether the product is available in the Chinese market
The design or brand options of the product that are available
The estimated price range
Where or which suppliers you may be able to buy the products from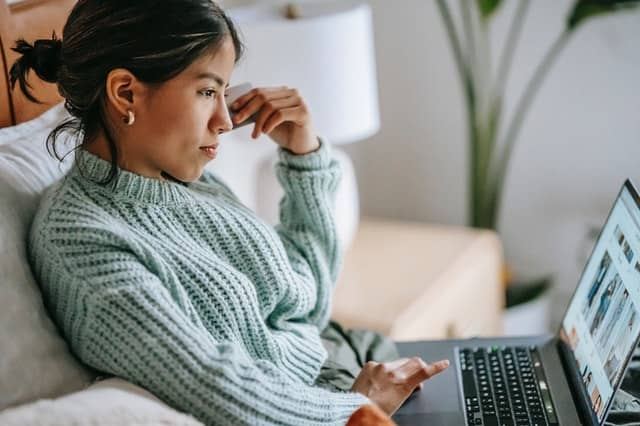 This window shopping process can easily be done online. If you have a particular product in mind, consider running a Google search or looking up the product on prominent Chinese online marketplaces like AliExpress or Alibaba.
Alternatively, if you are an entrepreneur looking for popular products that could earn you good profit margins, look out for products listed as 'trending products' in Chinese online marketplaces. It may not exhaust all the top product options but it may give you great ideas.
After scrolling through the wide variety of options from marketplaces and individual supplier websites, make a definitive shopping list. For example, if you would like to buy baby clothes, decide on:
The size of baby clothes you need
The quantities you would like to buy; will you be making a retail or wholesale purchase?
The type of fabrics you prefer
Other preferences like whether you would like them decorated with personal messages
Choose How to Buy
There are different approaches you can take when buying goods from China. It all depends on your time, budget, availability, among other factors. These methods include:
Online Shopping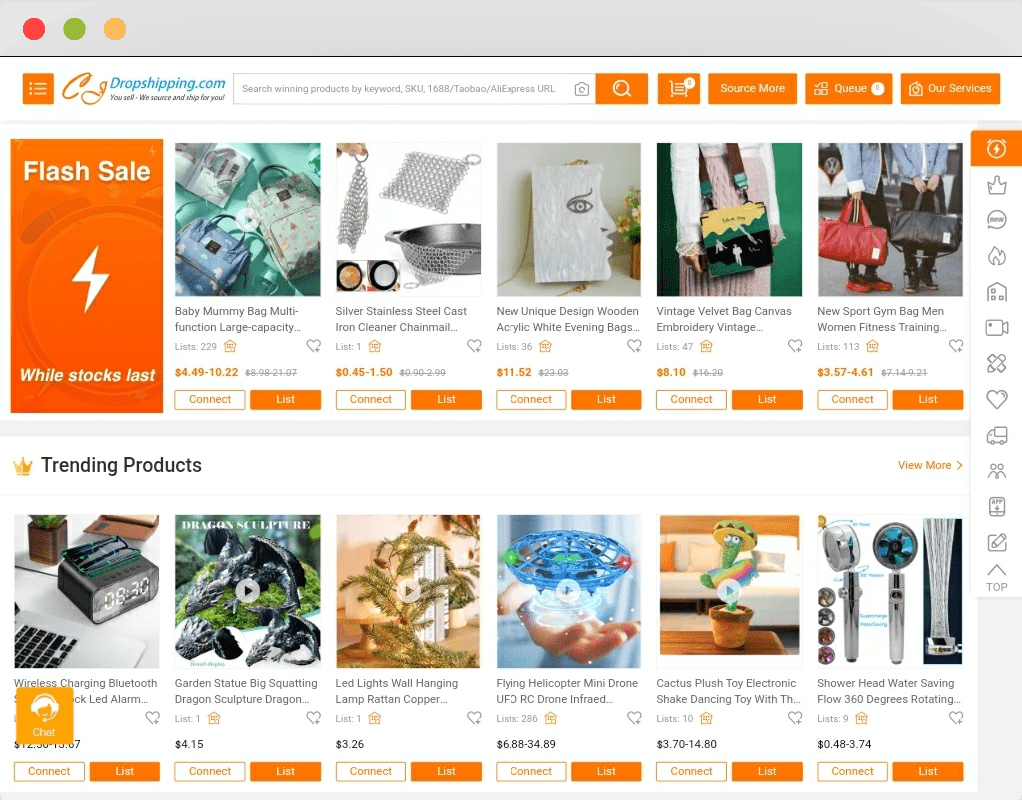 Online shopping allows you to find, select, and pay for products via online platforms. The most common and reliable way to do this is by shopping on trusted sites like CJ Dropshipping, Alibaba, AliExpress, Taobao, or 1688.
Each of these platforms offers a broad selection of products at affordable prices. Plus, if you carefully follow the customer protection guidelines provided on each platform, you will have more assurance of your purchase going smoothly.
However, keep in mind that some of these sites are wholesale-inclined while others are recommended for retail (buying one or a few units of a product). Make sure that you choose the right one based on how much you would like to buy.
Additionally, there is no harm in comparing suppliers from different platforms. You could also consider buying from individual suppliers with their own online platforms but make sure that they provide some sort of trade assurance to secure your purchase.
In-person Shopping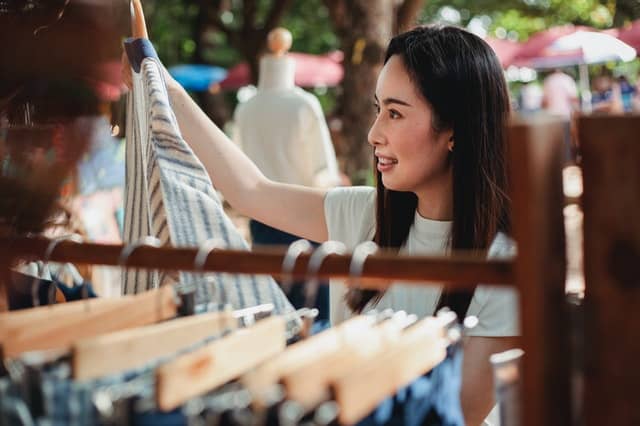 Visiting China to shop would be ideal if you would like to experience the full splendor of factories and wholesale markets in the country. It is equally recommendable if you plan to buy wholesale and prefer to evaluate and ascertain product quality in person.
Admittedly, it would cost more and take up more of your time than online shopping. However, if you do your research and planning well enough, your visit will be worth it.
Speaking of planning, make an effort to:
Find out which areas are more suitable to visit based on the products you would like to buy.
Ask your potential suppliers about when they take client meetings or factory visits(this applies if you identify potential suppliers prior to your visit).
Plan for your accommodation and figure out how you will get around once you arrive in China
Consider hiring trustworthy a local guide to help you get around and help you communicate with traders that may not speak English
Remember to set apart adequate time and resources so that you can visit different suppliers or markets and compare options.
Visiting Trade Fairs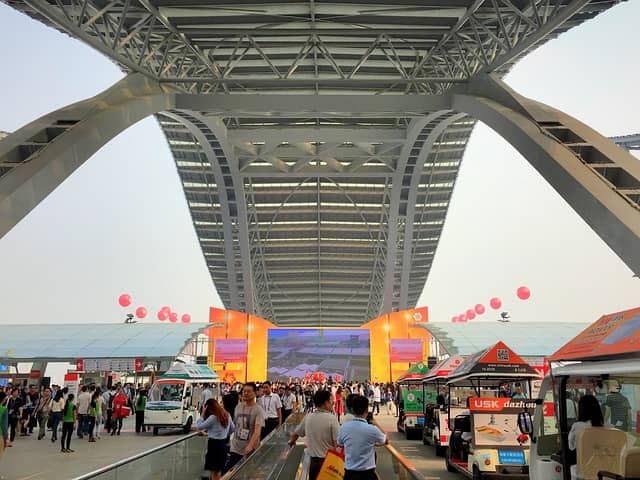 Every year different sectors hold trade fairs in China to promote their products. Some of the exhibitions are dedicated to specific industries like fashion, furniture, or electronics while some, like the Canton Fair, cover different industries in one fair.
You can visit any of these trade fairs and see what different suppliers have to offer and even make purchases. The prices are often quite reasonable and most suppliers tend to be open to negotiating terms.
Other upsides of China trade fairs include:
Other industry stakeholders like affordable shipping companies attend such fairs and offer free consults
Some fairs include training sessions for various aspects of import-export trade
This approach makes in-person shopping easy most of the suppliers you may be looking for would all be gathered at one venue
Using a Sourcing Agent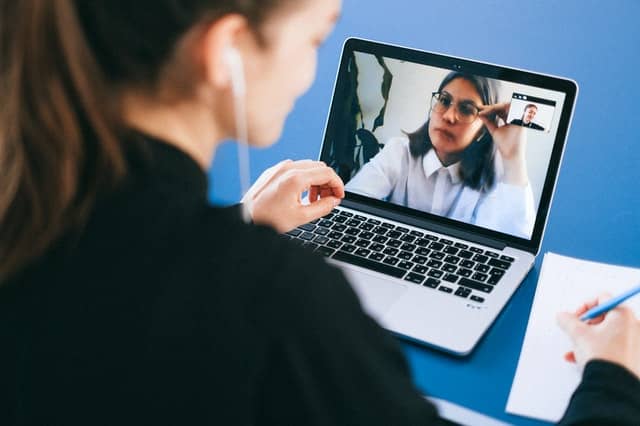 A sourcing agent is a professional that understands the local product market in China and works to help you find the products that you need.
They are an ideal solution if:
You would like to avoid the tedious process of finding suppliers and vetting suppliers from an endless list of options.
Would like to save time; they do all the hard work of sourcing products and just present to you a curated list of options
Would not like to roll the dice by sourcing products on your own. Especially if you can not travel to China to inspect product quality.
Have no idea how to get around and find suppliers in China or even overcome the language barrier if you do not speak Mandarin
Are having a hard time finding the kind of product you want on your own
If this sounds like a suitable approach for you, the first step would be to choose a reliable sourcing agent. Ensure that they are formally registered and have positive reviews from other customers.
Consult with them too to find out if they are capable of finding the products you would like to buy and the scope of their services in general.
If their responses align with your requirements, you can share a brief detailing:
The exact type or model of the product(s) you are looking for
Your budget
How many units you would like to buy
Your timelines; how soon would want the products delivered
The sourcing agent should then be able to find suitable suppliers and obtain price quotes for what you need.
Choosing a Supplier
So far we have established how to find products and the different ways you can find suppliers to buy from. This brings us to the next step where you now need to choose one supplier or seller from your shortlist of options.
There is no one way to choose the perfect supplier. Nonetheless, as you make your decision, aim for suppliers with qualities such as:
Favorable Prices and MOQs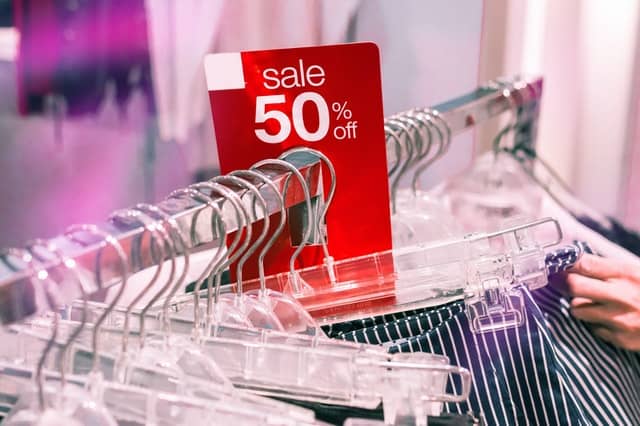 Your preferred supplier's prices should match your budget whether you are buying one or many units. Their MOQs should also be favorable enough to allow you to buy as much or as little as you need to.
High Quality Standards
Shopping in person or with the help of a sourcing agent makes it easy to evaluate product quality.
However, if you will be shopping online, it is wise to ask for detailed pictures, videos, and product documentation to ascertain the quality of the products you will be buying.
In the same breath, if you are buying customized products or even just making a bulk order, it is best to ask for samples. This will give you a chance to see whether the quality standards meet your expectations before you commit.
Reliability and Adequate Supply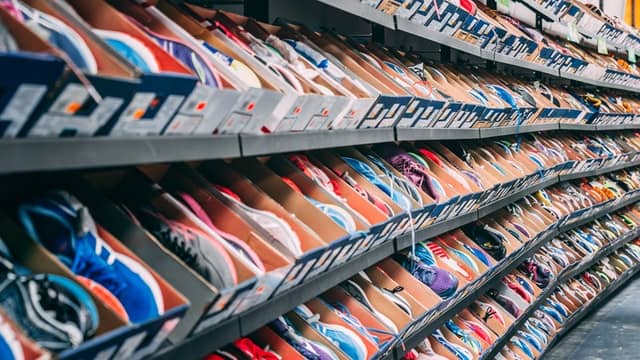 Barring any customs delays or extraordinary events like a global pandemic, a good supplier should be able to ship your order on schedule. If you plan to order regularly, they should equally be able to assure you of consistent supply.
You can gauge this by first placing a small order or requesting samples to see how well the supplier handles the process.
Look out for ratings and reviews from other customers too as they often shed some light on a supplier's performance.
Payment Terms
What modes of payment does the supplier accept? Are they convenient for you? Will they provide official invoices and receipts for record-keeping? More importantly, are there any trade assurances or money-back guarantees to cushion you if the supplier does not deliver?
Seek as much clarity as you can on these issues to avoid complications later on.
If you will be shopping on online marketplaces, only pay through the payment methods stipulated in the terms and conditions of the platform. Consider it a red flag if a supplier begins to seek alternative methods of payment that are not officially listed.
Verifiable Business Registration Certificates and Product Reports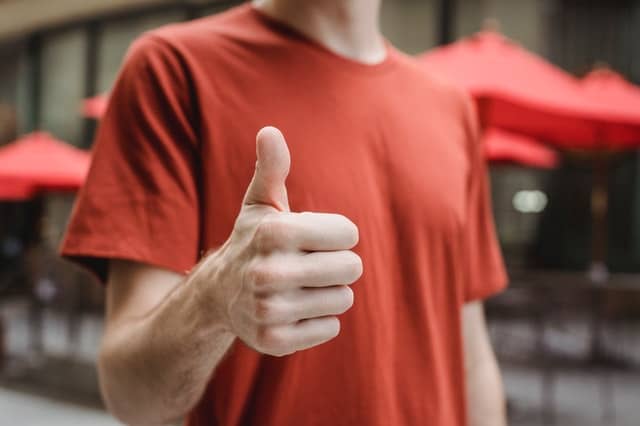 Business registration certificates are documents that indicate that a company is qualified to trade. Product reports are proof of whether a product meets the recommended industry standards in terms of:
The methods of production, the design
The materials
Recommended safety standards.
It is important to check out these documents especially if you are sourcing products for resale. This is because most countries have import regulations about the quality of products that are allowed into their markets.
Subsequently, if your supplier is not willing to share the requisite documents or has none, it may be best to consider other options. If they are a manufacturer, it shows that they may not have had the products tested, and if they are a trader, they likely source products from dubious sources.
Complimentary Services
Complementary services refer to provisions like:
If you are an entrepreneur and reckon that you will require such services, it would be wise to opt for a supplier that can provide them.
Consult With Your Supplier
Once you have identified a supplier, it is best to consult with them and understand what they can offer. It is also a prime opportunity for you to discuss and get clarity on specific details such as:
Product Options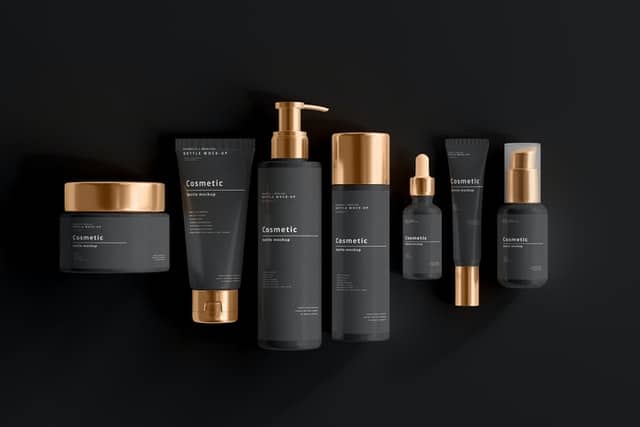 Would you like specific colors, dimensions, or design adjustments made to the products you want to buy?
Ask your supplier about their customization services and whether they can execute the ideas you have in mind.
Additionally, consider that most suppliers do not always share all their products on displays or online. So, ask them to share their product catalog; you may find some great product options.
Shipping Options
On online platforms, sellers usually have preferred methods of shipping products such as ePacket shipping. Other couriers like Yanwen and YunExpress are also increasingly becoming popular.
Still, discuss the shipping methods that your chosen supplier offers and see whether you would be amicable to them. Remember that aside from safety and reliability, their choice of courier will impact the costs you incur.
Pricing
For retail orders, the price of each item is often set and indicated either online or wherever the item is displayed.
In contrast, for wholesale orders, the price is usually determined by the size of your order and details such as whether you would require customization. Most times you may even be able to negotiate wholesale prices.
Further, you may notice that some suppliers quote their prices as 'FOB price'. This is usually a full price that may include costs like packing and labels, delivering your items to the shipping courier, and all other costs in between.
Ensure that the quote you receive from your supplier or sourcing agent includes such costs so that you can get a true picture of how much you will incur.
Lead Times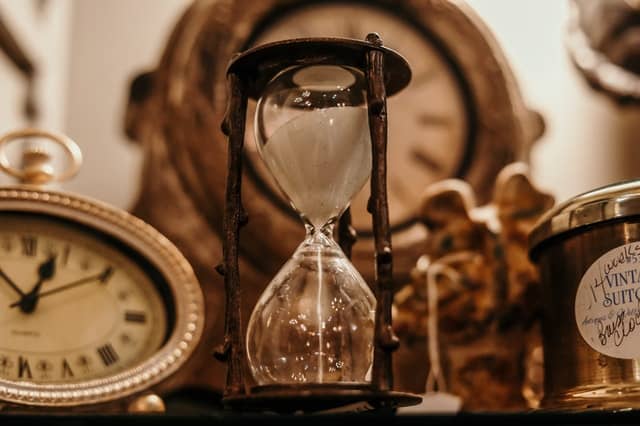 Find out from your supplier how long it will take them to process your order and ship it to you. This will enable you to hold them accountable and also know when to expect delivery.
Placing Your Order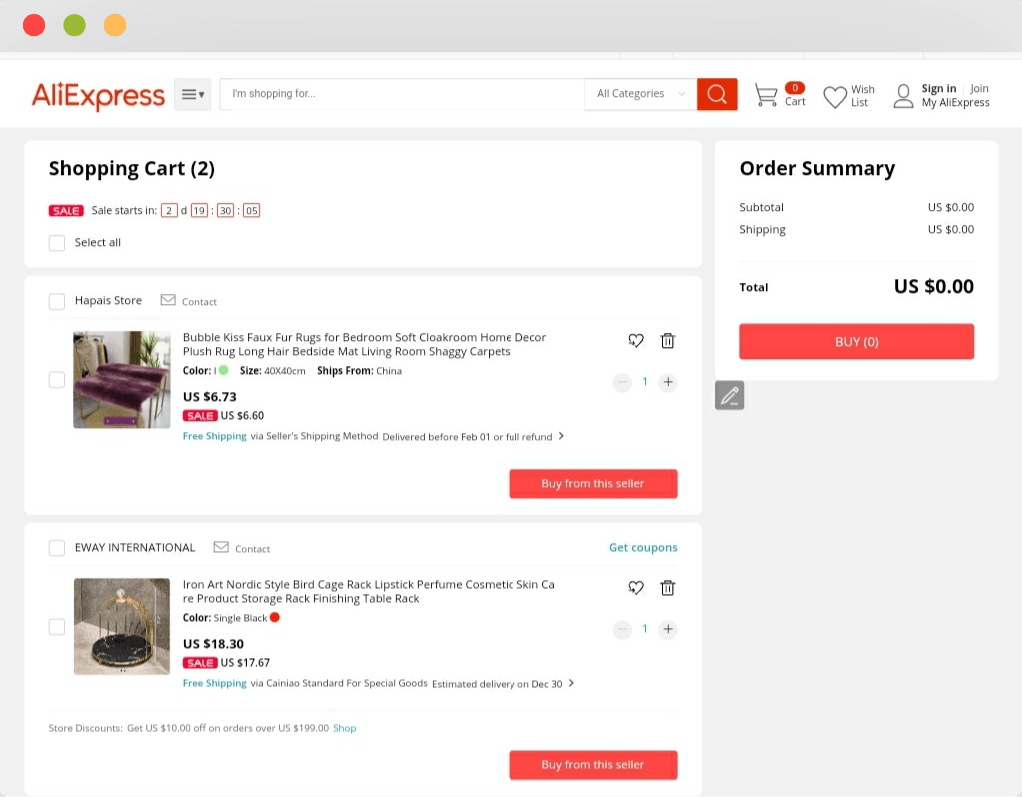 When it comes to retail online purchases, placing an order works as follows:
Create an account
Identify the products you want
Select 'buy' or 'add to cart'
Go through your order to confirm you have the right list of items
Provide a shipping address
Enter your payment details
Online wholesale orders work similarly, the only difference is that you may have to sign a purchase contract before placing your order.
The supplier may also have to approve your order before you can proceed to payment. This ensures that they only accept orders that they have enough stock or production capacity to fulfill. Once your order is confirmed, you can then proceed to shipping details and payment.
If you are fortunate enough to work with a sourcing agent, the order process is simple.
Clearly outline what products you would like to order and their respective quantities
Share it with your sourcing agent
The sourcing agent places the order and shares the invoice with you
Confirm the order details
Provide shipping information and pay
Shipping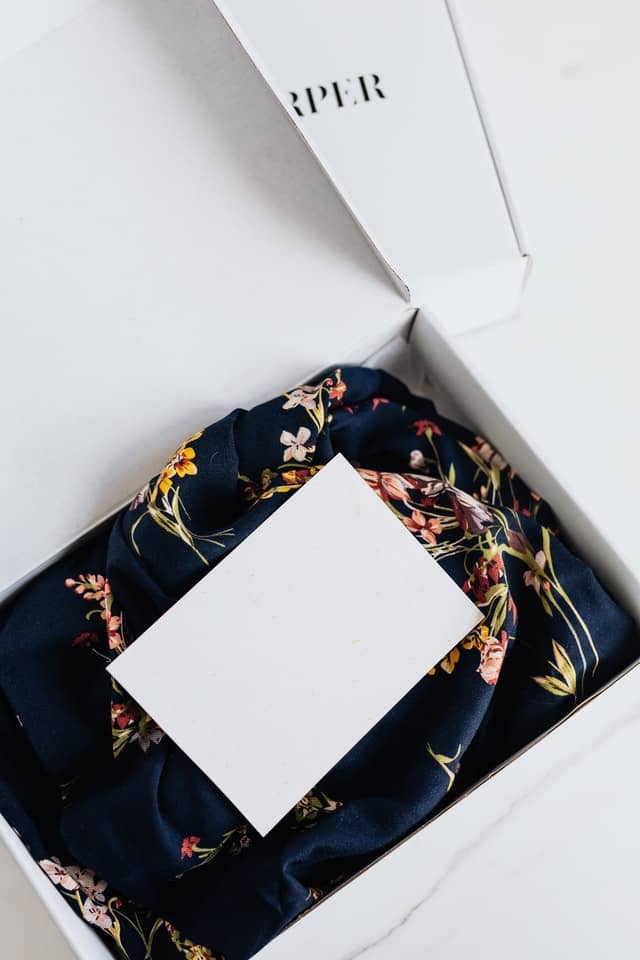 Sellers on Chinese online marketplaces generally handle shipping unless otherwise stated. In some cases, you may even be fortunate enough to receive a gift of free shipping.
On the flip side, if you are shopping in person or through a sourcing agent, you will need to decide whether to ship via:
Rail- the railway network in China is outstanding and connects the country to Europe. It would take 20 days or less to receive your order in most European cities if it is sent over via this modern-day Silk road.
Sea- shipping via water is recommended for bulk orders, orders that are not urgent, or if you need an affordable option for international delivery. It is effective but requires long wait times.
Air- air freight is ideal for relatively small or light packages. It is fast and reliable despite being a bit expensive. Consider that there are also some products that you can not ship by air.
Door-to-door shipping- this is not a medium of transport, it is a service. Either your sourcing agent or your chosen courier collects your orders from the supplier's premises and handles the entire shipping process right to your doorstep.
Whichever method you choose, ensure that the courier is reputable and can provide a tracking number for you to keep tabs on the progress of the shipment.
Further, aside from shipping costs, anticipate and prepare for the possibility of import fees once the goods arrive in your country. Have all the receipts in good order as most times, import fees are based on the value of the products.
FAQs on How to Buy from China
Is It Safe to Buy Goods from China?
Yes. All you have to do is follow safety guidelines that safeguard your transaction and assure you of the quality of products being offered by suppliers. They include:
Following rules on online marketplaces
Vetting suppliers carefully through online reviews and even using formal bodies like the China Chamber of Commerce
Requesting samples and product certifications
Keeping formal records of correspondences with suppliers as well invoices and payment receipts
Do I Need a License to Buy from China?
No. Only a handful of sensitive items like chemicals are restricted and require licenses. Other goods can be traded freely.
Can I Buy Products from China and Resell Them?
Once you order and pay for products in China, the goods are yours to do as you please. You can sell them in a physical or online store or start a dropshipping venture. Most entrepreneurs actually shop in China for this very reason and make great profit margins.
What Are the Advantages of Buying from China?
There are many debates about whether buying goods made in China is ethical or even worth it, to begin with. So, it is understandable that you may be wondering: why China?
Here are a few reasons why China is such an outstanding source of products:
Manufacturers keep up with trends and are constantly innovating new products. Buying from China thus gives you consistent access to new solutions that make life easier.
Most companies have incredible production capacities and you can rely on them for regular supply or even one-off bulk purchases of thousands of products.
The prices are incredible and you can find products at almost any price range.
Few countries are as accessible to worldwide shoppers as China. From its advanced shipping networks to import-export trade fairs, you can tell that the country has a system built to support international trade.
Most of the world's products are made in China. Why buy from middlemen when you can buy them directly from the source at fair prices and in your preferred specifications?
In Conclusion
At first glance, buying goods from China may seem like an insurmountable task. Fortunately, as you may have learned from this blog, it only takes a few steps and there are multiple approaches that you can take depending on what is convenient for you.
That said, you can always delegate the sourcing processes to us at NicheSources. We are a professional sourcing company with years of experience in the business. Our services are all-inclusive and curated to make shopping in China smooth and easy for you.
Do you need other sourcing-related services? You can count on us for those too. We provide:
Simply send a brief of the products that you need and request a free quote.