Sourcing products from China is usually one of the primary steps for a retail business. That's why sites like DHgate have emerged as the saviors of businesses trying to source products online. But what if you can't find your required products on your terms at DHgate?
Thanks to the aggressive competition between sellers, we have a variety of online product-sourcing websites. You can explore these websites to find quality products from China and USA at competitive prices.
In this article, you will have a list of DHgate alternatives. We'll briefly introduce every website and highlight its pricing and key features.
Let's start.
1. Alibaba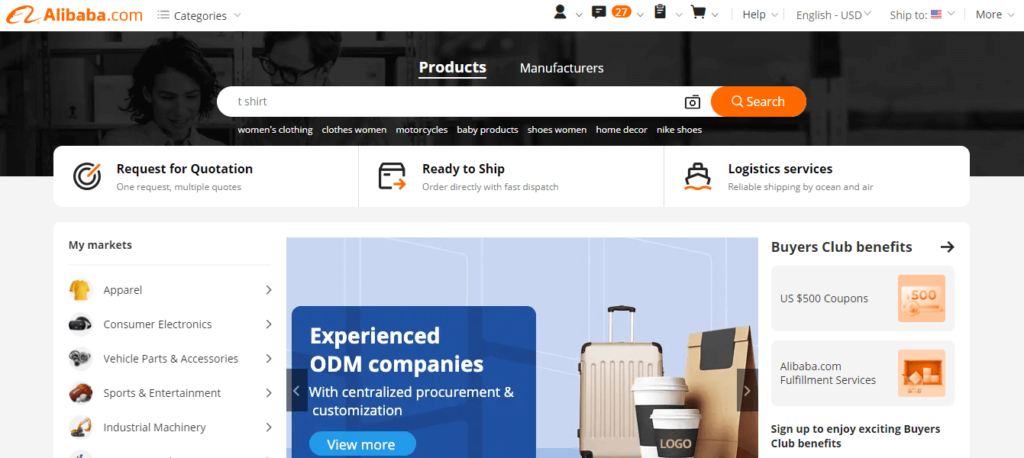 Alibaba is one of the retailers' preferred go-to online marketplaces for sourcing products. Starting in 1999, Alibaba has become one of the most popular online platforms for connecting buyers with sellers.
You can find good quality products from a variety of categories at wholesale prices. You can just post an Alibaba RFQ to get the relevant quotations from multiple suppliers in China and other countries.
Pricing
Free to use
Key Features
Largest online B2B marketplace in China.
Low MOQs, as low as one piece.
Excellent platform to connect with direct factories and independent manufacturers.
An ideal choice to get private label sourcing solutions.
Option to check real product videos for a better idea.
Detailed seller statistics to facilitate supplier selection.
Multiple payment methods.
Dropshipping solutions are available.
Convenient and cost-effective global shipping options.
Option to protect your orders via Alibaba's Trade Assurance.
Mobile app for easy access.
2. AliExpress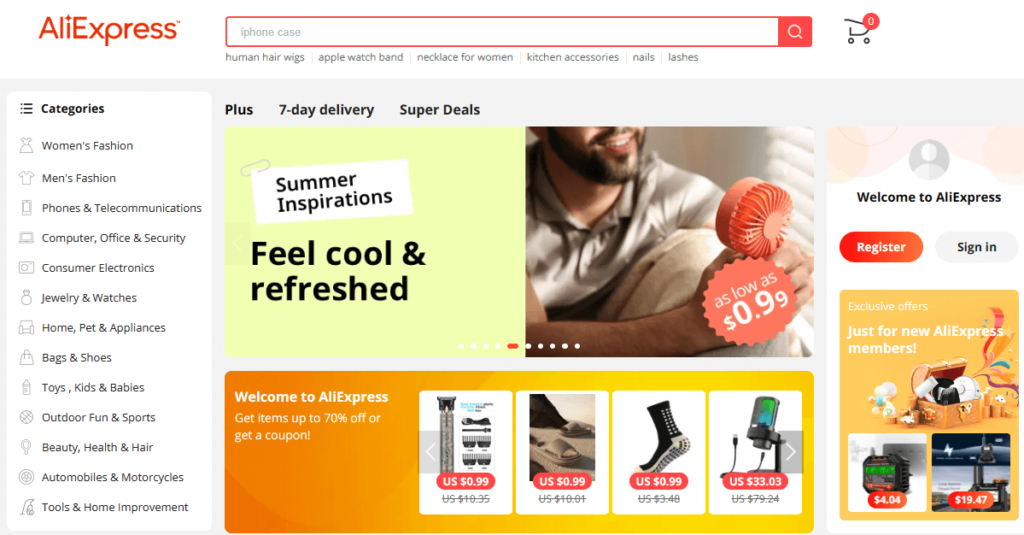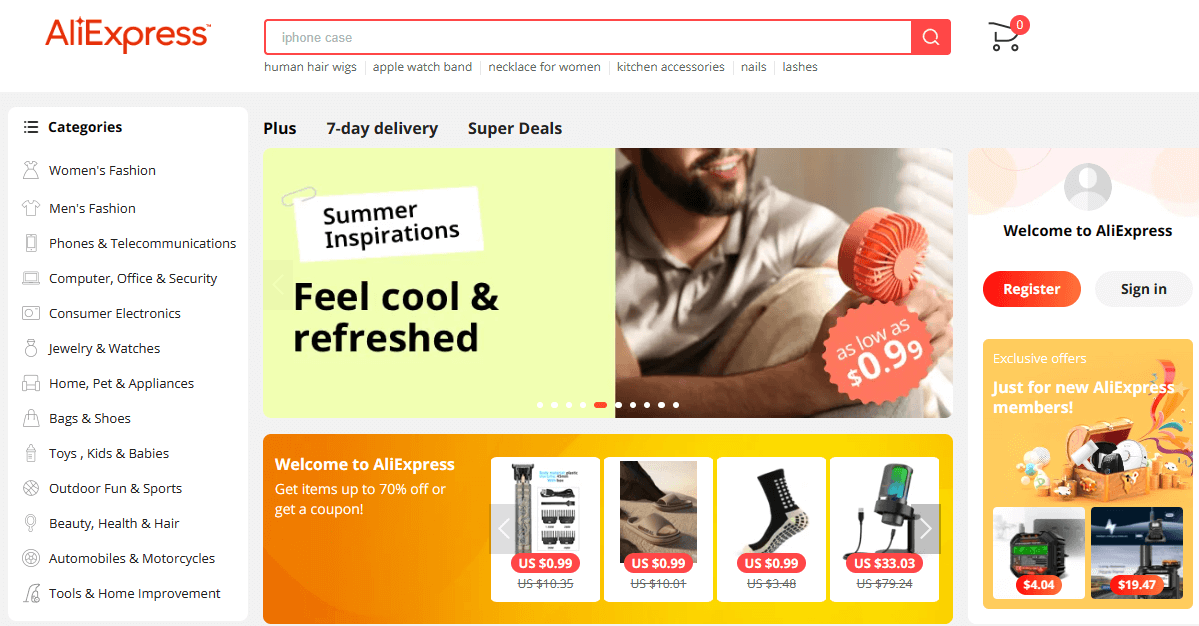 AliExpress, a subsidiary of Alibaba Group, is a website like DHgate that focuses on selling directly to consumers (D2C or B2C model.) It hosts millions of products from hundreds of thousands of sellers in China and elsewhere.
Launched in 2010, AliExpress revolutionized the world of online shopping and dropshipping. You can choose from over 100 million products on this website at cheap prices.
Pricing
Free to use
Key Features
Fierce competition among sellers results in lower prices and better services.
Detailed rating system to choose between suppliers.
Product reviews with pictures and videos are available.
Multiple integration solutions with ecommerce platforms like Shopify and Woocommerce.
No MOQs. Discounts may be offered with increased order quantity.
Money-back and free returns are offered via AliExpress Buyer Protection.
Available in 16 languages.
Safe and secure payment with multiple methods.
3. 1688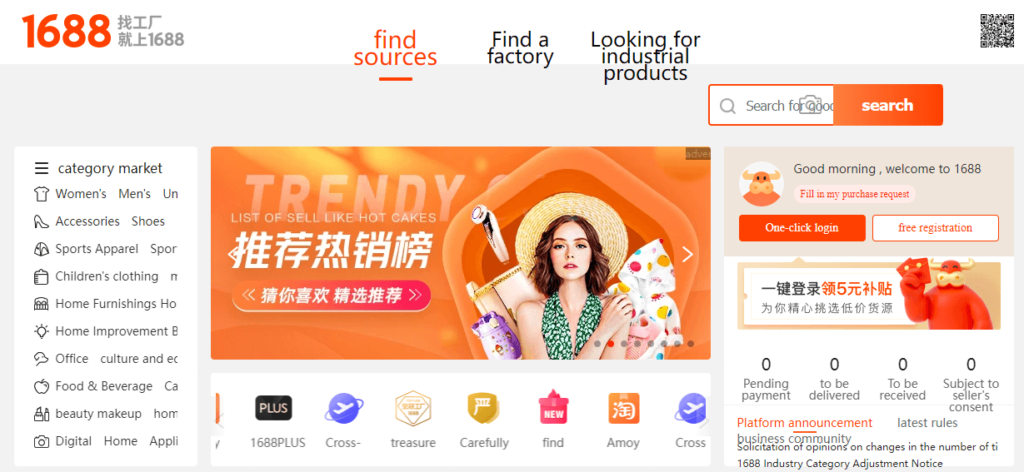 1688, another subsidiary of Alibaba Group, is a B2B online marketplace for Chinese buyers. That's why the website is in the Chinese language.
But international buyers can also buy from this platform. As long as a 1688 supplier agrees to the terms and conditions, you are good to go.
All you need to do is to have good communication with a supplier in the local language. You can use translation services or a local-based sourcing agent like NicheSources for better communication.
Pricing
Free to use
Key Features
One of the best platforms to source products at the most affordable prices due to Chinese local pricing.
Huge variety of products, compared to DHgate.
First-hand information about the latest innovative products in China.
Higher chances of interacting with Chinese direct manufacturers, cutting out the middlemen.
You can group different products and get them shipped together.
You have to enter an agreement with 1688 sellers beyond the website's mediation.
4. Taobao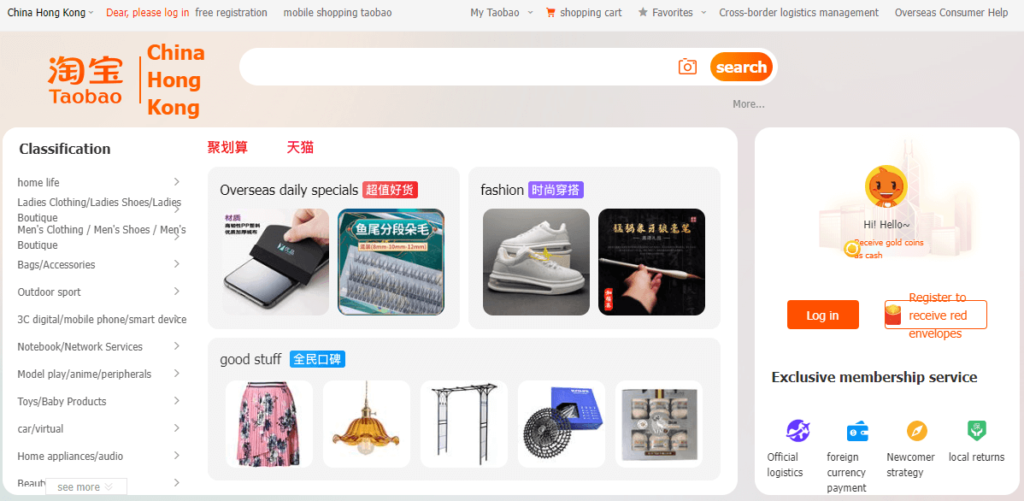 Taobao, another subsidiary of Alibaba Group, is a website meant for online shoppers in China. This website hosts a massive variety of products at highly competitive prices due to local shopping.
Launched in 2003, Taobao became one of the most visited websites globally.
This website also operates in Chinese, so you should hire translators or a reliable product-sourcing company like NicheSources for better communication.
Pricing
Free to use
Key Features
Excellent platform for finding the latest products.
Most sellers on DHgate are also present on this website.
Products are available at rock-bottom prices, allowing you to maximize your profit margins.
Mobile app for better accessibility.
You may consider hiring an agent to source securely from Taobao.
5. Made-in-China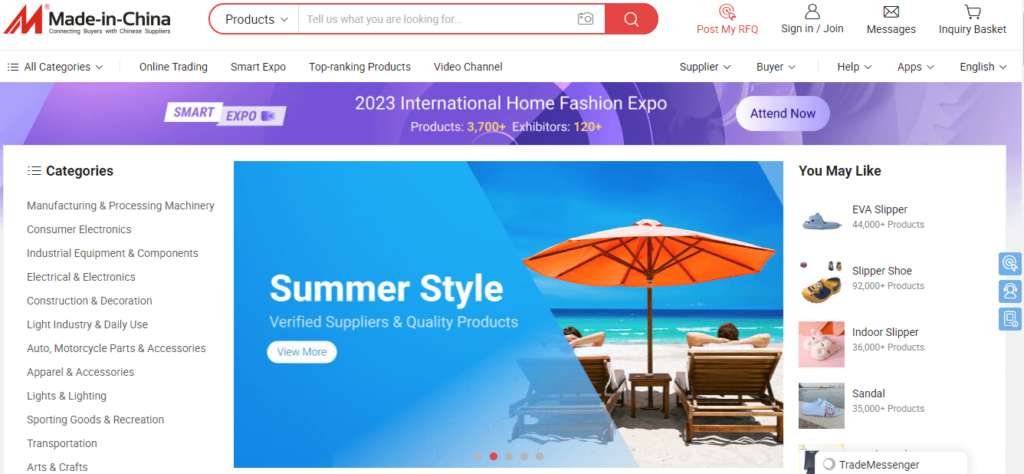 Made-in-China is another great alternative to DHgate. Launched in 1996, this B2B platform has products from over 4300 categories sold by over 6 million registered suppliers.
From industrial supplies to products for personal and commercial use, Made-in-China has everything to offer international buyers. That's why this platform has over 20 million registered international buyers.
Made-in-China runs strict scrutiny to register suppliers, so you can trust its suppliers. You can post your sourcing requirements using the "Post My RFQ" option, and interested sellers will contact you directly.
Although it is a B2B platform, you can find products with MOQs as low as one piece per product on this website. So, this website can also be an excellent choice to source products for your dropshipping business.
Pricing
Free to use
Key Features
Millions of products to select from a wide range of categories.
Suppliers on this platform are divided into diamond, gold, and audited categories to provide secure buying.
Hosts multiple business expos throughout the year.
Featured videos of products are also available for a realistic view.
Holds professional certifications to validate product quality.
A separate section for handmade products.
Ideal site to source products in large quantities.
Mobile app is also available.
6. Global Sources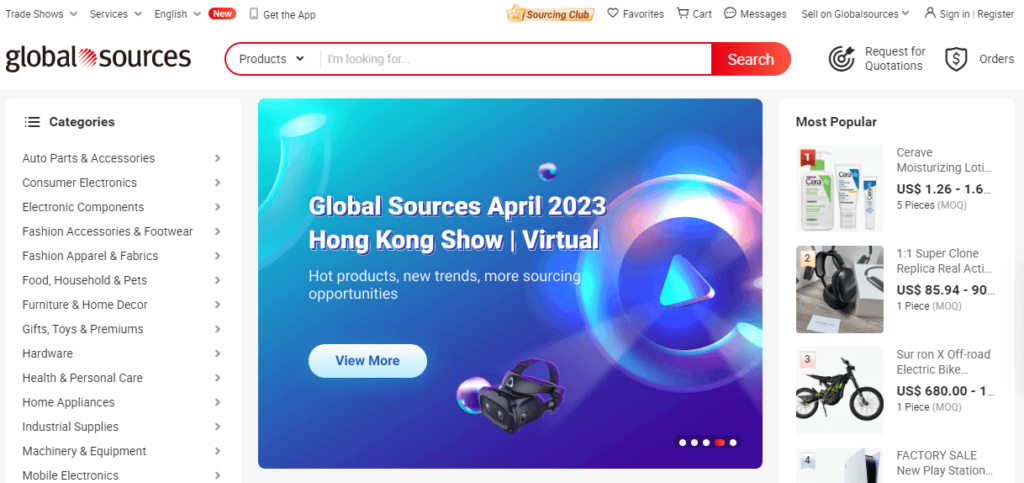 Global Sources is a Hong Kong-based B2B online marketplace for sourcing products. Launched in 1995, this platform has successfully made its way to the list of preferred choices for quality and affordable buying.
This website has a variety of suppliers from China and other Asian countries. From fashionable items to pet products and accessories, you will find everything on this website.
With over 4 million products sold by over 200K suppliers, Global Sources can be your next alternative to DHgate.
Pricing
Free to use
Key Features
The platform ensures supplier credibility by implementing a rigorous verification process.
Intuitive search tools and filters help users efficiently discover products and connect with suitable suppliers based on their specific requirements.
Organizes industry-specific trade shows and exhibitions online and offline.
Offers private sourcing events, allowing buyers to connect with pre-screened suppliers and negotiate deals in a dedicated and confidential setting.
Strict quality control services, including product inspection, verification, and testing, to ensure compliance with specified standards and buyer requirements.
Facilitates communication between buyers and suppliers through integrated messaging systems, enabling efficient negotiation, sample requests, and order placement.
Sellers are available from China, India, Vietnam, and South Korea.
You can have a 360° virtual tour of the factories.
Mobile app is also available.
7. Banggood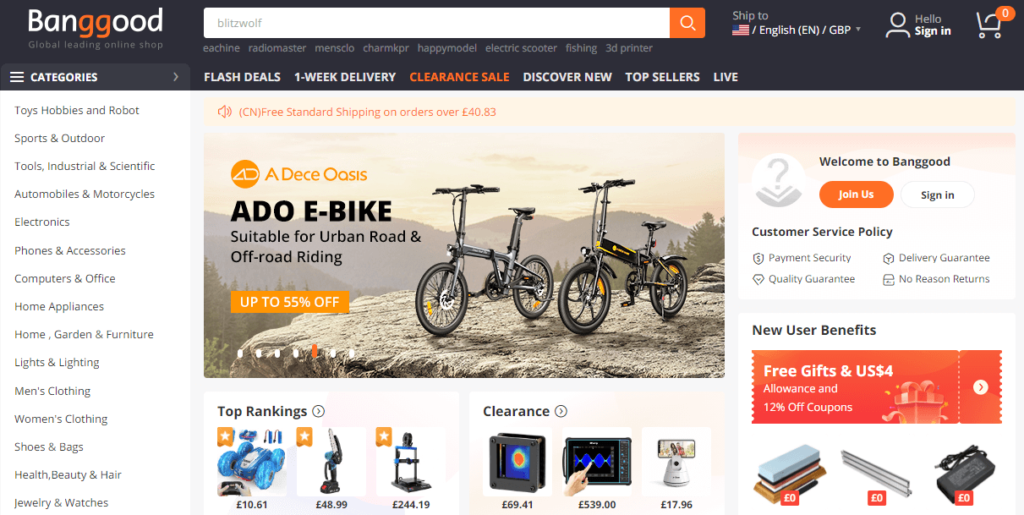 Banggood is a leading site for online shopping based in Guangzhou, China. It has over one million products in almost every category in demand.
Launched in 2006, Banggood has quickly become one of the top online ecommerce platforms, with over 66 million registered buyers globally. Banggood offers competitive prices for retail and wholesale products.
It has 37 global warehouses to facilitate and expedite the global supply chain. That's why they have a separate section for "1-week" delivery.
Pricing
Free to use
Key Features
Most products have detailed descriptions.
Product reviews are available with pictures.
Product videos and live streams are also available.
Offers all the major payment options.
Excellent customer support.
Monitored pricing with a track record of the product's price range.
Seller rankings are available.
The platform provides a DOA guarantee, missing or wrong items guarantee, quality guarantee, and no reason returns.
Mobile app is also available.
8. LightInTheBox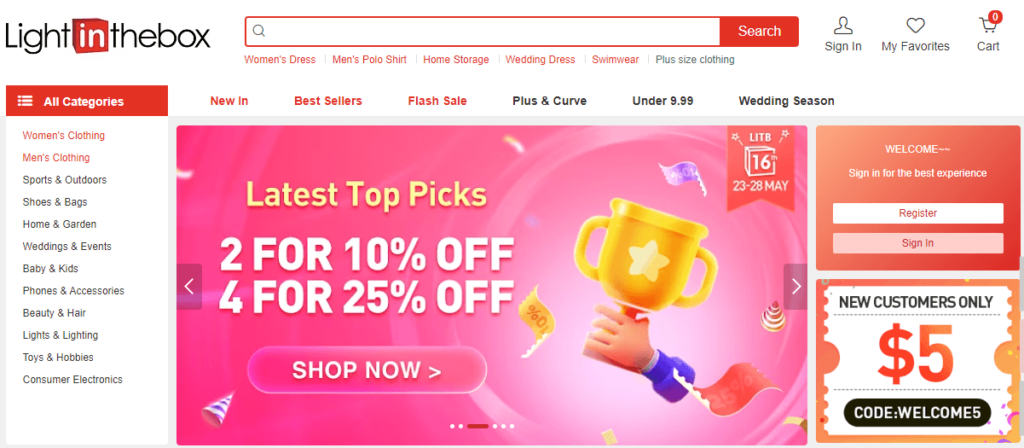 LightInTheBox is another decent alternative to DHgate if you want to source products within specific niches. This China-based online shopping website was launched in 2007.
This platform runs on a B2C model. You can directly contact suppliers for wholesale inquiries and extended discounts.
It also has another subsidiary named MiniInTheBox that mainly offers gadgets and phone accessories.
Pricing
Free to use
Key Features
An excellent website to source the latest and trending products.
Hosts over 2 million suppliers in China.
Over 1000 products are added daily.
Chances of contacting a direct factory.
Expedited delivery using premium courier companies globally.
Mobile app is also available.
9. HKTDC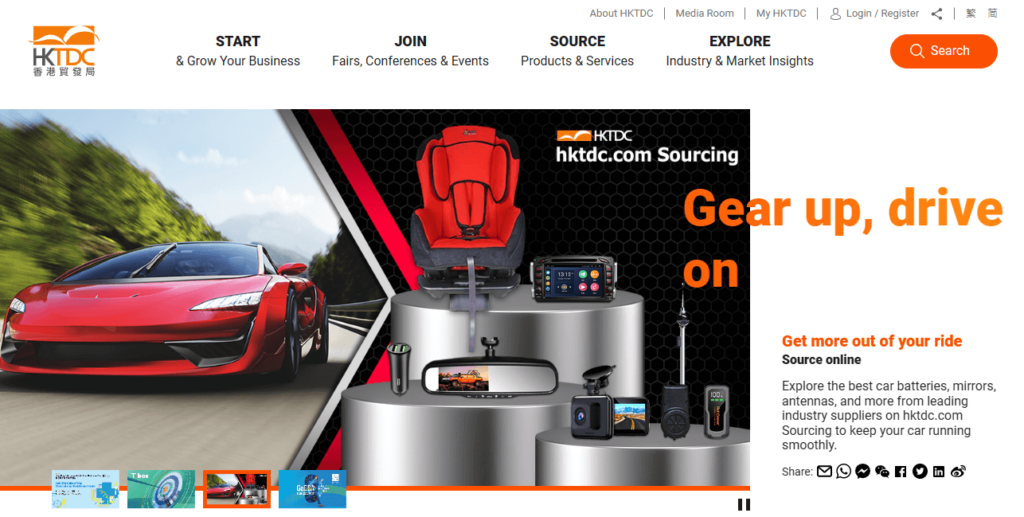 Hong Kong Trade Development Council, abbreviated as HKTDC, is an online platform hosting thousands of suppliers in Hong Kong, China, and various other countries.
Launched in 1966, HKTDC is one of the oldest sourcing platforms. Over 700 thousand international buyers have sourced various products from this platform.
Pricing
Free to use
Key Features
50 offices in different countries for an increased global presence.
Hosts a variety of online and physical fairs, conferences, and business expos.
Prices are negotiable and tailored as per demands.
A good platform to learn insights about industry sourcing.
Offers online video conferencing with suppliers.
Product development and customization options are available.
Govenment-supported functions.
Mobile app for marketplace sourcing.
10. Geekbuying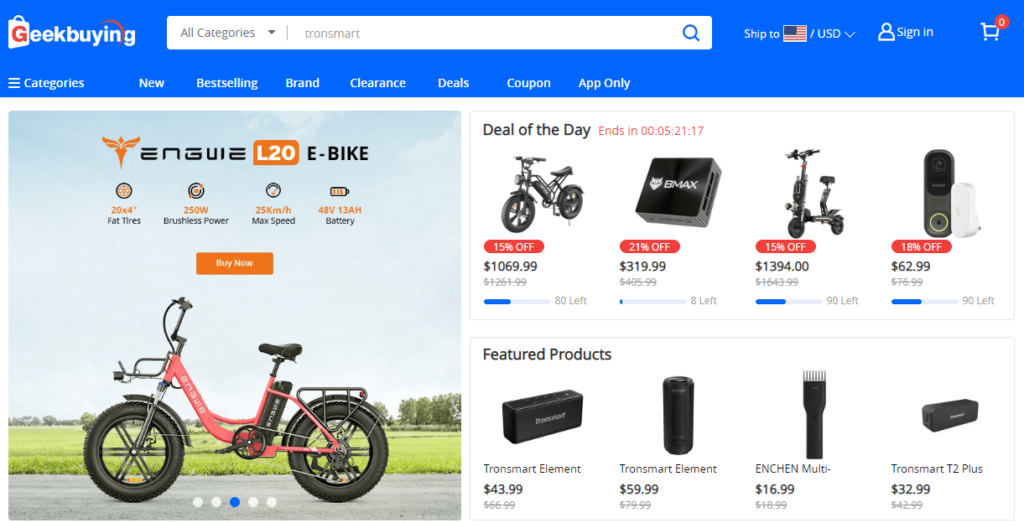 Geekbuying can be another good DHgate alternative if you want to buy electronic devices. Established in 2012, this platform has become one of China's most popular ecommerce platforms.
The company offers the latest gadgets at unbeatable prices. From fitness gadgets to smart sensors and e-bikes, you can find every smart electronics equipment at this website.
Pricing
Free to use
Key Features
A niche-specific platform for sourcing electronics items.
Products are available at highly competitive pricing.
You can find a variety of the latest gadgets on this platform.
Search filters to find a product as per its price and specification.
Warehouses at multiple US and European locations for fast and reliable shipping.
The platform indicates the availability of the products in the US and other countries.
Most products have detailed descriptions.
Mobile app to use on the go.
11. TomTop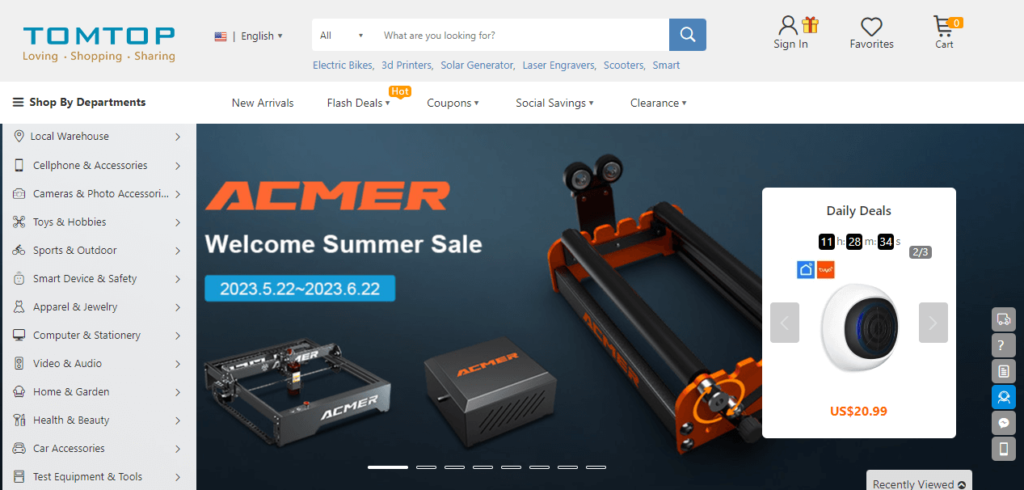 TomTop is a promising ecommerce company that is much like DHgate, or even better in some cases. This company was founded in 2004 and earned a reputable name in the retail and wholesale industry.
It has a variety of suppliers offering products from almost every category for daily use. This platform has separate sections for wholesale and dropshipping programs.
This company has been a Gold Supplier on Alibaba since 2006. It has global warehouses for optimized delivery.
TomTop's warehouses are strategically located in various countries, including the US, Canada, South America, Europe, Australia, and Japan.
Pricing
Free to use
Key Features
You can find over 1 million products from various categories.
The platform encourages user feedback to add special products that are not listed on the website.
Premium shipping with leading global courier companies.
High-quality products. Every product is strictly checked for quality compliance before dispatch.
45-day money-back guarantee and 1-year repair warranty for every product.
Mobile app for easy access and special deals.
12. DX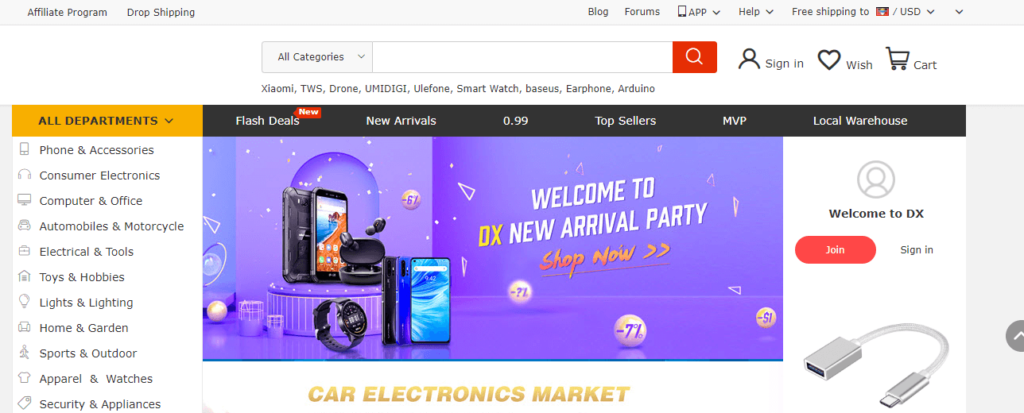 DealeXtreme, abbreviated as DX, is an ecommerce platform for buying smart gadgets. Launched in 2005, DX became one of the most trusted names to source high-quality electronics items at rock-bottom prices.
With a diversified network of over 3000 suppliers offering products and services to over 1 million customers, DX has become China's leading website for gadgets.
This website has special sections showing products with "Bottom Prices" and those priced under $0.99 or $5.
Pricing
Free to use
Key Features
A decent platform to source products on wholesale and dropshipping models.
In addition to gadgets, you can also find a selected range of apparel, beauty, shoes, bags, and hair extensions.
DX offers some of the best options to sort your search results by popularity, orders, reviews, and price range.
You can also find products according to the brand names and filter out products with videos.
Over 200K products with over 1000 new products added daily.
A dedicated section on the website shows minimum viable products (MVP) to hint you about early winners.
Mobile app for easy access.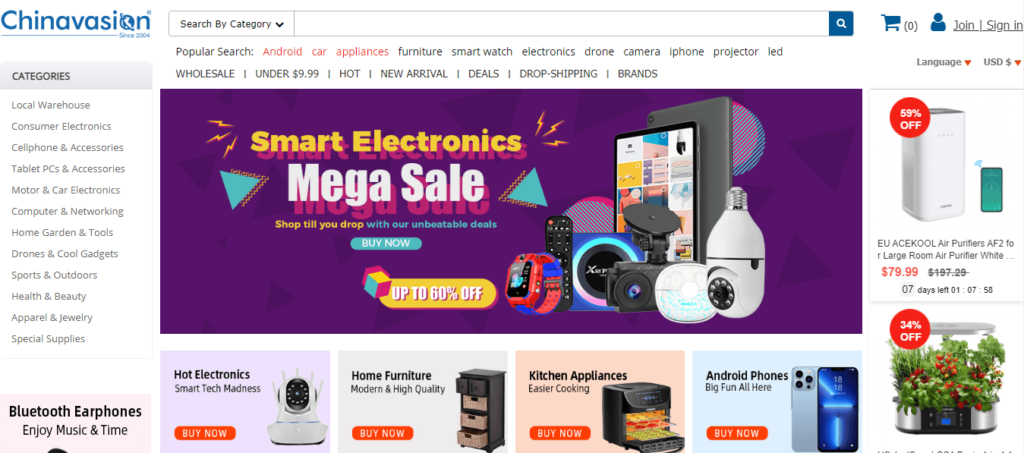 Chinavasion is an established online platform based in China that provides a wide range of consumer electronics, gadgets, and tech-related products.
Launched in 2004, this platform has gained the attention of international buyers to fulfill their sourcing needs.
It offers an extensive selection of products at competitive prices, catering to both wholesale buyers and individuals interested in dropshipping.
Pricing
Free to use
Key Features
A comprehensive selection of electronic products, including smartphones, tablets, smartwatches, cameras, audio accessories, home electronics, car accessories, and more.
Cost-effective option for purchasing electronic gadgets and tech accessories at highly competitive prices.
Fast, easy, and reliable shipping.
Strict quality monitoring and assurance before dispatch.
Detailed product descriptions, specifications, and images.
Good customer support.
14. TVC Mall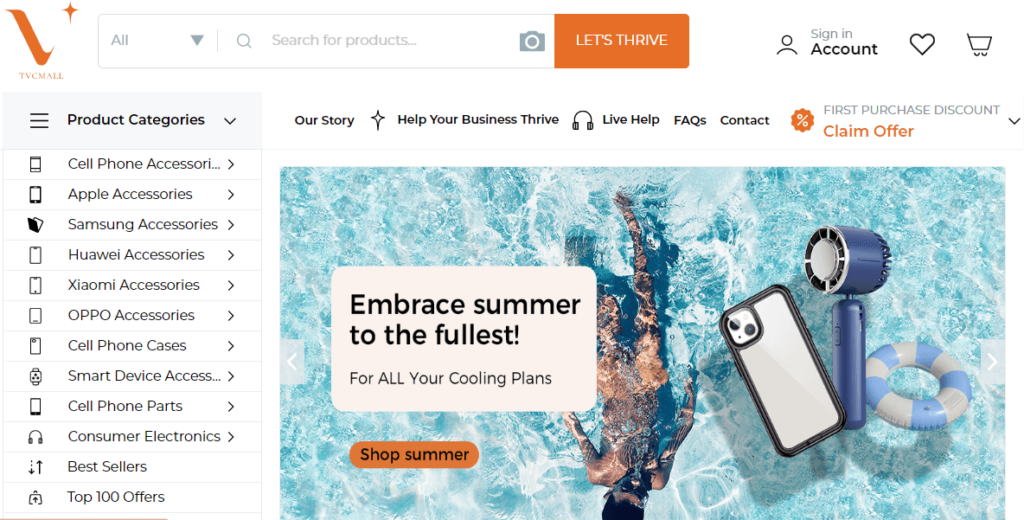 TVC Mall is another ecommerce platform based in China that specializes in providing a wide range of electronic accessories and gadgets. It is a reliable platform for customers seeking affordable, high-quality electronics products.
You may get better electronics prices at TVC Mall than DHgate products.
Pricing
Free to use
Key Features
A vast selection of electronic accessories and gadgets, including smartphone cases, screen protectors, chargers, cables, headphones, speakers, smartwatches, and more.
An attractive option for customers looking for affordable electronic accessories.
TVC Mall caters to both wholesale buyers and individual customers.
Bulk order discounts for higher quantities.
Strong emphasis on quality control.
Original Equipment Manufacturer (OEM) and Original Design Manufacturer (ODM) services are available.
Certified products are available, including REACH compliance for Europe.
Secure payment options, including PayPal.
15. DIYTrade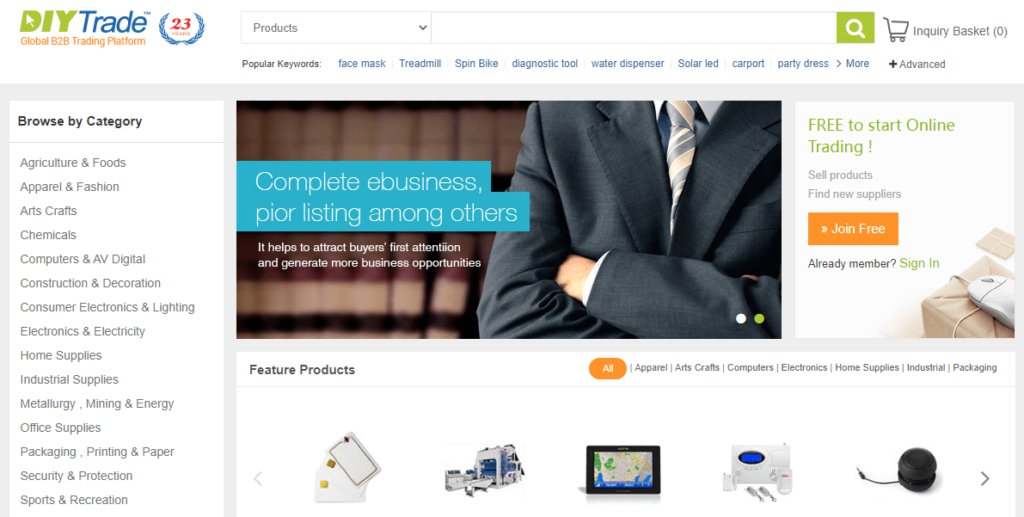 DIYTrade is a global B2B trading platform based in China. Established in 1998, DIYTrade's website has successfully become a top destination for international buyers.
It offers an extensive list of product categories. From agriculture to apparel and electronics, you can find many products on this website.
With over 5 million products and around 1.5 million buyers, DIYTrade is a close alternative to DHgate.
Pricing
Free to use
Key Features
One-stop destination for customers seeking a diverse range of products.
Quality products at competitive prices.
Worldwide shipping with expedited delivery options.
They have mentioned a brief description of every product. You have to raise an inquiry for further details.
A strong focus on ensuring the best quality products before dispatch.
Supports various payment methods, including credit cards, PayPal, Western Union, and bank transfers.
Great customer service.
16. TopTenWholesale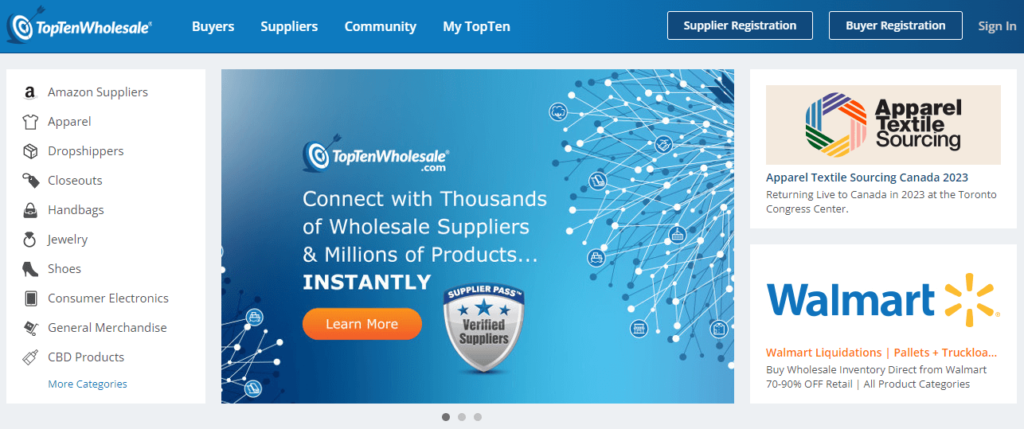 TopTenWholesale is a prominent ecommerce platform for sourcing all major kinds of products. Established in 2005, this platform provides a wide range of products, including apparel, jewelry, and accessories.
Based in the US, this platform collaborates closely with other countries, including China, India, and Vietnam, for affordable manufacturing.
Instead of listing the products with details, their website briefly describes the kinds of products a supplier offers. A user has to contact the supplier to discuss his requirements.
Pricing
Free for buyers
Key Features
A trusted platform for buyers seeking reliable and cost-effective sourcing solutions.
Made-in-USA products are available.
You can post product requests to tell manufacturers about your special requirements, making it an ideal platform for sourcing private label products.
The platform strictly vets suppliers to ensure the quality of products and services.
Multiple warehouses in China and the US for a coordinated supply chain.
A dedicated portion for Amazon suppliers to ease out the search efforts for Amazon sellers.
Excellent platform to be in direct contact with manufacturers and wholesalers.
Hosts a variety of international trade expos.
17. Worldwide Brands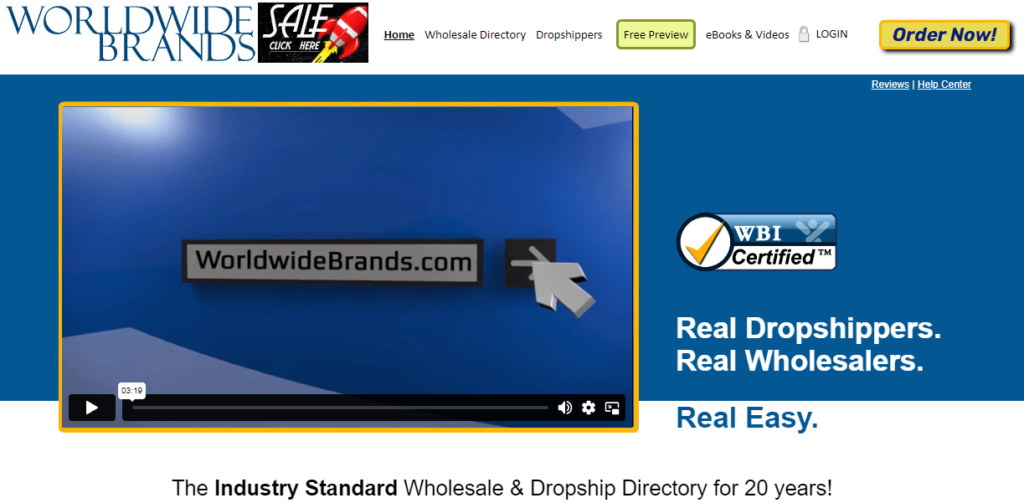 Worldwide Brands is a renowned online platform that connects online retailers with trustworthy wholesale suppliers.
Launched in 1999, this outstanding platform is a comprehensive directory of certified wholesalers and dropshippers.
Being a US-based platform, finding US suppliers on this website is very convenient.
This platform has been a stepping stone for many businesses to become successful and profitable by sourcing quality products at competitive prices.
With over 8,000 premium suppliers and 16 million products, you may find Worldwide Brands way better than DHgate.
Pricing
There is a one-time membership fee of $299. They keep offering discounts on membership fees throughout the year.
Key Features
An extensive database of certified wholesalers, dropshippers, and manufacturers from the US, UK, and EU.
Their rigorous verification process ensures the legitimacy and reliability of the listed suppliers.
A diverse selection of products for resale.
Tailor-made products for specific platforms like Amazon and eBay.
Many suppliers offer unique and specialized products at flexible terms and conditions.
Advanced search options allow users to find suppliers based on specific criteria such as product category, location, and minimum order requirements.
Educational resources, training materials, and tutorials are available.
Market research data and insights to help businesses analyze better about product selection, pricing, and target markets.
A dedicated section for dropshippers featuring a curated list of dropshipping suppliers.
Excellent customer support.
18. Wholesale Central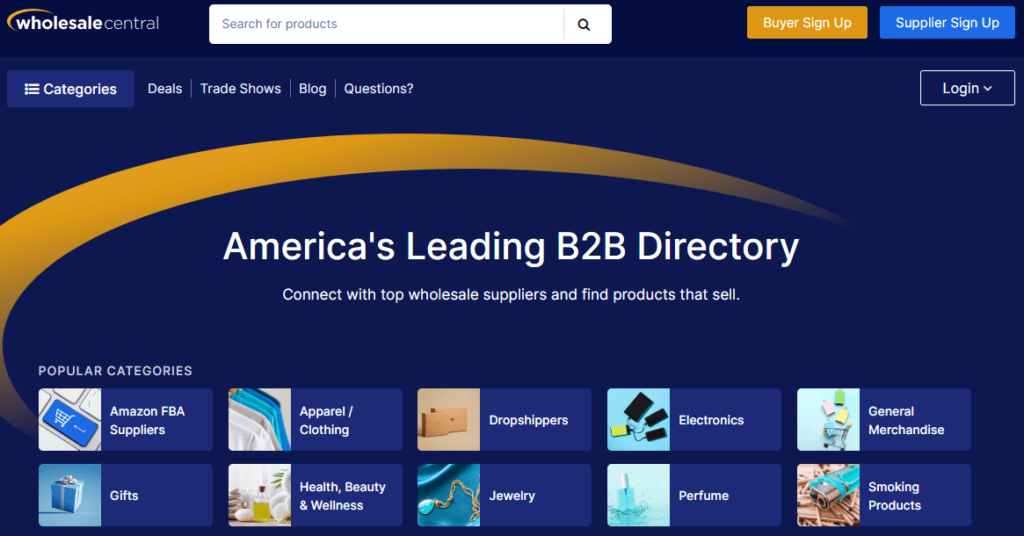 Wholesale Central is another excellent directory of wholesale suppliers and products. Established in 1996, this is one of the oldest and most credible platforms in the USA to find verified wholesale suppliers.
You can find a decent range of product categories on this platform, including apparel, fashion, home decor, and sporting goods.
You will not find products with pictures and descriptions on this website. This platform takes you directly to the supplier's website to look for your desired products.
Pricing
Free to use
Key Features
One of the most extensive directories of wholesalers, distributors, importers, and manufacturers.
Strict supplier verification process to ensure the quality of products and services.
New suppliers and products are added regularly.
Simple and friendly user interface.
More chances of getting into direct contact with your suppliers.
The platform includes a directory of upcoming trade shows and exhibitions, allowing you to explore more suppliers.
Dedicated sections for wholesale deals, highlighting discounted products, closeout deals, and special promotions.
A separate section for finding Amazon FBA suppliers.
Professional guides and tips for retailers to be successful.
19. Inventory Source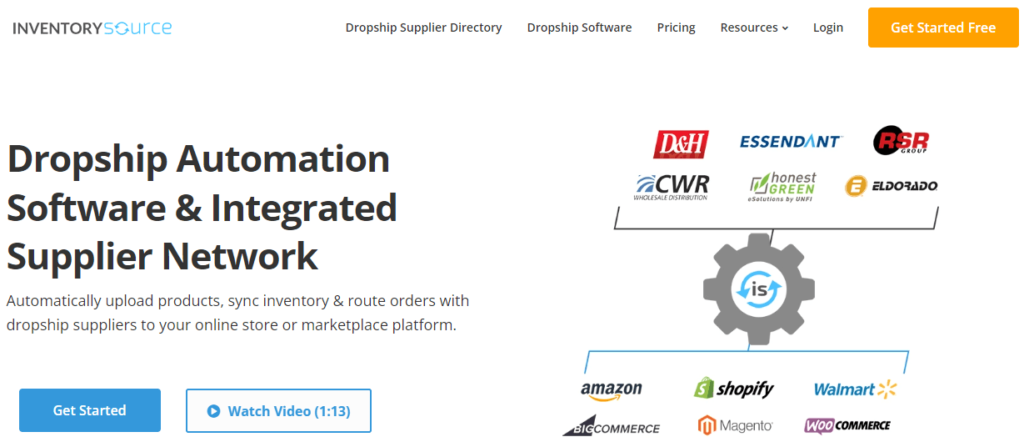 Inventory Source is another great alternative to DHgate. This US-based platform is a directory of qualified wholesalers and dropshipping suppliers.
This platform was founded in 2002 to facilitate small and medium businesses with quality product sourcing at competitive prices.
Now, Inventory Source has over 4000 registered suppliers, offering products at wholesale and dropshipping models.
Pricing
Free to access the directory.
There are charges for store integration and automation, costing $99/month for inventory automation, and $199/month for full automation.
Key Features
Millions of products are available on this platform.
Special focus on dropshipping automation.
Rich selection of products and suppliers.
New products and suppliers are added regularly.
Advanced search features to facilitate finding the required products.
Higher chances of getting in direct contact with suppliers.
20. Overstock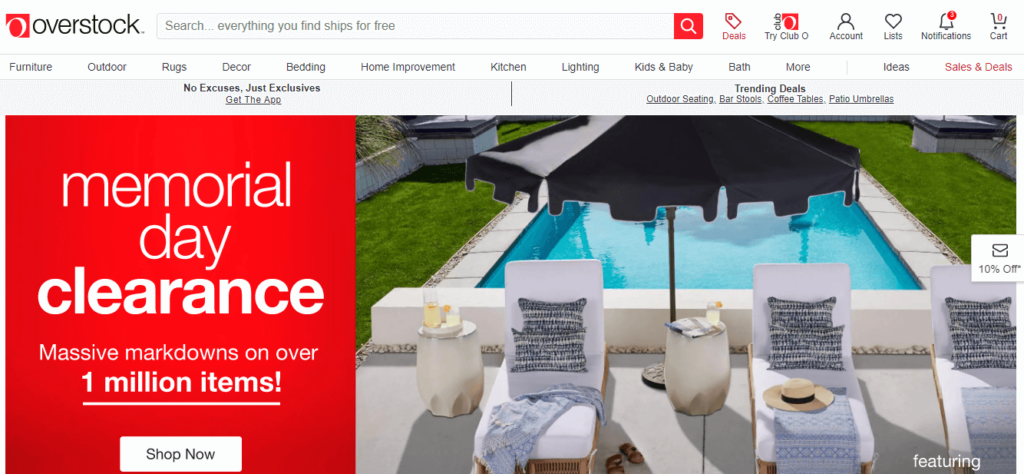 Overstock is a popular online retailer for a variety of products. Established in 1999, this company has emerged as one of the biggest platforms for sourcing quality products at competitive prices.
Based in the USA, this website offers free shipping for local deliveries on all orders. It hosts a variety of items from various product categories, including home improvement, outdoor, and baby products.
Pricing
Free to use
Key Features
The website keeps announcing massive sales at various events.
You can find branded items on this website at reduced prices.
The website also provides financing solutions.
An ideal choice to find seasonal products.
Multiple filters to refine your search.
Many items are delivered within one or two days.
FAQs about Sites Like DHgate
Read the quick answers to the most frequently asked questions about websites like DHgate to have more clarity.
How to Find More Sites Like DHgate?
In addition to searching for sites like DHgate on the internet, you must consider the following aspects to come up with the right list of DHgate alternatives.
Search for suppliers in online supplier directories.
Explore the key takeaways on authentic forums like WholesaleForum and Warrior Forum.
Attending online and offline trade shows and business expos.
Read reviews about online shopping platforms on sites like Trustpilot, Sitejabber, and GetApp.
Analyzing your competitor's sourcing platforms.
Word of mouth from settled retail businesses.
How to Select a Sourcing Platform?
Selecting a platform like DHgate to source products is usually one of the most important decisions for a retail business.
That's why you should consider sparing some time to select from the list of good sourcing websites for your business.
The following suggestions might help:
Check if the platform meets your immediate souring requirements, like product availability, right pricing, and shipping times.
Platform's history, legacy, and reputation are important in selecting your sourcing partner.
Sometimes, it is not about the platform but about the supplier on the platform that matters.
Check if the platform is actively involved in protecting your orders.
Don't forget to check on the platform's after-sales services. Retailers need it to satisfy their customers.
What Is the Best Way to Source Products?
Searching for the perfect sourcing websites may take forever. If you want to buy products for your online or physical retail business, hiring a product-sourcing agent is best.
A sourcing company will find the right supplier for your products in a snap. That's what a sourcing agent or a company is specialized to do. Why spend hours looking for an uncertain supplier when you can hire experts?
A professional sourcing agent like NicheSources will get you the products at the most competitive costs, along with providing you with extended services like storage and expedited shipping.
Summary
DHgate is one of the reliable platforms for finding quality products at cheap prices. However, exploring other options to select your next sourcing partner is always good.
The list of sites like DHgate is huge. Selecting the right one for your business depends on your sourcing preferences. You can always take help from the list of DHgate alternatives we shared in this article.
If you want us to source quality products from China at the most competitive prices, ask for a free quote now. Our sourcing expert will walk you through everything right away.