Consumers around the world are consistently in need of clothing. However, not all clothing will do. Their shopping preferences are influenced by key factors such as fashion trends, quality, and affordability.
Consequently, as you source clothing for your store, it is crucial to work with clothing vendors that understand such important market dynamics.
Of course, every clothing supplier is bound to market themselves as the best option in the market but only a few live up to that claim. So, we have done some digging and put together a list of some of the best wholesale clothing vendors to help you find a reliable supplier.
Let's explore the options, shall we?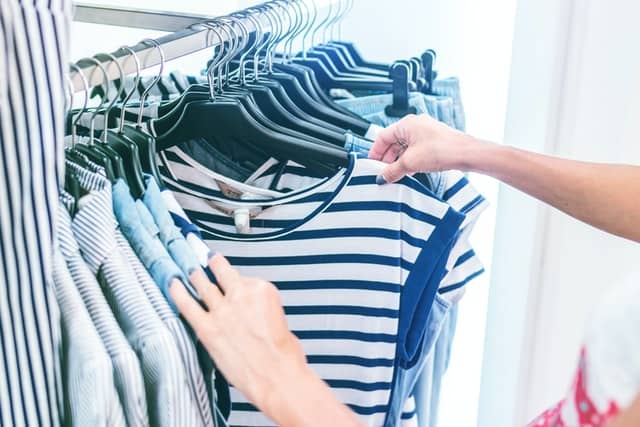 Magnolia Pearl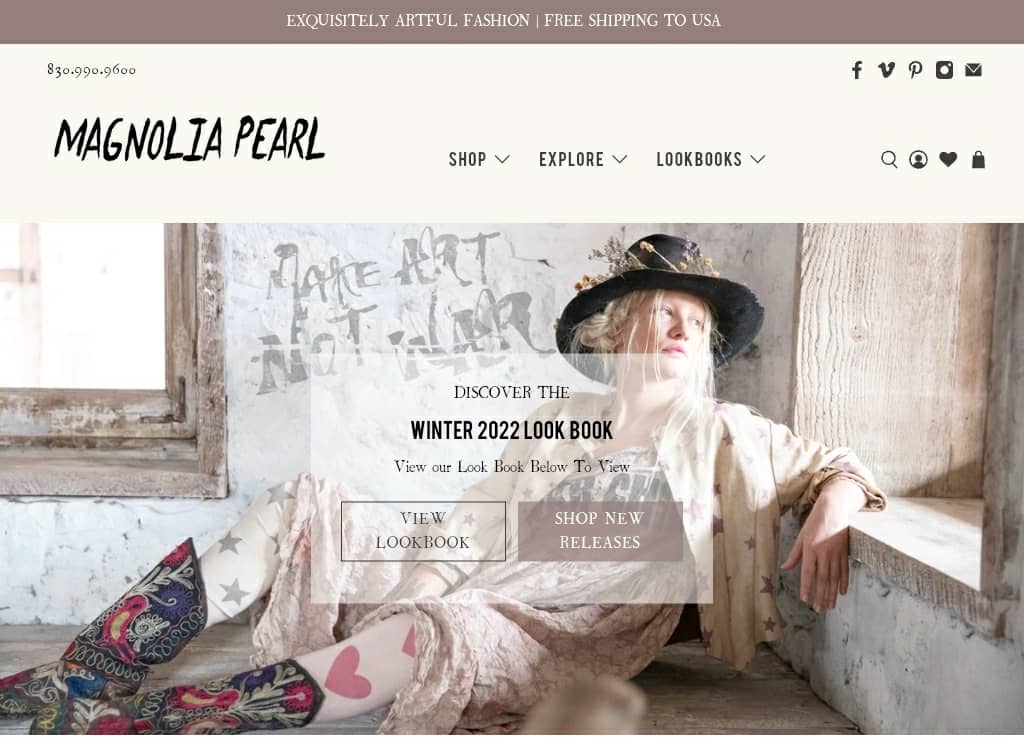 Magnolia Pearl stocks women's tops, dresses, bottoms, t-shirts, footwear, accessories, and much more. All designs are one-off design collections and are not restocked after they sell out. The brand uses this approach as a way to offer customers exclusive pieces.
Retailers have to fill out an application to join the Magnolia Pearl wholesale program. To qualify, the company requires you to abide by the rules of the program. You should:
Have a brick-and-mortar store.
Only resell Magnolia Pearl clothing on your store's authorized website. Third-party sites like Etsy and eBay are prohibited.
Sell at fair retail prices and not offer discounts that undercut the brand.
Location
Fredericksburg,Texas
MOQ
The MOQ for wholesale partners is not disclosed to.
Shipping
Magnolia Pearl is based in Fredericksburg, Texas but ships internationally.
Return Policy
In case you do not like the items you bought, you can return them for store credit or exchange them within 2 weeks.
Yaaku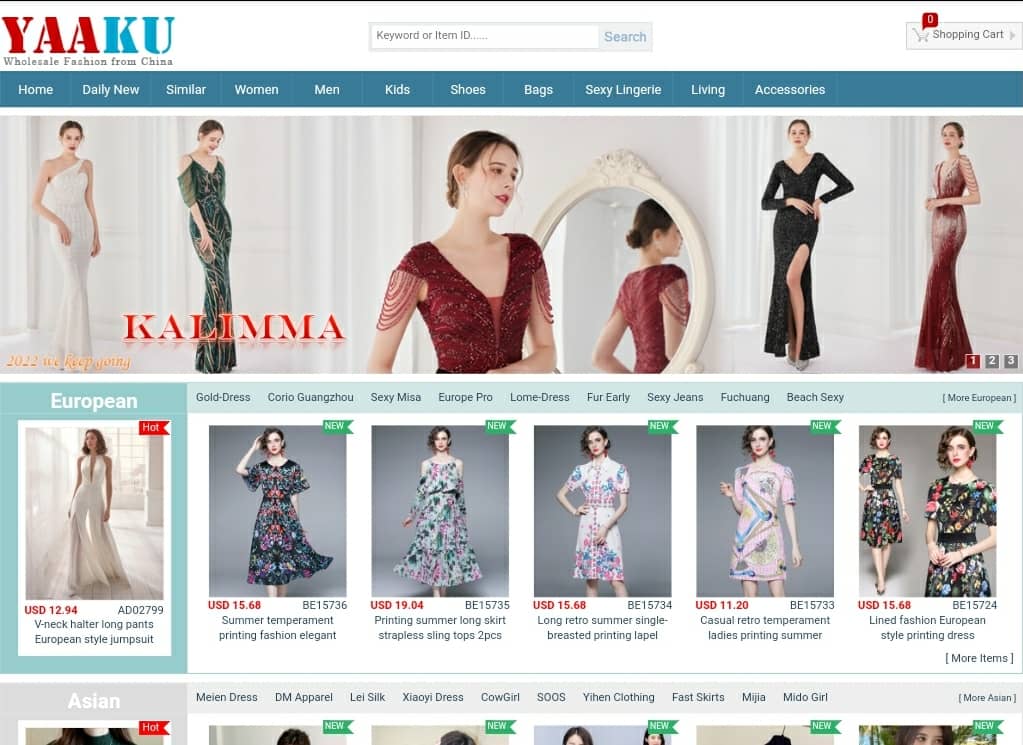 Yaaku's website showcases a rich selection of:
Dresses
Sweaters
Skirts
Leggings
T-shirts
Tops
Coats and jackets
The designs in stock change quite regularly. Therefore, working with this vendor will certainly enable you to keep delivering new trendy clothing to your customers.
Location
Guangzhou, China
MOQ
The minimum order value is $1,000.
Shipping
Yaaku ships to over 50 countries worldwide.
Return Policy
You can return within 7 days of the purchase. But make sure they are new with their original tags and packaging.
Heart and Hips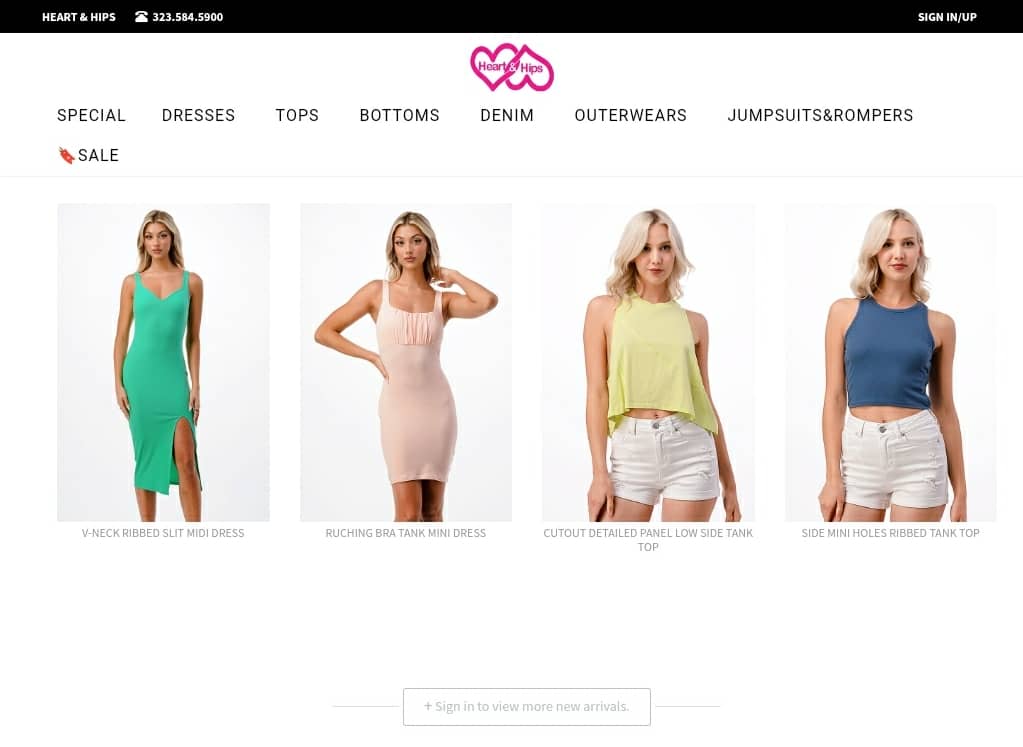 Heart and Hips is both an importer and manufacturer. It specializes in women's apparel. This includes everything from dresses and tops to denim outfits, jumpsuits, rompers, and more.
Location
Los Angeles, California
MOQ
Retailers have to create an account to access pricing and MOQ stipulations.
Shipping
Heart and Hips ship worldwide except to countries facing sanctions.
Return Policy
If you claimed the return within 5 days of receiving the product, the product can be returned if it is unopened with the manufacturer's seal. Otherwise, you will be charged a restocking fee.
LA Showroom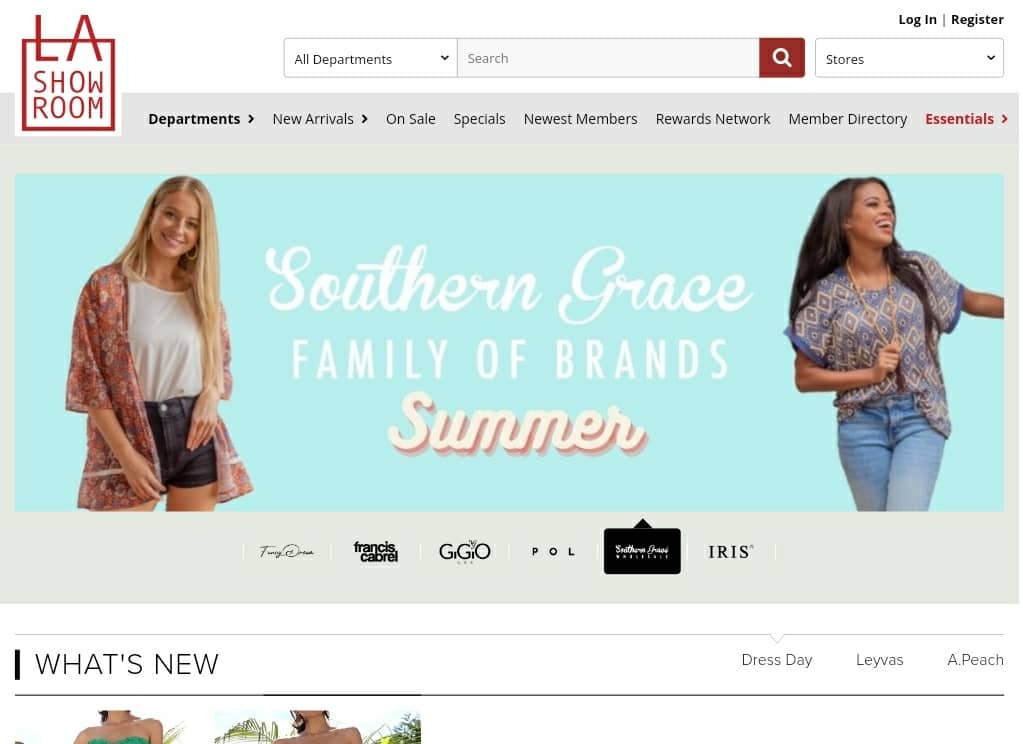 LA Showroom is a melting pot of fashion. It is a curated marketplace where clothing vendors can showcase what they have to offer and connect with retail customers looking to buy in bulk.
This approach makes it a lot easier to find the right supplier for your business. You can compare different designs, prices, and brands and then choose suitable vendors. Plus, all collections are pre-screened which means that you will only be sorting through top options.
All buyers have to register on the LA Showroom platform using their business registration documents. Your application will be reviewed and approved if you meet the outlined terms and conditions.
Location
Los Angeles, California
MOQ
Each vendor has an individual store on the LA Showroom platform. Subsequently, MOQ terms vary between vendors.
Shipping
Most vendors listed on LA Showroom ship both locally and internationally.
Return Policy
All return claims must be made within 5 days after receipt of goods.
BrandsGateway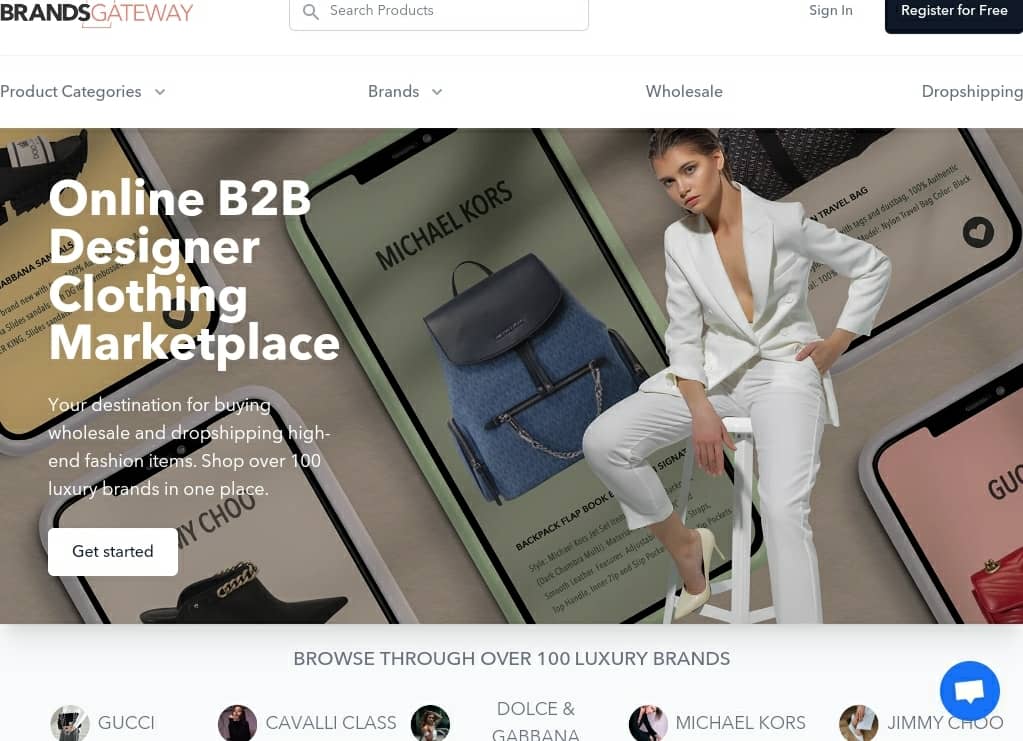 If your target market has fancy tastes, then BrandsGateway should certainly be on your shortlist. It is an online B2B marketplace that brings together high-fashion clothing distributors such as Gucci, Carolina Herrera, and Michael Kors, among others.
The vendors listed on BrandsGateway are vetted to ensure that all their merchandise is authentic. They can also provide certificates of authenticity.
Other perks of this platform include:
Access to top-quality clothing for both men and women
A dedicated account manager to help you navigate bulk buying
Location
They have several offices in Europe and the United States.
MOQ
The minimum order value is €1,000 for all wholesale orders.
Shipping
Vendors on BrandsGateway ship worldwide via DHL, UPS, or FedEx. Tracking numbers are indicated on each invoice.
Return Policy
They offer a 14-day return policy to dropshipping partners. After the 14-day return policy, any returns are subject to a restocking fee of 20% and/or rejection.
City Goddess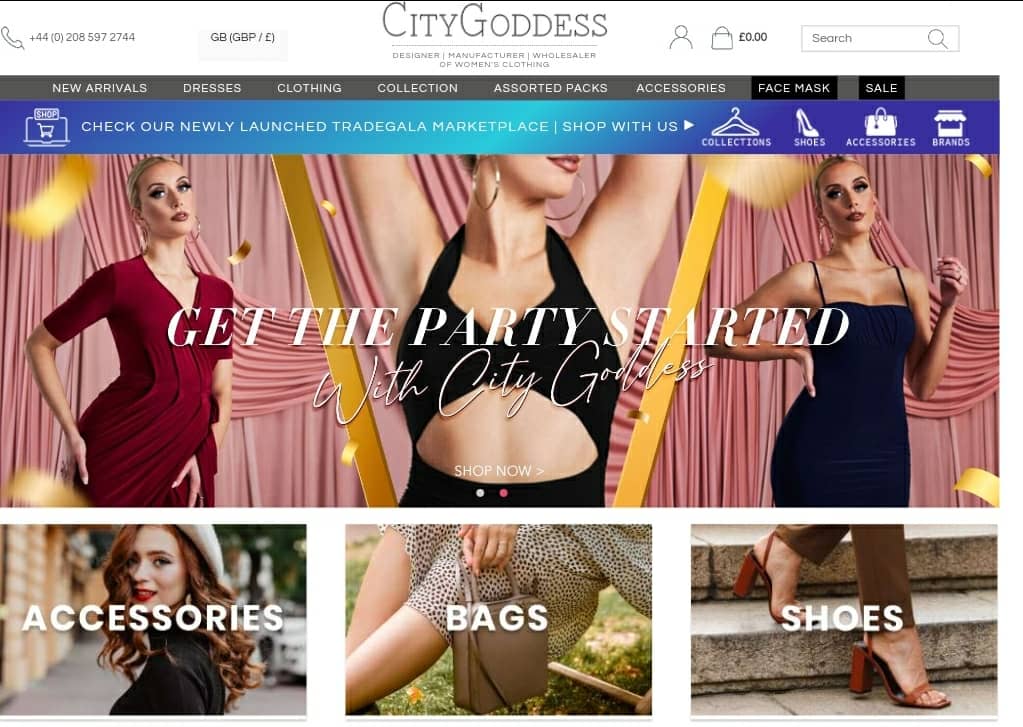 The City Goddess product catalog is all women-oriented. It comprises:
Shoes
Bags
Accessories
Hand-embellished dresses
Party dresses
Casual outfits
All wholesale buyers have to register, then get reviewed, and approved before they can view full product catalogs and prices.
City Goddess allows the use of its images among retailers for marketing purposes. It, nevertheless, prohibits selling on third-party websites like Amazon. The company ships internationally.
Location
Romford, United Kingdom
MOQ
All clothing from City Goddess is sold in packs; it is not possible to buy a single unit of any design. However, you can request different sizes and colors in one pack.
Shipping
City Goddess is based in the UK but ships worldwide and provides tracking numbers. Shipping costs will automatically be calculated for you during check-out.
Return Policy
You need to send an email to notify them within 7 days of receipt. They will decide whether to charge you a 15% restocking fee for unwanted items.
Emma Cloth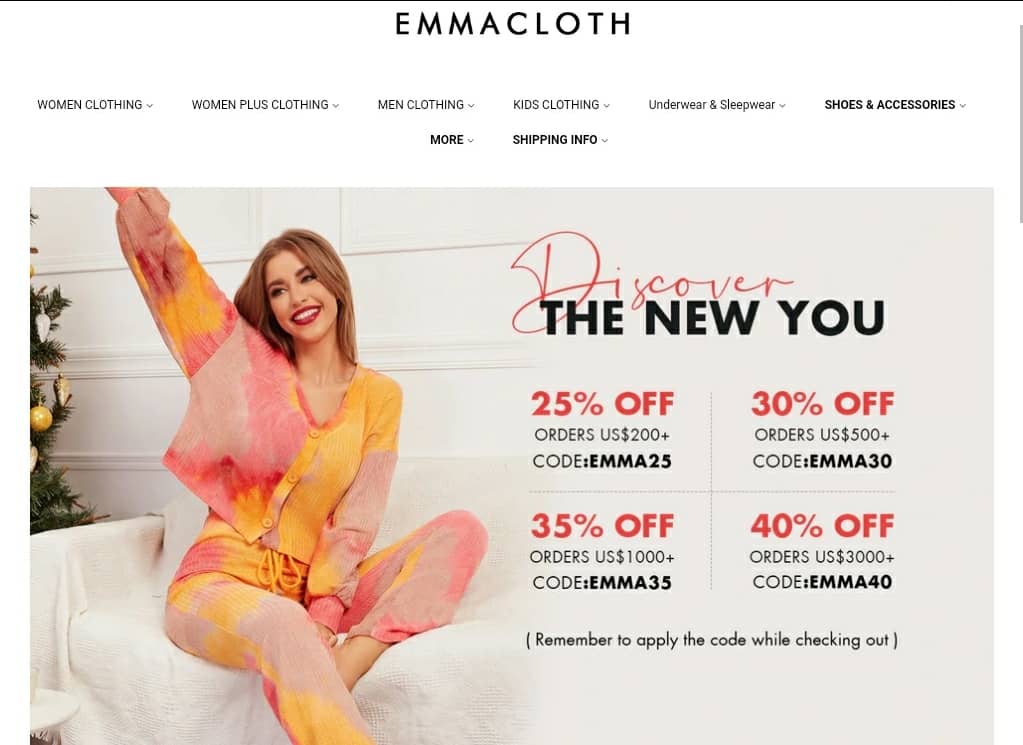 Emma Cloth is a one-stop-shop as it offers clothing for men, women, and children. However, it is the variety that makes it stand out.
The clothing items include the typical shirts, pants, dresses, sweaters, jackets, tops, and t-shirts but beyond this, Emma Cloth also offers:
Wedding dresses
Jewelry
Lingerie
Blazers
Two-piece outfits
That said, Emma Cloth is a little reminiscent of Shein. While the clothing is affordable, the stitchwork and overall quality of some items can be poor. Be sure to inspect your orders early enough to spot those that may need repairs or those that qualify for returns.
Location
China
MOQ
The minimum order value is $200.
Shipping
This vendor has multiple warehouses and also works with logistics partners in strategic locations. They, therefore, manage to deliver orders worldwide quite fast.
Return Policy
Items must be returned to their warehouse within 30 days of the order delivered date.
Maxi Collection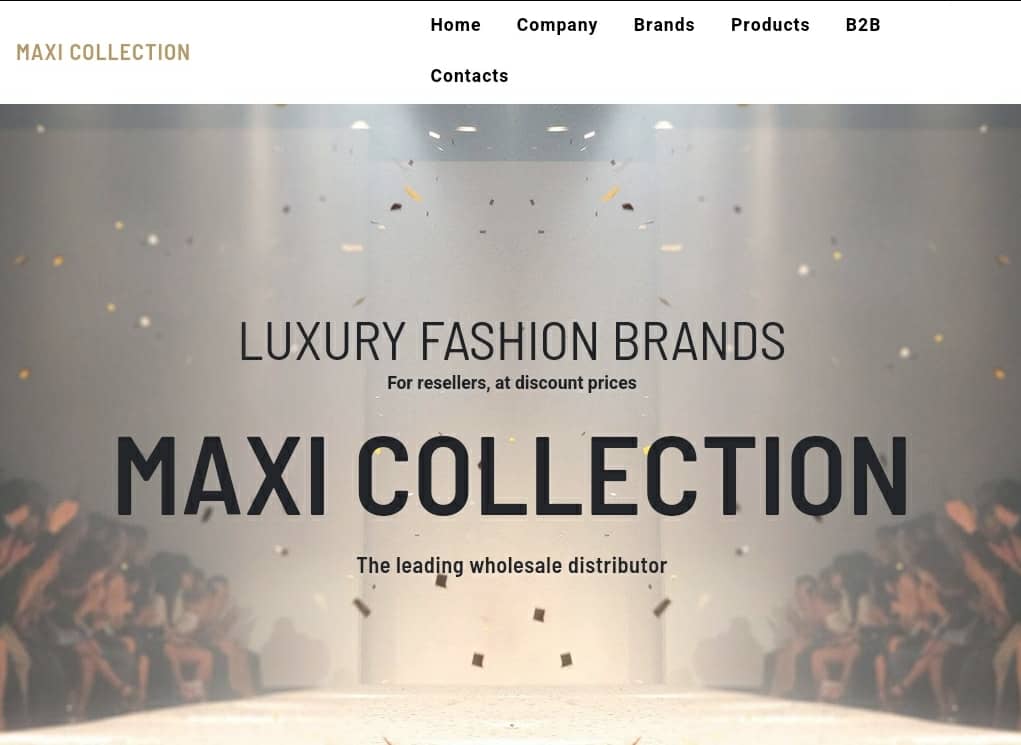 Maxi Collection is a wholesale distributor of clothing from Italian luxury brands such as Emporio Armani, Loropiana F., Guess, Dolce & Gabbana, and others. It also stocks shoes and accessories from these brands.
The collections include pieces for both men and women and are all accessible through the online B2B platform or in the Maxi Collection showroom in Milan.
Further, the company only sells to wholesale vendors. You would thus have to register and provide proof of your business to qualify as a buyer.
Location
Milano, Italy
MOQ
Maxi Collection only discloses prices and MOQ terms to registered wholesale buyers.
Shipping
Maxi Collection ships internationally and provides multiple quotes from different couriers for buyers to choose from.
Return Policy
They didn't include the return policy on their website but you can contact them to find it out.
7th Ray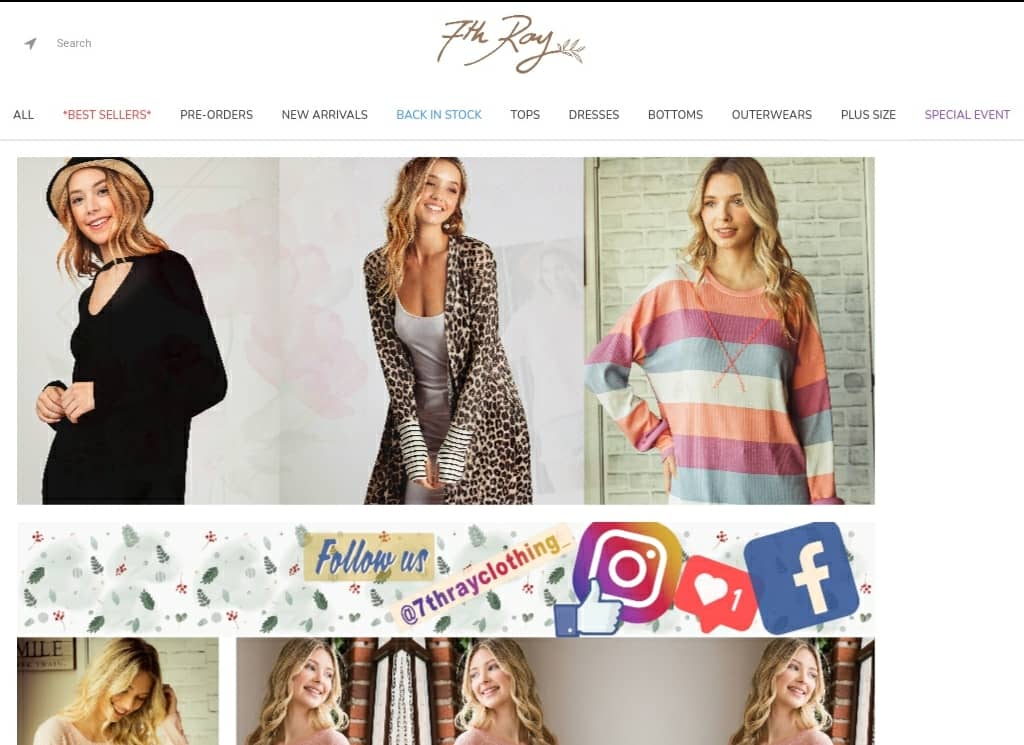 7th Ray manufactures and sells women's clothing from Southern California. Its collections feature a wide-ranging selection of colorful tops, dresses, skirts, hoodies, shrugs, cardigans, and a variety of plus-size designs too.
Location
Los Angeles, California
MOQ and Shipping
All items are sold on a wholesale basis. However, the wholesale program is very exclusive and all details on price, MOQ, or shipping are only disclosed if you reach out to the company as an applicant.
Return Policy
There is no return policy on the website but you can fill out the online form to request an RMA number.
24-Hrs Fashion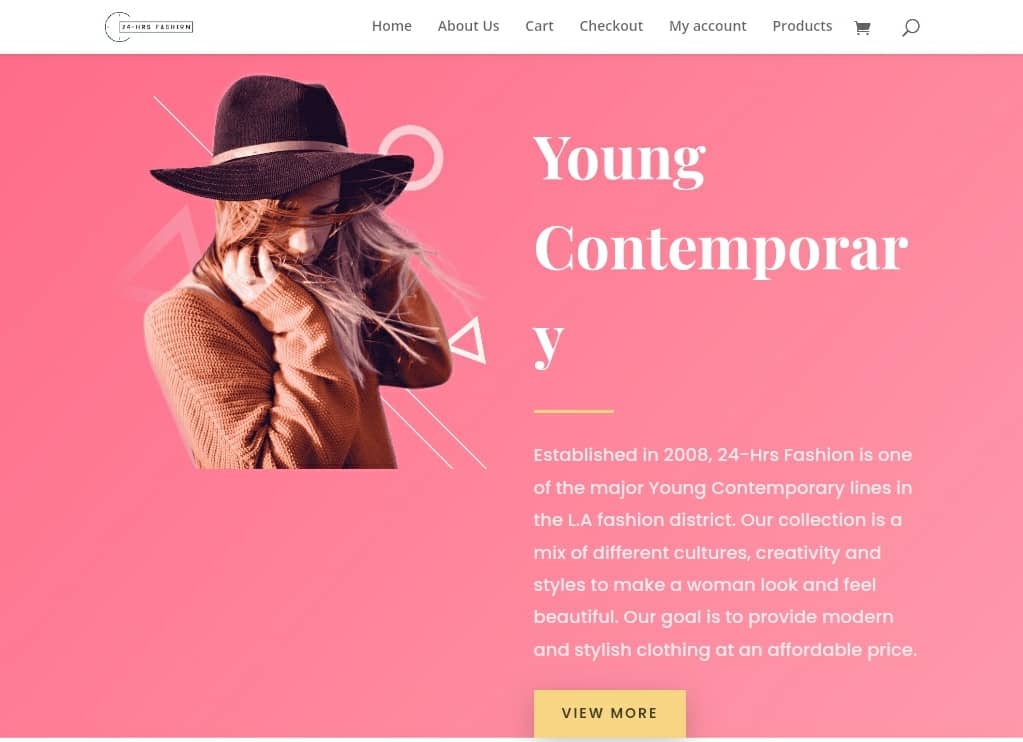 24-Hrs Fashion is big on versatility and passionate about providing hip, comfortable, and stylish clothing for women. It offers:
Cardigans and shrugs
Tops
Loungewear (vests and pants)
Dresses
All these clothing items are sourced from different manufacturers mostly within the USA. They are usually available in various designs that change from time to time.
Additionally, 24-Hrs Fashion provides custom services such as:
Apparel design
Fabric Sourcing
Pattern Making
Cutting
Manufacturing
Location
Los Angeles, California
MOQ
Buyers have to register for the wholesale program to access prices and MOQ details. The MOQ for customization is 75 pieces.
Shipping
24-Hrs Fashion mainly ships within the USA but wholesale buyers can negotiate shipping to their desired locations.
Return Policy
There did not put a return policy on the website but you can contact them either by email or phone to find out more.
Heimish USA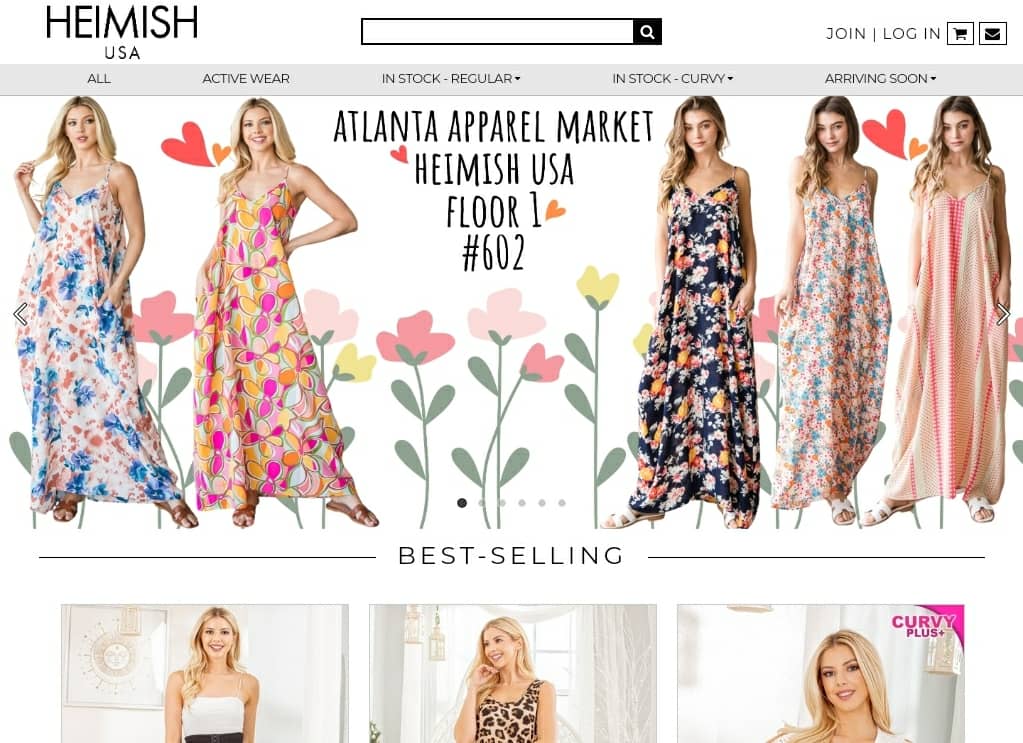 Heimish USA is another all-under-one-roof vendor of women's clothing. Its collections cover all the bases from dresses, tops, and leggings to shrugs, shorts, vests, pants, and activewear. All these pieces are available in average and plus-size.
The collections are updated almost weekly but you can pre-order to avoid missing out on pieces that you like. Orders are processed in 1 business day.
Location
Vernon, California
MOQ
Pricing and MOQ details are reserved for registered Heimish USA wholesale buyers.
Shipping
Heimish USA primarily ships within the USA through UPS and USPS.
Return Policy
You have to keep the return items intact. Otherwise, you will be charged for a minimum of 10% restocking fee. All returns reported after 7 days of the reception date will have a minimum of 20% restocking fee applied.
Capella Apparel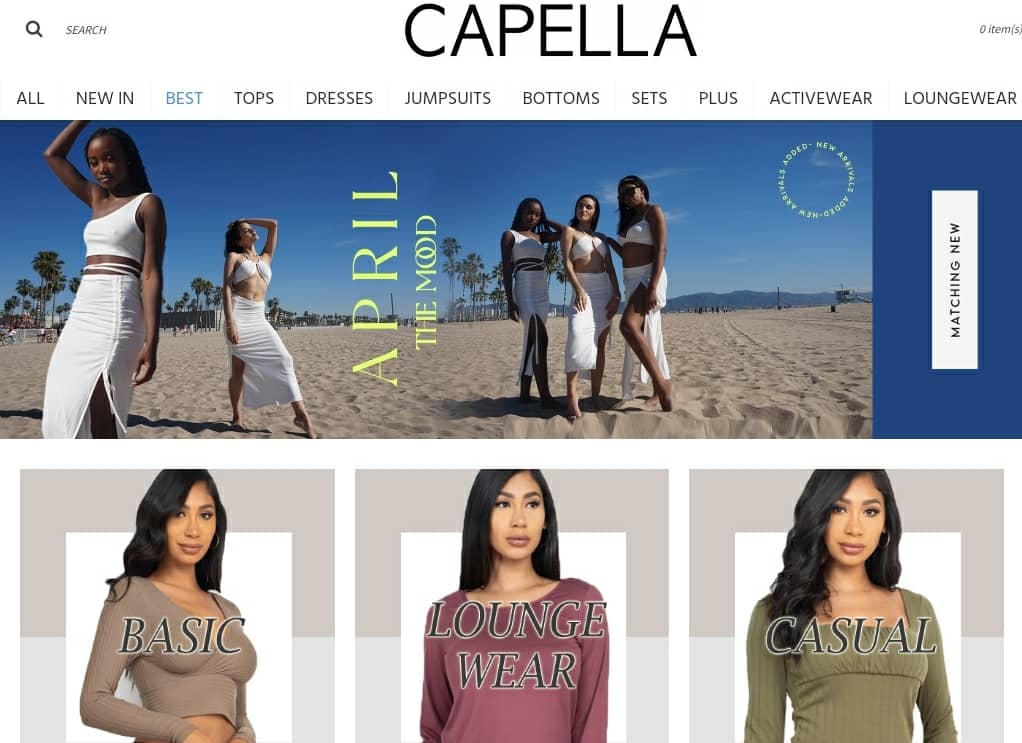 Capella Apparel began as a wholesale clothing distributor for other brands. It later morphed into a manufacturer and wholesale supplier of its own clothing collections.
The clothing items made by Capella Apparel are for women. They comprise basic pieces like bodysuits as well as shorts, rompers, tops, dresses, activewear, and loungewear. In-stock designs are usually ready-to-ship.
Alternatively, you could request Capella Apparel's private labeling services and develop your own line of clothing items. You, nevertheless, need to provide labeling and hang tags as well as packing instructions for the clothing you order.
Location
Vernon, California
MOQ
The MOQ for custom orders is 300 pieces per style, color, and print.
Shipping
Capella Apparel accepts both local and global orders. It uses reputable couriers like UPS and USPS. It can also coordinate shipping via a freight forwarder if you prefer that approach.
Return Policy
They didn't set the deadline for return. But there was a 25% restocking fee for all unauthorized returns.
Shiying Fashion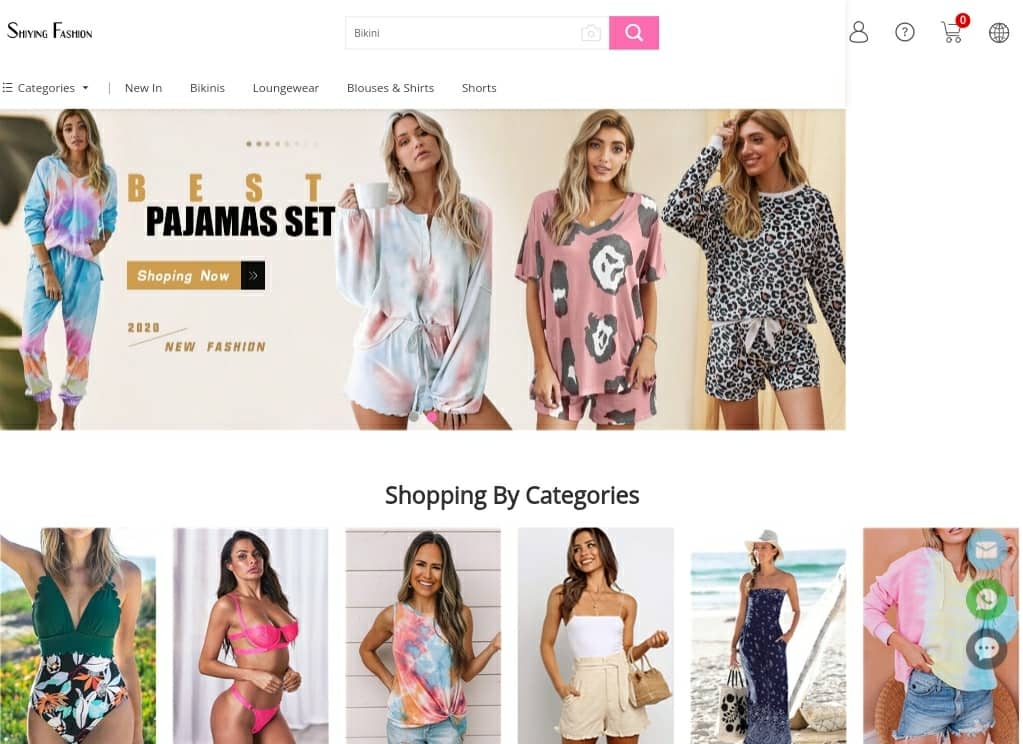 Shiying Fashion primarily manufactures and sells women's clothing. It, nonetheless, sells a few pieces of intimate menswear.
The selection of clothing includes all essentials for a woman's closet. It features:
Swimwear
Dresses
Blouses and shirts
Tops and bottoms
All items are available in average and plus sizes. The variety of prints and colors is quite refreshing.
The Shiying Fashion factory is also sufficiently equipped to handle private label orders. You only need to provide a mock design of the types of clothing you require. The MOQ, in this case, depends on the specific details of your OEM order.
Location
Quanzhou, China
MOQ
The wholesale program is based on a minimum order value approach. It offers buyers different discounts based on the value of their order. The discount rates are 5%, 10%, and 15% for orders worth $1,000, $2,500, and $5,000 respectively.
Shipping
Shiying Fashion ships to over 100 countries internationally. Delivery takes between 3 to 5 days depending on the courier and the location.
Return Policy
Within 3 days of delivery, and the buyer is responsible for all shipping costs incurred.
Paperdoll Wholesale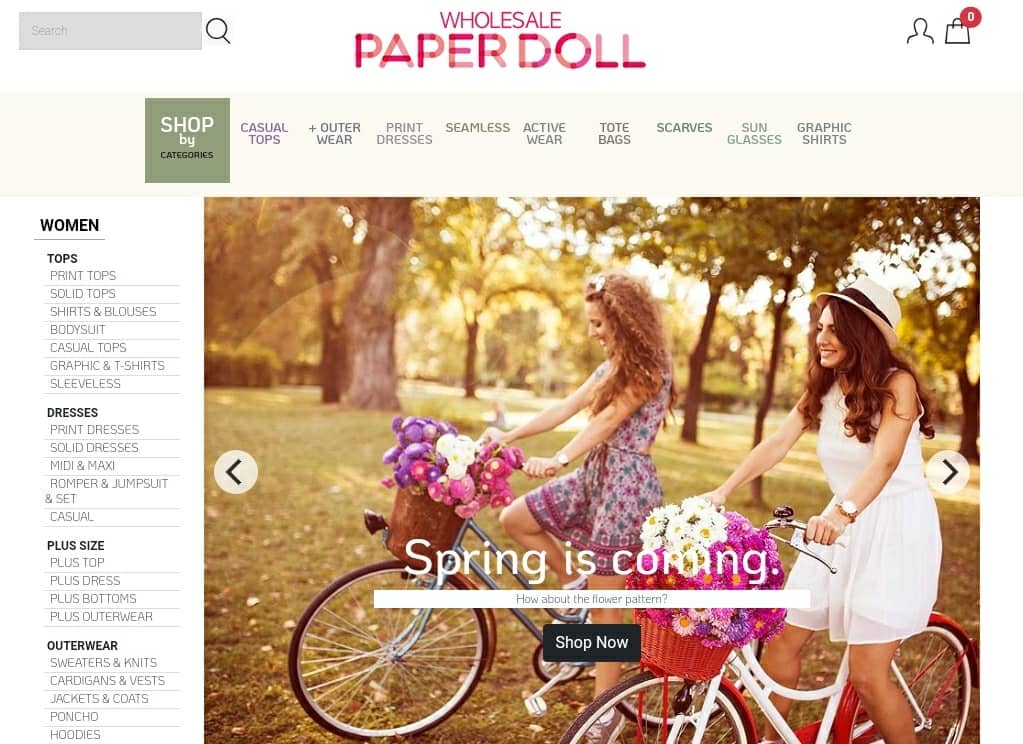 Paperdoll Wholesale selects and sources clothing from different manufacturers and sells it wholesale to retailers.
In doing so, the company aims to ease the burden of retailers having to hop from one manufacturer to another to find all the clothing items they need for their stores. Private label clothing orders are also accepted to ensure you get exactly what you need.
Speaking of clothing items, the Paperdoll Wholesale B2B website offers clothing for women, men, and children. Every section contains a broad range of tops, bottoms, and outerwear for that target market.
You can also round up your order with accessories like handbags, belts, and sunglasses to help your customers complete their outfits.
On the flip side, the returns window is quite short. You would have to initiate the process within 3 days of receiving your order. You would also have to incur the cost of shipping.
Location
Los Angeles, California
MOQ
Items are sold in packs of about 8 pieces.
Shipping
Paperdoll Wholesale ships worldwide but bears no responsibility for taxes levied on the goods once they arrive at the port of destination.
Return Policy
All returns must be done within 3 days of receipt of merchandise according to the tracking number.
Parisian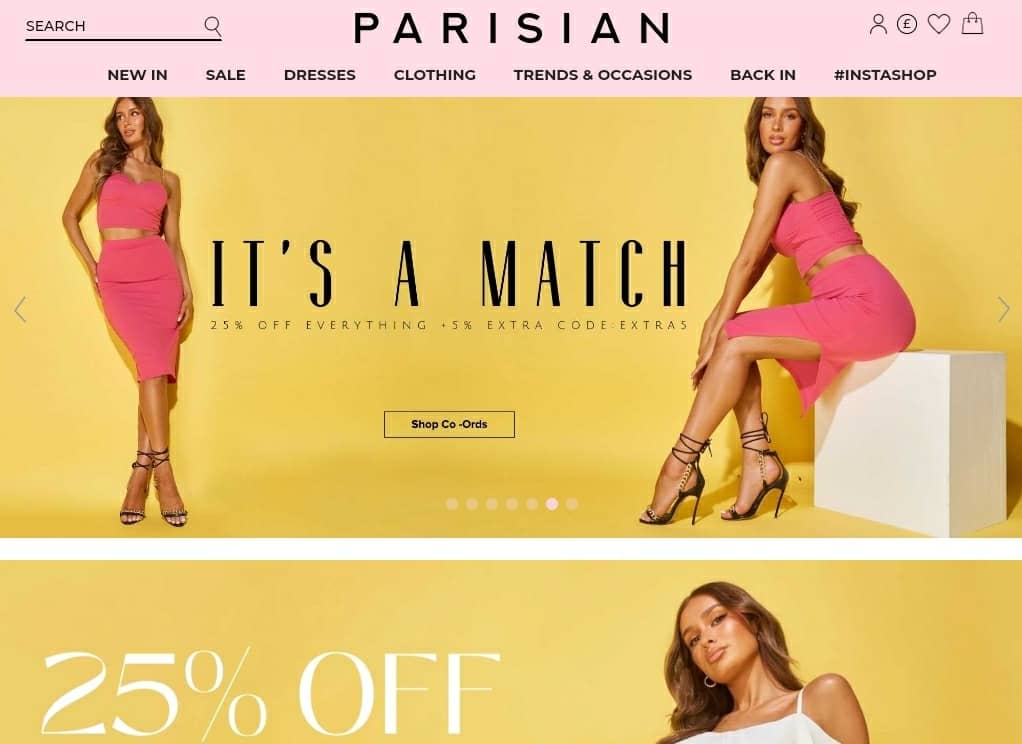 Parisian is a haven for stylish outfits for women. A quick look at its online store and you can tell that this vendor pays great attention to current fashion trends.
You will have an easy time finding appealing jumpsuits, tops, dresses, loungewear, mix & match sets, and outerwear on this website. It is also organized well enough for you to shop based on occasions such as parties, holidays, or even college outfits.
Location
Manchester, United Kingdom
MOQ
Each clothing item is sold in a pack containing 4 to 8 pieces of the same item in different sizes. This works in place of a typical MOQ.
Shipping
Parisian is a UK-based vendor. Orders within the UK, Ireland, and Europe are delivered within 2 to 3 days while international orders arrive within 4 to 10 days.
Return Policy
Items must be returned within 14 days of the receipt. Otherwise, they will not be accepted.
TBDress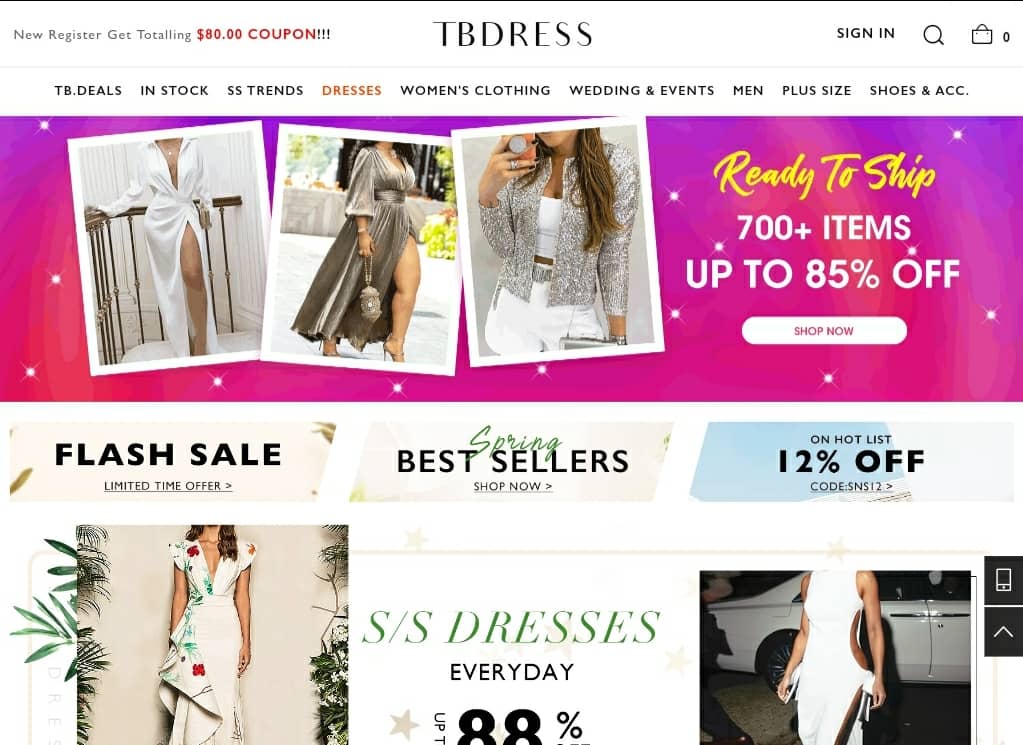 TBDress is well-known for its collection of women's casual, special-occasion, and plus-size dresses. However, this wholesale clothing supplier stocks way more than that. It also offers menswear and accessories such as shoes, wigs, and bags.
Aside from its variety, this is one of the most affordable boutique wholesale vendors. You can also find lots of sales and discounts on the website and shop at even lower prices.
The sign-up process is not complex and does not require documentation. However, you will have to meet the MOQs to be able to shop from TBDress.
Location
Beijing, China
MOQ
Wholesale orders should have a minimum order value of $2,000.
Shipping
TBDress ships to over 230 countries worldwide.
Return Policy
You can ask for an exchange or a refund within 30 days. Return for more than 2 pcs(include) of the same item or style with multiple sizes or colors in one order is subject to 50% restocking fee. Most returns can be processed within 2-7 business days after receiving.
Bellewholesale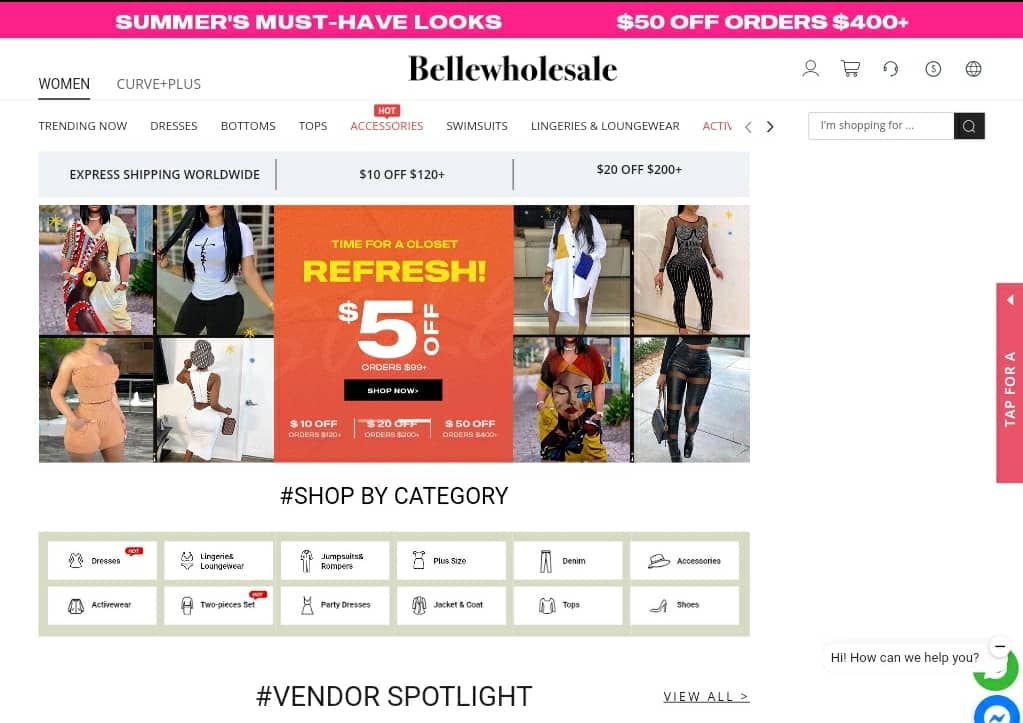 Bellewholesale is an ideal go-to clothing vendor for women's clothing. It stocks clothing from different brands and thus the selection presents a ton of variety to choose from.
The apparel from this wholesaler includes everything you could think of. Whether you need dresses, rompers, cardigans, tops, jumpsuits, swimwear, or intimate wear, Bellewholesale will not fail you.
The prices are displayed for all to see. The catch, however, is that you have to sign up and you can only enjoy wholesale pricing if you buy in bulk.
Location
Guangzhou, China
MOQ
There is no set MOQ. Instead, wholesale discounts are based on the value of items you buy.
For example, if a dress costs £15, the indicated discount may be 5% if you buy dresses worth $150. If you buy less than that, you would have to pay the £15 retail price.
Shipping
Bellewholesale ships orders worldwide on an expedited basis.
Return Policy
If you don't like a product or find damage, you can return it within 14 days of receiving the package.
Bloom Wholesale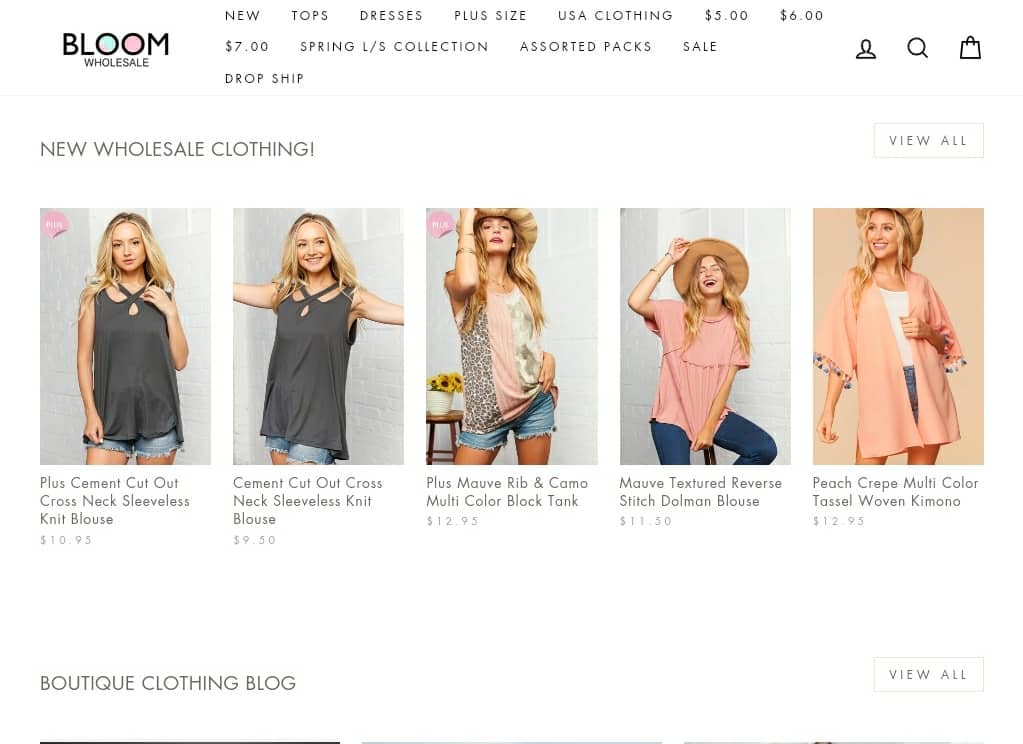 Bloom Wholesale sells women's clothing in bulk to retailers. It may also be one of the best boutique wholesalers to work with if you would like to dropship.
Location
Signal Hill, California
MOQ and Shipping
Bloom's approach to wholesaling is a bit unique. It has no minimum of what a retailer can order so that both small and large-scale entrepreneurs can have access to its products.
Instead, it uses a shipping discount system. All orders under $800 enjoy a $9.95 shipping flat rate while those over $800 enjoy a $16.95 flat rate regardless of size. This is, however, only available to buyers in the USA.
Return Policy
Bloom Wholesale accepts returns as long as they are notified within 3 days of receipt.
Zaful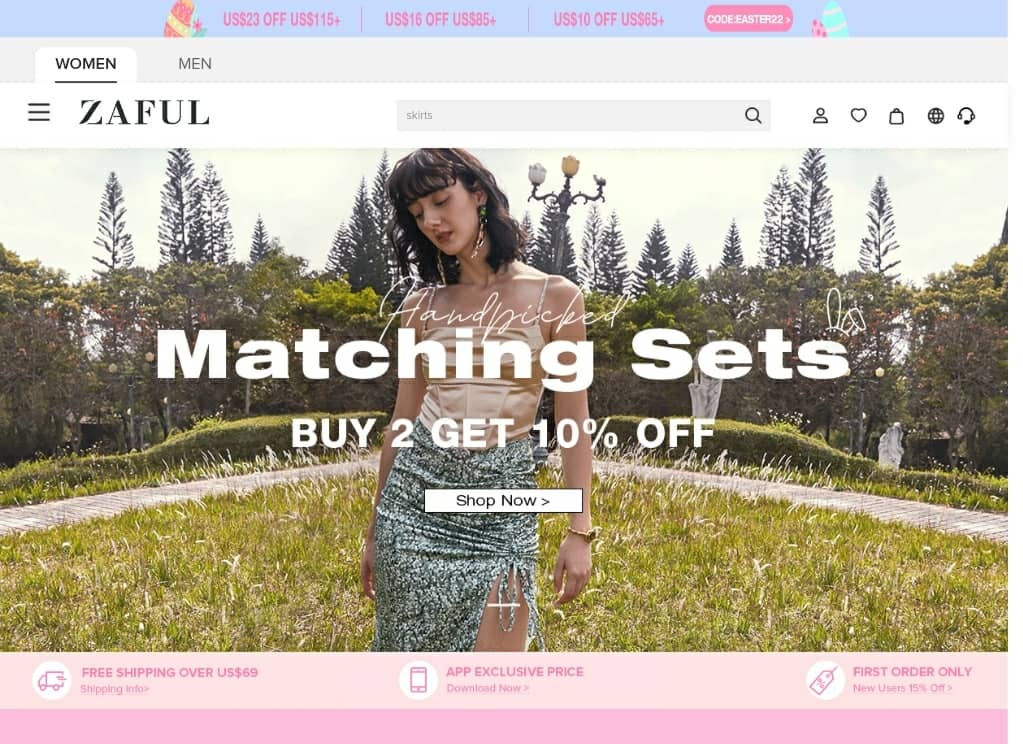 Zaful stocks clothing for both men and women. They range from swimwear, pants, t-shirts, 2-piece outfits, tops, dresses, activewear, and more.
Shopping on the Zaful website is easy as it is designed with helpful filters. You can shop based on occasion, style, size, or even color. All items are also regularly discounted and so it is easy to buy only a few pieces if you would like to buy in low bulk.
Location
Saint Louis, Missouri
MOQ and Shipping
Zaful wholesale works slightly differently. The company requests buyers to identify the items they need and share them via email. The MOQ is 50 pieces but you can order as many pieces as you please.
The company will then review your order, calculate the best wholesale price they can offer, and share shipping estimates too.
If you are content with the quote, you can confirm the order and initiate payment for it to be processed and shipped.
Return Policy
Buyers can contact them within 30 days of receiving the item.
FashionTIY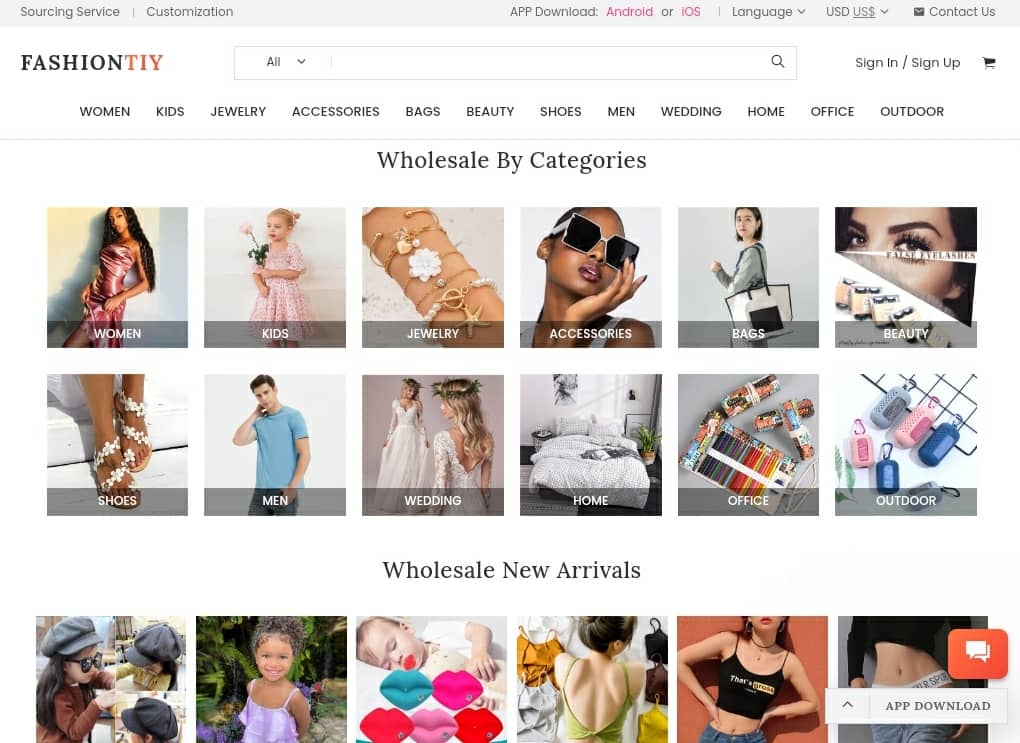 FashionTIY is the peacock of online wholesale clothing vendors. Almost everyone knows about it due to its reliability, mind-boggling clothing variety, and great wholesale pricing.
One of the key advantages of shopping on FashionTIY is that you can buy everything from one source. It stocks clothing for children, men, and women. Additionally, it is one of the few wholesale clothing suppliers for retailers that offers both casual and formal apparel.
If you choose FashionTIY as your vendor, you will first have to create an account before you can start shopping.
Location
Newark, New Jersey
MOQ
Each clothing item has a different wholesale price. It is determined by how many units of that item you buy.
Shipping
Orders are processed within 3 to 6 working days. FashionTIY indicates all the viable shipping options that are available for your purchase. You can thus choose one option based on the cost and delivery timelines that you prefer.
Return Policy
You can ask for a refund within 7 days.
FAQs about Wholesale Clothing Vendors
Where Can I Find Wholesale Clothing Vendors?
The first stop would be this list. Every supplier here has something unique to offer, sells on a wholesale basis, and most of them ship internationally.
On the off chance that you can not seem to find what you need on this list, consider finding vendors through:
A sourcing company – a sourcing company is a professional team that specializes in connecting buyers with suppliers or manufacturers that sell the products they need. They can help you find a clothing vendor that meets all your requirements.
Online searches – running an online search could introduce you to clothing vendors from all over the world. It takes away the limitation of only working with local vendors and could also see you find better options in terms of pricing, variety, and clothing quality.
Trade shows and exhibitions – clothing vendors hold exhibitions in different locations every year. The Fashion World Tokyo expo held in Japan, for example, would be one of many to consider.
How Can I Start a Clothing Business With No Money?
It may not be practical to start a clothing business with $0. However, if you can save up a modest budget of about $100, dropshipping clothing may be a highly viable option for you.
The upside to dropshipping is that you do not have to buy any inventory. You only need to:
Register your business.
Set up a dropshipping clothing store on an e-commerce platform like Shopify or Wix which costs less than $30.
Find a clothing dropshipping supplier and negotiate favorable terms with them.
Order samples to ascertain the quality of their products. (Optional)
List their clothing on your online store.
Launch and tactfully market your online clothing store. Platforms like Google Ads and Facebook Ads allow you to set your budget.
Can a Wholesale Refuse to Sell to a Retailer?
Yes, they can.
Legally, a wholesaler reserves the right of admission to their wholesale program. As such, if you do not meet the terms stipulated by a wholesaler, they are within their rights to decline to do business with you.
Here are some basic tips you could take up to make your applications more acceptable to wholesalers.
Read their terms and conditions carefully to understand if you qualify. For instance, if they only sell to brick-and-mortar stores but you only have an online store, that may not be the right wholesale vendor for you.
Be honest. Wholesalers do their due diligence using the information that you provide. They are likely to turn down your application if they find out that you were dishonest in any way.
Provide all the required documentation. If you do not have it all and are determined to work with that particular vendor, it is better to wait and gather everything you need then make your application when you are truly ready.
How Can I Buy Wholesale Without a Business?
The easiest solution to this dilemma would be to find a wholesale clothing vendor that does not require your business registration details. There are quite a number of them on the list above but you can also find others online or through referrals.
What Factors Should I Consider When Buying Clothing Wholesale?
Buying clothing wholesale is advantageous due to the fair prices and the one-off shipping process.
However, keep in mind that it can be a major inconvenience if you buy in bulk and receive clothing items that do not meet your expectations. So, make an effort to:
Do your due diligence – read reviews about your preferred wholesale clothing vendor from other buyers. This will give you insight as to whether a vendor is as good as they say they are.
Order samples – samples will show exactly what kind of fabric, stitchwork, and overall quality of clothing a vendor can deliver. Ordering them will also be a test run to help you judge how efficient the vendor is in shipping or handling returns.
Negotiate for mixed orders – customers shop based on size, color, and design preferences. Mixed orders allow you to order clothing that would suit a wider range of customers.
To Sum It Up
Wholesale clothing vendors keep increasing each day and most of them are not available online. It is thus easy to access them and find what you need.
However, take your time and use some of the tips you have learned here to find a vendor that is truly ideal for your business.
If you feel out of your depth with all of these processes and decisions, we would be happy to handle it for you. We can find you the right vendors, vet them, negotiate pricing, and work with you throughout the purchase. We also coordinate worldwide shipping with reliable couriers.
Simply send us a detailed brief of your requirements, request a free quote, then leave it all to us.