Are you in search of the crème de la crème when it comes to eBay wholesale suppliers for your online business? We are too, so look no further!
We understand the importance of reliable and high-quality suppliers to fuel your eBay selling journey. That's why we've researched and curated a list of trustworthy suppliers in different product niches, price ranges, and locations.
Whether you're a seasoned seller or just starting out, this article is your ultimate resource to find the perfect suppliers that align with your business needs.
So, let's dive in and discover the key players in the world of eBay sourcing!
1. SaleHoo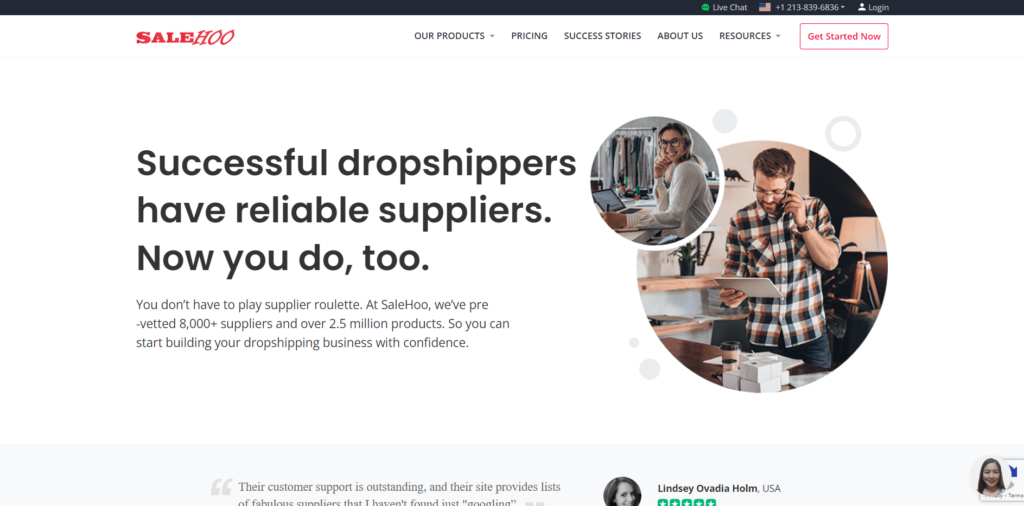 SaleHoo is a leading platform that specializes in providing eBay sellers with a comprehensive directory of over 8,000 reliable wholesale suppliers.
With SaleHoo, eBay sellers gain access to a vast network of trusted suppliers who offer a wide range of products at competitive prices. So, whether you're searching for trending items or niche products, SaleHoo's supplier database has got you covered.
They ensure that each supplier listed on their platform is thoroughly vetted, ensuring a seamless and trustworthy sourcing experience for eBay sellers.
Key Features
A directory of 8,000+ vetted suppliers;
2.5 million high quality products;
Low or no MOQs;
Multiple shipping options;
Paid tool ($67 for 1-year access or $127 for a lifetime);
2. Worldwide Brands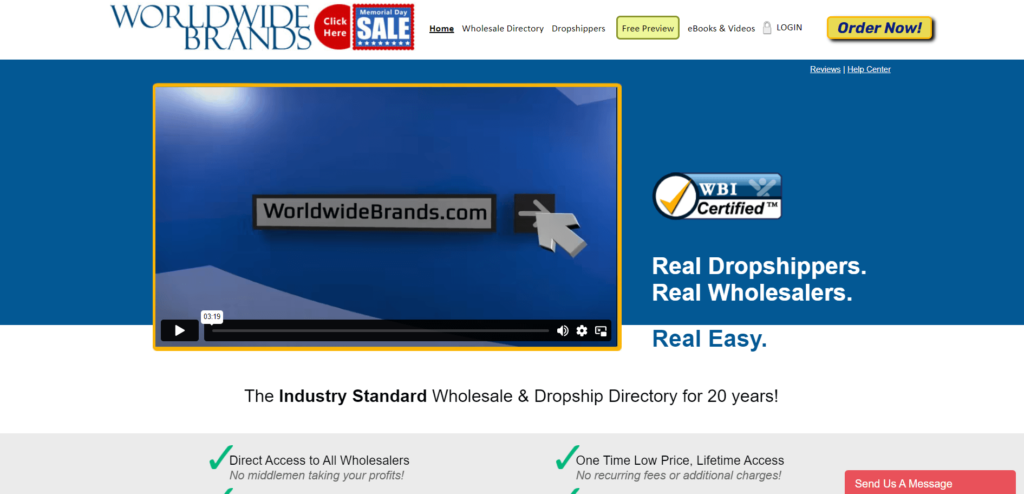 If you're an eBay seller seeking certified US and UK-based wholesale suppliers, look no further than Worldwide Brands.
As a global online directory, Worldwide Brands houses a vast collection of major wholesalers, manufacturers, and dropshipping suppliers, making it an ideal resource for finding products to resell on eBay.
Sellers often choose Worldwide Brands as their go-to platform due to its user-friendly interface and direct supplier access. You can easily source a wide range of products directly from genuine suppliers, securing competitive wholesale prices.
Key Features
All-around products;
A large online directory of certified suppliers;
Millions of products available to choose from;
Must pay a one-time membership fee of $187 for lifetime access to the directory;
3. Doba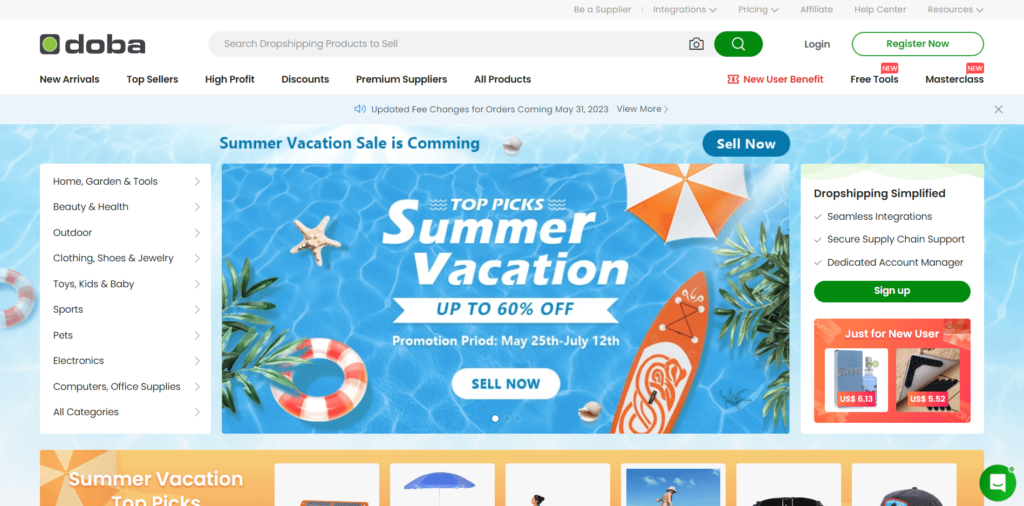 When it comes to discovering the hottest products on eBay, look no further than Doba. With extensive partnerships with wholesalers globally, this company excels at dropshipping a staggering selection of over 2 million products.
Doba is a dropshipping platform that integrates with all major stores and website builders, including your eBay store. This will allow you to seamlessly list products and fulfill orders.
Key Features
All-around products;
Affordable prices;
A 30-day return policy;
More than 2 million available products;
Dropship-friendly;
4. Sunrise Wholesale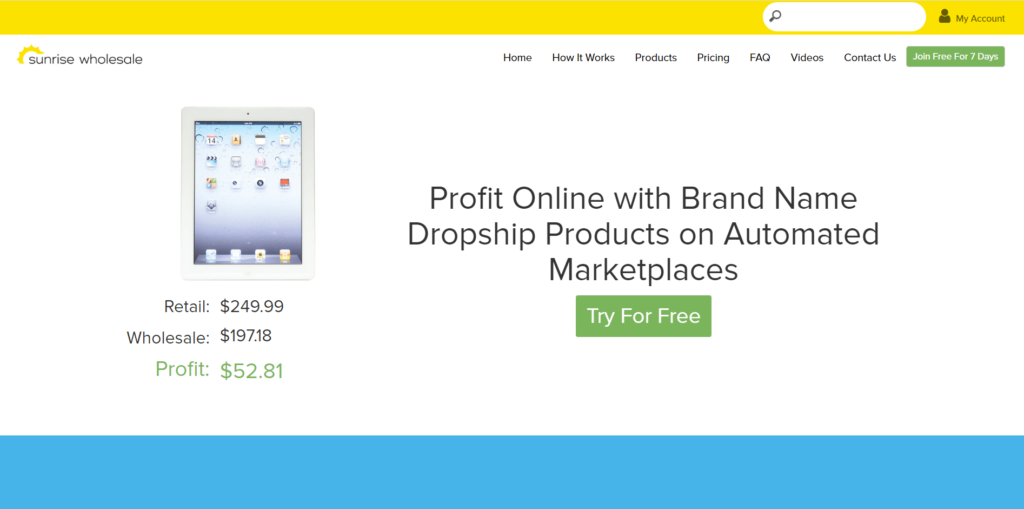 The next wholesale supplier on our list is Sunrise Wholesale – a US seller that caters to both bulk buyers and dropshippers alike. Sunrise Wholesale has been in business for 18+ years and they offer over 30,000 products spanning through 20+ categories, including brand products.
Perhaps the best feature of Sunrise Wholesale is that they integrate with major marketplaces like eBay, Amazon, and Shopify, allowing you to streamline your dropshipping business.
Key Features
A membership of $49 per month;
30,000+ products;
20+ product categories;
No MOQs;
30-day returns policy;
5. CJDropshipping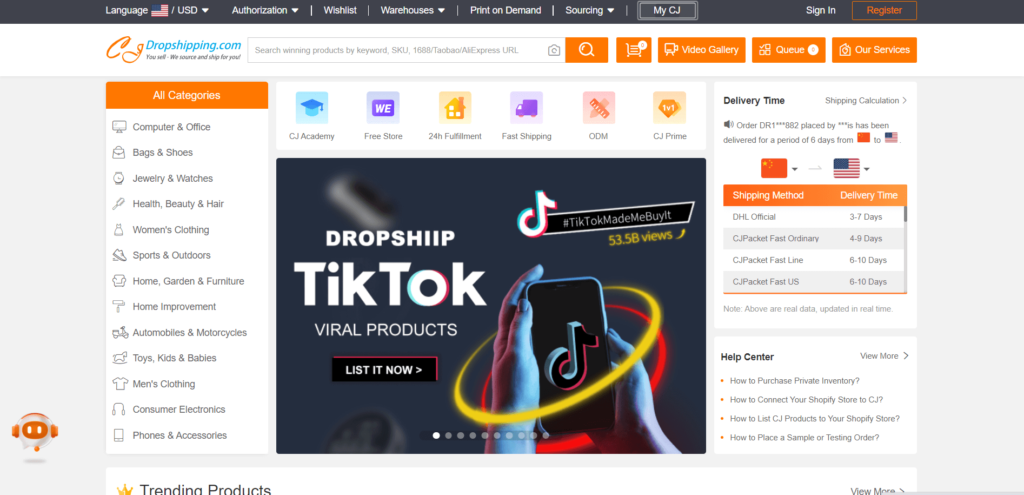 CJDropshipping is a well-established dropshipping and wholesale supplier known for its extensive range of products and affordable prices.
Based in China, CJDropshipping's vast catalog boasts over 400,000 products in a wide range of categories, including sports, home decor, outdoors, apparel, and more. With such a diverse selection, sellers can find a variety of options to suit their specific eBay store needs.
Key Features
All-around products;
Global warehouses;
Sourcing and branding services;
White labeling and PoD services;
Multiple shipping options;
6. Costco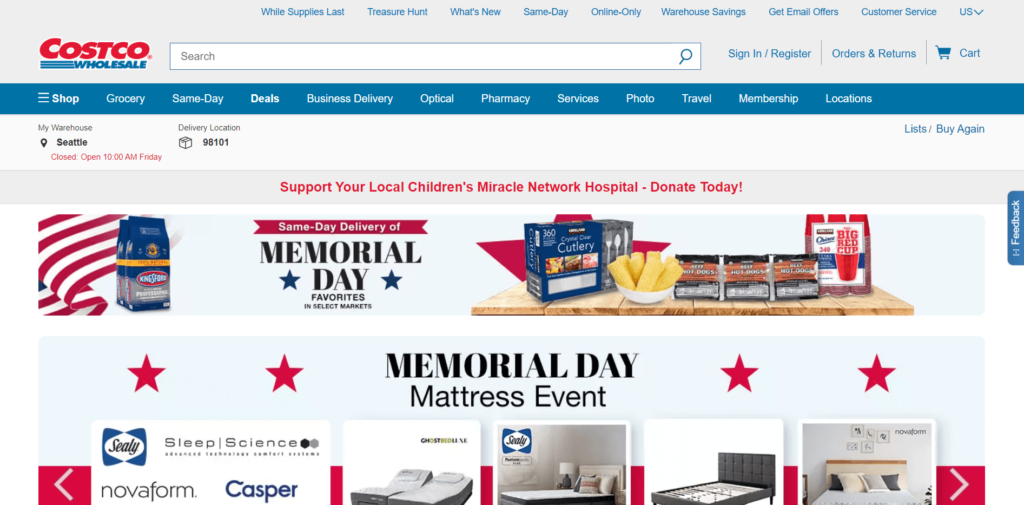 Costco is an international retail company that operates on a membership model. By subscribing, you can access their extensive product catalog, which gives you many opportunities for high-demand, low-competition, and high-profit margin products.
While Costco primarily focuses on grocery items, they also offer a diverse range of products including clothing, electronics, accessories, homewares, and furniture.
Key Features
A membership and subscription model to access their product catalog;
Access to high-demand and trending products;
Fast shipping;
A 90-day product return policy;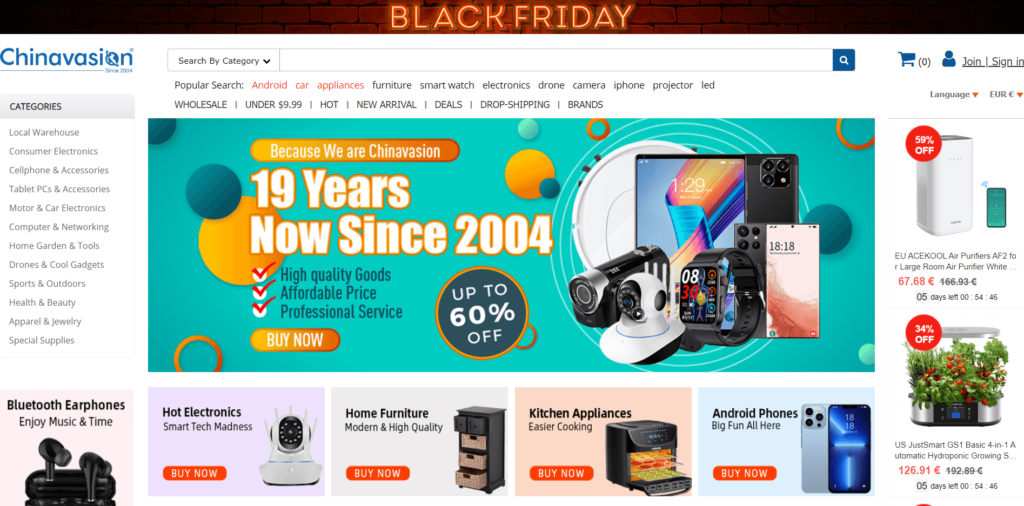 Chinavasion is an established eBay wholesale supplier from China. They offer a diverse selection of top-selling items, including electronics, clothing, household products, and more.
To ensure faster delivery, Chinavasion operates multiple international warehouses throughout the US and Europe. This allows you to offer quick local shipping to your eBay customers, boosting their shopping experience.
Their dropshipping program offers additional benefits, such as access to unique product descriptions and the option to create custom shipping invoices, providing flexibility for your online business.
Key Features
All-around products with a focus on electronics and tech gadgets;
Factory prices;
Dropship-friendly;
Many warehouses throughout the US and EU;
Custom labels and invoices for dropshippers;
8. DHgate
DHgate, one of China's largest B2B marketplaces, offers a vast selection of over 30 million products from thousands of suppliers.
It's the ideal platform for finding affordable eBay wholesale suppliers.
With DHgate, all transactions with suppliers occur directly through the platform, ensuring payment protection and guaranteed refunds. So, although DHgate is cheap, it's legit and safe to buy from as long as you find a reliable supplier.
Key Features
Thousands of wholesale suppliers to choose from;
Over 30 million products in different niches;
Affordable wholesale prices;
No MOQs;
A network of local warehouses in different regions;
9. DollarDays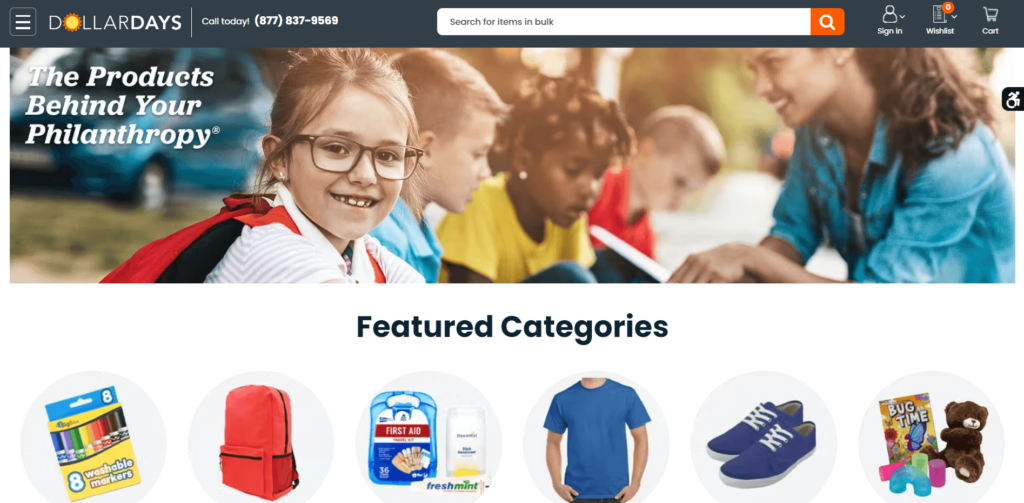 DollarDays has been a trusted wholesale supplier for over two decades, serving non-profits, businesses, and online sellers across the USA.
They're a popular eBay wholesaler, and they've built a strong network of clients who purchase bulk stock for resale on various marketplaces.
With a diverse range of tens of thousands of products spanning electronics, clothing, housewares, pet supplies, stationery, toys, and more, DollarDays is an ideal choice for small sellers and start-ups since they have no minimum order requirements or membership fees.
Key Features
All-around products;
US-based supplier;
No MOQs;
No membership fees;
A 14-day return policy;
10. Alibaba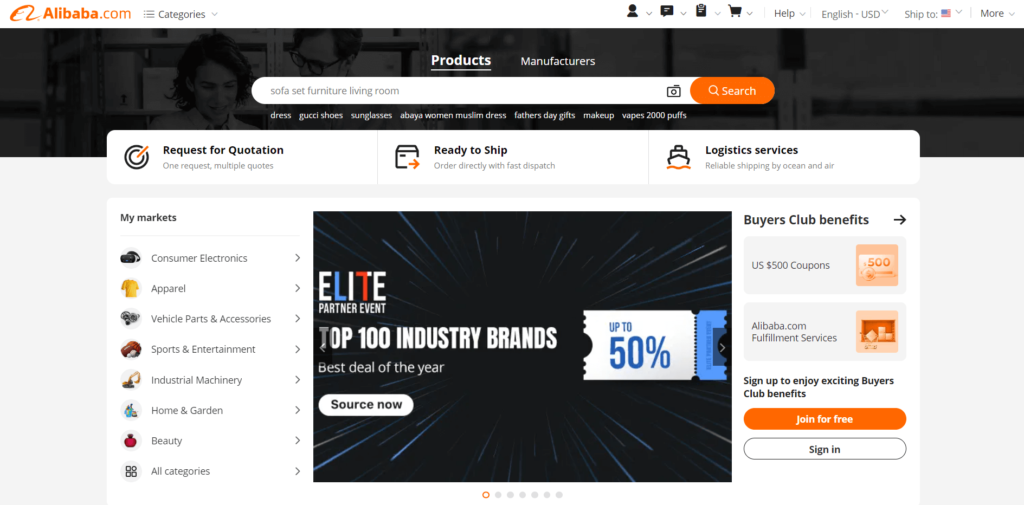 Although Alibaba suppliers don't usually cater to dropshippers, this B2B marketplace can still be useful for finding suppliers if you're looking for wholesale sourcing.
On top of that, on Alibaba, you can find many Chinese manufacturers and factories that can help you with OEM or ODM services if you wish to develop and sell your own brand products.
Key Features
The largest worldwide B2B marketplace;
All-around products in a wide range of categories;
Great for wholesale sourcing and bulk orders;
Wholesale prices for great margins;
Varying MOQs depending on the supplier;
Product development, white labeling, and private labeling opportunities;
11. AliExpress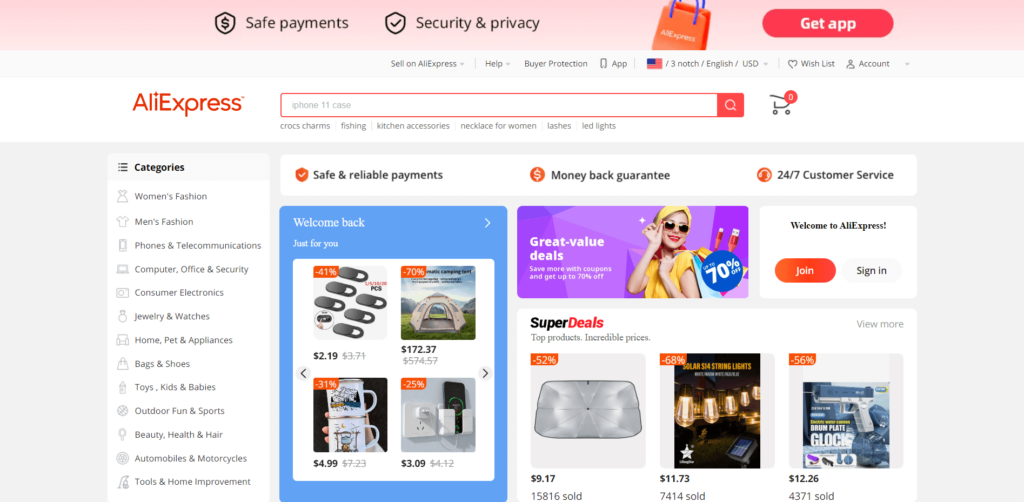 Next is AliExpress, which is technically a B2C marketplace, but that's exactly what makes it great for eBay sellers with a dropshipping business.
Although AliExpress cannot be classified as a wholesale marketplace, the products there still have wholesale prices, much lower than many US wholesale suppliers.
So, this, combined with its dropship-friendly nature make AliExpress a great product-sourcing option for eBay sellers.
Key Features
The largest B2C marketplace worldwide;
Around 100 million products to choose from;
Affordable prices;
No MOQs;
Dropship-friendly;
Worldwide shipping (albeit slow);
12. TVC Mall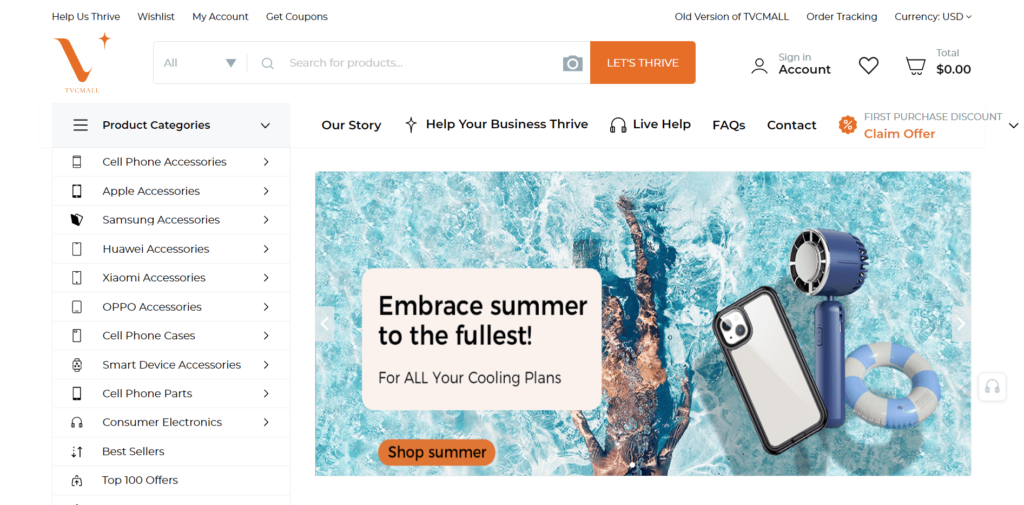 Next on our list is TVC Mall – an experienced eBay wholesale supplier based in China. They provide factory-direct prices on a wide range of popular products, including electronics, phone accessories, homeware, tools, pet supplies, and more.
With a growing user base of more than 1.5 million and an impressive annual sales figure of $30 million, TVC Mall has become a popular platform for sourcing high-quality products from China.
Lastly, TVC Mall offers a diverse selection of goods suitable for custom and private label services for those of you interested in selling brand products.
Key Features
Over 100,000 products available;
100+ product categories;
China-based
27/7 customer support;
Discounts on wholesale orders;
13. GoGo Mall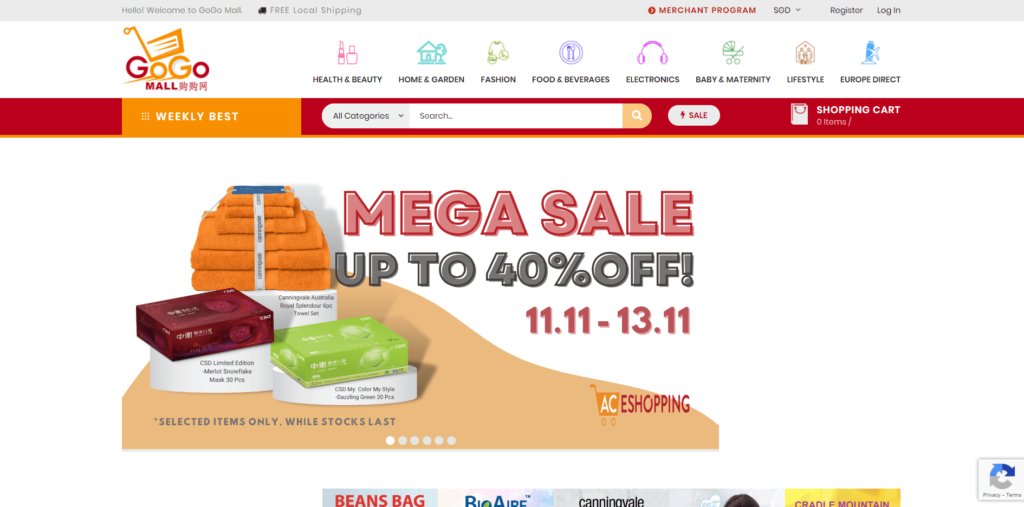 GoGo Mall is a well-known online marketplace operating in Singapore and Indonesia that focuses on facilitating trade between global buyers and Asian suppliers.
If you're considering GoGo Mall for your eBay dropshipping business, it can be a really intriguing option because they provide various additional services, including marketing, advertising, promotion, and consultation.
Key Features
A limited offer of 1,000 premium products;
A global shipping time of 4 to 11 days;
A 7-day money-back guarantee;
Product personalization possibilities;
Dropship-friendly;
14. Banggood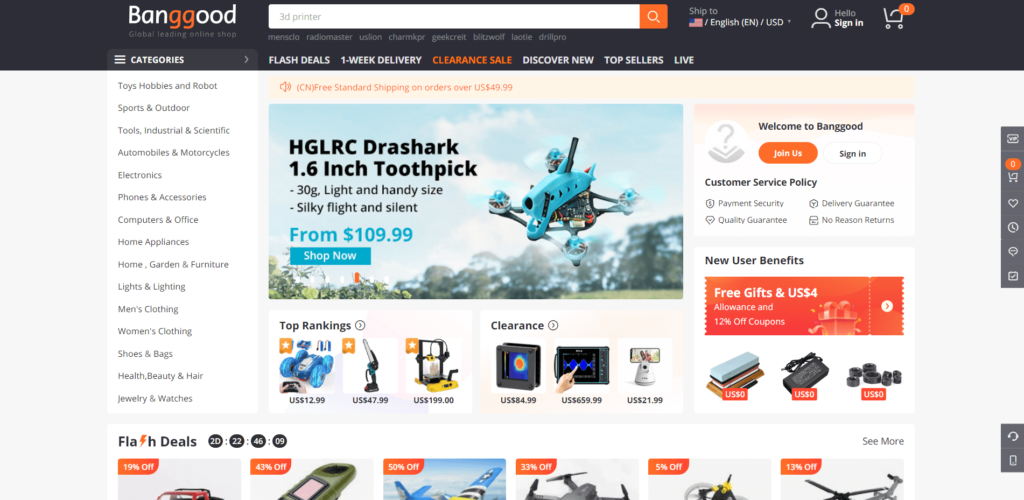 Banggood is a trusted Chinese platform that provides eBay sellers with a wide range of options. With over 250,000 products available, you have plenty to choose from.
What sets Banggood apart is their commitment to offering tested and vetted products, ensuring quality and reliability. Plus, their competitive prices open up opportunities for higher profit margins.
Lastly, the platform has domestic warehouses throughout multiple regions globally and is dropshipping-friendly, making it easier to streamline your operations.
Key Features
Local warehouses in different countries;
Wholesale prices and discounts;
Around 250,000 products in different niches;
14 or 30-day return policy (depending on the product);
Great for dropshipping businesses;
15. Walmart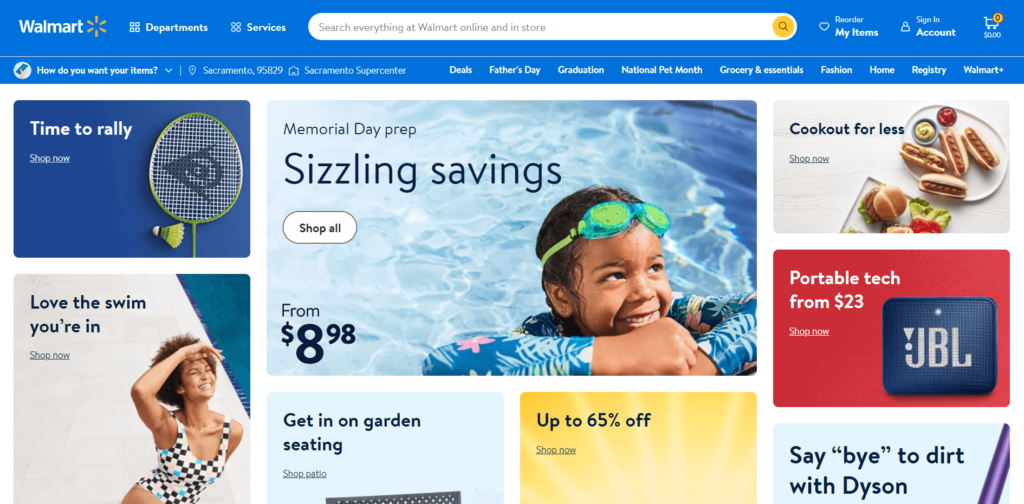 With a whopping selection of over 46 million products, Walmart presents a lucrative opportunity for eBay sellers. Leveraging the Walmart dropshipping service, sellers can receive orders on eBay and seamlessly source them from the Walmart marketplace, without having to keep stock.
With 28 wholesale warehouses and three fulfillment centers strategically positioned worldwide, Walmart enables dropshippers to select the nearest manufacturing facility.
Key Features
Over 46 million products to choose from;
Discounts on bulk orders;
Fast shipping (same-day shipping is possible);
Great customer support;
A 90-day window for customer returns;
16. Costway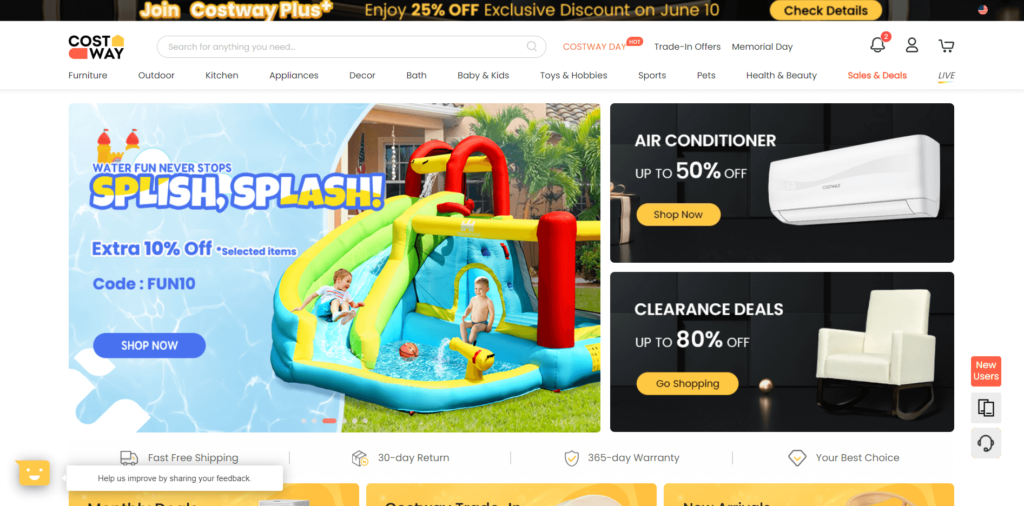 Next, we have Costway – a certified wholesale supplier in the US that's widely recognized as one of the top online retailers in Europe and North America.
Costway sells products in the home and household niches, including furniture, outdoor, kitchen, appliances, bath, decor, toys, and more.
Key Features
Over 8,000 high-quality products in the furniture and home decor niche;
Free standard shipping on all featured products;
Fast shipping (3 to 5 days);
High-ticket products with great margins;
Often has deals and discounts;
17. Mirage Pet Products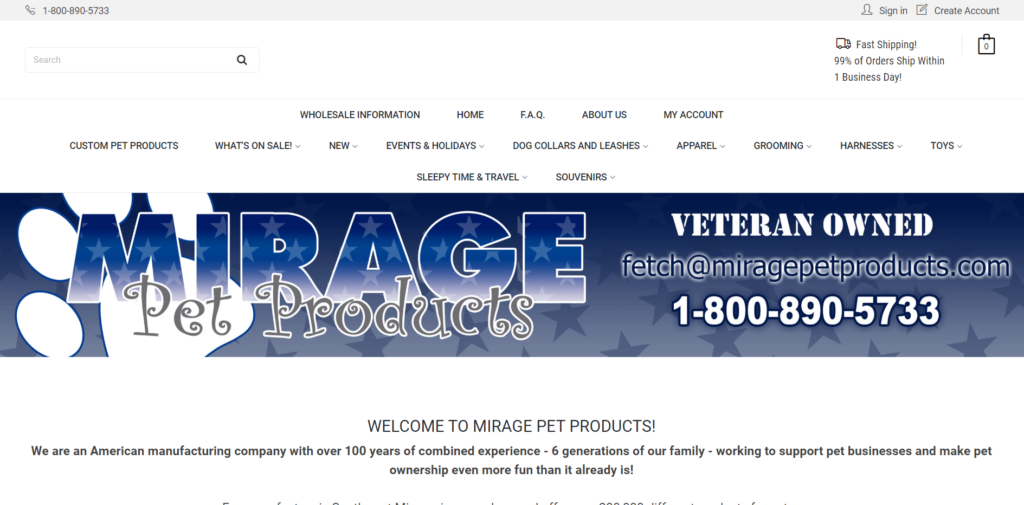 Our next supplier is a bit different, oriented exclusively on four-pawed friends! Mirage Pet Products is a US-based wholesale supplier with a large portfolio of over 200,000 pet products.
On their website, you can find leashes, collars, apparel, harnesses, toys, pet beds, and more.
Lastly, they cater to both dropshippers and wholesalers, offering discounted prices on bulk orders.
Key Features
Dropship- and wholesale-friendly;
200,000+ pet products;
Returns are allowed only if there's a defect;
Free US shipping over $250;
Worldwide shipping is available;
18. Kole Imports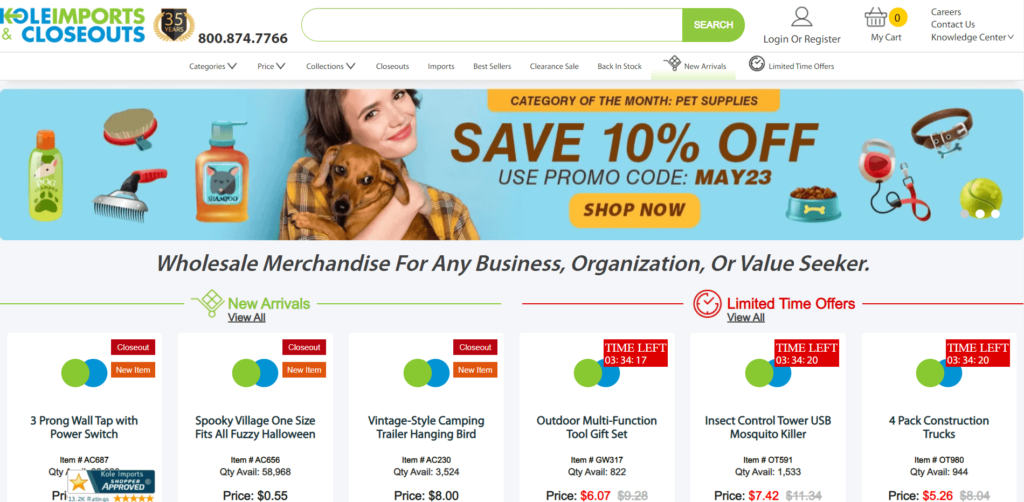 Kole Imports, a US family-owned wholesale supplier, is a trusted choice for thousands of eBay and Amazon sellers, as well as major US retailers like Staples, Groupon, Kroger, and more.
They boast an extensive catalog of over 10,000 items, with a diverse range of products, including clothing, jewelry, electronics, tools, pet supplies, hardware, etc.
Lastly, Kole Imports is known for its wide selection of exclusive closeout deals you can benefit from!
Key Features
US-based;
A supplier that's eBay and Amazon FBA-friendly;
A dropshipping program is available;
Affordable wholesale prices;
19. Wholesale Clearance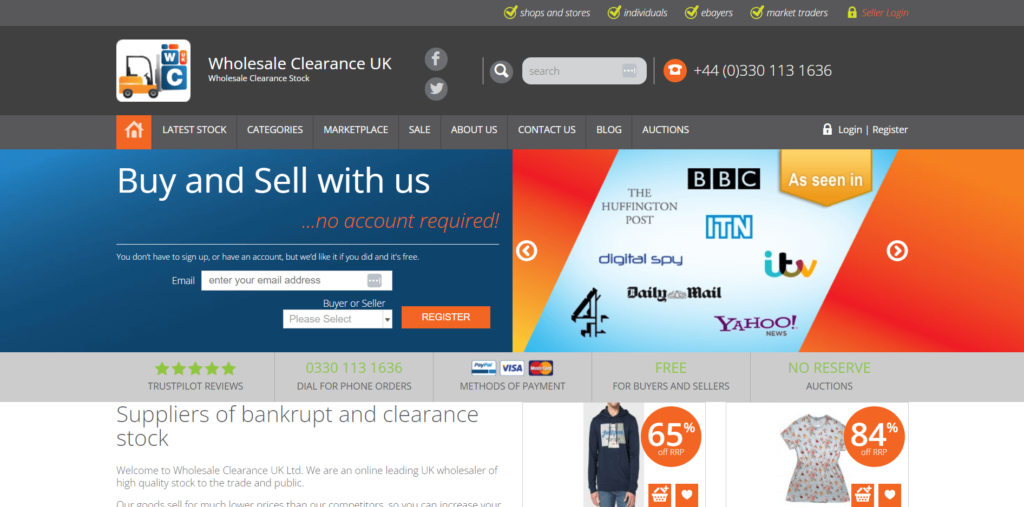 Wholesale Clearance is the leading UK supplier of bankrupt, liquidation, and clearance stock, catering to small retailers and eBay sellers.
With a vast array of products including apparel, homeware, electronics, toys, beauty items, and more, Wholesale Clearance definitely offers a lot to choose from.
Their goods are sold in job lot pallets at prices up to 80% below retail, allowing you to maximize profits when reselling on eBay. Designed with small eBay and Amazon sellers, as well as online stores in mind, Wholesale Clearance is the perfect solution for sourcing quality products at low prices.
Key Features
Affordable prices;
Liquidation, bankruptcy, and clearance stock;
All-around product categories;
Discounts of up to 80% below retail prices;
Fast UK shipping;
20. NicheSources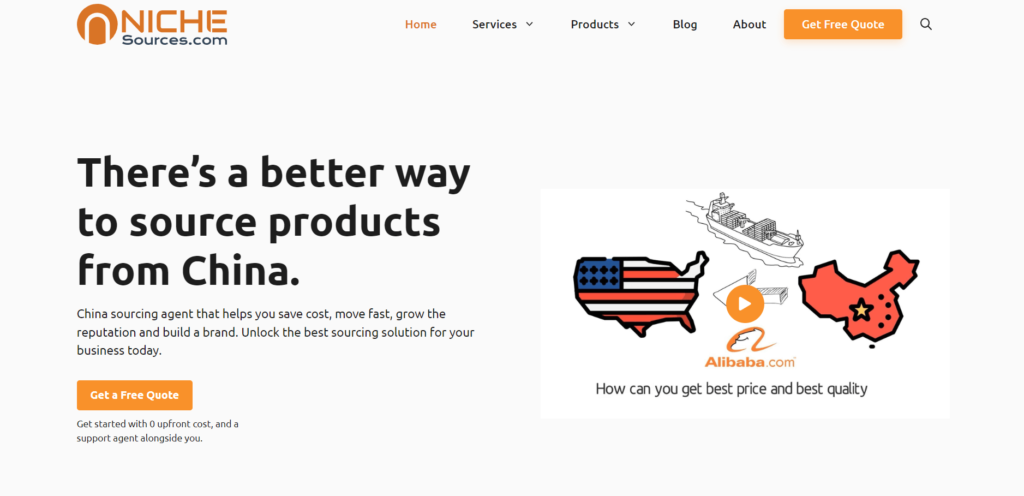 NicheSources is a trusted product-sourcing company based in China. We offer comprehensive services to help wholesale buyers and dropshippers on eBay find the right products to sell.
With NicheSources, you can connect directly with factories in China and develop brand-new products or customize products under your brand. Our extensive expertise ensures a smooth sourcing experience.
To ensure quick delivery, we have strategically located warehouses in China and the USA, providing efficient inventory storage near your customers.
Key Features
Product sourcing capabilities in all niches;
Possibility for OEM and ODM services;
No MOQs;
Affordable prices;
Worldwide shipping from China;
Warehouses in China and the USA;
Quality control process in place;
Free sourcing quote service;
21. The Home Depot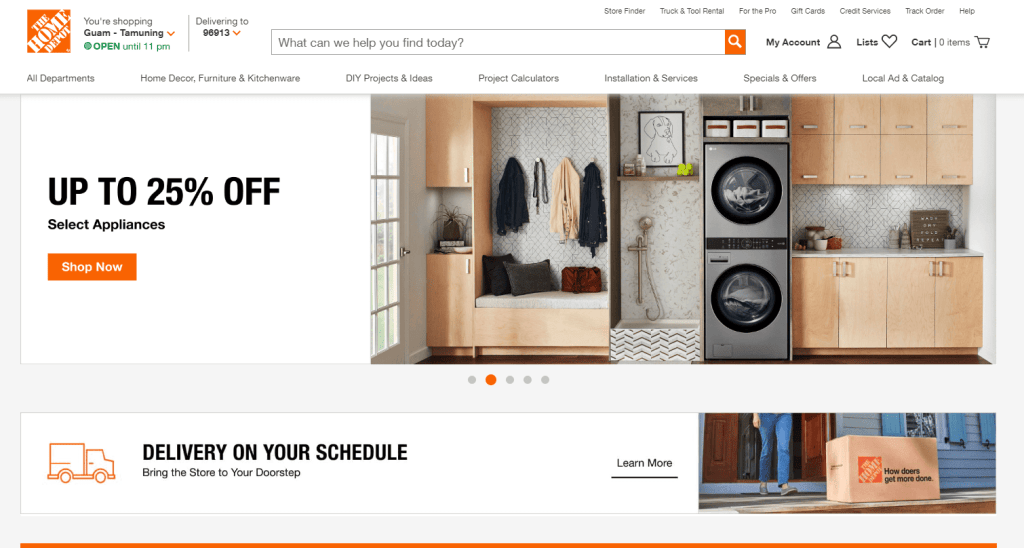 Similar to Costway, The Home Depot is a US giant specializing in appliances, furniture, and similar household products. They have a wide range of high-quality products which can bring you great profit margins.
This wholesale supplier is a great solution for eBay dropshippers because it has over 90 distribution centers and 2000+ wholesale stores throughout the US. In other words – fast shipping for your US customers.
Key Features
90+ distribution centers;
2000+ wholesale stores;
2-day shipping within the US;
High-quality products;
Perfect for US dropshipping businesses;
A 90-day return policy;
22. Etsy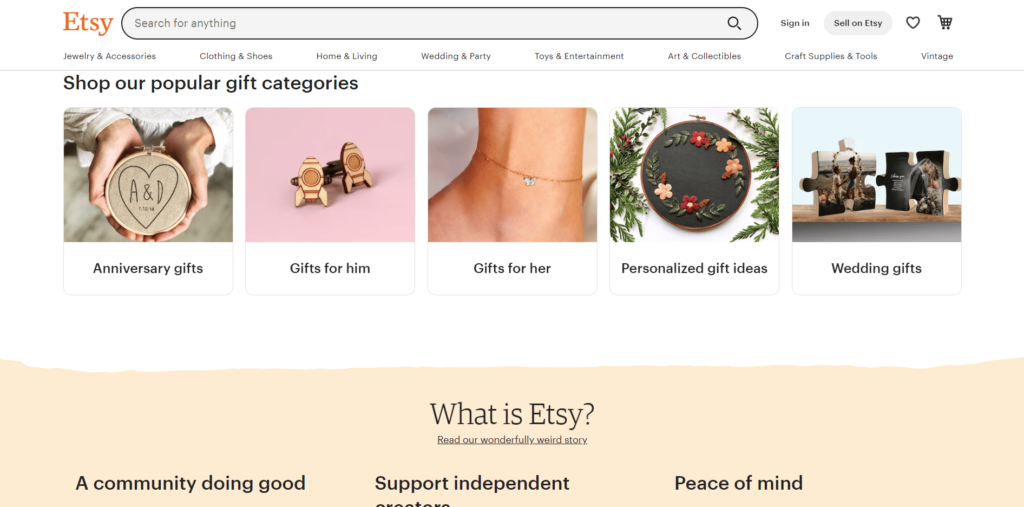 Although Etsy is not the first choice when you think of eBay wholesale suppliers, it can be a great choice for those of you looking for unique, handmade, or difficult-to-find products.
Needless to mention, you can source products in bulk from Etsy sellers to enjoy wholesale prices, and then resell them for a profit on your eBay store. It might not be for everyone, but if your products are in the right niches, Etsy can be a very creative choice for a supplier.
Key Features
Perfect for unique, handmade, and hard-to-find products;
Products made by local individuals or small businesses;
Many sustainable and eco-friendly products are available;
Wholesale prices for bulk orders;
Multiple shipping solutions are available depending on the seller;
23. Wayfair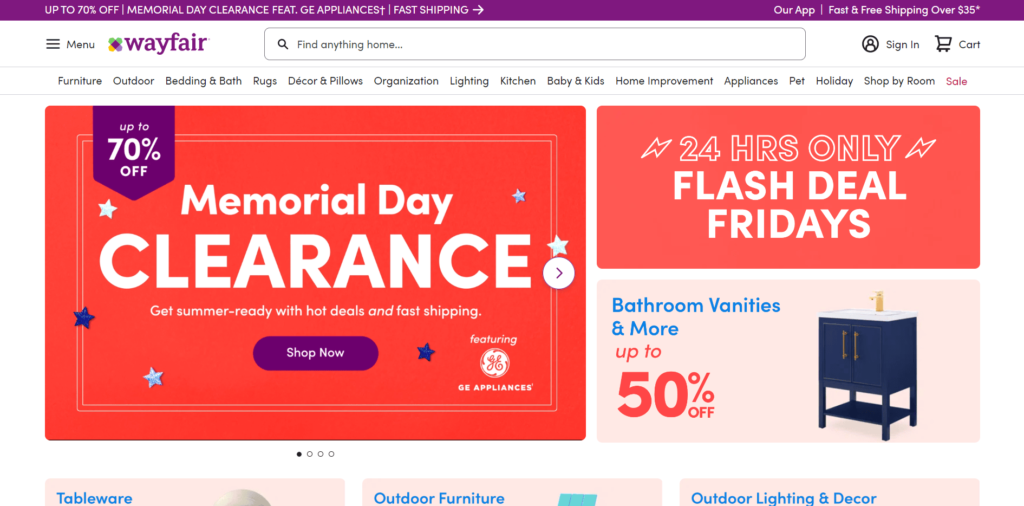 Wayfair is our next choice on the list of eBay wholesale suppliers and it's perfect if you're looking for high-ticket and high-quality products to sell. They specialize in furniture and home goods and have a vast selection of over 15 million products sourced from 11,000 global suppliers.
Wayfair offers free 2-day shipping on all US orders over $49, ensuring fast delivery. Orders are efficiently shipped from domestic warehouses closest to you, regardless of your chosen products.
Key Features
A wide range of furniture and home improvement products;
Worldwide shipping;
Free US delivery on orders over $49;
High-quality products;
24. Overstock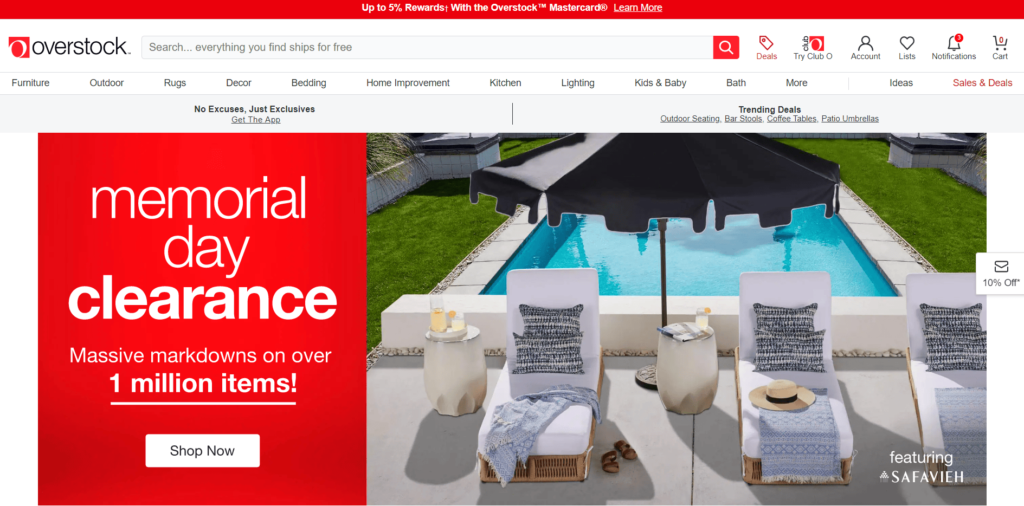 Overstock is a supplier specializing in home products and serving customers in 180 countries. They offer a wide range of items for dropshipping, in categories like furniture, outdoor, rugs, decor, bedding, and more.
As a leading US retailer, Overstock offers competitive prices and regular deals on their website. They also have a membership club with benefits for dropshippers. Orders are delivered promptly within one to two days, and their customer service is highly regarded.
Key Features
Home and household products;
Free standard shipping throughout the US;
30-day money-back guarantee;
Affordable prices;
International shipping;
25. Wish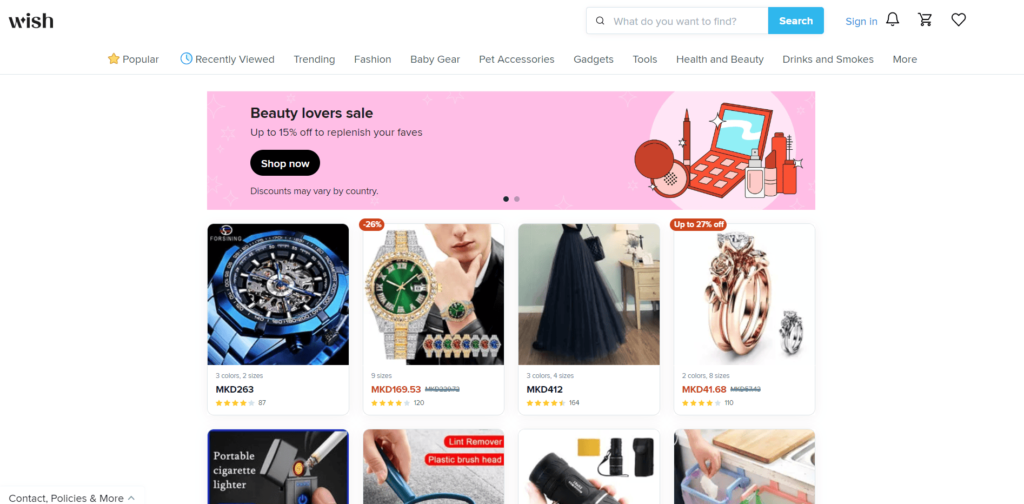 Next, we have Wish – a US company with Chinese sellers and suppliers on their platform. They offer a wide range of affordable products, including beauty, fashion, gadgets, and electronics.
Wish stands out by using innovative technologies to suggest products based on AI. Additionally, their website features in-store games that reward users with promotions and vouchers.
Lastly, Wish is great for both wholesale buyers and dropshippers as it has no MOQs yet offers very lucrative prices.
Key Features
All-around products;
Affordable prices;
No MOQs;
Worldwide shipping;
26. Shein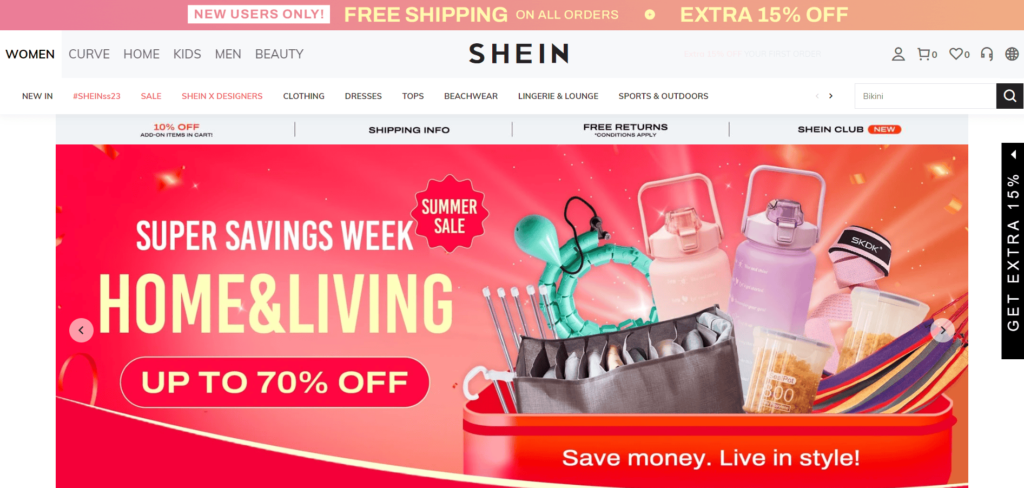 Shein is a China-based wholesale supplier that's mostly focused on fashion and apparel products. It can be a great choice for eBay sellers and dropshippers since it has affordable prices and no MOQs.
Additionally, Shein delivers to almost all countries worldwide and has very affordable product prices, allowing you to enjoy high-profit margins.
Key Features
A wide selection of apparel and fashion items;
Affordable wholesale prices;
No MOQs;
Lots of promotions and discounts;
27. Sunsky Online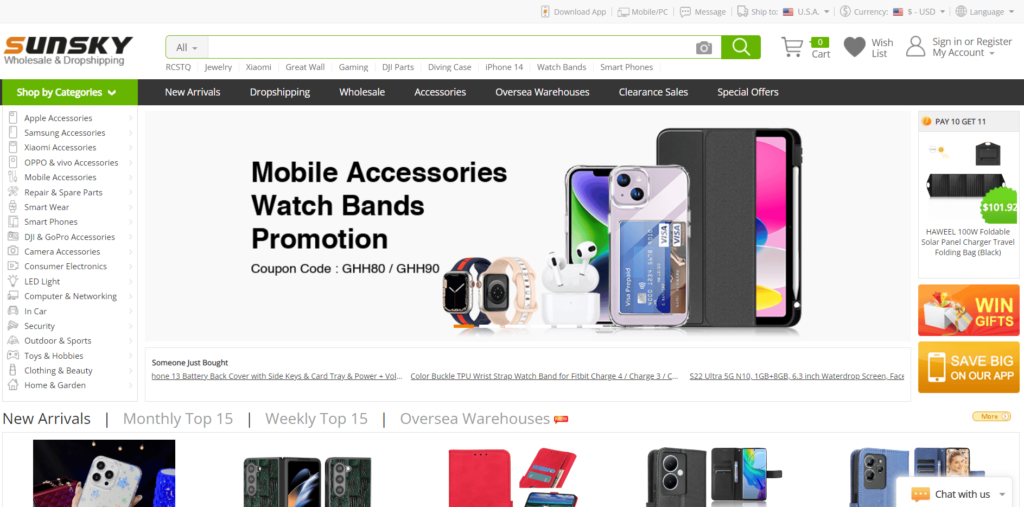 For over 15 years, Sunsky Online has been a trusted wholesale supplier based in China catering to many small eBay sellers globally.
Sunsky Online specializes in phone accessories and tech gadgets, but that's not all. They also offer a wide range of products in categories like homeware, toys, car accessories, clothing, beauty supplies, and gifts. You'll find plenty of options to meet your needs.
What's impressive about this supplier is their global presence. They have warehouses in the US, UK, and Europe, which means faster delivery and no worries about import taxes when your order is shipped from a local warehouse.
Key Features
All-around products with a focus on tech gadgets and phone accessories;
Over 100,000 products to choose from;
China-based;
Local warehouses throughout the US, UK, and Europe;
No MOQs but discounts for bulk orders;
28. TomTop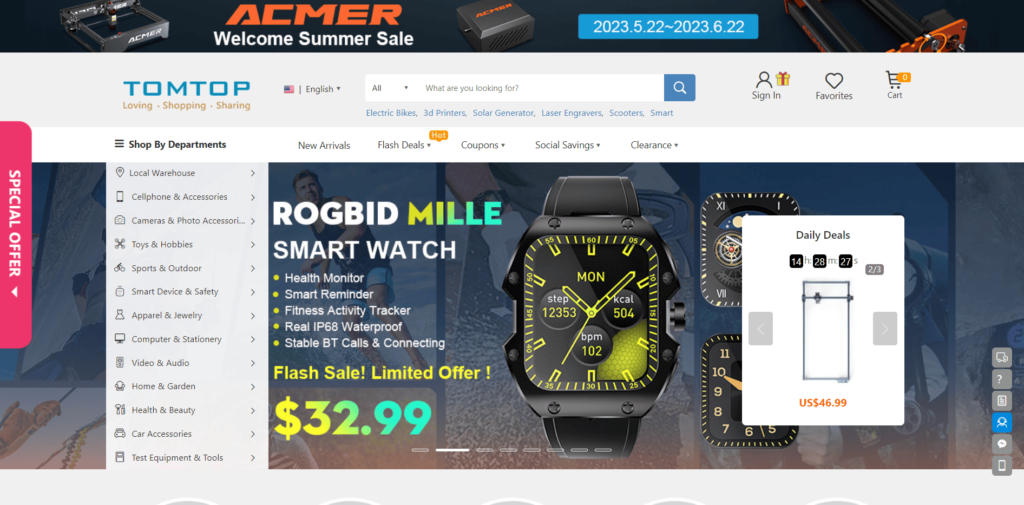 Operating from China, TomTop is a reputable wholesale supplier for eBay businesses. With warehouses strategically located throughout the US, UK, and Europe, they ensure efficient and timely order fulfillment.
They also have a dropshipping program which you can join hassle-free and free of charge. It will allow you access to high-quality product images and descriptions, enabling you to effortlessly list their extensive range of products on eBay.
Key Features
All-around products with a focus on consumer electronics, phone accessories, and tech gadgets;
Affordable prices;
China-based;
30-day return policy;
Multiple warehouses throughout the US, UK, and EU;
A user-friendly and easy-to-use website;
FAQs about eBay Wholesale Suppliers
Now, let's look at some of the most frequently asked questions on the subject of finding eBay wholesale suppliers for your business:
How to Find the Best Wholesalers for eBay Sellers?
Finding the best wholesalers for eBay sellers involves a few key steps:
Define your product niche: determine the specific products you want to sell on eBay. This will help you identify wholesalers that specialize in those particular items.
Research and compare suppliers: based on pricing, quality, shipping options, customer reviews, etc.
Attend trade shows and exhibitions: there are many trade shows in China, the US, and the EU where you can meet wholesalers in person.
Join online directories for verified suppliers: these are websites like SaleHoo or Worldwide Brands.
Check online marketplaces: for instance, websites like Alibaba, AliExpress, DHgate, Wish, and similar.
Partner with a sourcing agent: a product sourcing agent like NicheSources can help you buy at factory prices directly from China.
Consider the location and shipping options: opting for a supplier with warehouses closer to your customer base can reduce delivery times and shipping costs.
Start with small orders: to minimize risk, start with small orders to test the supplier's reliability, product quality, and customer service.
Can I Dropship on eBay?
Yes. Dropshipping on eBay is allowed as long as you own the items beforehand or fulfill orders directly from a wholesale supplier with whom you have an agreement.
You can dropship on eBay using any of the above-mentioned wholesale suppliers. Some of them are dropship-friendly and can be integrated directly with your eBay store, while others sell wholesale only so you would need to order in bulk and then list and resell through eBay. Both of these options are legal and allowed.
Can I Sell on eBay as a Company?
Yes, you can sell as both an individual and a company on eBay. For business selling, you'll need to register for a business selling account and provide information such as
Company details;
Bank account or card information;
Tax information;
Government-issued ID;
How to Sell on eBay without Stock?
One of the best and most popular ways of selling without holding stock is dropshipping. The difference between dropshipping and wholesale buying is precisely the lack of storage.
With dropshipping, a customer places an order on your eBay store. Then, you place an order on your supplier's website, and the supplier ships the product straight to your customer. In many cases, dropshippers never get in touch physically with the product they're selling.
Many of the eBay wholesale suppliers above are dropship-friendly, allowing you to sell without holding stock.
Can I Use Any Wholesale Supplier to Dropship on eBay?
Yes, as long as the supplier allows third-party reselling. All of the suppliers on this list are good to go regarding products to sell on eBay.
To be 100% sure, read the policies and ask the supplier before listing their products on eBay for resale.
To Sum Up
In conclusion, these eBay wholesale suppliers offer a wide range of opportunities to source products and grow your business in 2023.
By actively connecting with reputable wholesalers, you can access quality products, competitive pricing, and reliable shipping options. Whether you're looking to specialize in a specific niche or expand your product offerings, we hope this list helps you!
If you're still struggling to find the right wholesale supplier for your eBay business, you're welcome to test our product sourcing services with no upfront obligations. Simply ask for a free quote, and we'll do our best to source the exact product you need!