The fashion industry is known to be fast-paced and competitive. To excel in it, you have to understand and cater to the needs of your target market and keep up with the latest trends. All while delivering quality pieces.
Finding the right clothing manufacturers can, therefore, be quite challenging for a start-up. Your ideal manufacturer needs to be innovative and reliable but also have start-up-friendly terms such as low MOQs and fair pricing.
If you are worried that such partners are impossible to find, don't be. We have sifted through thousands of options and shortlisted some outstanding clothing manufacturers for startups.
Read on.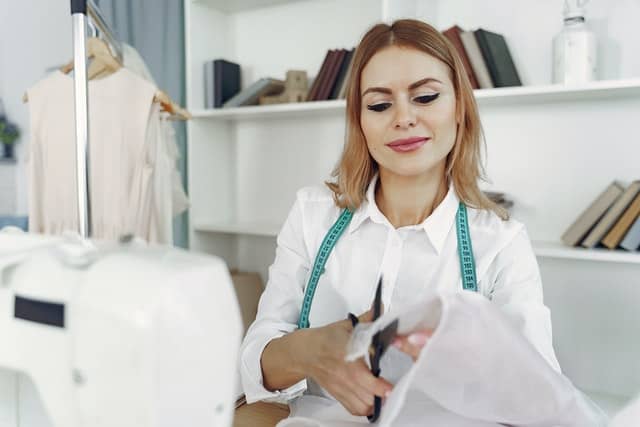 Yoke Apparel Manufacturing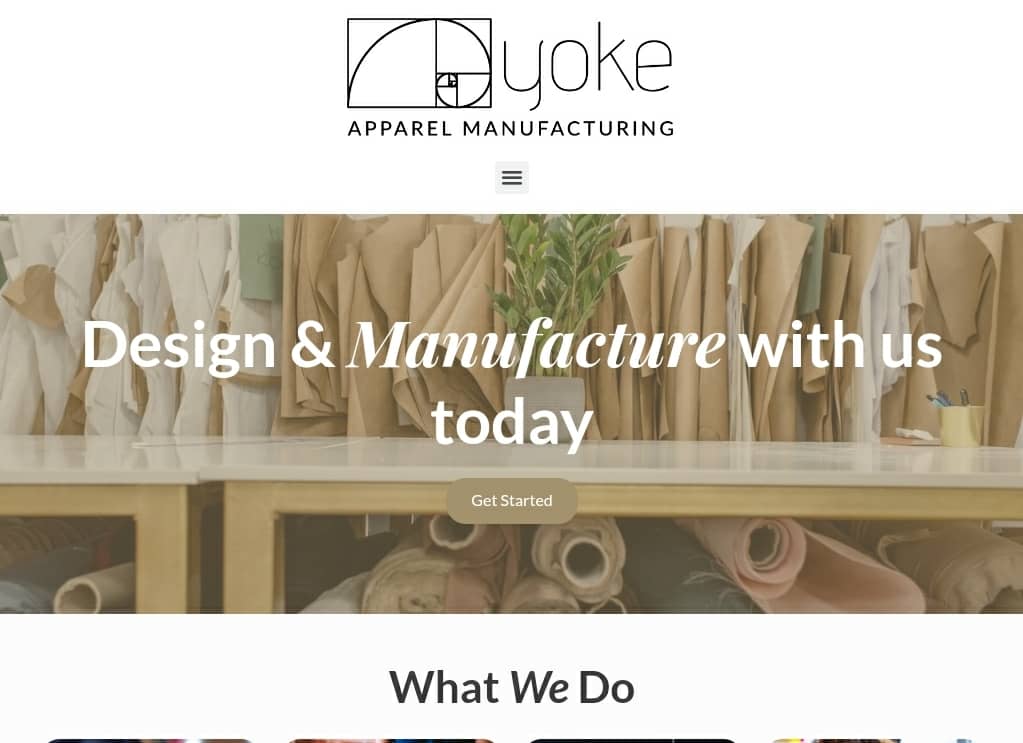 Yoke Apparel Manufacturing is primarily based in Da Nàng, Vietnam, but has a satellite office in Singapore. It is a full-service clothing manufacturing company with a passion for helping startups grow.
The range of services at this firm includes:
Consultancy
Design
Sampling
Manufacturing
If you have your own designs, the company can move right into sampling once you agree on factors such as fabrics and colors. If you do not, the Yoke Apparel design team can work with you to create designs and a tech pack or spec sheet based on the styles you prefer for your brand.
Key Features
MOQ – there is no set minimum order quantity. MOQs are determined on a case-by-case basis.
Turnaround time – orders take about 4 weeks once the sample is confirmed. However, these timelines can vary depending on the complexity and the size of your order.
Ordering – the company requires a tech pack in order to provide you with an accurate quote.
Shipping – Yoke Apparel ships internationally.
Pros
The list of services is beginner-friendly. You can get help for any production steps that you are not adept at.
The quality of clothing is guaranteed and you can claim reimbursement if you receive any defective items.
Yoke Apparel accepts small orders.
Cons
Yoke Apparel sources all fabrics based on the orders that come in. This can be costly if your order is small.
Consultation is billed. This can be an inconvenience if you are not sure about working with the firm.
Organic Apparel USA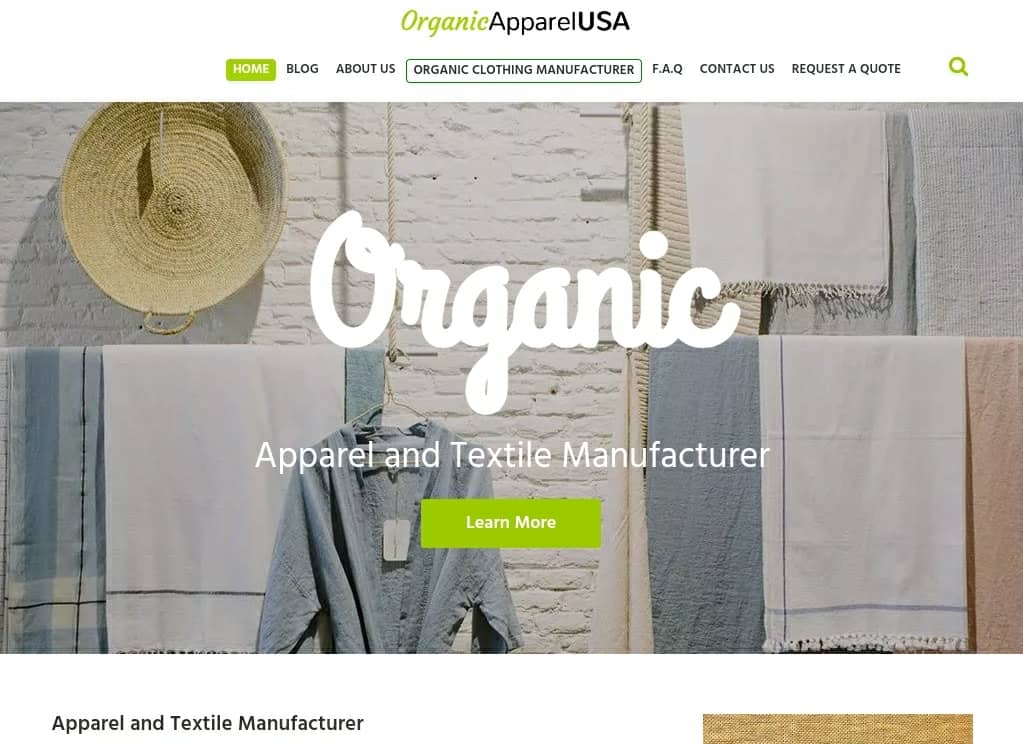 The Organic Apparel USA company headquarters are based in Boston but its production factory is located in Turkey. The firm chose Turkey because it is the world's leading source of Anatolian cotton to produce their organic apparel.
Organic Apparel offers 2 custom order options. You can pick an in-stock design and customize it or present your designs and discuss how to bring them to life.
Key Features
MOQ – the firm recommends an MOQ of 400 pieces per color/model but includes 5 different sizes. This is, however, negotiable.
Production timelines – 4 to 6 weeks depending on the order.
Ordering – Organic Apparel provides a quote after you share comprehensive order details. Sampling follows and manufacturing begins after your approval. All the designs you share are protected by NDAs.
Shipping – Organic Apparel ships clothing orders across the globe.
Pros
All fabrics are ethically sourced.
Organic Apparel is fully certified in organic garment manufacturing and can provide certification for your orders too.
The customization options are quite extensive and offer lots of creative freedom over in-stock design.
Cons
Organic fabrics deliver premium quality clothing but it costs considerably more.
TEG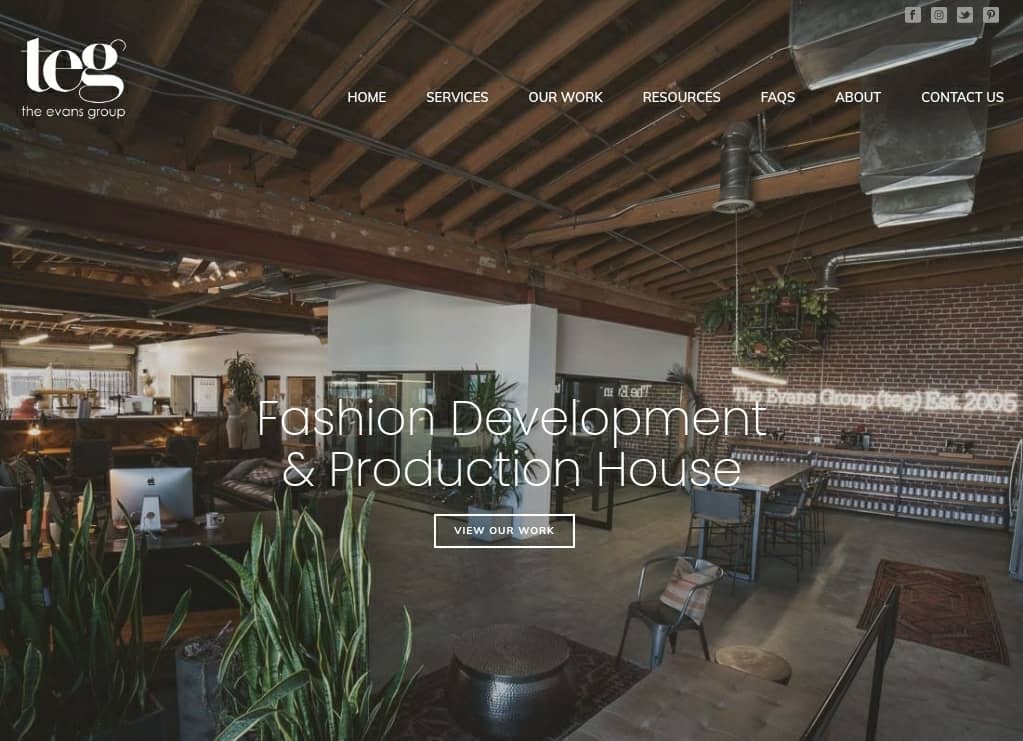 TEG is an abbreviation for The Evans Group. The company is based in Los Angeles and has over 15 years of experience in the fashion industry. It also has a development studio in San Francisco.
The highlight of working with TEG is that it provides all-inclusive and hands-on services. Each client is assigned a team of professional designers, a seamstress, a sourcing expert, and a pattern-maker.
This ensures that your project is accorded all the attention it deserves without delays.
TEG further offers order fulfillment services on request which can come in handy if you are yet to establish a distribution network for your start-up.
Key Features
MOQ – 50 to 300 pieces for competitive costing.
Production timelines – 4 to 8 weeks for normal orders and 1 to 4 weeks for rush orders. The latter is done at an extra fee.
Shipping – TEG handles both local and international orders.
Pros
Having a dedicated team eases and hastens the production process.
TEG manufactures all types of clothing including niche items such as bridal and couture pieces.
The scale of services addresses every need from design and size grading to packaging and order fulfilment.
Cons
TEG vets its clients and prefers those that align with its brand.
You may need a significant budget to afford the premium services provided by this firm.
Yotex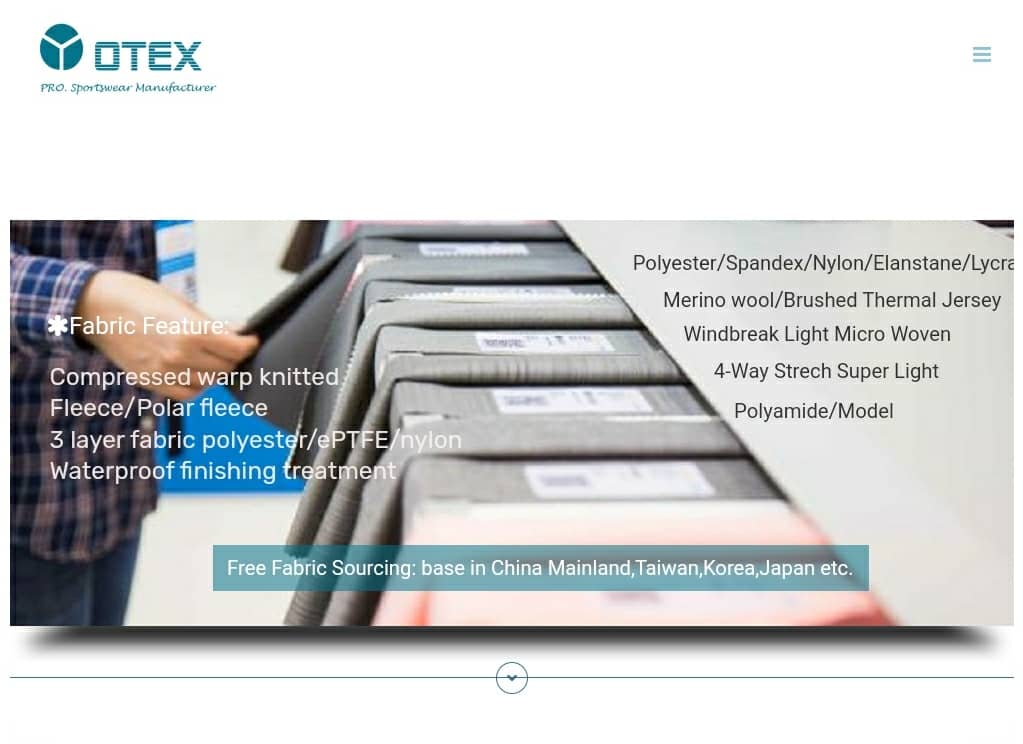 The Yotex factory is situated in Shanghai. It specializes in manufacturing sportswear items such as:
Jackets
Swimsuits
Hoodies
Sweatshirts
This manufacturer offers ODM and OEM services. Both options come along with sourcing services, sample development, and quality inspection.
The fabric selection is quite extensive and particularly impressive. It includes moisture-wicking options that are great for activewear as well as unique features like 4-way stretch and silkscreen prints.
Key Features
MOQ – 200 pieces per style/color for cut and sew styles. 500 pieces per style/color for seamless pieces.
Production timelines – 7 to 20 days for samples and 10 to 25 days for bulk order production.
Shipping – Yotex can organize door-to-door international delivery upon request.
Quality – the Yotex factory and production processes meet BSCI, WRAP, and other international certification standards.
Pros
The fabric options are vast and each of them offers a unique advantage.
All clothing manufacturing services are available in-house.
Yotex is committed to high-quality standards and is open to pre-shipment inspection.
Cons
Each sample costs 3 times what it would cost during mass production.
Hujoin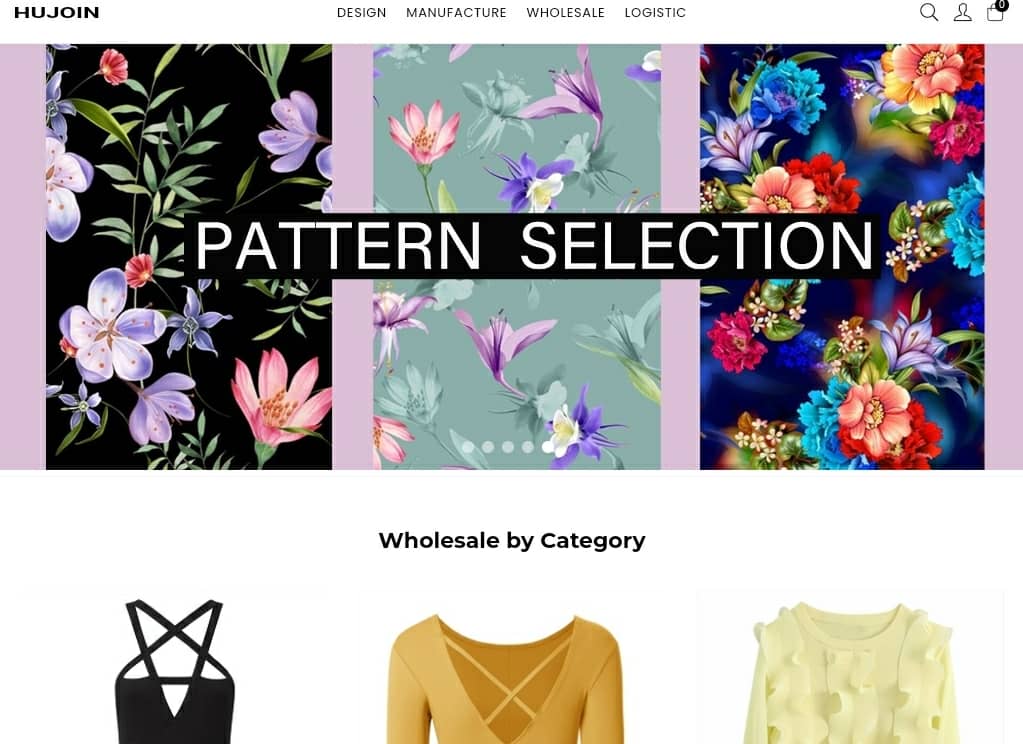 Hujoin manufactures a wide variety of clothing for both men and women. Its portfolio includes dresses, jackets, knit sweaters, jeans, skirts, and more. It is located in Suzhou City, China.
The scope of services covers all the essential needs you may have to achieve your goals for your startup fashion brand. It comprises design services, fabric sourcing, pattern selection, and general tech pack development.
All businesses have to register on the Hujoin website to be able to submit their design details and request a quote.
Key Features
MOQ – 30 to 50 pieces depending on the design.
Minimum order value – $5,000
Production timelines – 7 to 14 days for samples and 25 to 35 days for bulk production.
Shipping – Hujoin offers door-to-door delivery in consultation with clients.
Note: You can mix colors and sizes to meet the MOQ/MOV.
Pros
Hujoin offers a wide array of manufacturing approaches including printing, embroidery, custom trims, and labels.
Hujoin can source any fabrics you prefer.
Sampling fees are refundable if you order 100 pieces or more.
Cons
You have to initiate returns within 3 days of receiving your order. This can be challenging if you are sorting through a bulk order.
Wings2Fashion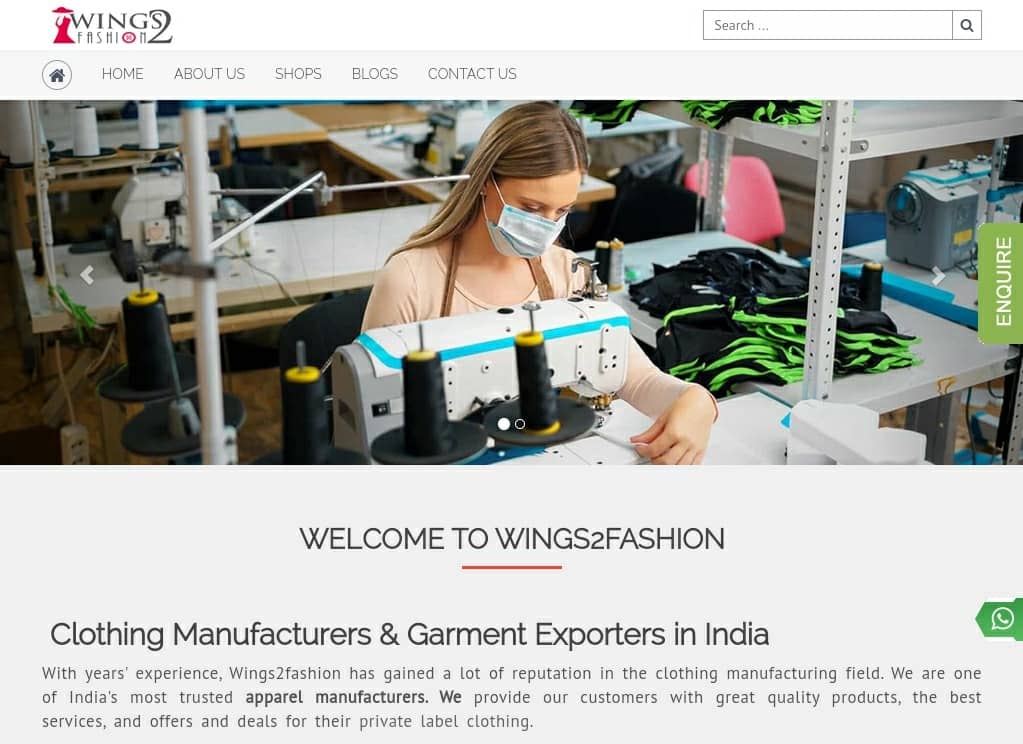 Wings2Fashion manufactures clothing for women, men, and children. This includes gym wear, undergarments, party outfits, and even high-end limited designs. It is based in Haryana, India.
This manufacturer accepts custom orders based on your designs but can also fabricate designs on your behalf. You can equally request private labeling services such as branding and custom garment labels.
In terms of technique, the Wings2Fashion factory is equipped to facilitate custom printing, embroidery, dyeing, and the addition of delicate details through handwork.
Key Features
MOQ – the MOQ varies based on the details of each order. However, start-ups are given special consideration and allowed low MOQs.
Production timelines – approximately 30 days.
Shipping – worldwide shipping is done by air or sea based on the volume.
Pros
Wings2Fashion can manufacture an extensive variety of clothing.
Fabric sourcing is easier and affordable given that India is a renowned fabric hub.
Wings2Fashion is well-experienced in export shipping.
Cons
Multiple parameters such as MOQs and timelines are not well-defined.
Hongyu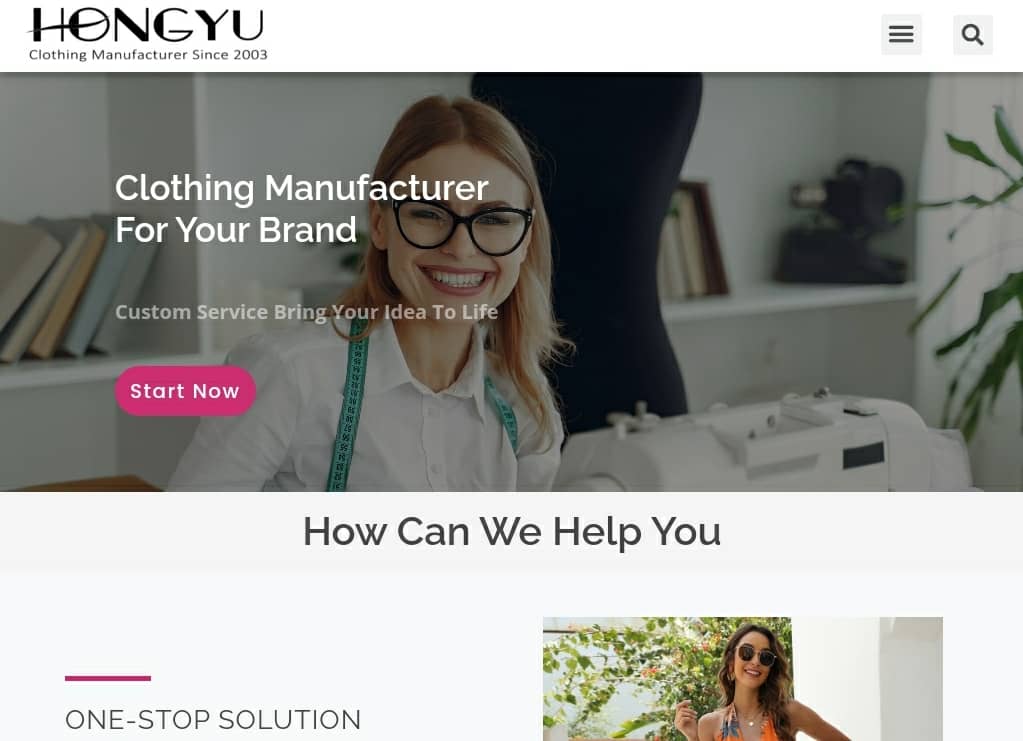 Hongyu has a decade of experience in clothing manufacturing and is situated in Dongguan, China. It manufactures:
T-shirts
Hoodies
Swimwear
Sleepwear
The order process is straightforward. First, share your designs or sketches with the Hongyu team for review. They will follow up to discuss specifics such as sizing, logos, and fabrics.
If you agree on the details, Hongyu will source the required fabrics and develop samples. Production will begin after your approval. Alternatively, you can pick and modify designs on the Hongyu portfolio.
Key Features
MOQ – 100 pieces per style per color in 3 or 6 different sizes. 300 for custom designs.
Production timelines – 15 to 25 days for standard orders. Printing, dyeing, or embroidery services each require an extra week.
Shipping – Hongyu ships globally.
Pros
Initial consultations are free.
You can customize sizes and lots of other details such as logos and clothing labels.
Hongyu is equipped to provide different production approaches and also offers product photography for your marketing needs.
Cons
Ordering a broad selection of sizes costs more.
The Odd Factory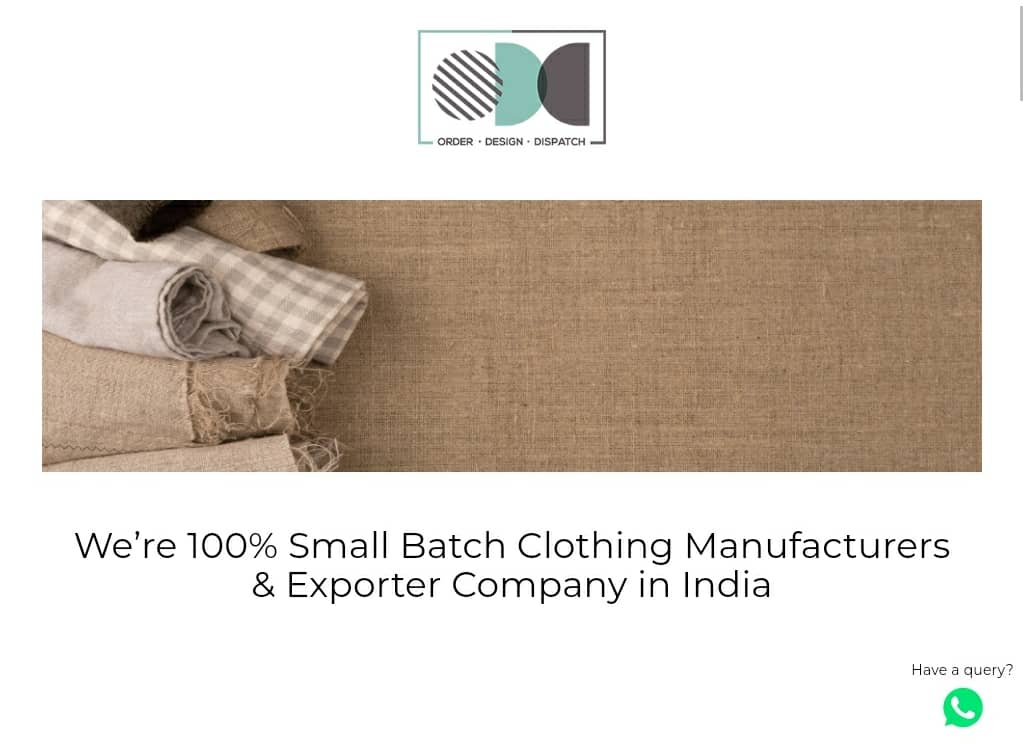 The Odd Factory is 100% start-up-oriented. It exclusively handles small batch orders and prioritizes hands-on support for each customer. The company operates from India but serves an international clientele.
The ordering process is collaborative. The Odd Factory reviews each tech pack or design proposal and gets back to each client with feedback and suggestions. Sampling and production only begin once all intricate details are finalized.
Odd Factory services include:
Custom fabric sourcing
Fabric dyeing
Button-making
Label making
Hand embroidery
Key Features
MOQ – it starts at 15 pieces per style but it is negotiable based on the dynamics of the orders.
Production timelines – not specified.
Shipping – the Odd Factory mainly ships to the USA, the UK, and Australia but it is open to shipping elsewhere too.
Pros
Odd Factory offers collaborative guidance throughout the order process.
The company can source a diverse range of fabric and also customize prints through dyeing and other techniques.
Odd Factory offers upcycling services and uses cut-offs and production remnants to make unique accessories.
Cons
The MOQs for custom accessories like buttons and labels are much higher than those of clothing.
Arlisman Garment Factory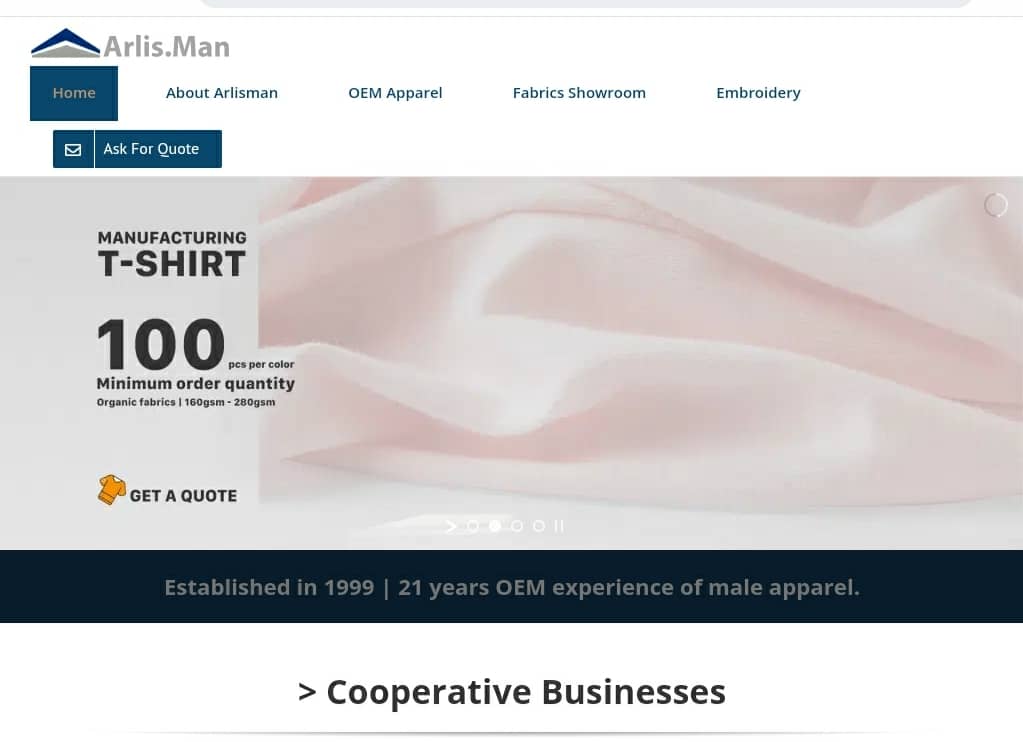 The Arlisman Garment Factory has been manufacturing clothing for over 20 years. It runs a well-equipped factory in Zhongshan, China, and specializes in producing men's:
T-shirts
Polo shirts
Sweaters
Knit scarves
Knit hats
Pants and shorts
This manufacturer only handles OEM orders but works closely with startups throughout the product development process.
Key Features
MOQ – 100 pieces per color and style.
Production timelines – 15 to 45 days.
Shipping – orders are shipped worldwide via sea or air freight at an extra cost.
Pros
The company offers special fabrics developed to suit particular types of clothing.
Sample fees are refundable if you place an order thereafter.
Production processes are optimized to ensure proper cost control.
Cons
The low MOQs may be destabilized if you order clothing with custom details.
Hook and Eye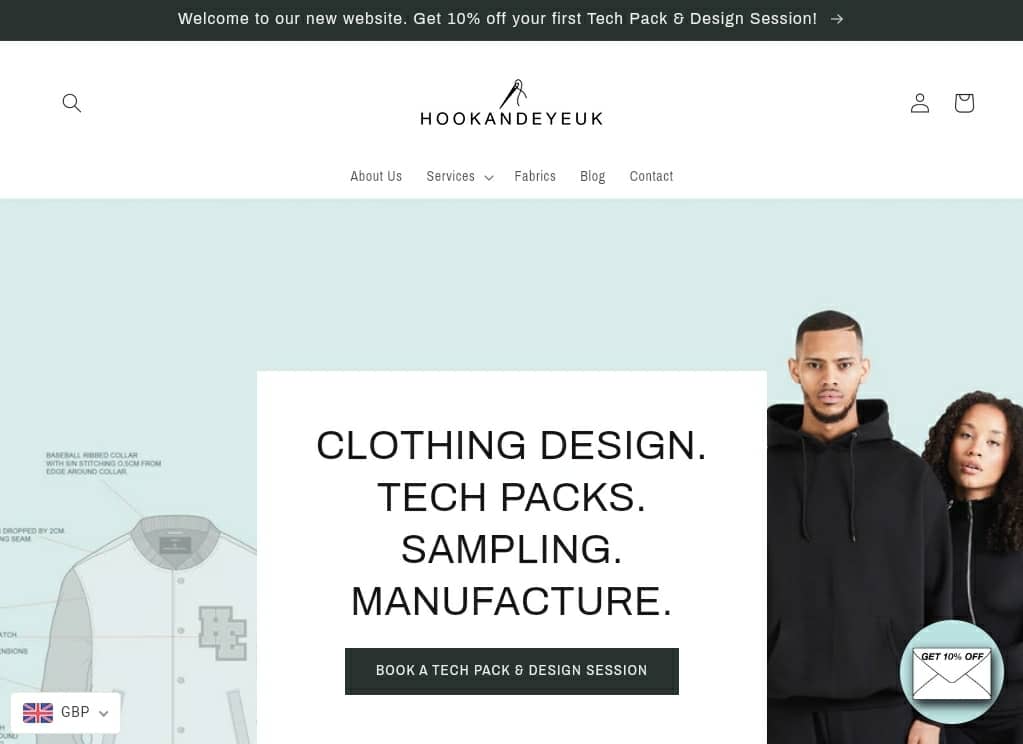 The Hook and Eye studio is located in Birmingham, UK but the company outsources mass production to factories situated in China and Pakistan. It manufactures a broad range of clothing items for men and women.
The ordering and product development processes are easily accessible online or in person for startups. The design team can help you develop or improve your tech pack, choose patterns and fabrics, then initiate sampling.
Beyond this, Hook and Eye also offers:
Brand consultancy
Website design and development
Relabeling services
Key Features
MOQ – 30 pieces per style and color, graded in 4 different sizes.
Production timelines – 2 weeks for shipping and 6 to 8 weeks for bulk orders.
Shipping – Hook and YE ships within the UK and internationally.
Pros
Hook and Eye has a large production capacity and can handle your orders even as your brand grows.
The scope of services includes services that can help start-ups grow.
Cons
Customers bear the cost of shipping returns.
Billoomi Fashion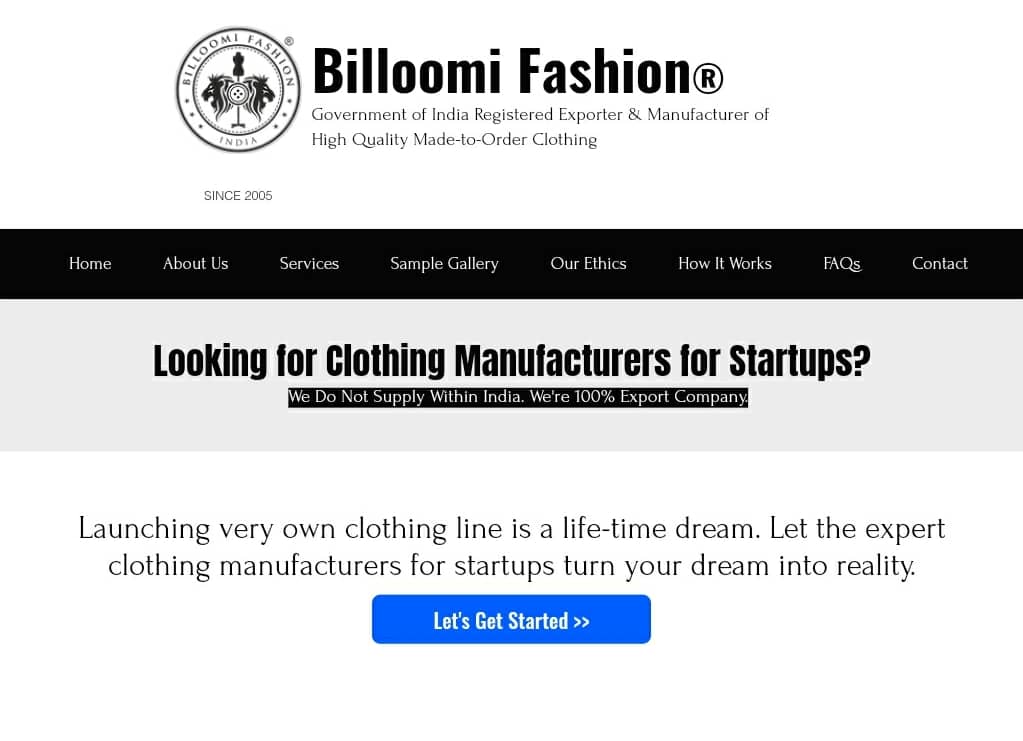 Billoomi Fashion is an Indian clothing manufacturing company based in New Delhi. It mainly produces women's clothing but can also implement designs for men's and children's clothing.
Notably, this manufacturer only offers clothing manufacturing services. Design and tech pack development services are not covered and so it is best to approach them when well-prepared.
All other production services such as fabric selection, fabric customization, and size grading are handled during regular consultation. This is followed by a price quote, sampling, and mass production.
Key Features
MOQ – 25 pieces per style for single colors in mixed sizes and 100 pieces per style for printed, embroidered, denim designs.
Production timelines – they vary based on the design and order size.
Shipping – Billoomi Fashion ships orders worldwide. Prices are quoted on Ex-works or FOB shipping terms but a more accurate cost will be shared after production when shipping weight and other factors are defined.
Pros
Billoomi Fashion has a detailed quality inspection list and thorough checks to ensure each item is ascertained.
The company has easy access to lots of fabric suppliers and can source your chosen fabrics.
Consultations and inquiries are free.
Cons
The services are strictly manufacturing-oriented and may not be adequate for a start-up that requires more support.
Billoomi Fashion does not manufacture clothing in certain fabrics like leather and faux leather.
Grade House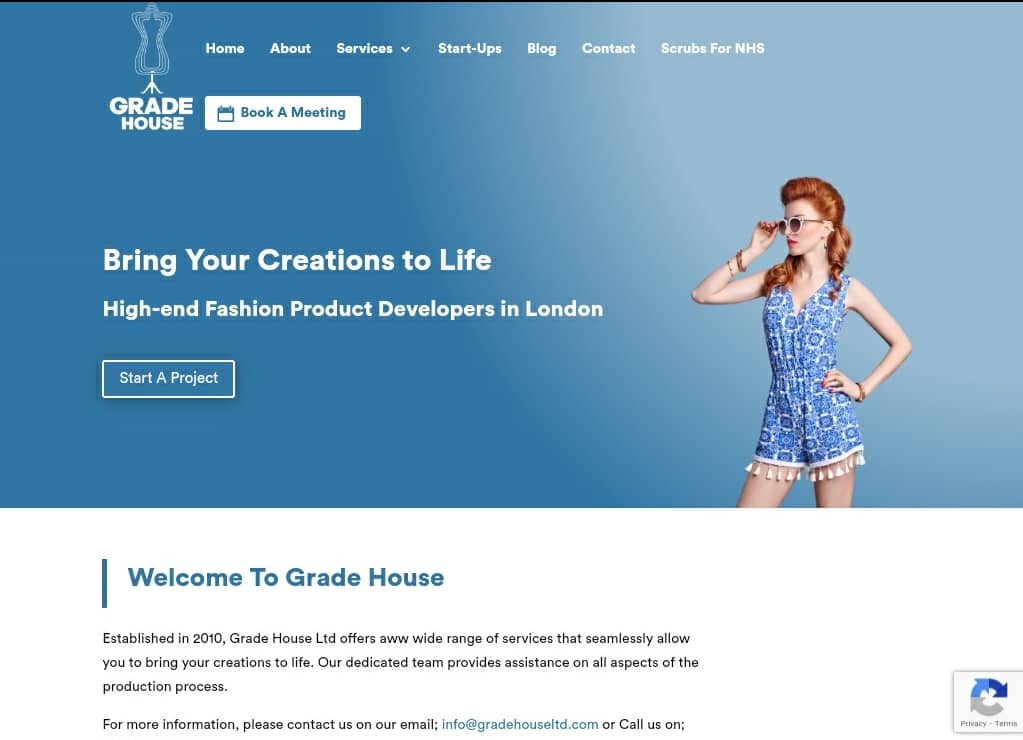 Grade House is a clothing manufacturer that goes the extra mile for startups. Its services make it easy to navigate the entire process of developing and manufacturing your collection. They include:
Strategy consultation
Selecting fabrics and trims
Creative pattern cutting
Toiling patterns
Sampling
Tech pack specification
The company manufactures women's, men's, and children's clothing for high-end startups and students trying to establish fashion brands. It has a production facility in London and manufacturing partners overseas too.
Key Features
MOQ – MOQs are determined on a case-by-case basis.
Production timelines – they are determined by the order details.
Shipping – Grade House mainly works with clients in and around the UK.
Pros
The startup support services can significantly ease the development process.
Feedback on consultations and product development can be provided within 1 to 5 days depending on the complexity.
Cons
Grade House does not offer any fabric printing or embroidery services.
Customers have to provide fabrics and other accessories for product sampling.
Styliani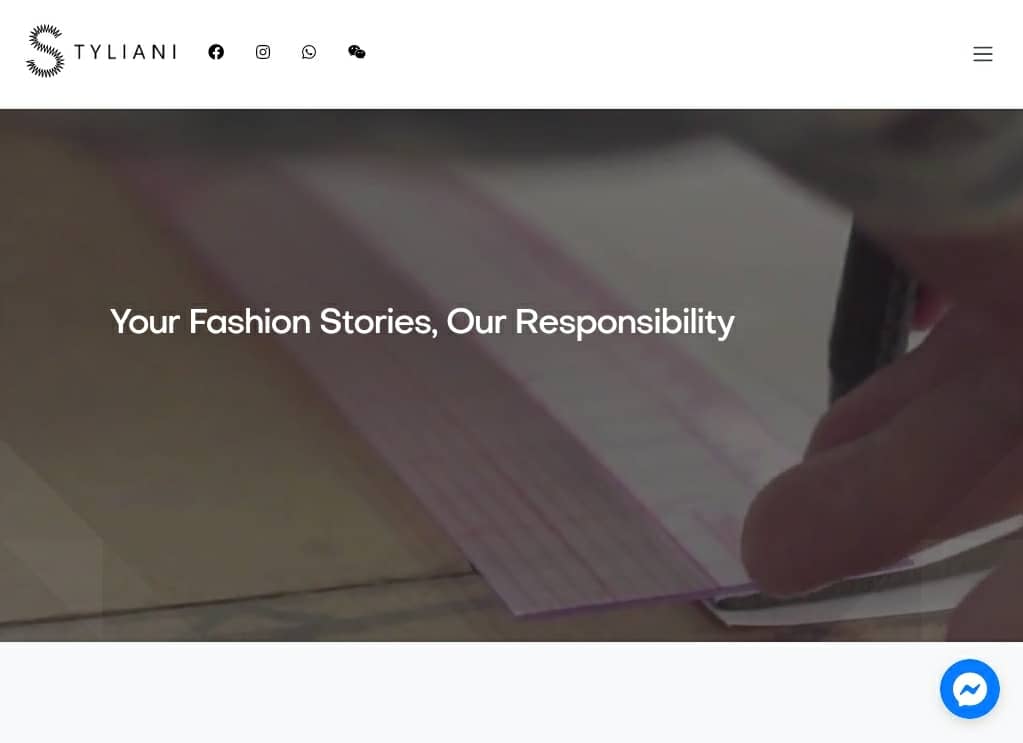 Styliani is a boutique clothing manufacturing factory in Hong Kong. It has over 20 years of experience and practices flexible manufacturing to support startups.
This is a go-to manufacturer for both men's and women's clothing. It accepts orders for casual and formal:
Jackets
Jeans
Shirts
Blouses
The Styliani team comprises different professionals skilled in sourcing materials, pattern making, grading, marking, and different quantities of production. They only need the designs, sketches, or tech pack that you would like to execute to start.
Key Features
MOQ – 30 pieces
Production timelines – 1 to 2 weeks for sampling and 21 to 30 days for production.
Shipping – Styliani ships internationally via China at the client's expense.
Pros
Flexible manufacturing offers more leeway for a startup to adjust the sizes of orders over time.
The Styliani team offers advice on production approaches, fabrics, and other details to help start-ups realize quality clothing.
Sample costs as refundable if you place a bulk order within MOQ.
Cons
Styliani does not offer design consultation services.
The MOQ for accessories like clothing tags is disproportionately higher.
D&J Fashion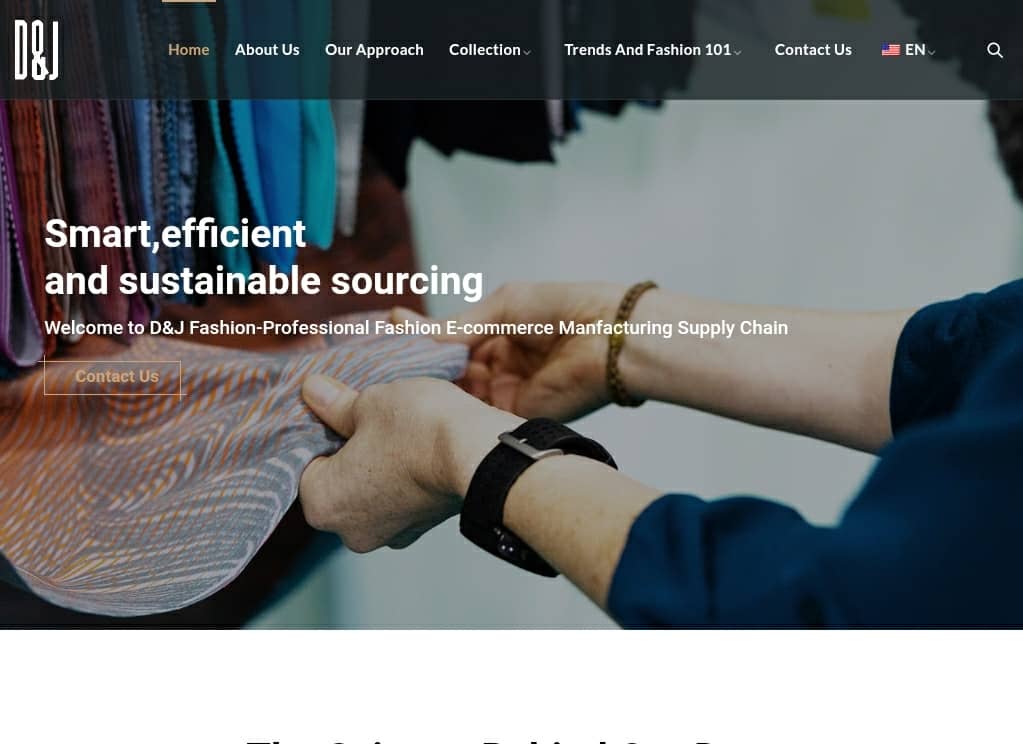 D&J Fashion's main office is in Hong Kong but its production facility is in Guangzhou, China. Its client portfolio impressively comprises notable brands like Missguided, Noon Fashion, and Pretty Little Thing.
This manufacturer assists with most product development tasks, based on your instructions, so that you can focus on building your brand. They only need designs or sketches of your collection to get started and your approval for every decision.
D&J Fashion specializes in women's clothing items.
Key Features
MOQ – it varies depending on the order.
Production timelines – 5 days for samples and 10 days for bulk production.
Shipping – D&J Fashion works with clients worldwide.
Pros
You would have an easy time working with this manufacturer if you are not skilled in clothing development tasks like grading or pattern making.
The company is experienced in working with e-commerce brands.
Cons
Undefined MOQs can be hard to predict both at the onset and as you develop designs in the future.
H & Fourwing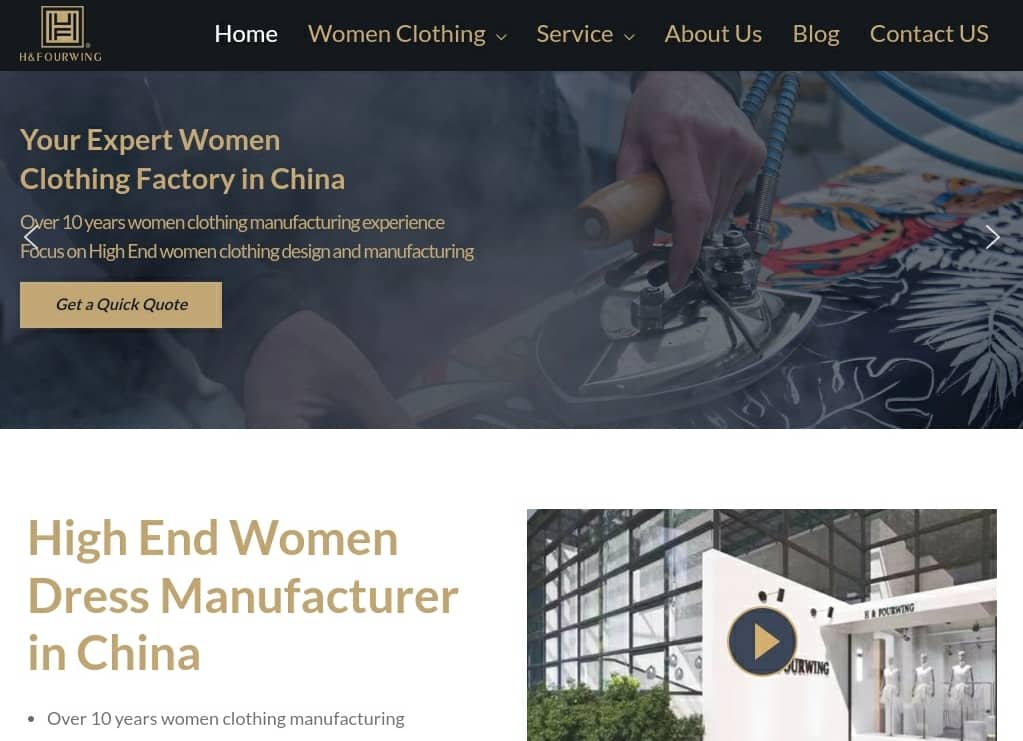 H & Fourwing is another go-to manufacturer for women's clothing. It produces everything from tops, dresses, pants, skirts, shorts, and more. The company is based in Ningbo, China.
Aside from manufacturing, H & Fourwing offers design support to perfect your ideas and fabric sourcing. You can also pick a design from the company catalog and customize it.
Key Features
MOQ – 100 pieces per color/style for in-stock fabric and 300 pieces per color/style for custom fabric.
Production timelines – 30 days or so depending on the size of the order.
Shipping – H & Fourwing mainly ships to the USA and South America.
Pros
The company has strict quality standards and uses an internal and independent quality control team.
Samples for in-stock designs are free.
Rush orders allow you to achieve product development, manufacturing, and shipping in 40 days.
Cons
The sample price is 3 times the bulk price.
FAQs about Clothing Manufacturers for Startups
Where Is the Cheapest to Manufacture Clothing?
Countries like Vietnam, China, Pakistan, Bangladesh, and India rank among the cheapest countries to manufacture clothing.
However, whereas manufacturing costs may be low, it is important to consider costs in a wholesome manner. If other expenses like export costs and shipping are too high, they negate the benefit of low manufacturing costs.
Additionally, it is crucial to ascertain that low production costs:
Do not compromise quality.
Are not facilitated by oppressive practices like poorly paid workers or exploited material suppliers.
How Do You Begin Your Own Clothing Line?
Starting a clothing line is not too different from establishing any other start-up. Here is a summary of the key steps in the process.
Research – study your market and find out what kind of clothing items are in high demand and identify any supply gaps that you can fill.
Create a plan – use the feedback from your research to create an actionable business plan including a budget.
Register your business – formally register your business and pay any fees that the authorities require. Consider trademarking your logo too.
Develop designs – create Designs or identify samples that you can modify to achieve the style you are targeting for your brand.
Find manufacturing partners – find manufacturers that offer services that match your needs for fees within your budget.
Obtain samples – shortlist potential suppliers, obtain samples to judge their work, and pick one to work with.
Market your brand – begin marketing your brand as production progresses to generate interest among customers.
Launch and sell – launch your clothing store in a remarkable way to make an impression on customers and entice them to buy your pieces.
What Makes a Good Clothing Manufacturer for a Startup?
Look out for:
Flexible manufacturing terms – your order requirements may fluctuate in the early stages as you get to learn your market and only a flexible manufacturer may be able to accommodate such changes.
Low MOQs – it is advisable to start with small orders and increase them as your clientele grows. This may save you the agony of dead stock and also works to your advantage if you are on a limited budget.
Value-adding services – aim for a manufacturer that offers extra services such as design assistance, grading, or pattern making if you are uncertain how to navigate them on your own.
Reasonable prices – the cost of manufacturing should be fair enough to allow you to make adequate profit margins.
Quality and compliance – an ideal manufacturer should meet industry compliance standards and have high quality control standards.
In Conclusion
Choosing a clothing manufacturer can neatly be summed up into one key agenda: weigh all your feasible options and aim for one that you believe can help your startup thrive.
Alternatively, let us take the pressure off your shoulders. We can find clothing manufacturers that meet all your specifications, vet them, and even negotiate fair terms on your behalf. We also provide product development services and worldwide shipping support.
Ready to get your fashion start-up in business? Send us manufacturing requirements and request a free quote at any time.