Hoodies have stood the test of time as a quintessential item of clothing. They come in handy during cold seasons, work well as activewear, and are also a cool way to complete a casual outfit. So, it is no wonder that quality hoodies are so highly sought after.
Admittedly, there are lots of retailers that sell hoodies. However, you can easily make your mark in the market by sourcing trendy hoodie designs made of quality fabric and reselling them at competitive prices.
The manufacturing advantages in China make it an ideal destination for sourcing a wide variety of affordable hoodies.
Not sure how to start that sourcing journey? Here is a shortlist of suppliers of wholesale hoodies in China and some highlights of what they offer.
Let's evaluate them right now!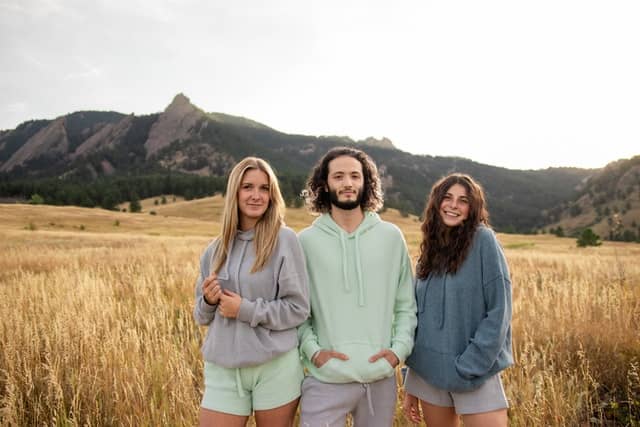 Yunzhou Garment
Yunzhou Garment is based in Nanchang City. It manufactures a variety of casual-wear items such as t-shirts, vests, and hoodies. The company has over two decades of experience in apparel manufacturing and runs 4 production factories.
The Yunzhou Garment hoodie selection includes pullover and zip-up designs for both men and women. They are available in 100% cotton fabric or alternative fabric blends that pair cotton with fleece, polyester, CVC, or spandex.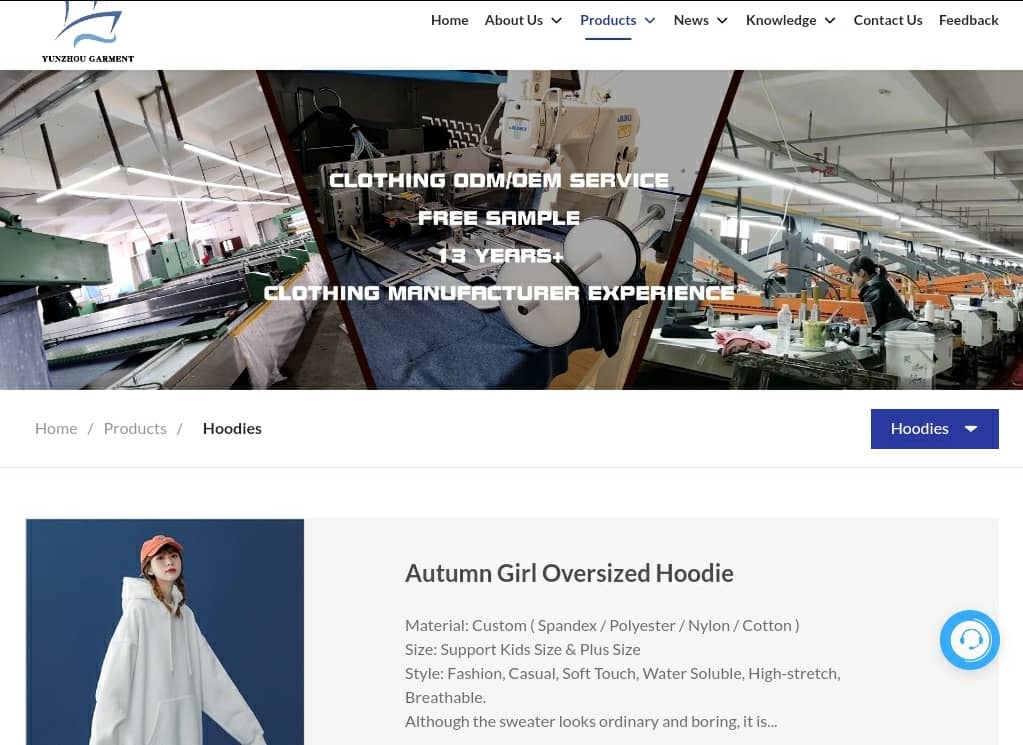 In terms of customization, this company allows you to select a variety of sizes, colors, as well as different decorative prints. The available decorative methods include:
Silkscreen printing
Sublimation
Embroidery
Towel embroidery
Reflectable printing
Flock printing
All Yunzhou Garment hoodies are available at wholesale prices but the specific wholesale price will depend on the number of hoodies you order. MOQs are also determined based on whether you prefer stock or custom hoodies.
TonTon Sportswear
TonTon Sportswear manufactures different kinds of activewear including team uniforms, t-shirts, hoodies, and much more. The company has been in business since 2003 and is based in Longgang District in Shenzhen.
This manufacturer splits its hoodie selection into cotton and polyester hoodies. Both fabric options are, however, uniquely processed to make hoodies that are anti-pilling, anti-shrink, and breathable for more comfortable wear and durability.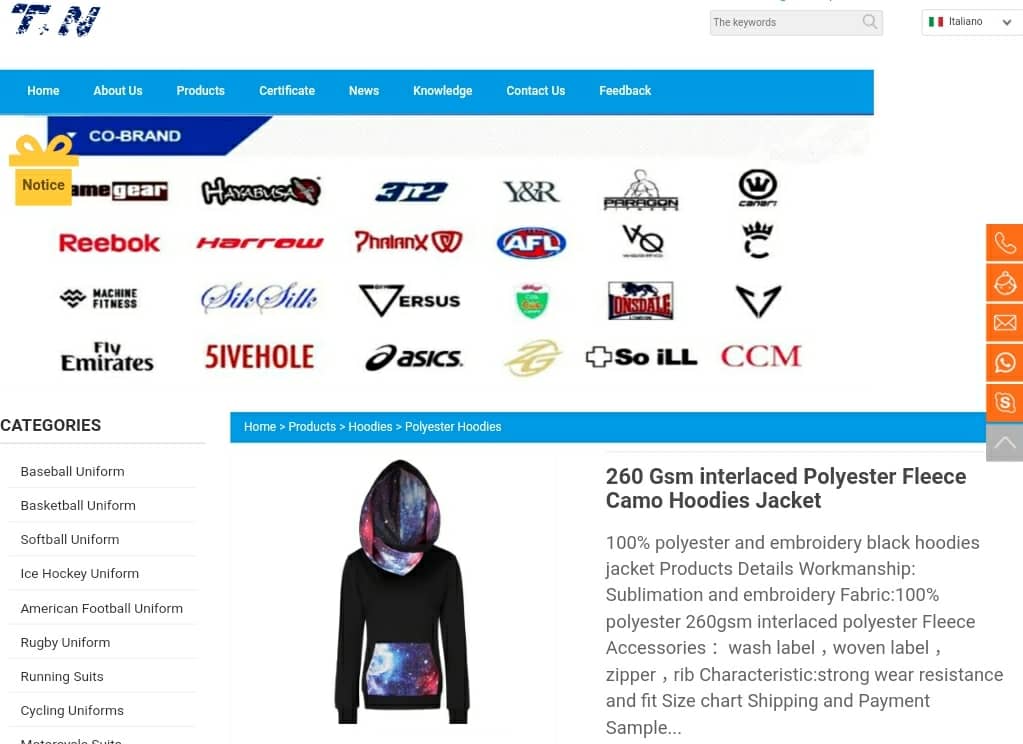 The hoodie designs are quite versatile and include options suitable for gym wear, maternity wear, or casual everyday attire. The colors and sizing options are also diverse enough to meet the preferences of a broad customer base.
All hoodies are customizable through logo printing and other design modifications provided in-house. The MOQ is 10 pieces and the turnaround time is about 5 to 15 days depending on whether you choose in-stock or custom hoodies.
Mladen Garment
Mladen Garment is a hoodie manufacturer situated in Shenzhen. They have been producing and selling hoodies for men, women, and children, to both local and international clients for over 10 years.
This company stands out due to its emphasis on quality hoodie fabrics. It picks the materials based on the function that the hoodie is designed for.
For example, if you are looking for jogging hoodies, Mladen Garment may suggest their breathable moisture-wicking hoodies made of cotton jersey. In contrast, if you need to stock up on winter hoodies, it may offer you its cotton terry cloth hoodies.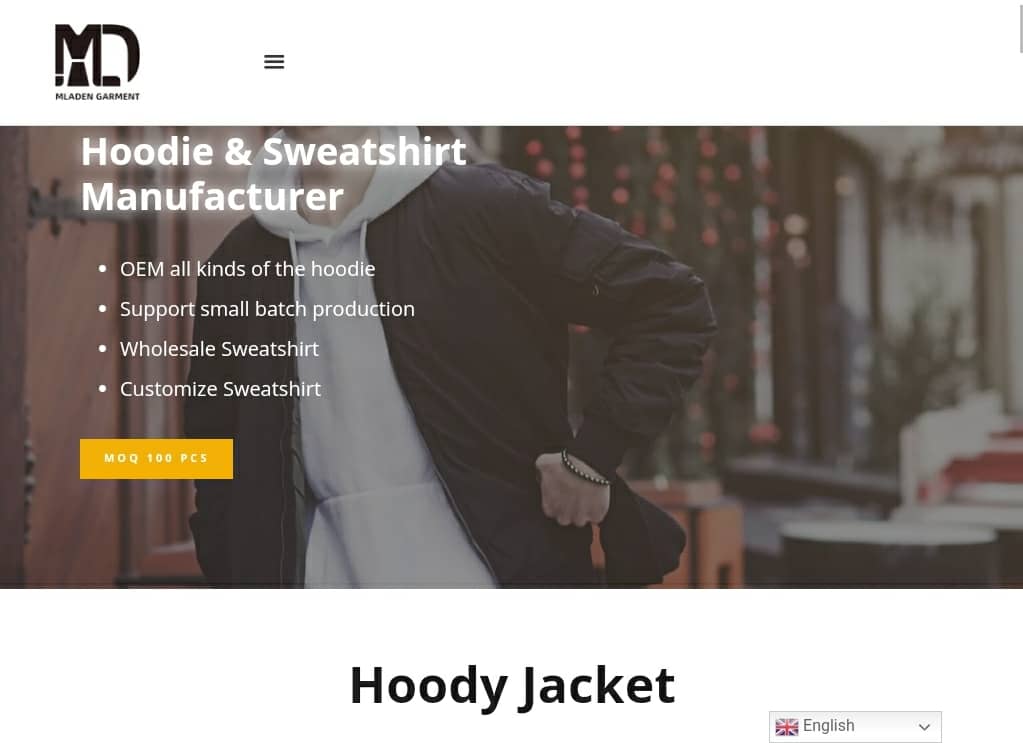 On customization, Mladen Garment offers and advises on different approaches based on the type of hoodies you order. Some of the customization options include:
Pure color hoodies
Big logo printing
Letter printing
Large area pattern printing
Character printing
The MOQ for wholesale buyers is 100 pieces per design with size grading. Wholesale orders are also eligible for DDU and DDP shipping options.
Yiwu Sungnan
Yiwu Sungnan could be an ideal hoodie manufacturer to work with if your target market is hip and fashion-forward. It produces trendy hoodie designs such as cropped hoodies and kids' hoodies with bunny ears.
On the other hand, this Zhejiang-based manufacturer also produces a wide selection of blank hoodies that you could buy as is or customized. The hoodies are available in knitted cotton or cotton and polyester blends to suit different climates.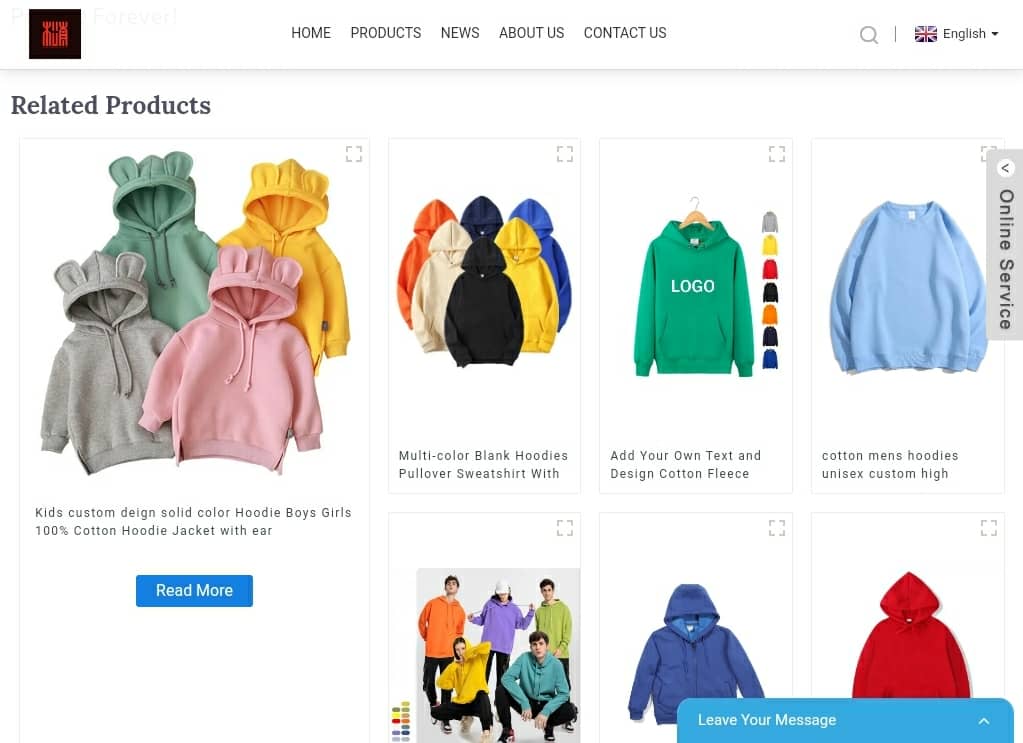 Decorative designs and logos can be executed through embroidery, 3D printing, applique, or patchwork. You are free to present a decorative artwork of your choice or you could request the Yiwu Sungnan R&D team to design some for you.
Yiwu Sungnan accepts both small and large orders. It ships hoodie orders to clients across the globe to destinations as far as the USA, UK, Iran, the Netherlands, Australia, Gabon, and more. It also provides trade assurances and other customer protections.
Tianhong Textile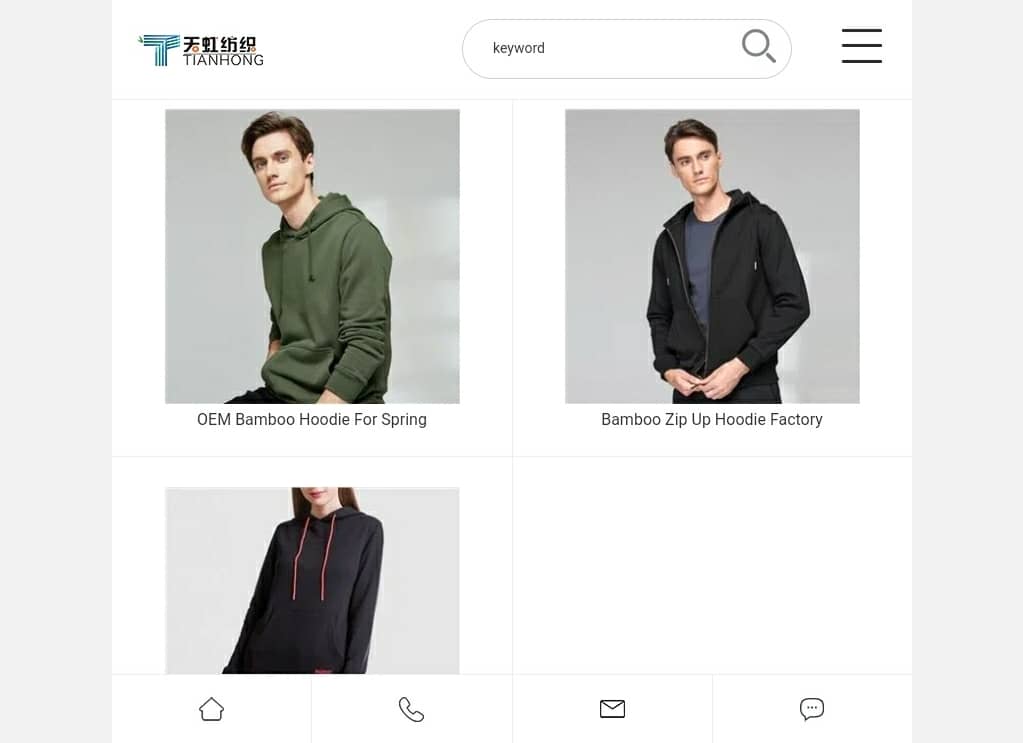 The Tianhong Textile factory is located in Jiangsu. It is a unique company that mainly manufactures hoodies using eco-friendly bamboo fabric while also providing other fabric options such as:
Twill
Poplin
Satin
Flannel
Pique
Terry
The company factory is equipped to process, weave, or knit all these fabrics following international apparel standards. The R&D team then completes the circle by providing trendy designs. They can also work with you to execute OEM hoodie designs.
There is no MOQ if you order in-stock hoodies in the available colors. Your order will only be subject to an MOQ if you require customizations such as adding a logo or prefer custom colors. The turnaround time is about 50 to 60 days.
Charlo Garments
Charlo specializes in the production of OEM hoodies for men and women. It accepts custom design proposals but also has in-stock designs that you could use as a reference to create your own stylish hoodies.
A key advantage to working with this manufacturer is that you would have lots of creative freedom.
You can choose an in-stock design and use your own decorative prints, enhance the design using superior fabric, or even create an entirely new hoodie design unique to your store.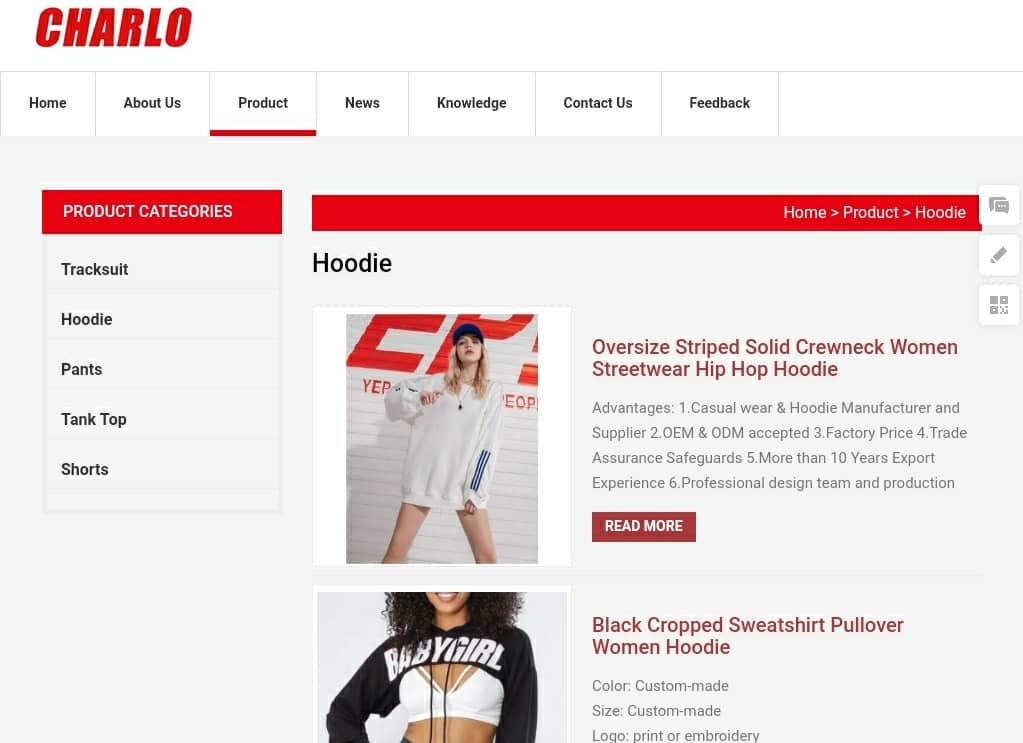 Charlo sources fabrics based on client requests and can complete samples within 5 to 7 days once you agree on the hoodie design. It is also equipped to cover all the fringe details you may require, such as logo addition, label tags, and size grading.
In-stock designs have an MOQ of 100 pieces while the MOQ for custom designs is set based on the requirements you provide. The company ships internationally.
Lotte Garment
Lotte Garment is an apparel manufacturer based in Jiangxi Province. Its factory has a dedicated production line for hoodies, enabling the company to fulfill orders without unnecessary delays.
Hoodies from this manufacturer are designed to provide warmth. They are made using cotton fleece, plain cotton, as well as cotton/polyester blends.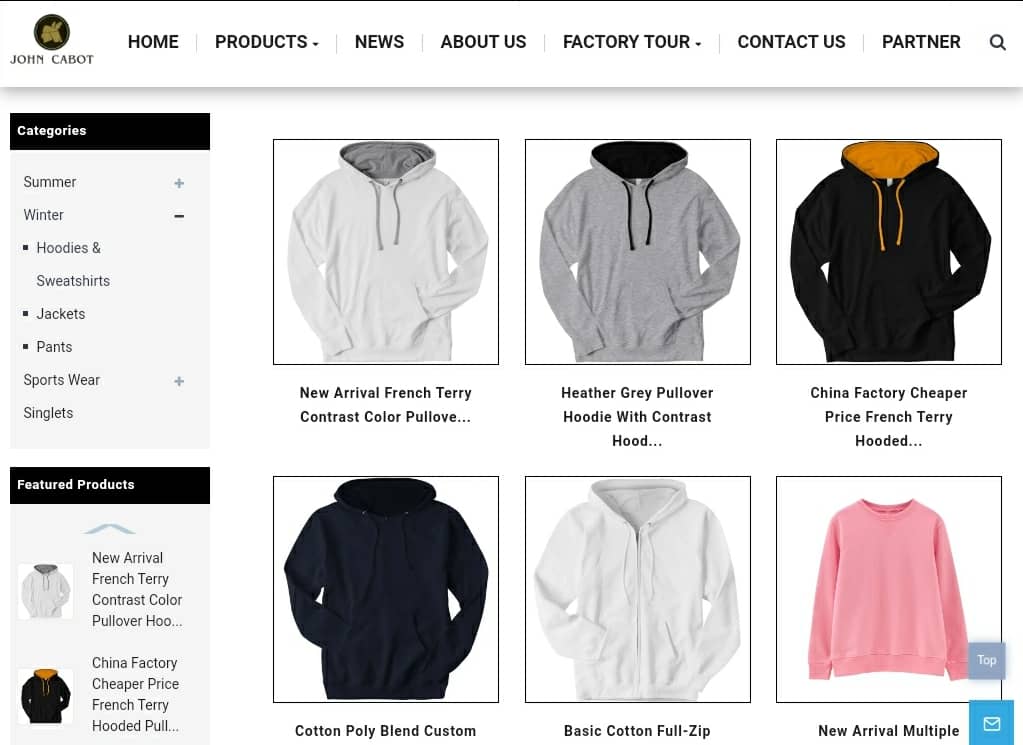 The designs include zip-up and pullover options for adults and kids. The color selection is quite diverse. You can also opt for hoodies made with contrasting color palettes if you would like to offer your customers even trendier designs.
Lotte Garments works with wholesale buyers from all over the world and allows mixed orders comprising different colors and sizes of hoodies. Bulk orders take between 15 to 45 days and the wholesale MOQ is 100 pieces.
Dufiest Industry
Dufiest Industry began as a private labeling sportswear manufacturer in 2006. It has since diversified and now produces its own designs of sweatshirts, t-shirts, hoodies, among other sportswear items. The company is located in Ningbo.
When it comes to hoodies designs, Dufiest is undeniably in tune with modern fashion. It offers stand-out pieces such as:
Cropped hoodies
High collar hoodies that offer a better fit for women
Multi-colored hoodies
Hoodies designed for plus-size wearers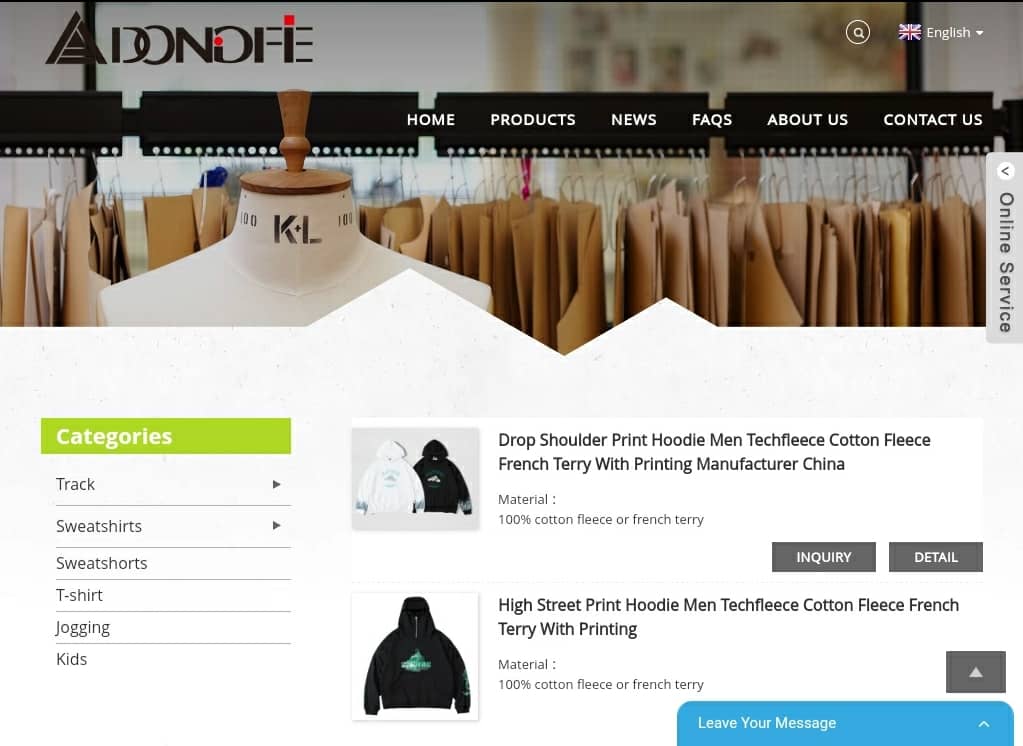 The fabric choices vary depending on the design and functionality of the hoodie. They include different blends of cotton, polyester, acrylic, and fleece.
The MOQ is 500 pieces for most designs. This could, however, vary if you opt for custom designs or fabrics. Samples can be completed within 7 to 10 working days at a fee but the sampling fee is refundable if you order 1,000 hoodies or more.
D-Power Garment
D-Power Garment is based in Xiamen. It supplies its clothing merchandise to wholesalers, retailers, and other buyers within China as well as abroad in North America, Malaysia, Western Europe, Singapore, among other markets.
The D-Power hoodie collection features pullovers, half zip, and full-zip hoodies.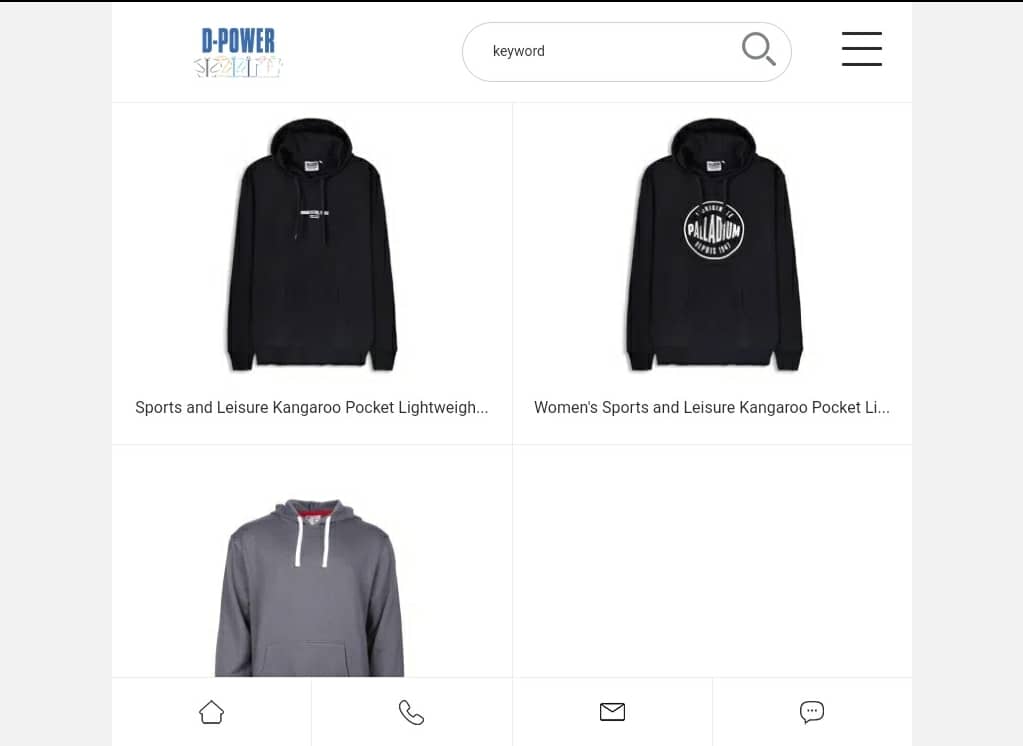 The collection, nevertheless, varies from that of most brands because the hoodies have different neck designs. Women's hoodie designs also have a comfortable yet figure-flattering fit.
D-Power allows its clients to customize hoodie details such as color, embroidery, beading, or size. You can also develop a fully custom hoodie design if you wish. The MOQ is 300 pieces and the turnaround time is 40 to 60 days.
Nantong Zhongwei International Trade
Zhongwei may be the hoodie supplier for you if you are looking for hoodies for both kids and adults. Granted, the company's online catalog can be a bit of a maze but it features many cool hoodie designs.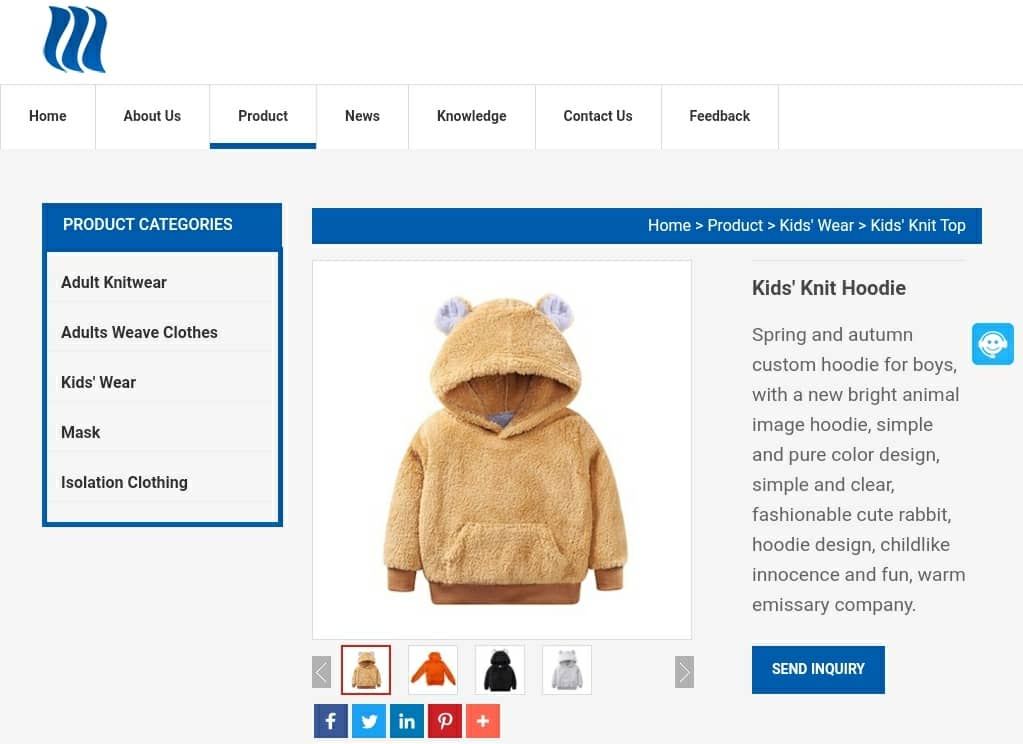 The company's factory is in Hanzhong City, Shanxi Province. It is equipped with top-standard machinery that weaves and knits different fabric blends used to make hoodies. Subsequently, you can also request custom fabric blends. 
Zhongwei designers do a great job of designing hoodies that are well-suited for male and female body shapes. The hoodies are further enhanced by stellar design features like:
Cropping
Tie and dye
The use of contrasting colors
Well-positioned pockets, buttons, or zippers.
MOQs are determined based on the specifics of the hoodies you order. Samples can be completed in 5 to 7 days while actual orders have a lead time of 15 days or more if the design is complex.
Eleheat
In keeping with its name, Eleheat manufactures hoodies and other types of apparel designed to combat cold weather. The company operates out of Dongguan, Guangdong Province where it has a state-of-the-art factory.
The heated hoodies are lined with low-voltage battery circuits that deliver safe heating to the person wearing the hoodie. They each come with an LED controller that can be used to adjust the heat settings between low, medium, and high.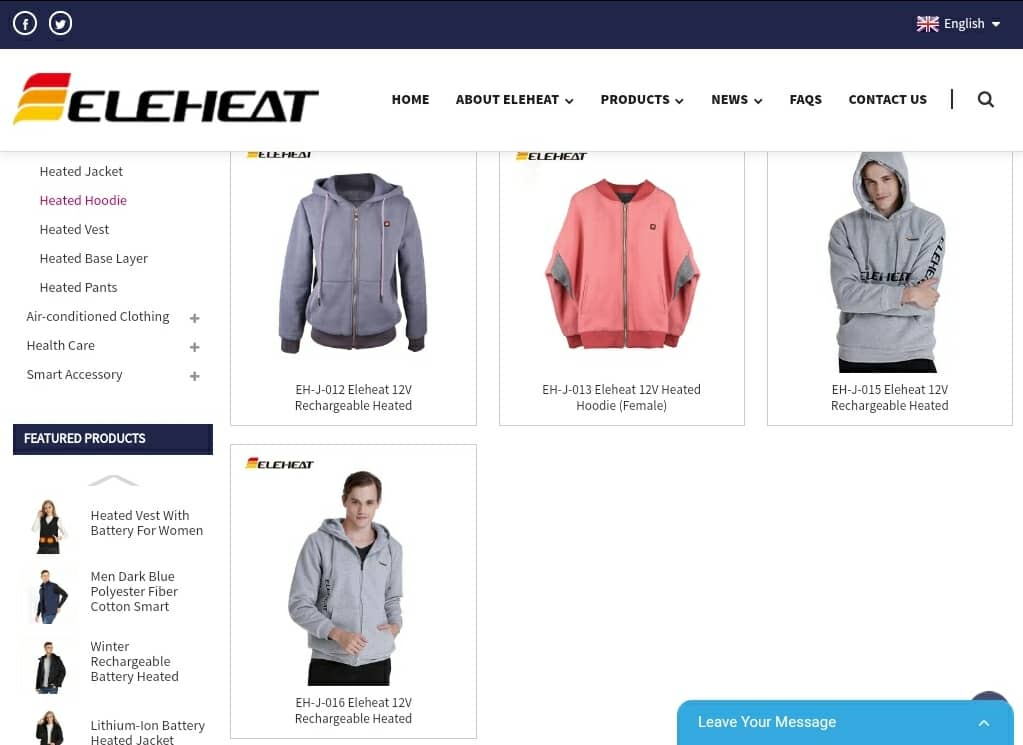 The battery system in each hoodie is rechargeable. All its components are properly insulated to ensure optimal safety at all times. The battery system can also be removed to allow the hoodie to be machine-washed.
The MOQ for these innovative hoodies is only 100 pieces and the prices are quoted under FOB shipping terms. The lead time for orders is 20 to 30 days. Eleheat ships these hoodies to most countries worldwide.
Hot Fashion
Hot Fashion was set up in 2003 and has its headquarters in Nanchang City, Jiangxi. It manufactures sports and casual apparel which includes hoodies.
Hot Fashion offers pullover hoodies for men, women, as well as unisex designs. They are typically blank and are made of blends of cotton and polyester fabrics.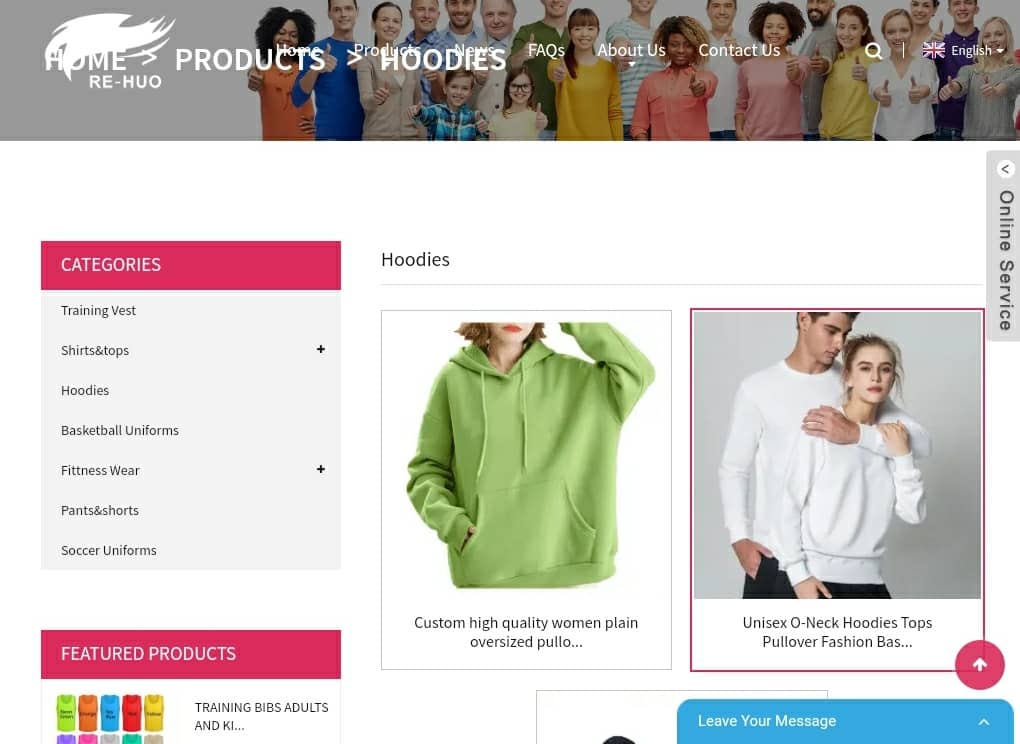 You would have a host of colors to choose from as well as multiple customization techniques at your disposal. They include dye-sublimation, screen printing, heat transfer, and more. Custom fabrics can also be sourced and used on request.
If you order in-stock hoodies in the available colors, the MOQ is 50 pieces.
On the other hand, MOQs for custom hoodies vary based on the design modifications that you request. The company offers multiple shipping options for different destinations and order sizes.
Salati Apparel
Salati Apparel manufactures about 300 new designs of clothing items every quarter. These include hoodies for men and women. In addition, they accept custom orders from clients where you get to choose the design, color, and fabric of your hoodies.
This company is based in Dongguan City. It has well-trained designers and tailors that you can consult with to develop an outstanding line of hoodies that would appeal to your target customers.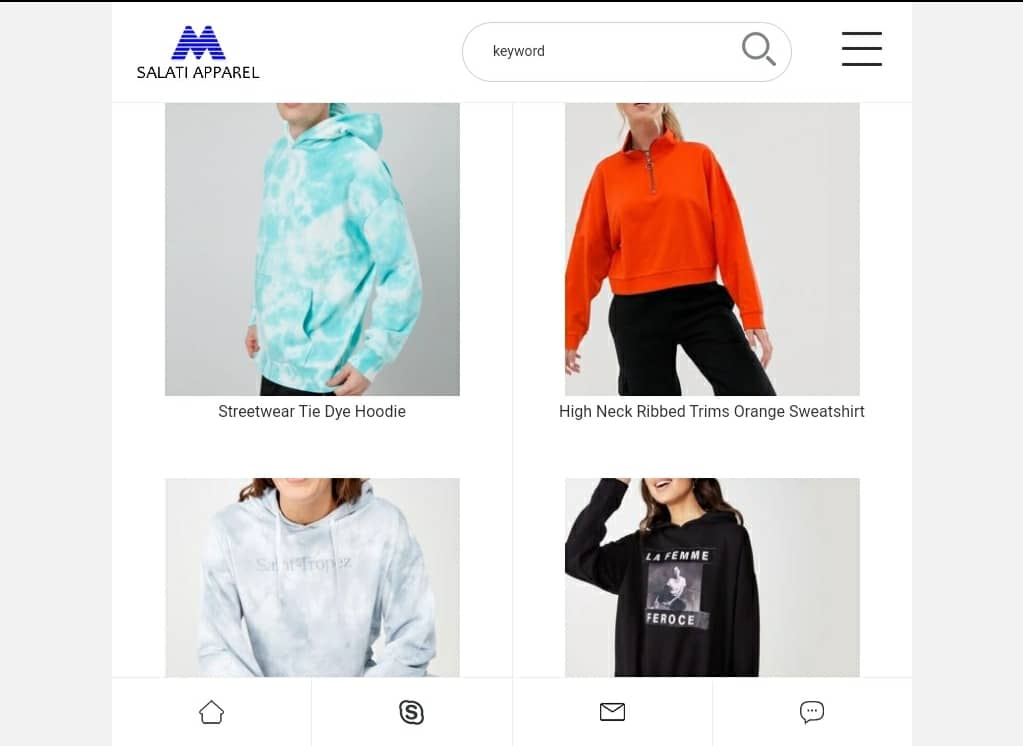 You can order full-zip, half-zip, or pullover hoodie designs. They can be tailored using 100% cotton, 100% polyester, cotton/polyester blend, lycra, nylon/spandex blend, or CVC. Size grading and custom packaging are also provided.
Salati Apparel ships internationally and MOQs are determined based on the details of each order.
DKS Sports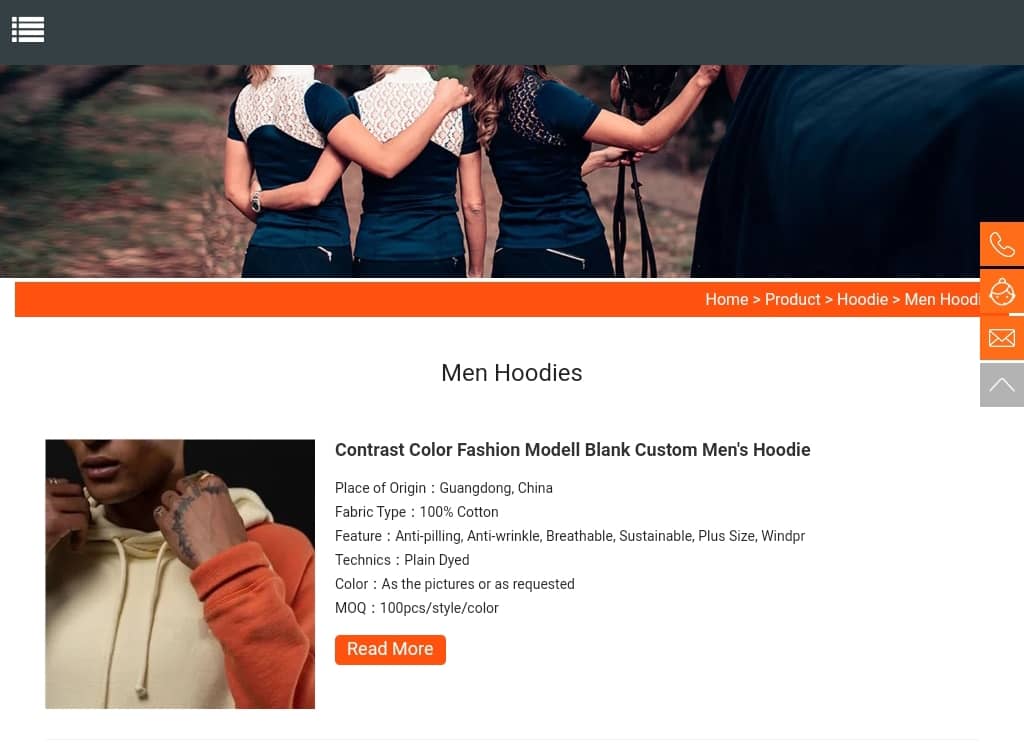 DKS is a one-stop shop for sportswear. It began manufacturing this apparel line in 2017 and has both its headquarters and factory in Dongguan City.
DKS hoodies comprise designs for men and women that enjoy the comfort and an active lifestyle. Some designs are optimized for gym wear by using light breathable fabric. In comparison, others are more cozy, colorful, and would pair well with casual attire.
Notably, this is one of few wholesale hoodie suppliers that offer an MOQ of 100 pieces even for customized hoodies. This is a major plus as it would allow you to make your hoodies remarkable without the restriction of having to order in bulk to get wholesale prices.
Lebang Garment
Lebang Garment manufactures an assortment of casual clothing including polo shirts, vests, sweatshirts, and hoodies. It is based in Nanchang, Jiangxi but is a major exporter. It supplies clients in North and South America, South Africa, and Europe.
Whereas most hoodie manufacturers use run-of-the-mill fabrics like cotton, polyester, and similar blends, Lebang Garment goes a step further to offer velour hoodies.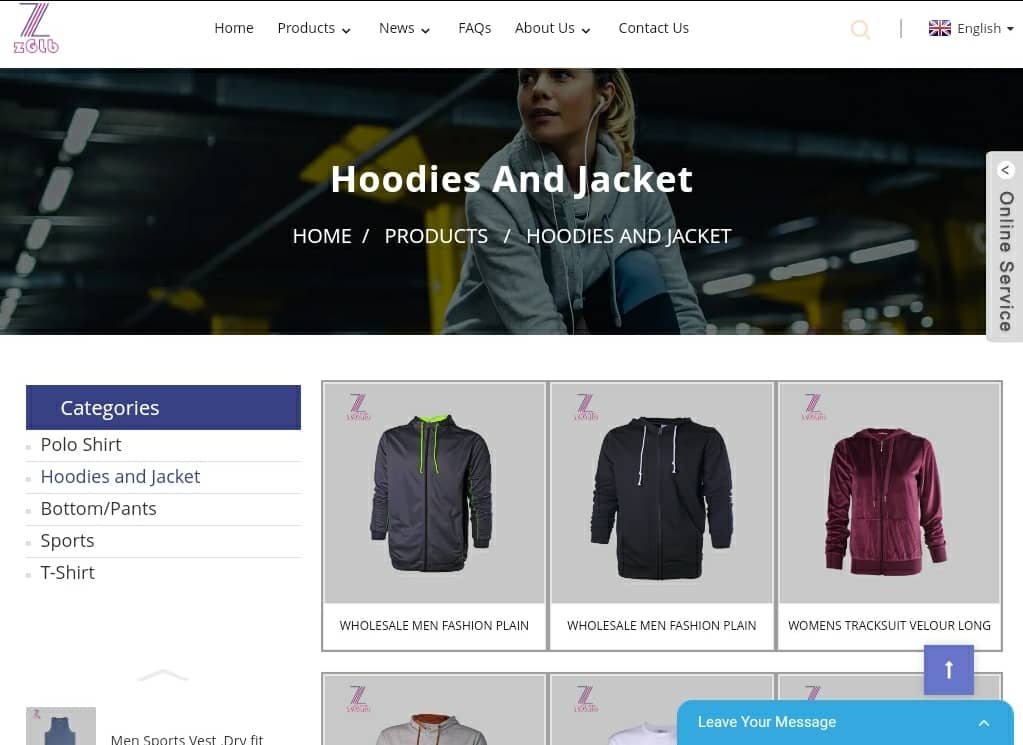 Velour hoodies are particularly popular in Europe but can also rake in great sales in cold climates or any market where customers just prefer the chic cozy feel of this dynamic fabric. Lebang also produces polyester and cotton hoodies.
Fabric aside, you can also order plain, printed, or even multi-colored hoodies. You can choose any design from existing stock or opt for private label or white label hoodies.
The production of samples takes 5 to 7 days. If you confirm your order, your hoodies can be ready for shipping in 20 to 25 days.
IsaApparels
IsaApparels company profile boasts of high-flying clients from all over the world. If this is anything to go by, it is safe to say that this is a tried and tested apparel manufacturer.
The IsaApparel factory in Nanchang is a mega operation. It has 8 sewing lines and has about 15 tons of fabric in stock. Consequently, it can handle bulk orders with ease and at great wholesale prices based on the economies of scale that it enjoys.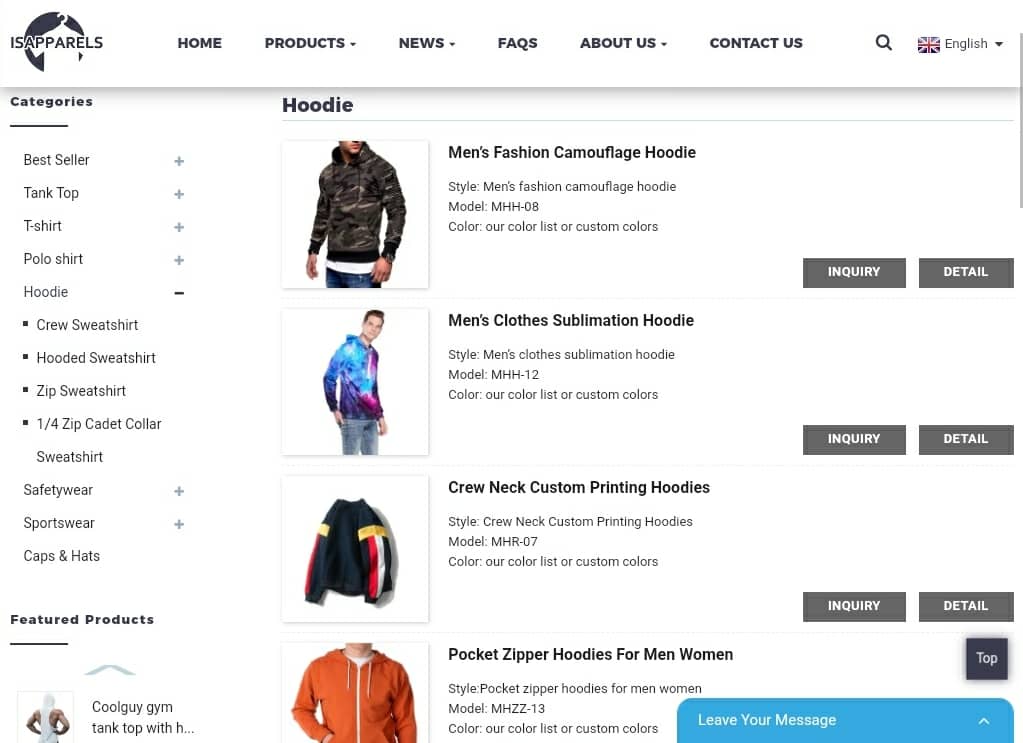 The range of hoodies covers all the bases. There are hoodies for adults, teens, and preteens. They come in pullover, half-zip, and full-zip designs in numerous color options.
If your customers prefer more vibrance, the hoodies with pattern prints could just be the right pick for you.
The MOQ for most designs is 100 pieces. However, you may enjoy the best wholesale prices if you order 1,000 hoodies or more.
Tianxing Garment
Tianxing makes hoodies for all requirements. Whether you need hoodies for men or women, printed or blank, multi-colored or plain, this manufacturer can deliver.
More importantly, Tianxing Garment is not a newbie supplier. They have been in this business for over 17 years.
Consequently, they have had time to incorporate all hoodie customization processes into their production line. You would not have to outsource branding, labeling, or any other service.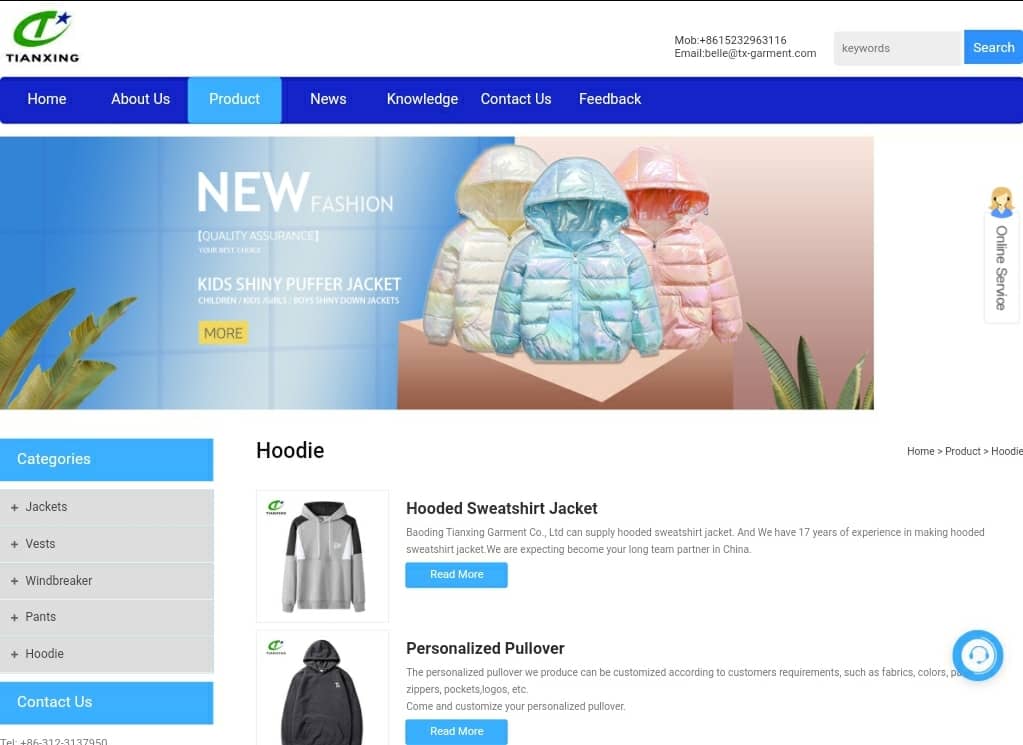 This company is also quite adept at handling export matters and can help you process the shipping of your orders.
This could be particularly advantageous if you are sourcing hoodies in China for the first time or are simply not conversant with shipping Incoterms or export clearances.
FAQs about Buying Wholesale Hoodies in China
How Much Does It Cost to Make a Hoodie in China?
Offering estimated prices as an answer to this question could be misleading. This is because the prices that a supplier may offer are determined by a set of factors such as:
The fabric you choose for the hoodie
The complexity of the design
The customization details you opt for (if any)
The number of hoodies you require
In some instances, how well you negotiate may also affect the prices that a manufacturer may offer.
In light of this, it would be best to narrow down your list of preferred hoodie suppliers and send them a brief of the types of hoodies you need. This would get you a more precise quote.
Can I Find Quality Hoodies in China?
Yes, you can. The key is to first define what a quality hoodie is and use those characteristics as a benchmark when sourcing wholesale hoodies from suppliers in China.
As you compare hoodie designs, aim for:
Quality and suitable fabrics – pure cotton or fabrics ha high percentage of it are often a safe bet. However, ensure that the hoodies you buy are made using the right fabric for their function.
High standard inputs – insist on durable zippers, buttons, and drawstrings.
Great stitching – examine the stitching of any hoodie samples that you get. Are they neatly done? Do they remain intact when the seams are stretched? Is the stitchwork neatly tied off at the ends to prevent fraying?
Colorfastness – ask your shortlisted suppliers about the colorfastness of their fabrics. Request tests too if possible. This will help you avoid buying hoodies that will fade in a short time.
Is It Better to Sell Customized Hoodies Or Plain Hoodies?
It all depends on your target market.
Custom hoodies may appeal to a wide customer base due to their interesting prints, colors, or personalized details. In contrast, plain hoodies could attract shoppers that enjoy simple designs that they can pair with multiple outfits.
In a nutshell, carefully research your market to find out what your potential customers prefer. If the feedback is unclear, you can order a small quantity of both options to start with and see how the market responds.
In Conclusion
As you begin sourcing wholesale hoodies from China, keep in mind that it is a process, not an event. Take your time, weigh as many options as you need to until you find a wholesale supplier that you are content with.
However, if you have limited time or are having a hard time with your search, leave it to us. We are professional sourcing agents based in China and have an in-depth understanding of the apparel industry. We have all it takes to find you the right supplier on time.
You are welcome to send us a brief outlining what you need to source and request a free quote at any time. We will process your inquiry and promptly get back to you with the solutions you need.