As an aspiring bra business owner, one of the most important decisions you'll make is selecting the right bra material. The fabric you choose will determine not only the comfort and support of the bra but also its durability and overall quality.
But, with so many bra fabrics available on the market, choosing the right one can be daunting. That's why we've created this guide to help you navigate the different types of bra materials available and choose the best one for your needs.
We'll provide a comprehensive list of the best bra fabrics to choose from and explore the pros and cons of each bra material. We aim to help you make an informed decision and set your bra brand up for success.
Let's dive right in!
Best Materials for Bra Cups and Straps
The cups and straps are the main parts of a bra since they keep the breasts in place and provide protection and support. Here are the most common materials used for bra cups and straps:
Cotton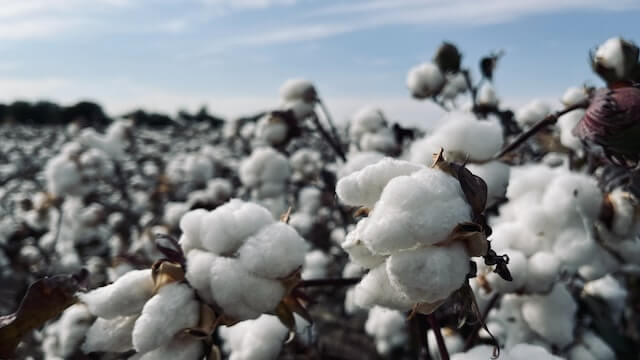 Thanks to the many advantages, most bras available on the market today are made from cotton. It's comfortable, breathable, feels soft and natural against the skin, and is warm and absorbent.
However, cotton also has some disadvantages, such as being prone to shrinking and deforming easily, and not being as durable as some other materials.
Pros
Great for bras made for everyday wear
Comfortable, warm, and soft
Breathable and absorbent
A wide range of types, colors, and models to choose from
Cons
Prone to shrinking and deformation over time
Not as durable as other materials
Not too elegant looking for high-end bras
Spandex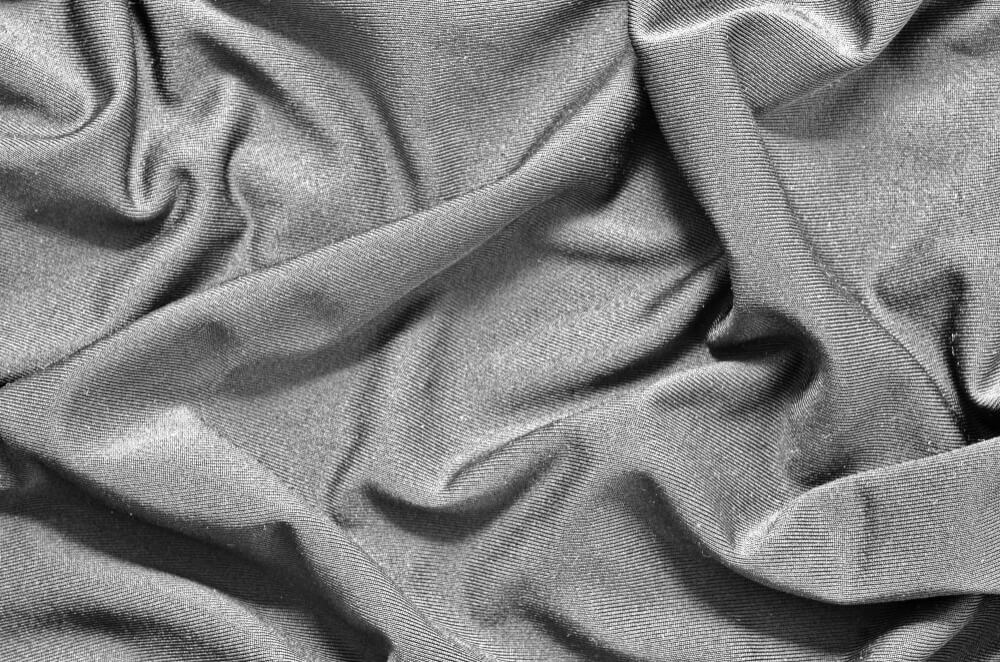 Spandex is a synthetic material commonly used in bra cups due to its elasticity. It's a lightweight and breathable material that conforms to the body's shape, providing comfort and support.
Additionally, spandex is quick-drying, durable, and greatly resistant to chemical or sunlight damage.
Usually, spandex is mixed with cotton, polyester, or other material when used for bras, except for sports bras, which might be purely from spandex.
Pros
Great shape-retaining properties
Perfect for adding elasticity to fabrics
Commonly used for sports bras
Provides excellent comfort and support
Cons
Sensitive to heat
Not as breathable as cotton
Lack of moisture-wicking properties
Polyester (Duoplex)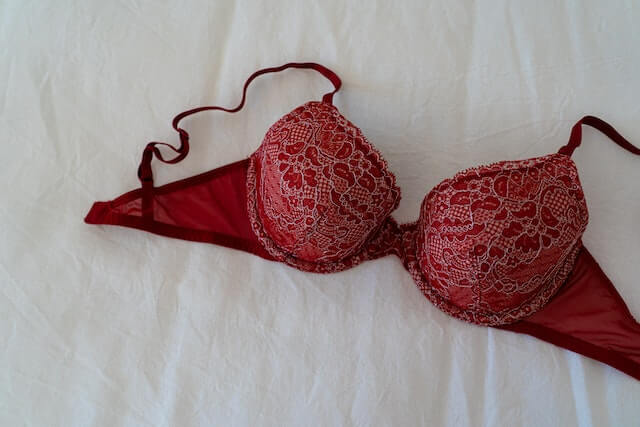 Polyester is a synthetic material frequently used for bra cups as it's strong, durable, and lightweight.
Duoplex is one of the most commonly used types of polyester materials for bras since it has a high thread count, making it an excellent choice for producing bra cups with a smooth and polished appearance. It's a non-stretch knit fabric that's great for support.
Typically, duoplex is two-sided, with one shiny and one matte side, allowing you to choose either as your main one.
Pros
Very smooth fabric and no need for lining
Great for support and structural parts of a bra
Strong and durable
Double-sided (one shiny, one matte side)
Cons
No lengthwise stretch
Can be bulky for some types of bras
Not a natural fabric choice as it's 100% synthetic
Silk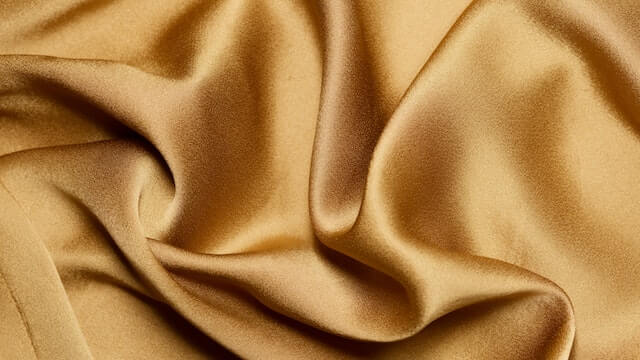 Silk is a luxurious, soft fabric commonly used in high-end lingerie and bras. It's a breathable, lightweight, hypoallergenic material, making it ideal for individuals with sensitive skin.
On the flip side, silk requires delicate care when washing and may not be as durable as other materials.
Pros
Soft, smooth, and gentle against the skin
Breathable and lightweight
Hypoallergenic
Available in a range of colors and finishes, including matte or shiny
Cons
Expensive compared to other bra materials
Delicate and prone to damage
Not suitable for bras that need stronger support
Wool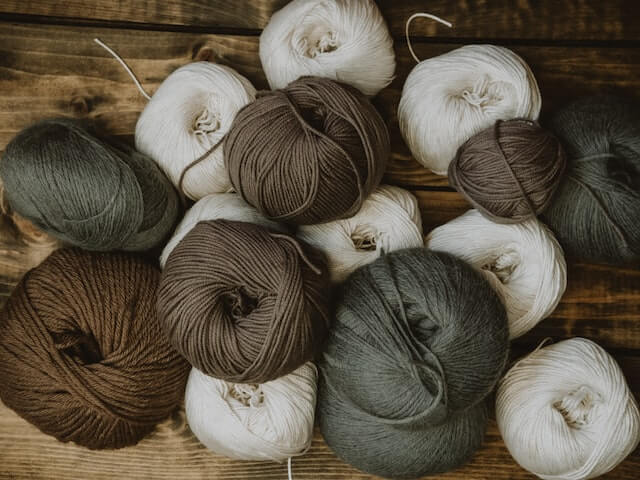 Wool is a natural fabric that's sometimes used for high-end bras. It's warm, soft, and moisture-wicking, making it an excellent choice for colder climates.
On its own, wool can be itchy and may not be suitable for individuals with sensitive skin. However, in luxurious bras, wool is typically mixed with other materials making it softer and providing more elasticity.
Pros
A natural and durable material
Great breathability and moisture-wicking properties
Cons
More expensive than synthetic bra materials
Requires delicate handling and maintenance
Nylon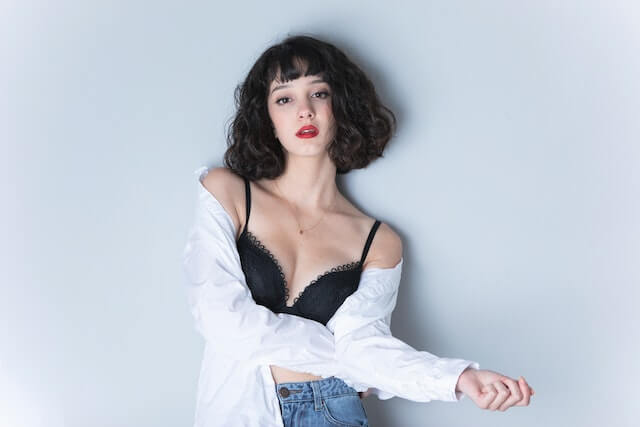 Next, we have nylon – a synthetic fabric commonly used for bra cups. It's lightweight, durable, affordable, and easy to care for, making it a popular choice for everyday wear.
Plus, nylon is available in various colors and patterns, so it's usually easy to find a bra supplier for your brand.
Pros
Affordable and durable
Available in different styles and colors
Cons
Looks cheaper and less stylish than other materials
Does not absorb moisture
It's 100% synthetic
Modal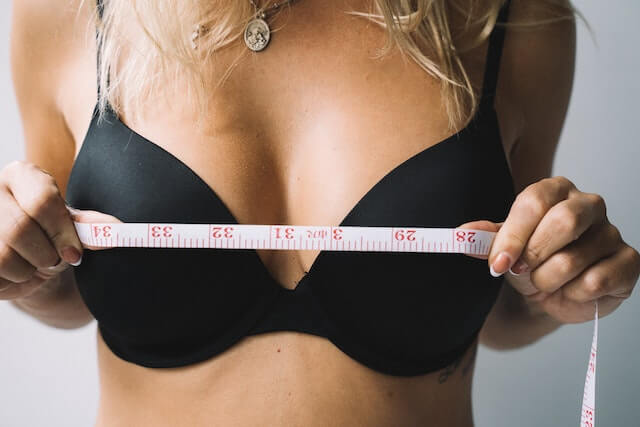 Modal is a type of rayon fabric known for its softness and draping ability, making it very comfortable to wear. On top of that, modal is breathable and moisture-wicking, which helps keep the wearer cool and dry.
Although modal is a high-end fabric, it's often mixed with cotton or spandex to add elasticity and strength.
Pros
Drapes nicely and doesn't crease
A natural and eco-friendly fabric
Soft, durable, and breathable
Retains its shape and doesn't shrink
Cons
Higher cost
Limited color choices
Prone to shrinkage
Elastane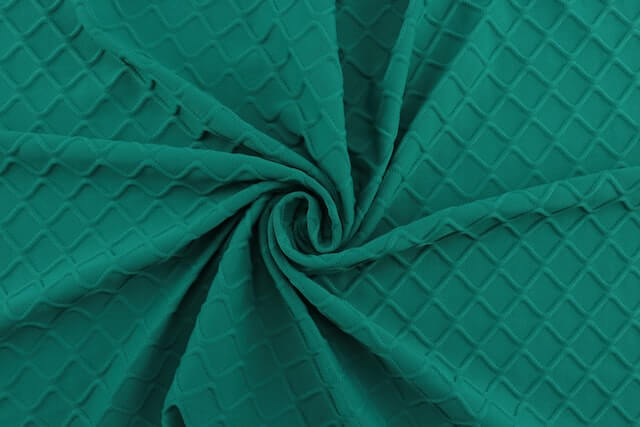 On its own, elastane is a stretchy polymer fiber used for adding stretchiness to clothing or lingerie fabrics. In most cases, when used for bras, elastane is added to another material. In this way, you get both elasticity and the support that elastane lacks.
Pros
Excellent stretch and recovery
Lightweight and breathable
Resistant to shrinking and wrinkling
Dries quickly
Cons
Prone to damage from heat, UV rays, and chlorine
Not as durable as nylon or polyester
Not as supportive on its own
Satin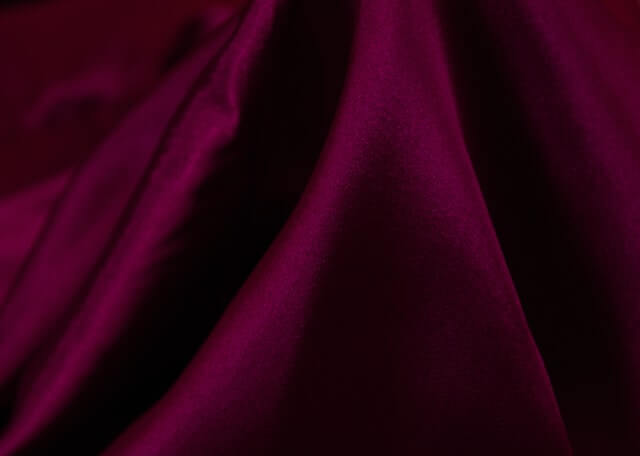 Satin is a smooth and shiny material that's lightweight and silky, making it an excellent choice for bras and lingerie in general.
Note that you can find silk satin of better quality or synthetic satin, which tends to be too shiny and not as breathable.
Lastly, consider that satin can be delicate and may require special care when washing and drying.
Pros
Soft, lightweight, and shiny
A wide variety of fabric colors available
Cons
Synthetic satins are not breathable
Not great at moisture absorbing
Best Materials for Cup Linings
Now, let's see the best fabrics for lining bra cups and reinforcing the front bridge of bras:
Sheer Nylon (Marquisette)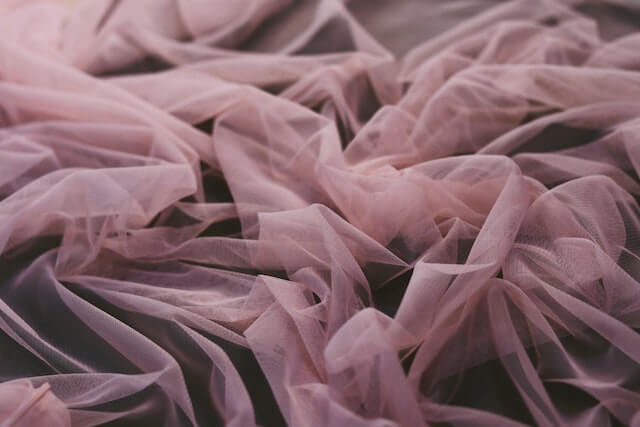 Sheer nylon is a lightweight and transparent material commonly used as a lining for bra cups. This material is known for its softness and silky texture, making it comfortable to wear for extended periods, while still providing strength due to the lack of stretch.
Lastly, sheer nylon is also breathable, allowing air to circulate and keeping you cool and dry.
Pros
Transparent and lightweight
Strong and supportive
Great for structural support due to minimal stretch
Cons
Sheer and not great for coverage
No elasticity since it's made of 100% nylon
Stretch Mesh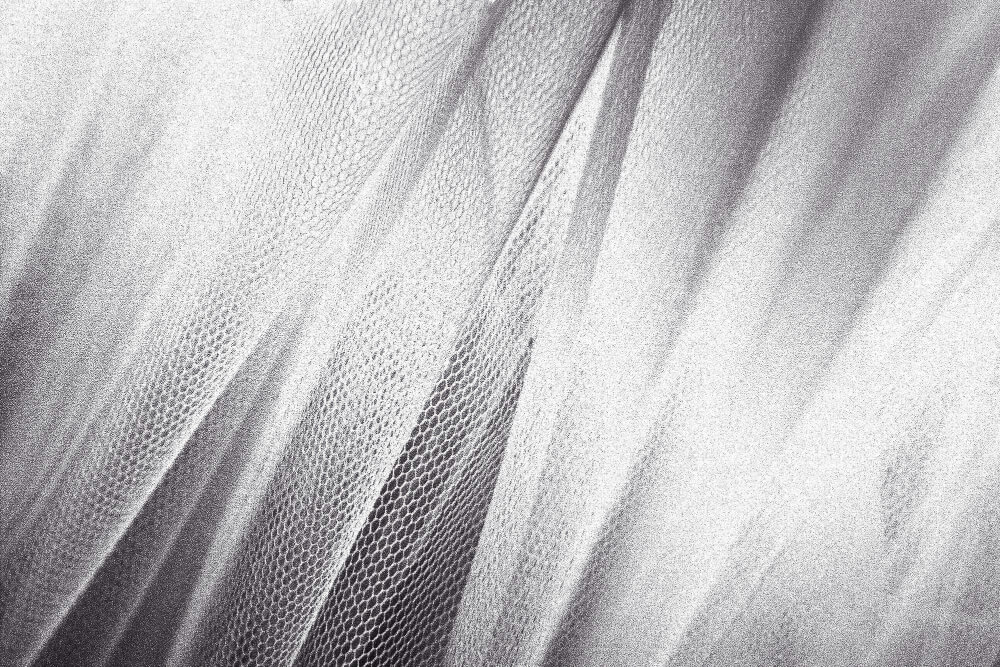 The stretch mesh fabric is typically a mix of nylon and spandex, which makes it more elastic than sheer nylon while maintaining the same transparency and invisibility.
This material has lengthwise stretch and a great level of recovery. Plus, it perfectly blends on top of any material. That's why it's an excellent choice for bra cup linings.
Pros
Stretch fabric with great recovery properties
Lightweight and sheer yet strong and durable
Adjusts to the shape of the body
Comes in many types and colors
Cons
Not great for structural support since it's stretchy
Sheer and unsuitable for coverage
15 Denier Nylon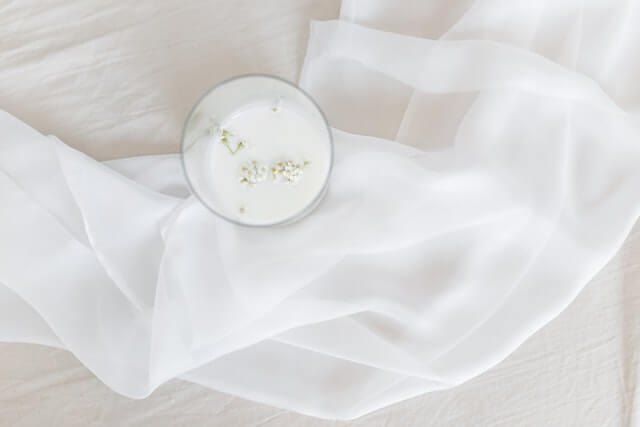 When selecting a fabric for bra cups, it's important to consider a supportive and rigid lining material that still provides some elasticity.
15 denier nylon is an ideal choice, as it's lightweight and sheer, yet rigid enough to provide much-needed support. This low-denier count material is made of 100% nylon, comes in various colors, and is nearly invisible.
Pros
Mechanical cross-grain stretch
Sheer, lightweight, and almost invisible
Strong enough to provide support
Available in a variety of colors
Cons
Transparent and not suitable for coverage
May not be as soft to the touch as other materials
Not as breathable as other materials
Best Materials for Bra Paddings
If you're planning to create bras that provide structure and support, you'll need to choose fabrics for bra paddings. Here are the most commonly used ones:
Silicone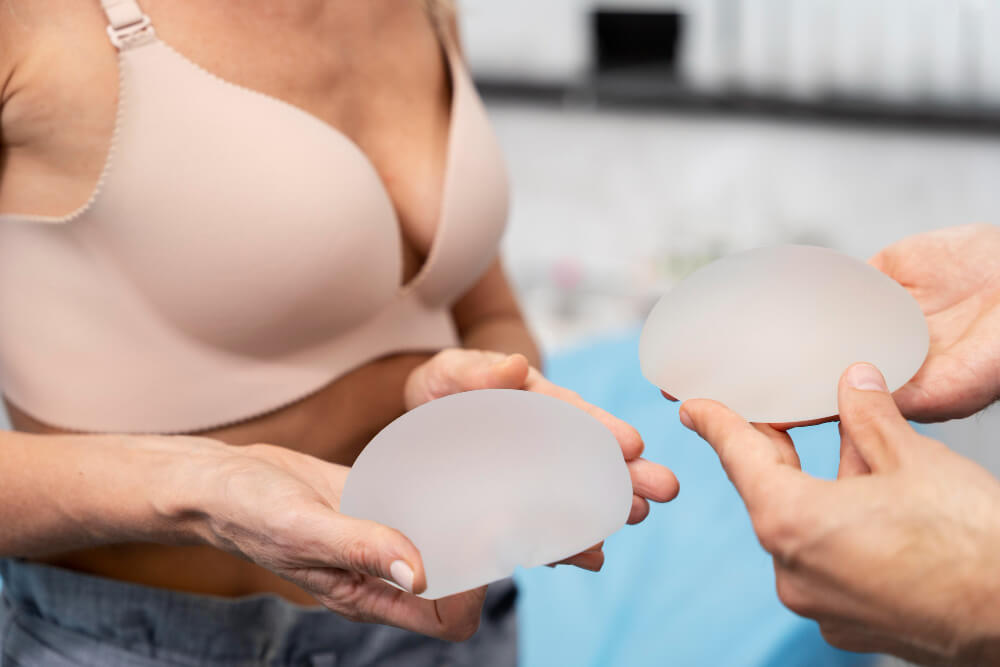 Silicone is a popular material for bra padding due to its ability to conform to the body's shape and provide a natural look and feel. It's hypoallergenic and easy to clean, making it convenient for many people.
However, some may find silicone heavy or uncomfortable to wear for extended periods.
Pros
A natural look and feel of the padding
Hypoallergenic
Cons
Lack of breathability
Too bulky for some bra types
Rubber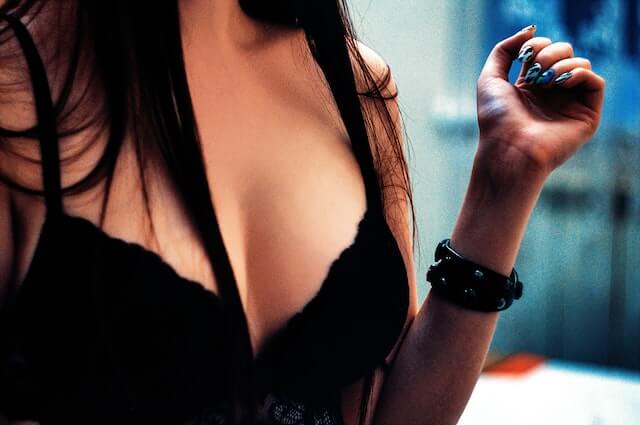 Rubber is another commonly used material for bra paddings, although it's a cheaper option. It can provide a firm and supportive feel, but may not be as comfortable or breathable as other materials.
Pros
Cheaper than other padding materials
Cons
Not as common as other bra padding fabrics
Lack of breathability
Polyurethane (PU) Foam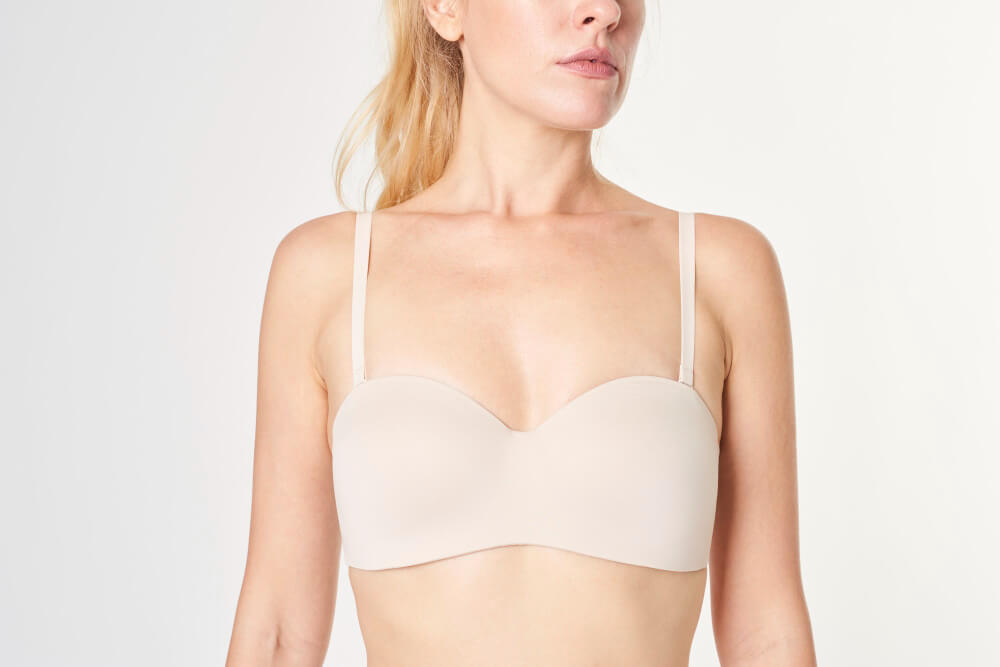 Polyurethane foam is a lightweight and versatile material commonly used for bra padding. It can provide a soft, cushioned feel and is available in a range of densities and thicknesses to suit different preferences. It's great for getting that 3D effect.
However, PU foam may not be as durable as other materials and may compress or lose shape over time with regular wear and washing.
Pros
Great for modeling and 3D cup effects
A wide variety of densities and thicknesses
Soft, cushioned, and comfortable to wear
Cons
Could be more expensive than other padding materials
Might lose its shape over time
Best Materials for Bra Bands (Wings)
The bands of a bra are the side pieces or wings that wrap around the rib cage and usually close at the back (some bra types close in the front). These are some fabrics you can use for this purpose:
Charmeuse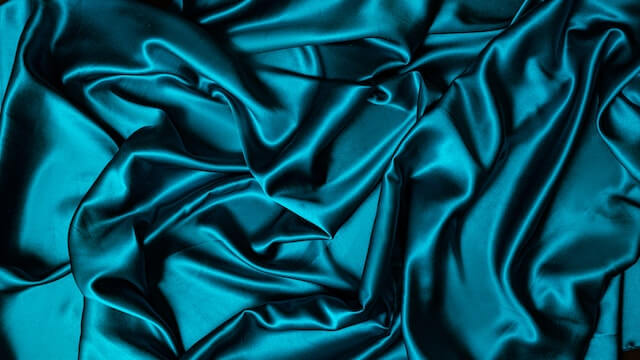 Charmeuse is one of the best woven fabrics for high-end bra bands. Traditionally, charmeuse is made of silk, although, today, you can find it also from polyester fibers.
Perhaps the best feature of charmeuse is its stiffness and stability when used for bra bands.
Pros
Two-sided (silky and matte)
Silky, luxurious, and comfortable feel
Stiff enough to provide stability
Cons
More expensive than other bra band fabrics
Might require special care and maintenance
Plush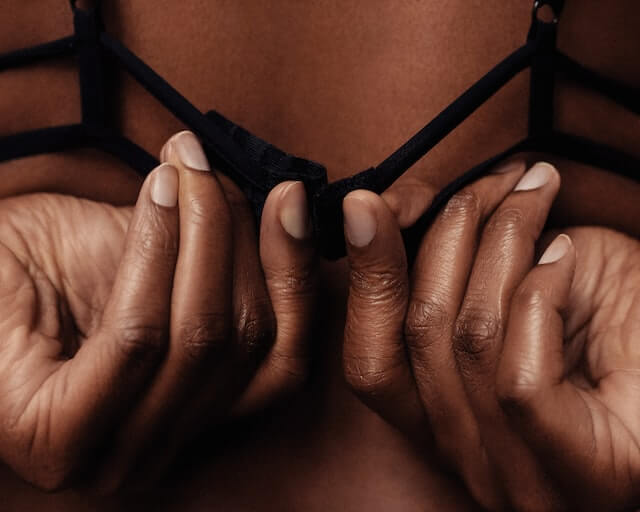 Plush elastics are typically used for bra bands since they feature a delicate picot edge suitable for use in lingerie. As an elastic fabric, plush is really soft and comfortable to wear.
This material is usually a blend of nylon and spandex, although in some instances it might contain latex.
Pros
Soft and comfortable
Great elasticity
Cons
Not as commonly found as other materials
If made with latex, it can cause skin allergies or sensitivities
Power Mesh (Power Net)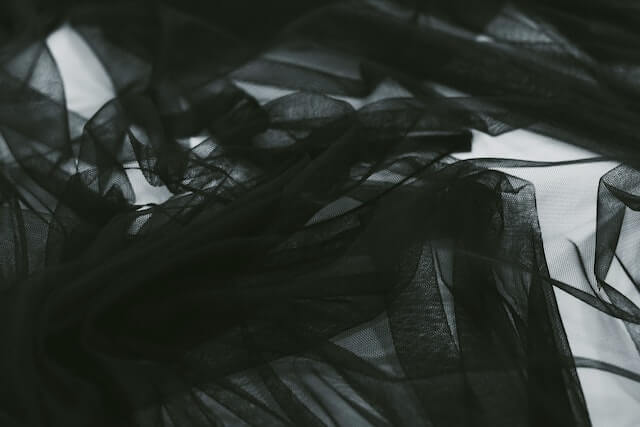 Power mesh, also known as power net, is another fabric we recommend for bra bands. It comes in different densities and degrees of stretch, including double-knit varieties.
This fabric is typically very breathable and can help keep the skin cool and dry. However, it may not be as comfortable or soft as other materials.
Pros
Stretchy and elastic
Breathable
Strong and durable
Cons
Not as soft as other band materials
Might not be suitable for some types of bras
Best Materials for Bra Embellishment
Last but not least, let's see what fabrics you can use to decorate and embellish your bras:
Lace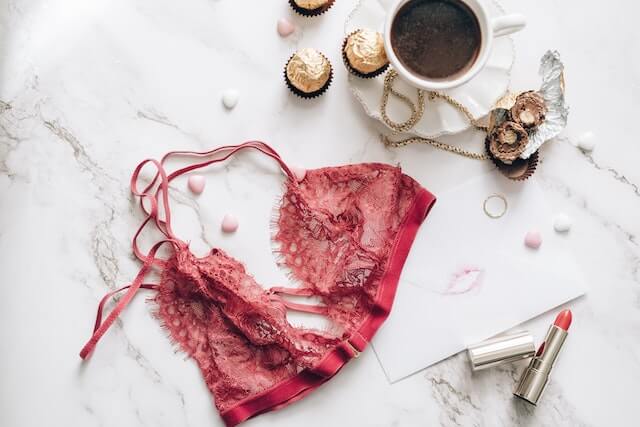 Lace is a versatile material made from various fibers, such as polyester, cotton, or rayon. It's often used to add intricate and delicate embellishments to bras, making them more stylish and unique.
In addition to its aesthetic appeal, lace can provide a comfortable fit and improve the garment's breathability.
Pros
A luxurious and feminine way to embellish bras
Breathable and lightweight
Available in a wide range of styles and colors
Cons
Delicate and prone to tearing
Requires extra care and maintenance
Tulle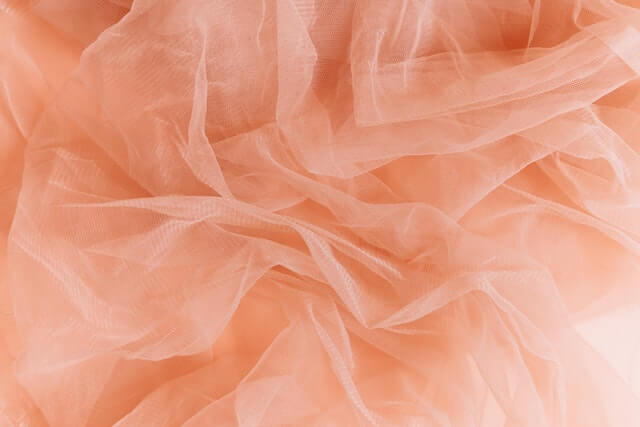 Bra tulle, unlike craft tulle, is much softer and tear-resistant. While it doesn't offer much stretch, it has a mechanical give that's ideal for larger sizes and cups.
This type of tulle is often used for delicate embroidered details. Lastly, its sheer quality and lightweight feel make it a breathable alternative to heavy-knit fabrics, which is why it's frequently used in luxury lingerie.
Pros
Soft and breathable
Durable and tear-resistant
Perfect for high-end lingerie
Cons
More expensive than other embellishment materials
Not much stretch
Jacquard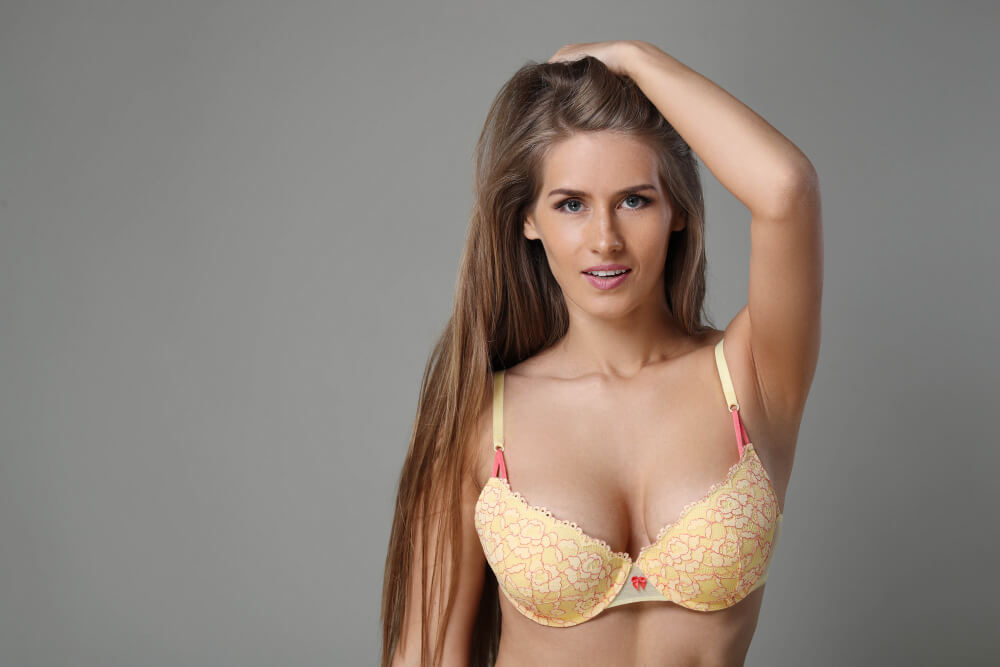 If you're looking for astonishing bra patterns, choose jacquard. Its patterns are integrated into the weave, as opposed to being printed on the surface.
The jacquard technique is versatile and can be applied to a variety of yarn types, including cotton, silk, polyester, and acrylic fibers.
Pros
Can be produced from different fabrics
Many different bra patterns available
Cons
Might be more expensive than other woven fabrics
FAQs about Bra Materials
Now, let's review some of the most commonly asked questions on choosing the ideal bra fabric or material.
What Is the Best Material for Bras?
The best material for a bra will depend on the intended use, target group, and specific style and design. Some popular choices are cotton, microfiber, silk, or spandex, depending on the desired bra type.
All of the fabrics on our list above are suitable for different types of bras, so looking over their pros and cons should help you decide what you need.
What Material Is Used in Padded Bras?
The padding itself can be made from foam, gel, or silicone. The outer layer of the cup may be made from materials like cotton, polyester, nylon, or a combination of these.
Additionally, some padded bras use different materials for the cup lining and the outer layer, with the lining typically made of softer and more comfortable material, while the outer layer provides structure and support.
What Type of Bra Material Is the Healthiest?
The healthiest bra material is one that is comfortable, breathable, and non-irritating to the skin. Natural materials like cotton, bamboo, and silk are often considered healthier options, as they are less likely to cause skin irritation or allergic reactions than synthetic materials.
What Is the Most Breathable Fabric for Bras?
When it comes to breathability, cotton is often considered the best choice for bras. This natural material allows air to circulate, preventing sweat buildup and soaking up moisture.
Other breathable fabric options for bras include bamboo, mesh, soft lace, as well as several moisture-wicking synthetic materials.
What to Consider When Choosing a Bra Fabric?
We believe these are the most important considerations to keep in mind when choosing a bra fabric:
Bra material: what type of bra are you designing and what's the best material for it;
Material properties: stretch, comfort, look, feel, weight, durability, support, and similar fabric properties;
Quality: what's the quality you aim for (it varies according to your budget, product, and target group);
Target group: who is your ideal buyer and what type of product would they buy;
Supplier availability: can you find the right supplier for the type of bra fabrics you need;
Where Can I Buy Bra Materials in Bulk?
Here are several supplier options for buying wholesale bra materials:
Google for bulk bra material suppliers
Check B2B marketplaces like Alibaba
Check supplier directories
Visit trade shows in China
Work with a local sourcing agent in China
NicheSources is an industry-leading sourcing company in China with years of experience sourcing in different niches including bras and lingerie.
Aside from sourcing ready-to-sell bra models, we can partner with factories in China to create a private label or a brand-new product for your needs. You can choose the desired bra material, design, model, and branding of your bras and lingerie according to your specifications. Best of all? You can try our services for free by asking for a free quote.
Wrapping Up
Choosing the right material for a bra is a critical factor in creating a comfortable and supportive lingerie garment that meets your customers' needs.
While there are many materials to choose from, each with its own advantages and drawbacks, understanding the characteristics of different fabrics can help you make an informed decision.
By prioritizing factors like breathability, durability, and comfort, you can select the best bra material for your product and create a quality garment that customers love.