The ever-growing fashion industry is a good sector to venture into business. However, even with the numerous available products, choosing which type of apparel to focus on might still be overwhelming.
Some retailers decide to focus on a specific category, while others are jacks of all trades. Regardless of what you sell, the bottom line is you have to partner with the right supplier for your store to get recognition in the market.
Let's have a look at the most renowned Canadian clothing wholesalers you can comfortably work with. Read on.
Bargains Group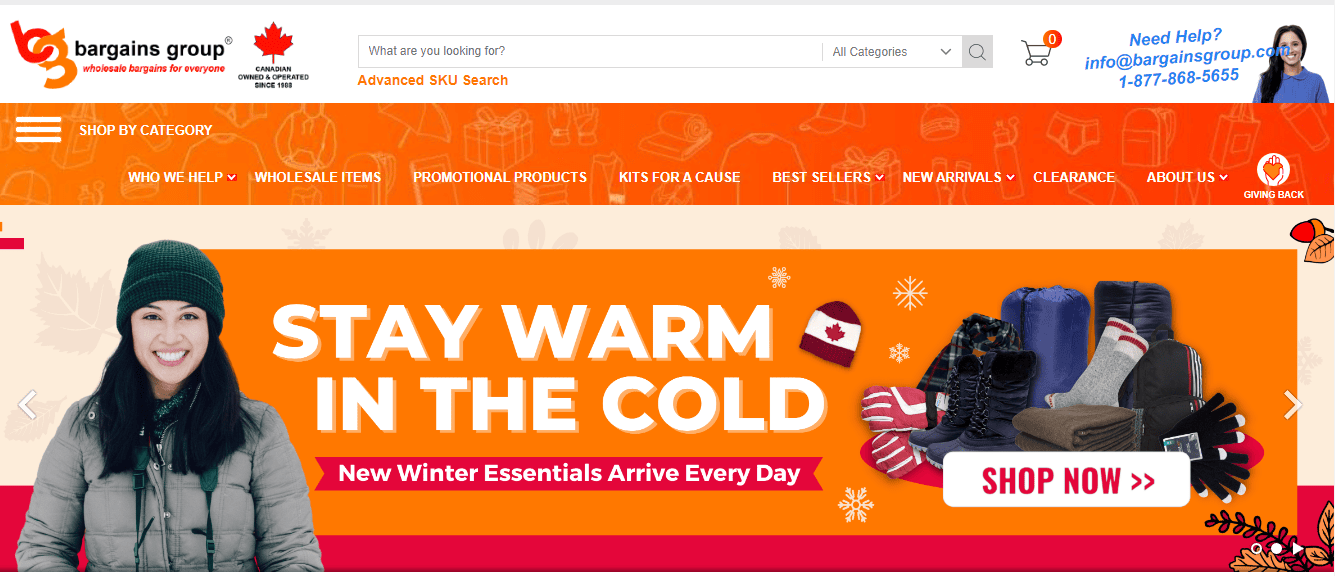 Bargains Group is a wholesale supplier of various apparel in the Canadian market. Although the company does not sell clothes exclusively, it is dedicated to selling affordable clothing to its customers.
They produce over 10,000 items, all of which go for an 80% discount on retail prices. Retailers working with Bargains Group get to enjoy this offer as it has a significant impact on their profits.
Their clothing comes pre-packaged in a 24-unit quantity, meaning retailers won't have the opportunity to select colors and sizes. However, they guarantee their clients quality and affordable apparel.
Primary Products
Women's Outwear
Men's Outwear
Children's Outwear
Hats
T-shirts
Underwear
Socks
Key Features
They offer very competitive prices.
They provide quality clothing.
MOQ
The MOQ is one pack of a 24-unit package.
Faire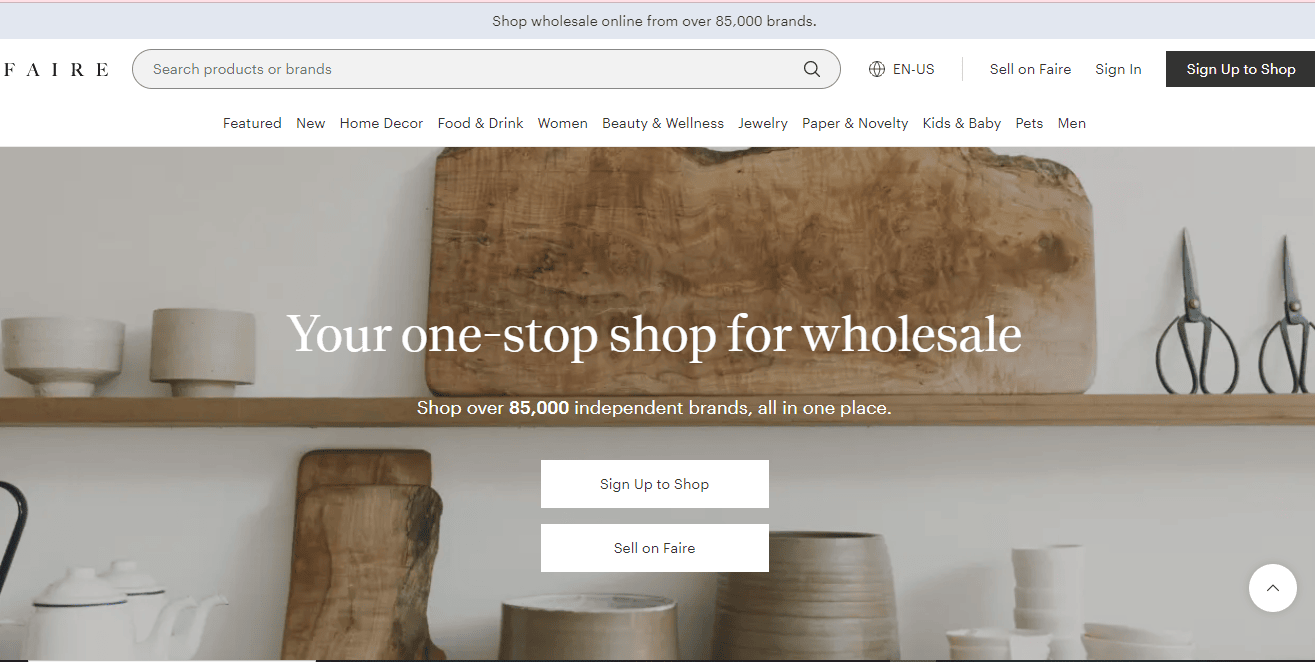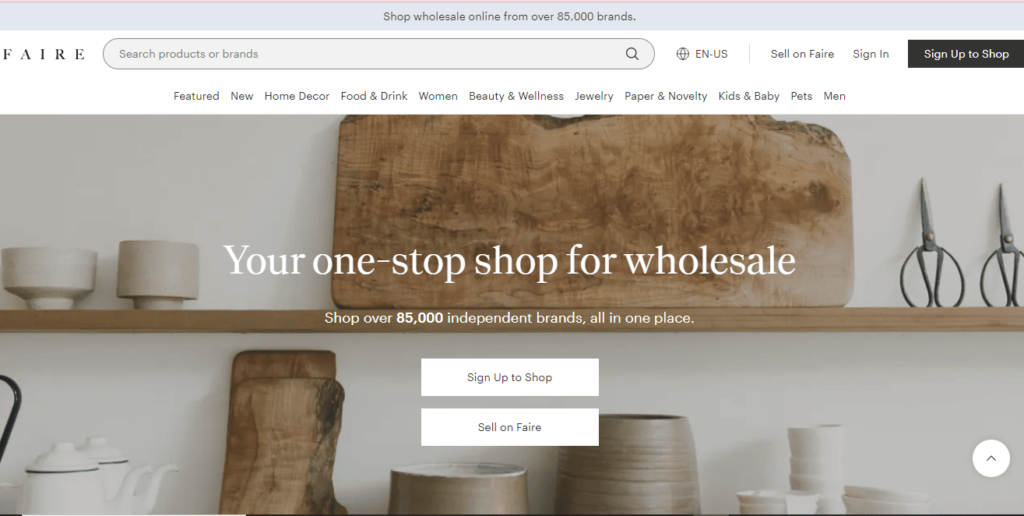 For all the emerging brands looking to work with a reliable supplier, Faire got you. Faire is a wholesaler of women, men, and children's clothing across Canada and mainly deals with small brands.
They allow small brands to sell clothes both online and physically without the burden of overstocking their stores. They understand what small businesses need, so they deliver. They also work with independent brands that supply clothes to their clients.
Primary Products
Activewear
Dresses
Blazers and sports coats
Jumpsuits and rompers
Kimonos
Shirts
Bodysuits
Sleepwear
Swimwear
Key Features
Faire connects retailers to over 85,000 independent brands across the globe.
Faire has great offers for small brands and start-ups.
Offers a $29.99 program where buyers can enjoy free shipping, early access to new products, and free returns.
MOQ
Jericho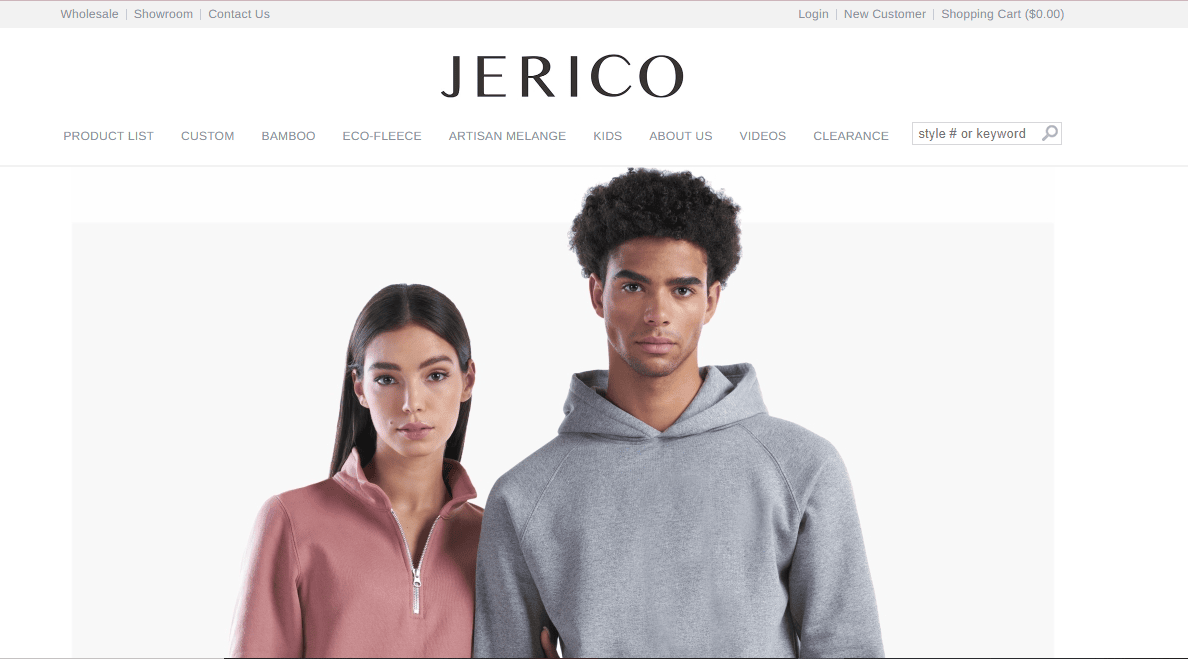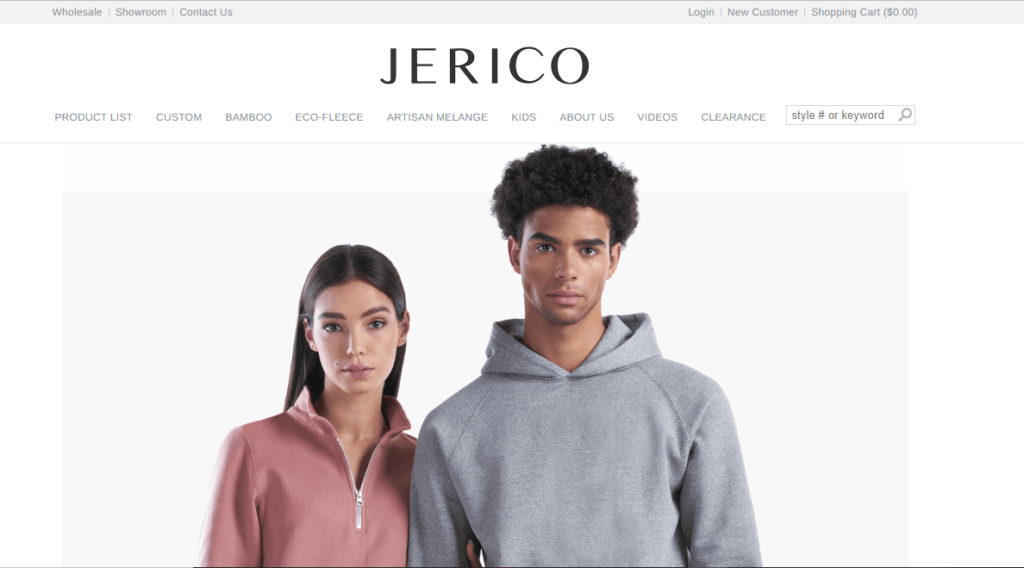 Jericho is a family business established in 1987 and grew over the years to become a recognized company in Canada. The company prides itself on having vast experience in the industry. They have knitting machines and other technology that helps them meet market demand.
All their products are manufactured locally in a bid to help elevate the local economy. They offer private-label apparel, so if you are a retailer looking to source private-label clothing then you are in the right place.
Primary Products
Sweatshirts
Sweatpants
T-shirts
Fleece
Tank tops
Tri-blends
Henleys
Golf shirts
Key Features
They produce high-quality functional clothes that stand out in the market.
Their machines run 24/7, meaning they don't run out of stock.
They are socially conscious, which is an advantage in the Canadian market.
Their clothing is eco-friendly and mostly unisex.
MOQ
Their minimum order is 120 units per style and color.
Wordans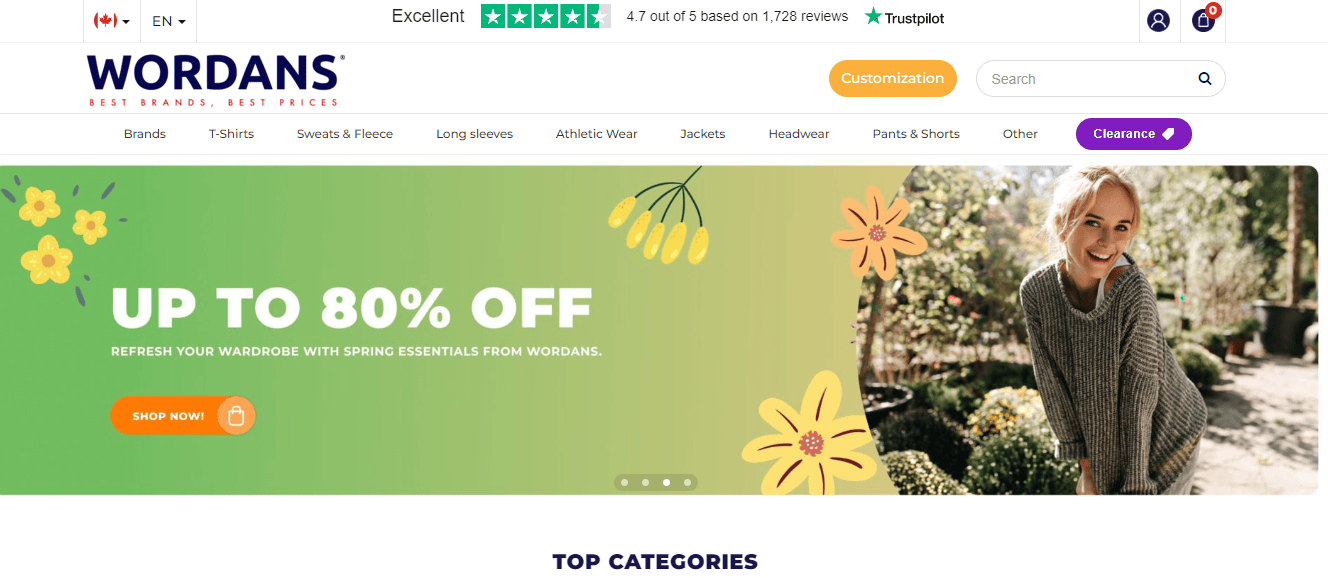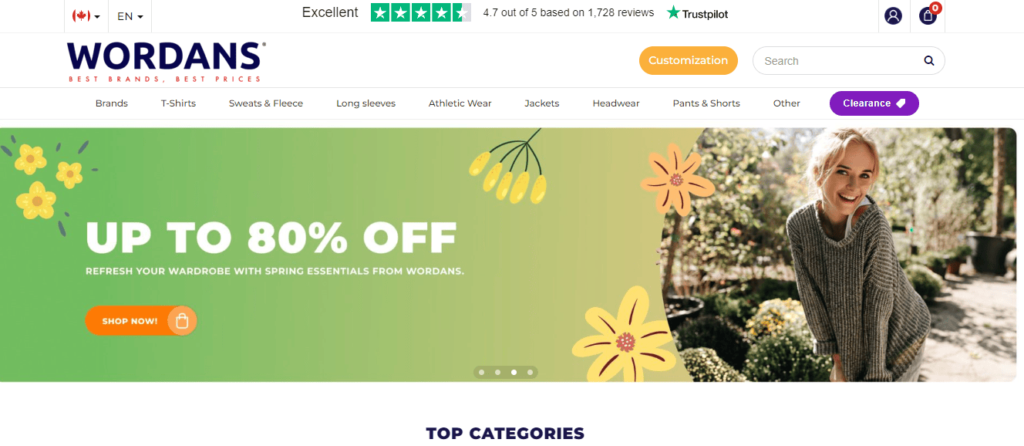 Wordans is a Canadian clothing supplier focusing on men's, women's, and children's clothing. They have offices in Montreal, Florida, Lisbon, and Paris since they supply their products both locally and internationally.
The company is focused on being a world-renowned clothing wholesaler; hence, they have established 23 websites that apply to different countries. Their clothing covers various categories like athletic wear, casual wear, etc.
Retailers can also get blank apparel for their collection.
Primary Products
Jackets
Pants
Shorts
T-shirts
Fleece
Shorts
handwear
Key Features
They are home to more than 142 brands that produce quality apparel.
They have offices in four different countries, which helps them connect with their numerous clients.
Free shipping for orders above 129 CAD.
MOQ
They have no minimum order.
Tshirt Ideal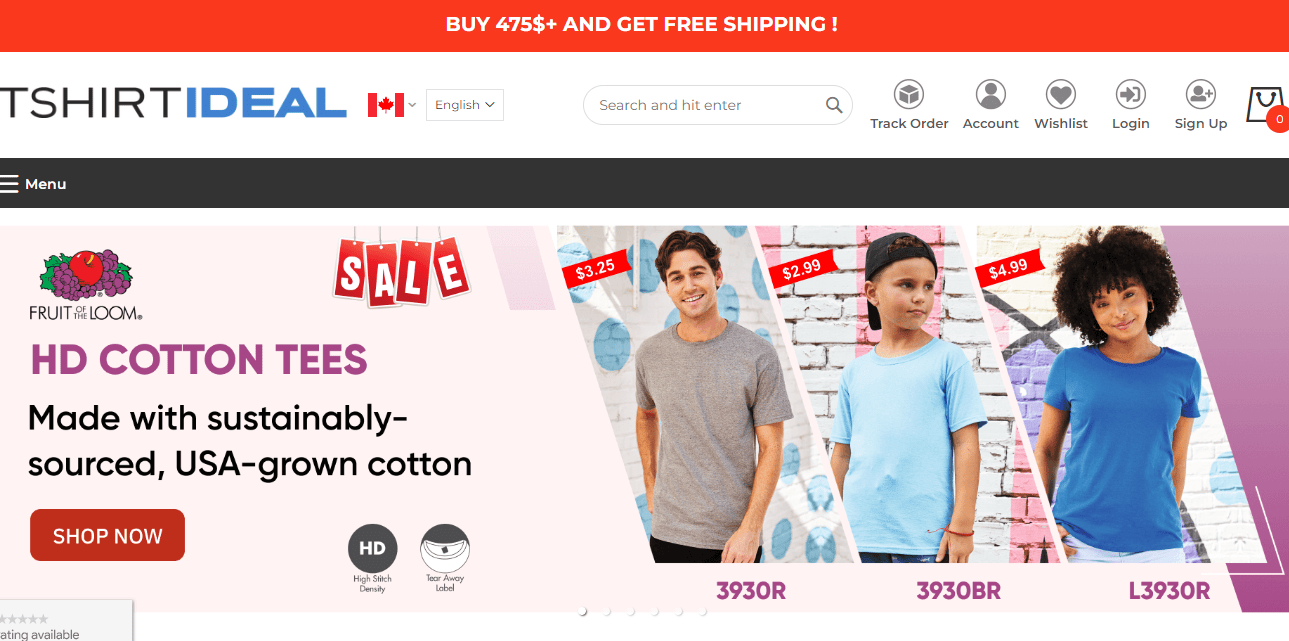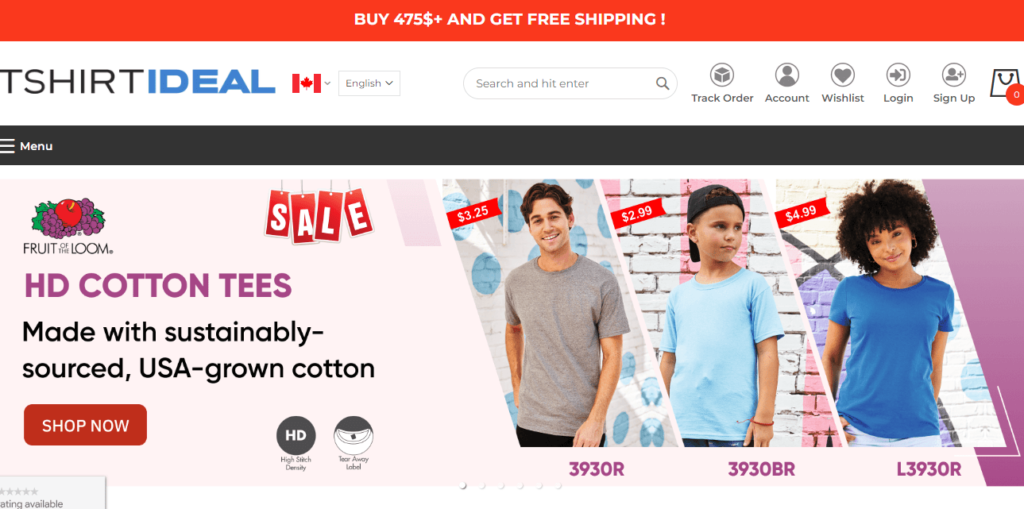 Despite their name, Tshirt Ideal does not necessarily deal with t-shirts only. The company is proudly 100% Canadian and has partnered with some big brands such as Calvin Klein, New Balance, King Athletics, NEXT LEVEL, and many more.
Their main products are activewear, casual wear, and accessories. Tshirt Ideal has distribution centers in Montreal in strategic locations to help with the distribution.
Primary Products
T-shirts
Polos
Shorts
Hoodies
Tank tops
Dress shirts
Pants
Sweatshirts
Key Feature
They offer free shipping on orders above $475.
They produce top-quality products.
They have very competitive prices.
Tshirt Ideal has one of the best customer services in Canada.
MOQ
There is no minimum order requirement.
Objects of Desire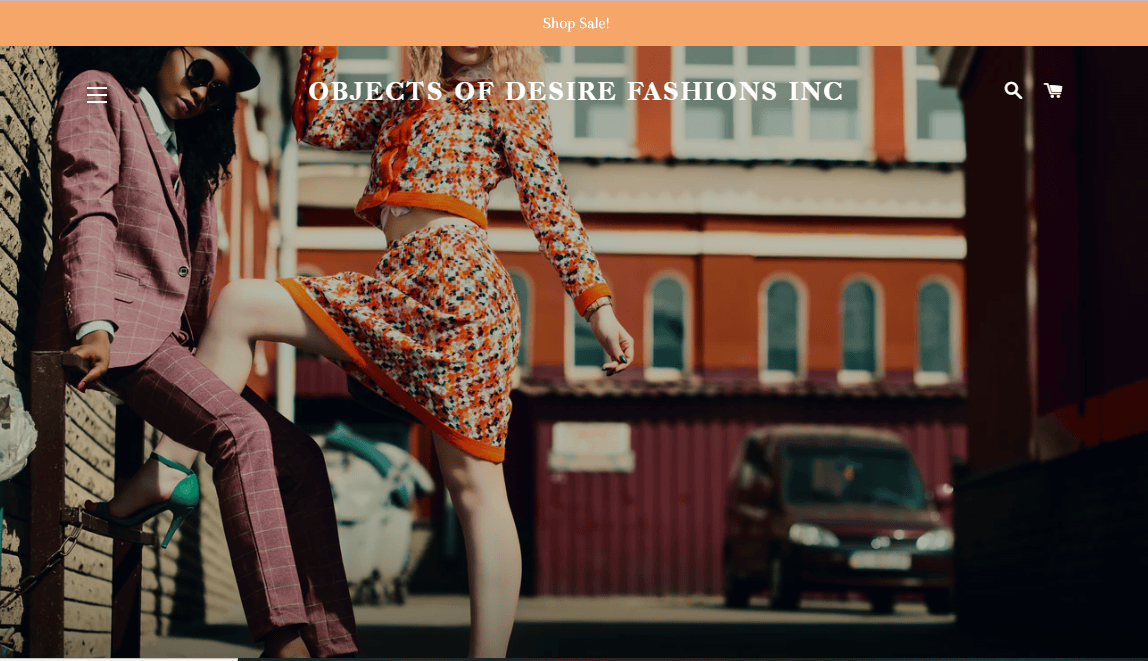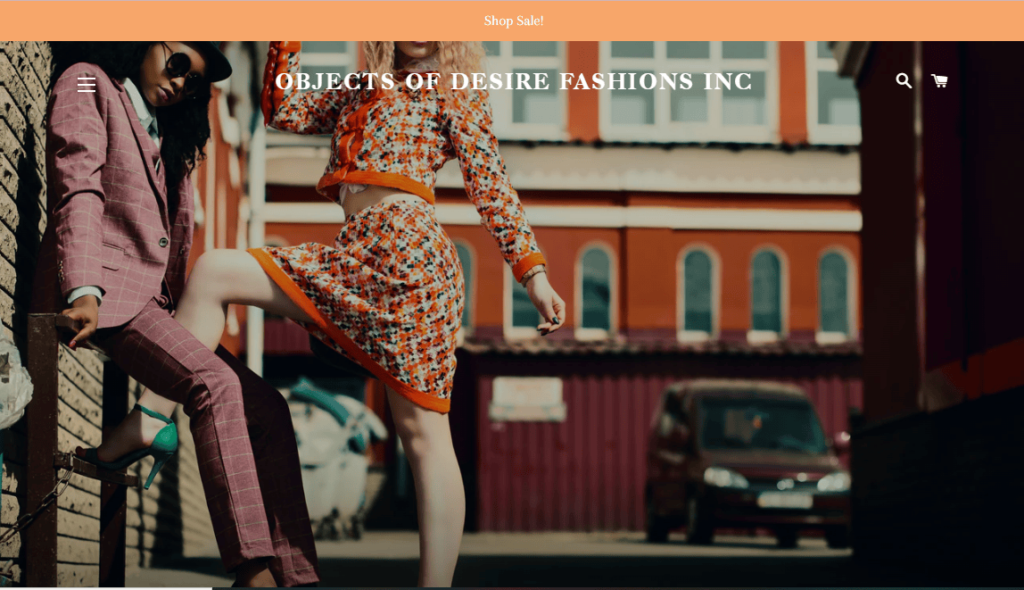 With over two decades of experience, Objects of Desire is among the leading suppliers of fashionable pieces in the Canadian market. Their products are fashion-forward and always make an impact in the fashion industry.
Retailers getting their supply from Objects of Desire will have an edge in the market since customers will be lured by the unique clothing. One of their selling points is that all their products are always in season and never go out of stock.
Primary Products
Pants
Shorts
Hoodies
Leggings
T-shirts
Blazers
Sweater
Cardigans
Tank tops
Jumpsuits
Key Features
Their customer services are exceptional.
They are aware of the latest market trends and always replenish their stocks.
They offer a wide variety of products.
MOQ
AM Wholesale Clothing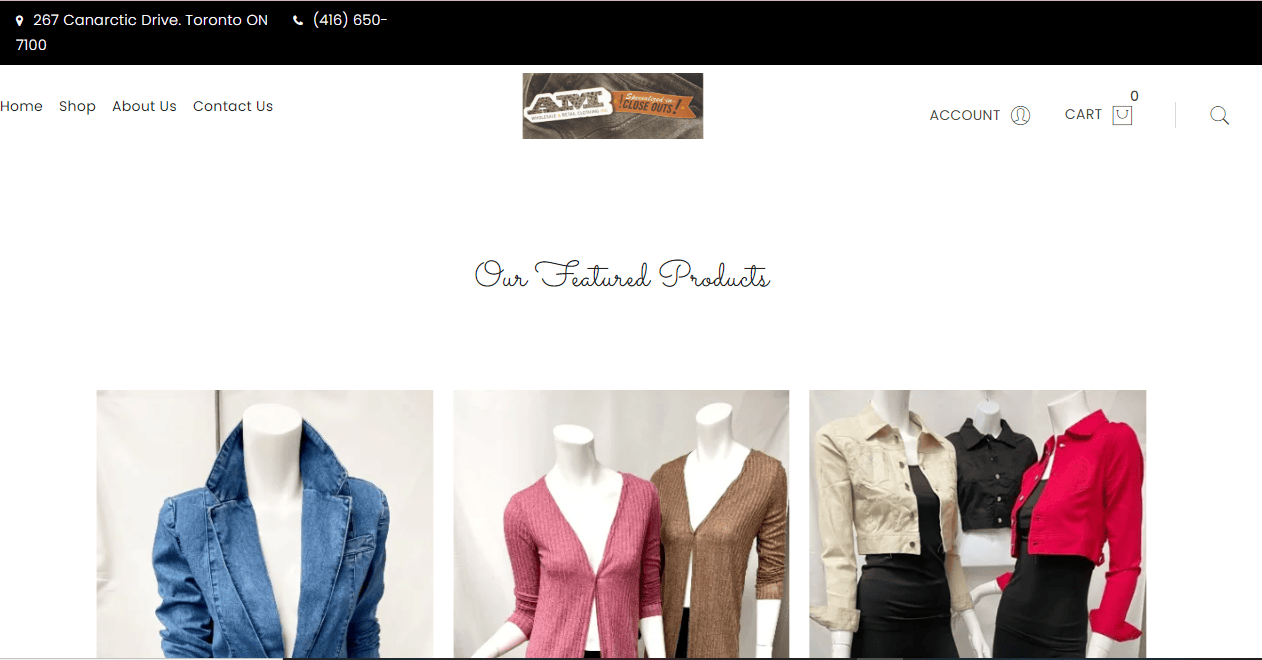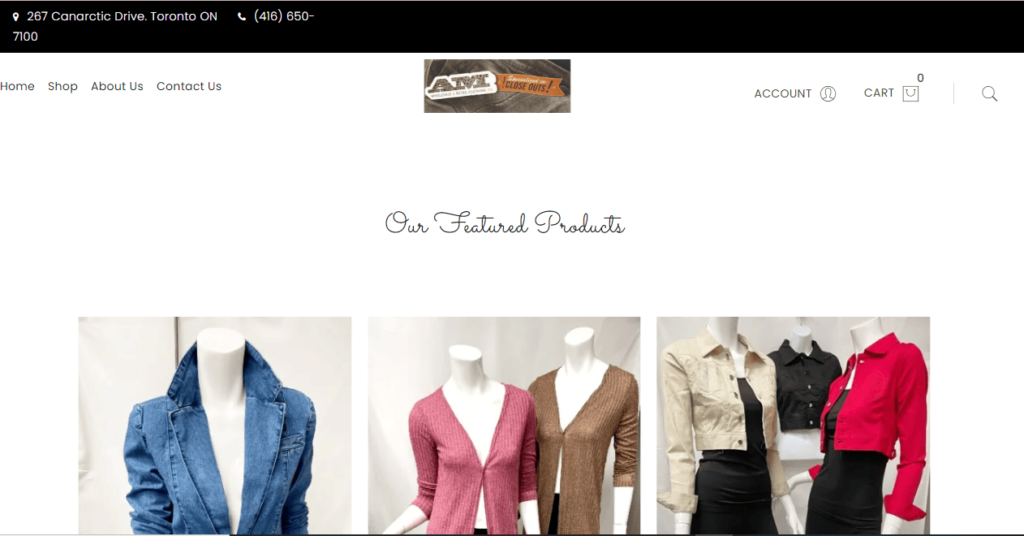 Started in 1980, AM Wholesale Clothing supplies clothing in Canada and specializes in closeouts. Their goods come at very cheap prices that any retailer can afford. AM Wholesale Clothing is a good choice for startups and small businesses to get started.
Their prices will guarantee you good profits after selling. They deal with a variety of clothing, meaning you will have options for your store.
Primary Products
Denim
Hoodies
Pants
Leggings
Dresses
Long sleeves
Jackets
Key Features
They guarantee their clients the best prices in the market.
They have no return policy, so you need to know what you are ordering.
They ship products within a week of ordering.
MOQ
Blank Clothing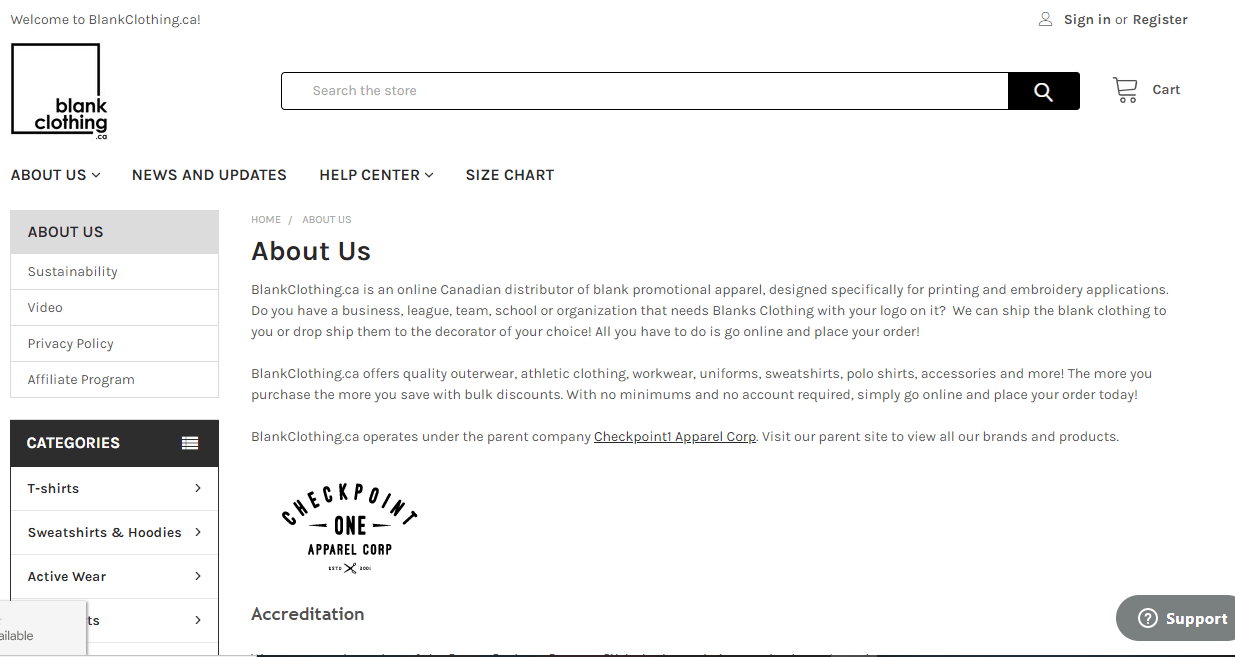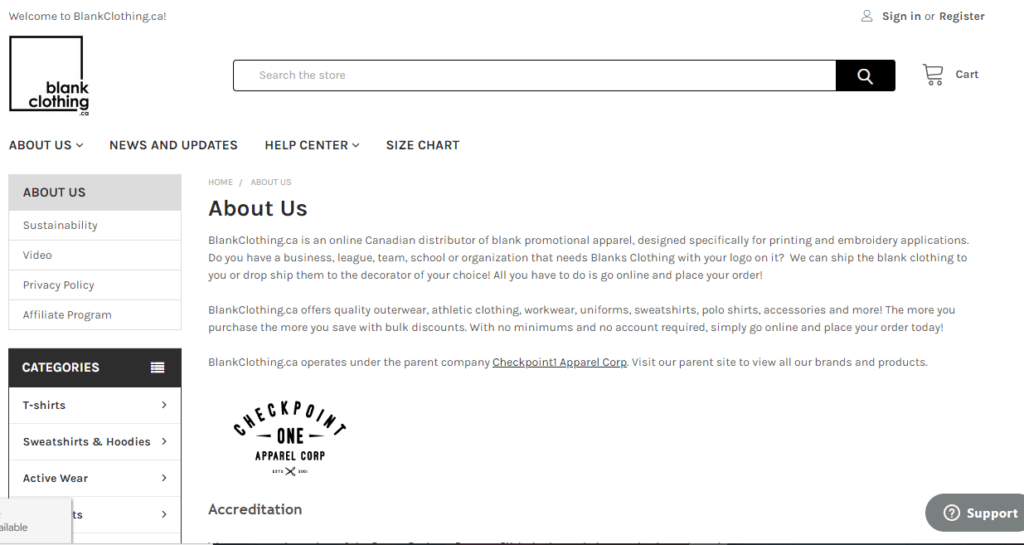 Blank Clothing is an online supplier of blank pieces to retailers who can design them using embroidery or printing. They allow businesses across Canada to brand and customize their products before selling them in their stores.
They also provide delivery services and dropshipping for those who prefer it. Blank Clothing is part of a bigger corporation, Checkpoint1 Apparel Corp.
Primary Products
Uniforms
Athletic wear
Sweatshirts
Casual wear
Workwear
Polo shirts
Accessories
Key Features
They offer high-quality apparel.
They are members of the Better Business Bureau.
You don't have to have an account to work with them.
MOQ
They have no minimum orders.
Louida Fashion Wholesale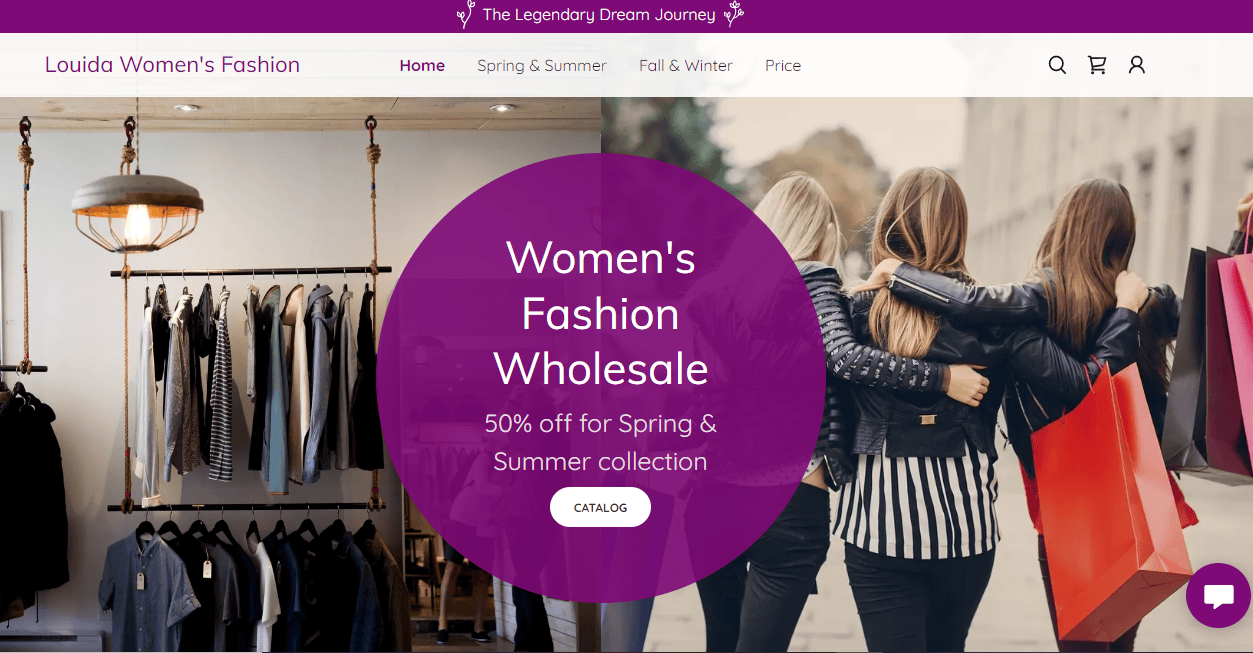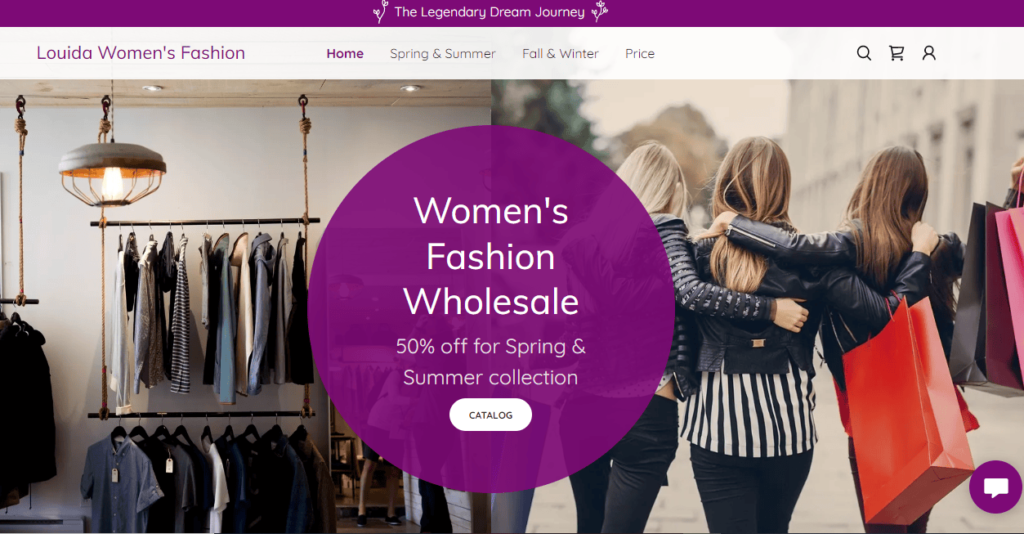 Louida Fashion is part of the Louida International Fashion Group founded in 2000. Its headquarter is in Toronto, and it is a wholesaler of both women's and men's clothing.
The company offers its customers a range of products and designs. Moreover, they have a skilled team that assists customers in terms of product choice and pricing.
Primary Products
Sweaters
Jackets
Pajamas
Polo
Long sleeve shirts
Suits
Dress shirts
Key Features
Their customer service is always available; you can reach them by phone or email.
They offer a wide range of designs in their numerous apparel.
MOQ
The minimum order is $300.
Alanic Clothing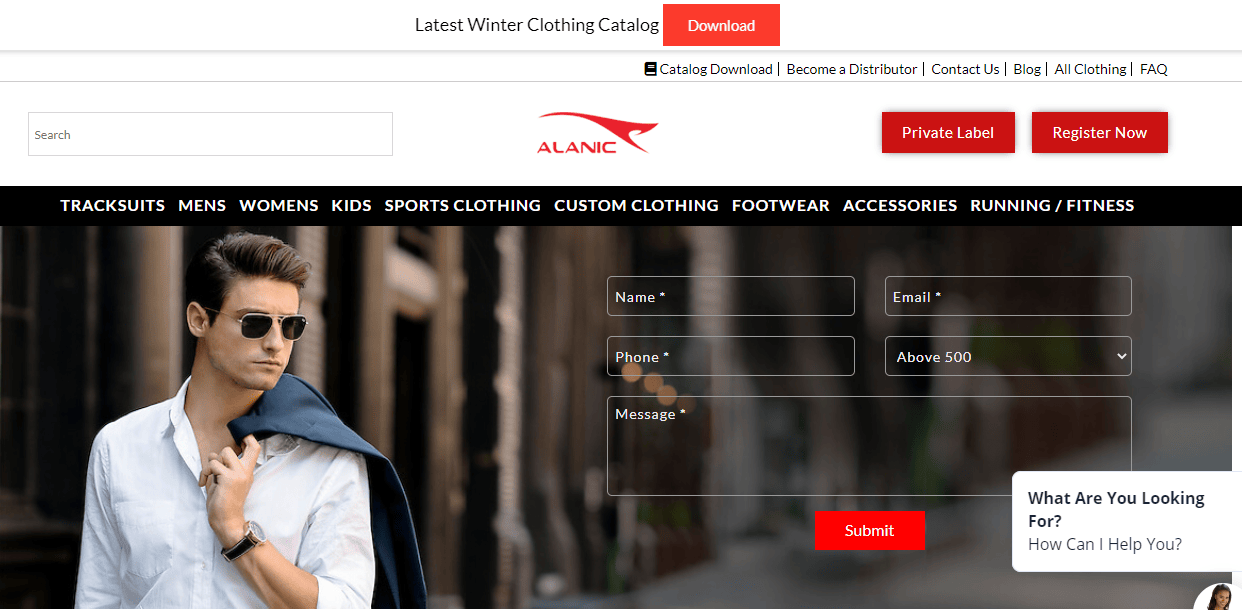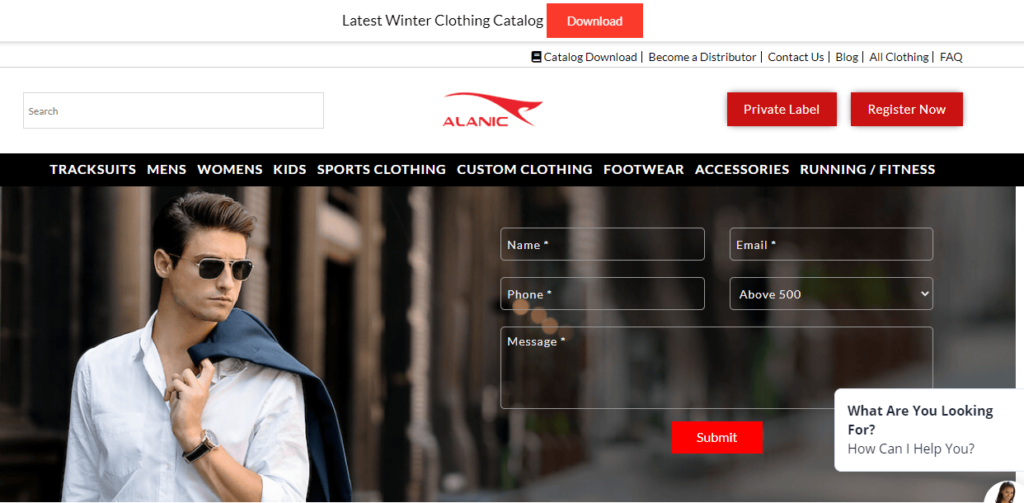 Alanic is an international company that supplies apparel globally, with headquarters in Melbourne, Australia. They have additional centers in Canada, USA, UK, Dubai, Russia, etc. They mostly focus on activewear but also produce other types of clothing.
They are known for their excellent work in fabric choice, designs, and overall production of goods. Alanic Clothing is a good fit for retailers dealing with activewear. You will not worry about monotony in your collection since they offer trendy and futuristic products.
Primary Products
Tracksuits
Beachwear
Hoodies
Jackets
Coats
Jumpsuits
Leggings
dresses
Key Features
They offer very functional and comfortable clothing (their clothes will give you an edge over other retailers).
They offer customization services and private labeling.
Their product catalog is extensive and offers variety to their clients.
MOQ
Their minimum order is 500 units.
FAQs about Canadian Clothing Wholesalers
How Do You Pick a Supplier That Suits You?
When choosing a supplier, you must go through their website and understand what they have, from products and services to offers that might suit your business. Also, their pricing is a factor to consider since you want to make profits.
Additionally, you can use sourcing companies to help you find the right supplier for your store. Sourcing companies have the experience to get you the best deal.
What Does Buying Clothes Wholesale Mean?
Wholesale clothing is sold in bulk and at a lower cost than retail. Retailers get their stock from wholesalers, who then sell it at a higher price to make profits.
It is wise for retailers to get their supplies from wholesalers to make profits in their business.
Conclusion
It is good for any retailer to know the latest in the apparel sector. Customers want to shop somewhere where they can get the trendiest looks at the best prices possible.
It can be a challenge for retailers, so you have to do your research and understand what your target market wants. For this reason, NicheSources works with retailers across the globe to give them a better way to source products.
Our services include product branding, dropshipping, worldwide shipping, etc. Discover your business's potential by getting a free quote and beginning your new journey with us.