Sleep is a basic need for every person, as it helps you recharge and prepare for the next activity. As a result, sleeping apparel needs to provide you with certain functional features such as comfort, versatility, and aeration.
Finding a sleepwear manufacturer who provides all of these qualities in their products can be daunting. Hence, many retailers need to correct their selection of a supplier.
They end up compromising in some aspects, which in turn reflects on their brands. To avoid such, we have come up with a list of the finest pajama manufacturers with whom you can always go right. Let's get started.
Top Pajama Manufacturers Worldwide
Shanghai Easun Group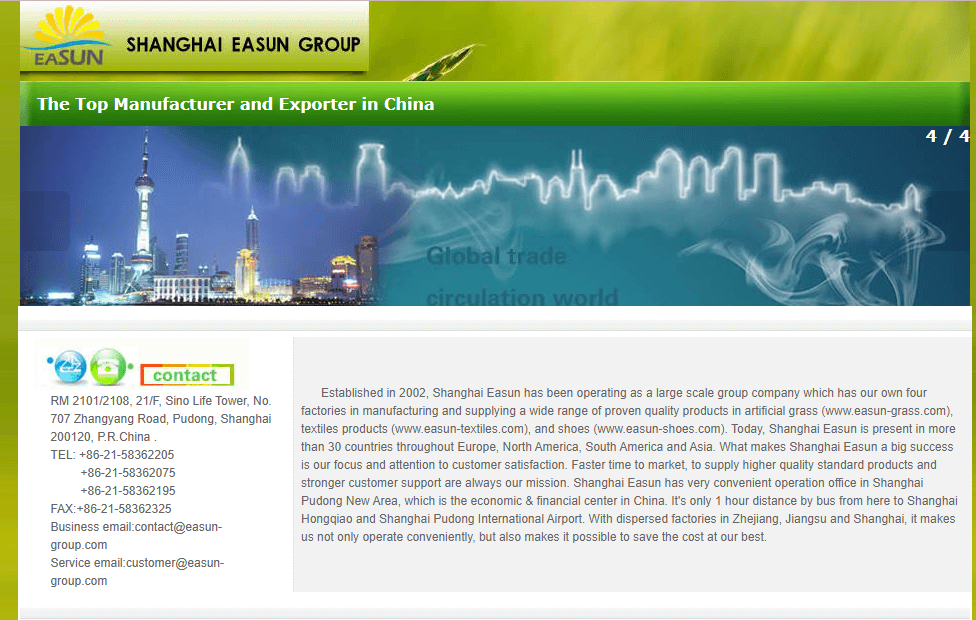 Easun Group has been in business for the past 20 years, gaining the necessary experience and knowledge in apparel manufacturing.
With large-scale factories, the company has been a significant exporter globally, supplying high-quality goods to more than 30 countries.
They have established a name for themselves in the industry and are now a sought-after supplier of several consumer goods. One of their selling points is producing pajamas for every body type.
The company is dedicated to ensuring its partners enjoy:
The best quality goods
Swift production times
Attention to detail
Your customers will be spoilt for choice.
Key products
Kid's pajamas
Sleepshirts
Shorts
Two-piece pajamas
Bathrobe
Location
Shangcheng Road, in Pudong District, Shanghai, China
Shaoxing Jiarong Home Products Co., Limited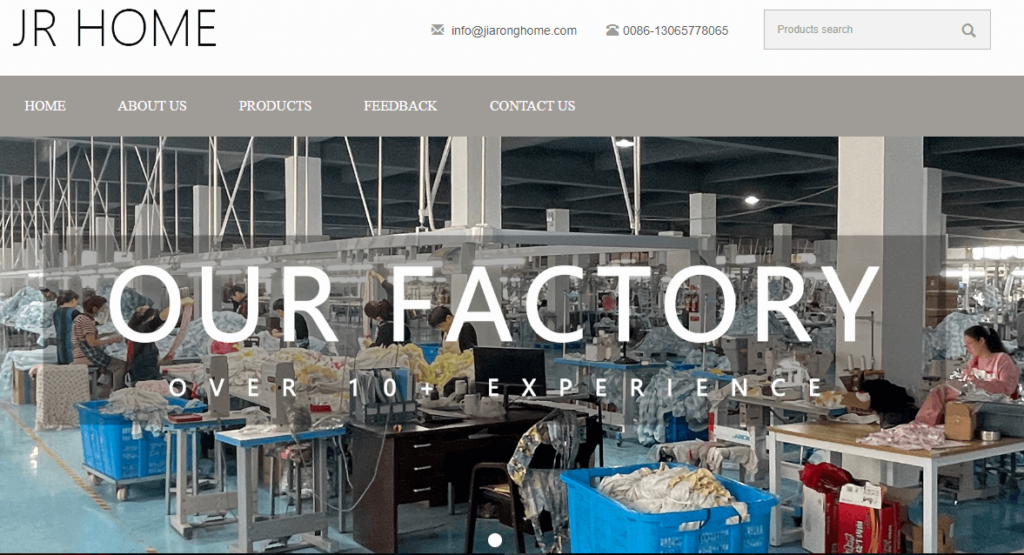 Since its debut in 2010, Shaoxing Jiarong has been a designer and manufacturer of diverse garments. The company has a large industrial space of approximately 3300 square meters that can accommodate all of its clients' demands.
Some of the services you get in Shaoxing Jiarong are ODM and OEM services, which are popular among retailers globally. They take pleasure in their capable team of professionals who inspect products from design to quality management and production.
They are now a well-known supplier to over 30 nations, including Europe, the United States, the Middle East, and Australia, among their key markets.
Key products
Two-piece shirt-pant pajamas
Sleeping robes
Shorts
Hoodie blankets
Location
Fabric City of Shaoxing, Zhejiang, China.
Wuhan Dolucky Knitwears Co., Ltd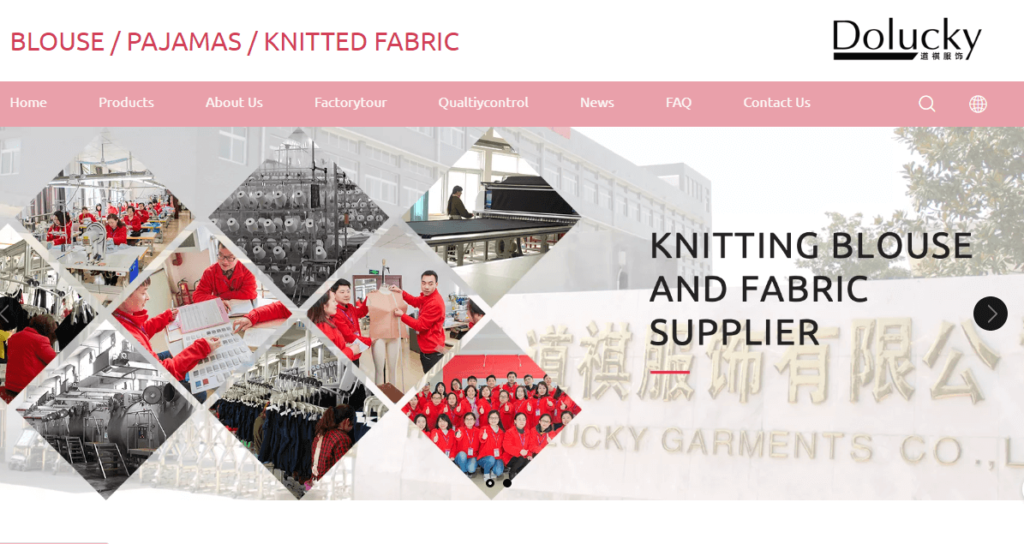 In 1993, Wuhan Dolucky Knitwears commenced operations and established itself as a knitwear manufacturing company. The company is well-equipped to handle the manufacturing processes from design to production without compromising quality.
With over two decades of experience, the company expanded its prowess and is now the proud owner of three other factories (two garment factories and a fabric factory).
These facilities are equipped with top-tier technology to facilitate the various processes such as knitting, dyeing, and printing of garments. Some of the machines you expect to find in Wuhan Dolucky Knitwears include;
Yarn dyeing machines
Rotary screen printing machines
Automatic cutting machines, and more.
The company has earned various certificates and approvals over the years, making them among the best.
Key Products
Nightdress
Robes
Two-piece pajamas
Three-piece pajamas
All their products cut across men, women, and children.
Location
GINIA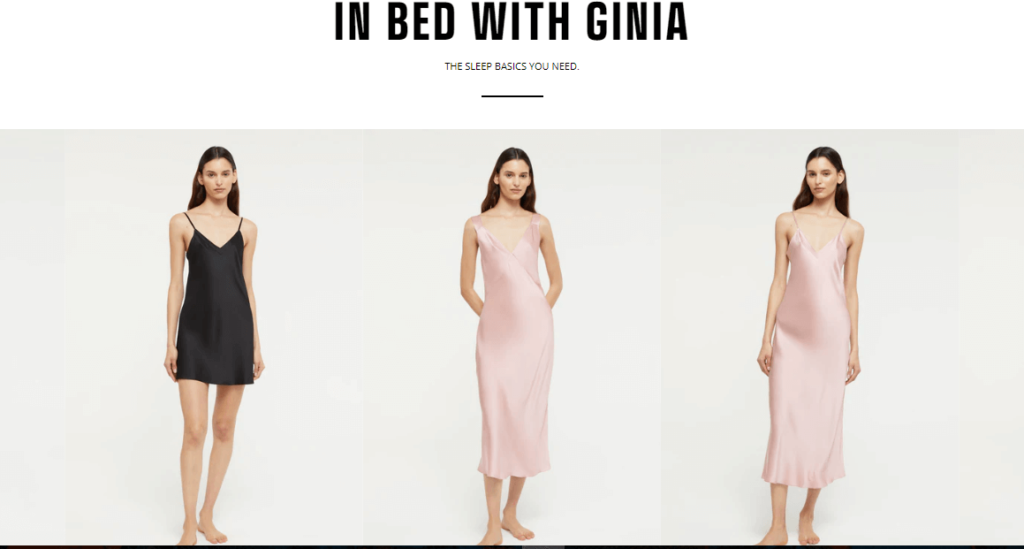 GINIA is a sleepwear enterprise that focuses on stylish and luxurious garments. Its operations began in 2015 and is now popularly known for its high-end fabrics, such as silk, cashmere, cotton, and wool.
You can expect quality products from the company, which translates into comfort for your customers. GINIA prides itself in redefining sleepwear and making it fashionable for every woman.
Additionally, they supply both locally and internationally, to Canada and the US.
Key Products
Robes
Pajama sets
Camis
Shorts
Chemises
Slips
Location
Polywell Supply Management Co., Ltd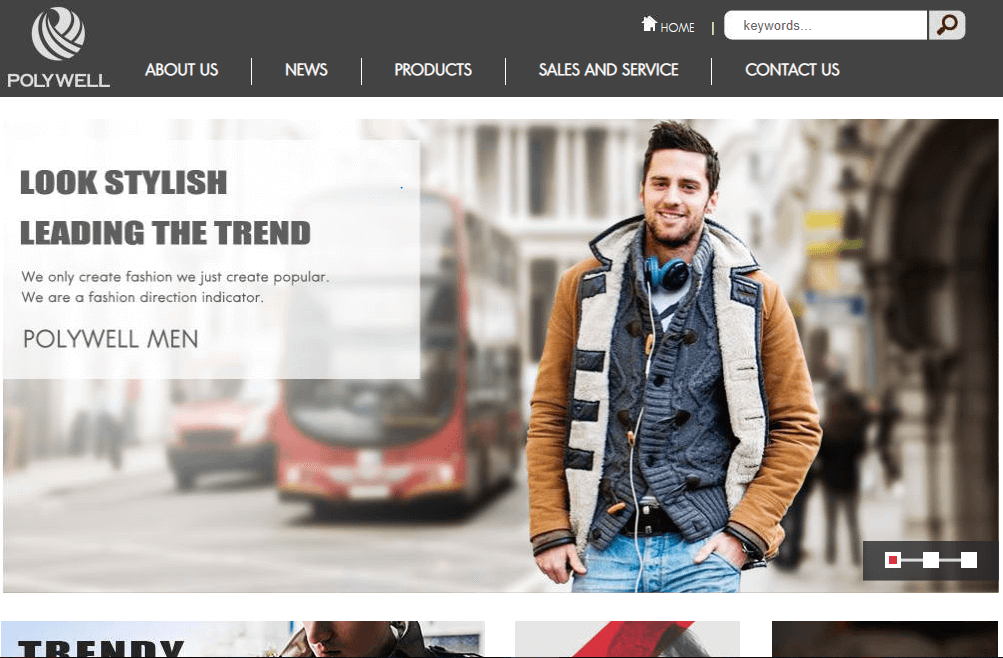 Polywell Supply Management began in 2004 as a sportswear and sports products manufacturer. The company also began exporting its products in a bid to reach a larger market.
Currently, they export their products across the globe to regions like Europe, Australia, Africa, the Middle East, and North America. The company has cooperated with several retailers over the years; hence, they have a flexible MOQ to suit all their partners.
Moreover, they offer both OEM and ODM services. Polywell Supply Management has a production capacity of 100,000 pieces per month, with lead times of 3-7 business days.
Key Products
Women's pajamas
Boxers
Underwear
lingeries
Cotton blankets
Location
Pingshan Road, Quanzhou, Fujian.
Nanchang Kingshine Garment Co., Ltd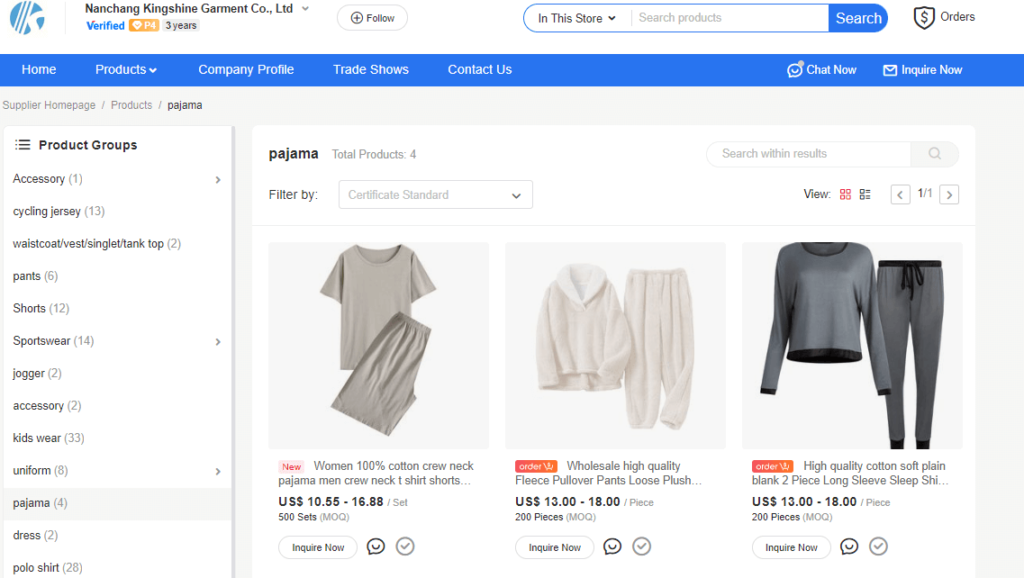 Since 2012, Nanchang Kingshine Garment has been operating an apparel business focusing on various types of activewear. The company has a factory space of 3,000 square meters and a team of over 100 skilled employees.
Over the years, they have expanded their product catalog to include sleepwear and many more. Additionally, they sell products both locally and internationally.
Nanchang Kingshine Garment boasts a speedy lead time of between 5 and 10 days, depending on the order. Some of the benefits their clients enjoy are;
Low MOQ
Fast deliveries
ODM and OEM services
Key Products
Nightdress
Sleepshirts
Sleepshorts
Sleeping pants
Fleece pullover sleepwear
Fleece pants
Location
Nanchang City, Jiangxi, China
Shanghai Jspeed Garment Co., Ltd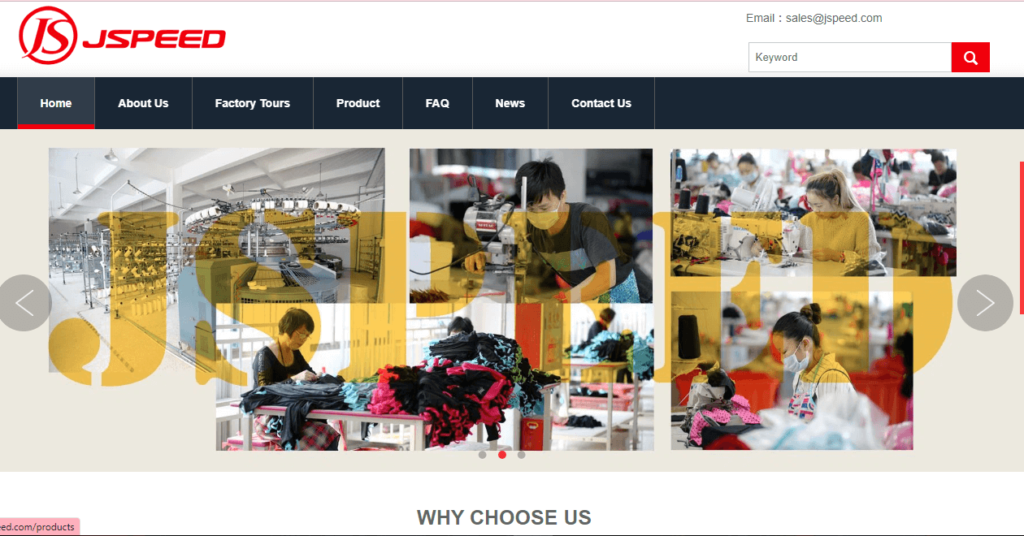 Shanghai Jspeed Garment has been focusing mostly on women's clothing since its inception in 1992. The enterprise has grown in the apparel industry, producing some of the best-quality clothing pieces.
The company has factories that help them handle their numerous orders, both in China and other regions.
Being a major contributor to the industry, Shanghai Jspeed has collaborated with several local manufacturers to help improve their domestic market while still making an impact in the global market
It has also worked with the world's big enterprises, such as Target, Disney, Forever 21, and TJ Maxx.
Key Products
Women's pajamas
Underwear
Nightgown
Nightdress
Lingerie
Bras
Location
The factory is located in Fujian, and the main office is in Shanghai, China.
NARKONTEKS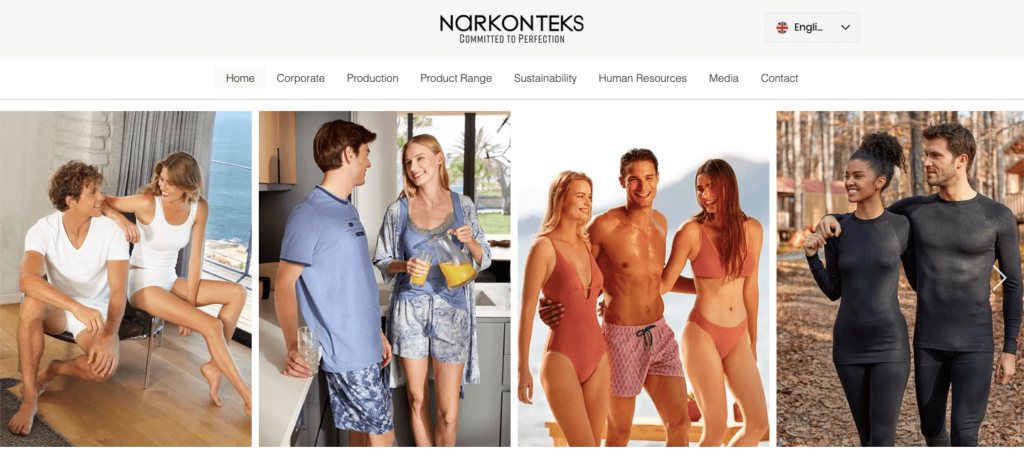 NARKONTEKS Tekstil AS is among the global leaders in the textile industry. The company started in 2005 and deals with ready-to-wear garments. Since its inception, the company has grown and now offers a full-service package to its clients.
Based in Turkey, their location plays an important role in international shipments, with orders reaching customers within 4 to 7 business days. Their fast delivery is due to the proximity to Izmir International Airport, Ro-Ro Harbor, Cesme, and Izmir Central Harbor.
NARKONTEKS has become a big player in the global market with a production capacity of 50 billion US dollars.
Key Products
Sleepshirts
Shorts
Nightwear
Bras
Lingeries
Location
Buca, Izmir in Turkey, and an additional facility in Yunusemre, Manisa, Turkey.
MGOO Fashion Apparel Co., Ltd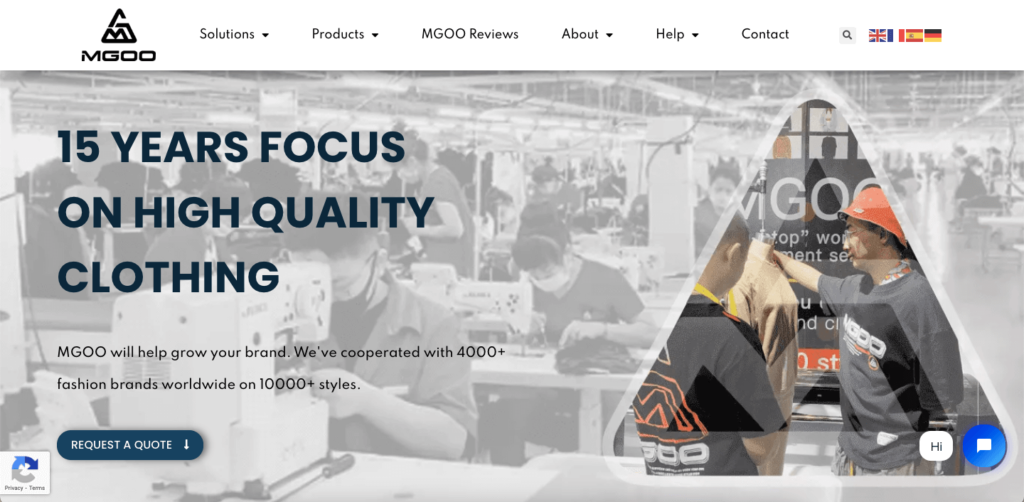 MGOO is a custom apparel manufacturer offering various services in-house for 15 years. The company provides one-stop shopping for its clients, giving it an edge over its competitors.
As an enterprise, MGOO is among the few companies in the fashion industry that focus on sustainability in their production. Moreover, they also make some of their fabrics, such as synthetic leather and fur, to avoid using animal-derived materials.
Additionally, they offer a reasonable MOQ of 100 pieces, which caters to even small businesses that can't afford large orders.
Key Products
Custom pajama sets
Hooded robes
Satin sleepwear
Sweatshirts
T-shirts
Men's shorts
Sweatpants
Jackets
Location
Jihua Six Road, Chancheng District, Guangdong, China.
Linhai Danlin Garment Processing Factory
Linhai Danlin was established eight years ago as an exclusive sleepwear manufacturer. Their facility has a total area of 2000 square meters, which includes a warehouse, workshops, exhibition areas, and offices.
The company offers services like OEM, ODM, own brand services, and sample customization to accommodate all their clients' specifications.
As a world-class enterprise, they are well-equipped with the latest technology and operated by experienced staff, ensuring that quality is maintained throughout the manufacturing process.
Key Products
Pajamas
Bathrobes
Nightgowns
Night dresses
sleepshirts
All their products apply to every body type.
Location
Longfeng Road, Yongquan, Linhai, Zhejiang.
Qingdao Essence Trading Co., Ltd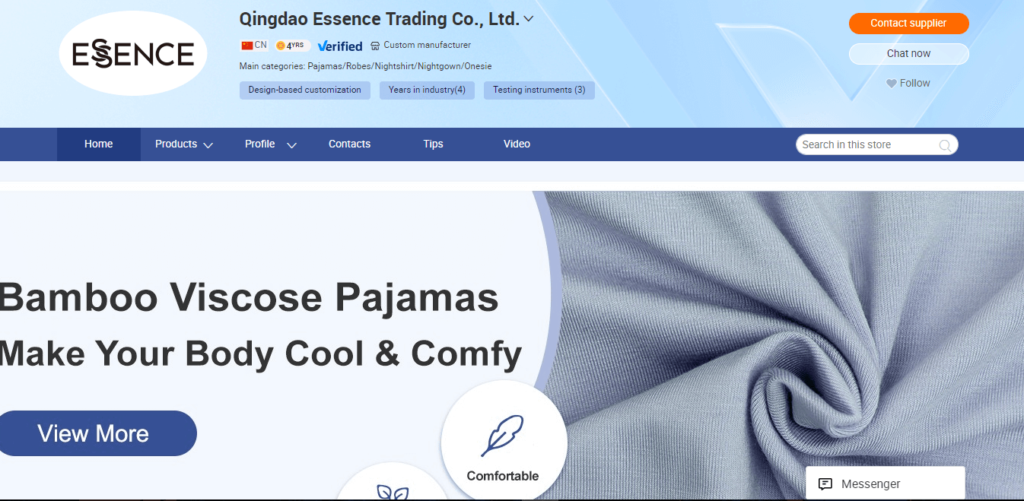 Essence is a wholesale pajama factory that has been in business for more than 15 years. Over the years, they have partnered with numerous other businesses to create unique products that appeal to the ever-growing market.
The company exports garments worldwide to more than 60 countries. Their supplies are for both startups and established retailers, who benefit in the following ways;
On-time delivery of goods
Customization
Marketing
24-hour customer support services
Guaranteed product quality
Eco-friendly products
Also, retailers get the most affordable prices in the market, which positively influences their returns. They have worked with Amazon retailers and other prominent brands that continue to choose Essence as their trusted supplier.
Key Products
Pajamas – Christmas, matching, and family pajamas.
Loungewear
Nightdress
Robes
Onesies
Jumpsuits
Nightgowns
Maternity clothes
Essence makes sleepwear for men, women, and children that includes plus sizes.
Location
Jiangshan Road, Huangdao, Qingdao, China
Westlife Underwear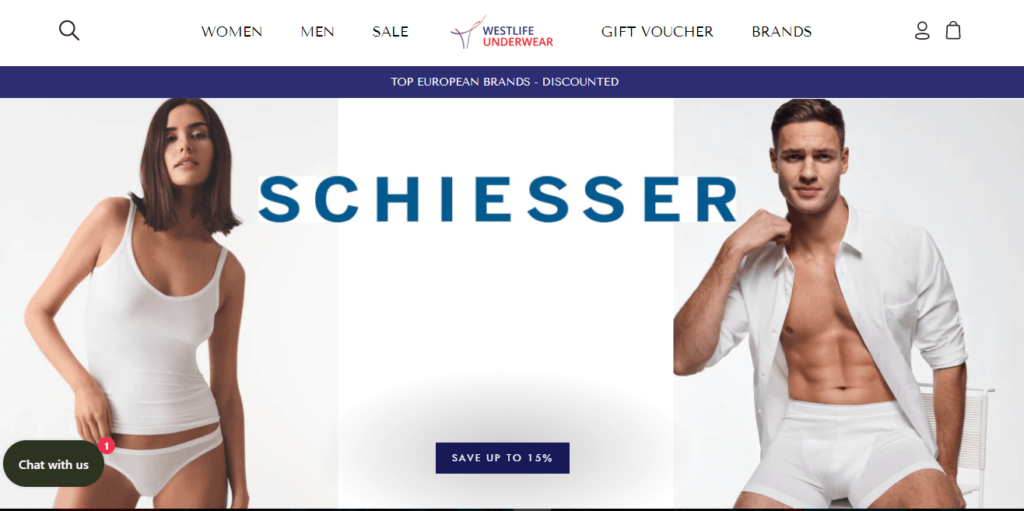 Westlife-Underwear is a garment manufacturer that primarily caters to the European market and parts of North America for over 15 years. They have collaborated with various European brands, from small to well-known.
The company's main focus is on underwear, sleepwear, and activewear. Like many other suppliers, quality production is one of their driving forces in maintaining their position in the global market.
Since its establishment, Westlife-Underwear has expanded its reach and increased its customer base worldwide. For this reason, they have added pajama factories in the US and UK to better serve their customers.
Key Products
Nightwear short pajamas
Bathrobes
Negligee
Women's nightshirt
Nightdress
Chemise
Sleep long pants
Sleep short pants
Location
Friedensstrasse, Wandlitz, Germany.
Torrance, California, USA
Preston, Lancashire, UK.
MADA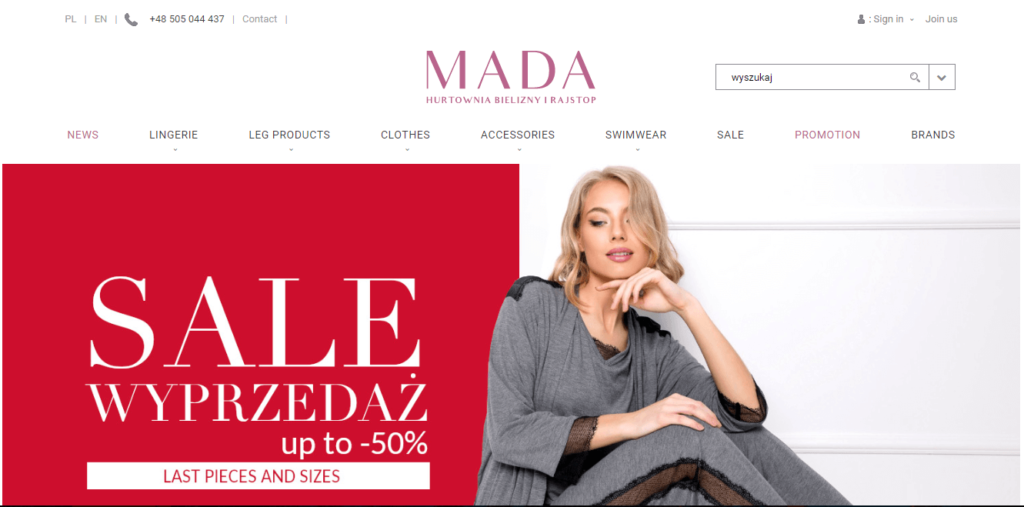 In 1995, MADA had humble beginnings in a small room of approximately 80 square meters, selling elastic tights. Their vision was to expand and become a big enterprise that supplied garments all over Poland and beyond.
Currently, the company has become the go-to supplier of lingerie and other sleepwear apparel in Poland. Moreover, they have also ventured into producing and distributing several other garments to local companies.
MADA has an online warehouse that they created to cater to their growing customer base.
Key Products
Sleeping pants
Sleeping shorts
Women's 3-piece pajamas
Lingerie
Night robes
Sleep t-shirts
Location
Lubelska, Olsztyn, Poland.
Suzhou Kingsma Import and Export Co., Ltd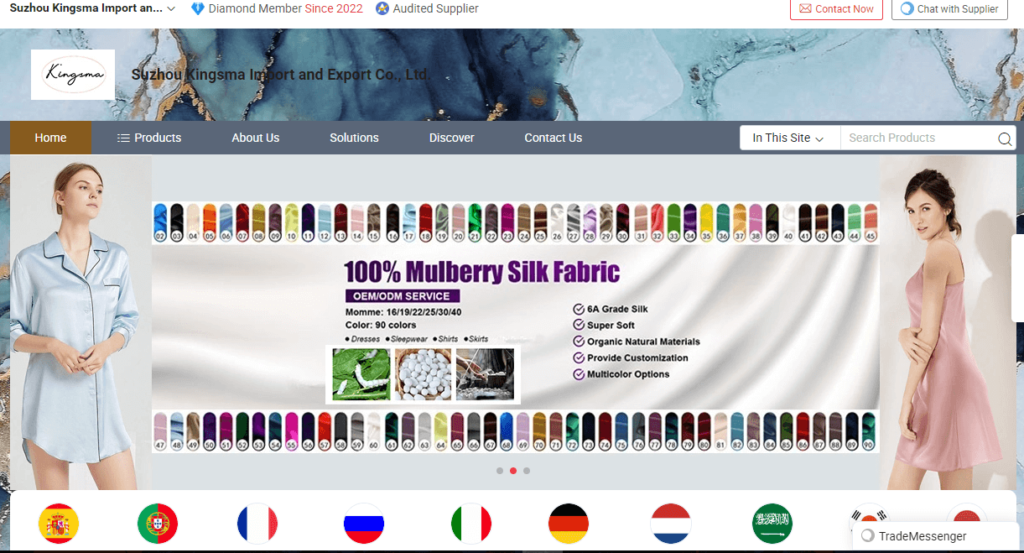 Since its inception in 2015, Suzhou Kingsma has been dealing with apparel production, design, wholesaling, and exports. It is a company that believes in sustainability; hence, they use recycled materials such as organic fabrics like cotton and silk.
Some of the processes in their manufacturing include weaving and knitting, which in turn produce very eccentric garments that are popular among consumers. Furthermore, they have invested in a scientific system that helps manage their production.
Suzhou Kingsma is operated by skilled personnel who know their way around processes such as cutting automation, product assembly, and workshop automation.
The company has a production capacity of 30 million pieces per year, making them one of the largest garment producers worldwide.
Key Products
Pajamas
Night robes
Nightdresses
Nightgowns
Lace suspender shorts
Location
Shishan Road, Suzhou, China
Quanzhou Body-Fits Trade Co., Ltd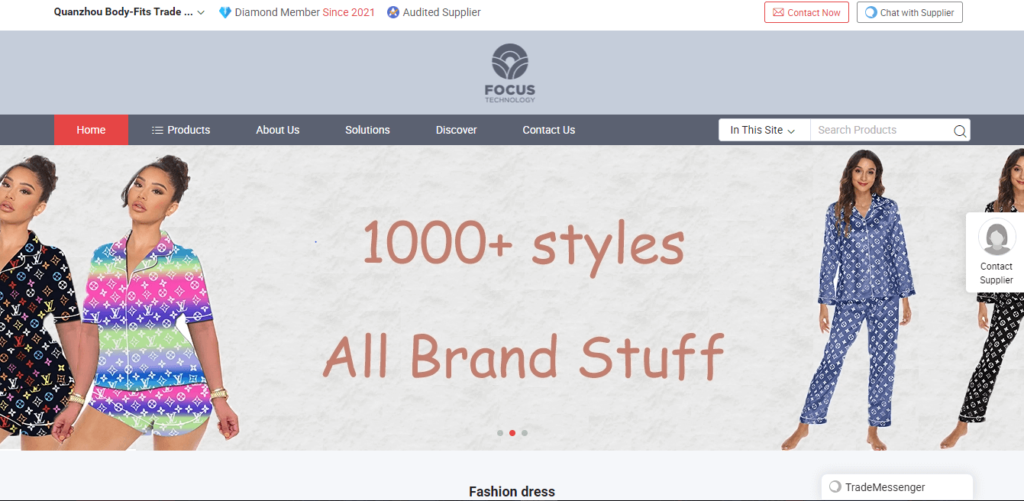 Body-Fits is an apparel manufacturer in China focusing on research, development, production, and sale of various types of garments. They mainly focus on women's clothing and export to Canada, Spain, Italy, New Zealand, Kuwait, USA, and more.
At Body-Fits, you can expect to get services like OEM, ODM, and wholesale. They have speedy production times of between 10 and 25 business days, and their production capacity is about 300,000 pieces in only a month.
Their clients also benefit from fast shipping times of 24-48 hours.
Key Products
Satin nightrobes
Short onesies
Short skirt lingerie
Long sleeve onesies
Designer sleepwear bathrobes
Two-piece pajamas
Location
Quanan North Rd., Jinjiang, Quanzhou, Fujian, China
Wujiang First Textile Co., Ltd
For more than 20 years in business, Wujiang First Textile has been spearheading the apparel industry with its unique approach to garment manufacturing.
They have vast experience in fabric dyeing, weaving, printing, and mass production, which has helped their company grow and position itself worldwide.
Additionally, they are also known for their quality products, made with the best materials to suit every client they work with. The company has also expanded its expertise to include fabric production.
Some fabrics available are rayon, silky polyester, cupro, Tencel, silk blend fabric, acetate, and viscose.
Key Products
Silk pajamas
Silk scarf
Silk sleeping cap
Silk pillows
Silk eye mask
Silk bedding
Silk dresses
Location
Shengze Town, Wujiang District, Suzhou, Jiangsu, China.
FAQs about Sleepwear Manufacturers
What Is the Best Fabric for Pajama/Sleepwear Production?
When shopping for pajamas, you are looking for fabrics that will permit airflow from your body to allow your body to rest and breathe well.
For this reason, fabrics such as linen, silk, and cotton are a good fit for you. However, there are so many other suitable fabrics that you can explore.
Which Factors Should One Consider When Looking for a Pajama Supplier?
While looking for a supplier, important factors to consider are;
Experience – a skilled and knowledgeable manufacturer will contribute positively to your brand. They have the expertise necessary to grow your store from a small business to a well-known brand.
Flexibility – choose a flexible manufacturer to agree to changes that are beneficial to your brand. It can be design changes or even an MOQ that suits you.
Cost – it is crucial to work with a cost-effective company that fits your budget well. It will ensure that the products you are buying will sell at a profit that will benefit your brand.
Reliability – due to the numerous manufacturers in the industry, finding one that is reliable and consistent in its products and services is quite overwhelming.
Working with sourcing agents is your best bet for finding a trustworthy manufacturer.
Conclusion
It is apparent that fashion is evolving and now includes clothing that was not previously considered fashionable. As a retailer, you should bear in mind that shoppers are looking for contemporary sleepwear products to add to their collections.
If you have not found a supplier yet, we are here to assist you in locating the ideal pajama manufacturer that aligns with your brand goals and propels your business to the next level.
Send us all the specifications you need from a supplier, and start your new journey by getting a free quote.