Finding the right wholesale swimsuit vendors can make all the difference in your swimwear brand's success. Whether you're just starting or looking to expand your current collection, it's essential to find bathing suit vendors that offer high-quality, stylish, yet affordable swimsuits.
So, we've done the hard work for you and compiled a list of the top 17 wholesale swimsuit vendors to find the perfect pieces for your 2023 summer collection.
Whether you're looking for the latest bikini trends or classic one-piece styles, these vendors have you covered.
Let's jump right in!
1. BaliSwim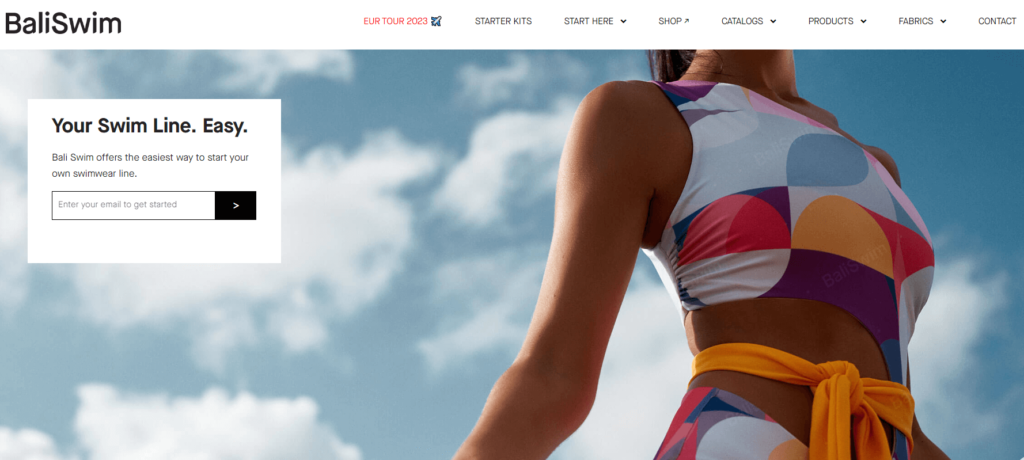 BaliSwim is a famous swimsuit wholesale supplier and manufacturer in Bali. They offer a wide range of swimwear, lounge, and activewear products for women, men, and children.
They work with small MOQs and have a large portfolio of new and established swimwear brands as clients. Best of all, BaliSwim uses sustainable practices, including solar power and recycled fabrics such as Carvico, ECONYL®, and REPREVE®.
Additionally, you get free shipping on all orders above US$200 from their store's ready designs.
All in all, BaliSwim is a pretty solid wholesale swimsuit vendor for brands that don't need too much customization and are looking for products with ready designs.
Key Products
Here are all the product categories available at BaliSwim:
Women's Swim (bikinis, one-piece, two-piece, etc.)
Women's Active (sports bras, leggings, and other activewear)
Women's Resort (dresses, cover-ups, skirts, kaftans, camisoles, etc.)
Women's Lounge (hoodies, sweatpants, and similar loungewear)
Plus Size Swim (one-piece, bikini tops, bikini bottoms)
Men's Swim (briefs and shorts)
Kids' Swim (boys' shorts, girls' one-pieces, girls' two-pieces)
Location and Delivery Zones
Here are the location and delivery zone details for BaliSwim:
Location: Kota Denpasar, Bali, Indonesia
Delivery zones: worldwide with DHL Express
2. OrangeShine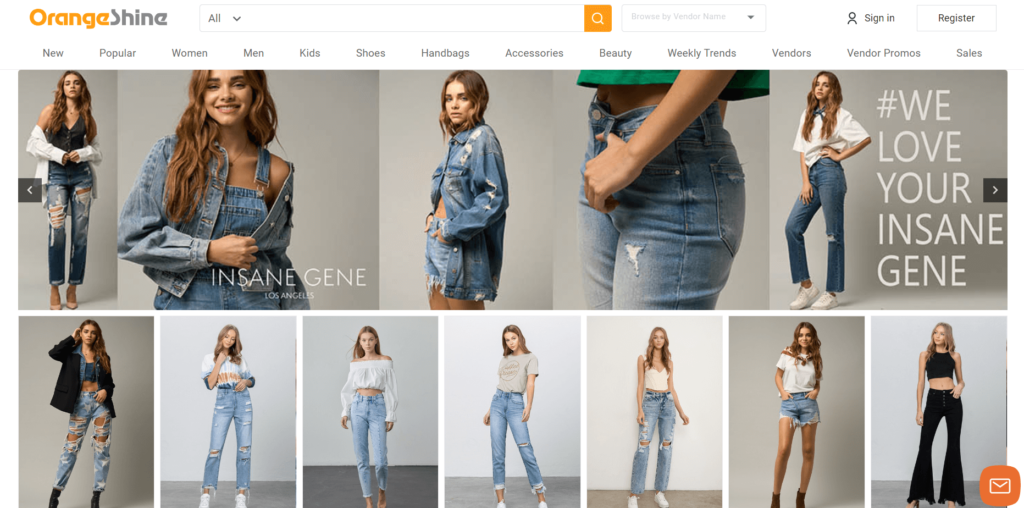 OrangeShine is a B2B marketplace for wholesale clothing, including men's and women's swimwear. They're not the seller themselves, but they have many different wholesale vendors with their own shipping, payment, and refund terms.
OrangeShine allows retailers worldwide to purchase products, but some vendors on the site may have restrictions on international shipping or higher shipping rates. So, it's recommended to review the policies of individual vendors before making a purchase.
To access the marketplace, a seller must have a valid seller's permit, tax ID certificate, or business license.
Key Products
OrangeShine offers both men's and women's swimwear. These are their women's swimwear products:
Bikini
Two-pieces
Cover-ups
Monokini
One-pieces
Tankini
In terms of men's underwear, they have a limited offering since you can only find a couple of different shorts.
Aside from swimwear, OrangeShine also offers products from categories such as:
Women's Clothing
Men's Clothing
Kids' Clothing
Shoes
Handbags
Accessories
Location and Delivery Zones
Location: Cerritos, LA, California
Delivery zones: USA (international shipping available from some vendors)
3. Alibaba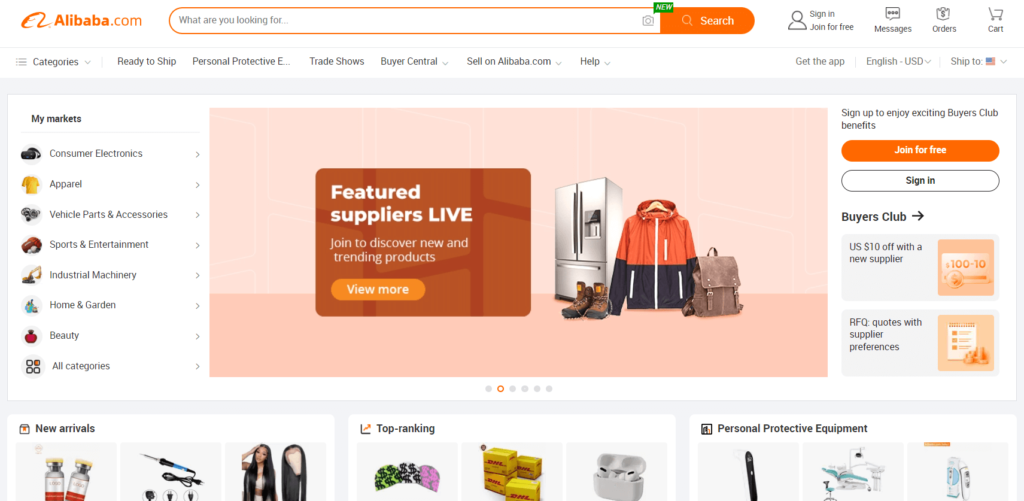 We can't talk about anything wholesale without mentioning Alibaba – the world's largest B2B marketplace. So, it's no surprise that you can also find wholesale swimsuit vendors on the platform.
As you already know, Alibaba isn't a seller by itself, but just the marketplace that connects Chinese sellers to worldwide buyers.
The pros of Alibaba are the great prices for bulk products. However, it also has many cons such as dealing with suppliers, language barriers, slow shipping, high MOQs, etc.
Having said that, Alibaba does have an impressively wide range of product selection, so it still might be a good option for experienced retailers.
Key Products
Alibaba has vendors that offer any product you can think of:
Machinery
Vehicles & Accessories
Consumer Electronics
Home Appliances
Apparel
Fashion Accessories
Timepieces, Jewelry, Eyewear
Lights & Lighting
Construction & Real Estate
Home & Garden
Furniture
Fabric & Textiles Raw Material
Beauty & Personal Care
Health & Medical
Packaging & Printing
Office & School Supplies
Electrical Equipment & Supplies
Tools & Hardware
Security & Protection
Electrical Equipment & Supplies
Electronic Components, Accessories & Telecommunications
Sports & Entertainment
Toys & Hobbies / Gifts & Crafts
Luggage, Bags & Cases
Shoes & Accessories
Minerals & Metallurgy / Chemicals / Rubber & Plastics
Agriculture
Food & Beverage
Commercial Service Equipment / Business Services
Energy / Environment
Location and Delivery Zones
Location: most Alibaba vendors are in China, but many have fulfillment centers in the USA or Europe
Delivery zones: international shipping
4. Made-in-China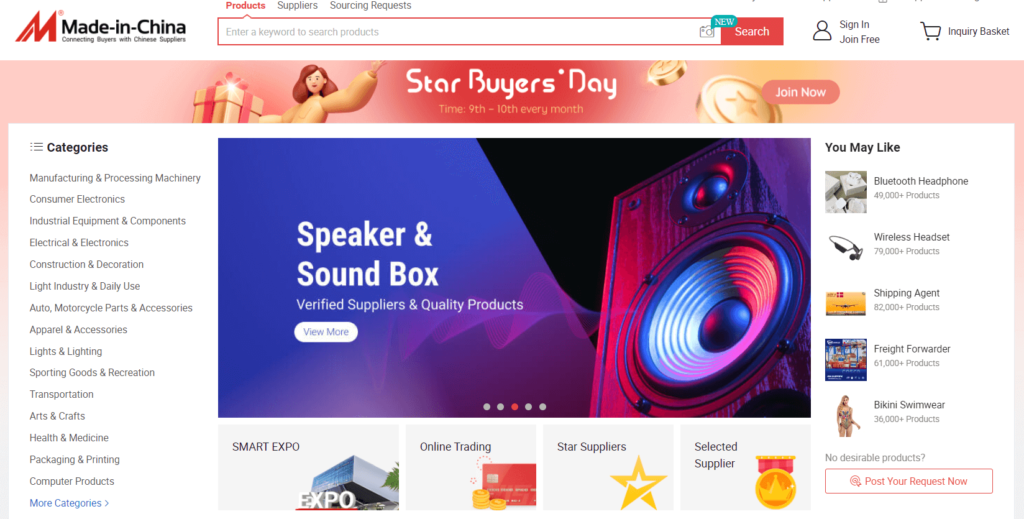 The next B2B marketplace on our list is Made-in-China – a platform that connects Chinese sellers and global buyers.
On Made-in-China, you can find anything from consumer electronics, industrial parts, and cosmetics to apparel and swimwear.
Made-in-China is similar to Alibaba and AliExpress in terms of being just the marketplace to connect buyers and sellers instead of being the seller themselves.
So, researching each vendor on the platform is your responsibility, as they will all have different prices, shipping terms, etc.
Key Products
A wide range of products in different categories:
Manufacturing & Processing Machinery
Consumer Electronics
Industrial Equipment & Components
Electrical & Electronics
Construction & Decoration
Light Industry & Daily Use
Auto, Motorcycle Parts & Accessories
Apparel & Accessories
Lights & Lighting
Sporting Goods & Recreation
Transportation
Arts & Crafts
Health & Medicine
Packaging & Printing
Computer Products
Location and Delivery Zones
Location: China
Delivery zones: worldwide (shipping terms might vary from one vendor to another)
5. Envyaswim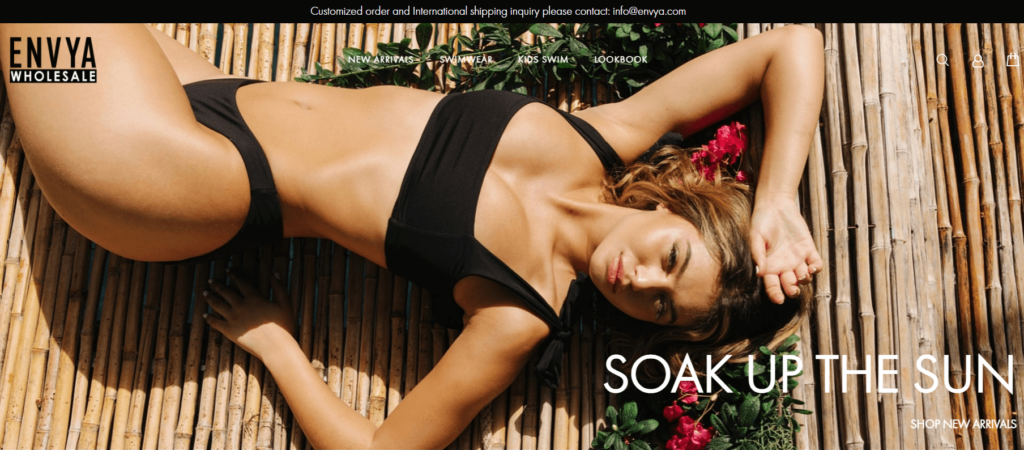 Envya is a swimwear brand with over 20 years of experience that offers pieces inspired by the laid-back beach lifestyle of SoCal girls.
The brand started with a women's line collection in 2009 and has since expanded to include a line for kids.
The kids' collection, which ranges from size 2 to 12, features clean lines, practical details, eye-catching colors, cute prints, and safe fabrics.
Key Products
Women's swimwear (bikinis, one-piece, plus-size, mommy & me)
Kid's swimwear
Location and Delivery Zones
Location: LA, California, USA
Delivery zones: United States and Canada (get in touch for international shipments)
6. DOLL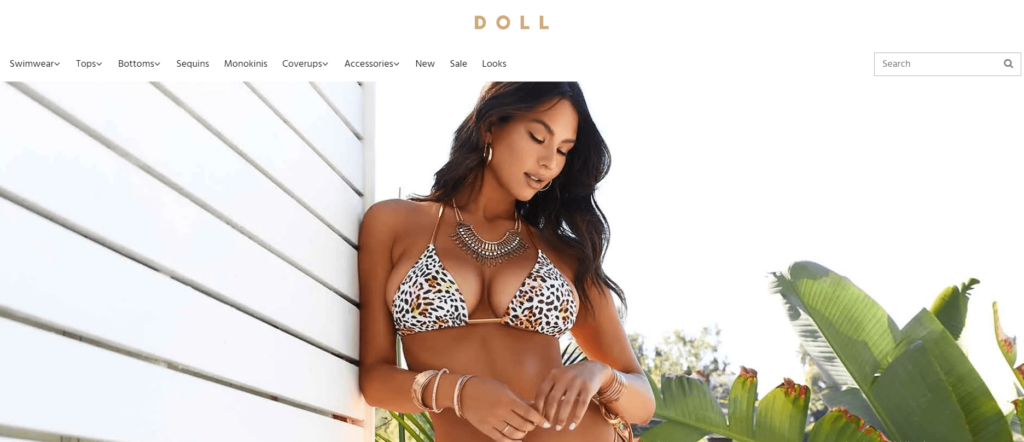 DOLL is a US brand manufacturer of bikinis and swimwear based out of Southern California. They specialize in resort and swimwear and offer a wide variety of styles and designs.
With over 25 years of experience in the swimwear industry, they are known for their innovative and trendsetting designs and high-quality bikinis that are fun, functional, and flattering at the same time.
Key Products
DOLL is dedicated exclusively to women's swimwear and resort clothing, such as:
Bikinis
One-pieces
Tops
Bottoms
Accessories
Cover-ups
Monokinis
Location and Delivery Zones
Location: Fullerton, California, USA
Delivery zones: USA, and most countries internationally (you'll have to ask for a shipping quote for international orders)
7. FashionTIY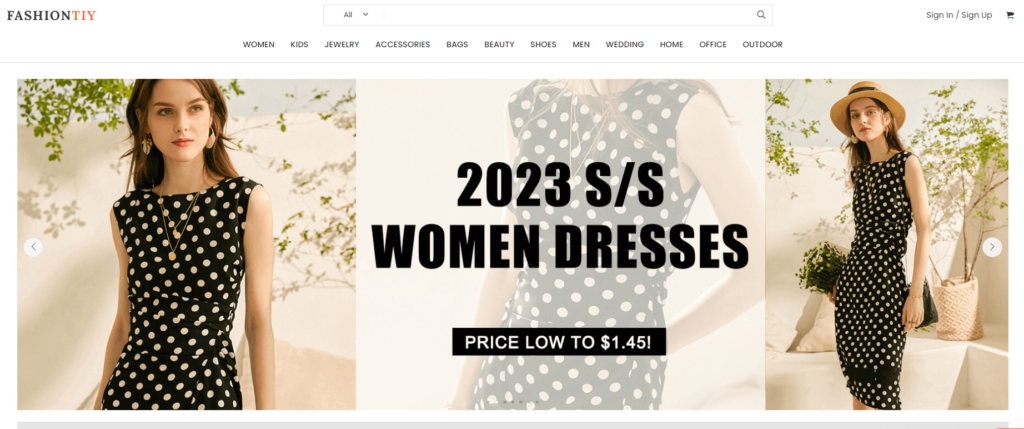 FashionTIY is a leading wholesale marketplace with 10,000+ vetted and reliable suppliers and over 100,000 unique products listed for you to choose from, including swimwear.
The most impressive feature of FashionTIY has to be their low product price paired with low or no MOQs, allowing you to start even if you're new to the industry or have limited startup capital.
Key Products
In terms of swimsuits, FashionTIY offers women's, men's, and kids' swimwear. Generally speaking, their product range consists of:
Women's clothing and apparel
Kids' clothing
Jewelry
Accessories
Bags
Beauty
Shoes
Men's clothing
Wedding apparel
Home
Office
Outdoor
Location and Delivery Zones
Location: headquarters are in Newark, Delaware, USA, while warehouses are in China
Delivery zones: worldwide with different shipping methods
8. Wholesale Central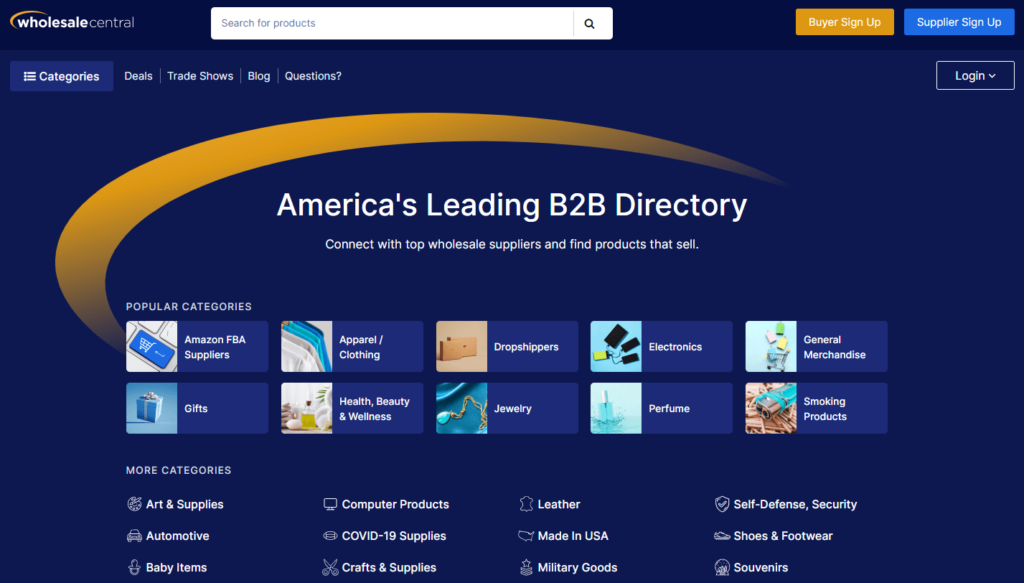 Next, we have Wholesale Central – a well-known American B2B directory where you can find wholesale suppliers in many different niches.
Wholesale Central is a company with a good reputation and they were once even recommended by Forbes as one of their top picks for wholesale buying and selling.
However, it's necessary to understand that they aren't the middleman. They're simply a directory that will lead you to the supplier's official page.
Key Products
Apparel and clothing
Jewelry
Health, wellness, and beauty
Electronics
Perfume
Smoking products
General merchandise
and more
Location and Delivery Zones
Location: Shelton, Connecticut, United States
Delivery zones: USA or worldwide (depending on the supplier)
9. Matterhorn-wholesale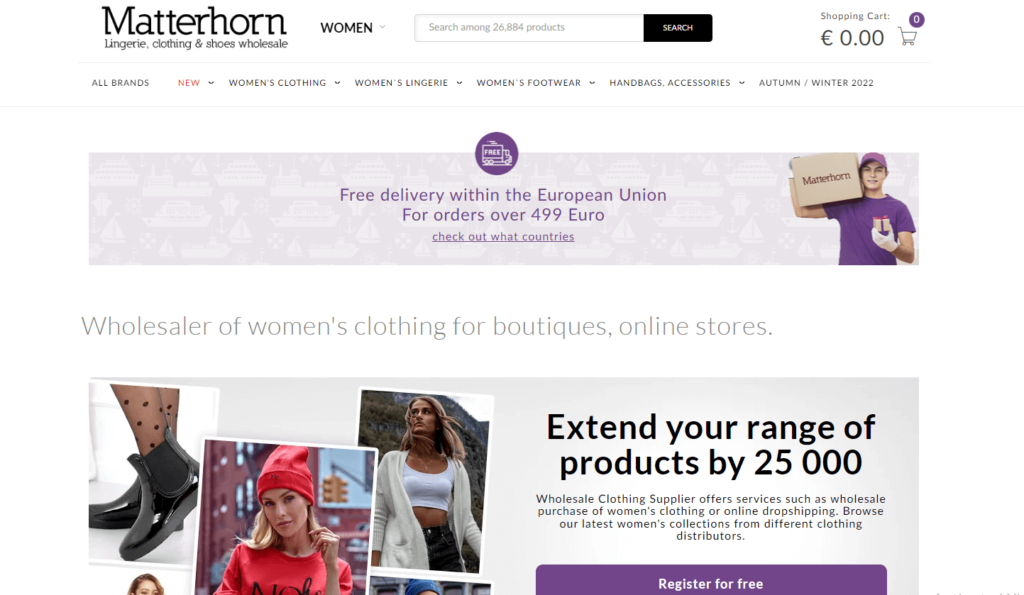 Matterhorn is a company specializing in the wholesale distribution of women's wear. They've been on the market since 2004 and have built a modern B2B sales platform that offers hundreds of fashion styles.
Matterhorn sources products from reliable Polish and European manufacturers to offer a wide range of high-quality products at low prices.
They supply not only online shops and boutiques but also wholesale distributors worldwide. Lastly, they have many language versions, foreign currencies, and sizes to accommodate customers from all around the world.
Key Products
Here are the main categories you can shop on Matterhorn:
Women's clothing
Women's lingerie
Women's swimsuits
Women's footwear
Handbags and accessories
Plus-size clothing
Location and Delivery Zones
Matterhorn is a great option if you're searching for bikini wholesale vendors in Europe:
Location: Mysłowice, Poland
Delivery zones: worldwide (with free shipping for bulk orders across the EU)
10. Girlmerry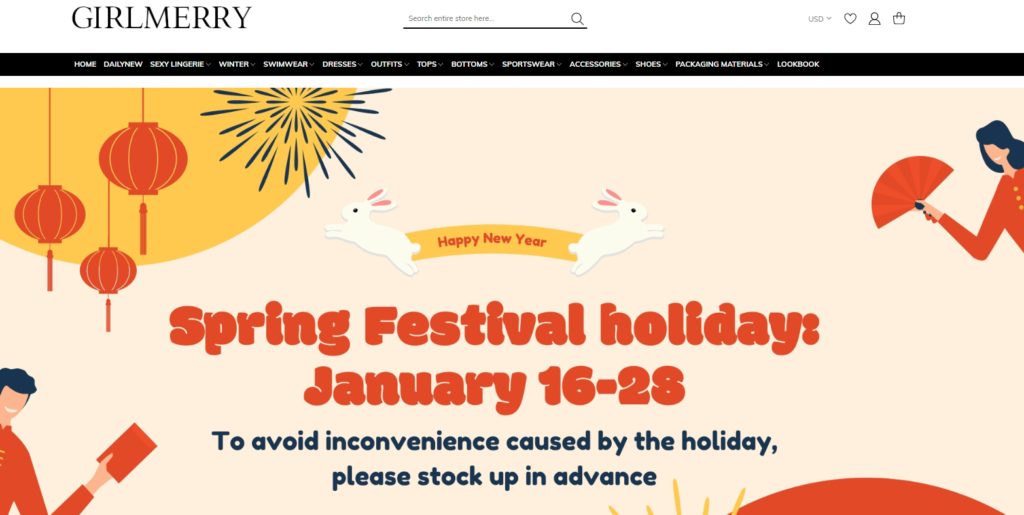 Girlmerry is an online fashion clothing store that specializes in wholesale. They offer a wide variety of trendy clothing options for women including dresses, lingerie, tops, pants, swimwear, and accessories.
Girlmerry aims to provide high-quality products at low prices and offers discounts for larger orders. They cater to customers worldwide and aim to be a one-stop-shop for both personal buyers and business owners looking for clothing or swimsuits at wholesale prices.
Key Products
Here's what you can buy from Girlmerry:
Sexy lingerie
Swimwear (women's, men's, kids', and plus-size swimsuits)
Dresses
Tops
Bottoms
Sportswear
Accessories
Shoes
Packaging materials
Location and Delivery Zones
Location: Seine-Saint-Denis, France
Delivery zones: international shipping
11. SheStar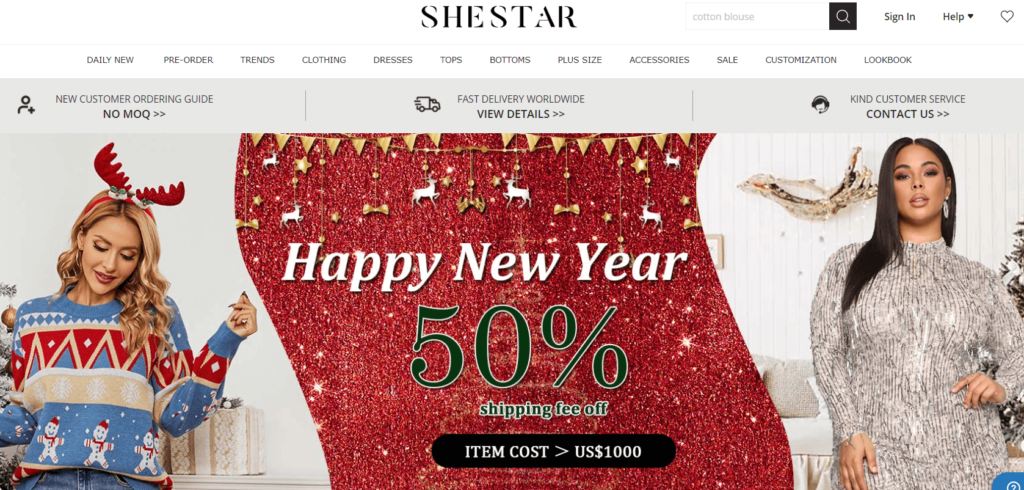 SheStar is an online wholesale supplier of women's clothing. They have over 30 years of experience in the garment production industry and have produced OEM orders for many European brands.
Today, SheStar has its own factories and works with hundreds of partner factories experienced in OEM or ODM manufacturing.
Lastly, SheStar offers competitive factory prices, with no minimum order requirement. The more you purchase, the more discounts you'll get.
Key Products
Dresses
Tops
Bottoms
Outerwear
Swimsuits
Leggings
Jumpsuits & Rompers
Bodysuits
Suits
Two-piece sets
Activewear
Loungewear & Sleepwear
Tracksuits
Plus-size
Accessories
Location and Delivery Zones
Location: Guangzhou, Guangdong, China
Delivery zones: worldwide delivery
12. Swimsuit Station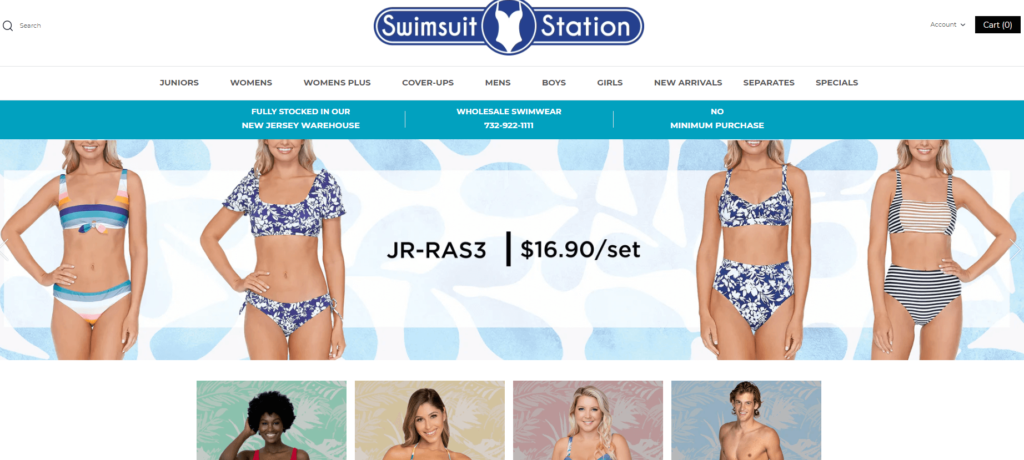 Swimsuit Station is a wholesale distributor of swimsuits, cover-ups, and board shorts in the US. They carry over 500 styles for men, women, and children of all sizes, including plus sizes.
They offer brand name and promotional swimsuits at discounted prices and are committed to providing quality merchandise and reliable customer service. Best of all, they carry a wide range of price points to suit all budgets.
Key Products
Here are the swimwear types you can buy from Swimsuit Station:
Women's swimsuits (one-piece, bikini, tankini, two-piece, rash guards, board shorts)
Women's plus-size swimsuits
Cover-ups
Men's swimsuits (board shorts, trunks, etc.)
Boys' and girls' swimwear
Location and Delivery Zones
Location: Ocean Township, NJ, USA
Delivery zones: USA (all 50 States), Puerto Rico, and Canada
13. BeachCandy Swimwear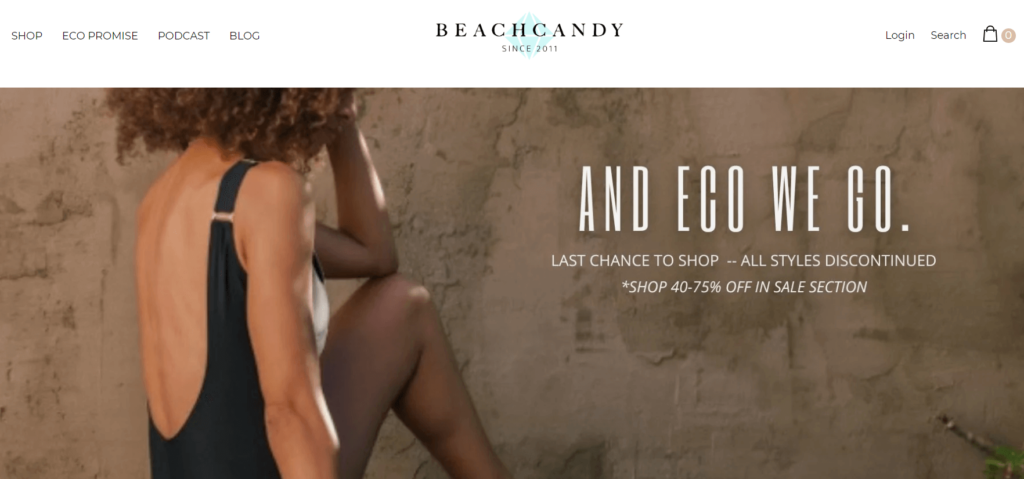 BeachCandy Swimwear is an American designer swimwear brand established in 2011. They're known for their elegant, stylish, and sophisticated designs for real women.
Each of their swimsuits is handcrafted in Los Angeles, valuing authenticity and quality control, and using high-quality ingredients to ensure a supportive fit.
Over the years, they've gathered tons of positive customer feedback and mastered the art of creating the perfect swimsuit.
Key Products
Bikinis
One-pieces
Tankinis
Resortwear
Beach bags
Cover-ups
Beach shoes
Location and Delivery Zones
Location: Costa Mesa, California, United States
Delivery zones: international shipping
14. Unijoy Swimwear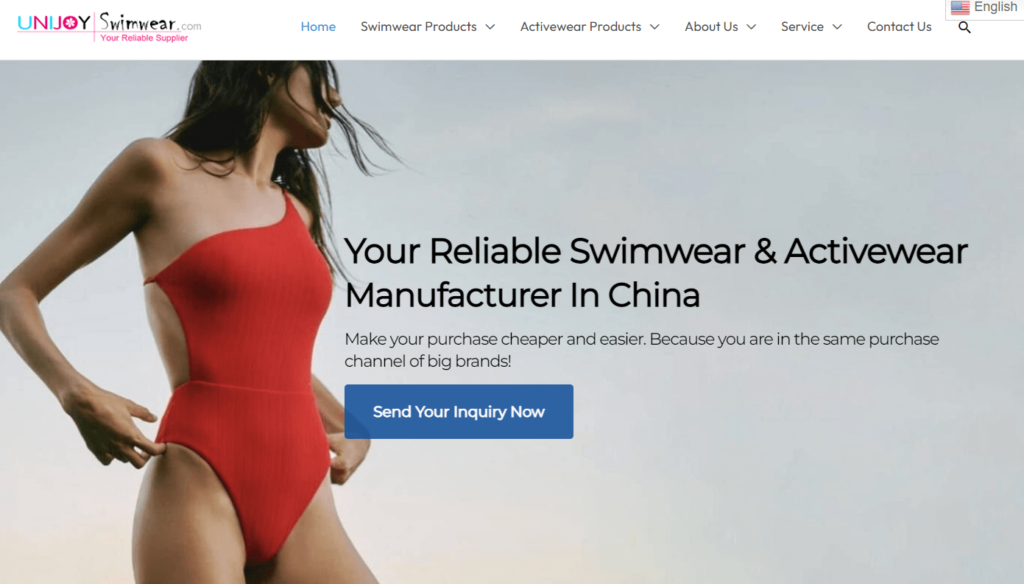 Unijoy Swimwear is a professional swimwear and activewear manufacturer that offers a one-stop ODM and OEM service for its clients. They're based in China, but ship to clients internationally.
With Unijoy Swimwear, you can develop brand-new swimwear based on your specifications and design, or get their suggestions. However, note that you'll have an MOQ of 300 pieces per design or style.
Key Products
Girls' Swimsuits
Women's Swimsuits
Boys' Swimwear
Men's Swimwear
Sustainable Swimwear
Activewear
Location and Delivery Zones
Location: Long Shan Zhong Road, Siming Area, Xiamen, China
Delivery zones: worldwide
15. LA Showroom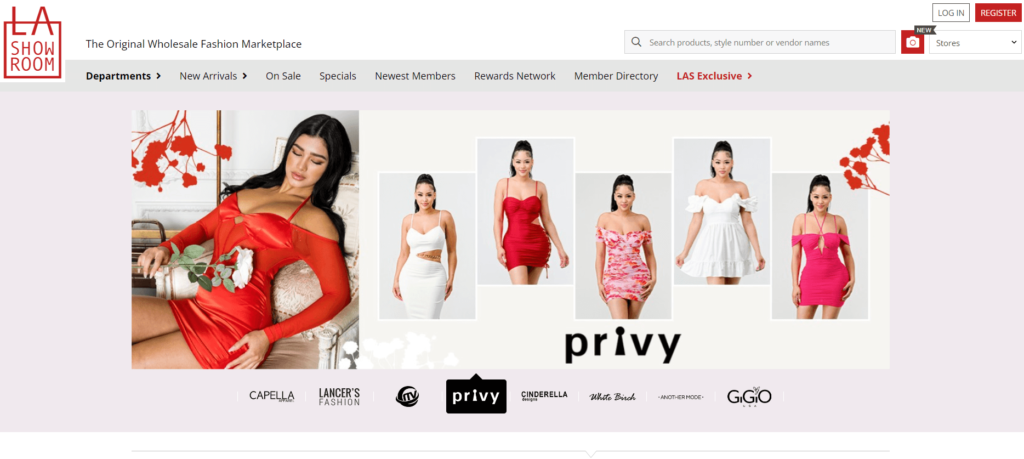 LA Showroom is a popular wholesale fashion marketplace that offers women's clothing, swimwear, accessories, and more.
Perhaps the most impressive feature of LA Showroom is the fact that they offer pre-screened collections of boutique clothing and accessories through virtual showrooms. This can be a great way to see what you're getting without ordering samples.
To order from LA Showroom, you must register as a member and have your account approved. But, no worries – the registration is free!
Key Products
Women's clothing
Women's swimsuits (one-piece, two-piece, cover-ups)
Men's clothing
Children's clothing and swimwear
Accessories
Bags
Footwear
Other (home goods, cosmetics, etc.)
Location and Delivery Zones
Location: Los Angeles, CA, USA
Delivery zones: international
16. Tasha Apparel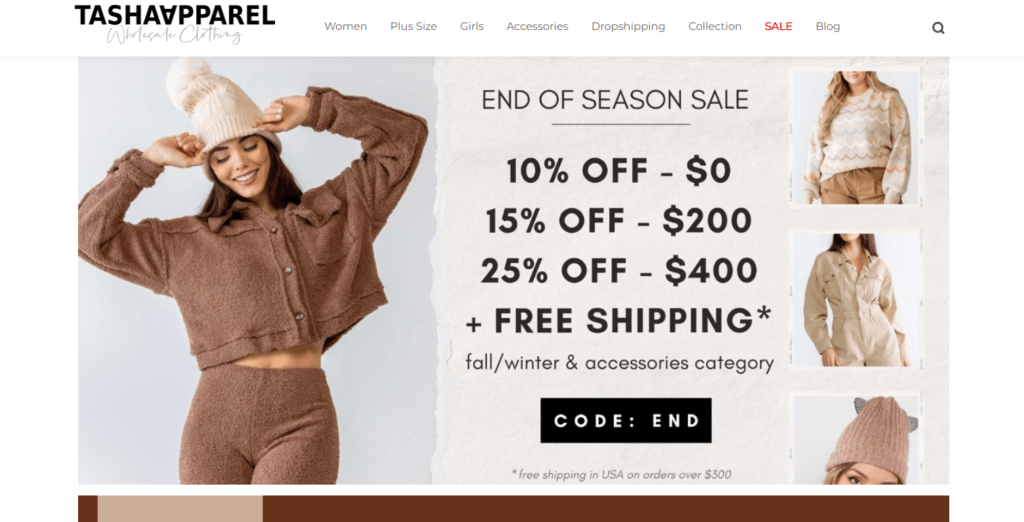 Tasha Apparel is an LA-based wholesale clothing company that offers cutting-edge quality clothing and swimwear at bulk prices. They're friendly for both wholesale buyers and dropshippers alike!
Considering the lack of discounts on bulk orders, it seems the website might be more appropriate for dropshippers. However, you do get free US shipping on orders over $300.
Key Products
Women's clothing and swimwear
Plus-size clothing and swimwear
Girls' clothing
Accessories
Location and Delivery Zones
Location: Los Angeles, CA, United States
Delivery zones: worldwide (except Cuba, Iran, Iraq, Libya, North Korea, Sudan, Afghanistan, Angola, Rwanda, and Syria)
17.NihaoStyles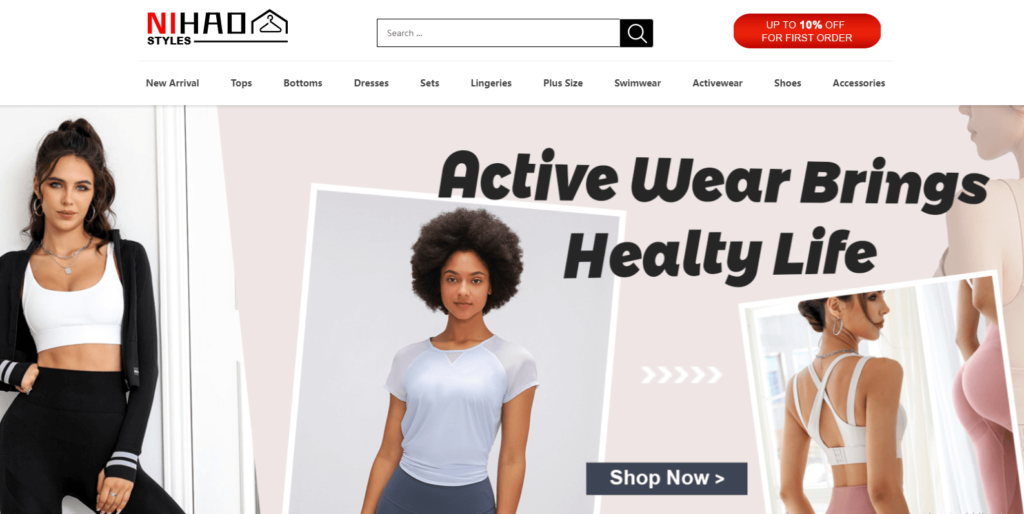 As our last wholesale swimsuit vendor on this list, we have NihaoStyes, a B2B wholesale supplier of women's clothing, including swimwear.
If you're searching for low factory prices yet low quantities, NihaoStyles is the perfect option for you. They have no MOQ – even if you buy just one product, you get it at a wholesale price!
Key Products
Tops
Bottoms
Dresses
Sets
Lingerie
Plus-size
Swimwear (bikini, one-piece, tankinis, and other beachwear)
Activewear
Shoes
Accessories
Location and Delivery Zones
Location: Yiwu, Zhejiang, China
Delivery zones: worldwide shipping
FAQs about Wholesale Swimsuit Vendors
Is Selling Swimsuits a Good Idea?
Yes! Although swimsuits are considered a seasonal product, it's always summer in one part of the world. So, with the right targeting in terms of geographical regions vs. time of year, you should be able to surpass this "obstacle".
We love selling swimsuits as a store idea! With the right branding and quality swimsuit vendors to back you up, you could turn them into a high-ticket product and enjoy solid profit margins.
How Can I Find Wholesale Swimsuit Vendors?
There are several ways you can use to research and compile a list of reliable wholesale swimsuit vendors:
Google your type of product + wholesale and see the companies you get;
Go to Alibaba, Made-in-China, or other B2B marketplaces, compare reviews, and look for wholesale suppliers there;
Check B2B supplier directories;
Bookmark this list of swimsuit vendors wholesale and find the one that suits you the most;
Visit trade shows;
Work with a local product sourcing company like Niche;
What to Consider When Choosing a Swimsuit Wholesale Supplier?
We believe these are some of the most important considerations when choosing a wholesale swimsuit supplier:
Price: compare prices with different suppliers to ensure that you are getting the best deal;
Quality: make sure the supplier offers high-quality swimsuits made with durable materials and good stitching;
Product variety: look for a supplier that offers a wide variety of swimsuits in different styles, sizes, and colors to meet the needs of different customers;
Product branding or development: next, consider if the supplier offers private labeling, white labeling, or ODM/OEM product development if needed;
MOQs: here, ensure that you can afford and sell the supplier's MOQ or find a supplier that matches your needs;
Experience and reputation: research the supplier's reputation in the industry and read customer reviews to ensure they have a good track record of providing quality products and good customer service;
Shipping: the supplier should offer reliable and cost-effective shipping options to deliver the products to your desired location;
Reliability: last but not least, make sure the supplier has a good track record of fulfilling orders on time and providing consistent quality;
Can I Dropship Swimsuits?
Starting a dropshipping business with swimwear products can be a smart choice as it presents minimal costs and risks. This business model eliminates the need for purchasing inventory upfront, providing a safe and profitable opportunity to build a brand risk-free.
If you need help with sourcing, storing, and dropshipping orders to your customers worldwide, get in touch!
What's the Best Way to Source Wholesale Swimsuits from China?
The best way to source wholesale swimsuits from China in terms of cost, value, and time is by working with a local sourcing agent such as Niche.
Due to our long years of experience on the market, we can find the best wholesale swimsuit vendors for the type of product you need.
Alternatively, we can partner with factories and design a brand-new product according to your specifications and branding.
Wrapping Up
Feel ready to launch your swimwear brand? Bookmark this list of wholesale swimsuit vendors to have it as a backup when you need it the most.
If you are unsure about ordering swimwear from China, get in touch with us. We're local, speak the language, and can help you find the right wholesale swimsuits for your brand at bulk prices!