Yangjiang and Longquan are renowned as the main knife manufacturing hubs of China. They host thousands of knife manufacturing factories that supply kitchen knives to both local and international markets.
However, as you source kitchen knives in China, it is important to understand that the manufacturers in Yangjiang and Longquan each offer something different. Their production methods, knife designs, and manufacturing capabilities vary significantly.
So, in this blog, we compare these two cities and explore the kind of knife manufacturers found in each of them. We also share the differences between a Yangjiang knife and a Longquan kitchen knife to help you make the right sourcing decisions.
Let's get into it.
Buy wholesale or custom knives from China
Where Is Yangjiang?
Yangjiang is a prefecture-level city located in the Guangdong province in southwestern China. It is a coastal city that enjoys outstanding views of the South China Sea. The current population stands at slightly over 2.9 million people.
In relation to other major cities, Yangjiang is about two and a half hours from Guangzhou by road and one and a half hours away from Hong Kong by water.
Alternatively, you could access Guangzhou and Shenzhen by taking a flight from the Yangjiang Heshan airport. If you fancy a train ride, there is also a train station in Yangchun which is about an hour away from the heart of Yanjiang.
What Is Yanjiang Famous For?
In terms of economic activities, Yangjiang is well-known as the largest hub for the production and exportation of knives and scissors in China. The knife and scissors manufacturing factories are major contributors to the city's GDP and its overall growth and development.
Yangjiang is additionally home to some of the most beautiful islands and beaches in China. Hailing Island, Daijiao Bay, and Shili Silver Beach are top destinations for both local and international tourists.
Aside from these main attractions, Yangjiang also draws lots of interest and visitors because:
It is home to the Maritime Silk Road Museum
It is the largest nuclear power plant in China
Where Is Longquan?
Longquan is a county-level city located in the Zhejiang province in East China. It has a population of about 260,000 people.
Most tourists and international shoppers travel to Longquan from Shanghai. You could take the trip by road, rail, or air. Road travel is often preferred and is followed closely by rail because the airports surrounding Longquan are rather far from the city.
What Is Longquan Famous For?
Longquan is highly famous for its hand-forged swords. The sword-forging techniques of the region date back to ancient times and have been passed down through countless generations.
Today, tourists and martial arts artists from all over the world visit Longquan to buy its swords and witness the inimitable mastery of Longquan swordsmiths.
In the same breath, Longquan celadon ceramics are rated as some of the best in China. They are glazed using a traditional firing method that dates as far back as the Song Dynasty.
The making of Longquan swords and ceramics is so iconic that their artisanship has been recognized on the UNESCO Representative List of the Intangible Cultural Heritage of Humanity.
What Are the Differences Between Yangjiang and Longquan Knives?
From our brief overviews of Yangjiang and Longquan, it is evident that these two cities have very different identities. As a result, the types of kitchen knives that they produce are also quite distinct.
For a better understanding, let us compare some of the differences you are likely to encounter between knives made in Yangjiang and those made in Longquan.
Production Methods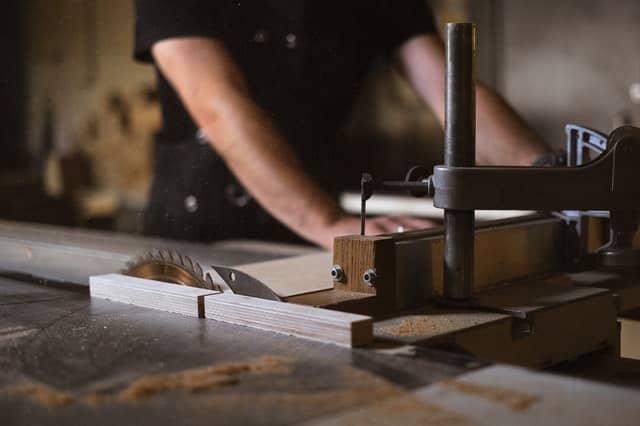 Yangjiang kitchen knife manufacturers have fully embraced modern knife manufacturing techniques. Their factories are equipped with state-of-the-art technology that enables them to produce machine-stamped knives in bulk within short lead times.
This high-end automation can be attributed to a need to boost efficiency. Additionally, most knife factories in Yangjiang specialize in OEM manufacturing for top brands like Zwilling. They, therefore, need to have the right machinery to execute modern knife designs.
In contrast, Longquan knife manufacturers have held onto their traditional sword-forging techniques and incorporated them in the production of kitchen knives. Subsequently, Longquan knives are made by highly skilled artisans trained through years of apprenticeship.
The knives are hand-made and often produced by forging. This approach usually makes steel knives stronger, more durable, and sharper for longer. Other processes such as polishing are done by hand as well.
Production Capacity
Yangjiang kitchen knife factories have a much higher production capacity than Longquan kitchen knife factories.
This is because Yangjiang manufacturers rely on automated methods of production whereas those in Longquan rely on hand-making. The latter is a more intricate art that takes time and only allows for the production of a limited number of knives per session.
Knife Designs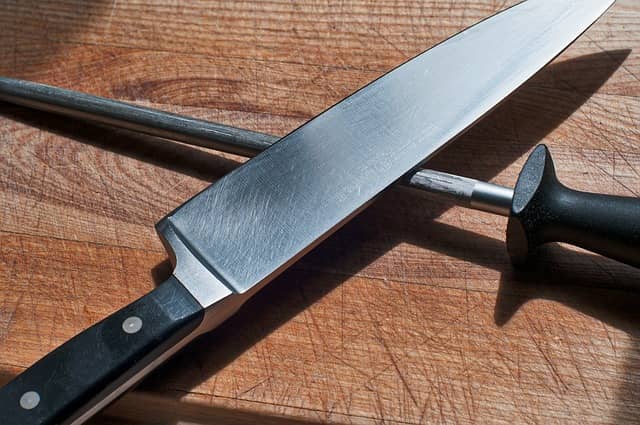 Yangjiang knives have sleek modern designs. You would also have an enormous variety of such designs to choose from because machines make it easy to execute all kinds of creative concepts.
On the other hand, it is easy to identify Longquan knives because they are unique. Their shapes are influenced by traditional sword designs and a touch of modern style.
Additionally, they stand out because hand-making knives allows for closer attention to detail that machines do not offer.
Pricing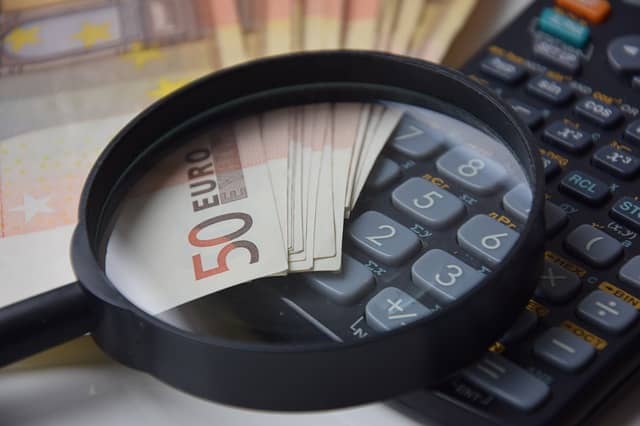 The large-scale, streamlined and automated kitchen knife factories in Yangjiang enjoy economies of scale. In other words, because they mass-produce knives using machinery that is fast and efficient, they incur lower production costs.
As a result, Yangjiang knives tend to be more affordable.
On the flip side, Longquan kitchen knife factories operate on a smaller scale with basic machinery. They are also labor-intensive factories because the knives are hand-forged.
Consequently, they incur higher costs of production which causes Longquan kitchen knives to be sold at comparatively higher prices.
Quality
The good news is that you can find quality knives in both Yangjiang and Longquan. However, there is a catch.
In Longquan, manufacturers prioritize the quality of kitchen knives because it is ingrained in the local culture and their reputation depends on it.
In Yangjiang, most manufacturers focus more on simply supplying functional and affordable kitchen knives to the market. As such, quality is often a secondary priority unless, of course, you are willing to pay a premium price to get premium quality kitchen knives.
How to Find Yangjiang or Longquan Kitchen Knife Manufacturers
Now that you know what Yangjiang and Longquan kitchen knife manufacturers have to offer, you are likely in a better position to decide which of them can deliver the kind of kitchen knives you need. The only question left to tackle is how to find them.
You can find kitchen knife manufacturers from Yangjiang or Longquan through:
A Google Search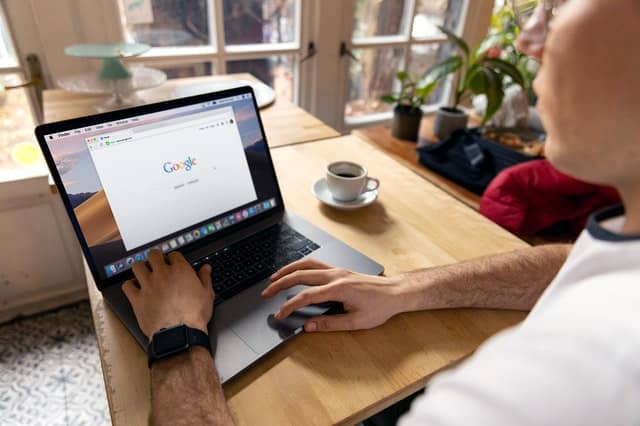 Most China kitchen knife manufacturers now have websites that showcase their products, prices, terms of engagements like MOQs, and their contact details. You can find their websites by running a targeted Google search of:
The company name; if you have a specific one in mind
Keywords such as 'China kitchen knife manufacturers' or 'Kitchen knife manufacturer China'. You could also add Longquan or Yangjiang to the keywords if you wish to narrow down the results to a specific region.
Try and compare the kitchen knives and sale terms from different manufacturers then create a shortlist of those worth contacting.
Trade Fairs
Different industries and economic institutions in China organize trade fairs to promote local and import-export trade of various products.
You could meet numerous kitchen knife manufacturers from Longquan and Yangjiang at trade fairs such as:
The China (Yangjiang) International Hardware Knives and Scissors Fair- it is held annually in October at the Yangjiang International Conference and Exhibition Center and brings together over 1,000 kitchen knife manufacturers.
The China Import and Export Fair (Canton Fair)- it is held twice a year at the Guangzhou Pazhou Complex; the first leg in April and the second in October.
Note: Each session of the Canton Fair is held on multiple dates. Kitchen knife manufacturers are likely to exhibit their wares on the day set aside for household wares.
Online Marketplaces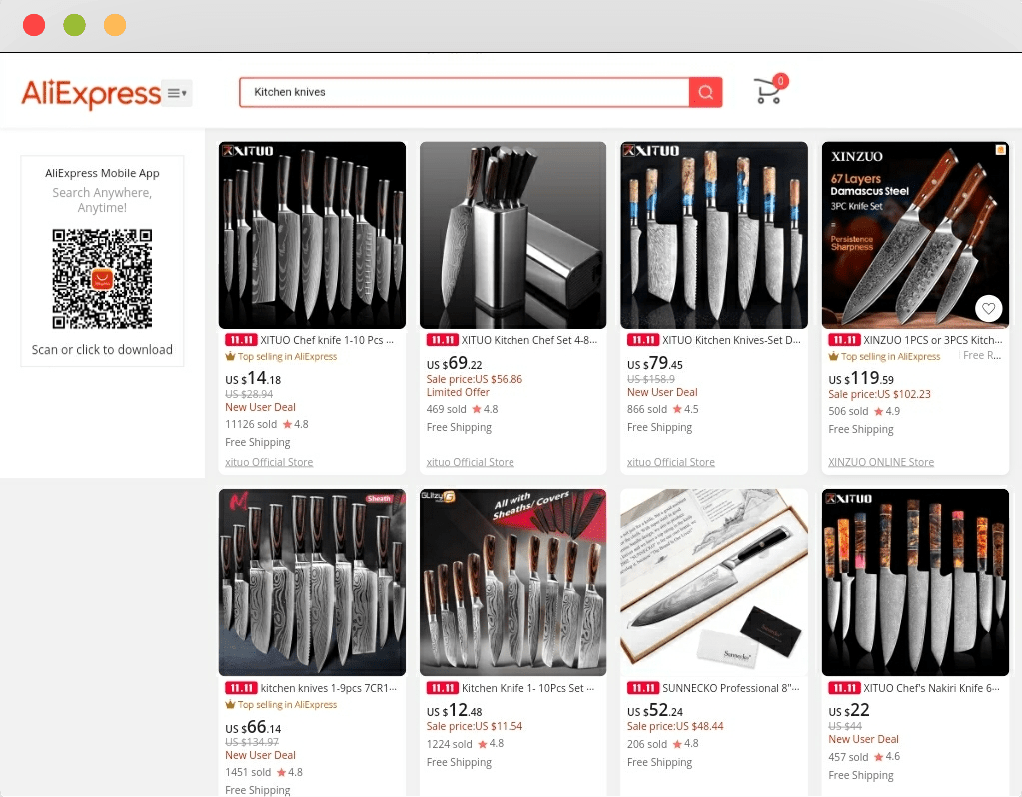 Kitchen knife manufacturers often list their products on online marketplaces like Alibaba. The great part about this is that they usually have mini-websites that outline:
The type of kitchen knives they offer
Their production capacity
Their MOQs and shipping approaches
Any extra services that they offer such as white labeling or private labeling
Online marketplaces are also brilliant for scouting knife manufacturers because they:
Showcase numerous manufacturers that may not even have websites of their own
Make it possible to compare the kitchen knife designs and prices offered by different manufacturers
A Sourcing Agent
A sourcing agent is a professional individual or company that you can hire to find kitchen knife manufacturers on your behalf.
A good sourcing agent could:
Help you overcome the language barrier that could make it difficult to consult manufacturers in China.
Save you time and travel expenses because you can liaise with them online and they probably already know which manufacturers to contact.
Verify details such as product quality and the authenticity of a manufacturer which you may not fully be able to do online.
Guide you through purchase processes because they understand local trade procedures and legal issues like NNNs for private labeling.
It is, nevertheless, imperative that you carefully vet your sourcing agent to ensure that they are credible and can deliver what you need.
Buy wholesale or custom knives from China
Examples of Top Kitchen Knife Manufacturers in Yangjiang and Longquan
TUO Cutlery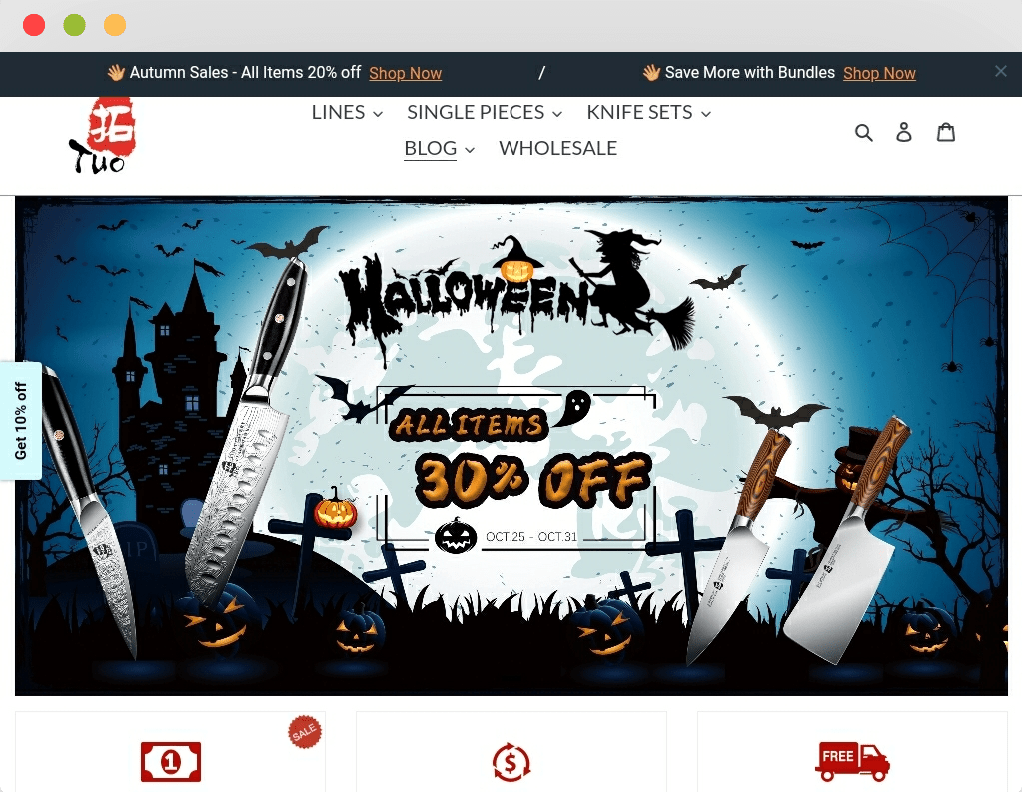 Tuo Cutlery is a knife manufacturing brand located in Yangjiang City, Guangdong. It produces exemplary quality knives and has won two international awards for its efforts.
TUO offers single knife pieces and knife sets with different combinations of knives. Its product range is quite diverse and ranges from steak knives and meat cleavers to more niche items like kiritstuke chef knives and Japanese Yanagiba knives.
Longquan Jinshi Trading Company
Longquan Jinshi Trading Company primarily manufactures and sells Longquan swords. However, it also produces chef knives made in Longquan tradition.
The Longquan Jinshi chef knives range from utility kitchen knives and chopping knives to tiger head bone choppers and boning knives. They are all hand forged and have uniquely curved blades and one-of-a-kind wood handles.
Notably, this is one of the few kitchen knife manufacturers in Longquan that offer OEM services. Each type of knife has a specific MOQ but they are all low numbers because these hand-forged knives are only made in small batches.
Shenda Group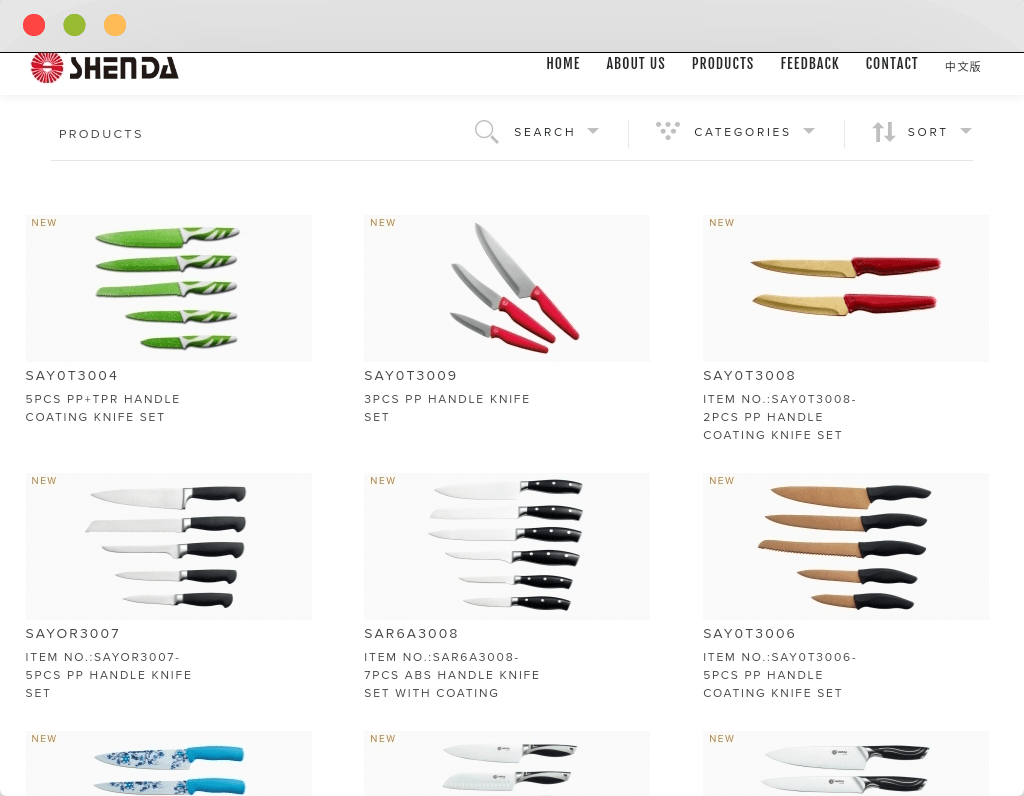 The Shenda Group kitchen knives factory is located in Yandong in Yangjiang. It is a well-known brand that manufactures a vast and impressive selection of kitchen knives that meet international culinary standards.
Shenda offers elegant knife designs made of different materials such as ceramics and stainless steel blades coupled with ABS, wood, or PP handles. The ceramic handles are particular favorites for home use given their well-decorated blades.
Speaking of blades, the blades of Shenda knives are inspected and certified by international regulators like CATRA. They also meet international standards of cutting edge retention and sharpness.
LeeKnives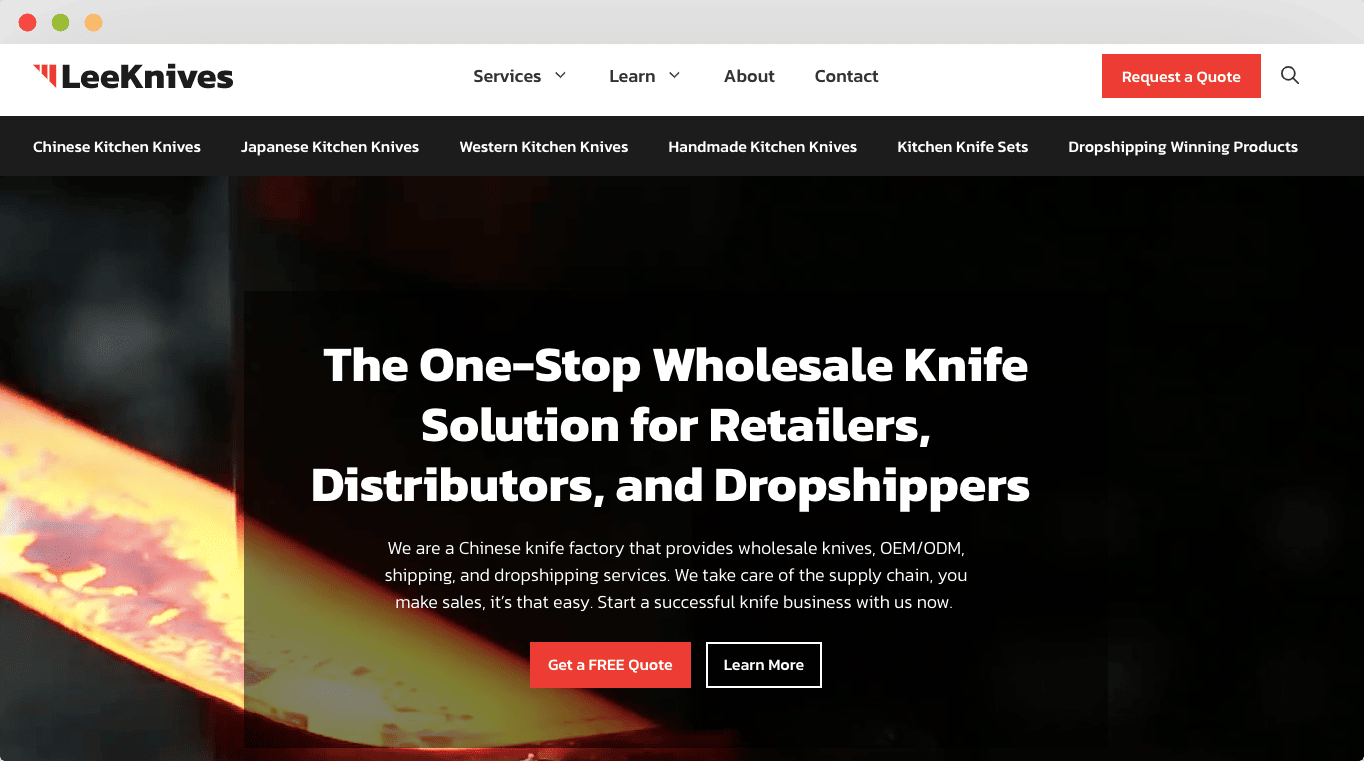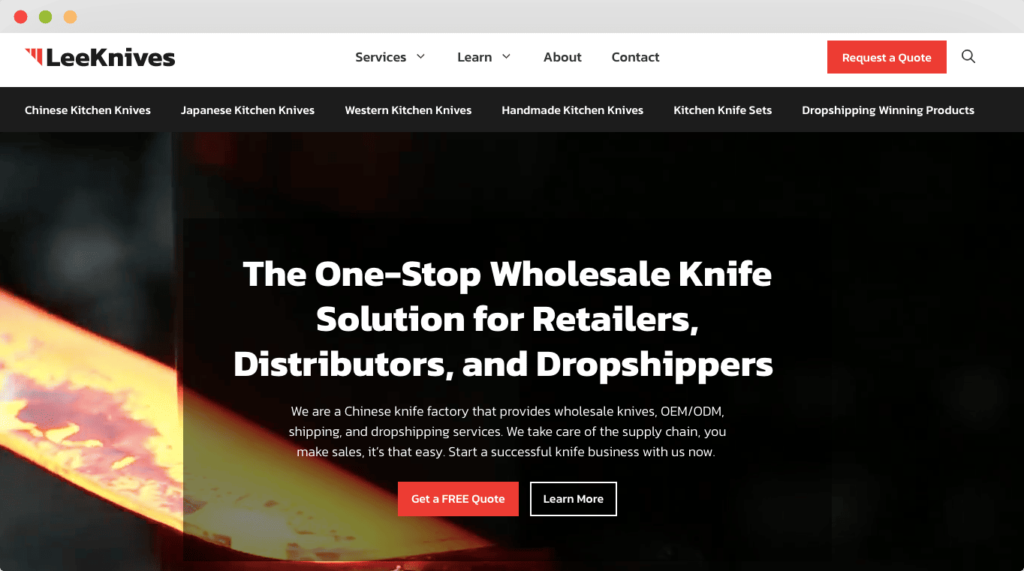 LeeKnives is another great kitchen knife manufacturer located in Yangjiang. With about 30 years of experience in the industry, their craftsmanship has been inarguably refined with great passion and careful attention to detail.
While they currently specialize in kitchen knives, they can also cater to other needs such as manufacturing:
Camping knives
Tactical knives
Folding knives
Knife sharpening tools
Cutting boards
Knife storage, etc.
LeeKnives claims to be a one-stop wholesale knife solution for retailers, distributors, and even dropshippers.
They offer services that can help scale your business such as OEM/ODM, dropshipping solutions, private labeling, global shipping, warehousing, and 24/7 customer support.
With all these features, you can't go wrong working with LeeKnives.
To Wrap It Up
The kitchen knife manufacturing sector has lots of amazing products to offer no matter the preferences of your customers. Moreover, if you can not find the type of kitchen knives you want, you can certainly find a manufacturer to custom-make them for you.
That said, at NicheSources, we also understand that running a business and sourcing products can get very stressful. This is why we have curated a list of one-stop sourcing services that enable you to delegate all the hard work to us. You can count on us to:
Find the right kitchen knife manufacturers from Yanjiang, Longquan, or both cities.
Negotiate favorable prices and terms of trade
Verify product quality
Collect and warehouse your kitchen knives
Handle international shipping or dropshipping fulfillment on your behalf
Are you ready to begin a journey of professional stress-free product sourcing? Start by requesting a free quote today!
Buy wholesale or custom knives from China