Amazon runs over 175 fulfillment centers across different cities. They handle millions of product units in a day using both human labor and tech-based inventory management tools.
Of course, this awe-inspiring operation does not run so efficiently just based on sheer will. Amazon has had to develop and implement strategic solutions, like unique inventory identifiers, to make it thrive.
FNSKU is one of the unique identifiers you may come across as an FBA seller. So, in this blog, we take a deep dive to find out what FNSKU means, how it works, and how to get one.
Come along and let's get you some answers.
What Is FNSKU?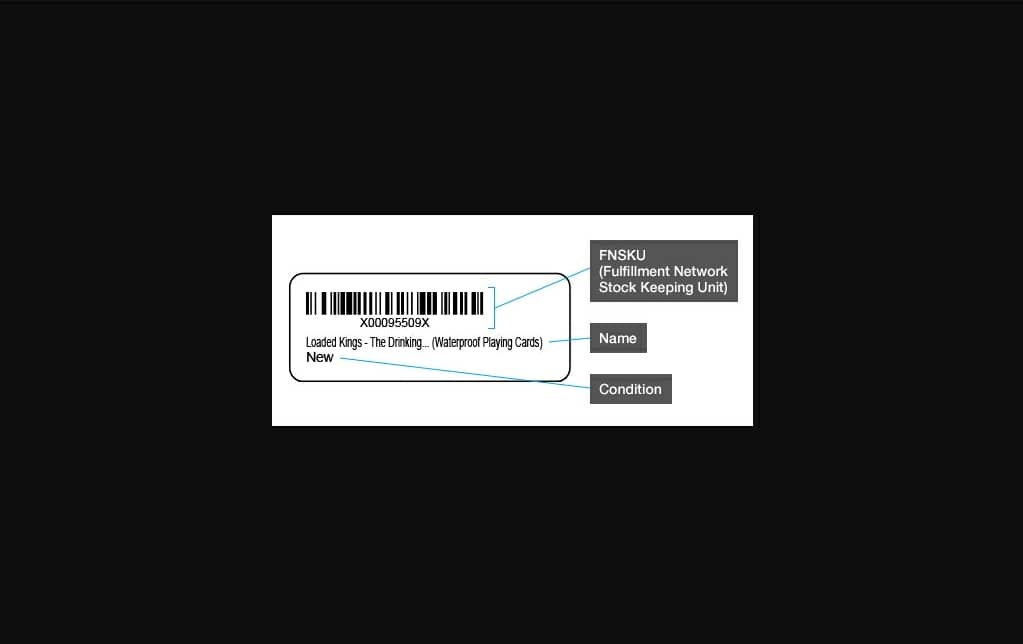 FNSKU stands for Fulfillment Network Stock Keeping Unit. It is simply a series of unique barcodes assigned to every product unit in an Amazon fulfillment center. Each FNSKU represents 2 key pieces of information:
The name of the product
The Amazon seller that submitted that unit of stock to FBA
Amazon developed this barcode system to make it easy for staff and warehouse systems to:
Identify products in Amazon warehouses
Track the status of every unit of inventory
What Is the Difference between FNSKU and ASIN?

Fulfillment Network Stock Keeping Units (FNSKU) and Amazon Standard Identification Number (ASIN) can be confusing because they are both unique identifiers that Amazon uses to keep track of inventory. However, they are not the same thing.
Amazon uses ASINs to identify and categorize different types of products.
For example, if you list white cotton polo shirts on Amazon, they could share the same ASIN. Meanwhile, if you also need to list black cotton polo shirts, you would have to do so under a different ASIN because they are a different type of product.
This way, Amazon can:
Keep track of the different types of products listed by sellers.
Have an easier time gathering relevant search results by listing products with the same ASINs together.
FNSKUs, in comparison, are all about identifying individual product units and their sellers. This means that each of the polo shirts in the example above would have unique FNSKUs because they are each distinct units of stock.
The differences between FNSKU and ASINs can thus be summed up as follows:
Every product unit has a unique FNSKU but identical products can share an ASIN.
Amazon uses FNSKUs to handle fulfillment but uses ASINs to keep track of the different types of products listed on the platform.
What Is the Difference between FNSKU and SKU?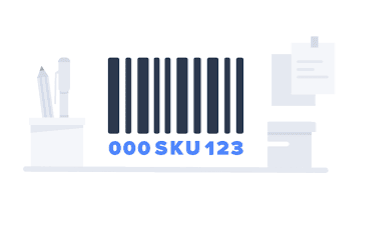 A Stock Keeping Unit (SKU) is a code that you can use to keep track of inventory details such as:
The number of units of product X that you have sold versus product Y based on their distinct SKUs.
Sales from different seasons/years.
Which product units you send to different warehouses.
Amazon also uses SKUs to cross-reference your products with an appropriate product detail page in their catalog.
Amazon allows you to come up with SKUs as you onboard products. This is often a better approach because you can customize your SKU in a way that aligns with your inventory management preferences.
However, if you do not generate your SKUs, Amazon will generate them for you.
Based on this definition, here are the main differences between FNSKU and SKU.
FNSKUs can only be generated by Amazon but SKUs can be generated by sellers or Amazon.
FNSKUs are unique identifiers that ease the order fulfillment process while SKUs mostly help sellers monitor their inventory.
FNSKUs are standard barcodes but SKUs can be customized to suit a seller's preferences.
Why Is FNSKU Important?
FNSKUs differentiate your products from similar products sold by other suppliers. That is a bit of a mouthful, so, let's break it down into a situational example.
Let us assume that you are shipping hula hoops to an Amazon fulfillment center. The odds are that you are not the only seller that will ship hula hoops to that center.
So, this is where FNSKUs become vital.
When you send in your hula hoops with FNSKUs, Amazon stores them separately from those of other hula hoop sellers.
Therefore, when a customer orders a hula hoop from your Amazon store, an Amazon associate will use the FNSKU to retrieve it from your inventory and then pack and ship it.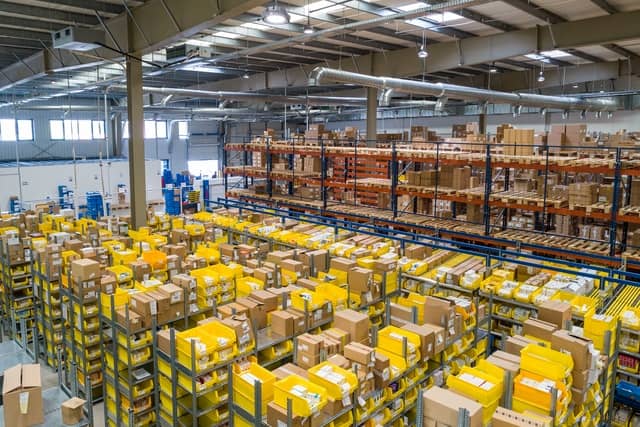 On the contrary, if you send in products with no FNSKUs Amazon stores your inventory together with that of other sellers whose hula hoops also do not have FNSKUs.
The problem here is that even when a customer buys from your store, the Amazon associate processing your order can not differentiate which hula hoops belong to you.
So, while you will be credited for the sale, it's hard to tell whether customers are receiving your hula hoops or those sent in by another seller. This further presents other risks and challenges such as:
Your customers may be receiving other sellers' goods that are substandard to yours.
It may be difficult to resolve customer complaints or returns if you realize they received another seller's goods.
All things considered, generating and affixing FNSKUs can seem costly and laborious but it is worth it. It may save you from many headaches and losses down the road.
How to Get an FNSKU on Amazon
Amazon requires all Fulfillment by Amazon (FBA) sellers to onboard their products before shipping them to designated fulfillment centers. The onboarding process comprises a series of steps which include generating FNSKUs for your products.
The process works as follows:
Ensure that your product listing is set to sell under FBA.
Select Amazon Barcode as your preferred identifier.
Launch the product on Amazon.
Amazon generates your FNSKU.

You can choose to print your FNSKUs immediately when they are generated or wait until you have completed the onboarding process. Either way, you can always find all FNSKUs tied to your seller account through the following steps:
Open the seller central dashboard
Click on 'Inventory'
Select 'Manage Inventory'
At this point, Amazon will bring up all products listed under your seller account. The FNSKU of each product should appear in a dedicated column towards your right. If you can't spot it, check your preference settings to ensure that you have set the FNSKU column to display.
How to Print FNSKU Labels
The printing process is fast and easy.
Open the seller central dashboard
Click on 'Inventory'
Select 'Manage Inventory'
Notice the drop-down menu at the far right end of each product listing
Click the drop-down menu
Select 'Print Item Labels'
Choose the number and size of labels you require
Click 'Print Labels'
A PDF document containing your FNSKUs will download onto your computer
Open and click on 'Print'

FAQs about FNSKU
How Can I Add 'Made in China' to FNSKU Labels?
The easier method would be to use a laser printer. Here is a step-by-step guide on what to do:
Download the FNSKU PDF as we have discussed above
Open it using Foxit
Enlarge the FNSKU label to 200%
Click on 'Typewriter'
Position the text box under the product title
Type 'Made in China' in the text box
Save and print
Are FNSKU Labels Unique to Each Seller?
Yes, because every FBA seller gets unique FNSKUs for the different products that they submit to Amazon. Similar labels would defeat the entire purpose of FNSKU labels.
Can You Print FNSKU Labels Directly onto Packaging?
Yes, Amazon allows it. Just ensure that all details of the FNSKU are clear and printed on a flat surface.
Unless you have some printing expertise, it is advisable to get this done either by your manufacturer or a printing service. Their skill and high-grade printers may make everything easier for you.
How Much Does FNSKU Labeling Cost?
Amazon generates FNSKU labels for free. So, if you handle your printing, the only costs you may incur would be the labels and printing costs.
Alternatively, you could pay Amazon $0.55 per unit to handle the labeling for you. Some product suppliers also offer this service at a negotiable fee or as a complementary service.
In Conclusion
FNSKUs and other Amazon unique identifiers can, at first, seem too complex. Fortunately, you do not have to figure it all out at the start. You can delegate labeling to Amazon or a trusted product supplier that understands FBA requirements.
Our NicheSources team has successfully worked on numerous FBA projects. We are thus well-equipped to find you the right product suppliers and ensure that your goods are meticulously labeled according to Amazon regulations.
Do send us your sourcing requirements, request a quote, and leave all the heavy-lifting to us.