Knives are an intricate part of Chinese culture that dates back to ancient swordsmiths. As a result, most manufacturers in China blend ancient knife craftsmanship techniques with modern innovation to make outstanding knives.
It is, therefore, only natural that you would turn to China when you need to source knives for resale, dropshipping, or even for use in your hotel or restaurant.
Still, you might be wondering how to begin your sourcing journey given the endless factories in China. Not to worry. We have put together a list of great knife manufacturers that offer different types of knives to help you get started on the right foot.
Let's see what they have in store.
TEK International Company
TEK International Company is also known as TEK Speed. It operates from both Taiwan and mainland China. The firm has over 15 years of experience in the knife industry and specializes in manufacturing knives for outdoor applications.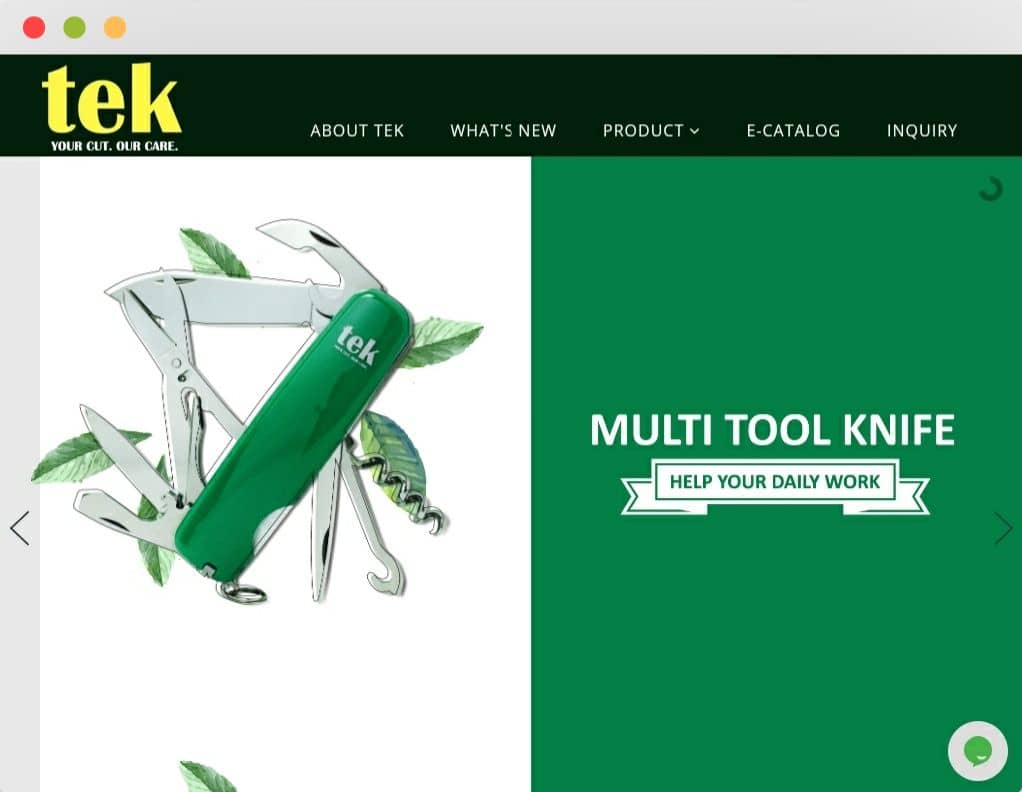 The TEK Speed knife collection comprises:
EDC Knives
Hunting knives
Survival knife kits
Tactical knives suitable for military and combat applications
Multi-tool Swiss knives
Most of these knife designs are available in different designs. In some cases, you may even be able to choose between a fixed blade or a foldable one.
On the other hand, if you have a custom design in mind, TEK offers OEM and ODM manufacturing services too. The company has an in-house design team that can help you create a custom design from scratch or simply improve the design you present to them.
You can order TEK knives online on Alibaba or by contacting the company directly via its website. Orders are processed and shipped in 45 to 60 days. Custom packaging can be provided on request as long as you provide the necessary artwork.
Hensun Industry and Trading Company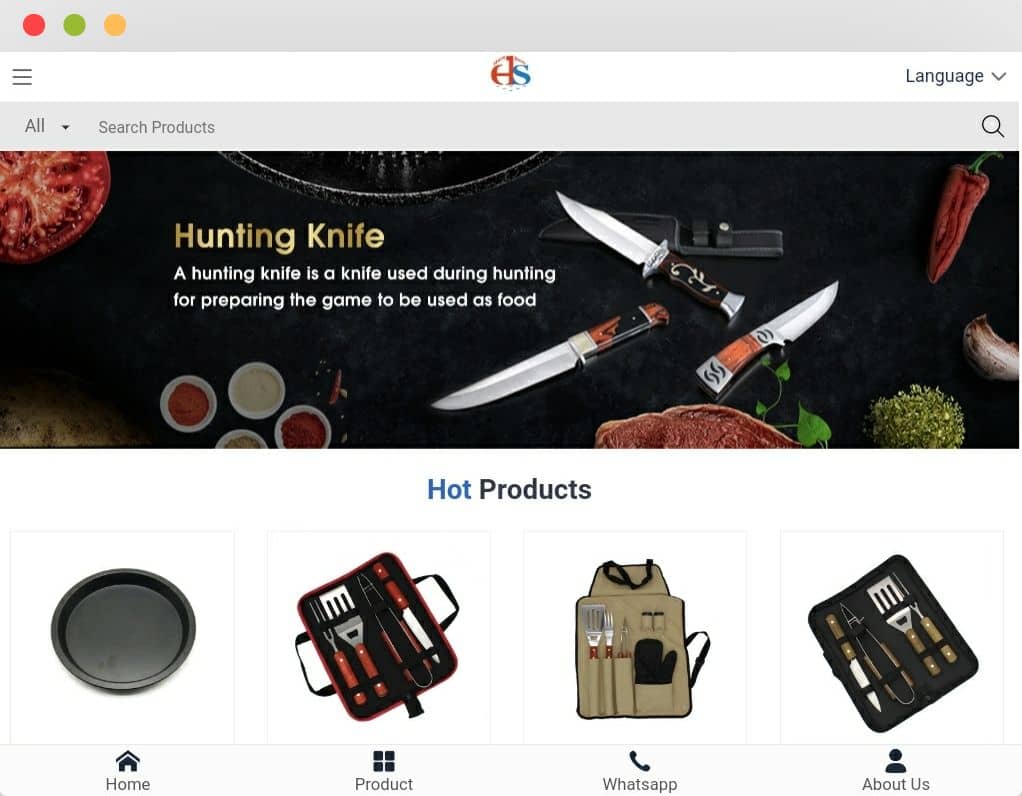 The Hensun Industry and Trading Company is based in Yangjiang, Guangdong. It manufactures assorted kitchenware which includes a diverse range of knives.
This would be an ideal supplier to work with if you are looking for knives for both indoor and outdoor applications. Their product catalog includes options such as:
Barbeque knives
Camping knives
Bowie knives
Folding blade knives
Scuba diving knives
Hunting knives
Military and tactical knives
The knife designs are very well executed and decorated with understated but elegant engravings. The blades are sturdy and the handles are top quality too.
These knives would make great gifts for knife lovers especially given that the company offers custom packaging on request.
The MOQ for most knives is 120 pieces per design. The estimated lead time is 30 days except for peak season times like just before the Chinese New Year. Customization processes like adding your logo could also push the lead time to about 45 days.
Hensun ships orders to customers globally.
Dongguan Allwin Stationery Company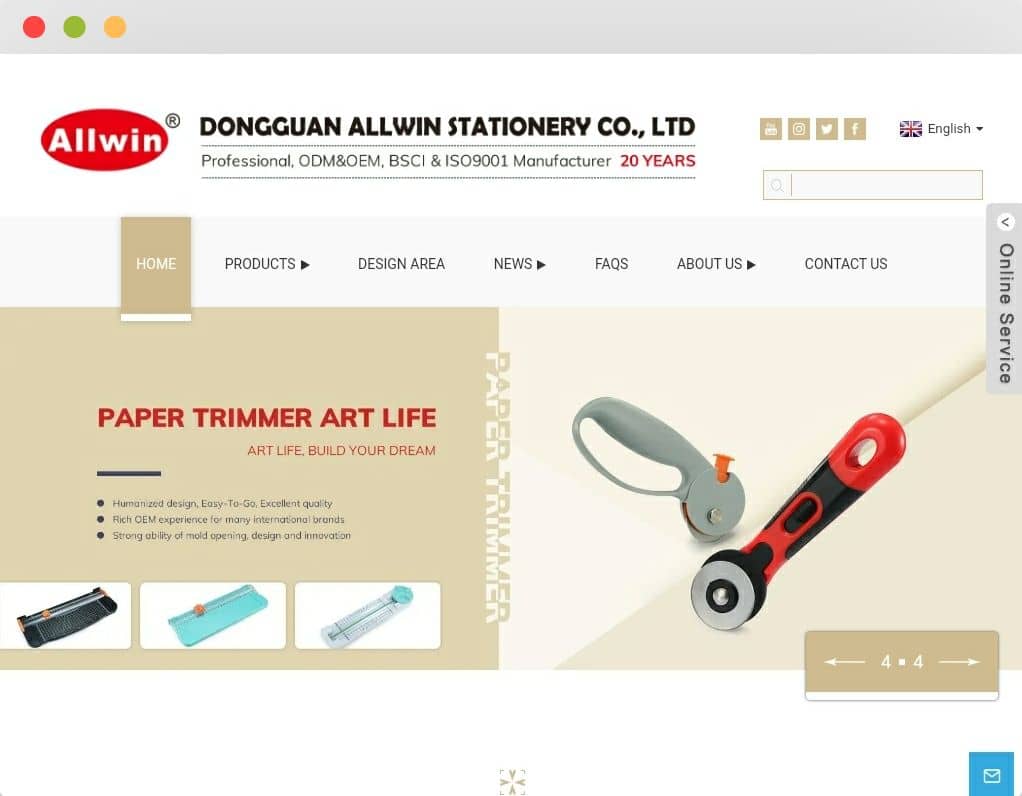 The Dongguan Allwin Stationery Company sells various stationery tools. So, what does it have to do with knives? Well, this firm manufactures craft knives and utility knives that are highly useful in:
Wood carving
Cutting textiles
Cutting paper
Art projects
The beauty of these knives is that most people need them but may not know of them or have no access to them. Selling or dropshipping them could give your business a profitable edge over your competitors.
Moreover, you can sell them as a knife supplier, a stationery seller, or even an art accessories dealer.
Dongguan Allwin Stationery offers in-stock as well as custom utility knives and craft knives. It has over 20 years in the business and used quality materials, such as Japanese steel, to make its blades. Each knife comes with a 1-year warranty.
Fenghua 3-Star Kitchenware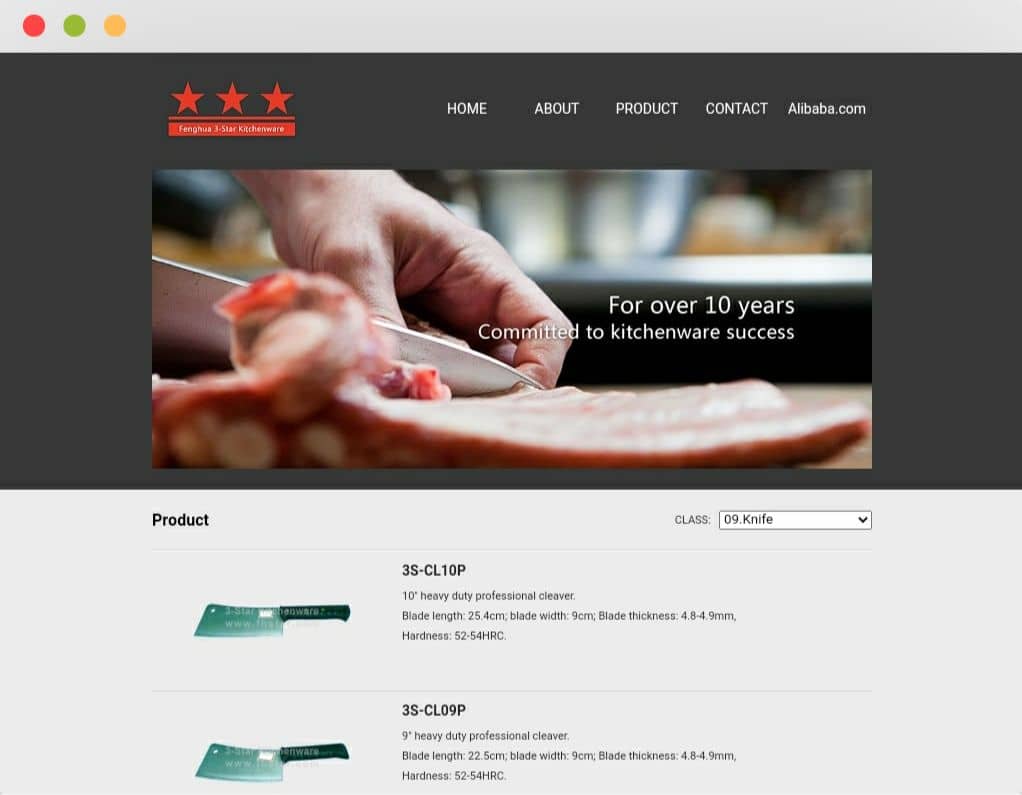 Fenghua 3-Star Kitchenware is based in Fenghua, Ningbo. The company manufactures kitchen equipment that is suitable for restaurants, hotels, butcher shops, and other culinary operations.
The equipment ranges from sausage stuffers and meat grinders to pasta machines and knives. All components that come into contact with food are made using stainless steel which can easily be kept sterile and does not rust.
On knives, Fenghua offers an impressive variety for any task that a chef may encounter. Its knife selection includes:
Meat cleavers
Boning knives
Steak knives
Straight and curved slicing knives
Paring knives
Fish knives
Poultry knives
Fenghua 3-Star Kitchenware products are available on the company's website and via its store on Alibaba. The company mainly exports its products to America and Europe.
Chamfun Industrial Company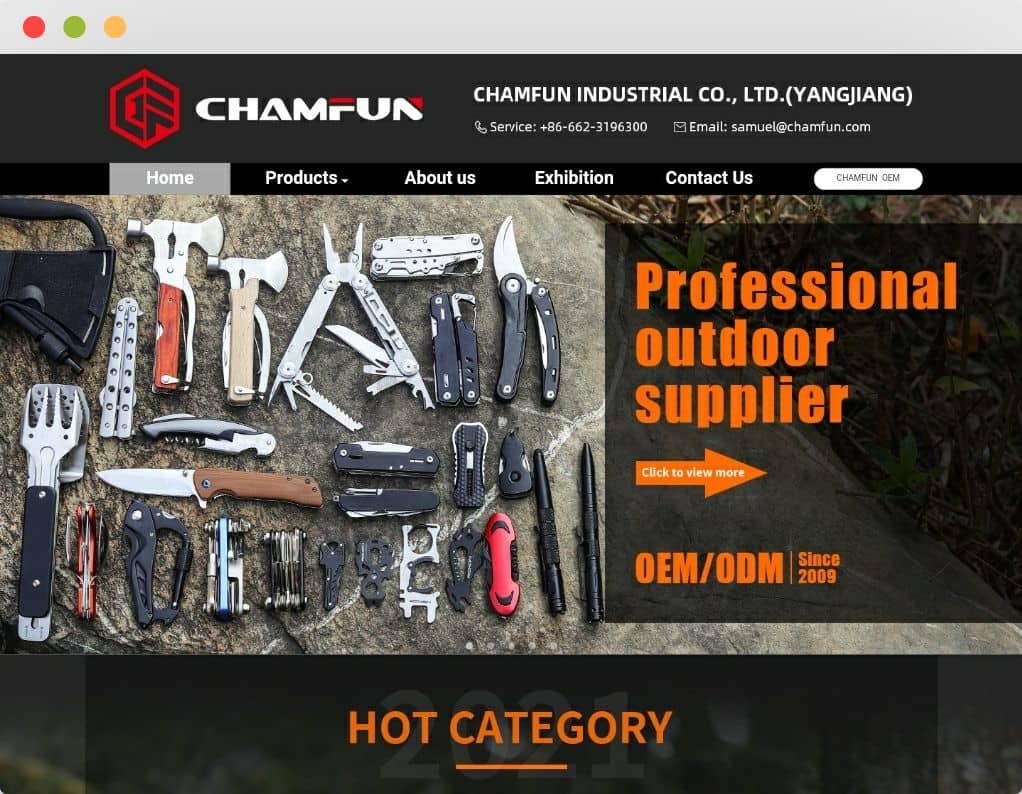 Chamfun Industrial Company is located in Yangjiang and was established in 2009. It designs and manufactures a broad range of barbeque tools, knives, as well as multi-tools for gardening, and camping, among other applications.
The culinary knives in the Chamfun catalog are primarily for barbecue applications such as slicing steak or sausages. The rest of the knives made by the firm are more tactical and adventure-oriented. Examples include:
Carabiner knives
Folding knives
Pocket knives
Combo knives (knives paired with other tools)
Survival kits
Chamfun accepts custom orders and customization requests such as the addition of your company's logo on knives or packaging. The MOQs vary from one item to another and also depend on the kind of customization you require.
LeeKnives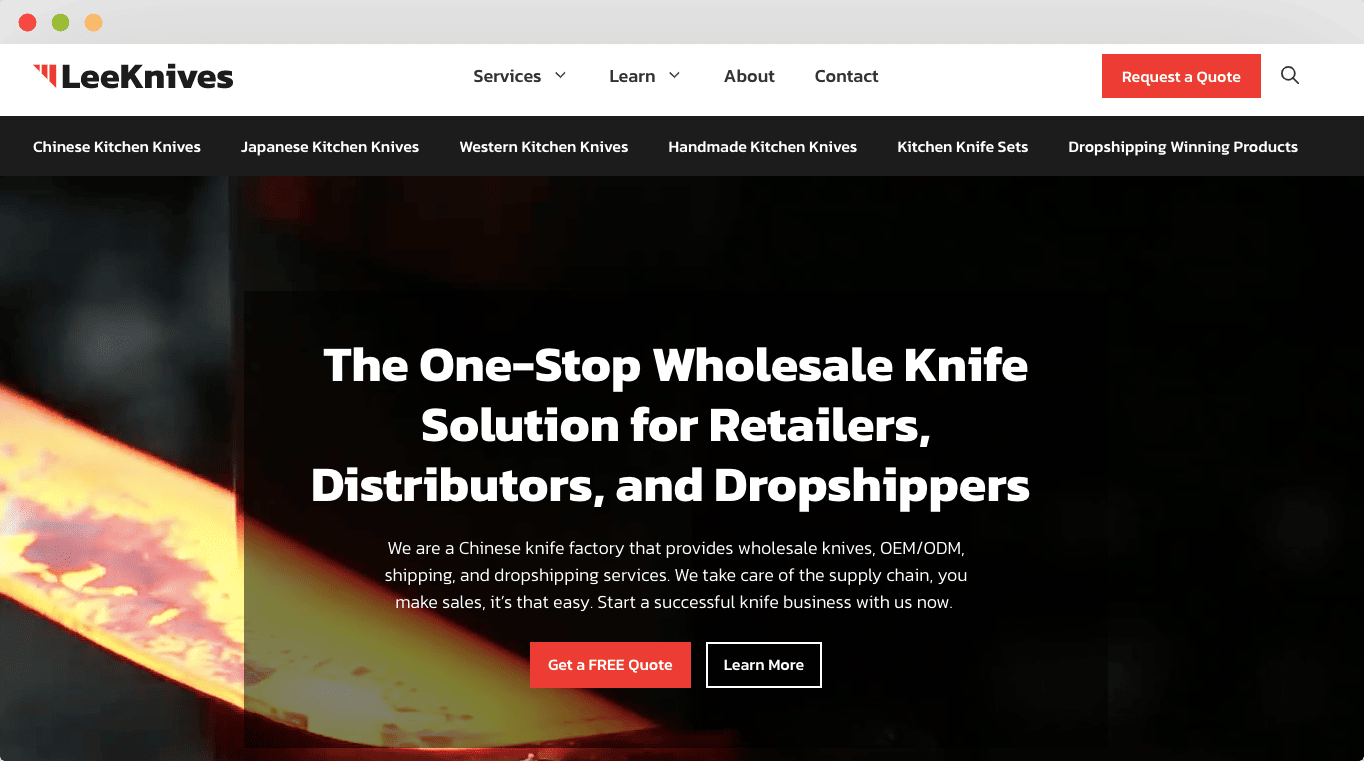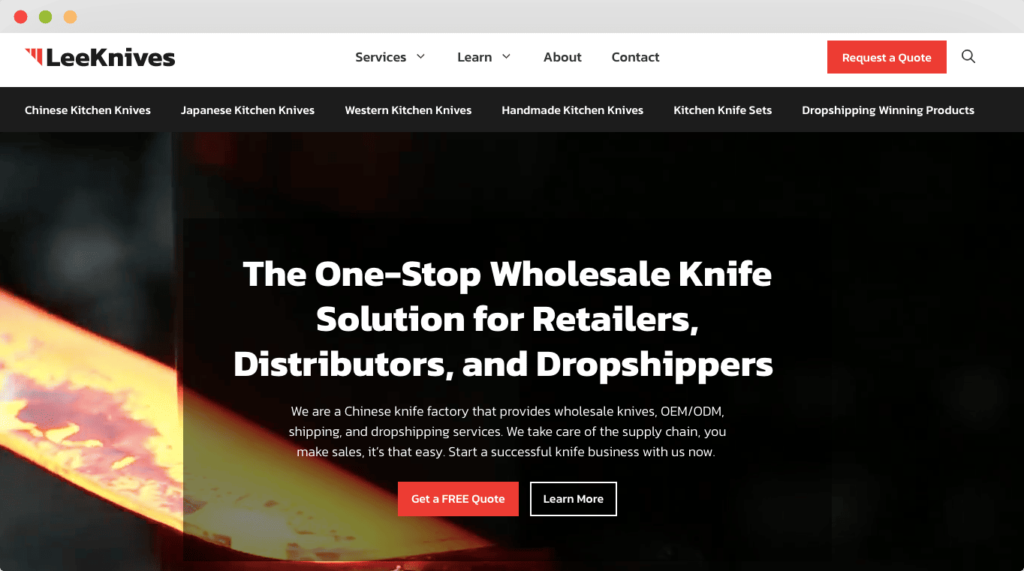 Founded in 1993, LeeKnives has since grown into a leading wholesale knife manufacturing company in China.
Thanks to its roughly 30 years of engagement in producing knives, this Yangjiang-based knife factory has earned the brand the trust of its customers, especially eCommerce sellers, with its innovative and carefully crafted knives.
This knife manufacturer could be a good fit for you if you are looking for an assorted range of kitchen knives:
Chinese kitchen knives
Japanese kitchen knives
Western kitchen knives
Handmade kitchen knives
Kitchen knife sets
Each of the knives is not only practical but also well-designed to match its application. Still, the company accepts custom orders and is capable of implementing any unique design ideas you may have.
The MOQ for an order is 50 pieces. For custom orders, the MOQs and lead times vary depending on the type of knife you choose and the quantity you need.
Yangjiang Vigor Trade Company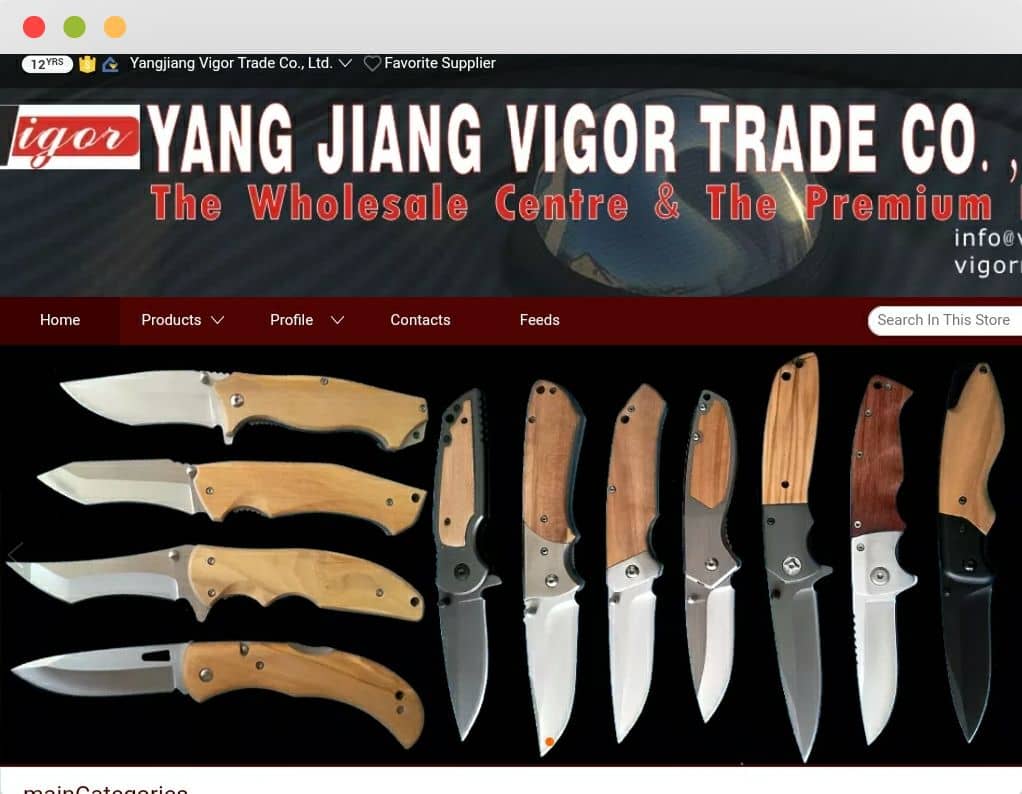 The Vigor Trade Company is based in Yangjiang. It is a manufacturer of knives and similar tools for home and camping applications.
You can source both ready-to-ship and custom knives from this supplier. They offer a wide array of:
Curved claw knives
Multifunction knives
Fixed blade knives
Pocket folding knives
All the blades are made of stainless steel but the handles vary between wood and metal. MOQs range between 1248 to 2400 for most knives and the estimated lead time is 60 days.
Yangjiang Shengjia Trading Company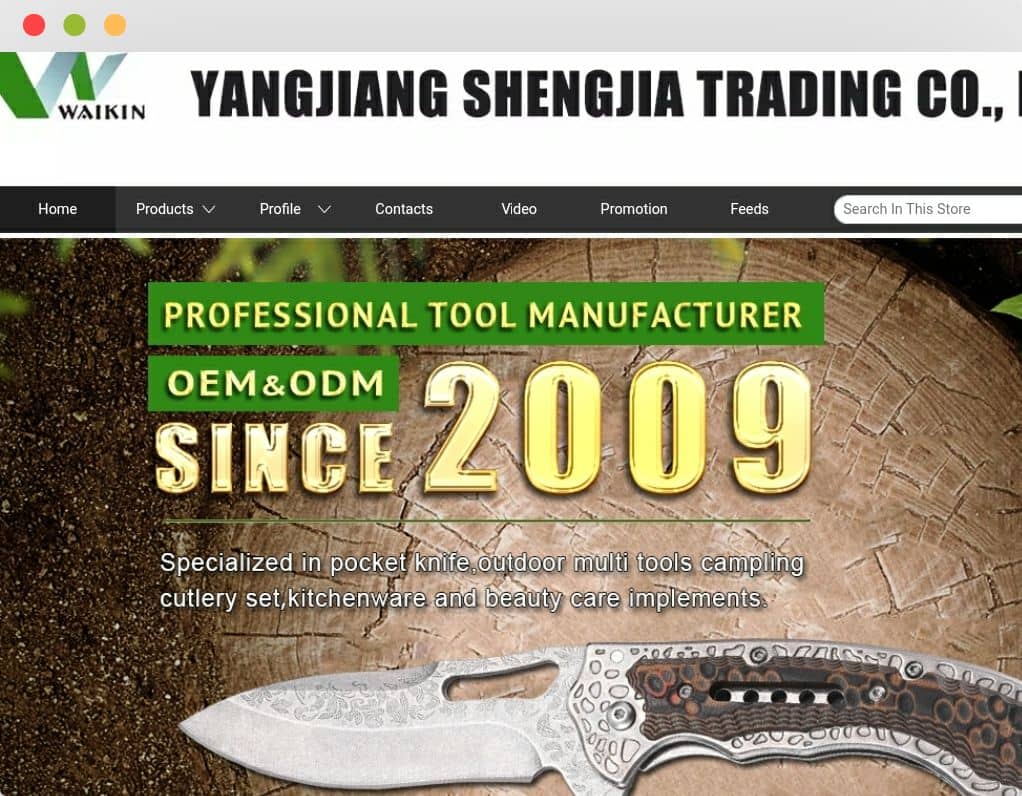 Yangjiang Shengjia Trading Company began operations in 2009 and has since grown into a major player in the industry. It manufactures knives, kitchenware, as well as an assortment of beauty and personal grooming tools.
The upside to Shengjia Trading is that it is a one-stop knife manufacturing firm. In its, catalog you will find:
Damascus knives
Hunting knives
Mushroom knives
Camping knives
Kitchen knife sets
Paper cutter knives
The knives strike a great balance between being functional and aesthetically appealing. Their handles are embellished in different styles and come in both metal and wooden material.
However, if you would like to have your order of knives customized, the Shengjia Trading Company factory is equipped to handle your requests.
Shengjia Trading sells its knives to customers across the globe. The MOQs range between 300 to 3000 and while lead times vary depending on whether you order ready-to-ship designs or custom knives.
Bailide Industrial Company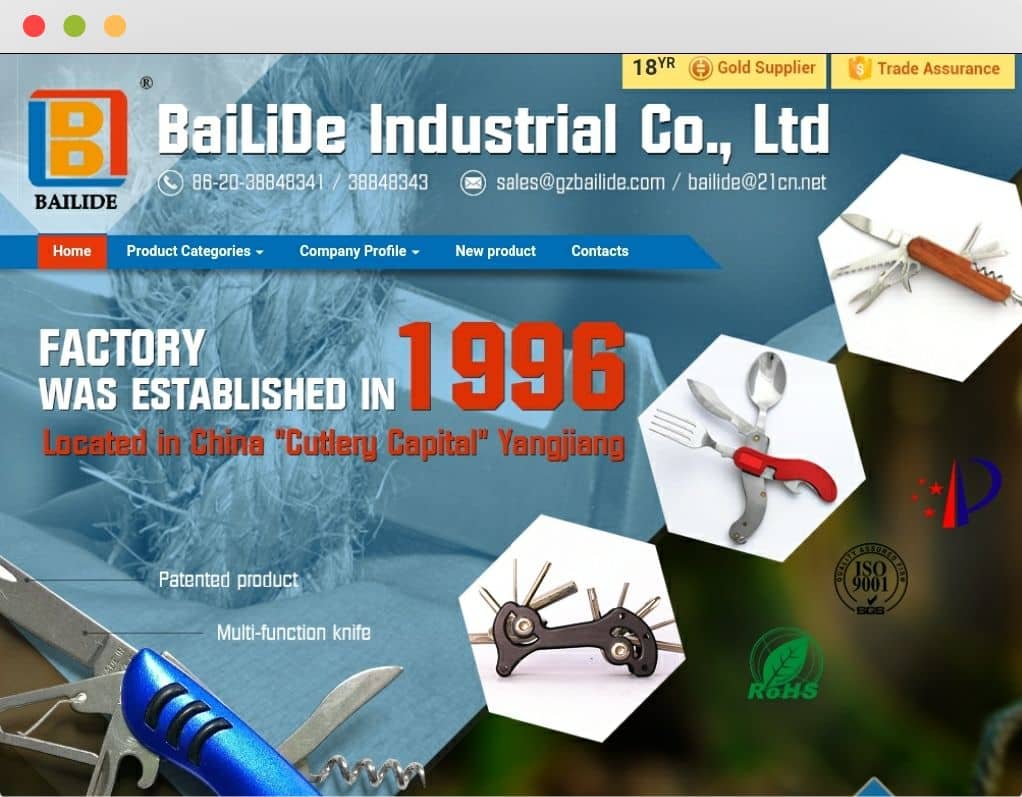 Bailide Industrial Company has over a decade of experience in designing and manufacturing knives and similar utility tools. The company's headquarters is located in Yangjiang.
This firm has made a concerted effort to ensure that they manufacture knives whose quality is in line with international standards. It has achieved this by investing in state-of-the-art machinery that enables it to make:
Multifunction knives
Folding knives
Tactical knives
Multi-tool knives
Hunting knives
Bailide Industrial also offers white label and private label knife manufacturing for knife brands. Its MOQs are between 1000 to 3000 for most designs and shipping is on an FOB basis.
Wakee Industry and Trading Company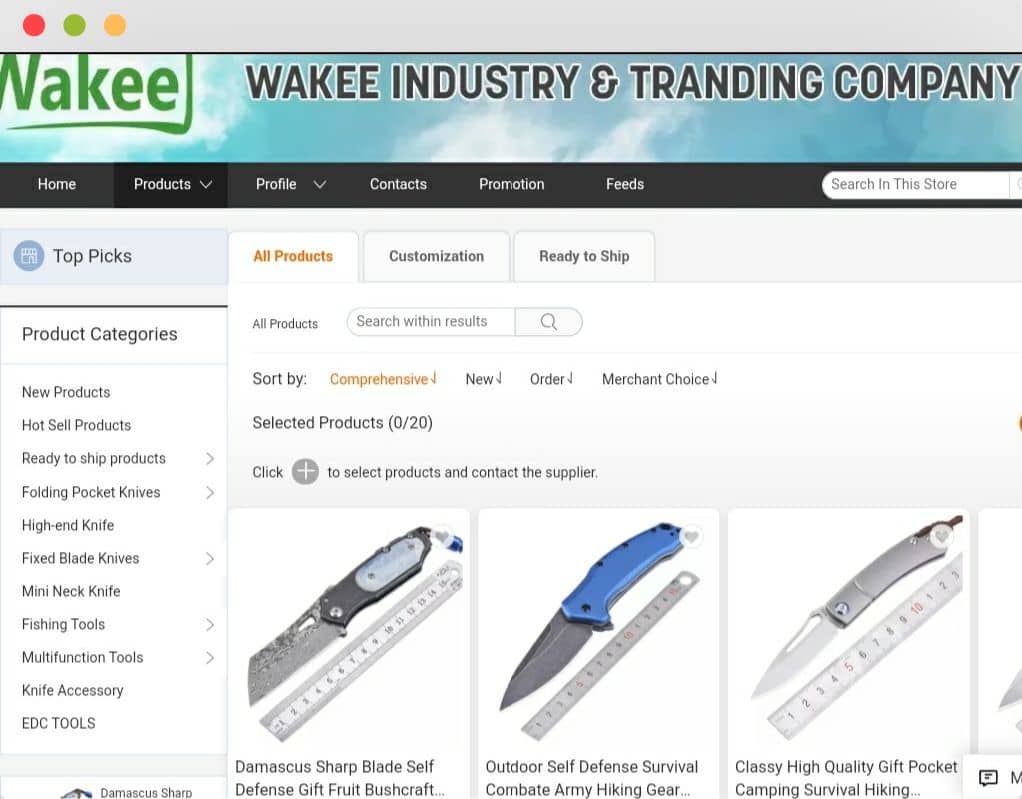 Wakee manufactures:
Mini neck Knives
Fishing knives
Fixed blade knives I.e Damascus knives
Tactical knives
Folding pocket knives
Camping knives
All production processes are done in-house at the company's factory in Guangdong. As a result, it is possible to request customization options like wooden handles instead of metal ones.
High-end knives are also available just in case your customers have an eye for the finer things.
Wakee prides itself on maintaining high-quality standards. It has quality inspection certificates for its knife designs and has stringent quality control systems. It supports trade with small businesses through its low MOQs and by accepting small sample orders.
Ruisheng Industrial Company
Ruisheng Industrial Company was established in 2018 and is based in Yangjiang. It manufactures knives for outdoor uses and garden tools.
Ruisheng knives have a minimalist aesthetic. They would be ideal for customers that prefer understated but classy knives. The selection of knives includes:
Damascus knives
Mushroom knives
Hunting knives
Paper-cutting knives
Utility knives
All knife designs are available on a ready-to-ship basis but you can also order custom designs. The company sells locally and exports to all continents. Its MOQs for wholesale orders are mostly between 500 and 1,200 pieces.
Henstrong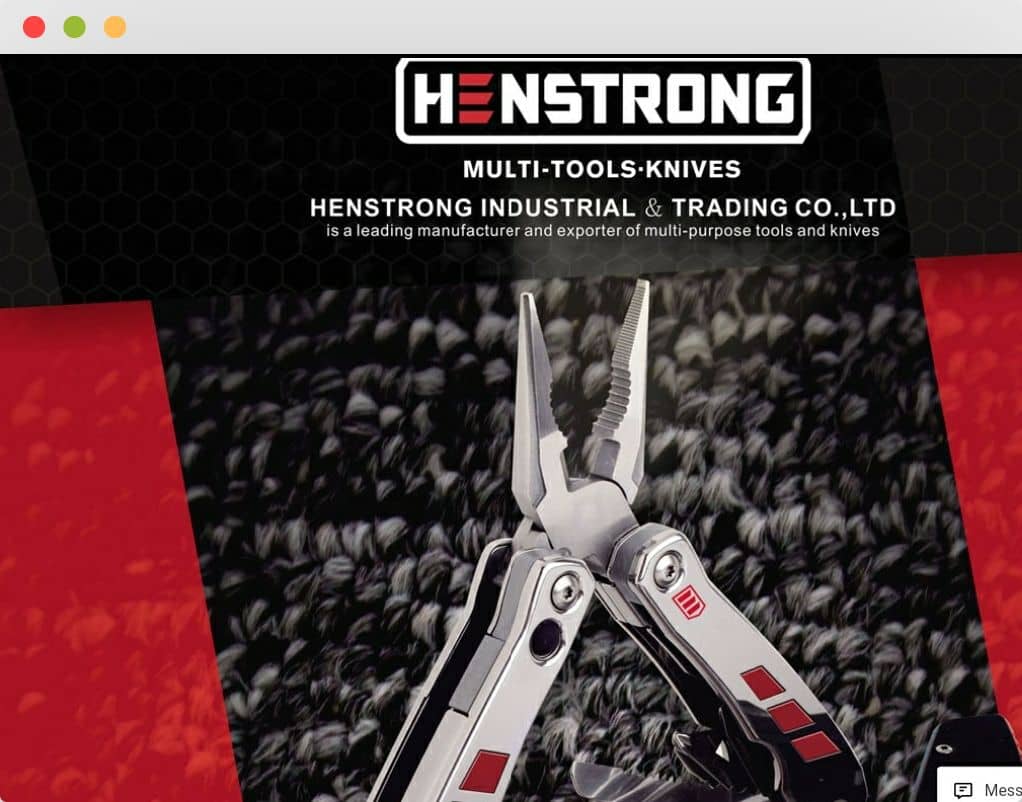 Henstrong is one of the most reputable knife manufacturers in China. It was set up more than 30 years ago and has continually reinvented itself through the years to remain a revered competitor. It is, for example, one of few companies that use fine blanking technology.
Such capabilities have also earned the company an exclusive contract as the military knives manufacturer for public security officers. It is also a manufacturing partner to many international knife brands.
Henstrong knives are certainly quality pieces but this firm's experience makes it a great candidate if you need private label knives. Its main knife products are:
Multitool knives
Utility knives
Fishing knives
Multifunction knives
Combat knives
Despite its outstanding achievements, Henstrong's MOQs are quite accessible and start from as low as 10 pieces for some designs. The average lead time for orders is 40 days.
Yangjiang Sun Well Industries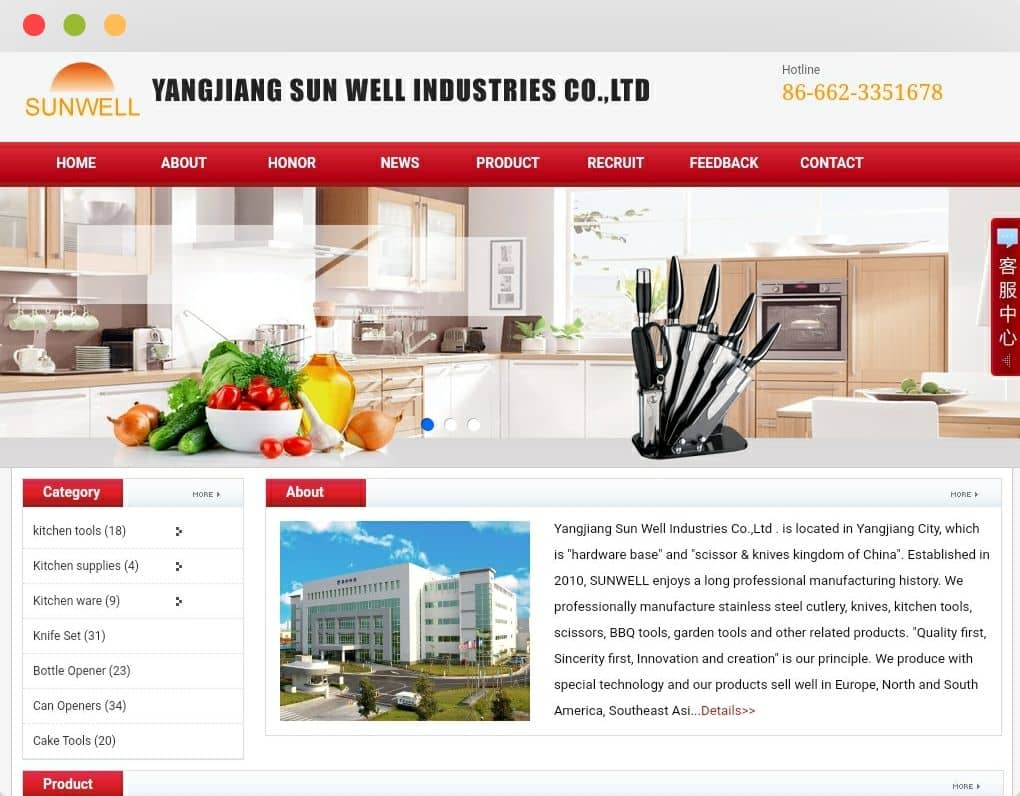 If you are looking for knives for culinary applications, then Yangjiang Sun Well Industries is right up that alley. It manufactures cutlery and knives in addition to kitchen, barbecue, and garden tools.
The kitchen knives come in sets where each knife has a recommended function. The firm also accepts custom orders just in case you would prefer a specific design, color, or a set comprising particular types of knives.
Unfortunately, you can only order Yangjiang Sun Well by reaching out to the company to inquire about the knives you want. It does not openly disclose prices or MOQs.
WE Knife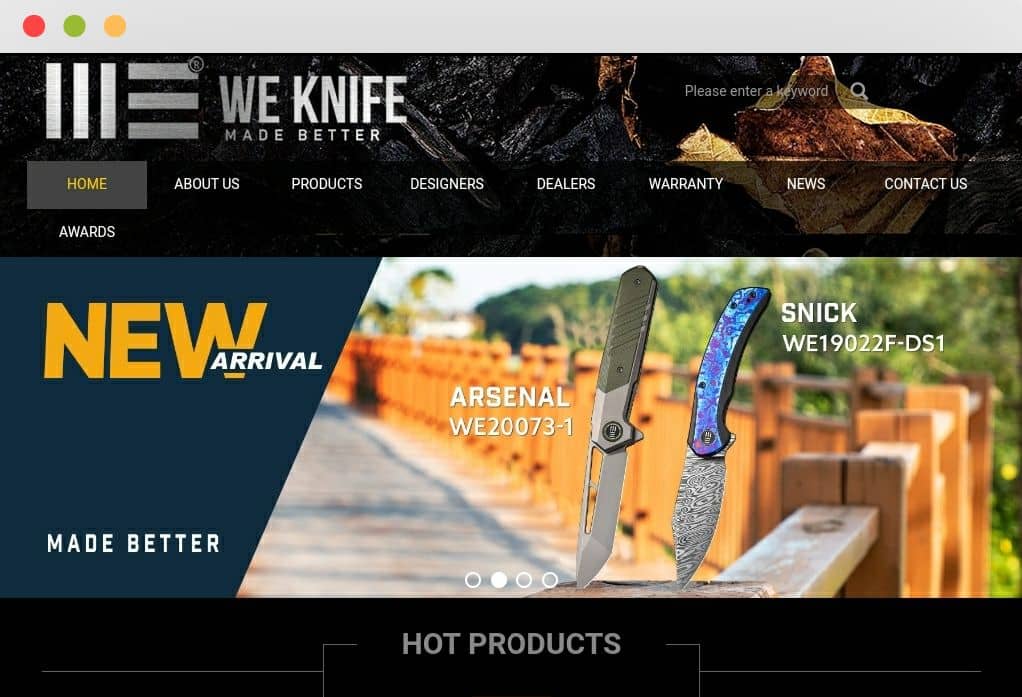 WE Knife began operating in the year 2000 as a private label knife manufacturer for other brands. It only launched its line of knives in 2016 but has managed to become a leading brand due to its high production standards and innovative designs.
Its knives are understated but upon taking a closer look, their exquisite finishes stand out. They also bear the company's logo which is well incorporated and almost passes for a decorative touch.
Whether you choose the folding knives, kitchen knives, fixed blade knives, or limited edition knives, there is simply no wrong choice with this brand. However, if your customers are knife enthusiasts that may want souvenirs, consider going for offers like the Arrakis Mystery Box.
All orders are made by directly reaching out to the company to inquire about the products you would like to order.
Rikeknife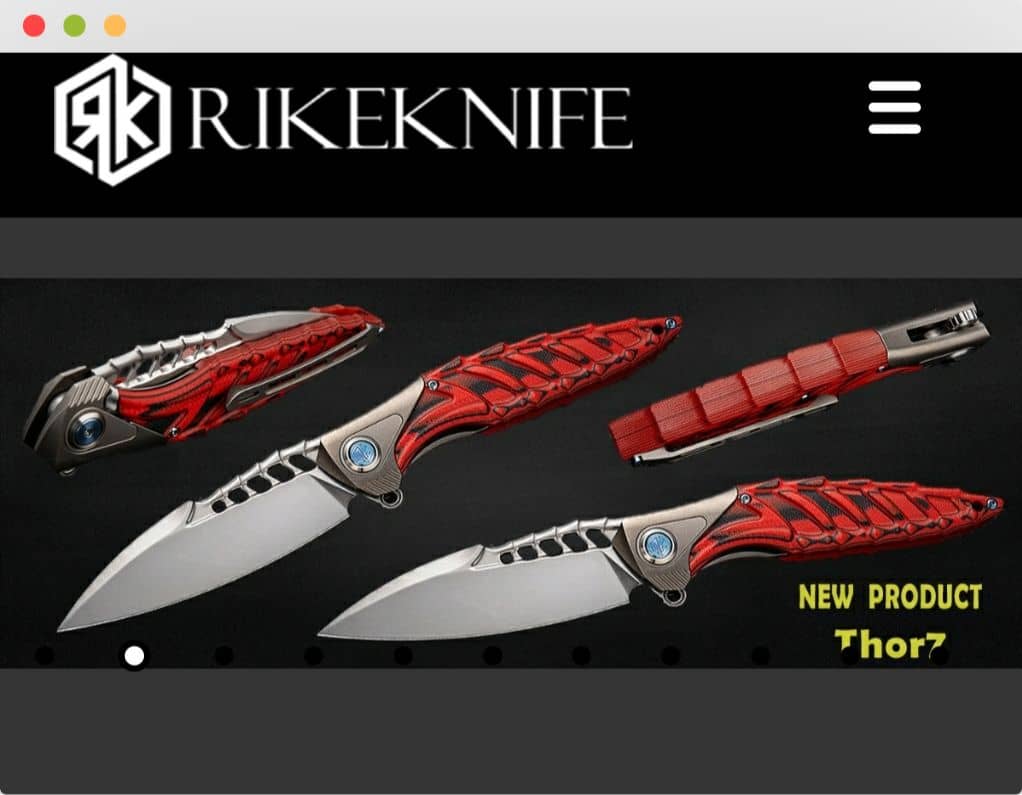 Rikeknife was founded by a Chinese knife enthusiast. As such, the element of Chinese knife heritage shines through in the designs and top-tier craftsmanship of each piece.
This manufacturer primarily manufactures EDC knives. They are categorized into different model names based on their design features. Nevertheless, all their finishes are remarkable and the use of materials like titanium and carbon fiber handles makes them very durable.
If you would like to buy ready-made knives wholesale, you can reach out to the company directly or through its various regional distributors. Rikeknife also accepts private label knife orders and guarantees intellectual property discretion.
Plenty Harvest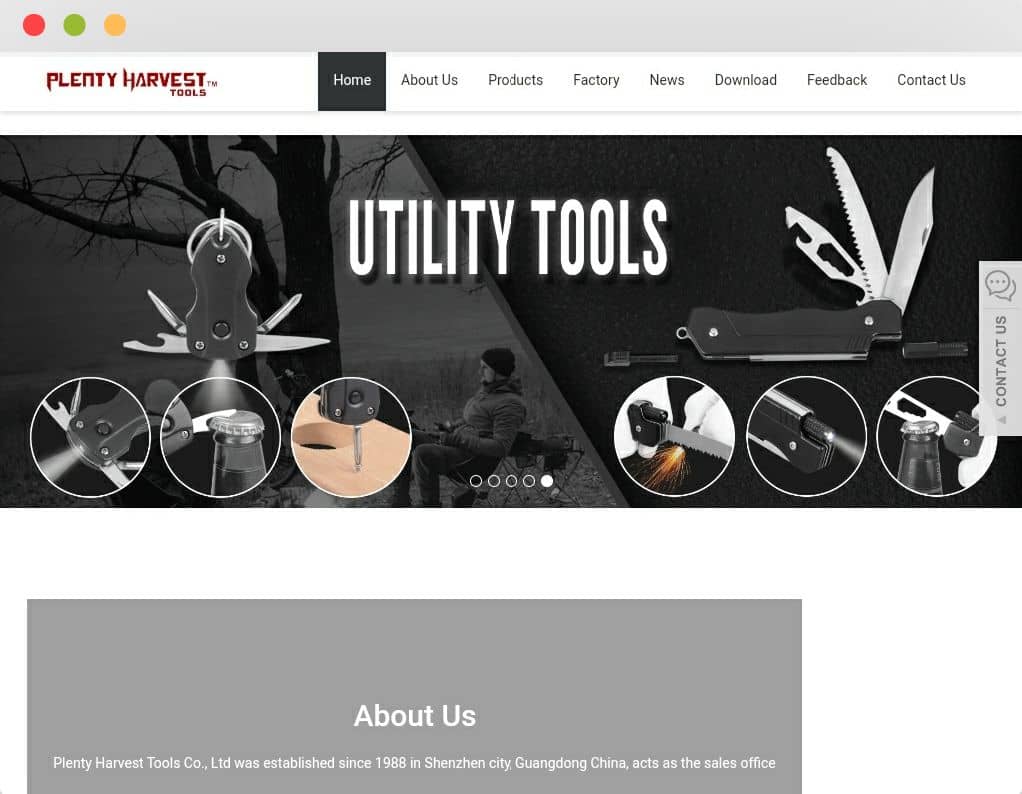 Plenty Harvest is not a newbie to the art of manufacturing knives. The company began operations in 1988 and has been manufacturing multifunction knives, and wine corkscrews, among many other home utility tools. Its factory is based in Shenzhen.
The Plenty Harvest knife collection can be categorized as follows:
Multiblade knives
Survival knives
Damascus knives
Pocket knives; spring-assisted design, electricians' design, mini design
Camping and camp knives
Fishing knives
Fixed blade knives
The detailing on the knives is neatly executed and the overall designs are innovated to offer lots of functionality. There are also options for decorated or plain minimalist handles. To top it all off, Plenty Harvest has an in-house R&D team to handle OEM and ODM orders.
Shenzhen Gaoxun Technology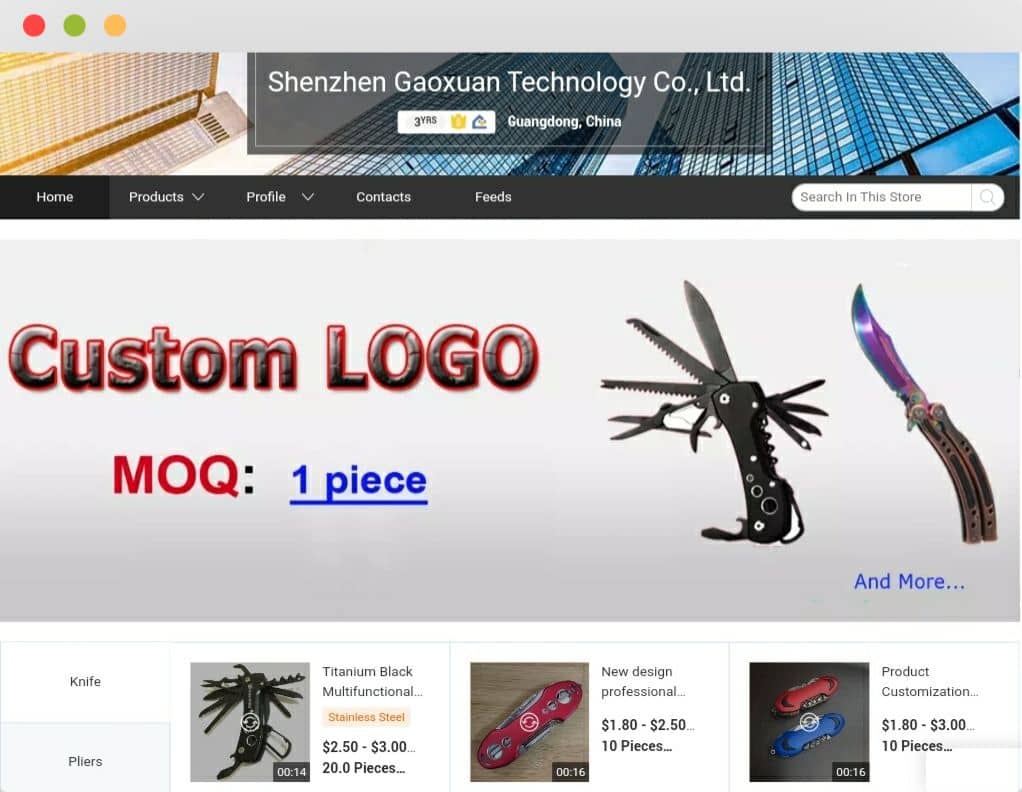 Shenzhen Gaoxun Technology specializes in the production of multifunction knives and multifunction pliers. It also offers OEM services for clients with custom manufacturing needs.
Notably, this company was set up in 2016 and is, therefore, relatively new. However, it has managed to gain clients locally and in export destinations like North America and Europe. This can be attributed to its hot-selling:
Camping knives
Survival knives
Multifunctional pocket knives
These knives are designed with provisions that make them easy to open up on the go. Their multiple utilities and durable material combinations also make them reliable companions for outdoor excursions.
Further, Shenzhen Gaoxun Technologies sells its knives at friendly wholesale prices and very low MOQs. This makes its products more accessible to small-scale retailers compared to those of its competitors.
Suplink Industries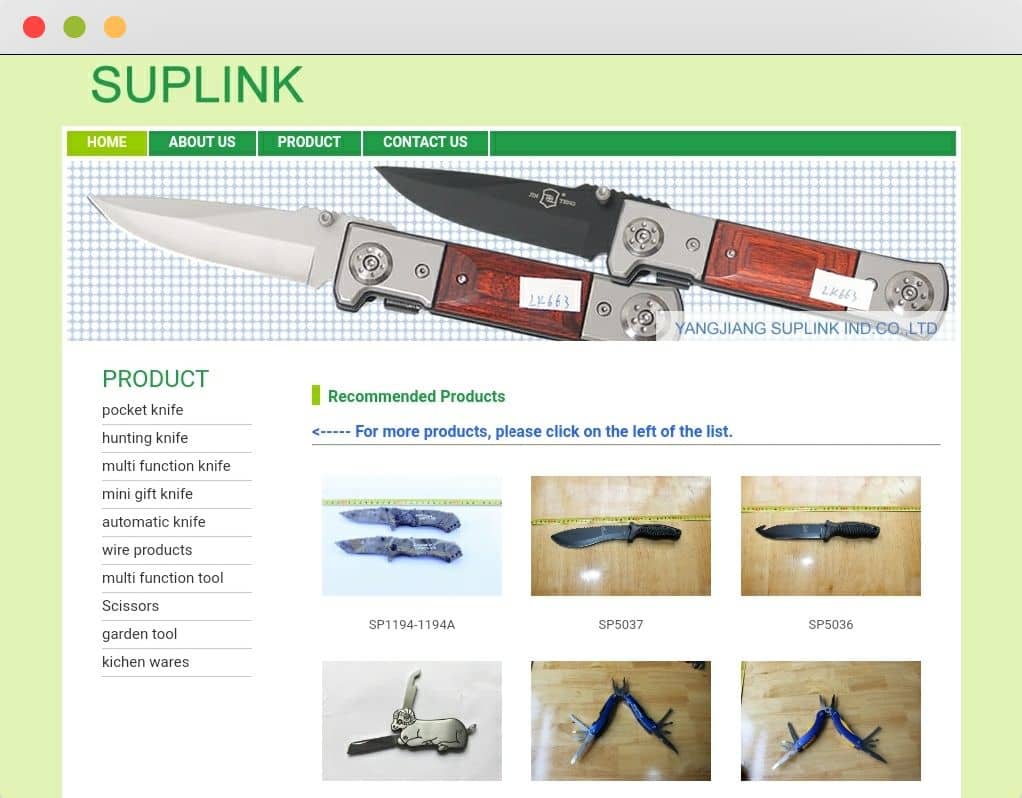 Suplink Industries is the kind of knife manufacturer that is easy to overlook as it does not present its products with any pomp or circumstance. However, a quick look at the quality of products that it offers would quickly pique your interest.
Right off the bat, you can tell that Suplink knives are built to last. The designers blend metal and wood beautifully to make sturdy handles. They also use impressive artwork to embellish the pieces that are made of plain metal.
Suplink manufactures:
Pocket knives
Hunting knives
Multi-function knives
Automatic knives
Mini gift knives
Army knives
The company sells to clients worldwide and is open to customizing its products to fit your requirements. On the downside, orders, as well as price and MOQ details, are only provided upon inquiry.
Guangzhou Saino Industrial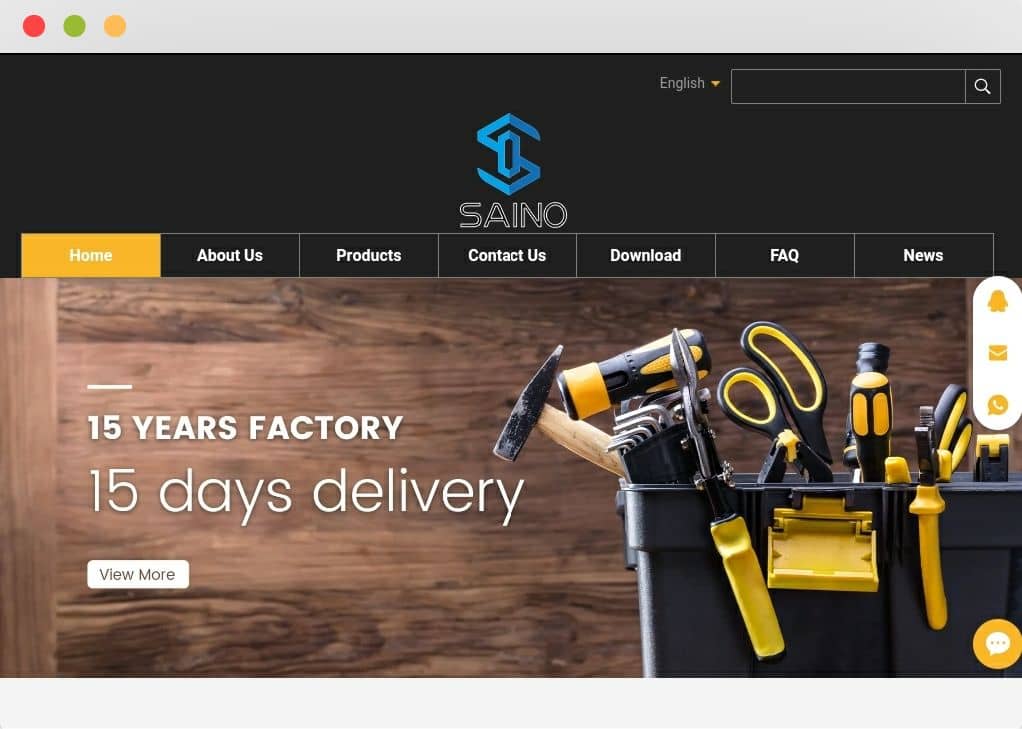 Guangzhou Saino Industrial focuses on the manufacturing of hand tools such as knives and gardening accessories. It has over 15 years of experience in the industry.
This would be a prime supplier if you are looking for knives for commercial applications. They mainly produce utility knives in heavy and light-duty variations. The knives come with string retractable blades that can cut:
Textiles (including heavy-duty ones like leather)
Cartons
Cans
Plywood
Notably, the knives also come with safety features like auto-lock mechanisms, and the blades are firmly encapsulated in ergonomic metal or hardened PVC for easy handling.
Guangzhou Saino accepts mixed orders and customization requests. However, these provisions are subject to you buying in bulk. The lead times are between 35 to 45 days and samples are provided for free.
Yangjiang Precision Industries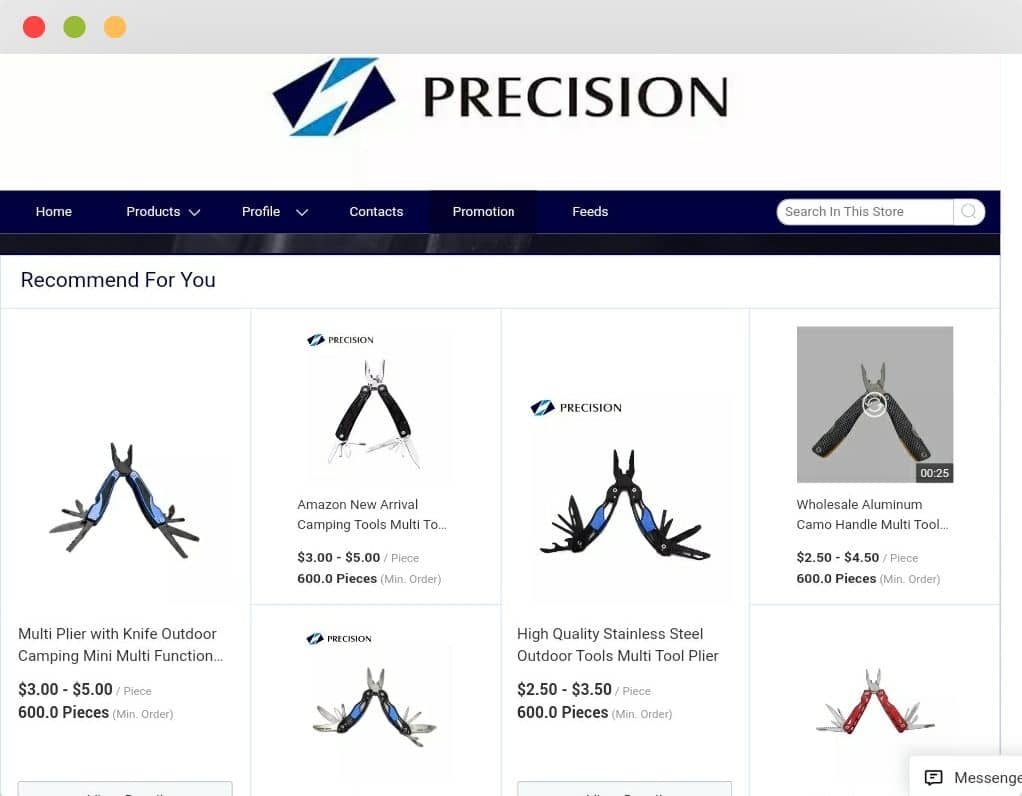 Yangjiang Precision Industries manufactures scissors, garden tools, multi-function pliers, kitchen utensils, and various knives for outdoor adventures.
The knives include:
Pocket knives
Hunting knives
Foldable tactical knives
Fixed blade knives
Double blade folding knives
Customizable gift knives
All pieces come with stainless steel blades and either metal or wooden handles. The designs rival some of the best in the market and some pieces like the unique star-shaped knife would make great collectors' items.
Another upside to this manufacturer is accessibility. Aside from its presence on online platforms, this company attends multiple trade exhibitions like the Frankfurt Exhibition and the Hong Kong Mega Show.
You can consult with its representatives at such events and source directly from the factory. This would be specifically ideal if you are not able to travel to China and prefer in-person consults.
Precision Industries is flexible and accepts customization requests. You can ask for a particular grade of steel for your knives or even custom packaging. The MOQ for most in-stock pieces is 600 and the lead times are between 45 to 60 days.
FAQs About Knife Manufacturers
What Knives Are Made in China?
As evidenced by the diversity in this review, there is hardly a knife design that knife manufacturers in China cannot fulfill.
However, in terms of brands, the list of international knife brands that outsource production to China is quite long. They include renowned brands like Browning, Boker Knives, and Cattleman's Cutlery.
The only reason these brands may not highlight their partnerships with Chinese manufacturers is the negative stigma against the 'made in China' tag. It is for this same reason that some opt for 'made in PRC' instead.
Are Knives Made in China Any Good?
They certainly are.
A quick look at some of the international knife brands we have mentioned above shows that they are incredibly successful in the market and appreciated for their quality. Yet, they are all made in China.
To put it more boldly, in China, you get what you pay for. If you would like good quality knives, they are easily accessible in countless designs. You just need to be willing to pay a little more for them.
It is also wise to always work with manufacturers whether you are getting a product manufactured or buying ready-to-ship pieces. This is the only way to access wholesale prices and buy authentic merchandise.
How Do I Identify the Right Knife Manufacturer?
The knife manufacturers in this review are only a sample representation. You will likely encounter many more options once you begin sourcing knives from China. Here are a few pointers to help you make the right choices.
Do your due diligence- look up internet reviews and online marketplace ratings of suppliers before engaging them. Ask for the registration and license details too, to verify that they are legitimate manufacturers.
Use a sourcing agent- if you are not sure how to find knife manufacturers or do not have enough time to vet them, it is better to hire a sourcing agent. They can do all of that on your behalf and present to you only the top picks.
Evaluate product quality– take a look at the materials and production methods that your potential manufacturers use. Aim for quality materials like high grades of stainless steel and neat finishes in terms of design execution.
Final Thoughts
Good knives are valuable tools, practical gifts, and overall, they are the kind of product that would sell well anywhere in the world. Moreover, sourcing your supply of knives from China gives you the chance to:
Find just the right kind of knife for your target market
Customize the knives or the packaging as you please
Buy knives at fair profitable prices
Nevertheless, you do not have to wade through this sourcing process on your own. We, at NicheSources, provide comprehensive sourcing services that allow you to focus on running your business.
We can help you find the right manufacturer, oversee production and customization processes, perform quality inspections, and coordinate worldwide shipping or order fulfillment.
Would you like to enjoy a seamless sourcing experience? Simply send us a list of your product requirements and request your free quote.