Kitchen knives are an everyday necessity in homes and commercial premises such as restaurants. They are, therefore, a winning product because they are always in demand and are unlikely to ever be obsolete.
However, kitchen knives are not made equal. There are different designs for different types of culinary tasks. Most buyers also look out for distinct knife features that make knife handling easier and safer.
Consequently, it is imperative that you find manufacturers that make kitchen knives with innovative designs using quality materials. In this article, we explore some top kitchen knife manufacturers to help you get started on the right foot.
Let's dive in.
Buy wholesale or custom knives from China
Kitchen Knife Manufacturers in China
China has a very rich culinary heritage and a robust manufacturing sector. As a result, it is one of the best sources of top-of-the-line kitchen knives. Here are some industry-leading manufacturers worth considering.
Dakoo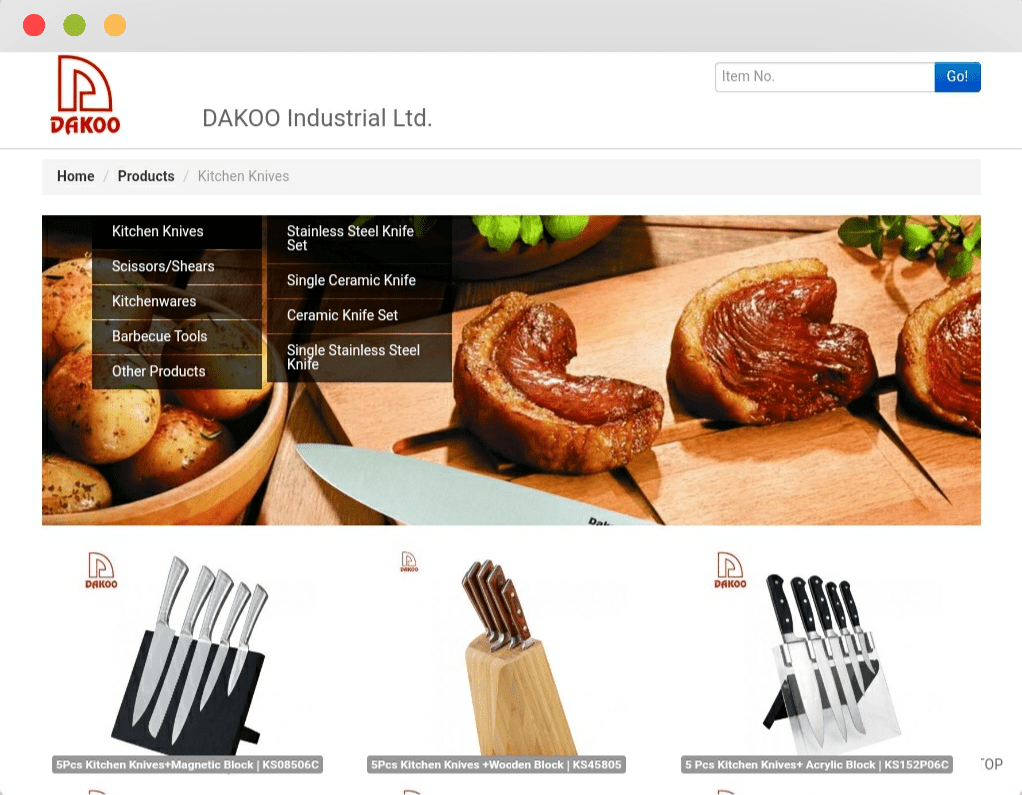 Dakoo began as a trading company that exports kitchen knives. However, after gaining experience in the sector, it has since evolved into a kitchen knife and assorted cutlery manufacturing firm.
The Dakoo factory is located in Yanjiang, China. The firm mainly produces stainless steel and ceramic kitchen knives. The best part is that they are available as single units and as sets. This is advantageous because:
Not all your customers may want or afford to buy a whole set.
Some customers may prefer to buy a single knife to test the quality of the brand before they can commit to buying an entire set
Yangjing Feixiong Household Products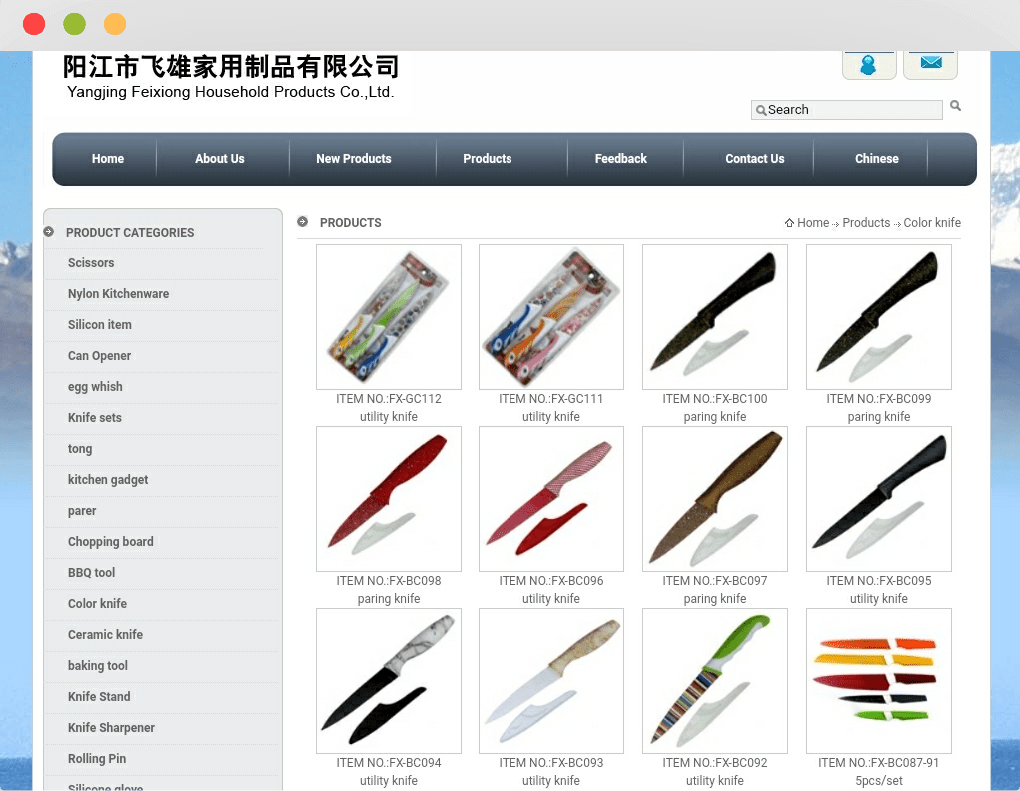 Yangjing Feixiong manufactures an extensive range of kitchen accessories. They range from chopping boards and can openers to barbeque tools, kitchen knives, and lots more. It is based in Yangjing, China.
The kitchen knives made by Yanjing Feixiong are quite diverse in terms of materials and function. You could opt for knives made of steel and stainless steel or choose other material combinations like stainless steel and wood, ceramics, or PP and stainless steel.
Regarding utility, this firm offers kitchen knives for:
Meat cleaving
Carving
Peeling
Chopping
You would have the freedom to buy these different types of knives as single units or as sets that contain different knives for different functions.
Helloknife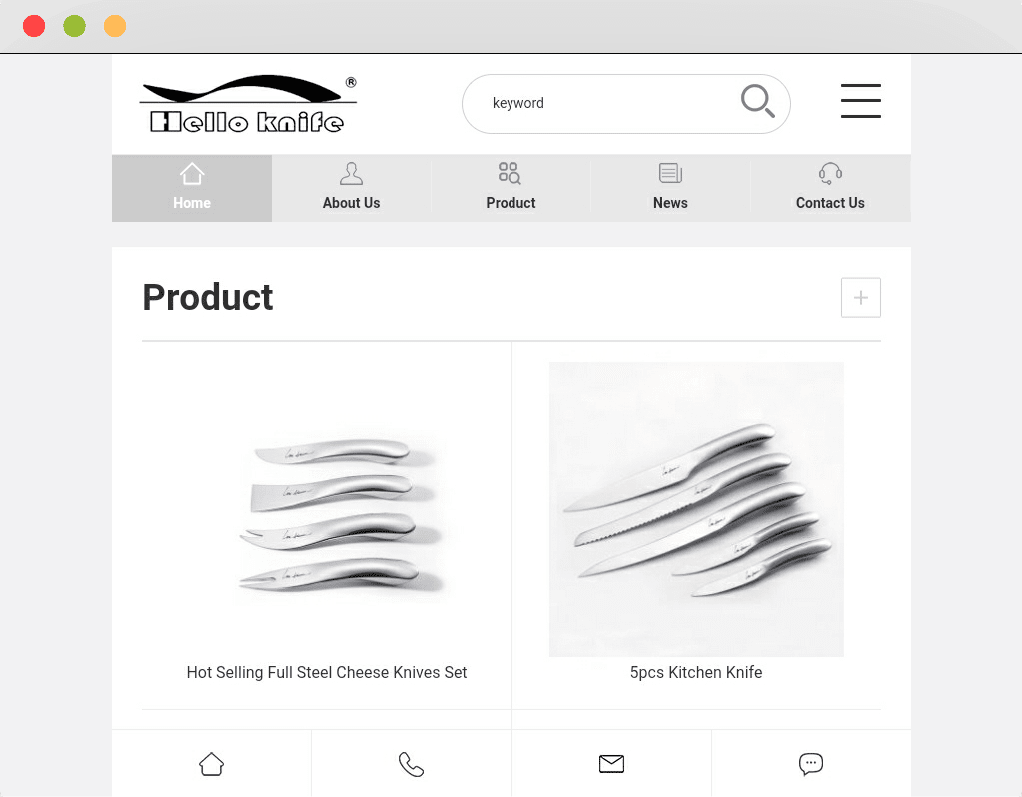 Helloknife is an award-winning manufacturer of kitchen knives and other types of cutlery. It is based in Yanjiang, Guangdong, China from where it supplies the local market and also exports kitchen knives to Germany, Australia, among other countries.
The Helloknife factory is quite vast and manufactures up to 300,000 units in a month. This would thus be a good partner to work with if you need a kitchen knife supplier that can deliver in bulk.
Helloknife's knife range includes cheese knives, steak knives, and kitchen knives. Most of the kitchen knives are made of steel and stainless steel. However, some varieties comprise ceramic blades with rubber handles or wooden handles and stainless steel blades.
Yangjiang Selected Hardware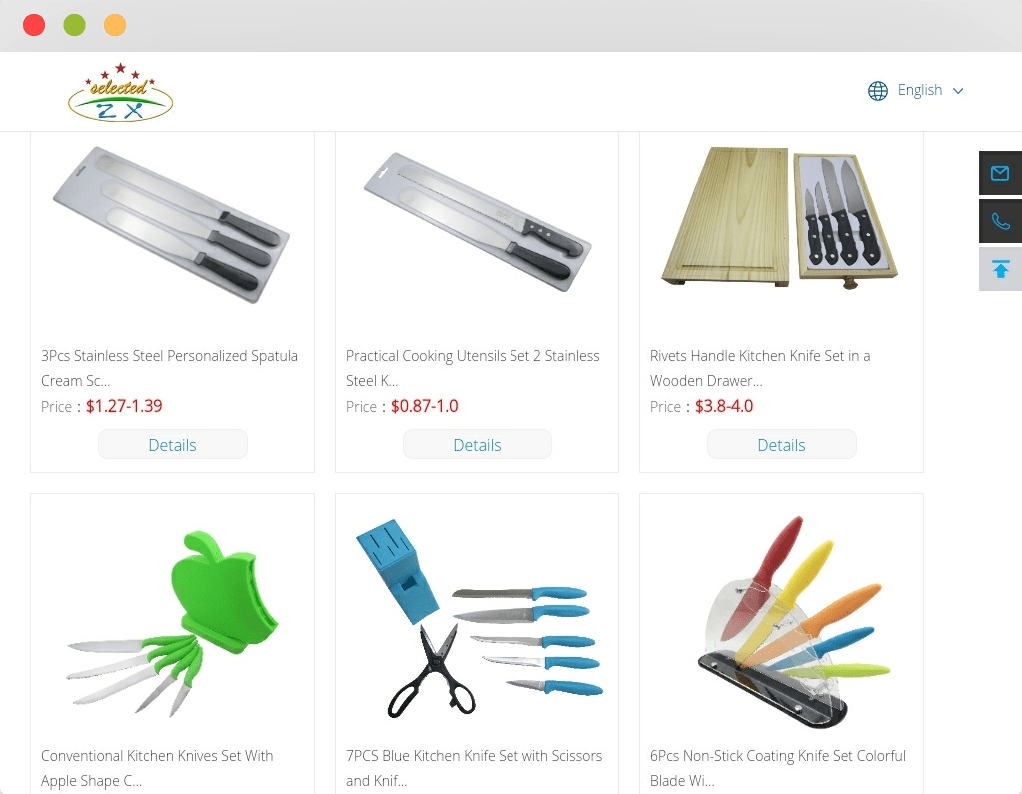 If you are looking for interesting kitchen knives that would stand out and capture the attention of buyers, consider partnering with Yanjiang Selected Hardware. This kitchenware manufacturer offers unique designs that blend functionality and elegance.
The Rainbow-finish Titanium Coating Blade Pack, for example, is a set of 6 knives that each perform a different culinary function.
Their blades are made of stainless steel coated in titanium which improves their durability. They have a delightful rainbow color and come with a one-of-a-kind acrylic knife holder.
This is only one of many kitchen knife examples from this manufacturer that could keep knife enthusiasts coming back to your store for more. Professional chefs may also appreciate the neat and easy-to-carry knife set packages.
On the downside, each set or unit of knives has its own set MOQ and for some, the MOQ can go as high as 5,000 units. This could be restrictive if you run a small-scale business.
Yangjiang Honghee Kitchenware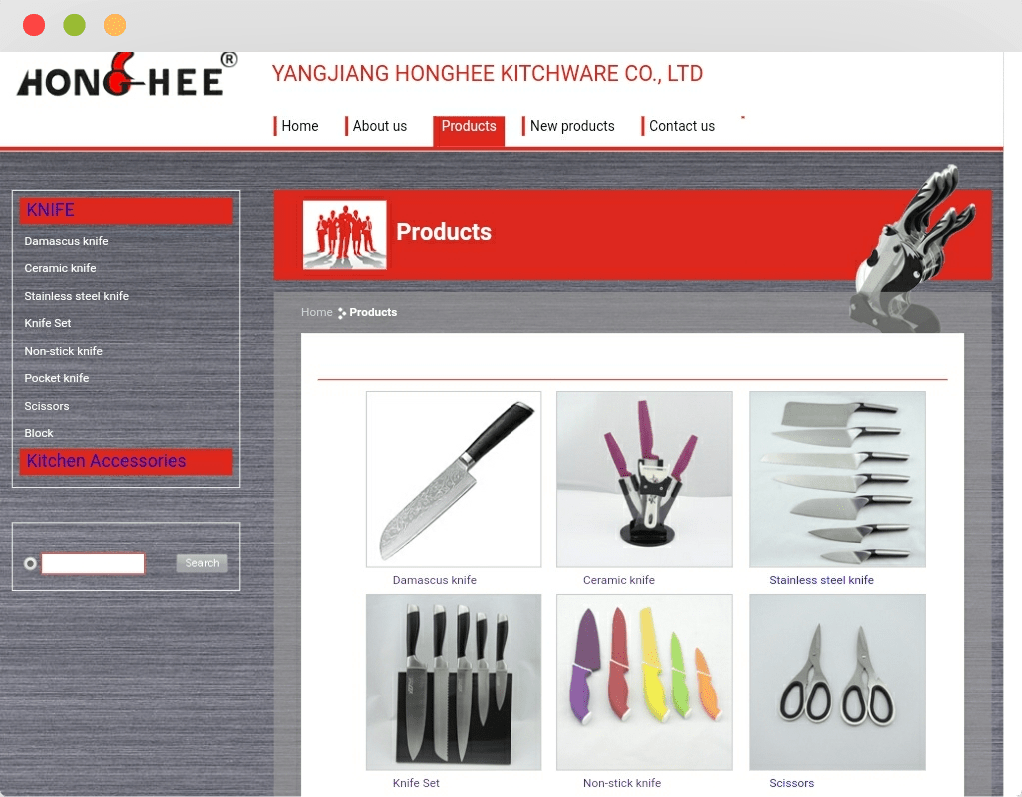 Yangjiang Honghee is also known as Wanlong in the Chinese market. It has been manufacturing kitchen knives and other kitchen accessories for over two decades. Its factory is situated in Yangjiang and has a production capacity of 300, 000 units per month.
In this firm's knife catalog, you will find knives such as:
Carving knives
Cleavers
Chef knives (in different sizes)
Santoku knives
Japanese chef knives
Kitchen utility knives
Honghee produces these knives in stainless steel and ceramic blade options. The non-stick knives may also be a great variety to stock up on because they are not only unique but also offer a more convenient user experience.
Yangjiang Win's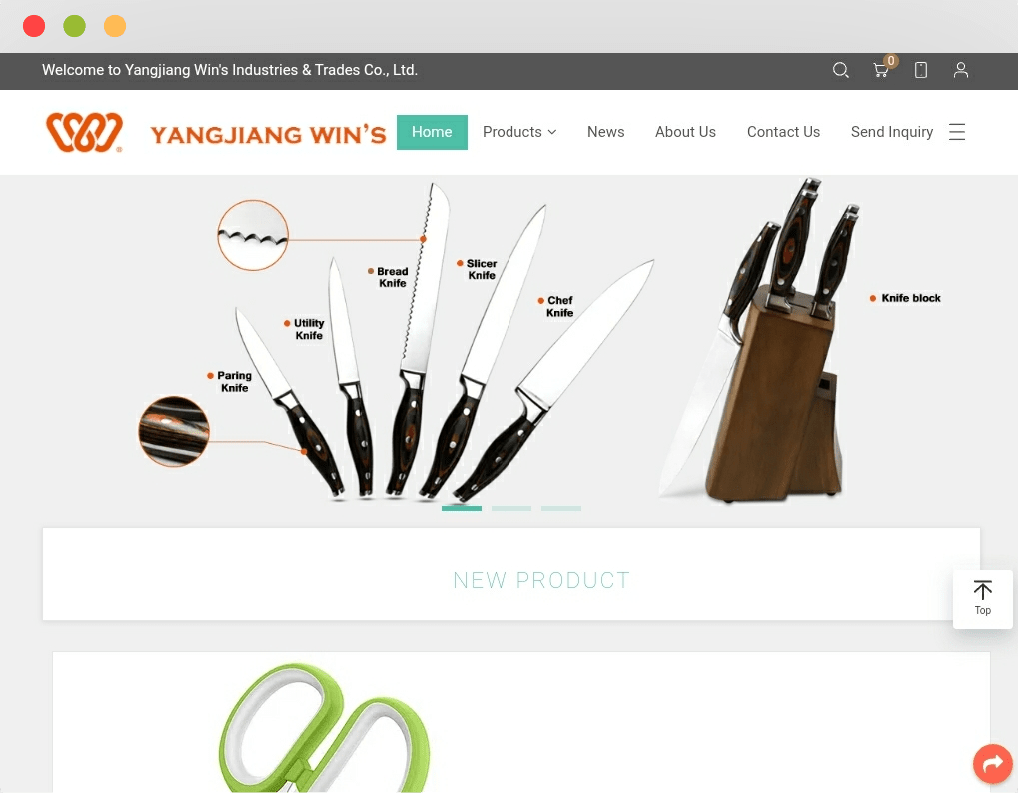 The Yangjiang Win's manufactures kitchenware but has a dedicated kitchen knife factory. It is located in Yangjiang, China, and is one of the leading exporters of kitchen knives to North America, Eastern Asia, and South America among other regions.
The Yangjiang Win's kitchen knife selection is dynamic in that it caters to different needs. No matter whether your customers prefer Damascus knives, rectangular-shaped Japanese knives, or curved handles, you will find them all at Win's.
Each knife design has a distinct MOQ. However, the set MOQs are relatively low and accessible for small-scale traders. Additionally, Yangjiang Win's has a high production capacity and promises order delivery within 45 days.
Private Label Knife Manufacturers
Private labeling would entail working with a kitchen knives manufacturer that is willing to customize the knives that you buy according to your specifications. It is a good method to make your brand stand out and be well-known to customers.
Other aspects of private labeling include:
Embossing/engraving the knives with your brand name or logo
Packing the knives in branded packaging with your brand's logo/name
If you would like to take this approach, here are some leading kitchen knife manufacturers that offer private labeling services.
Honway Industries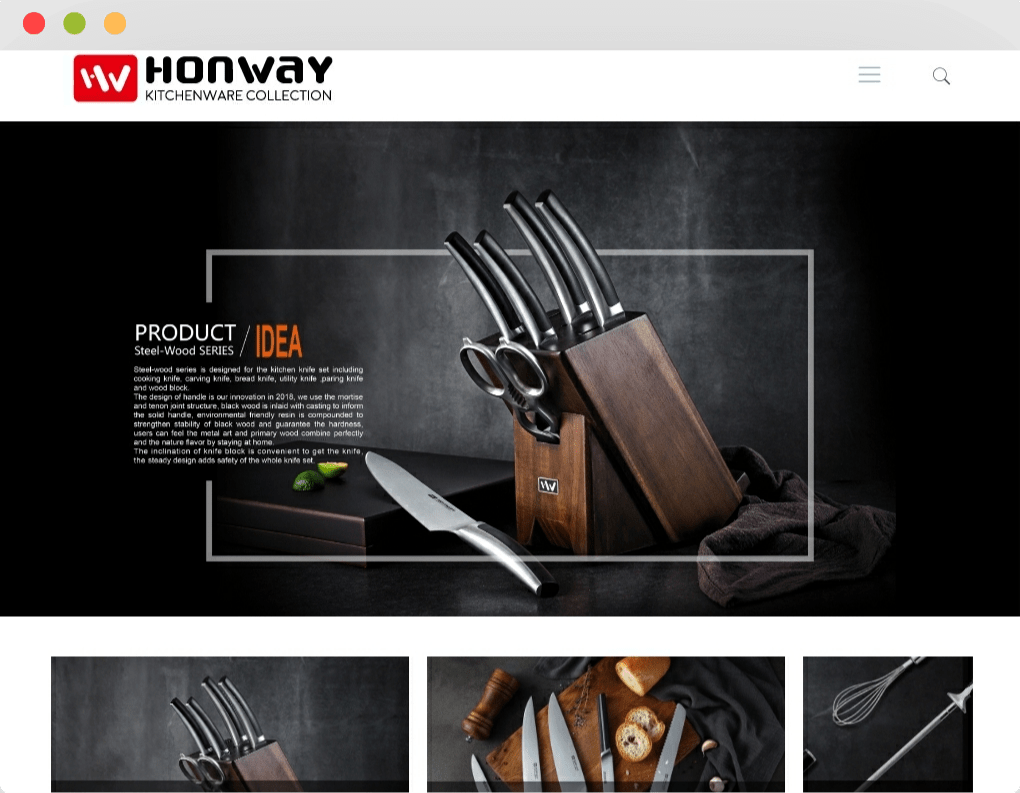 Honway has been in the kitchen knives business for over 20 years. Over time, it has established an innovative research and development department that works to:
Develop kitchen knife concepts for the Honway brand
Help clients perfect their custom kitchen knife designs for private labeling
If you have an idea of how you prefer your knives to be customized, you could begin by sharing them with the Honway R&D team. They may suggest modifications where necessary and proceed to develop samples for your approval.
Once you approve the samples, the design team proceeds to create molds and begin production. The firm currently exports private label kitchen knives to top brands in Europe, the greater Asia region, and Australia.
Mede Cutlery
As its name suggests, Mede Cutlery is a manufacturer of different kinds of cutlery including kitchen knives. Its product catalog is quite impressive and features creative concepts such as edible cutlery.
Fortunately, the kitchen knives are also just as innovative and could go a long way in elevating your brand. Mede Cutlery manufactures:
Multi-utility kitchen knives
Fruit knives
Cheese knives
Serrated knives
Japanese cuisine knives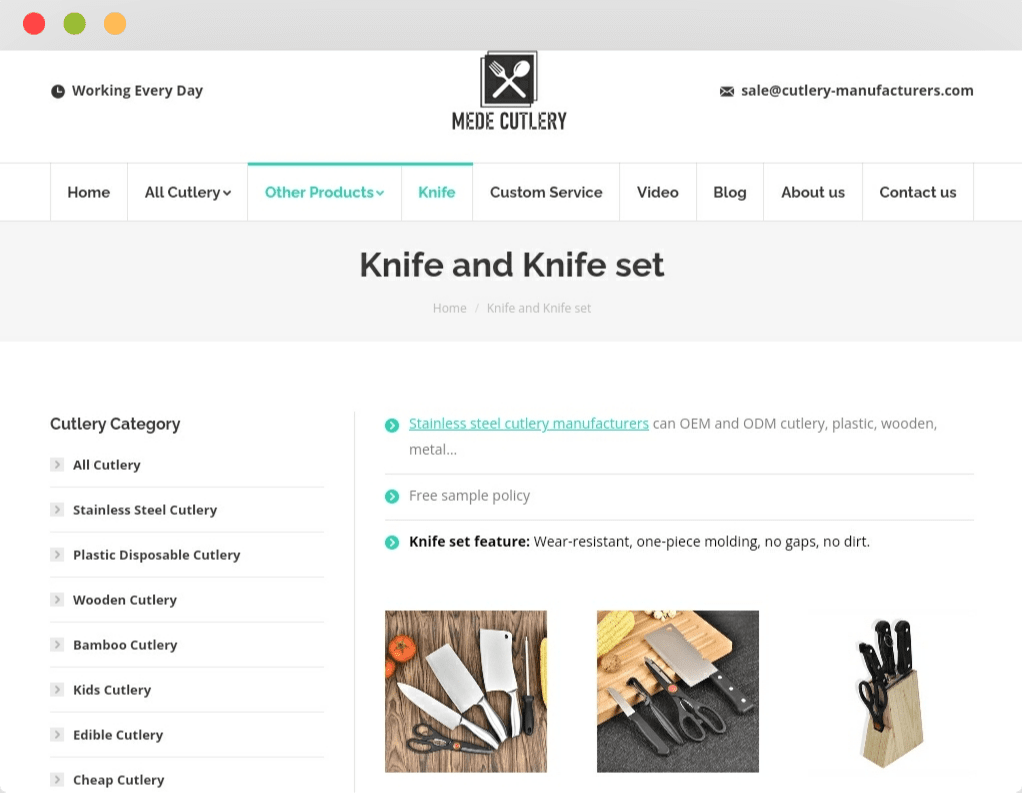 Some of these knives have ceramic blades while others have steel blades. The handles vary from rubber to plastic and other materials too. Nevertheless, you could request whichever designs you prefer during the customization process.
Mede Cutlery offers free samples for private label clients; you would only have to pay for their shipping costs. Production begins after your approval and the company promises a turn-around time of between 15 to 30 days depending on the size of the order.
This manufacturer could be a good fit for you even if you are a small-scale retailer in need of a wholesale private labeling kitchen knife manufacturer. Their MOQs are low and their payment terms are also quite accommodating.
Ruitai Hardware
Ruitai is a mega-manufacturer based in Yangjiang, China. It has an extensive kitchen knife factory that churns out a broad variety of designs and has a production capacity of 12 million units per month.
Ruitai kitchen knives are classified into series depending on what they are designed for. The series include:
Damascus steel knives
Chef knives
Sushi knives
Bread knives
Santoku knives
Champagne sabers
Ruitai has a fully-fledged in-house design team. You could work with them to develop or perfect custom knife designs for your private label range. The company can provide you with samples of the designs within 7 days.
The MOQ is 1000 pieces and the estimated delivery time is 35-45 days after the receipt and confirmation of your order.
DKS-Fasaka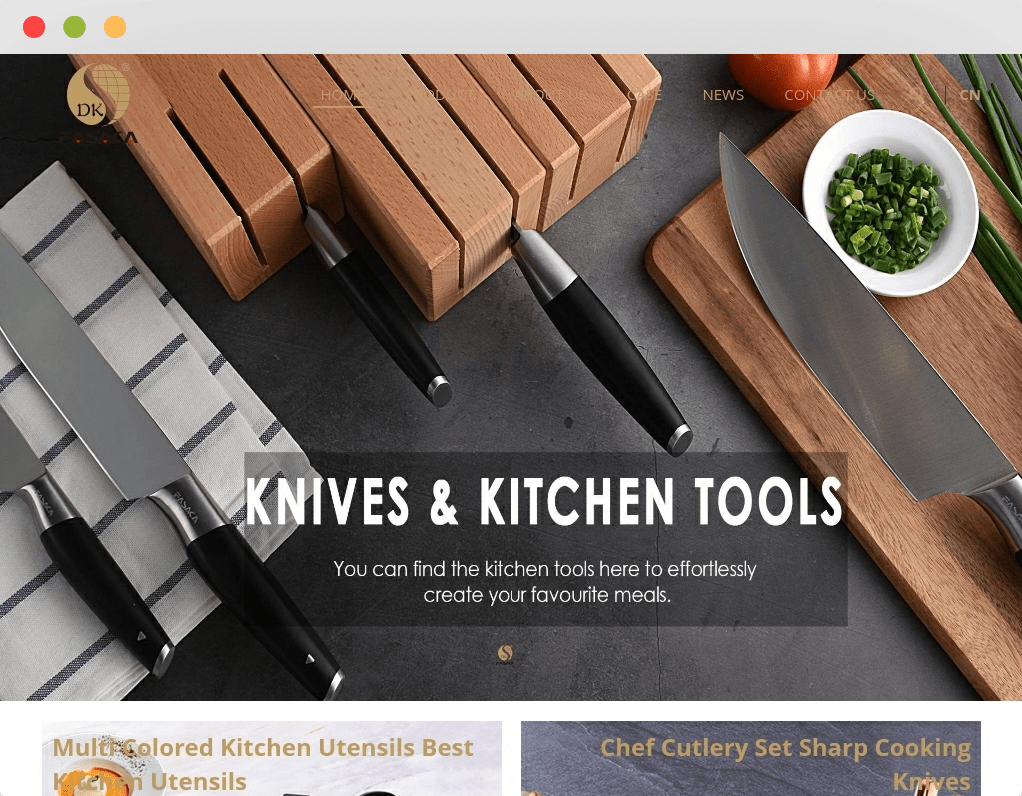 The DKS-Fasaka Group has been manufacturing cutlery, scissors, and kitchen knife sets for over 20 years. Its factory is located in Guangdong, China, and has a production capacity of about 100,000 sets per month.
Fasaka kitchen knives are undoubtedly stylish. They have colorful designs and are packaged in safe and portable holders. More importantly, they are designed with ergonomic handles to deliver a delightful user experience.
In terms of variety, Fasaka offers kitchen knives for home use and professional chefs. They are dishwasher-safe and made using different FDA-approved materials such as:
Carbon steel and forged wood handles
Stainless steel and food-safe plastic
Stainless steel and anti-scald plastic
Stainless steel and rustproof TPR and plastic handles
Fasaka accepts private label orders in both large and small quantities. If you require samples for your custom knife designs, the company can produce and deliver them within 3 to 7 days. Sampling costs are refundable once you confirm your order.
LeeKnives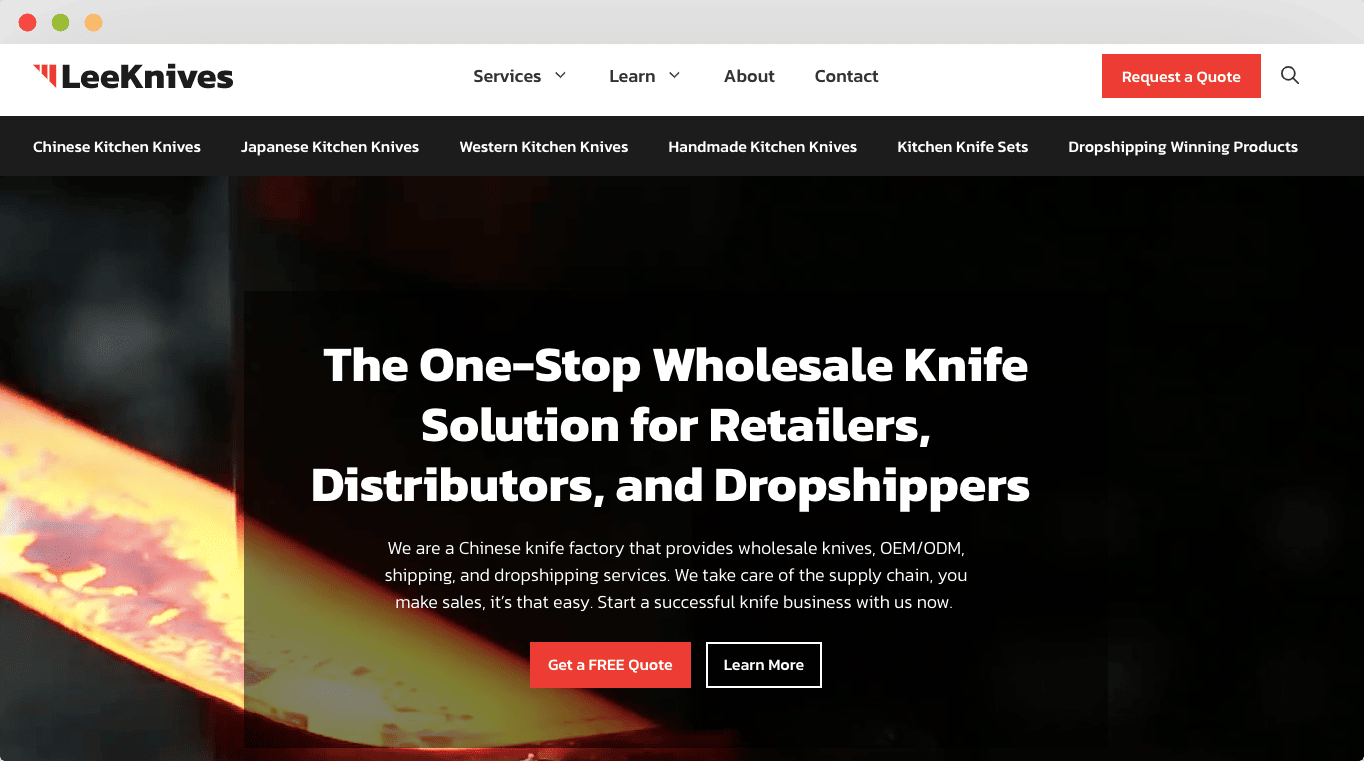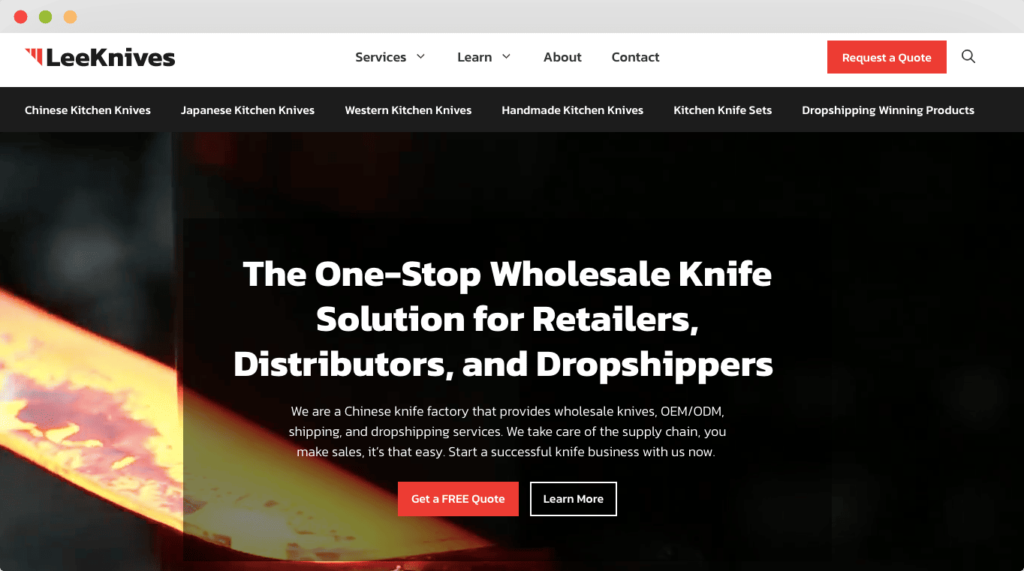 Based in Yangjiang, China, LeeKnives is another reliable knife manufacturer that provides private labeling services. It started operating in 1993 and has since become one of the most prominent wholesale knife trading companies in the country.
With about 30 years of experience, the team behind LeeKnives has never failed to deliver first-rate kitchen knives with intricate details and consistently take care of their customers' supply chain.
With their OEM/ODM service, you will have the freedom to customize the design of your knives. You only need to keep those creative juices flowing!
However, if you don't have enough time to plan for a new knife design, you can either collaborate with one of their experts or opt for their private labeling services.
You can readily ask them to engrave your own brand logo after choosing a particular knife from their catalog:
Chinese kitchen knives
Japanese kitchen knives
Western kitchen knives
Handmade kitchen knives
Kitchen knife sets, etc.
Globally-acclaimed Kitchen Knife Manufacturers
If your target market comprises culinary professionals or consumers with distinct preferences, they may be more inclined to buy top-brand kitchen knives. Such brands include:
Nakano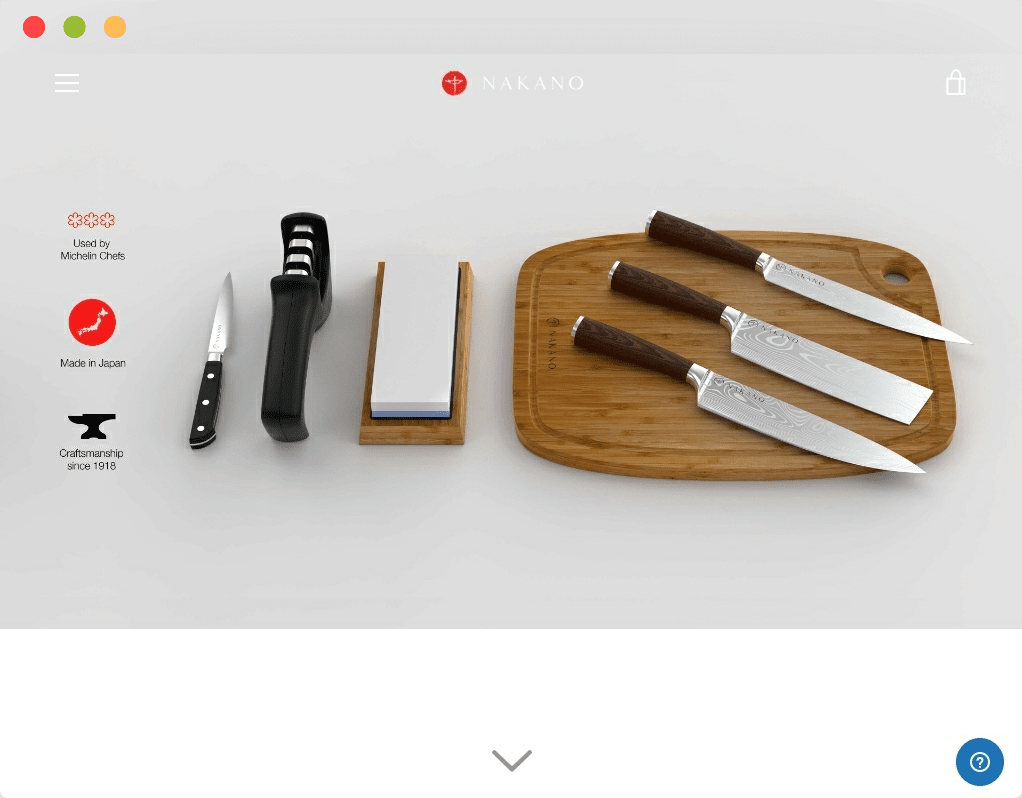 Nakano is a Japanese kitchen knife company with over a century of experience. Its knives are designed by coupling the techniques of Japan's elaborate culinary history and the expertise of renowned chefs.
Heritage aside, Nakano knives are known for their premium quality and outstanding finishes. They include:
Paring knives
Santoku knives
Classic chef knives
Gyuto knives
Naturally, Nakano knives are comparatively more expensive. However, they are worth every penny of their price tag considering that they are hand-made and have handles made of top-range wood like chestnut and Olivewood.
Nakano has premises in New York, USA, and Tokyo, Japan. The company, nevertheless, ships to a wide array of global destinations.
Global Knives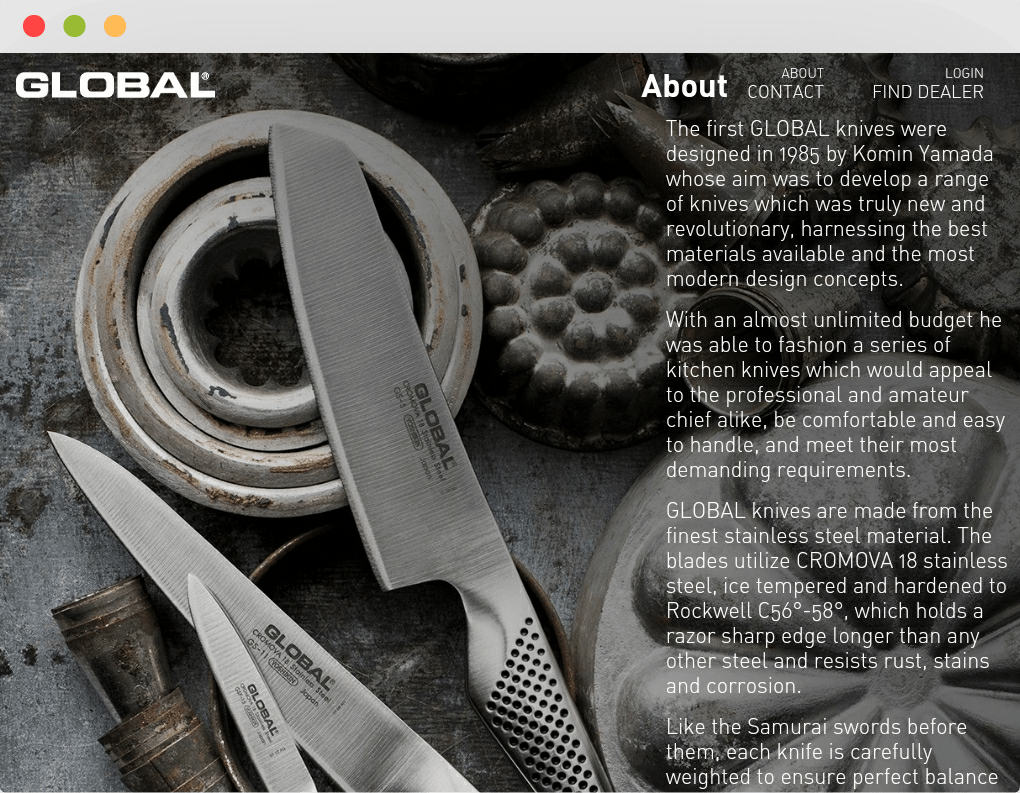 Like Nakano, Global Knives has its roots in Japan. The brand's knife production techniques and design approaches are based on ancient Japanese swordsmith wisdom and modern-day innovation.
While traditional Japanese kitchen knives tend to have a rectangular shape, the Global Knives brand has diversified its designs to cater to the preferences of the global market.
Subsequently, its range includes everything from Santoku to pointed wedding knives.
Global Knives currently has dealers in:
South Africa
Oceania
South America (7 countries)
USA
Canada
Asia (15 countries including China)
Europe (22 countries)
In a nutshell, no matter where you are in the world, there is likely a Global Knives dealer near you.
Wüsthof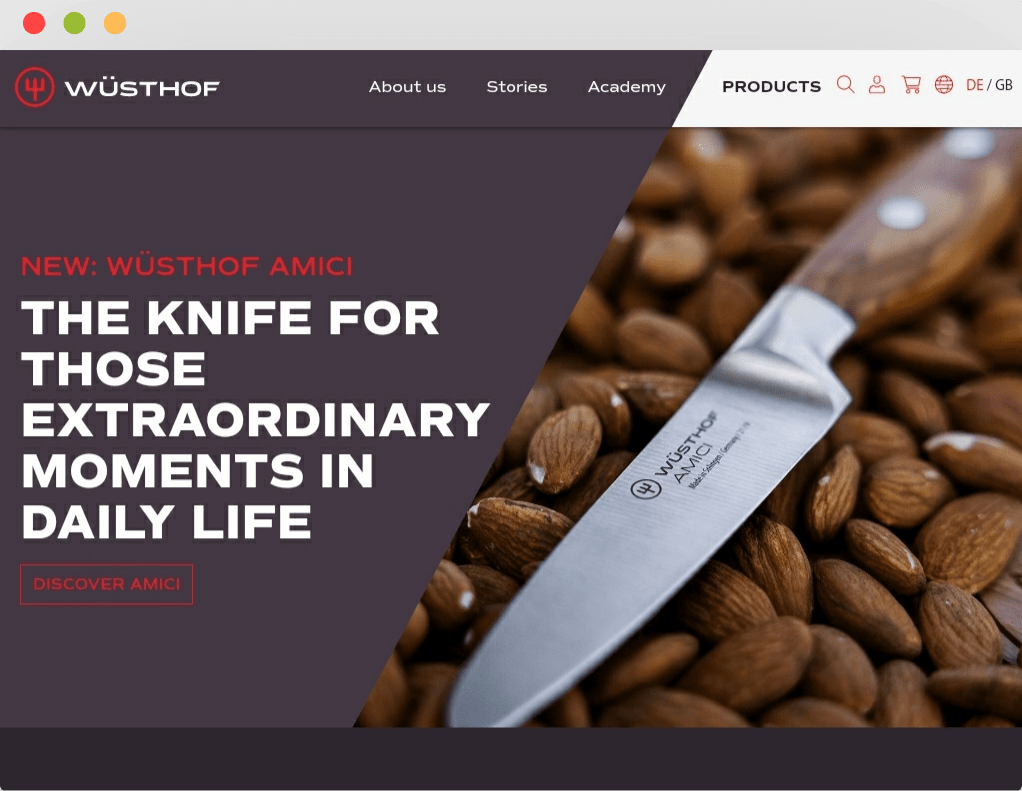 Wüsthof ranks among the creme de la creme of knife brands. Its history dates back to 1814 and yet, it has managed to keep reinventing itself enough to remain relevant to date.
So much so that it is, today, widely known as the brand of choice for some celebrity chefs.
Wüsthof brands are made of Solingen steel which is arguably the most premium steel there is. They are also manufactured using precision edge technology which yields a much sharper blade than most techniques.
These features and their stylish ergonomic handles make them treasured gems in the culinary industry.
Wüsthof originates in Germany and all its kitchen knives are made in Solingen. However, it now has distributors in every continent to keep its products accessible.
Buy wholesale or custom knives from China
FAQs about Kitchen Knives and Kitchen Knife Manufacturers
Which Are the Best Materials For Kitchen Knives?
There is no definitive answer to this question because the best materials to aim for in a kitchen knife depend on personal preference and the application.
However, there are some cardinal rules you could use when selecting kitchen knives for your retail or kitchen supplies dropshipping store. Aim for:
Rustproof blades – kitchen knives are used to prepare food and they should, therefore, never rust because they would contaminate the food. Stainless steel is the best option for this but quality ceramic blades are also ideal.
Great edge retention – Knives with great edge retention can stay sharp longer so they don't need frequent sharpening. High carbon steel knives are favored by chefs for this feature.
Sterilizable/Easy-to-clean – avoid materials that are hard to keep clean because they could lead to food contamination. Untreated wood handles, for example, are unsuitable because they are likely to rot over time.
FDA-approved knife materials – refer to the FDA to find materials that are certified as safe when it comes to handling food. Check your local regulatory bodies too to ensure that you order knives made of materials that are approved in your country.
Which Are the Best-selling Kitchen Knives?
The needs of your target market will determine the best-selling kitchen knives in your market.
For example, if your local area is a fishing town, filleting knives would likely be among the top-selling kitchen knives in your store.
In contrast, if your local region is a bustling city then chef knives and utility knives may sell better due to a high occurrence of restaurants and on-the-go cooking in private homes.
To sum it up, it would be a good idea to do some research on apps like Google Trends and understand the kind of knives your target market needs.
How Do I Choose the Right Kitchen Knives Manufacturer?
At a basic level, a good kitchen knife manufacturer should:
Be experienced in producing the kind of kitchen knives you want
Manufacture quality kitchen knives
Have an MOQ that you are comfortable with
Offer fair prices that enable you to earn a profit
Have distributors or be able to ship to your destination or your customers if you are dropshipping
These factors could help you create a shortlist of manufacturers that you would like to work with. Once that is done, you can begin to engage them via phone calls, email, or even make an in-person visit to their premises if you can.
Further engagement provides a chance to discuss the kind of kitchen knives you would like to order and whether they would be able to supply them. At this stage, you could also request samples to evaluate the quality of their work.
Where Can I Find the Best Kitchen Knife Wholesale Suppliers in China?
Yangjiang and Longquan are well-known for their knife production in China.
Yangjiang manufacturers are able to mass-produce all types of kitchen knives at very low prices. While the artisans at Longquan can provide you with hand-forged knives of impressive quality and performance.
How Do I Engage Kitchen Knife Manufacturers From Other Countries?
Sourcing kitchen knives from countries like China is appealing because they are affordable and the available variety is unmatched.
However, it can be a tough process if you do not live in China. Granted, online communication could suffice but a lot could get lost in translation.
One of the easier ways to handle such transactions would be to partner with a reputable sourcing agent like NicheSources. We could:
In Conclusion
Selling kitchen knives presents endless possibilities for profitability. You could choose to keep specializing in them, grow your brand to other kitchen accessories, or even upscale to supplying premium kitchen knives.
Your success will, however, depend on whether you can find and choose the right kitchen knife supplier.
If all of this sounds overwhelming, do not fret. We are well-experienced in sourcing procedures and are dedicated to making them easy for you.
Request a quote and learn more about our all-inclusive sourcing services and how we can help you build your business.
Buy wholesale or custom knives from China