Developing and producing custom knives is a great way to make your knife brand stand out. However, it requires you to find an OEM knife manufacturer with adequate production capabilities to execute your vision to perfection.
Need help figuring out where to start your search? Here is a list of some top creme OEM knife manufacturers worth considering.
What Is an OEM Knife?
An OEM knife is a knife that is produced based on the design specifications that you provide to the manufacturer.
This approach is also known as private labeling and is ideal if you want to create a distinct brand of knives that gives you an edge over your competitors.
LeeKnives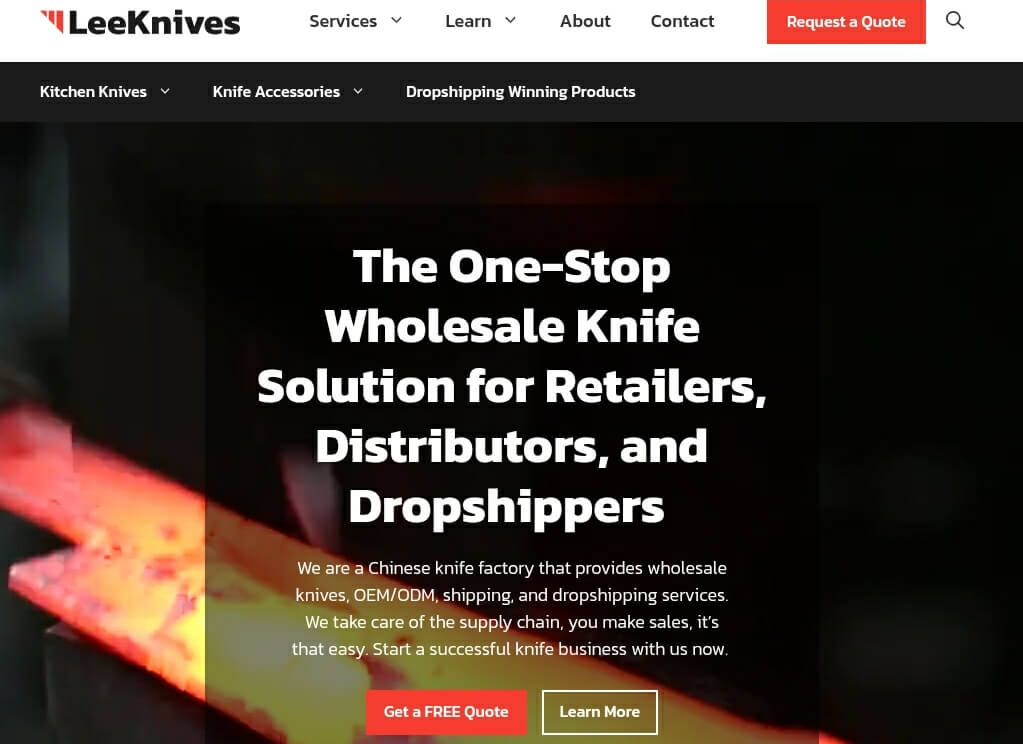 LeeKnives is a one-stop shop for all knife-sourcing needs. It was established in 1993 as a manufacturer but has also branched out into OEM knife production, dropshipping partnerships, and more. Its operation base is in Yanjiang, China.
Key Features
Full scope of services – LeeKnives provides OEM knife production alongside other essential services like design support, custom packaging, and logo addition.
Efficient logistics – the company arranges global shipping for its clients. It also has warehouses in China and the USA to facilitate timely delivery and even warehousing services when needed.
Fine craftsmanship – LeeKnives takes pride in producing high-quality knives that make your brand a market leader. The forging, sharpening, polishing, and branding processes are done meticulously and followed up with quality inspections.
Reliable supply – the company is committed to providing a consistent supply of OEM knives to keep your business running smoothly. It fulfills wholesale orders as well as JIT inventory delivery.
Everwealth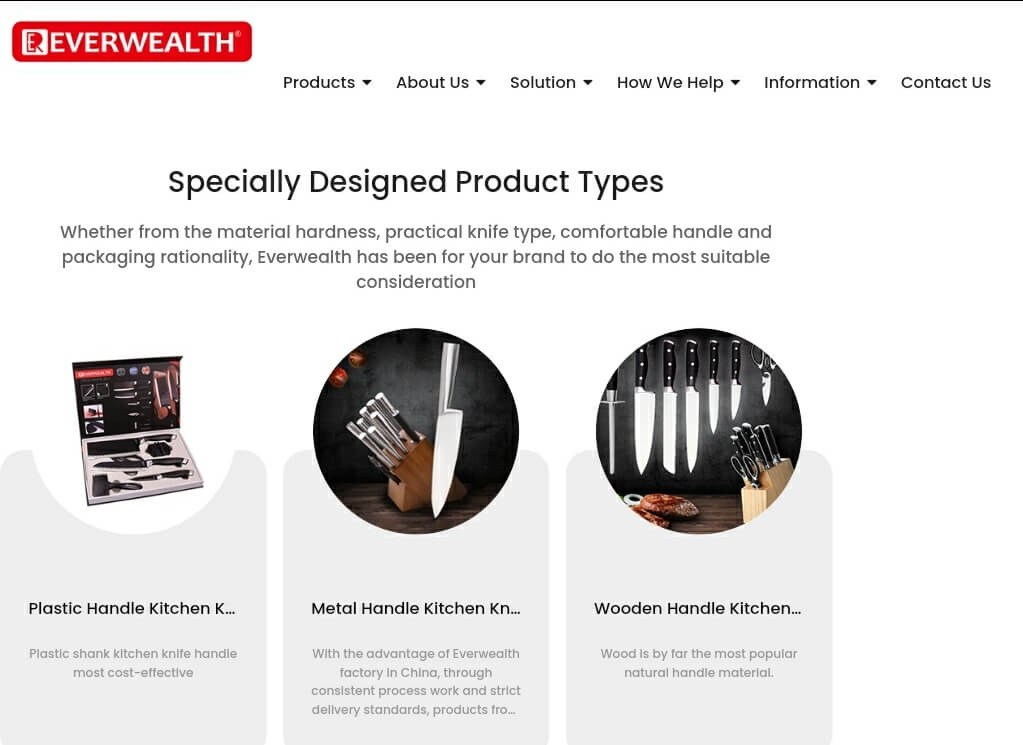 Everwealth was founded in 2009. It manufactures and exports kitchen knives for its own brands and other firms. Its factory is located in Yanjiang City.
Key Features
360° OEM services – the Everwealth team provides a full range of OEM services from consultation, design, and sampling, to production.
Trial order services – Everwealth allows clients to order a small number of knives to start with to test the market response and gauge the company's production standards and service delivery.
Reasonable turnaround times – the average order turnaround time is 20 to 30 days.
Certification – the Everwealth factory is BSCI and FDA-certified.
Auxiliary services – Everwealth provides shipping support and custom packaging solutions based on your preferences.
Baadooman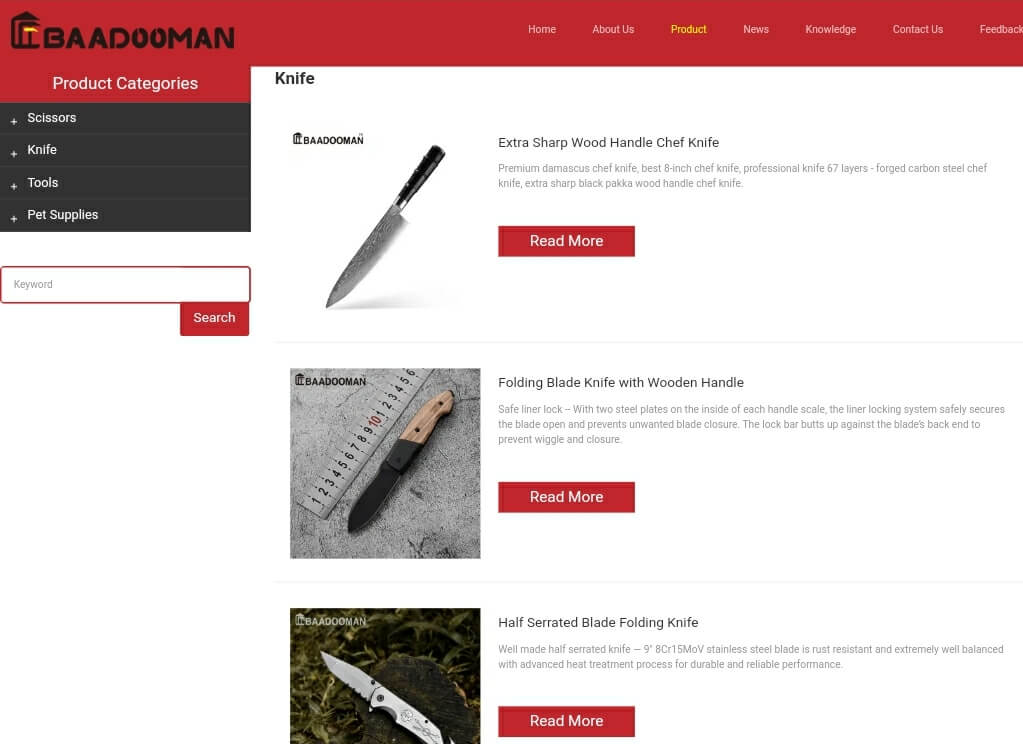 Baadooman was established in 2009 and is based in Yangdong in Yanjiang, China. It manufactures knives and a host of other tools, such as different types of scissors and keychains. The range of knives in its show catalog includes:
Chef knives
Folding knives
Tactical pocket knives
Multifunction survival knives
Kitchen knives
Key Features
Well-equipped factory – the Baadooman factory is equipped with top-class cutting, grinding, polishing, and cleaning machines that facilitate the production of quality knives.
Experience – Baadooman has over a decade of OEM experience and has worked with numerous brands in the USA, Europe, South America, and other regions.
All-inclusive customization – the Baadooman team offers a wide selection of materials and can also source special materials on request. They also provide logo imprinting and custom packaging.
Certification -this manufacturer is BSCI and ISO900-certified.
Viper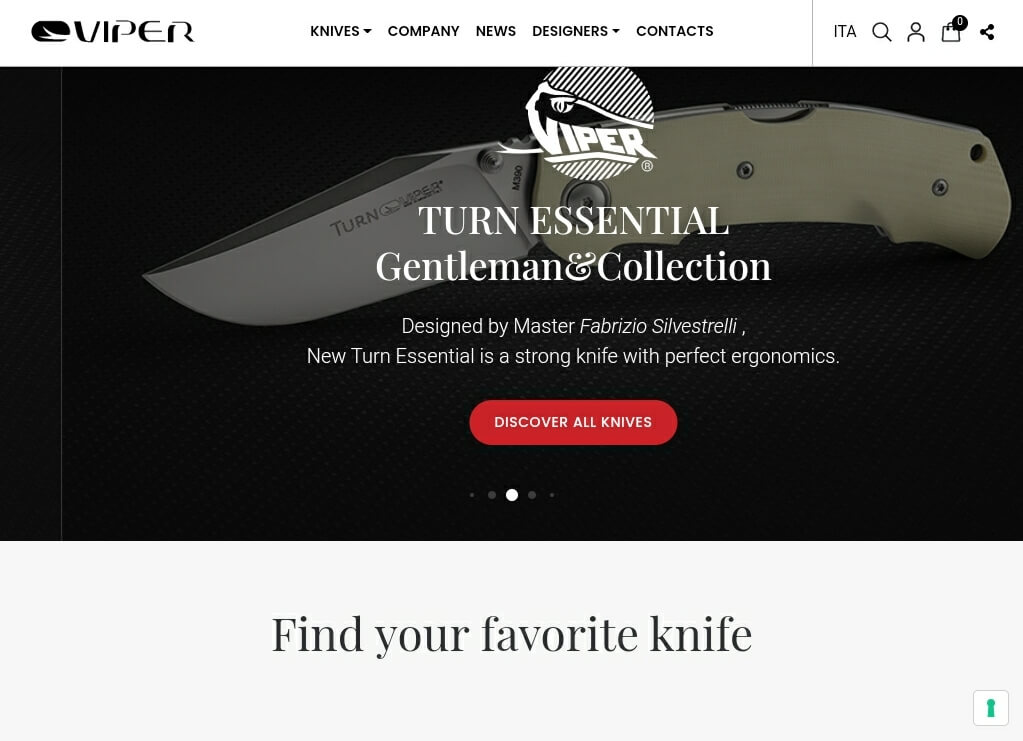 Viper is a knife manufacturer based in Maniago, Italy. It began operations in 1987 and has grown steadily since. It produces:
Fixed blade knives
Folding knives
Kitchen knives
Tactical knives
Champagne sabrage swords
Steak knives
Key Features
Premium quality – Viper combines quality craftsmanship and top-tier material selection to produce outstanding quality knives.
Experienced designers – this manufacturer has a team of top-league designers that you can work with to develop or improve your private label knife designs.
Responsive customer support – the Viper customer support team is prompt and easily accessible online or via telephone.
Extensive material options – Viper offers a wide variety of knife handles and blade materials. They include unique options such as exotic woods and stag horns. 
Glad Evergreen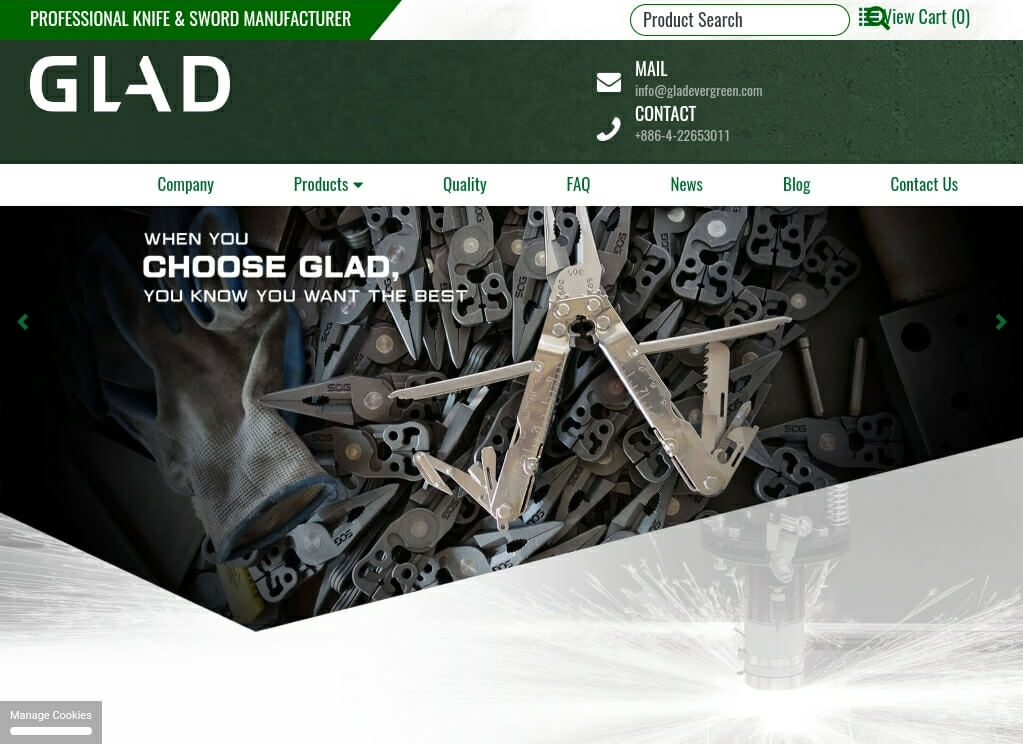 Glad Evergreen is a Taiwan-based manufacturer. Its factory is located in Taichung. It manufactures swords, outdoor tactical tools, self-defense tools, and:
Military knives
Folding knives
Fixed blade knives
Key Features
High-quality standards – Glad Evergreen has a well-outlined quality policy that guides its material sourcing, production, and post-production processes.
Defined MOQs – folding knives have an MOQ of 1200 units while fixed-blade knives have an MOQ of 600 units.
Shipping support – the company ships worldwide. It can arrange your logistics or work with your preferred freight forwarder.
Kubey Knife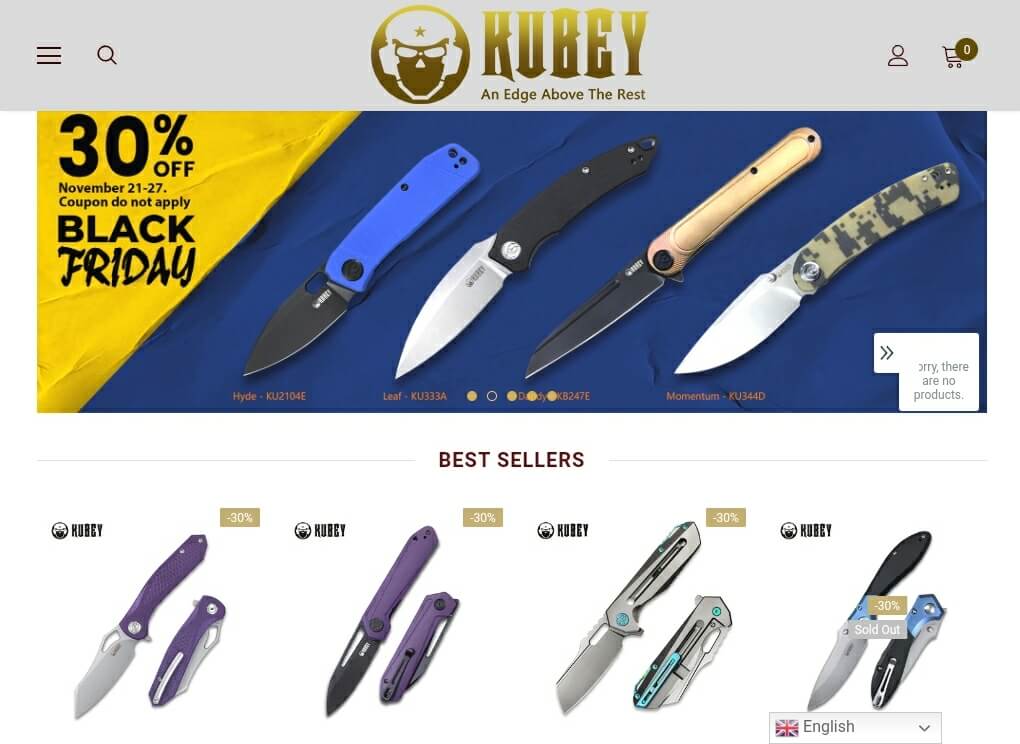 Kubey Knife began operations in 2014 as an original knife brand producing knives for sale. It has since grown so much that it now also offers OEM knife production services to other brands.
The company is based in Yangjiang, China.
Key Features
State-of-the-art production – the Kubey factory has CNC, cutting, milling, grinding, and laser-engraving machines. Expert staff also complete some intricate design details by hand.
Quality materials – Kubey Knife sources high-quality steel and knife handle materials from carefully vetted suppliers.
Efficient delivery – the company has a warehouse in the USA, which helps facilitates quick delivery. It also ships other orders by air for expedited delivery. 
QSP Knife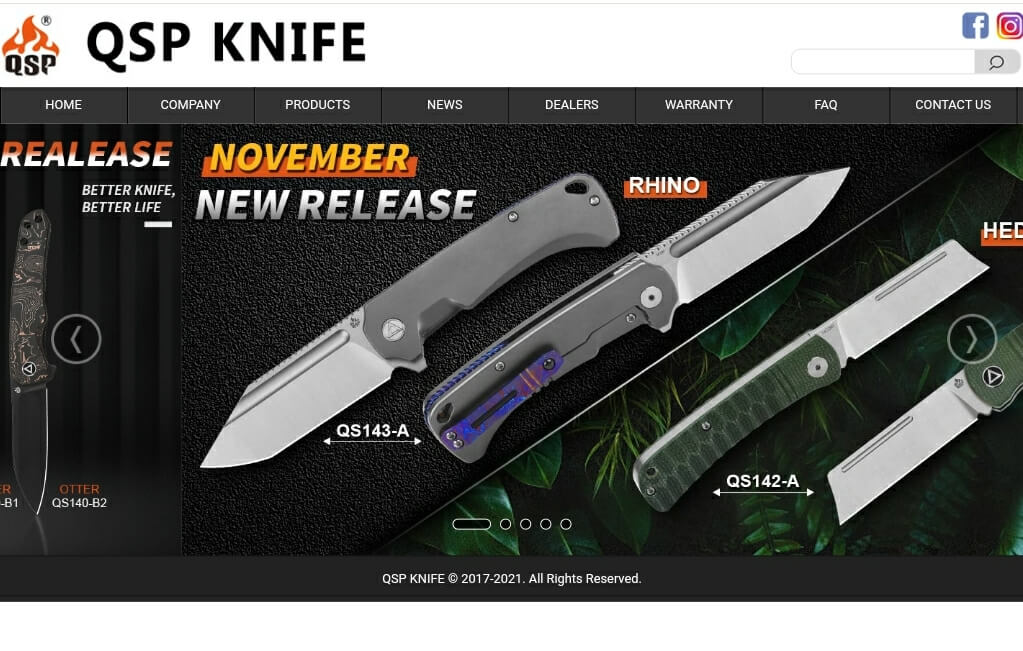 QSP Knife is located in Yangjiang, Guangdong province in China. It began as an OEM knife manufacturer in 2007 but now also produces its own range of branded knives. It is well-experienced in producing:
Pocket knives
Karambit knives
Neck knives
Fixed-blade knives
Key Features
Experience – QSP has more than a decade of experience in OEM knife manufacturing.
Automation – the company has invested in ultra-modern knife production solutions like CNC machining, vacuum heat treatment, and water jetting.
Top quality – QSP blades and knives are not only renowned for their quality but have multiple awards in the industry.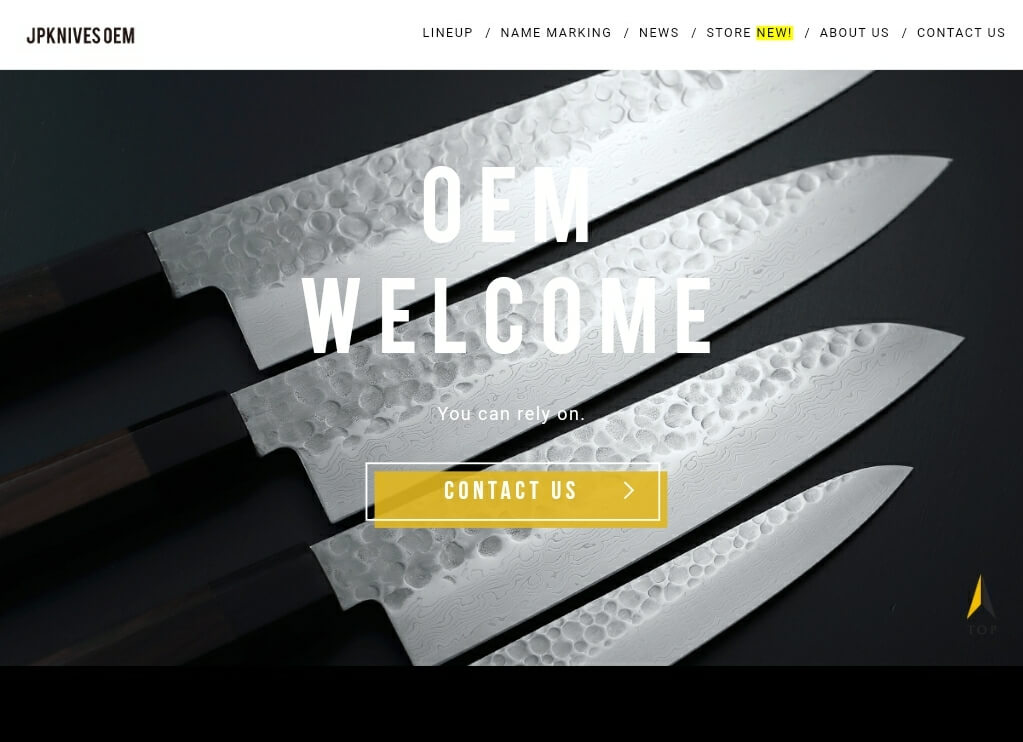 JP Knives was set up in 2012 and operated out of Sanjo City, Niigata in Japan. Its knife showroom includes but is not limited to:
Kitchen knives, i.e. meat cleavers, chef knives, slicing knives, etc.
Santoku knives
Nakiri knives
Petty knives
Key Features
Exemplary skills – JP Knives combines the renowned art of Japanese knife-making with modern technology to make unique premium quality knives.
Premium materials – JP knives are made using premium Swedish steel to achieve high edge retention, rigidity, and resistance against rust or wear and tear.
Aesthetic value– the JP Knives design team can help you improve your designs by incorporating user comfort, aesthetic touches, and blade branding solutions, among other tips. 
Angele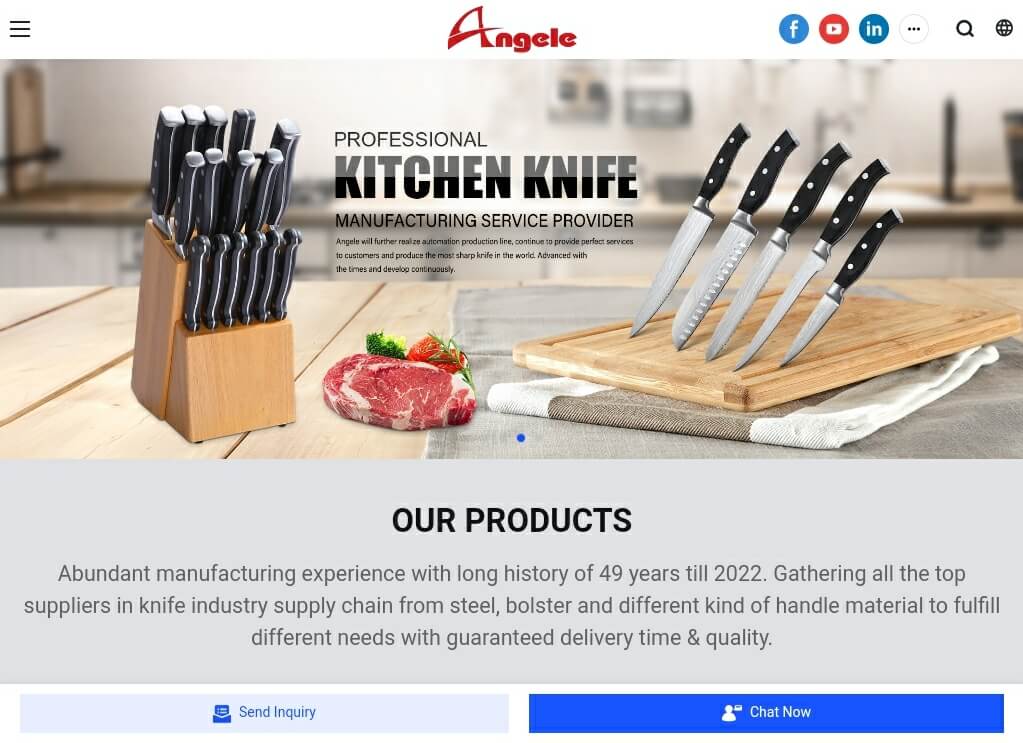 Angele is a knife manufacturer based in Yangjiang, China. It was established in 2010, but its team comprises highly-skilled industry experts with over 40 years of experience in the industry.
Key Features
Bulk production capacity – Angele can produce up to 4 million knives monthly.
Certification – the Angele factory is regularly audited and has BSCI certification.
Automation – the factory has a high-standard knife production line that includes a top-of-the-range auto-sharpener. It delivers precisely refined and standardized blades.
Service value – Angele offers free photos, free packaging design, and free knife samples (if you request a design that Is in stock).
Eco-knife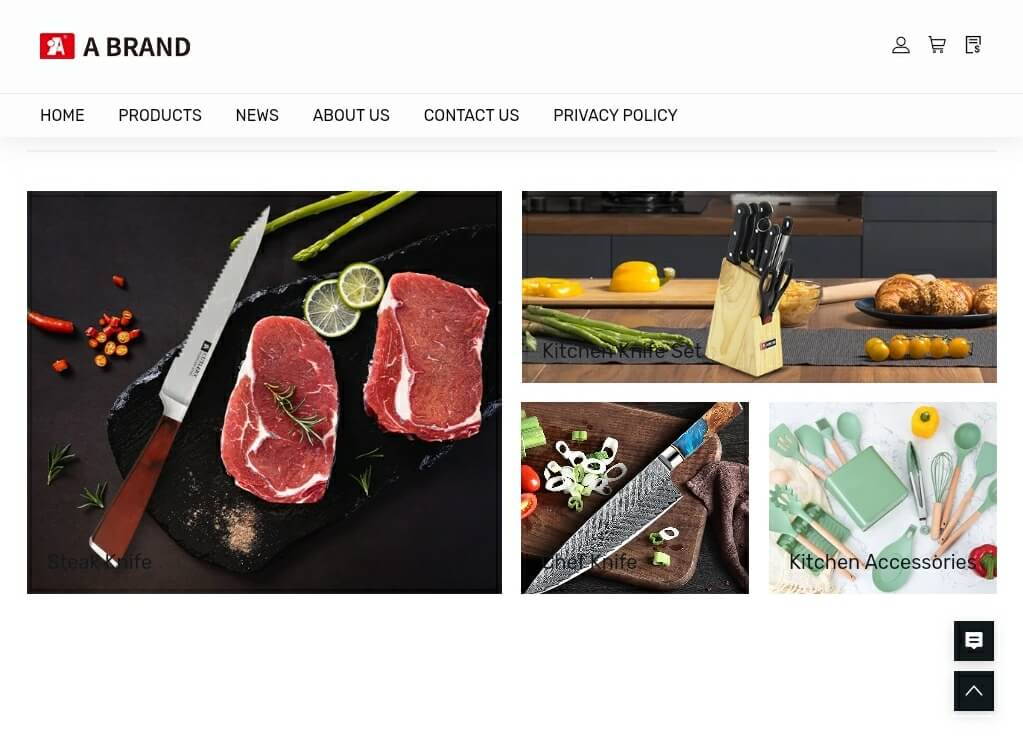 The Eco-knife headquarters and mega factory are situated in Yangjiang, China. The company was launched in 2012 and specializes in producing scissors and:
Kitchen knives
Non-stick knives
Damascus knives
Cast knives
Key Features
Certification – the Eco-knife factory is ISO9001-certified.
Short lead times – the average turnaround time for OEM orders is about 60 days.
Export – the company currently works with clients and exports to the USA, Poland, and Germany but is generally open to international partnerships.
Production capacity – Eco-knife has a production capacity of about 99999 pieces per month for most knife types. 
Honglin Industrial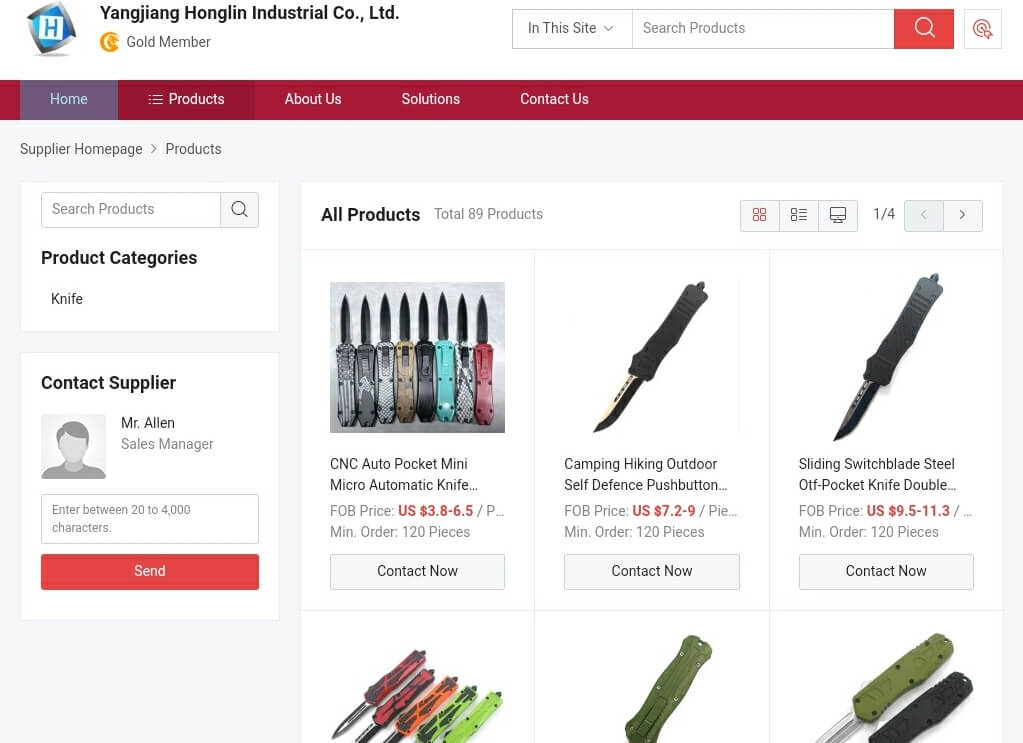 Hongling Industrial is located in Yangjiang, China. It has been in the industry since 2008 and manufactures hardware products including a variety of knives such as:
Automatic knives
Karambit knives
Outdoor knives i.e. hunting, fishing, tactical & survival knives.
Key Features
High production capacity – the Honglin Industrial factory has more than 10 production lines, enabling it to quickly churn out bulk orders.
Fair turnaround times – orders during peak season take about 30 to 90 while off-season orders mostly take 30 days.
Comprehensive service – the company, in addition to production, provides design support and customization services like logo imprinting.
Trade assurance guarantee – Honglin Industrial offers customers a guarantee that you can use to seek redress if you perhaps receive substandard or damaged goods.
Svega Industrial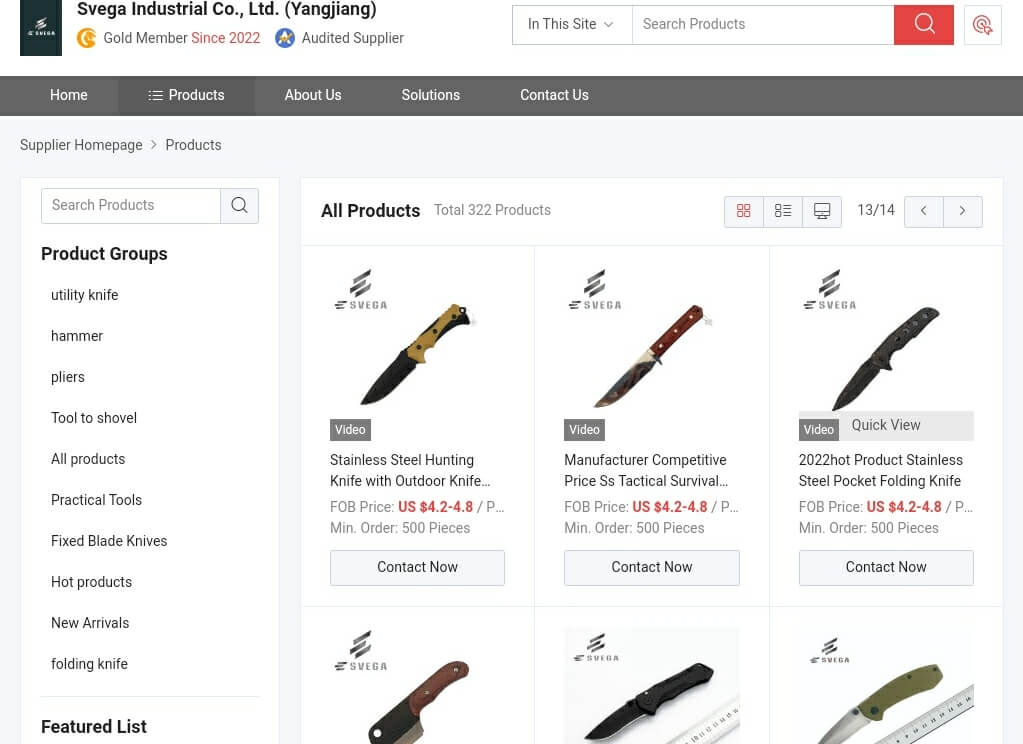 Svega Industrial was launched in 2020 and is based in Yangjiang, China. Its staff is experienced in the production of:
Folding knives
Hunting knives
Pocket knives
Multi-functional knives
Camping knives
Key Features
Certification – the Svega Industrial factory has ISO9001 and SGS certifications.
Manufacturing networks – the Svega factory is mainly equipped to manufacture folding knives but the firm has partnerships with other factories to produce other types of knives if you need them.
Intellectual property protection – the company handles client designs with discretion and can help you secure a patent or other legal documents to protect your products from being copied.
Well-coordinated services – the in-house R&D team is available to help you develop or perfect your knife designs while the quality control staff ensures that all knives, in-house or outsourced, meet the highest standards.
Delan Industry & Trade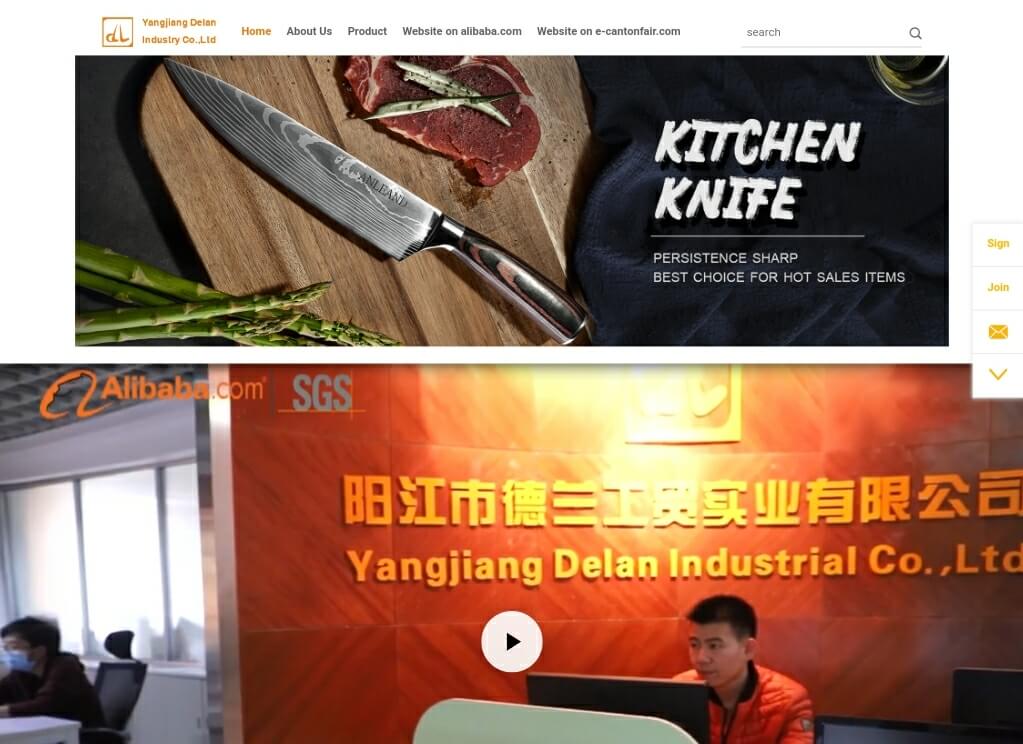 Delan Industry & Trade has been producing knives from its base in Yangjiang since it was established in 2010. Its selection of knife products is quite diverse and features:
Ceramic knives
Table knife sets
Kitchen scissors
Barbecue sets
Key Features
Alignment with modern trends – the Delan R&D team keeps up with design and utility trends in the culinary industry to ensure the knives meet current needs.
Established export networks – Delan Industrial is well-experienced in coordinating international orders as it has fulfilled many orders for clients in the US, South America, Europe, and the Middle East.
Expedited shipping – the company ships samples or knife orders by air or other Express means for fast delivery.
Certification – Delan Industrial production standards are certified by SGS.
Yangjiang Sun Well Industries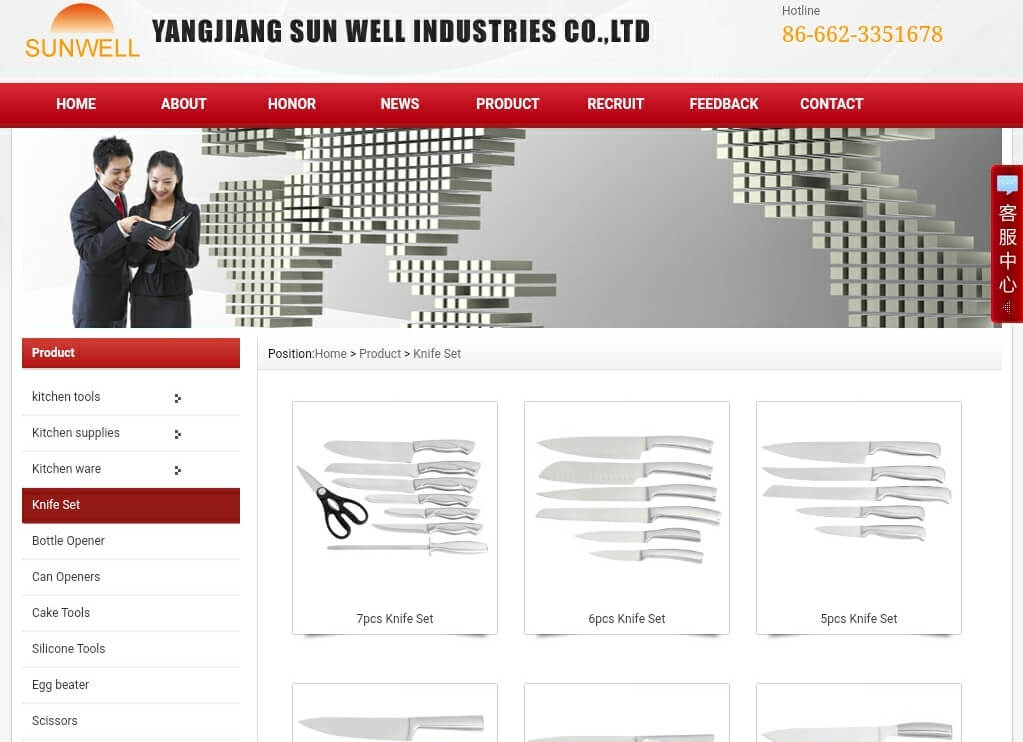 Sun Well Industries is a go-to manufacturer of OEM kitchen knives. It was set up in 2010 and is located in Yangjiang, China.
Key Features
Experience with exports – Sun Well has worked with numerous brands in North and South America, North Africa, Macau, Taiwan, and the Middle East, among others. It has developed reliable coordination strategies and export networks.
MOQ – the company has MOQ requirements for OEM knife orders, but they vary based on the intricacies of the design and the cost implications.
Knife set specialty – Sun Well mostly produces knife sets, albeit among other kitchen tools. You can also order knife sets with different types of holders. 
Tri-win Industry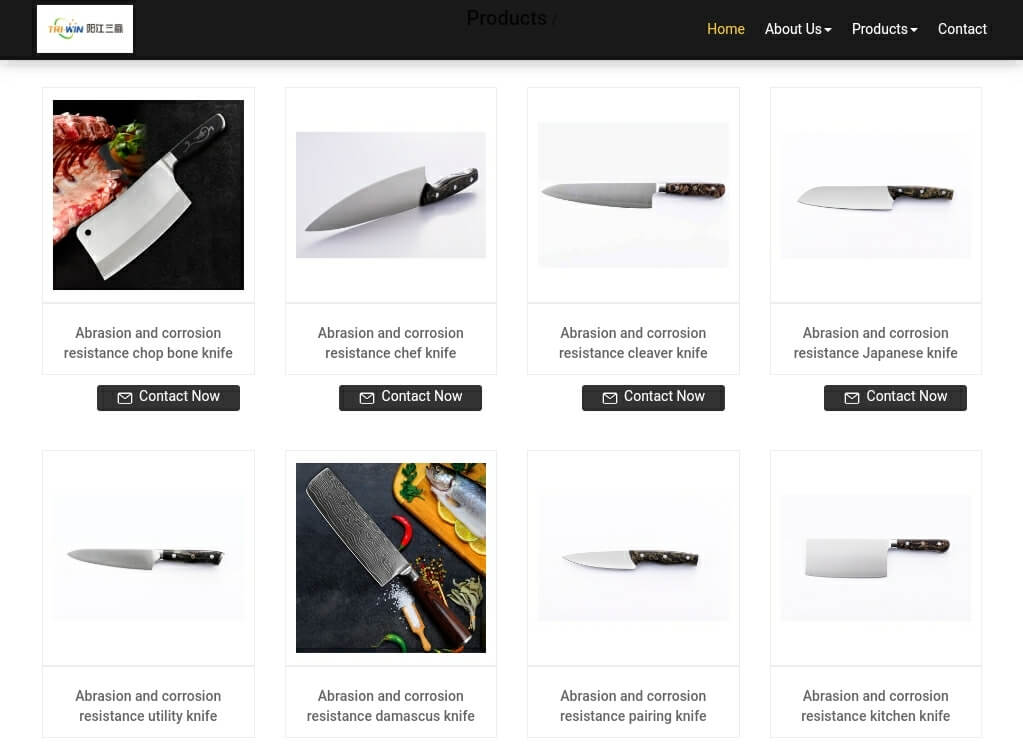 Tri-win is a veteran in the OEM knife business as it launched in 1996. It owns a 20,000-square-foot factory in Yangjiang, China where it produces:
Ceramic knives
Damascus knives
Knife sharpeners
Scissors
Assorted kitchen tools
Key Features
Comprehensive services – the Tri-win is equipped to handle all your OEM needs from sourcing raw materials and designing to sampling, production, and quality control.
Certification -the Tri-win factory and its production standards have the firm multiple certifications from reputable entities like BSCI, ISO, SGS, and STR, among others.
Product quality – Tri-win prioritizes knife quality by selecting materials that are abrasion and corrosion-resistant and using high-standard machining to achieve stellar edge retention and rigidity. 
Taixin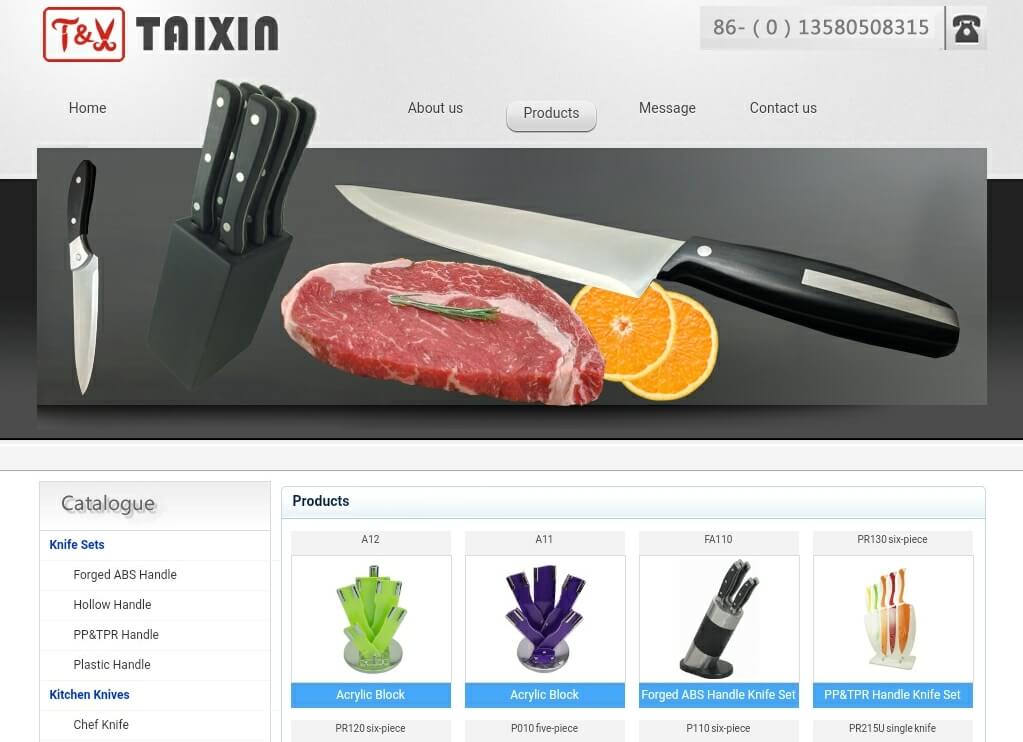 Established in 2003, Taixin has more than a decade of experience in the knife production industry. Its factory is situated in Yangjiang, China, and is equipped to manufacture:
Knife sets
Kitchen knives
Pocket knives
Scissors
Key Features
A blend of materials – Taixin's catalog showcases the company's expertise in crafting knives from different materials like ABS, ceramic, and metal.
Customer support – the Taixin customer team provides feedback on any OEM questions or order inquiries to the company and provides after-sale support too.
Export experience – Taixin understands export trade and can help customers coordinate OEM knife orders internationally.
Honway Industries
Honway Industries' knife-making history dates back to its launch in 1997 in Yangjiang City. It has since grown into a leading knife manufacturer with top OEM clients like France's Sabatier and Germany's Twocrean.
Key Features
Innovative tech solutions – the Honway OEM team uses CAD/CAM software, 3D workstations, and mock-up machines to evaluate and perfect knife designs before production.
Streamlined production – the Honway factory has multiple production lines, over 120 engineers, and adequate CNC and EDM machinery to facilitate quick turnaround times of orders and samples.
Accessibility – Honway takes part in both local and overseas fairs. You can thus visit their stands and have in-person consultations if you prefer them. 
We Knife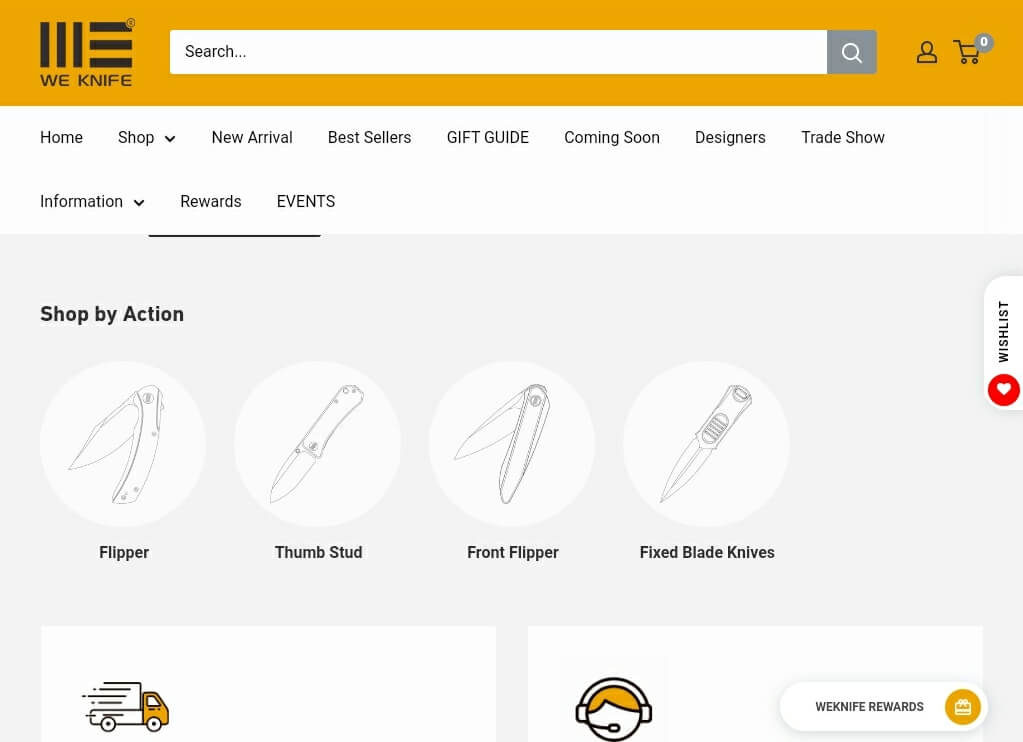 We Knife began as an OEM knife manufacturer in 2000. It still provides these services today even after beginning to produce its own brand of knives. It is based in the USA and specializes in the production of:
Fixed blade knives
Folding knives
Tactical pen-knives
Multi-tools
Key Features
Quality service delivery – the We Knife team has years of experience in R&D and the production engineers are meticulously attentive to detail.
Responsive customer support – the customer support team is split into mini departments to make it easy to find the exact solutions that you need. This also facilitates fast, helpful responses.
Limited shipping – We Knives is currently only able to ship within the USA.
GIS Industrial Limited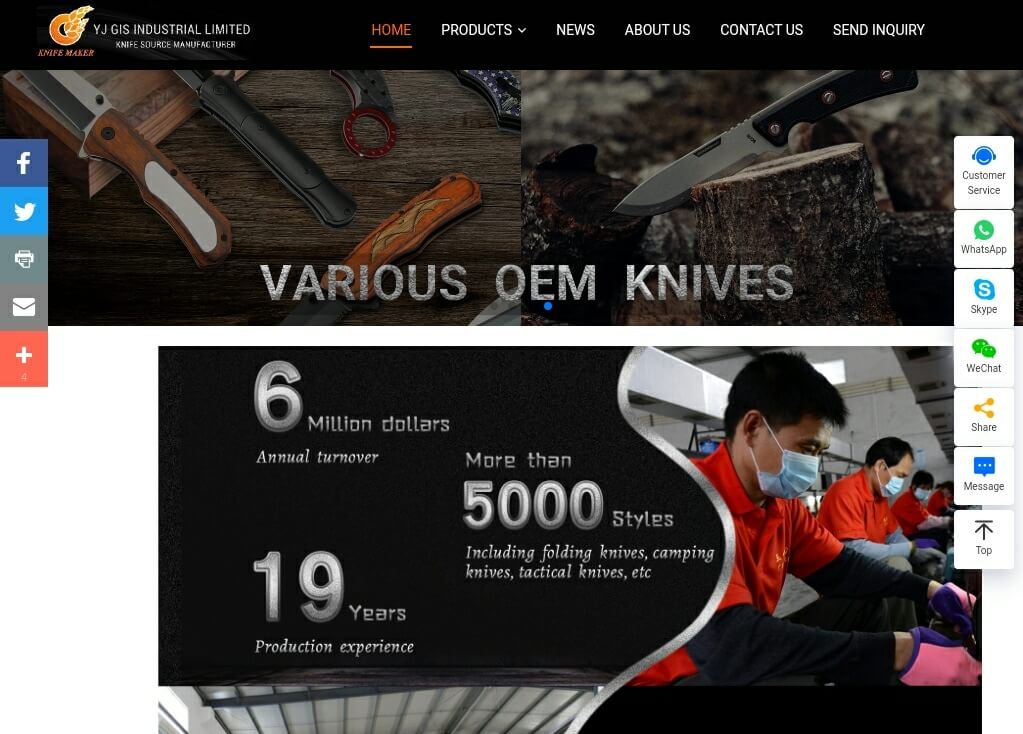 GIS Industrial is also a resident of China's famous Yangjiang knife production region. It has been in the business for over 19 years and offers both OEM and ODM knife manufacturing services.
It may be an ideal manufacturing partner if you are looking to produce:
Folding knives
Hunting knives
Outdoor knives
Pocket knives
Flying knives
Multi-functional
Key Features
Unique design ideas – this company has an extensive catalog of outdoor knife designs that you can use as inspiration. The R&D team is equally quite creative in both design and material selection.
High production capacity – the GIS Industrial factory is well-equipped and adequately staffed. It is thus able to turn around bulk orders in good time while maintaining standardized quality.
Adaptability – GIS Industrial supports an innovative work culture and has invested in high-tech production resources. It, therefore, ably takes on complex or special knife production projects. 
Klever Solingen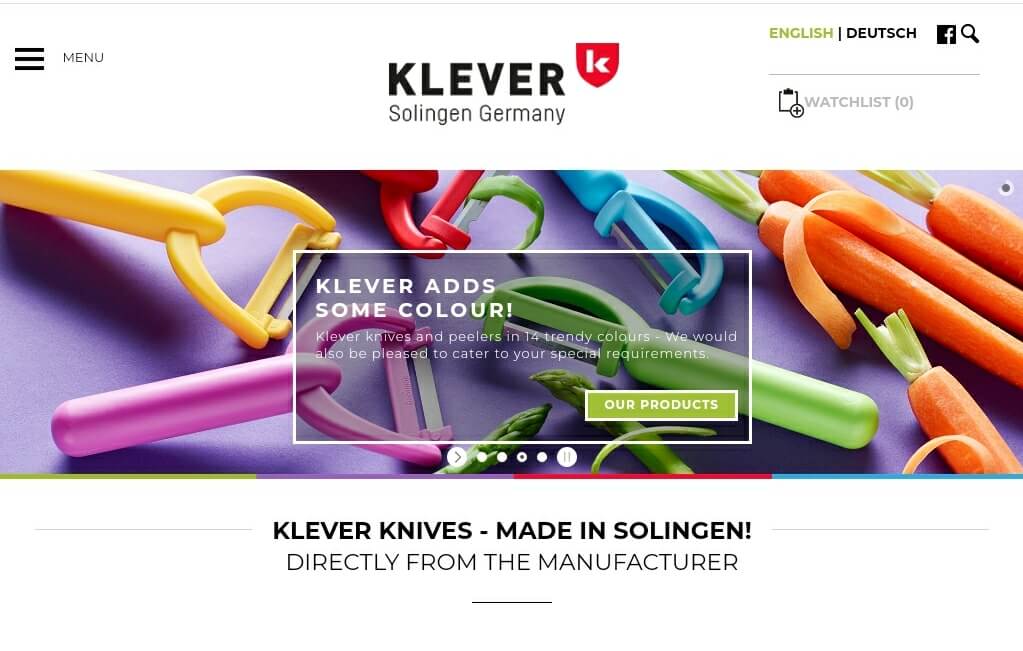 Few OEM manufacturers have a heritage as rich as that of Klever Solingen. The company has been producing knives in Germany for over 80 years. So, if you are looking for experience and the renowned efficiency of German machining, this may just be the firm for you.
It mainly produces culinary knives such as:
Meat knives
Fruit and vegetable knives
Table knives
Key Features
Meticulous material selection – the company uses the world-renowned Solingen steel, which makes highly durable and effective blades.
Exceptional quality standards – all Klever Solingen knives are made to the stringent quality standards of the 'Edelstahl rostfrei' (stainless steel rust-free) trademark that knife-makers in the region are held to.
Accessibility – Klever Solingen attends international trade fairs and offers samples and presentations for potential clients needing OEM knife manufacturing services.
FAQs about OEM Knife Manufacturers
Is OEM Better than ODM?
The right answer here may vary based on your situation.
OEM knife manufacturing is ideal if you
Prefer unique authentic knife designs that resonate with your brand and set you apart from your competitors.
Have a knife design in mind that would offer a superior solution to customers than other options in the market.
Have enough time and money to weather the OEM process.
ODM, in contrast, maybe a better choice if you:
Have a limited budget or too little time to handle OEM knife production.
Are still learning about your market or the knife industry and would prefer to make conservative investments.
What Should I Look For in an OEM Knife Manufacturer?
Aim for an OEM knife manufacturer that can:
Uses quality knife-making supplies and top-tier craftsmanship.
Deliver within reasonable turnaround times.
Produce enough units to meet your supply needs.
Maintain a high and consistent standard of quality.
Offer fair pricing and MOQs.
Provide all, or at least most, of the services you will need such as design assistance, sampling, branding, or custom packaging.
Provide reliable customer support during and after the sale.
How Do I Find a Reliable OEM Knife Manufacturer?
The OEM knife manufacturers on this list are worth exploring, but you can find other options through:
Sourcing companies – these companies have expert sourcing agents that will search for, evaluate, and shortlist OEM knife manufacturers based on your requirements. They charge a service fee.
Online searches – you can look up OEM knife manufacturers on search engines like Google or B2B marketplaces like Alibaba, Global Sources, or Made in China. For best results, use keywords and search filters.
Trade shows – trade shows, like the Canton Fair or the knives fair held in Yangjiang, bring together countless OEM knife manufacturers. Attending them allows you to interact with the manufacturers, negotiate, and examine knife samples in person.
Are OEM Knives Better?
Yes, in most cases. This is because:
You can design knives to differentiate your brand.
You can offer customers knife solutions that other brands may not offer.
The uniqueness of your knife designs may allow you to sell at a higher price than nondescript brands.
In Conclusion
The OEM knife-sourcing process can seem long, costly, and strenuous. However, once you find a reliable manufacturer and settle into your partnership, the flow of operations will be easier and more profitable.
Besides, you can count on us to find the right manufacturers for your needs. We also provide product development, branding, and worldwide shipping support.
Ready to start? Simply send us a detailed outline of your sourcing requirements and request a free quote at any time.