The kitchen industry is worth millions of dollars. Focusing just on selling knives online can be a game-changer for your business.
But to build a brand around selling knives, you need reliable private label knife manufacturers–the ones who offer quality knives at competitive prices with fast shipping.
This article reveals a list of private-label knife manufacturers, so you don't have to search for them. You will learn a brief introduction to each manufacturer and their pros and cons.
Let's jump right into the list.
1. Everwealth Kitchen Knife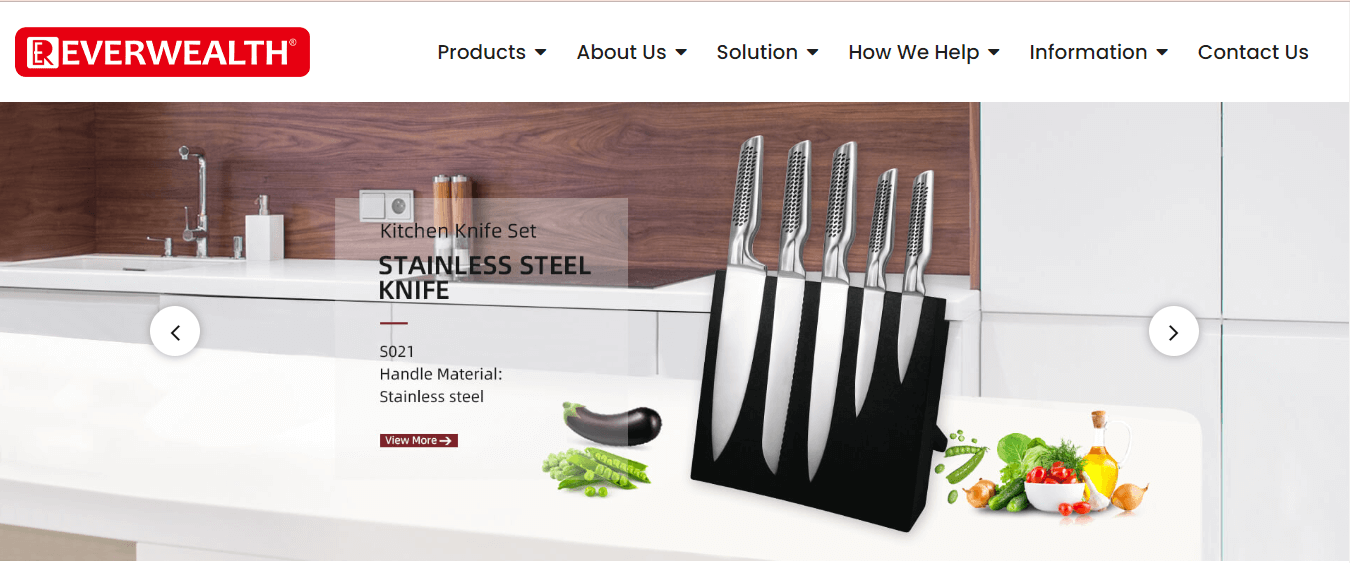 Everwealth Kitchen Knife is located in Guangdong, China, and specializes in manufacturing all kinds of kitchen knives.
You can get quality knives with metal, plastic, and wooden handles.
They claim to work with over 20 knife brands. So, it can be a great option to private label your knife business.
Key Features
OEM/ODM service
Good R&D practices
Custom packaging
Quality control practices
End-to-end service from design to delivery
Aftersales and warranty services
Pros
Good options for custom knife manufacturing
Experts in manufacturing kitchen knife sets
Longlasting knives will earn you positive customer reviews
ISO certifications to ensure quality
You can offer Everwealth's 3-year warranty to your customers to gain their trust
Cons
Only limited to kitchen knives
Price range is not available
US-based fulfillment centers are not available
2. LeeKnives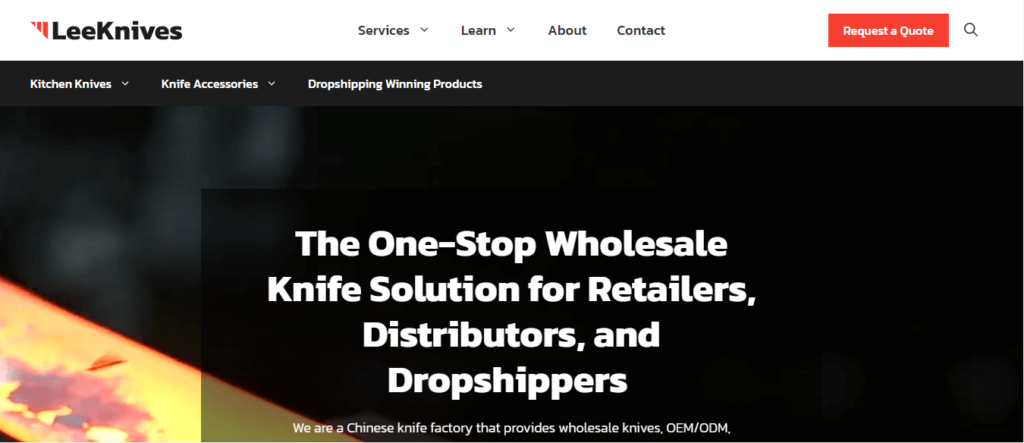 LeeKnives is one of the renowned private label knife manufacturers located in Yangjiang, Guangdong, China.
You can find a huge range of knives at wholesale prices. They also provide dropshipping services.
They are the experts in making custom knives as per your requirements. If you are looking for handmade or stamped knives, you can consider LeeKnives.
Key Features
Over 30 years in knife manufacturing
A home to all kinds of kitchen knives
Chinese, Japanese, Western and Asian styles are available
Strict quality measures
MOQ of 50 pcs per item
Up to 45 days for a custom knife manufacturing
Sample testing is available before bulk buying
Pros
You can sell knives in Amazon Handmade products
A great sourcing partner for dropshipping knives
Knife accessories are also available
Good product pictures with detailed description
24/7 customer service
You can return the products for required changes
Worldwide shipping with fulfillment centers in China and the US
Cons
Limited to kitchen knives only
Price range is not available
No warranties are offered
3. R. Murphy Knives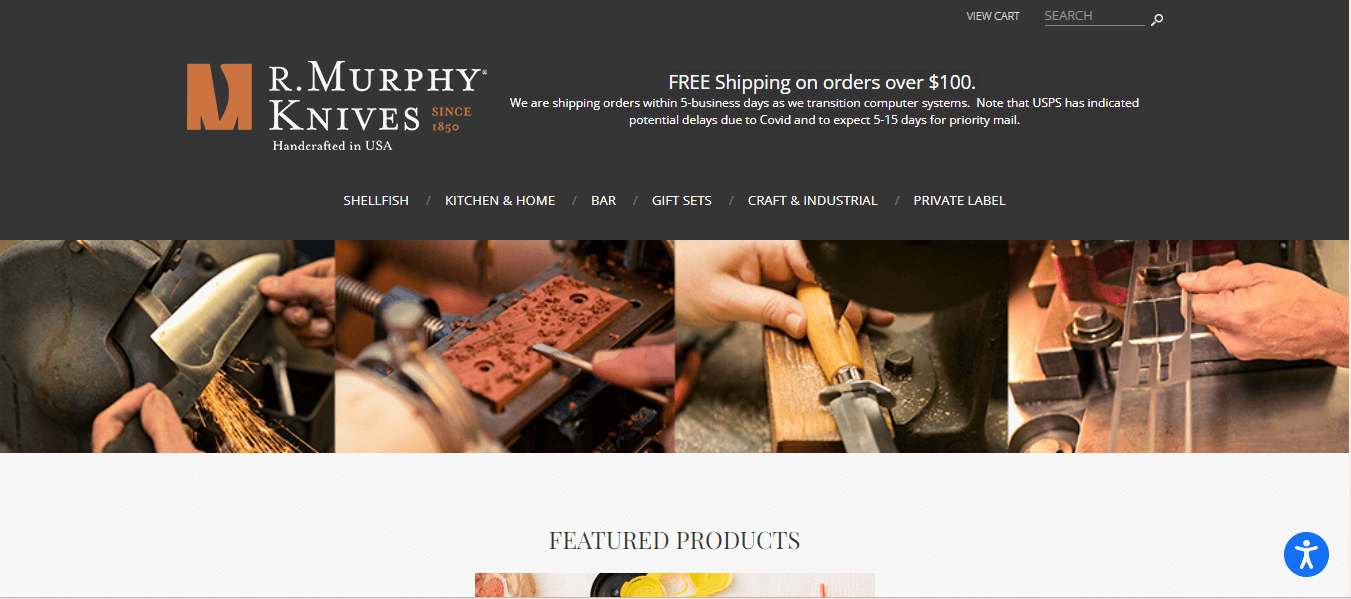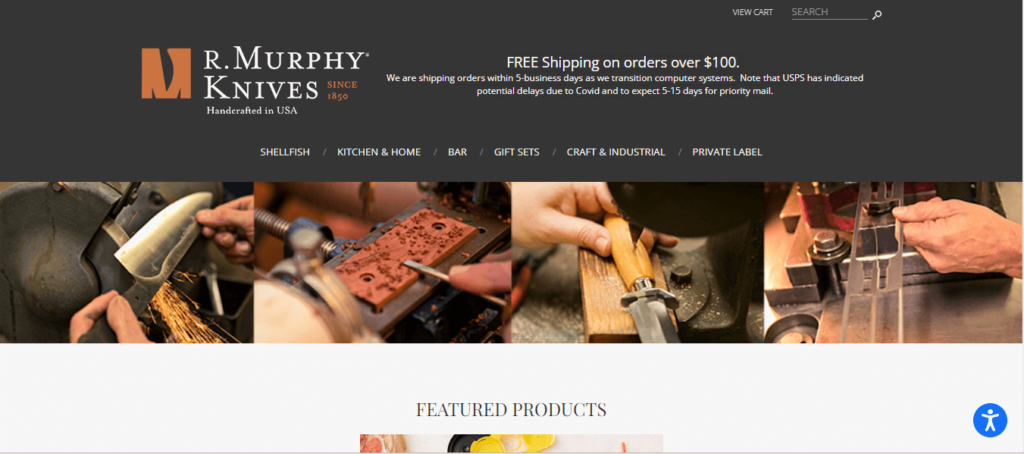 Started in 1850, R. Murphy Knives is a reliable name in knife manufacturing
They proudly manufacture quality knives in the USA. So, it can be a great option to procure knives to sell in the US market.
You have a huge variety of knives on this website and can also get gift sets made of knives and accessories. They manufacture knives for kitchen, home, and industrial purposes.
In addition to the private labeling services, you can get pre-made knives at competitive wholesale prices.
Key Features
A large variety of knives are available
In addition to knives, they also offer some related kitchen tools
Handcrafted knives
Strict quality checks
Free shipping on orders over $100
Pros
Logos are printed beautifully on the knife handles
High-quality pictures of the knives are available
You can also get your logo engraved on the knife blades
Huge variety of wood handles are available including oyster wood, recycled plastic
Price information are available
Cons
You have to pay a one-time fee of $85 for artwork
Large MOQ requirement of 144 pcs per product
Dropshipping services are not available
4. Halpern Titanium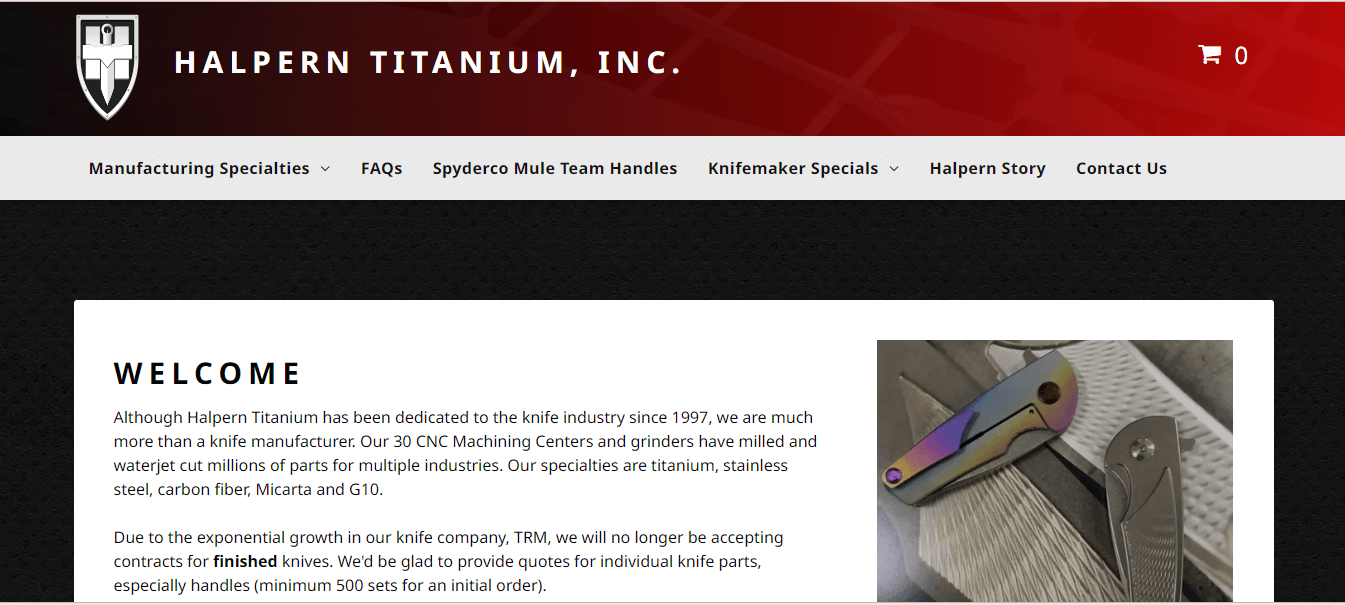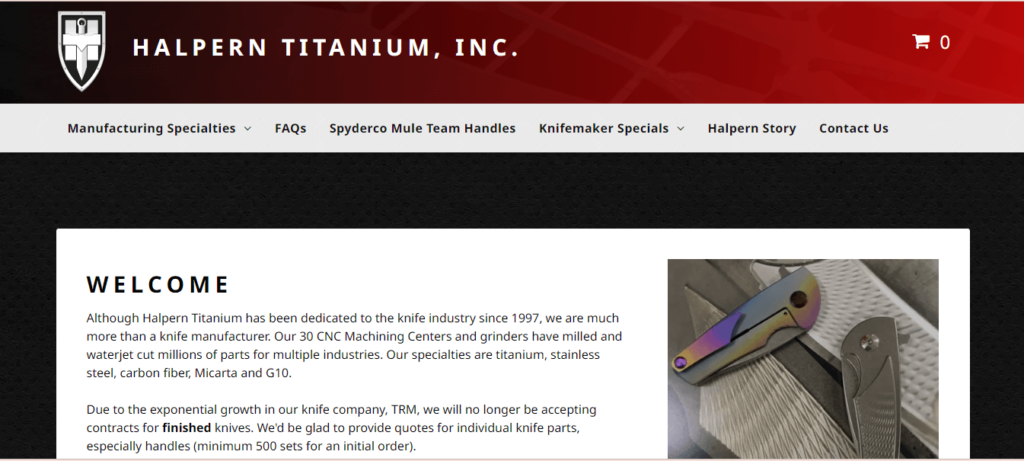 Started in 1997, Halpern Titanium is another great knife-manufacturing company in the USA.
It began as a company to provide a huge variety of knives. Over time, it grew to become a private label company that only provides custom handles and parts of knives.
So, you can use this company to engrave your company's name or logo on the knives you are selling.
Key Features
Advanced CNC machining
Better finish and manufacturing accuracy
Orders ship within a week
Pros
Only focused on private labeling
High-quality titanium knives
Large-scale manufacturing
Excellent option for stainless steel and carbon fiber knives
Cons
An MOQ of 500 pcs per order
Doesn't provide finished knives
5. Knife Roll Company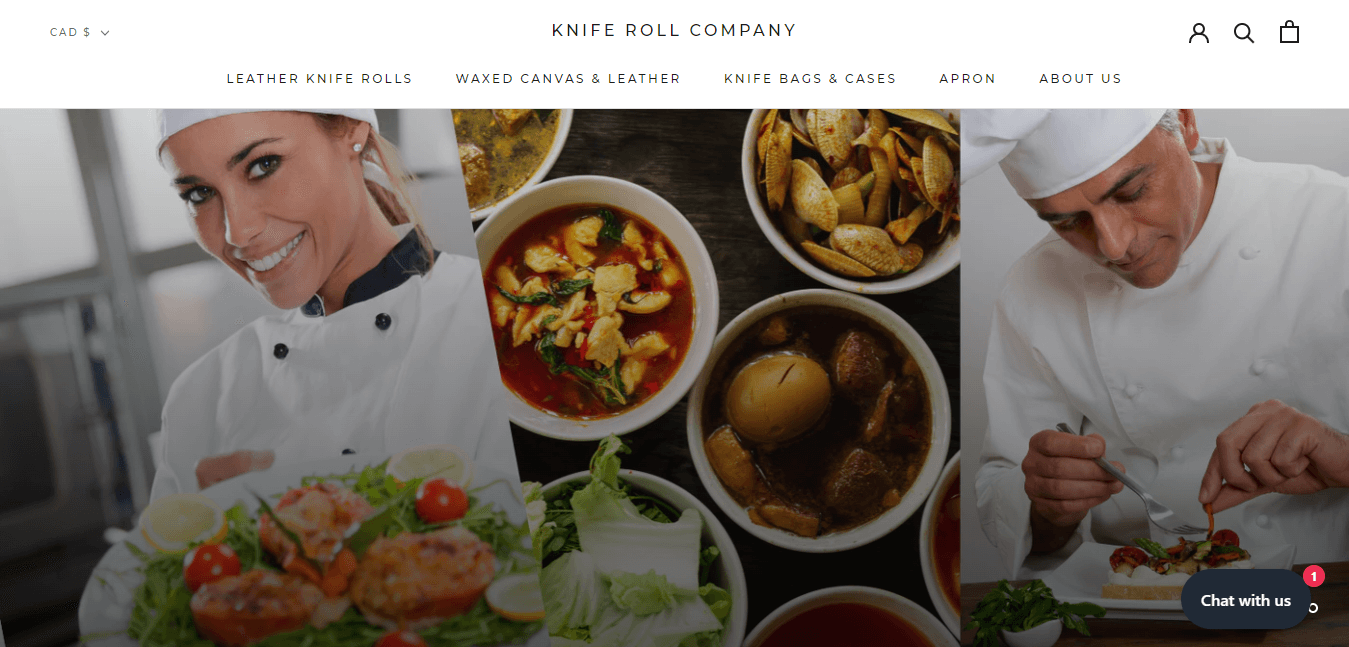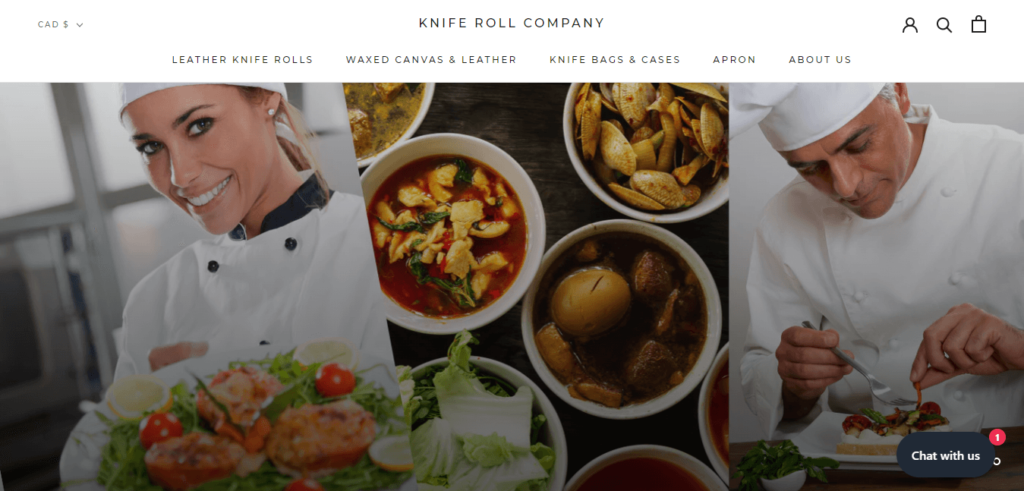 Knife Roll Company is a private label knife-rolls manufacturer in Canada. It is a reliable option if you sell knife accessories to protect your premium knives.
In addition to private labels, it also provides dropshipping services.
It claims to use only the finest quality leather in manufacturing knife rolls. So, you can be sure of its quality.
Consider working with this company if you want to sell leather knife rolls and waxed canvas. It also offers leather knife bags, cases, and accessories.
Key Features
A family-owned business
Every order is carefully handcrafted
Strict quality measures
Pros
A hundred-year purchase coverage
You can offer a hundred-year warranty of knives to your customers
Ideal for selling in the North-American market
Affordable pricing
Cons
6. Felix Solingen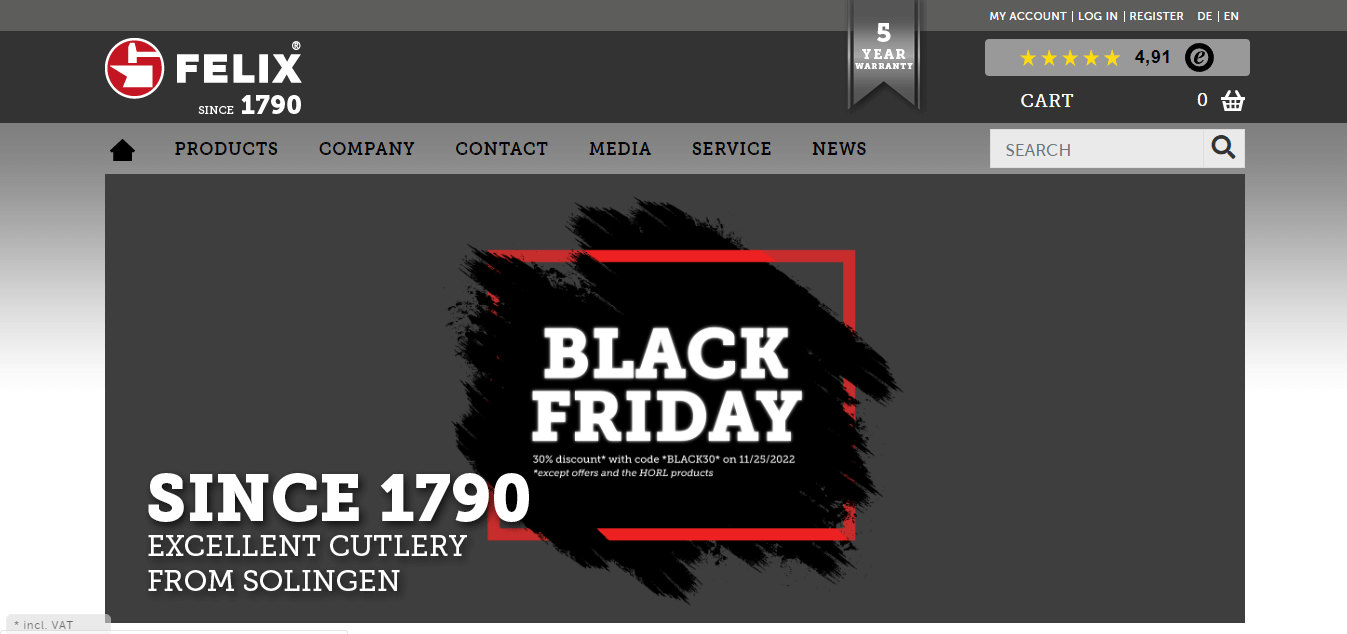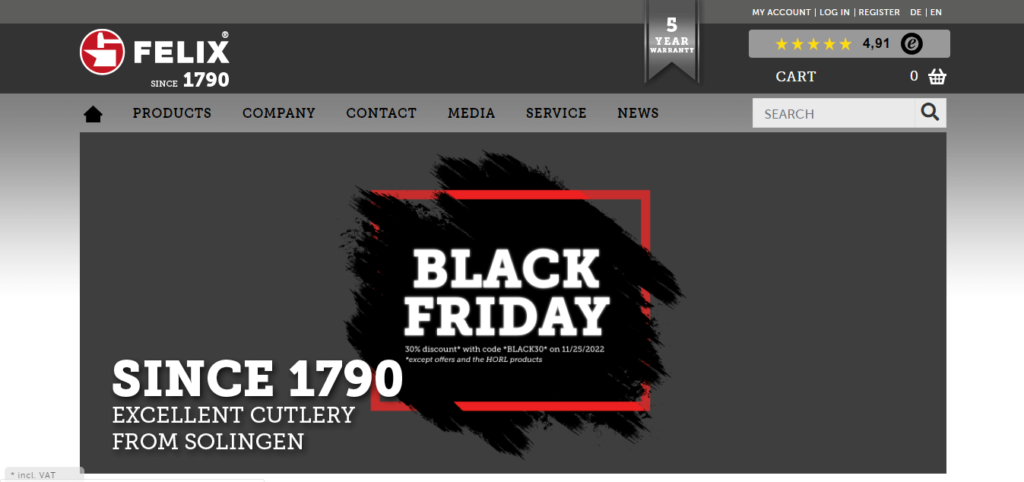 Are you a fan of German knives? Felix Solingen is a great option for sourcing private-label knives made in Germany.
The company started in 1790 and has been providing quality knives worldwide. It claims to use only premium raw materials to manufacture knives that last longer than usual.
They have a rigorous production process. A knife goes through multiple procedures until it is ready to leave the production line.
Key Features
Knives with POM and wooden handles are available
Excellent quality blades are available
A home to punched blades and forged knives
Convenient payment methods
5-year warranty
Pros
One of the oldest manufacturers of quality knives
Huge variety of knives
Laser engraving
Best for kitchen and professional knives
Perfect finishing
A great option for handmade knives
Cons
An MOQ of 500 pcs per piece
7. Klever Solingen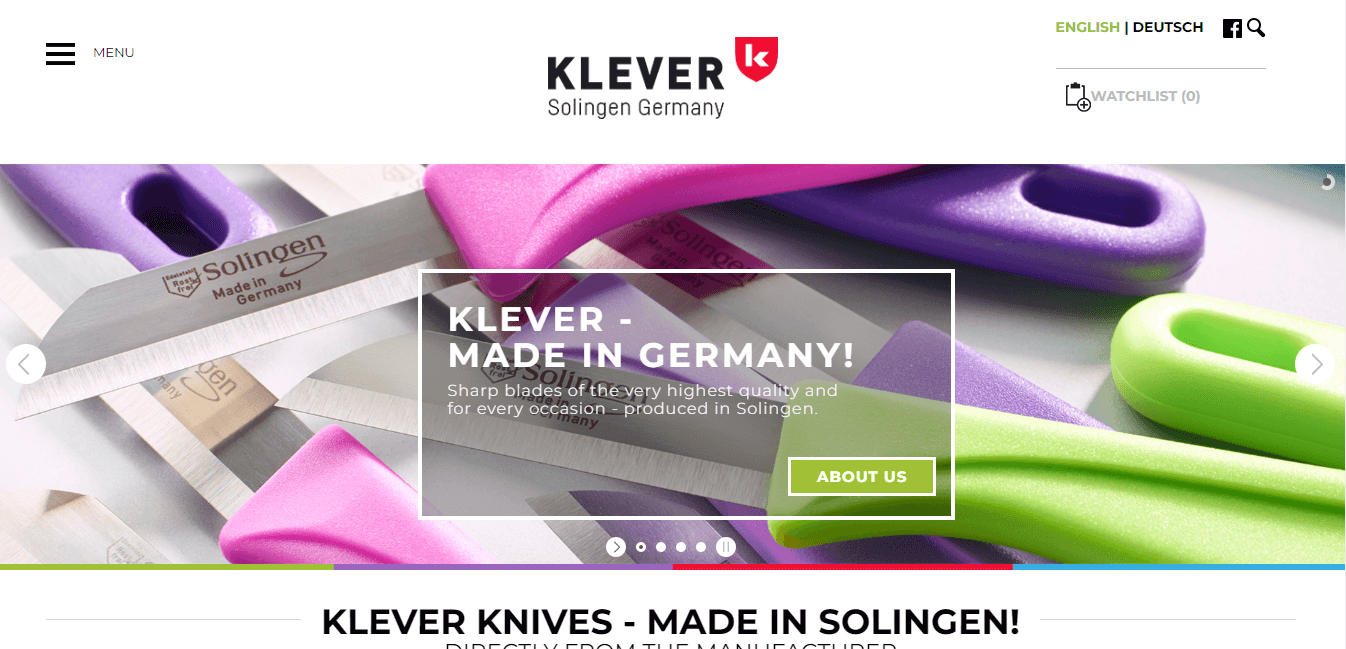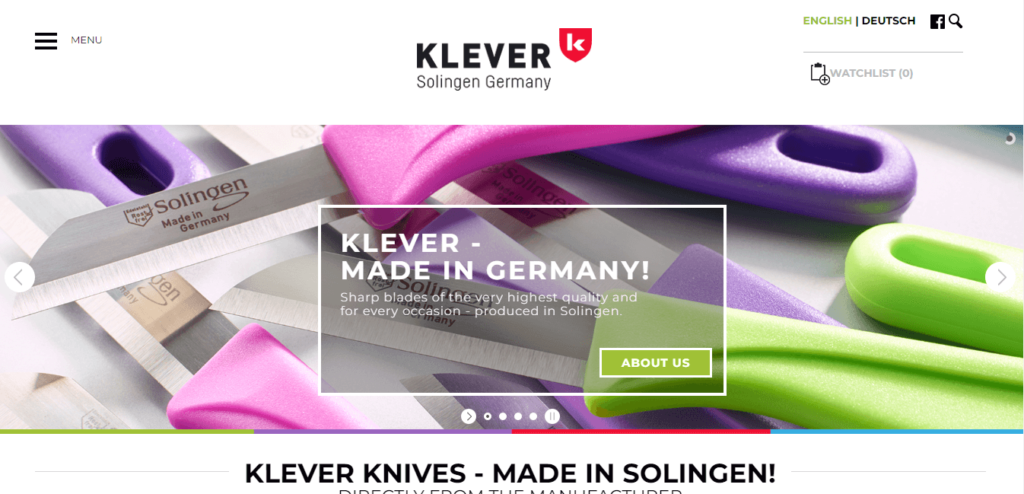 Klever Solingen is another worth-mentioning knife-manufacturing company in Germany. It also hails from Solingen, a famous area in Germany known for manufacturing quality kitchen items.
Klever is a family-owned business. So, they take quality very seriously.
It can be the best option for your private label business as you can get customized knives with your logo on the blades, handles, and packaging.
Key Features
80+ years of experience in manufacturing knives
A huge variety of types and colors of knives
Custom coloring is also offered
Works with famous knife brands
Pros
Attractive knife series
Knives are available in 14 trendy colors
Items related to knives are also available – peelers, etc.
Decent customization options are available
Multiple custom packaging options
Cons
Information on MOQs and prices are not available
8. Habur-Saws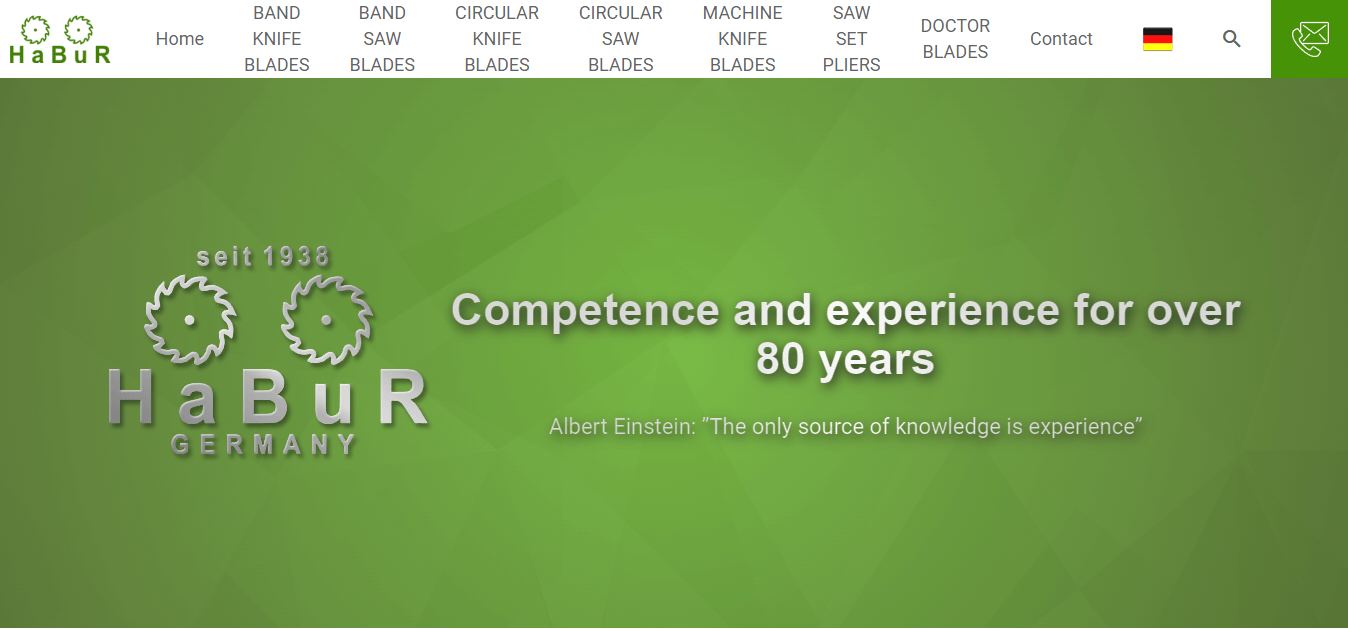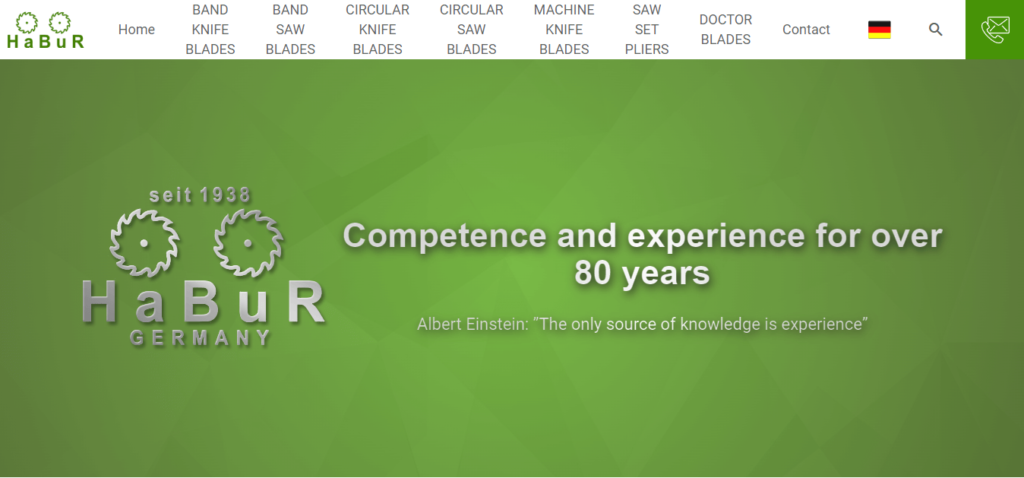 Habur is yet another German company for customized knives. It started in 1938 and went on to produce quality blades for knives.
If you want to focus on knife blades, Habur is the company to work with.
Many customization options are available. You may contact them to discuss your product requirements in detail.
Key Features
80+ years of experience
Multiple knife blades available
Rigorous blade-production processes
Uses latest laser technology
Pros
High-quality blades for knives
Unique blade styles available
Best for engraving logos on blades
Long-lasting knives
Cons
MOQs and pricing are not available
Detailed product descriptions are not available 
9. Wholesale Chef Knife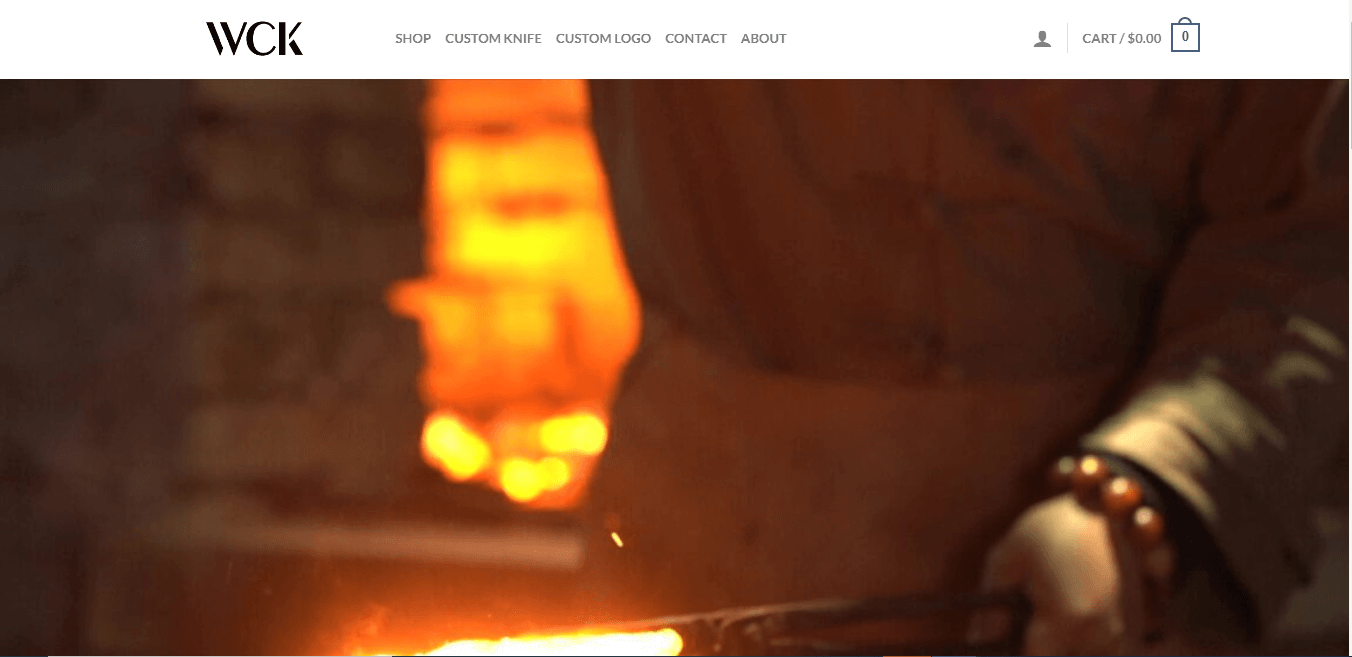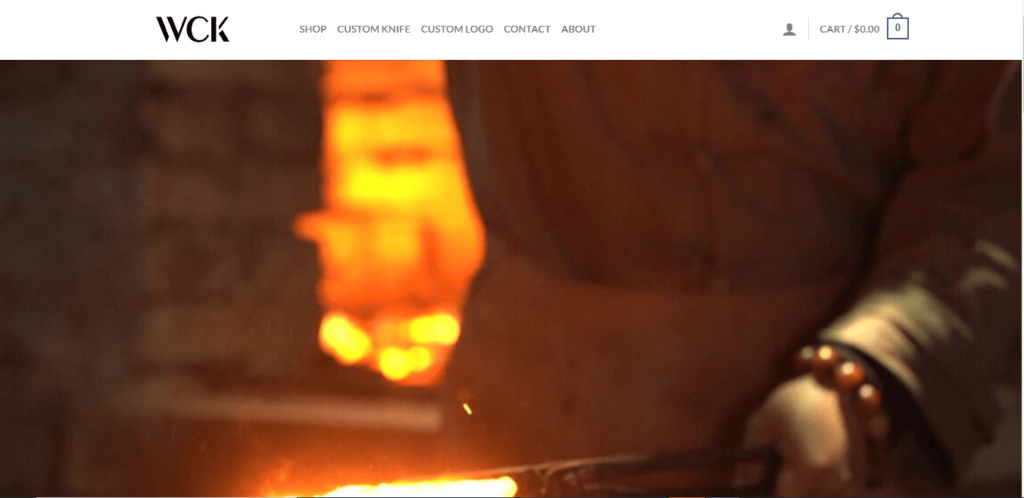 Wholesale Chef Knife is a one-stop solution for all your kitchen items. It started in 2005 and is based in Yangjiang, Guangdong, China.
It claims to offer the best pricing due to being a direct manufacturer. With no middlemen or advertising costs involved, you can get custom knives at the most affordable prices.
Creative designs are also available. They claim to use quality materials for manufacturing knives to last longer.
Key Features
Over 15 years of experience in manufacturing knives
It is open to manufacturing the knives as per your requirements
Experts in using the right machinery and tools for manufacturing knives
200+ knife handles are available for customization
Pros
Pre-made knife inventory is also available
Customer-focused approach
Great customer service
Handmade knives are also offered
Customized branded packaging is available
Cons
Only limited to kitchen knives
MOQs and pricing is not mentioned 
10. Luk Knife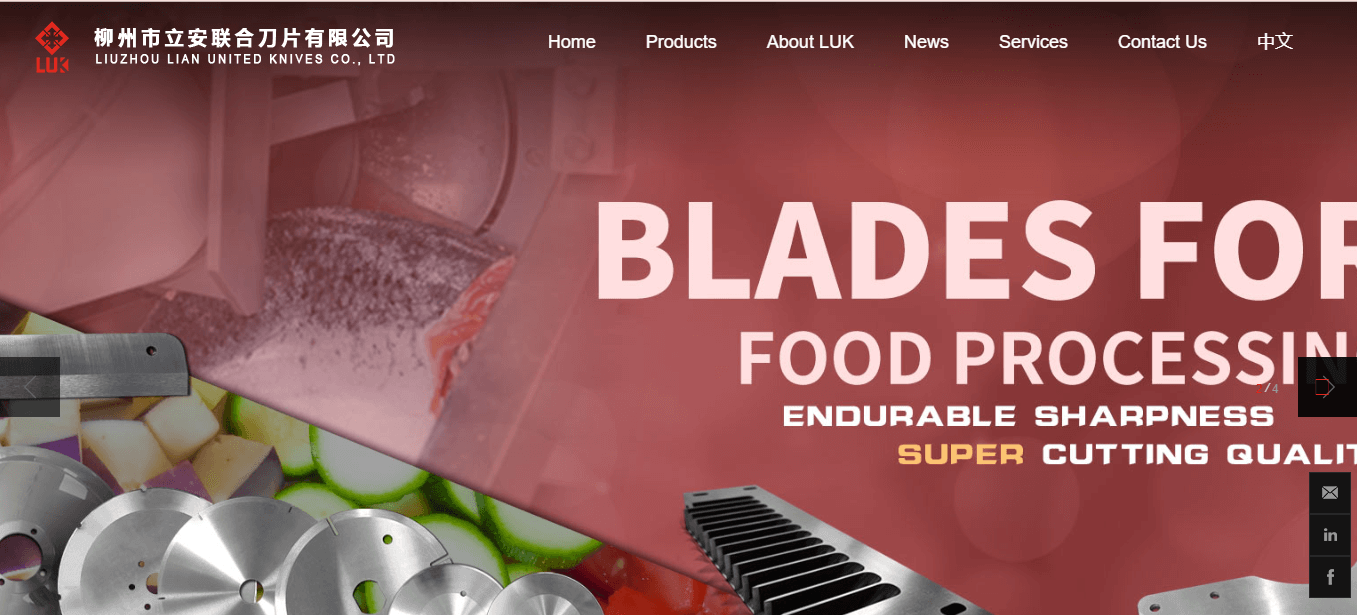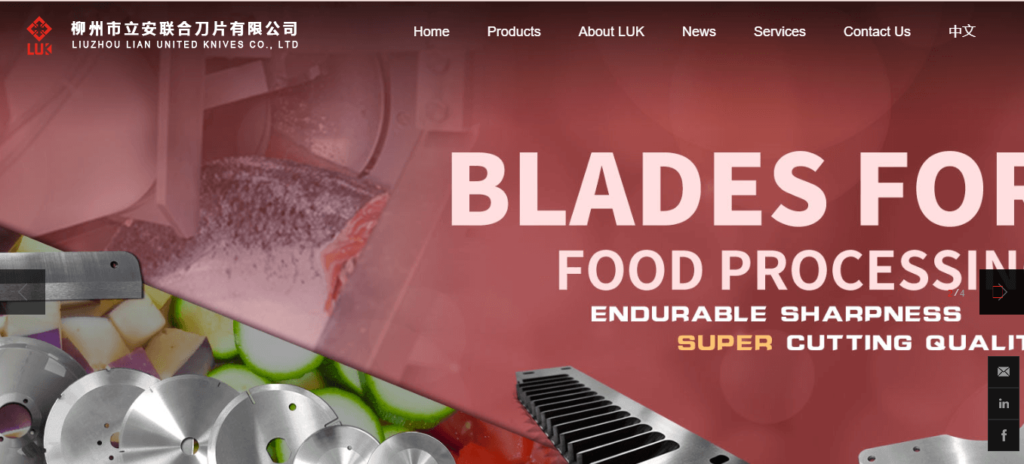 Based in China, Luk Knife is a promising manufacturer of different kinds of knives.
The company claims to have worked with many brands selling knives. Most of the knives go to European and American regions.
You can get multiple types of knives, including Kebab knives, food processing knives, slitting knives, etc.
Key Features
Over 30 years of industrial experience
A great team of engineering professionals
They have shipped to over 90 regions globally
High-quality material is used
Advanced machinery for manufacturing knife blades
Pros
Unique designs of knives
Knives are available as per the usage and industry
Super cutting quality
Affordable pricing
Cons
No information on pricing and MOQs
Website is not optimized for English regions
11. Gooda Home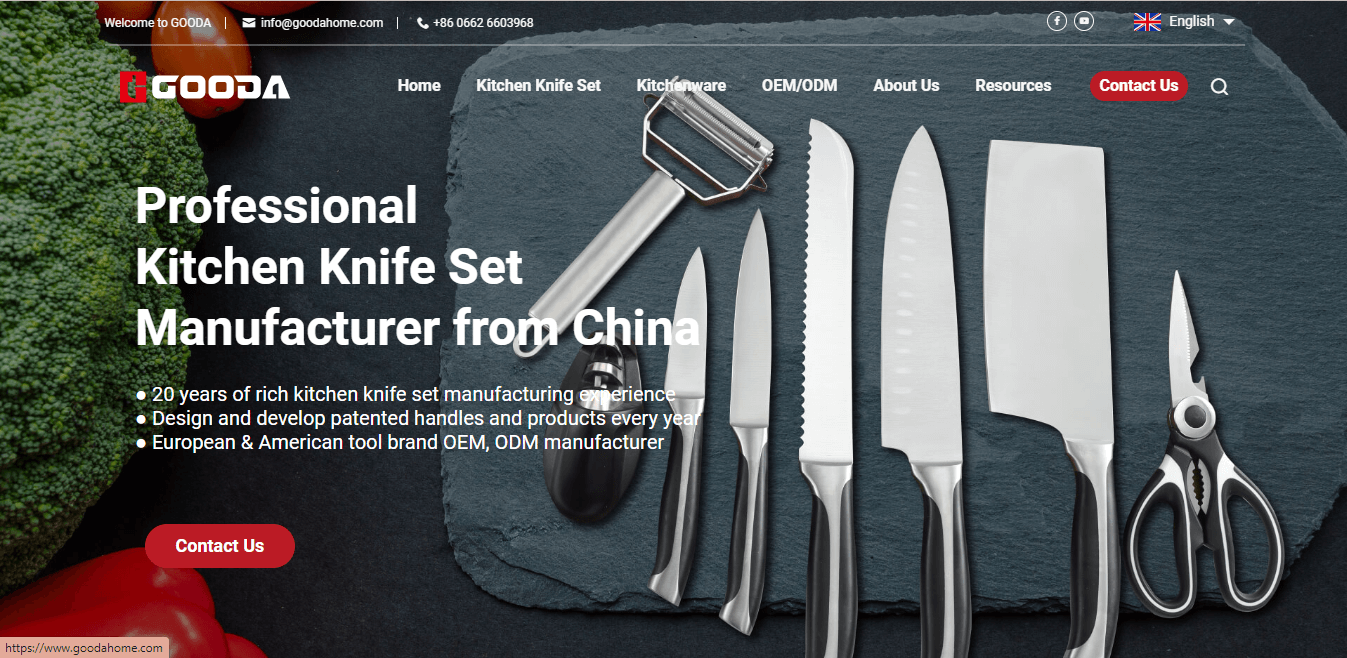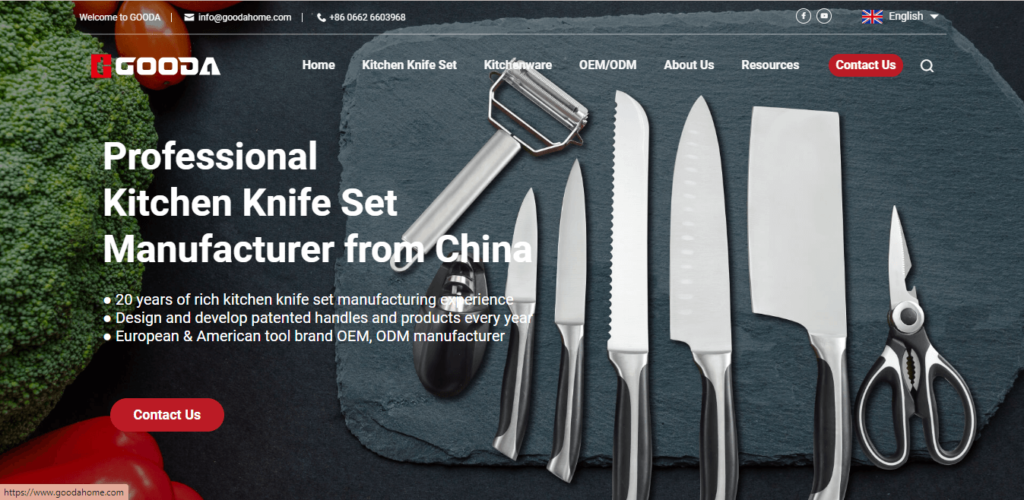 Gooda Home is another great knife company in China. It claims to comply strictly with your specifications.
With over 20 years of experience, they have specialized in manufacturing various kitchen knives.
They also claim to have worked with many European and American knife brands as their manufacturing partners.
Key Features
Modern manufacturing system
Premium quality knives
Kitchenware product series is available to add SKUs
Unique designs of knives
Sells to European and American brands
Pros
Best for manufacturing kitchen knife sets
Ideal option for stainless steel knives
Cost-friendly knives
Pre-made knives are also available
Cons
No information on pricing and MOQs
12. Ruitai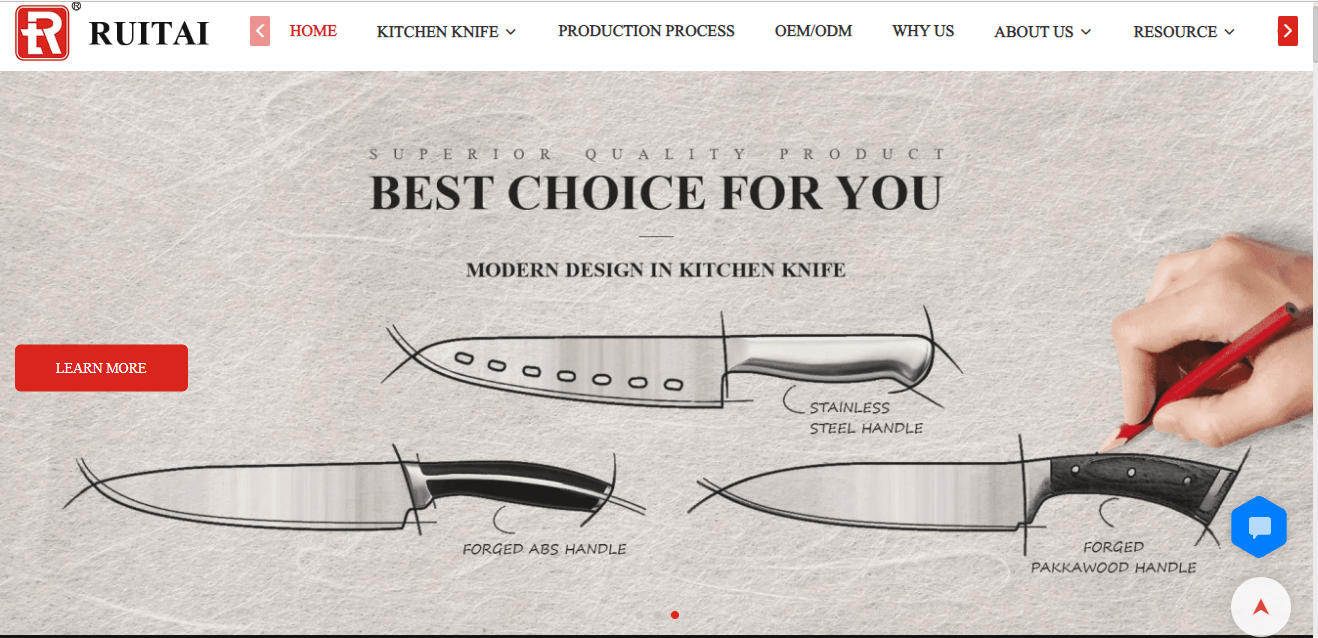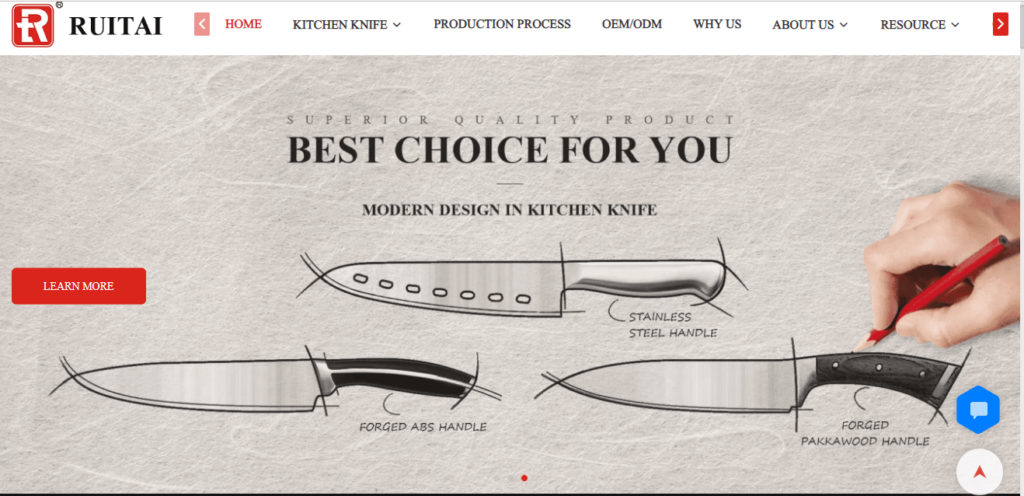 Ruitai, also known as RT Kitchen Knife, is a knife manufacturer in China. It has over 18 years of experience manufacturing various kinds of kitchen knives.
It offers customization services for knife blades, designs, and handles. You can share your detailed requirements to discuss possible solutions.
If you are looking for stainless steel and forged knife handles, Ruitai can be an excellent choice.
Key Features
OEM & ODM custom services
Strict quality measures
Latest machinery for cutting and shaping knives
Aggressive and continuous R&D
Experienced staff
ISO certifications
Convenient payment methods
Pros
Huge variety of kitchen knives
Customized packaging
Beautiful designs of knives
High-quality pictures
Good product descriptions
Fast delivery
Excellent customer service
Cons
You have to send an inquiry for pricing 
13. Ontario Knife Co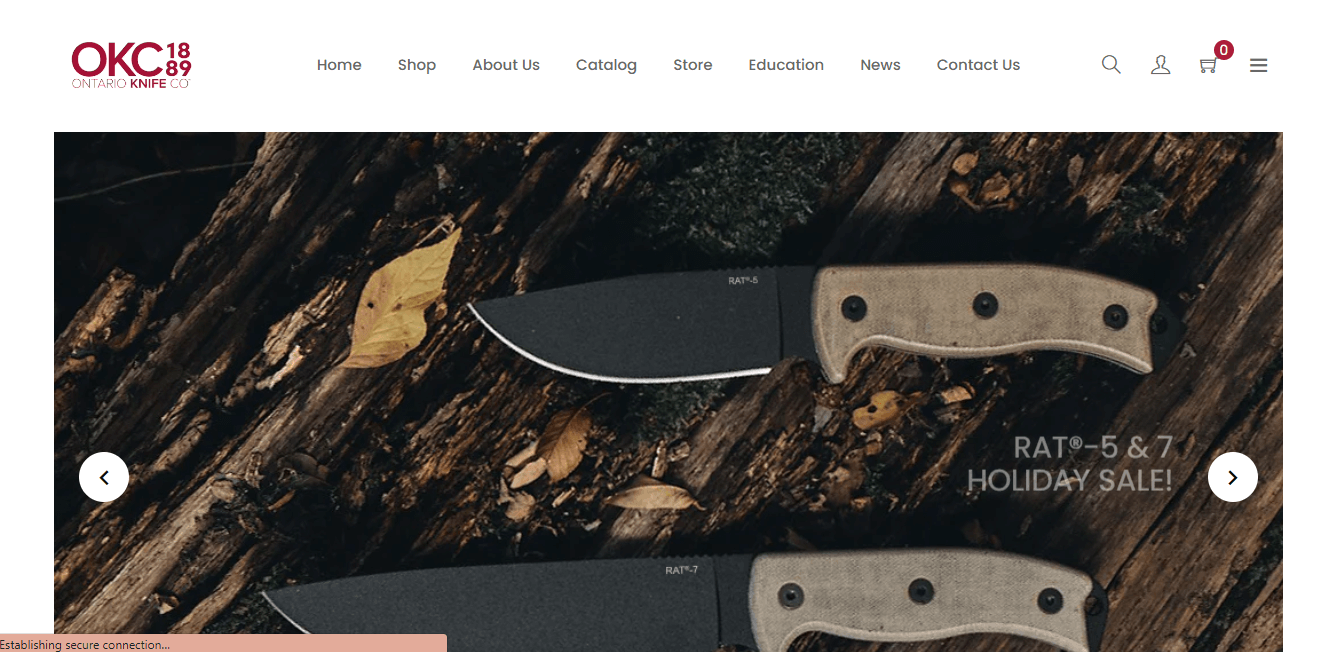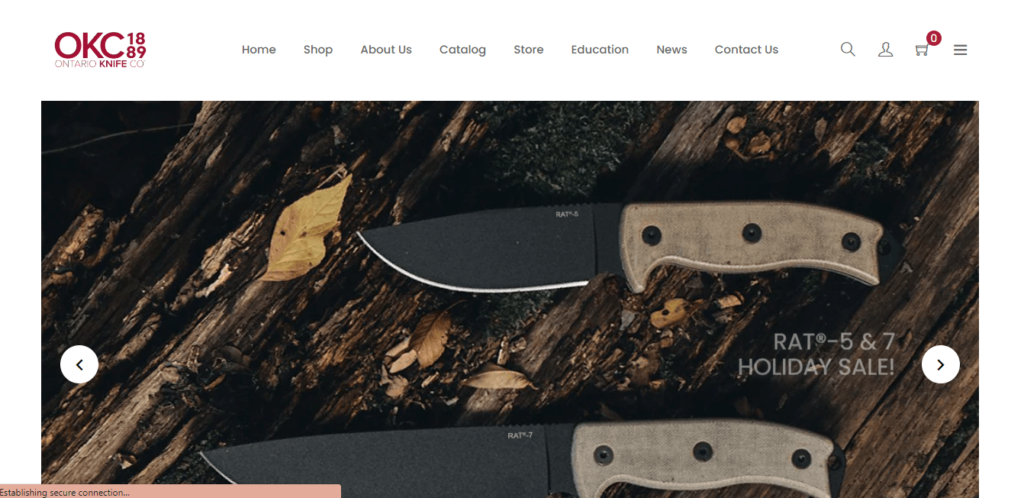 Founded in 1889, Ontario Knife Co, aka OKC, is an excellent option to get quality knives manufactured in Canada.
OKC can serve your purpose if you sell knives for hunting, camping, bayonets, etc.
Being manufactured in Canada gives you satisfaction with quality. So you can confidently resell them on your online store.
They also sell their pre-made knives in their online shop. You can get special quotes at wholesale prices with private label options.
Key Features
Legacy over 100 years
Premium knives
High-quality raw materials are used in manufacturing knives
Knives are available for multiple purposes, including tactical, home, garden, hunting, and camping purposes
Pros
Ideal for selling in the North American region
High-ticket knives
Beautiful shapes and designs
You can use their high-quality images on your online store
Better profit margins
Cons
A little expensive knives 
14. Blue Ridge Knives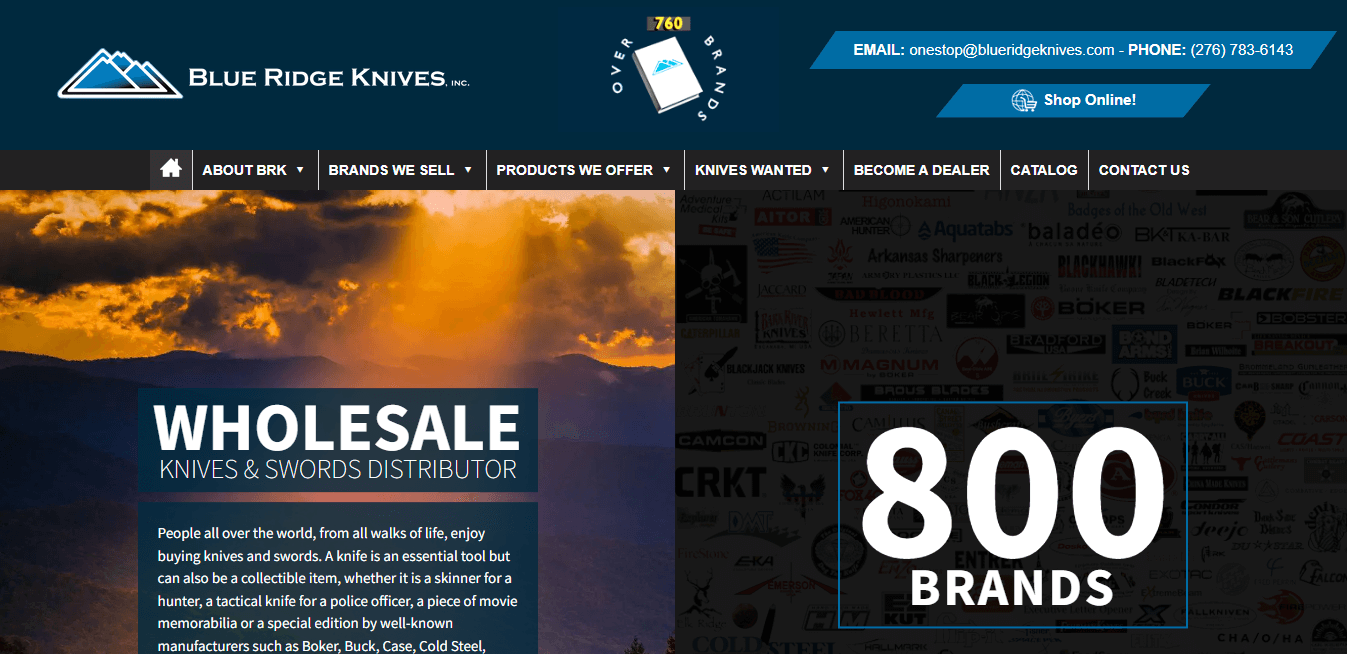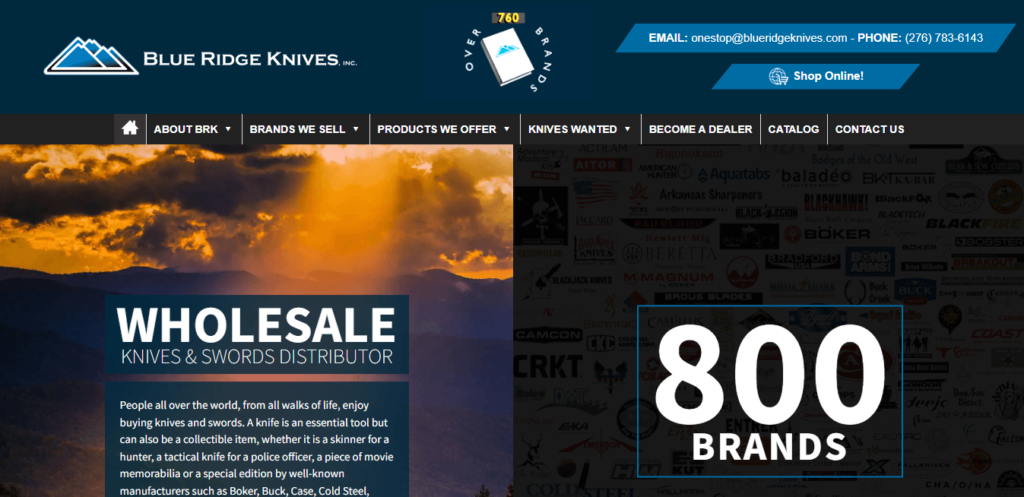 Blue Ridge Knives is a renowned knife company that sells almost all kinds of knives. In addition to knives, you can also get swords, kitchen items, and cutlery from this website.
You must become an authorized dealer of this company to sell their knives.
They have a well-decorated website. You can find quality pictures of the products along with good product descriptions.
Key Features
Trusted by 800+ brands
MOQs are in amount, not in quantity
Only focused on wholesale
Knives tools are also available
Pros
Massive variety of knives
Related items are also available for cross-selling
Decent profit margins
Premium shipping options
Knives for hunting, fishing, camping, survival are also available
Cons
Lengthy process to become a distributor
15. Maniago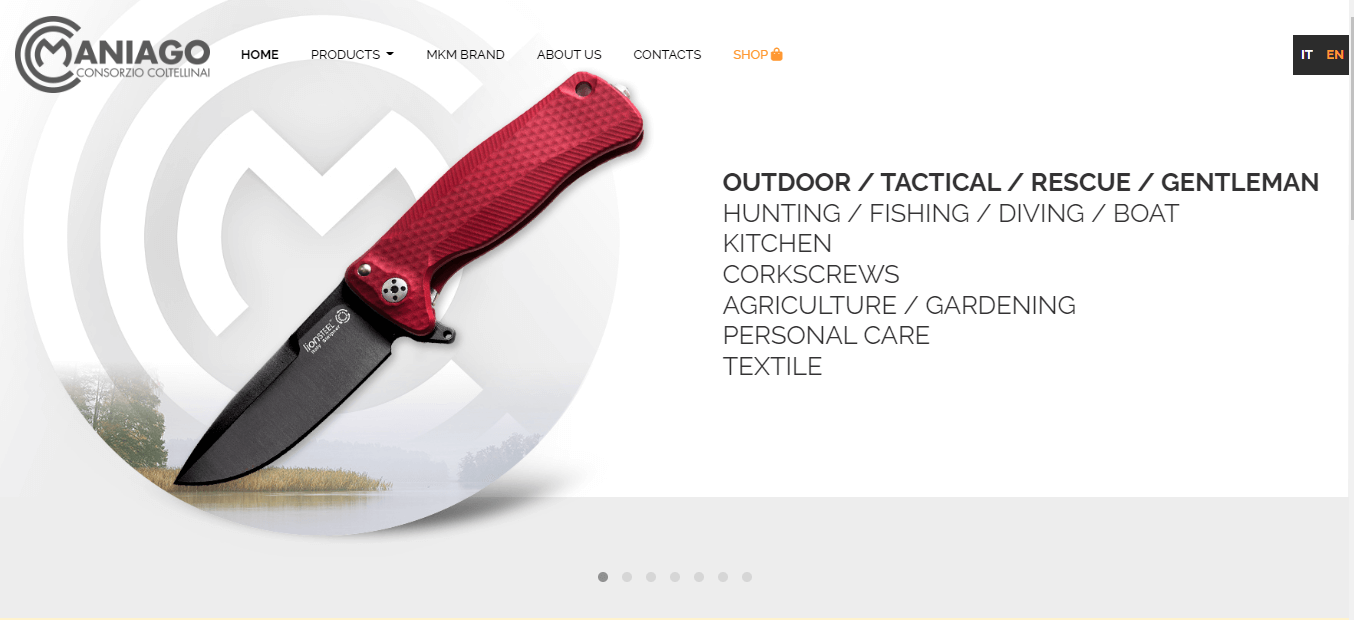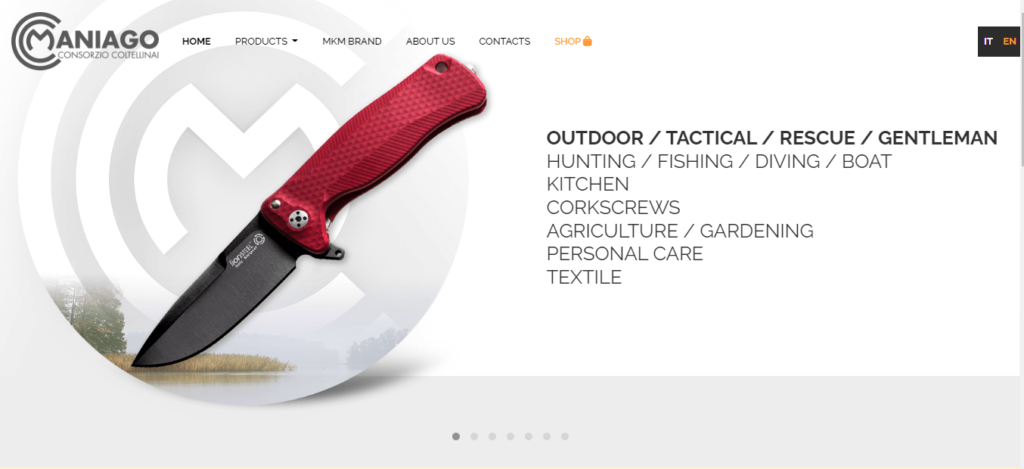 Maniago is a famous knife brand in Italy. It has been manufacturing specialty knives since 1960.
You can find multiple types of outdoor, tactical, rescue, and gentleman knives. You can also ask them to manufacture knives for hunting, fishing, agriculture, and gardening purposes.
It is a trustable name in Italy and can be a good choice to get your ideal knives manufactured by them.
Key Features
Over 60 years of experience
New products and styles are regularly added
All knives are made in Italy
Quality of knives is guaranteed by the company
Worldwide shipping
Pros
Beautiful and unique styles of knives
Best option to sell knives in Italy and Europe
Related items for personal care are also available
Prices are mentioned to have an idea of retail margins
Cons
You only have to contact them to discuss your private label options
16. Knives Ship Free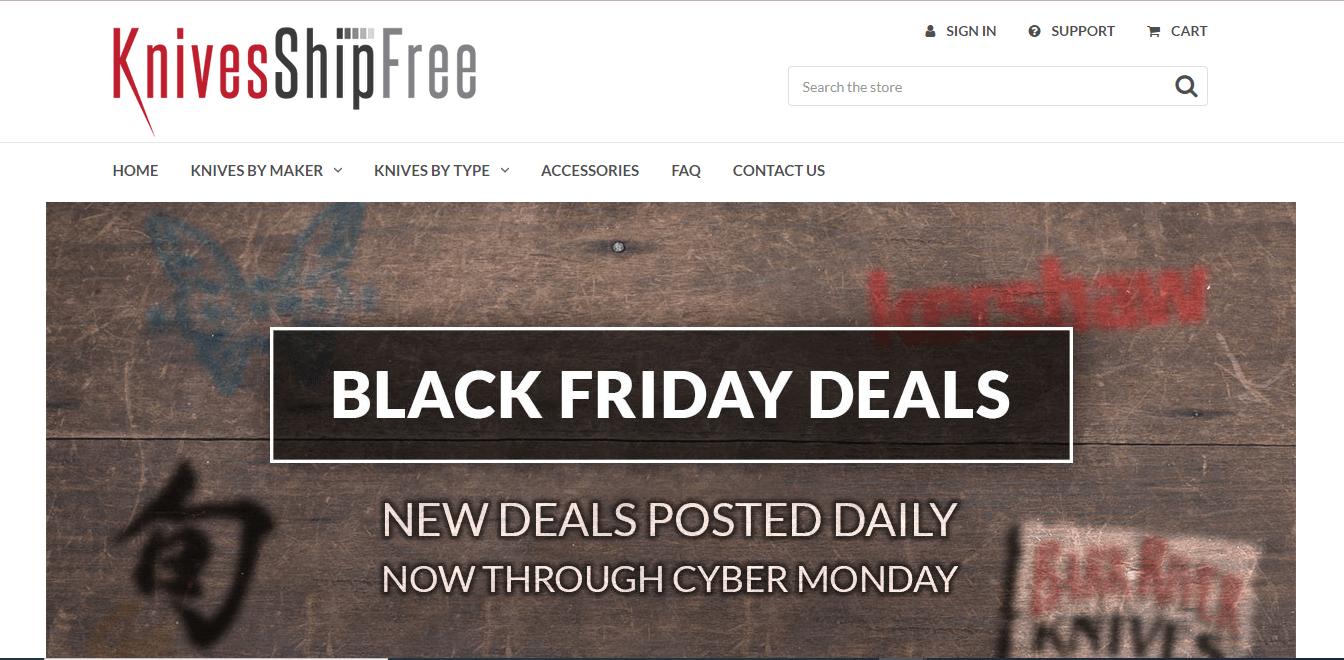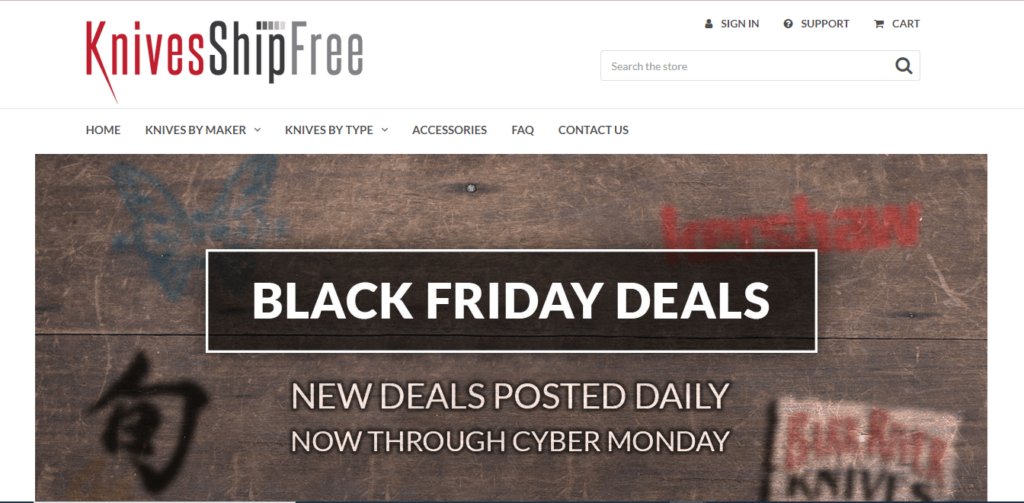 Based in the USA, Knives Ship Free is an excellent option for selling your favorite knives.
The website gives you an idea of retail and purchase prices. So, you can get estimated profit margins by procuring knives from this manufacturer.
This website has smart filters and options to facilitate visitors. You can search knives by makers and types. Selling branded knives with your name is possible with them.
You can contact them to discuss your private labeling options.
Key Features
Free shipping within the USA
Premium quality knives
Made-in-USA knives
Seasonal sales and discounts
Pros
New and trending styles are regularly updated
Best for high-ticket selling
Better profit margins
Competitive advantage
Unique styles of knives and handles
Cons
A little expensive knives 
How to Find Private Label Knife Manufacturers?
So, you have gone through the list of private-label knife manufacturers. All of them are great options for your private-label knife business.
If you want to explore more knife manufacturers offering private label services, you can get help from the following guidelines.
You may also try the traditional methods of searching for them on search engines, social media platforms, and trade shows. We are only sharing the most important methods.
Chinese B2B E-commerce Platforms
As the world relies heavily on Chinese manufacturers, you will find many private label knife manufacturers on B2B e-commerce platforms. Some of them are listed below.
1688
DHgate
Hong Kong Trade Development Center (HKTDC)
The shortest way to get competitive quotes from private label manufacturers is to raise an RFQ on these platforms. Remember to mention all the required specifications so the most relevant manufacturers contact you.
Manufacturer Directories
If you want to dig deeper to look for private label knife manufacturers from the countries of your preference, you can search for them in manufacturer directories.
Following are the trusted directories of manufacturers.
Thomas Net
MFG
IQS Directory
World of Manufacturers
You will also find some manufacturer directories specifically for knives, like Knife Magazine.
Product Sourcing Agent
You may skip doing all the hard work in finding trustable manufacturers. Hiring a specialist product sourcing agent like NicheSources will help you in many ways. Some of them are listed below.
Sourcing knives directly from the best manufacturers in China
Negotiations about costs and services on your behalf
Liaising between you and the manufacturer for better communication and understanding of your specifications.
Serve you with their expertise in product branding and development
By the way, NicheSources is a one-stop solution for reselling wholesale knives and swords.
FAQs about Private Label Knife Manufacturers
We get a lot of questions about private label knife manufacturers. So, we have answered the most frequently asked questions in the following.
Is Selling Private Label Knives Profitable?
Yes. Selling private-label knives is a lucrative business. But you don't jump into selling private label business models from the start.
You may consider reselling general knives to test the waters. If that business goes well, you can scale it to start selling private-label knives. It will bring you better profit margins.
Can I Source Private Label Knives from Famous Knife Brands?
Probably not. Most famous brands selling branded knives don't have manufacturing facilities. They rely on a manufacturing partner. That's how this business model works.
So, you may have to find a manufacturer that offers to make knives with your brand's logo imprinted or engraved on knives.
Which Countries Are Most Famous for Making Knives?
Germany and Japan have been known for making quality knives with accuracy for many decades. Like many other products, China is also famous for making knives.
The best thing about souring from China is that you get exactly what you want within your price range. If you want higher quality knives, China has all the machinery and equipment to manufacture them.
If your budget is low, you can also get good quality knives at competitive prices.
Summary
Searching for private label knife manufacturers can be a hectic process. It may take much time and effort to find a reliable knife manufacturer.
Many private-label knife businesses trust this article's list of knife manufacturers. You can contact them individually to determine which manufacturer provides the services that suit your business needs.
Are you interested in kickstarting a private-label knife business? Ask for a free quote today, and we will assist you through every step.