For some shoppers, handbags are a necessity that they depend on to tug along various belongings. For others, with more discerning tastes, they are a fashion statement; the fabric, colors, and stitching, all have to be stylish and eye-catching.
This presents both an opportunity and a dilemma for handbag retailers. On one hand, it is great that consumers are interested in buying handbags. However, where do you find handbag suppliers that offer enough design variety to cater to such diverse tastes?
China. It has one of the largest handbag manufacturing sectors in the world and offers an incomparable variety of designs. Not sure where to begin your search? Not to worry. Here is a shortlist of leading suppliers and manufacturers of wholesale handbags in China.
Read on.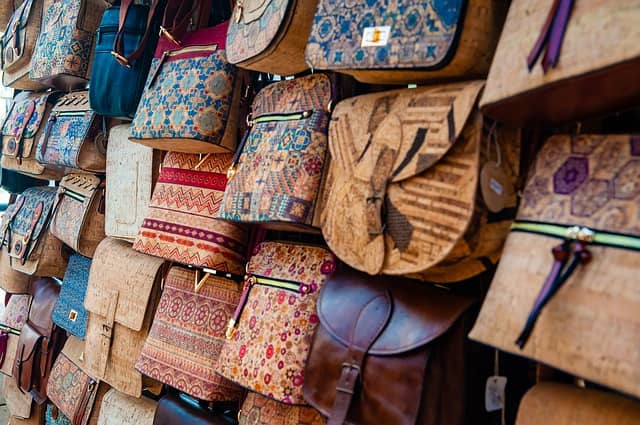 Being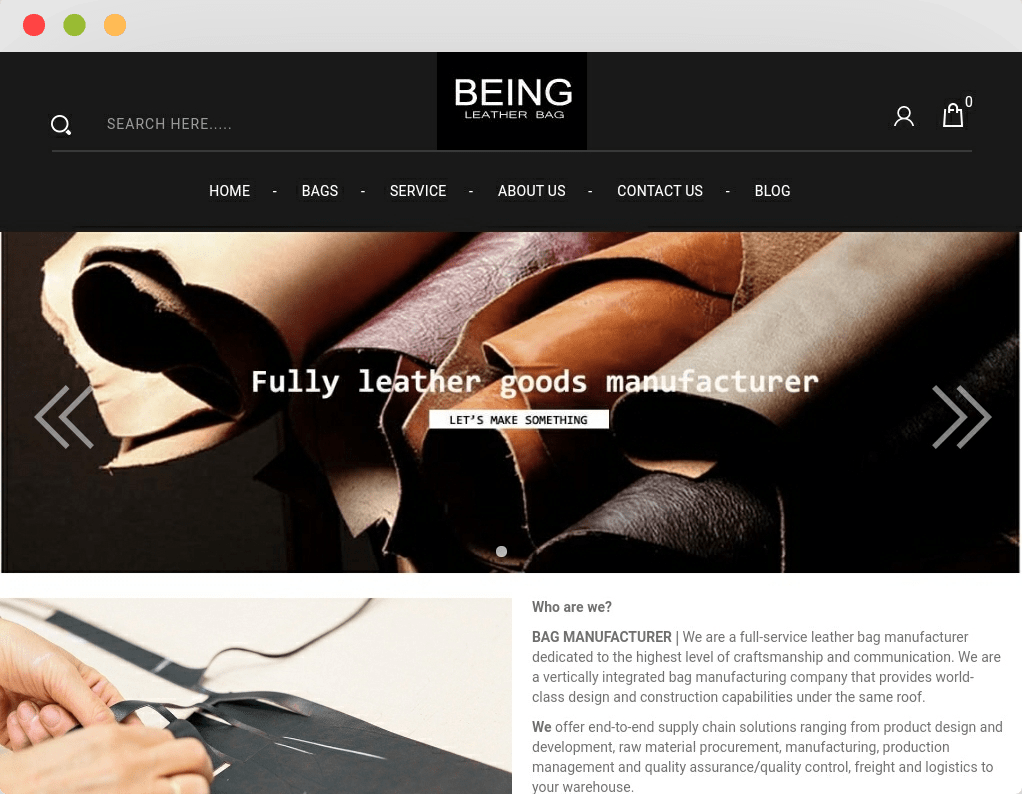 Being was set up in 2015 and is locally known as the Zhong Ding Bag Company. It manufactures a wide range of handbags for men and women and is located in Guangzhou, China. Its handbag collection includes:
Shoulder bags
Tote bags
Wallets
Clutch purses
Cosmetic bags
Cross-body bags
Shopping bags
In addition to the design variety, Being also offers handbags made of different materials. Based on your budget and target market preferences, you can choose between genuine leather, vegan leather, chrome-tanned leather, canvas, TPU, or nylon handbags.
Further, despite not being in the industry for very long, Being is well-established in terms of service delivery. It offers:
The MOQs range from 50 to 100 pieces and the firm's production output stands at 10,000 pieces per month. In-stock orders are shipped expeditiously (depending on availability) but custom orders may take longer because production only begins after you approve samples.
Bagtree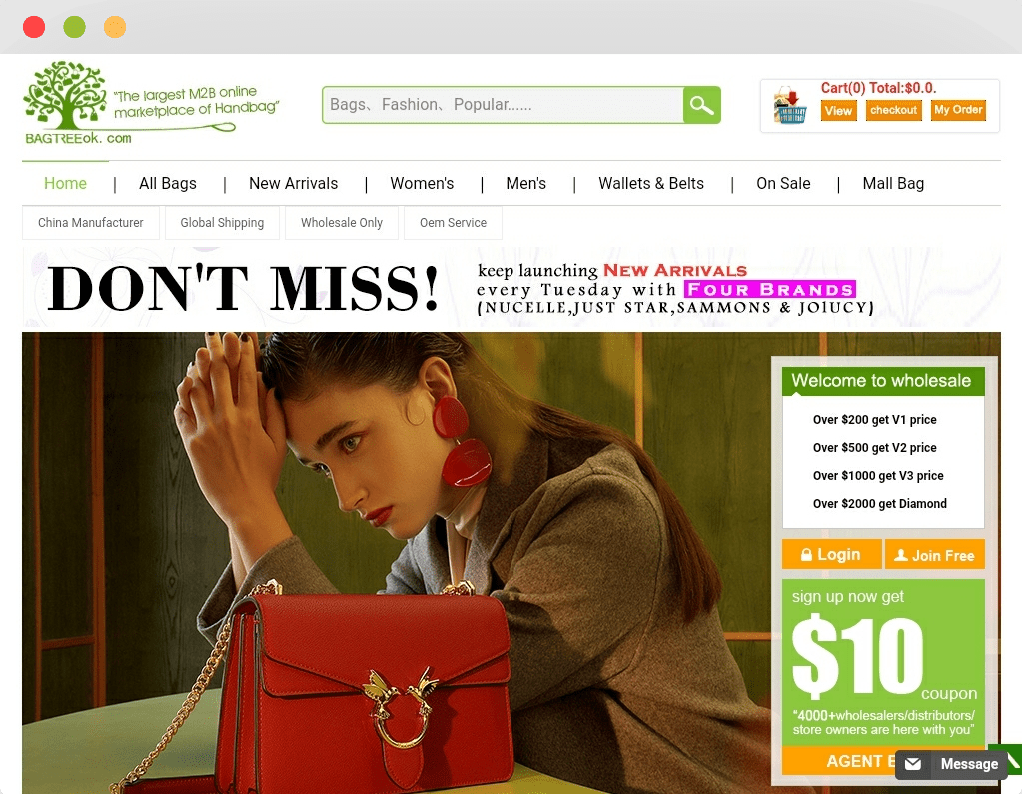 Bagtree is a manufacturer-to-Business (M2B) online handbag store. Although the company has a fully-fledged factory in Guangzhou, it capitalizes on its online platform to make its products more accessible to the global market.
The handbag selection from Bagtree includes options for both men and women. They are, however, differentiated into different sub-brands that each represent a unique style.
Nucelle, Just Star, and Jolucy are recommended for women. They are inspired by American fashion and European elegance respectively. Sammons, on the other hand, is designed for men and is inspired by the fashion sense of a modern English gentleman.
To start buying wholesale handbags from Bagtree, you would first have to register on its online platform. It works pretty much like any other online store.
However, there is a wholesale ranking system where you are placed in different categories based on the value of your purchases. The more you buy, the higher your rank, and subsequently, you would receive more discounted wholesale prices.
Other trade terms worth noting include:
The MOQ is 1 piece
You can order different pieces from different collections in the same order
Bagtree offers white labeling and private labeling services
Bagtree ships worldwide
Ezihom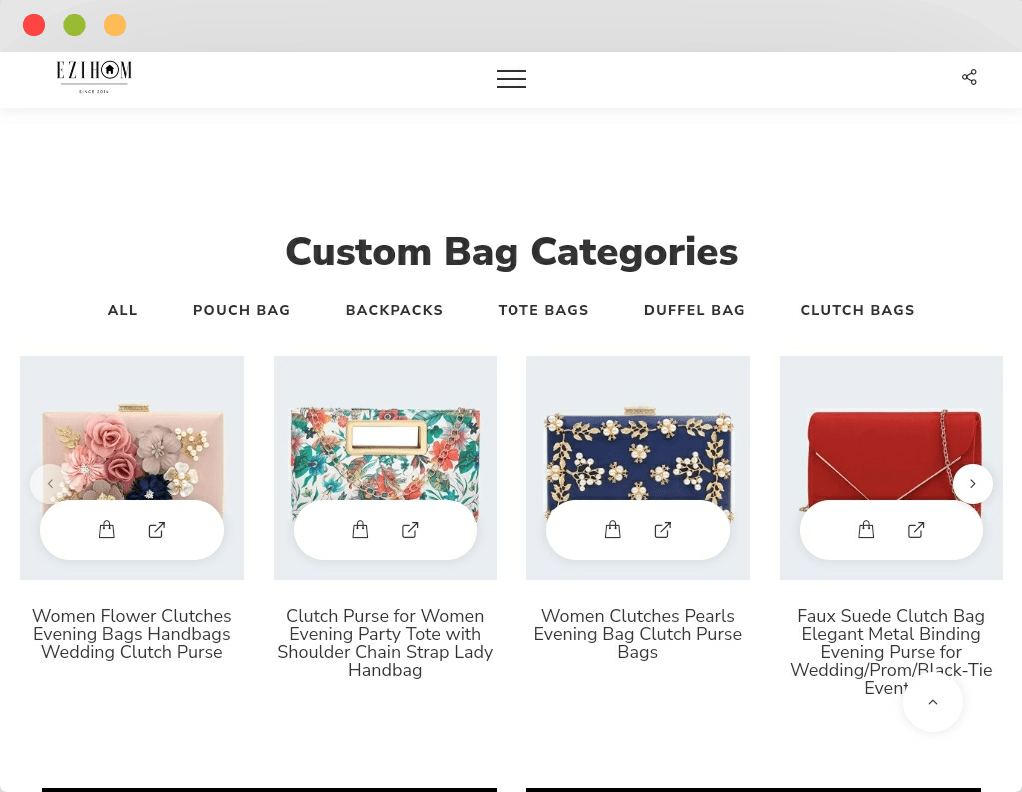 Ezihom is a custom bag manufacturer and would be suitable if you would like to retail or dropship private label handbags. It is based in Shenzhen, China.
Partnering with Ezihom begins with you sharing your brand goals with the firm alongside any custom handbag design ideas you may have. The R&D team then develops sketches that embody your brief. After choosing your preferred designs:
The team provides a quote of how much the handbags would costs
A sample handbag is made for your approval
Production takes between 4 to 6 weeks.
Twinkling Star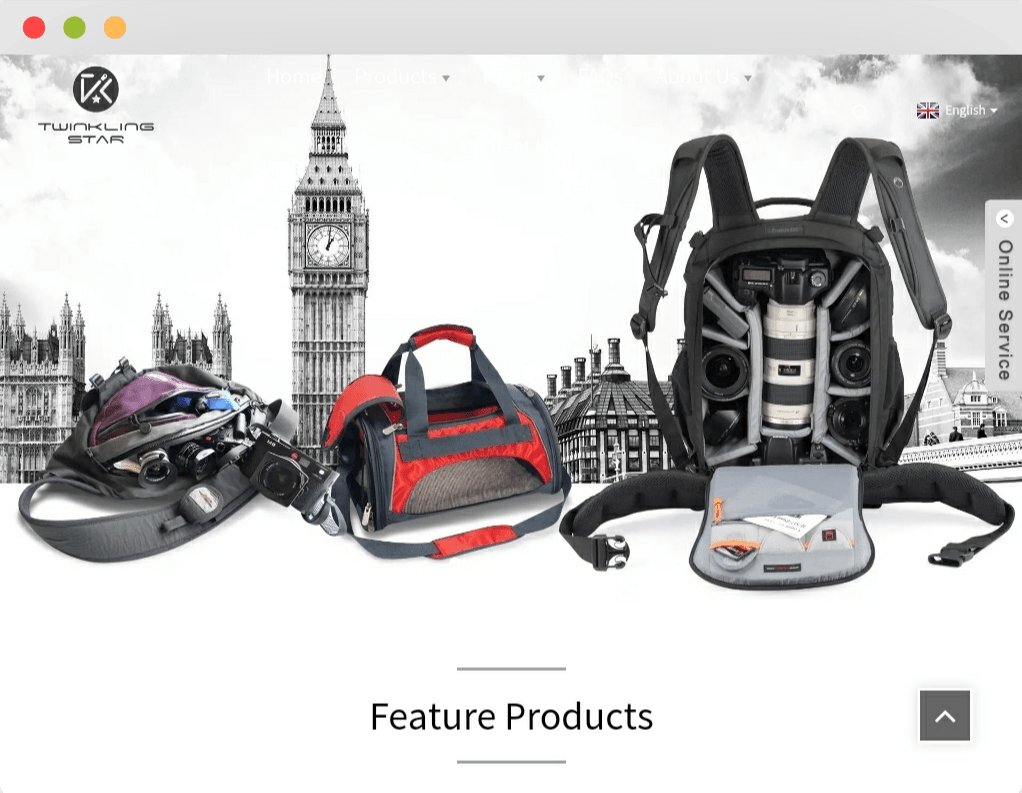 Twinkling Star was established 25 years ago and is based in Quanzhou, China. It is a well-experienced bag manufacturer that specializes in:
Travel bags
Fashionable handbags
Recycled bags
School bags
Sports bags
Outdoor activity bags
The handbag options mainly include tote bags and shoulder bags. They are fun, trendy, and would appeal to shoppers that prefer cool designs as opposed to formal sophisticated handbags.
Their uniqueness can be attributed to design ingenuity and the fact that Twinkling Star uses outstanding eco-friendly materials with distinct textures. If your customers are eco-conscious, this would certainly be a supplier worth considering.
Most bags have an MOQ of 500 pieces and lead times of between 45 to 60 days. Twinkling Star also accepts customization requests as well as white label and private label handbag orders.
On quality, the Twinkling Star factory has an in-house quality assessment and quality inspection team to ensure the bags are produced to meet the company's standards. The factory is, additionally, run under BSCI and GRS guidelines.
SL Bag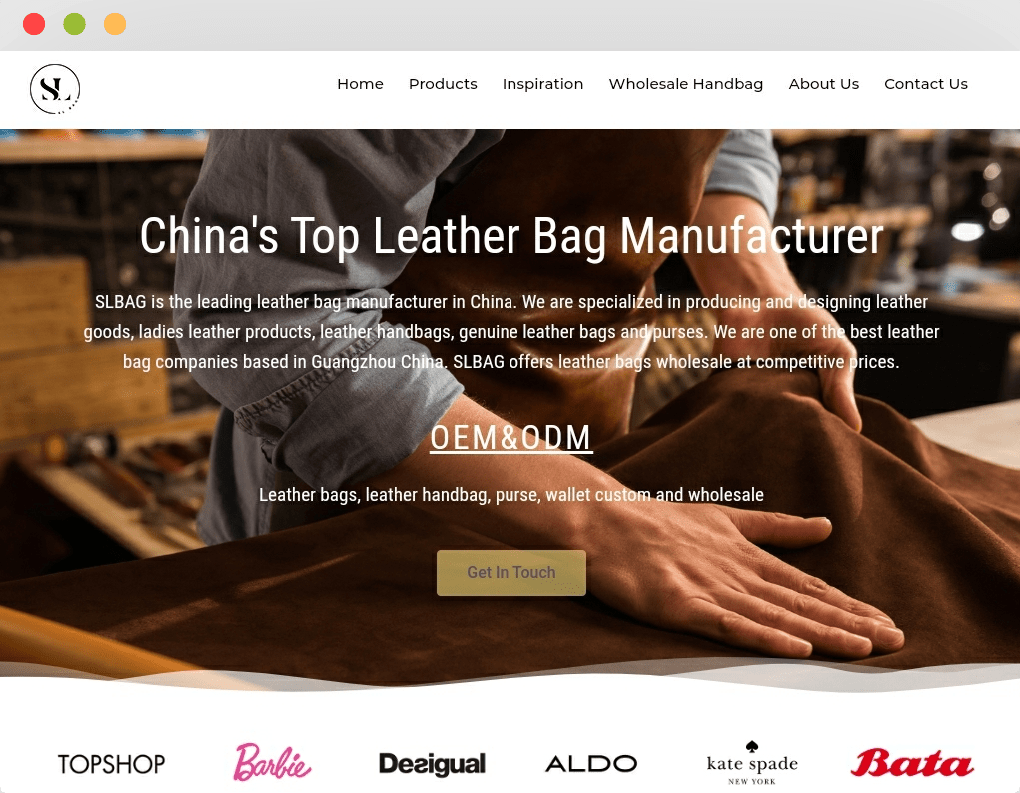 Are you looking to stock up on leather handbags? Then SL Bag may be the right solution for you. It offers over 3500 styles of bags made of 100% PU eco-friendly leather and is located in Huadu District, Guangzhou.
SL Bag provides an extensive variety of handbags to choose from both in terms of design and colors. Their catalog includes:
Wallets
Sling bags
Bucket handbags
Tote bags
Organizer bags
The MOQ is set at 10 pieces per color for wholesale buyers. If you would like to order custom bags, SL Bag can provide samples at a fee which is refundable if you confirm your order.
In-stock orders ship within 3 to 10 days but custom bags have longer lead times. SL Bag ships its products to clients across the globe.
JS Corp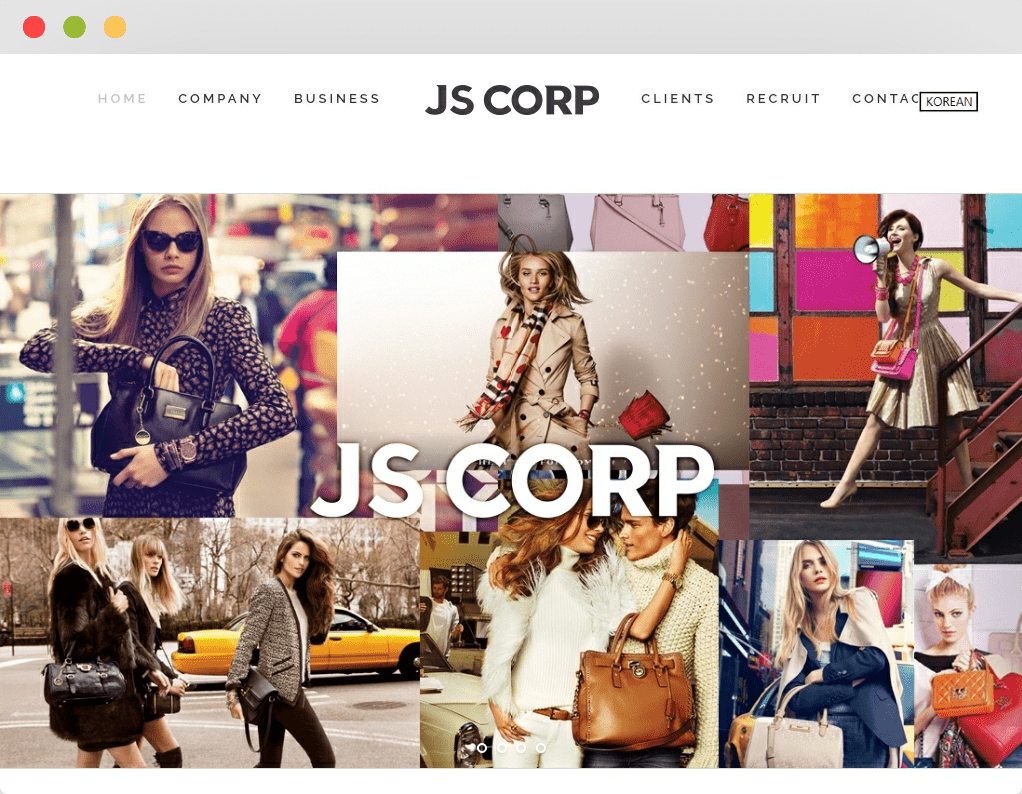 JS Corp is a multinational handbag manufacturing company. It has multiple factories in China including 3 in Qingdao and 1 in Dongguan. It is a manufacturing partner of leading global brands such as:
Moschino
Kate Spade
Guess
Michael Kors
Burberry
Ralph Lauren
Henri Bendel
This would be a supplier to keep an eye on if you are or would like to scale your business into a luxury handbag brand. The quality of their handbags is outstanding.
Plus, while such handbags may cost more than the average wholesale collection of bags, fashion-forward shoppers would certainly come knocking at your store.
Guodi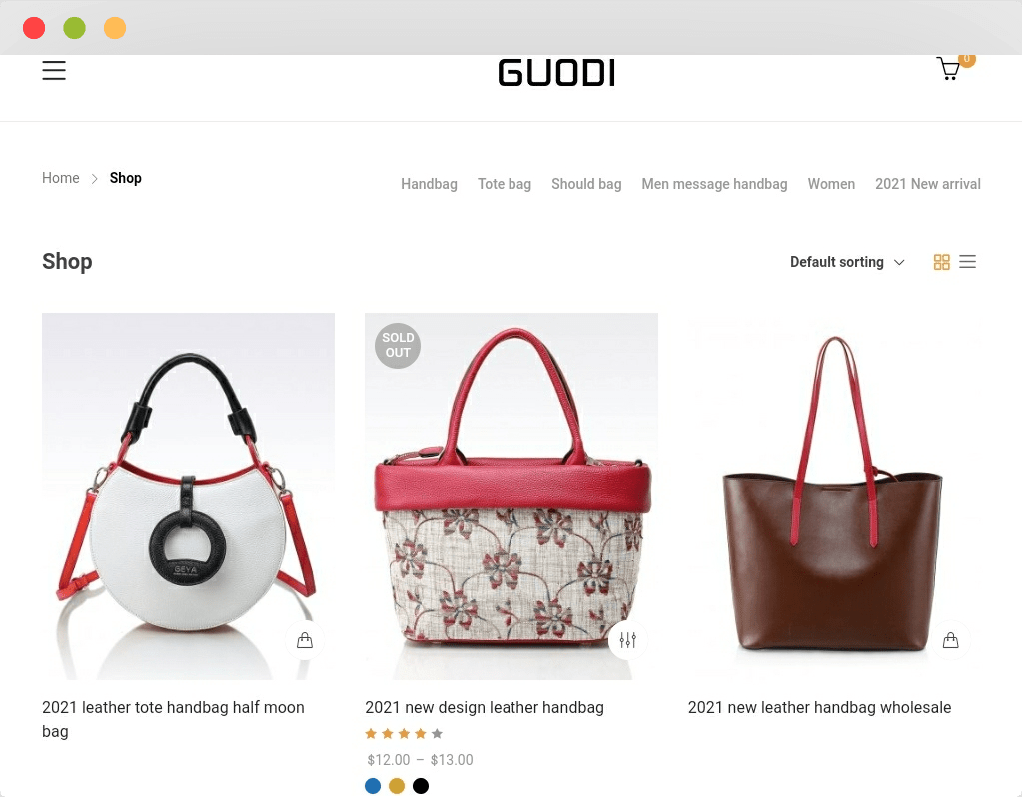 Guodi is a manufacturer and supplier of wholesale handbags and wallets from China. It is based in Huadu, Guangzhou.
The Guodi product offering comprises women's handbags and wallets for both men and women. The handbags vary between full size designs and convenient mini shoulder bags.
As a wholesale buyer, you can choose to either buy Guodi designs or share your own designs for private label production. If you opt for the latter, Guodi provides design support as well as logo design services, if you need them.
You also get a choice of material. The company mainly uses genuine leather but you could request for other kinds of leather such as PU.
Guodi has a production capacity of 200,000 pieces a month and ships its products to Asia, Europe, and North America.
Yuchuang Leather Goods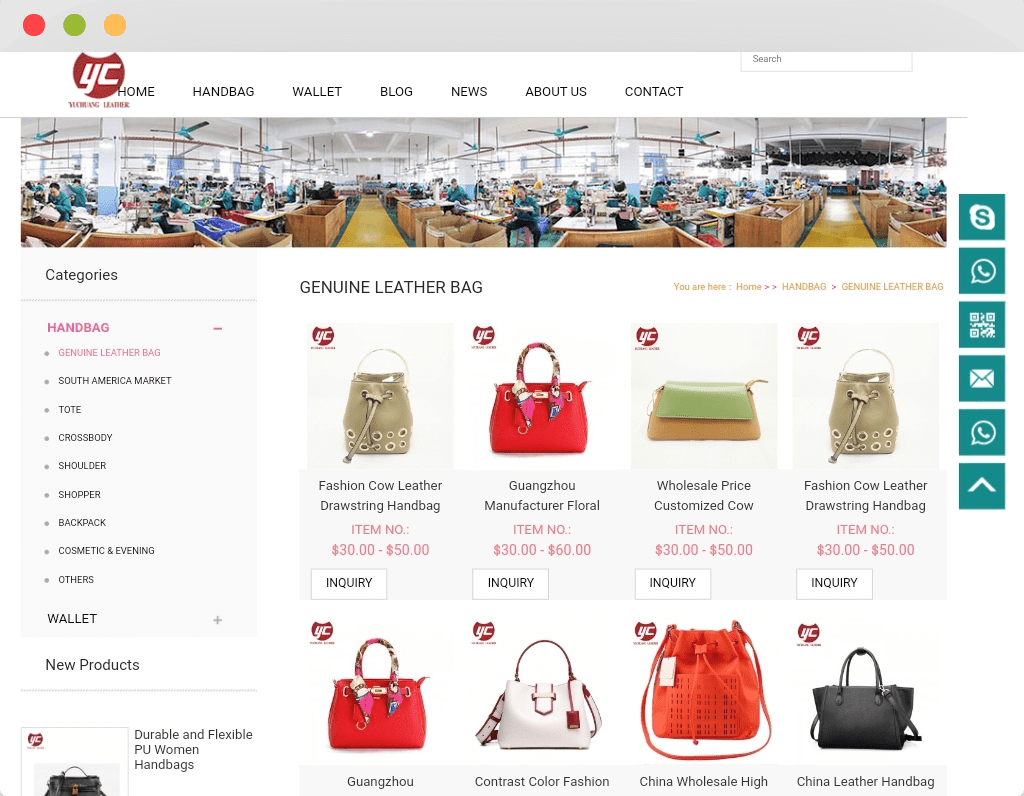 Yuchuang has been manufacturing and distributing leather bags for over 2 decades. It is a full-service handbag company that provides services ranging right from design and material sourcing to customization and shipping.
Yuchuang bags are made with great attention to detail and in adherence to top market standards. The company's production facility meets ALDO and Marks and Spencer factory standards which are benchmarks for most leading brands.
This would, therefore, be a good choice of supplier if you are looking for a superior quality of wholesale handbags and wallets and do not mind paying a little more for them.
The selection of handbags is quite diverse. It includes cosmetic bags, dinner clutch purses, bucket bags, elegant formal bags, totes, shopping bags and lots more. The wallet pieces are equally stylish and include an RFID wallet which could be a hot-seller.
Yuchuang wholesale terms are setup as follows:
MOQ is set at 300 pieces per color
Lead times of 35 to 50 days
Custom orders are acceptable and samples can be generated in 3 to 7 days
Komely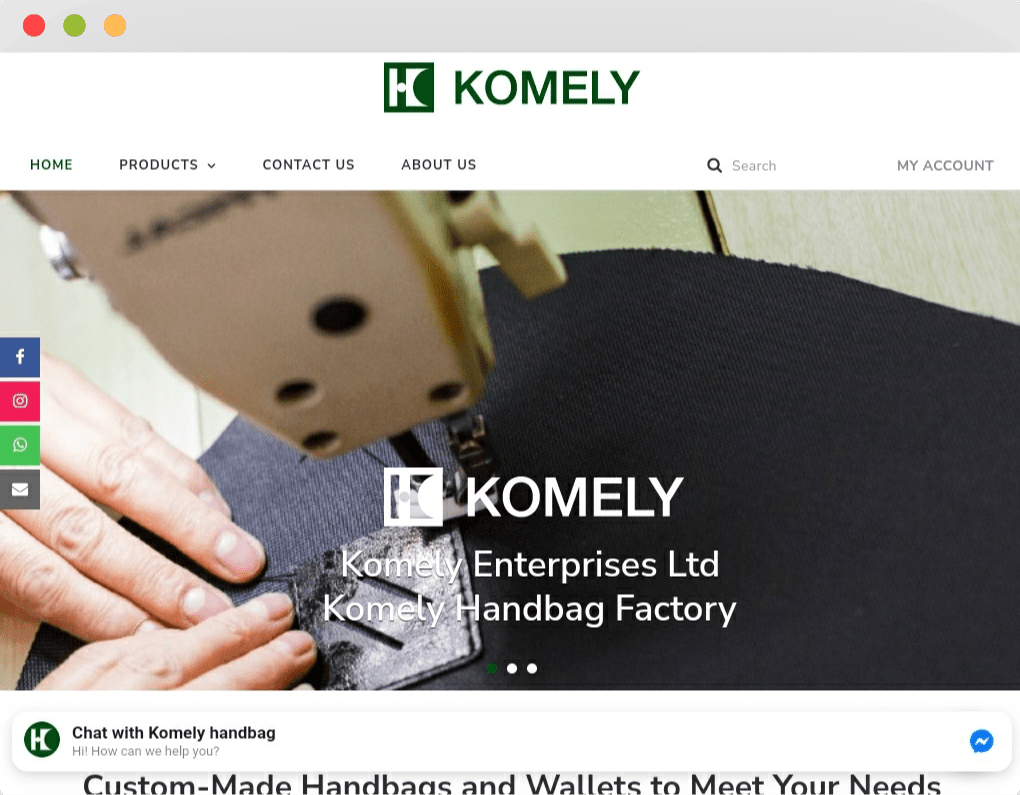 Komely would be a good go-to manufacturing and wholesale partner if you would like to develop your own brand of handbags. It exclusively manufactures custom handbags based on clients' designs and only uses eco-friendly materials.
While this supplier's niche is very specific, the variety, and quality of their designs will undoubtedly peak your interest.
The wallets and handbags are well-stitched and stand out due to their colors and unique textures. The option to use mixed materials such as woven fibres and leather equally yields exquisite pieces.
Komely has no standard MOQ; it depends on the availability of production lines at the time of your order. If you do not have a ready-made design concept for your bags, the in-house R&D team can help you come up with one.
Diiamo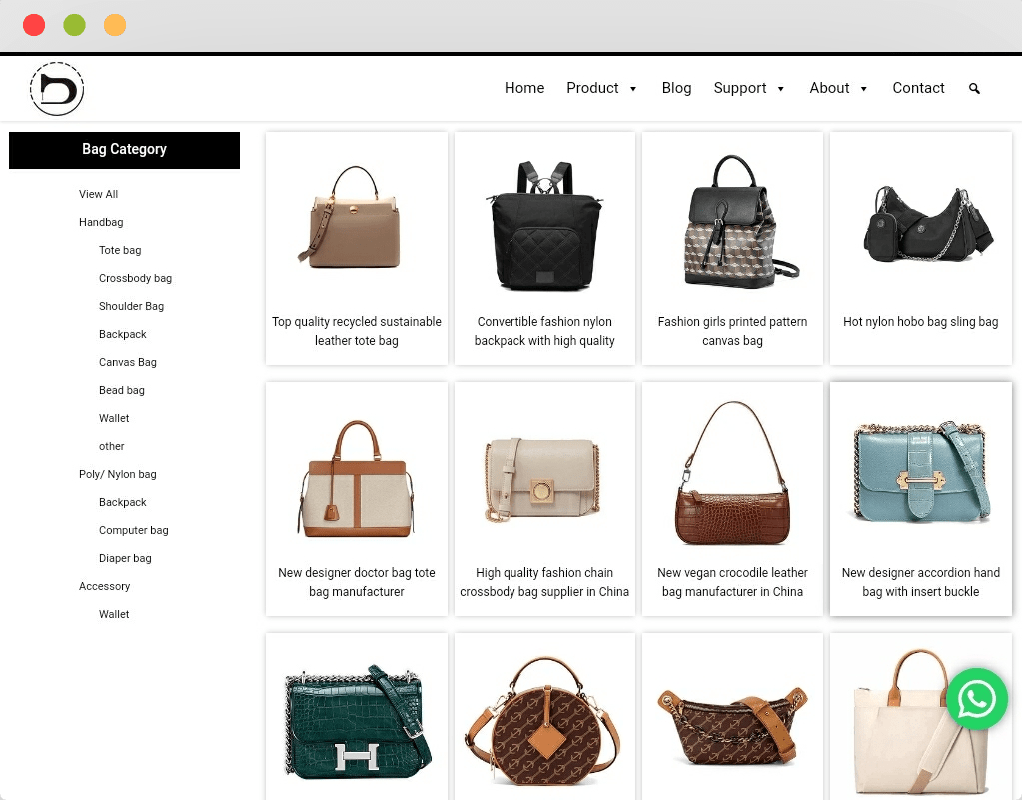 Diiamo manufactures custom handbags for brands across different countries. It has been in the business for over 10 years and has a well-equipped factory in Guangzhou.
Some of the handbag choices from Diiamo include:
Beaded bags
Canvas bags
Diaper bags
Crossbody bags
Totes
Shoulder bag
These designs are mostly made from PU or PVC leather, recycled materials, and canvas. Still, given that the firm handles custom designs, you could always negotiate the use of other types of materials.
Having began as a small family-run business, Diiamo strives to serve both large-scale and start-up brands. For the latter, it offers a low MOQ of 100 pieces with detailed customization options. Orders ship to America, Europe, Asia, and a few other regions.
Bosen Leather Goods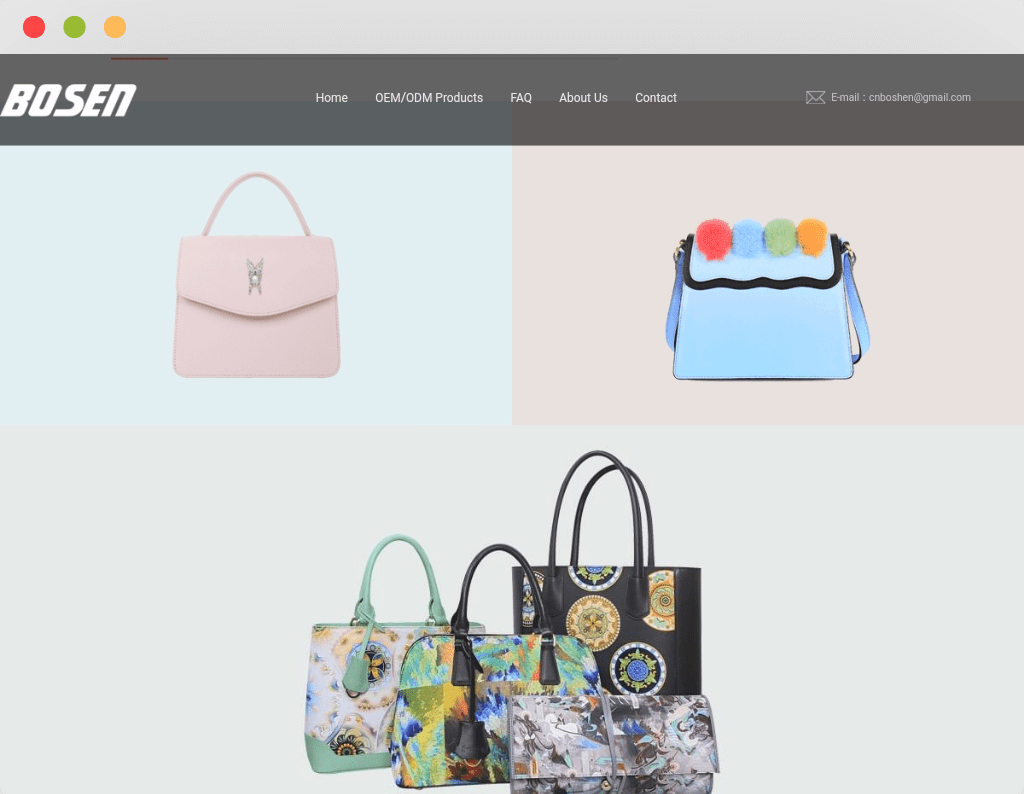 Bosen has almost 30 years of experience as a leather bags manufacturer. It specializes in custom design execution for private labeling. Its factory is based in Guangzhou.
All orders are accepted on a wholesale basis but bulk orders enjoy better rates. Every order has to meet the 100 pieces MOQ for leather handbags and 200 pieces for cardholders. These MOQs apply per style and per color.
You can either provide Bosen with your custom handbag designs or create one with the firm's design team. Samples are typically ready in 10-15 days. You can expect delivery 5 to 7 weeks after confirmation of the order.
Guangzhou New Leather Bags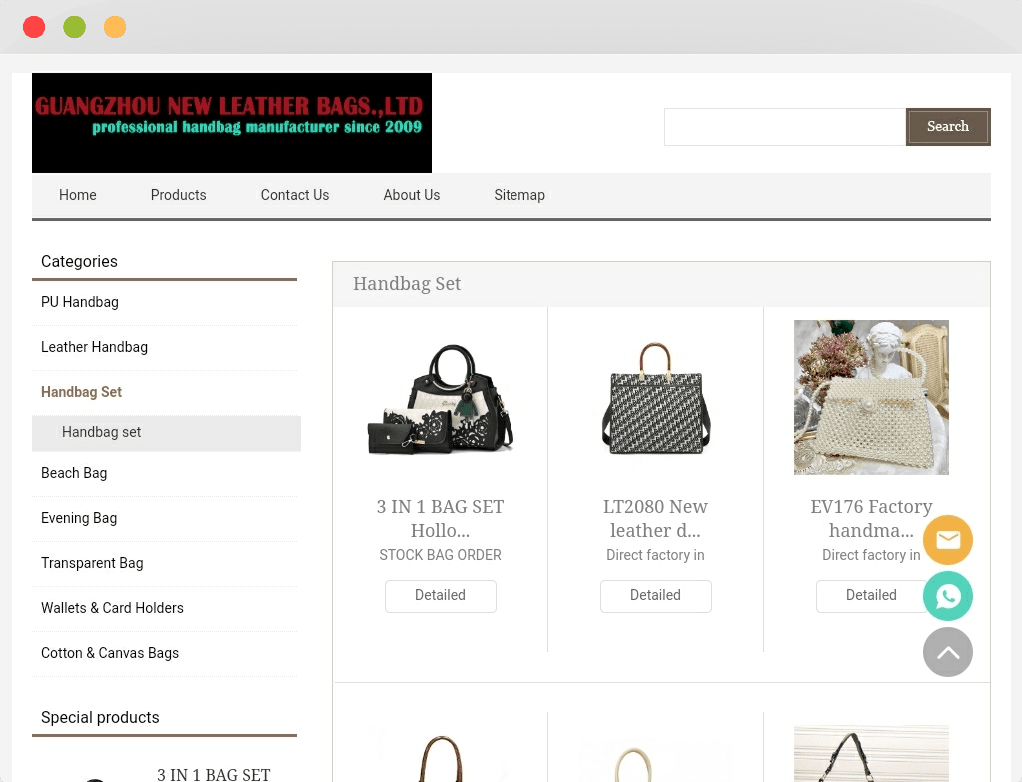 Contrary to its name, Guangzhou New Leather Bag offers an impressive variety of bags in different materials. It makes handbags out of:
Real leather
PU leather
Acrylic material
Straw
Canvas
The bag selection includes evening bags, handbag sets, beach bags, crossbody bags, totes, and many other styles. You have the liberty to choose from any of the in-stock designs, request some custom details, or opt for a fully custom design.
MOQs vary based on the design but they generally start at about 100 to 200 pieces. Guangzhou New Leather ships its handbags to clients in the greater Asia region, the US, parts of Europe, the UK, Dubai, Brazil, Argentina, and several other countries.
Dason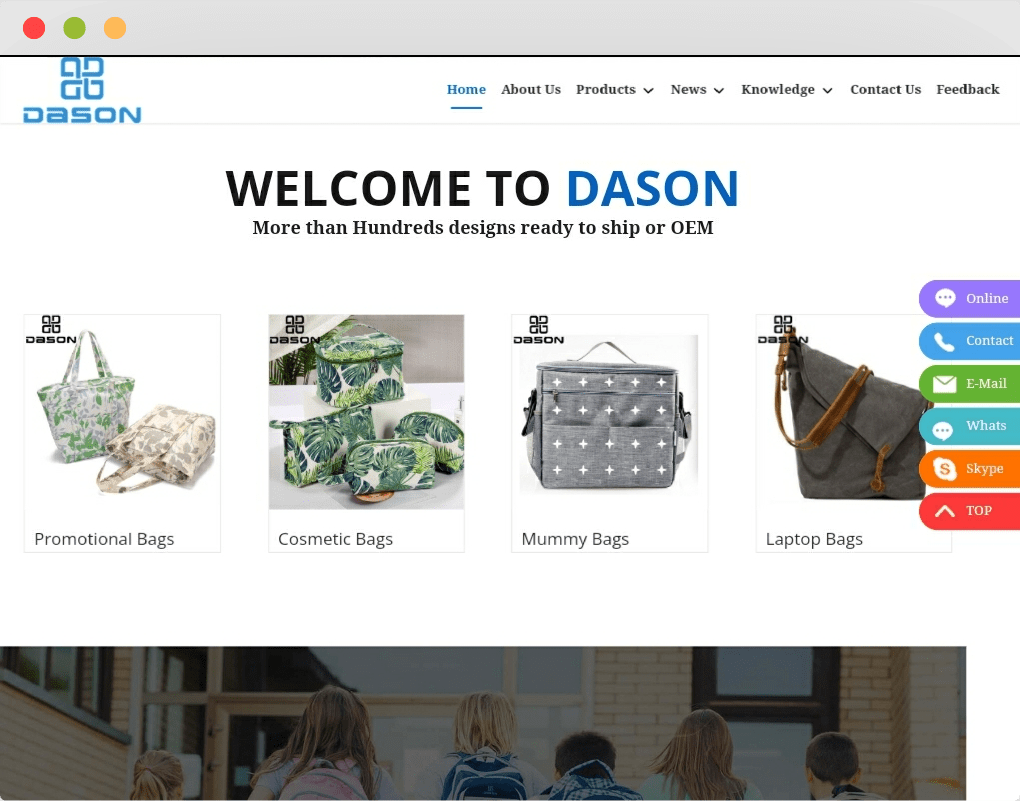 Dason is a manufacturer and wholesale supplier of travel bags and casual handbags. It has a factory in Quanzhou and is a gold standard vendor on Alibaba. It uses both platforms to sell its bags directly to wholesale customers all over the world.
This company's product catalog may not stand out among handbag suppliers. However, it could help you make the product listing in your store more diverse and inclusive. Dason handbags would be ideal if:
Your target market includes parents with young children; Dason mummy bags are stylish and offer lots of compartments for organization.
Your target market experiences hot weather; most Dason bags are not made of canvas which is a more comfortable material to carry in summer climates.
Your target market includes people with active lives; the Dason dry handbags are waterproofed and compartmentalised to make it easy to carry around refreshments, sports kits, or even lounge by beach or pool.
MOQs vary from one handbag to another and also depend on whether you prefer in-stock or customized designs. Lead times range from 35 to 40 days.
Miracle Leather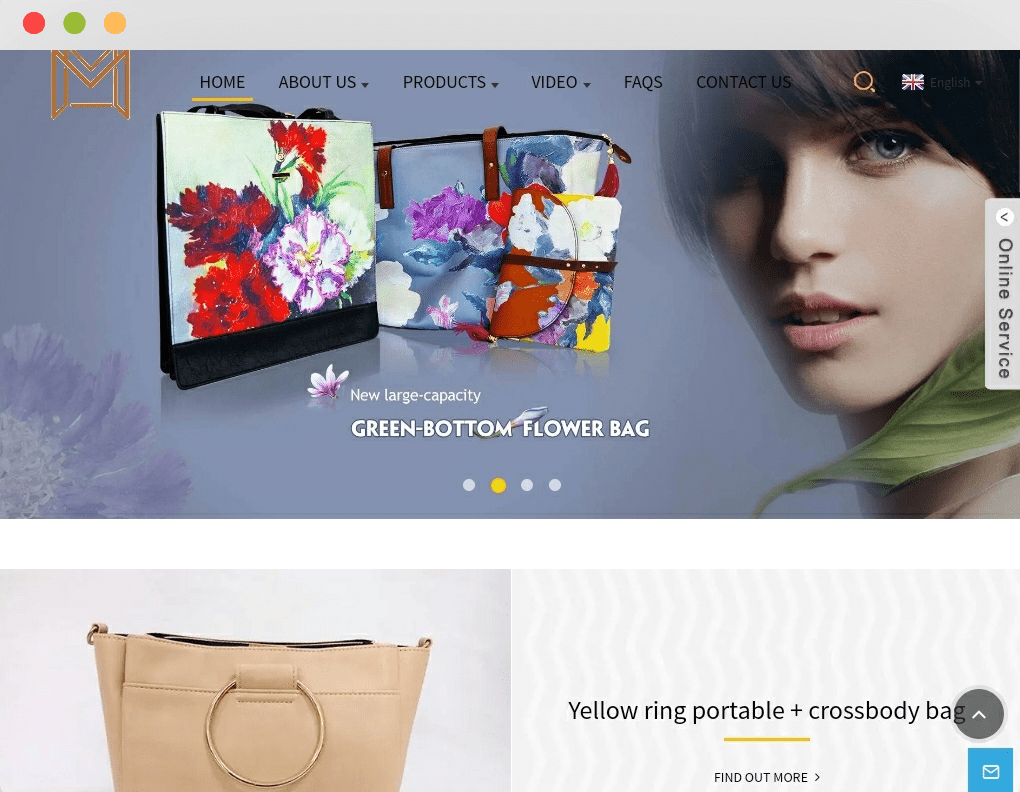 Miracle Leather offers a selection of handbags that are stylish, fun, and sophisticated. Whether your customers are students, moms, working moms, or stylish young ladies, this manufacturer offers something for everyone.
At first glance, you can tell that the Miracle Leather factory in Henan Province adheres to high quality standards. The handbag finishes are neatly done and the blend of materials and colors are elegant yet fashionable.
The handbag materials vary from leather to canvas while the designs include bucket bags, sling bags, totes, formal handbags and much more. Miracle Leather also offers a wide range of wallet designs for men and women in different fabrics.
The average lead time for bulk handbag orders is 20 to 30 days. MOQs mostly start at 100 pieces but they also vary from one type of handbag/wallet to another. The company ships to most regions and guarantees shipping if you use their recommended courier methods.
Laizhou Ampang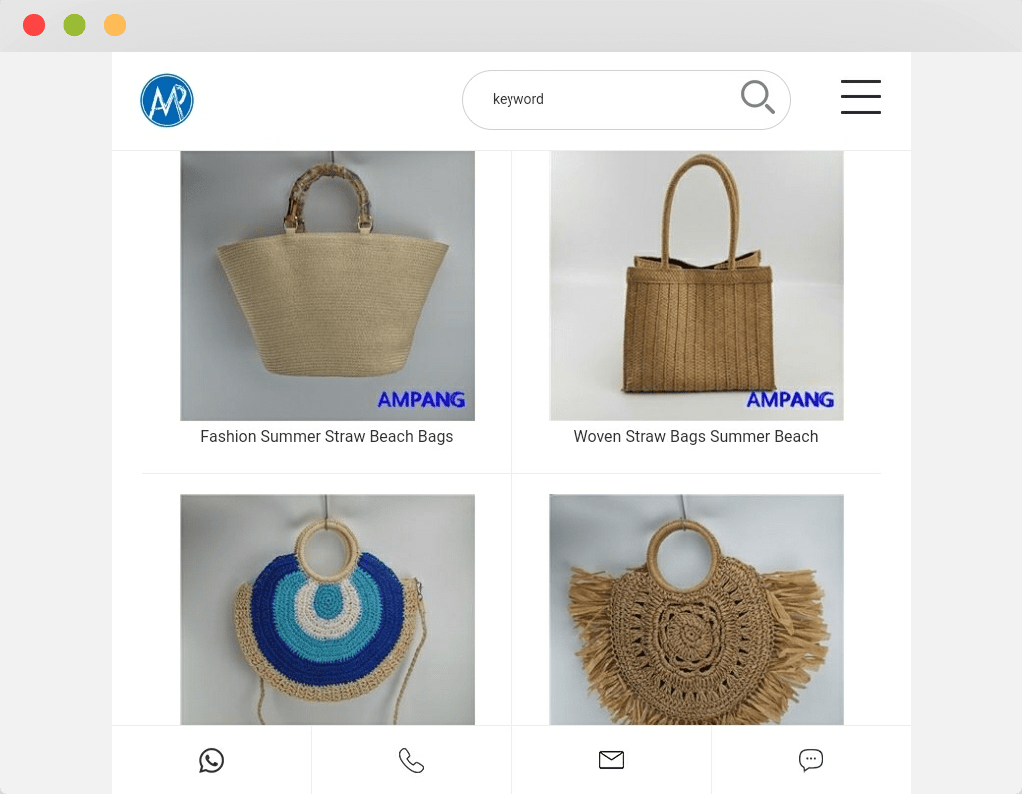 Leather handbags may not earn you very great returns in coastal towns. They can get rather hot and cumbersome in hot weather.
In the same breath, some customers are generally averse to leather due to their belief on animal cruelty and would thus prefer handbags made of other materials.
If any of these challenges are relatable to your target market, Laizhou Ampang handbags may be worth looking into. This Shandong-based manufacturer only makes handbags from natural plant-based materials. They include:
Each of these materials are great for hot weather. Moreover, they yield one-of-a-kind bag designs with character and flair that leather simply does not offer. Plus, they are eco-friendly and sustainable. What's not to like?
The company requests that customers reach out directly for prices and MOQ details. This can be done online or you could visit their stand at the Canton and East China Fairs which they attend each year.
FAQs about Sourcing Wholesale Handbags From China
What Are the Advantages of Sourcing Bulk Handbags From China?
There are many other countries from which you can source wholesale handbags. So, why China?
Affordability- handbag factories in China benefit from government support, economies of scale, and relatively affordable labor. These factors enable them to sell handbags at very friendly prices.
Variety- not only are there hundreds of wholesale handbag vendors and manufacturers in China but they also strive to deliver unique designs in a bid to stand out to consumers. As a result, the diversity of bags in the market is simply unmatched.
Shipping– China has highly developed rail, airport, and shipping port networks. This makes it easy for manufacturers to ship handbag orders to most global destinations at fair rates.
What Factors Should I Consider When Sourcing Wholesale Purses From China?
The kind of handbags you choose will significantly impact your sales. Therefore, it would be wise to consider:
Stitchwork
Just like in clothing, the quality and durability of a bag is determined by how well it is stitched together. Aim for neatly done stitches and smooth even edges.
The materials
Handbags made of low-quality materials may be cheap but they will not serve your customers well. It would be better to buy handbags with quality types of leather and durable interior linings even if they come at a slightly higher price.
Customers' preferences
Different handbag designs appeal to different customers. Students, for example, may favor large handbags with multiple compartments. In contrast, fashion-conscious shoppers may prefer luxury bags.
Design authenticity
You will encounter lots of designer handbag replicas in the Chinese market. Some are cheaply done while others are very well executed. Do not be duped into paying steep prices for them.
How Do I Find the Right Wholesale Handbags China Suppliers?
The first step would be to figure out exactly what kind of handbags you would like to buy, your preferred quantity, and your budget. Also, consider whether you will require other services such as branding or dropshipping fulfillment from your supplier.
Once you have defined these requirements, you can begin a self-guided search. Here are some of the ways you could find your ideal handbag wholesaler.
Trade fairs
Hundreds of handbag manufacturers showcase their products at fashion trade fairs and exhibitions. You can visit different stands, compare products and prices then zero in on the suppliers with agreeable terms
Online marketplaces
A quick search on Chinese online marketplaces could help you find lots of wholesale handbag vendors. Better yet, you can use filters to narrow down your search results to the handbag selections that you prefer.
Sourcing agents
a China-based sourcing agent would know the right handbag suppliers to reach out to once you provide them with a brief of your needs. In a nutshell, they handle sourcing tasks on your behalf at a fee.
In Conclusion
Handbags, just like clothing, are evergreen products that attract fairly high demand all year. You only need to curate the right variety of handbag designs for your target customers.
As proven by this list, sourcing wholesale handbags and wallets in China makes it possible to find as many designs as you need. Add to that the fair prices and global shipping capabilities and most of your sourcing problems become a thing of the past.
Nevertheless, language barriers, travel difficulties, and time constraints can still make sourcing handbags from China a bit of a challenge. This is why we, at NicheSources, offer all-inclusive product sourcing services.
Our sourcing agents are fluent in English and local Chinese dialects; they can bridge the communication gap between you and suppliers. We can also help you find the right suppliers, negotiate better prices, handle order fulfillment, or global shipping.
Simply request a quote and we will harness our expertise to make these processes easier for you.