To start an eyelash business, suppliers are the first thing you'll need. Finding good eyelash manufacturers in China can be challenging if you've never dealt with international trade. But, it's worth the trouble.
New eyelash brands and private labels pop out every day, and they all seem to work profitably. According to Statista, the global false eyelashes market value jumped from 1.1 to almost 1.5 billion U.S. dollars by 2022. And, it's likely to go only up from here.
So, let's get you ready and look at the 22 best eyelash manufacturers you can find in China.
Jumping right in!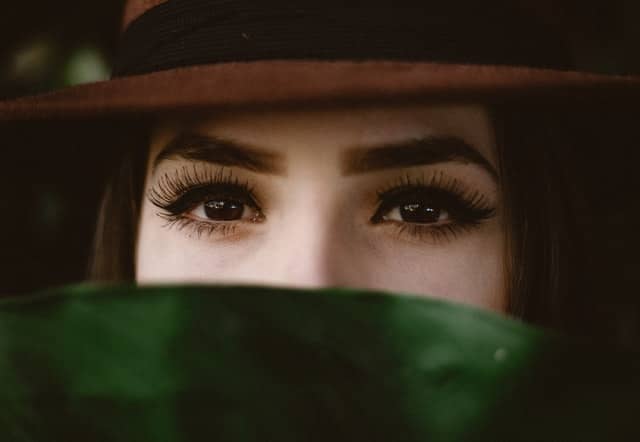 1. Alibaba
Alibaba is the largest B2B marketplace where you can find all types of Chinese factories and manufacturers, including those for false eyelashes.
Finding an eyelash factory that will accept ODM or OEM services is easy on Alibaba.
If you find an eyelash manufacturer that you like, always make sure to check their reviews and order a sample. Do this before buying in bulk and you'll avoid misunderstandings.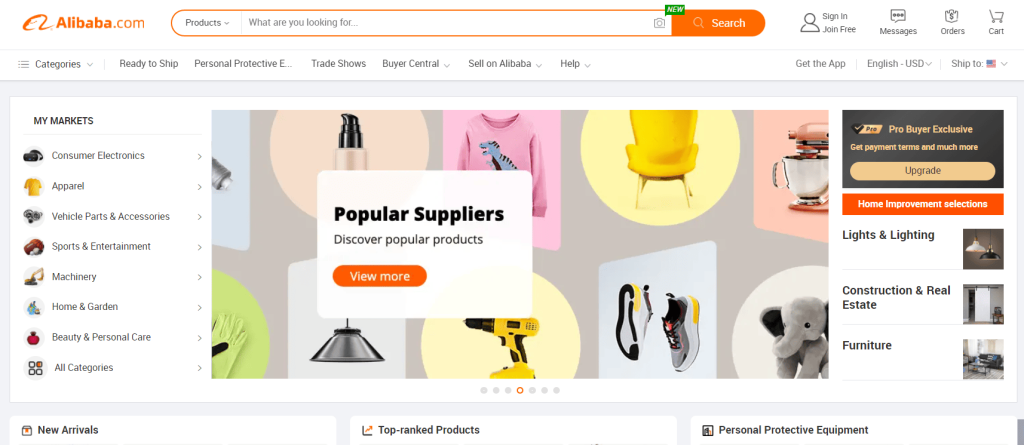 Each eyelash factory on Alibaba will have a different MOQ, some of them in boxes, trays, sets, pairs, or individual pieces.
All in all, if you're careful and you do your research, buying from Alibaba can be great for your eyelash business.
2. Made-in-China
Made-in-China is another marketplace where you can find Chinese manufacturers that sell all types of products. So, naturally, we can also find eyelash manufacturers on this platform.
The thing we liked most about Made-in-China eyelash suppliers is that you can find MOQs starting from 1 piece upwards.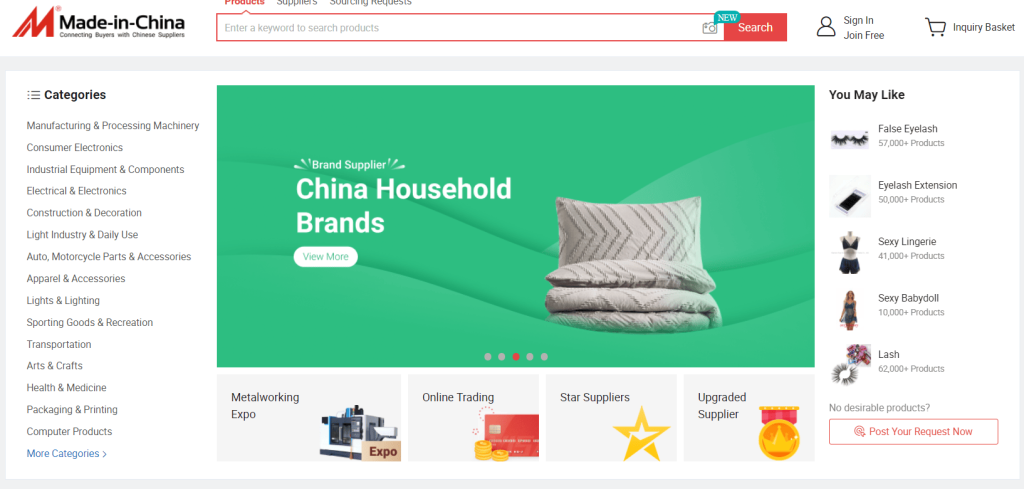 However, note that not all suppliers are manufacturers. Some will be wholesalers, so do your research beforehand. On the side of the Made-in-China search, you can find the filters and choose a type of business. Here, you can check to see only manufacturers and factories.
All things considered, Made-in-China is a great place to start no matter the quantities you need to buy. Plus, they have a solid price vs. quality ratio, so definitely worth considering!
3. AliExpress
Even though AliExpress is a B2C marketplace suitable for dropshipping and smaller orders, often, you'd be surprised at what you can find there.
Most AliExpress sellers are trading companies or wholesalers, but, sometimes, you can also find factories.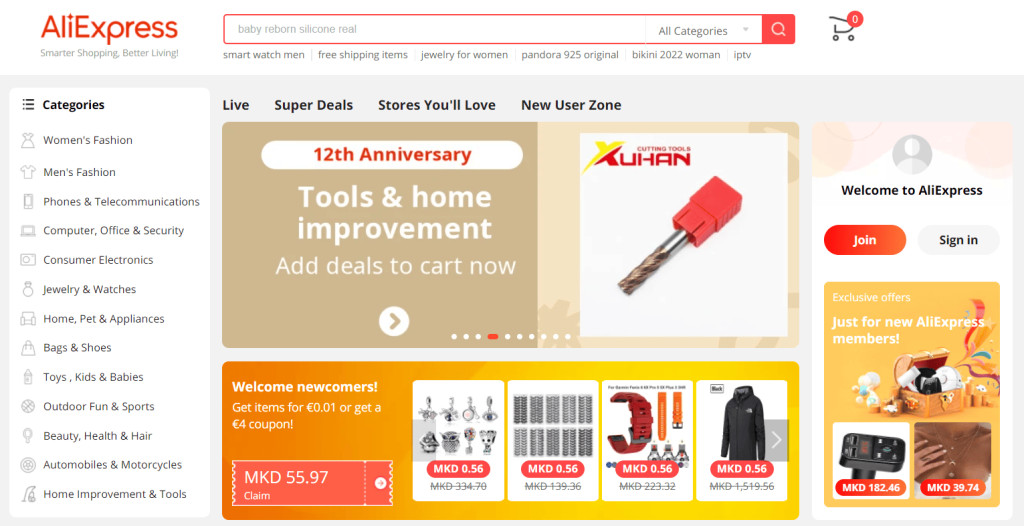 Plus, even if you don't find a factory, you might be able to find wholesalers with incredibly affordable prices. For instance, $1 for 5 sets of 3D mink lashes. Or, $3 for 10 sets. Great, right?
When ordering from AliExpress, you might not have the possibility to private label your product or customize it. Unless you're dealing with a factory, the most you can probably get is white labeling or branding your eyelash packaging.
AliExpress is also a great choice for testing different products since you can order in low MOQs and you'll often get free shipping.
And, finally, it's also perfect for dropshippers since most sellers will agree to dropship directly to your customer's address (just make sure they take out their invoice and send it without their branding at the very minimum).
4. Dolvlashes
Dolvlashes is a well-known eyelash manufacturer in China that offers different eyelash styles and types, such as faux 3d mink fur, real mink fur, synthetic eyelashes, magnetic lashes, etc.
With Dolvlashes as your supplier, you can order customized lashes with your branding, with MOQs starting from 50 pieces.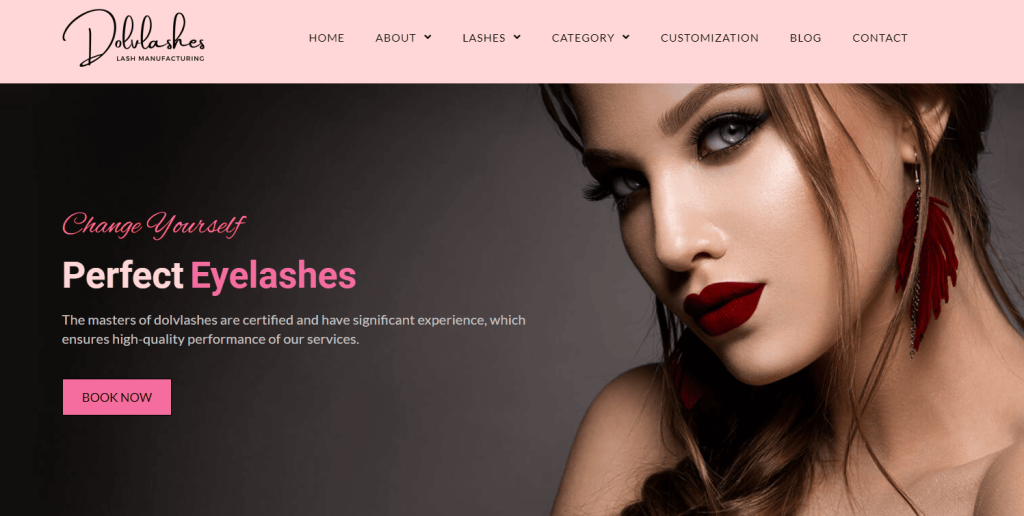 They offer a custom design including length, curl, color, and thickness of the lashes. Furthermore, you can choose to order custom labels and custom packaging.
Depending on the model you choose to customize, the wholesale price is anywhere between 3 to 10 USD, and the production time is about 20 days.
All in all, Dolvlashes are a trustworthy and established lash manufacturer on the Chinese market.
5. Aramis Lashes
Aramis Lashes is a Chinese lash manufacturer exporting largely to the US market. They produce high-quality 25mm 3D mink lashes, as well as many other models and styles that could fit everyone's needs.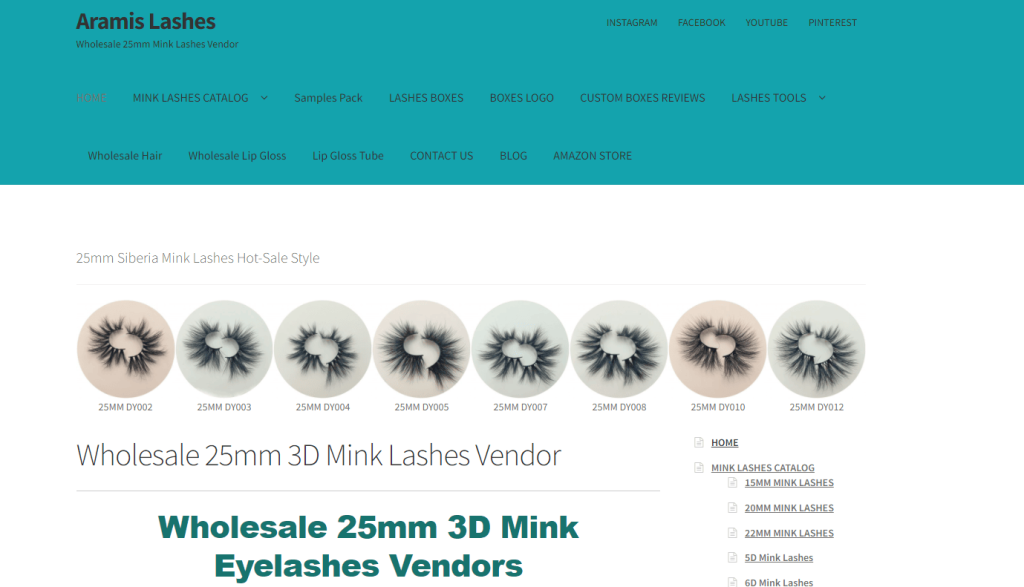 With Aramis Lashes, you can customize the packaging and add your logo and branding to the lashes.
They have great reviews and their lashes are beautiful, so definitely give them a try.
6. Qingdao Meidear Arts & Crafts Co.
Meidear is an industry-leading eyelash manufacturer in China with over 20 years of experience selling all types of lashes, from real mink fur to synthetic versions.
Since Meidear is a factory just like all on this list, they also offer the possibility to customize a product and add your logo or branding on the packaging. They offer what they call private label packaging, so great for anyone that wants to build a brand.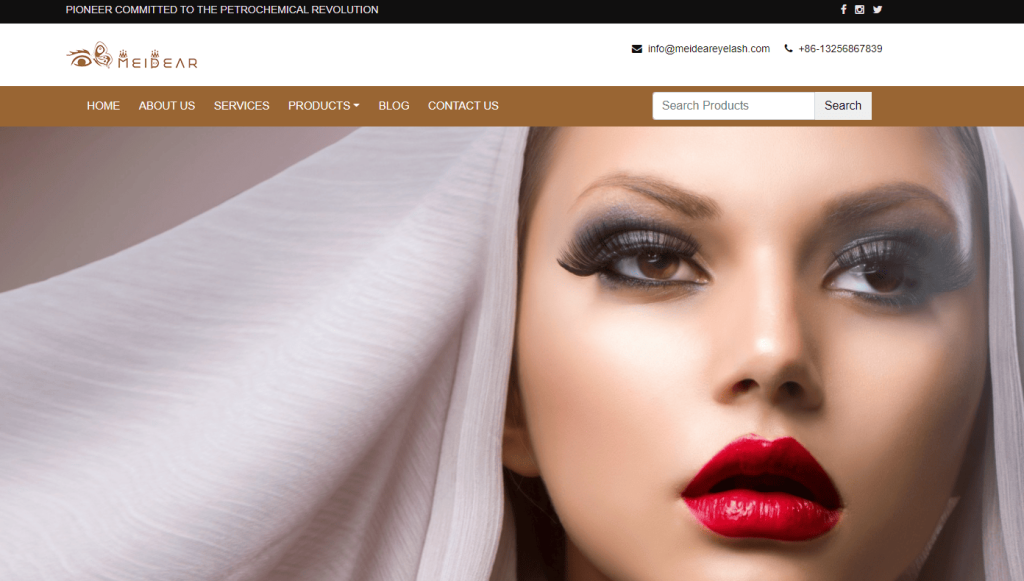 On the Meidear website, besides lashes, you can also find things like tweezers and entire eyelash tool kits.
All things considered, Meidear is definitely worth looking into.
7. Jaunty Sky Arts & Crafts Co.
Jaunty Sky is an eyelash manufacturer that's been on the Chinese market for over 15 years. They offer ODM and OEM services so they can be great if you're interested in lash customization.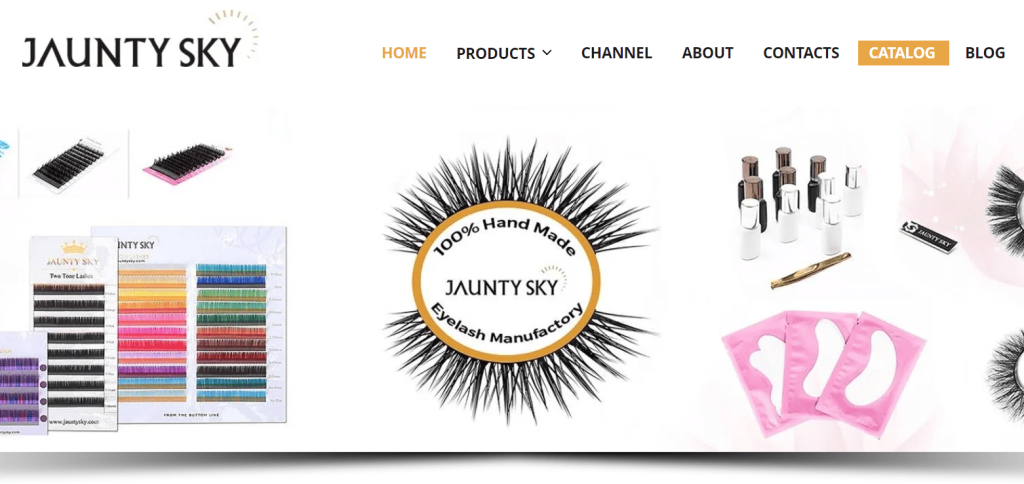 With Jaunty Sky, you can enjoy a fast delivery and a thorough inspection process on every order.
Furthermore, they have a wide palette of lashes to choose from including unconventional choices like human hair lashes, fox hair lashes, horse hair lashes, and more.
It's a solid choice of a supplier if variety and customization are what you need.
8. Worldbeauty Qingdao LashBeauty Cosmetic Co.
Worldbeauty is one of the leading eyelash manufacturers on the market in China. They have been operating since 2007, and they specialize in 3D mink lashes, 3D silk lashes, and different eyelash extensions.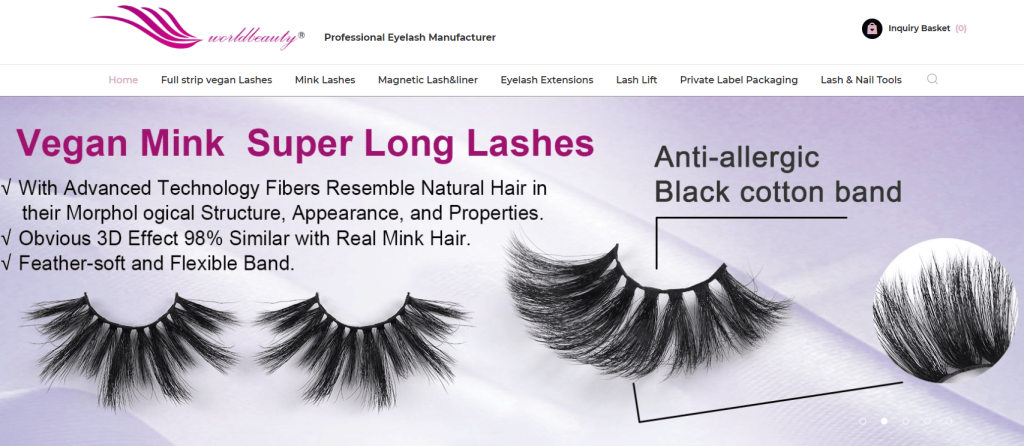 With Worldbeauty, you can feel secure knowing that you're working with a RoHS and ISO-certified factory.
Additionally, they offer private label packaging, ODM, and OEM services for anyone that needs customization and branding.
We personally love this supplier's offer of eco-friendly packaging and vegan eyelashes, which can give you an entirely new target group to focus on.
9. Emma Lashes
Located in Qingdao, China, and operating since 2008, Emma Lashes is one of the most well-known Chinese manufacturers and suppliers of eyelashes.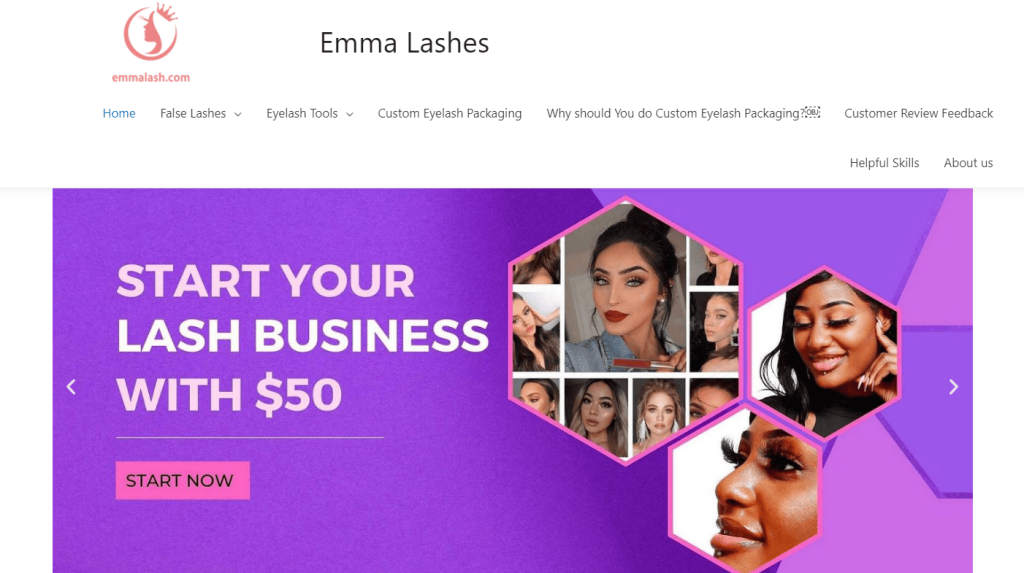 Unlike many other suppliers on this list, Emma Lashes offers an (almost) all-around service model. All you need to take care of is order fulfillment:
OEM service
ODM service
Website building
Custom packaging
Logo lashes design
Sufficient stock
A 24h service
As a bonus, Emma Lashes allows you to order three samples entirely free, as they believe it will help you gain trust when you check the product before ordering in bulk.
10. GMEYELASH
GMEYELASH is a known eyelash manufacturer and supplier on the Chinese market, operating since 2012.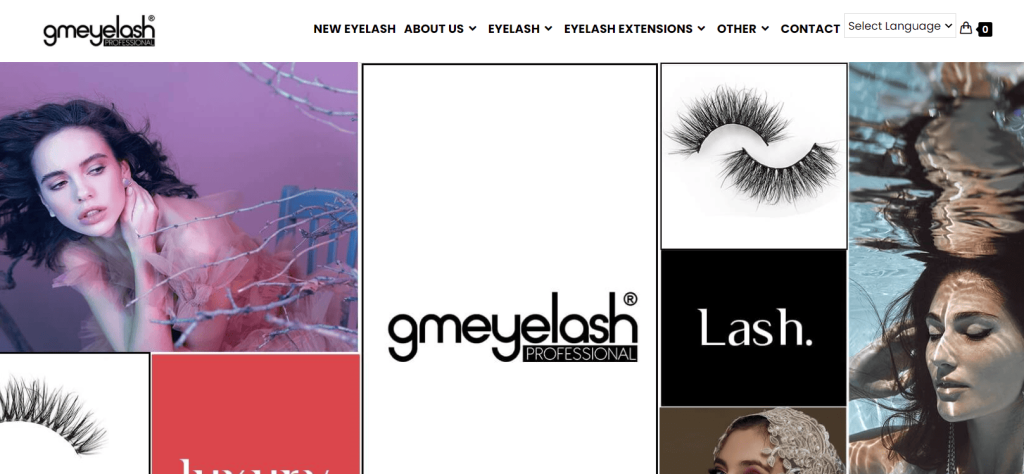 We recommend GMEYELASH for everyone interested in ecological, eco-friendly, and biodegradable lashes since they offer a variety of models to choose from.
In regards to the MOQ, usually, it's at least 100 pieces. But, for many models on stock, it can be lower than that (about 50 pieces).
11. Acelashes
Acelashes is another great Chinese manufacturer of false eyelashes. All of their lashes are 100% handmade and cruelty-free.
They have a large production capacity and discounts on wholesale orders.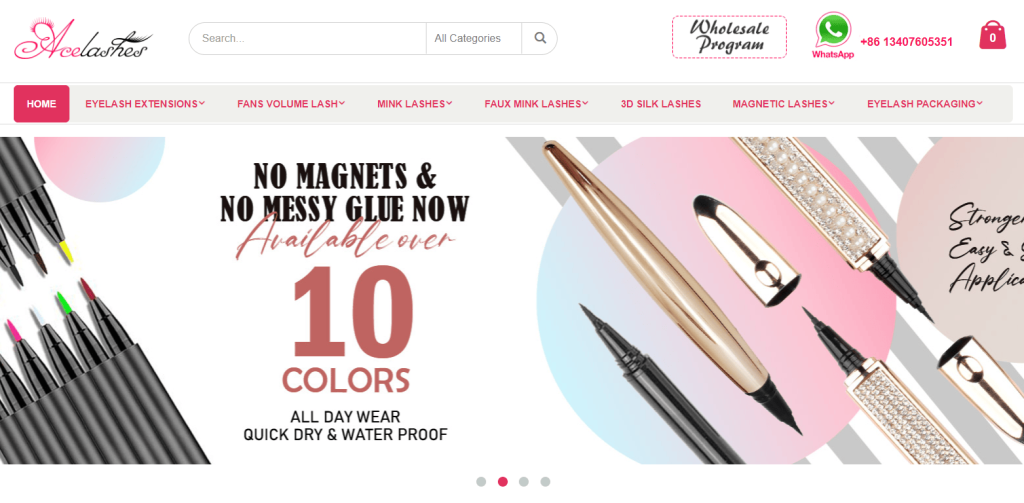 Since we're talking about a factory, Acelashes will also let you customize and private label your lashes and/or packaging.
The best thing about Acelashes has to be the number of different models they offer. If you're looking for something specific and can't find it elsewhere, Acelashes has it for sure!
12. Emeda Eyelash
Emeda is another manufacturer in China that offers all types of false eyelashes.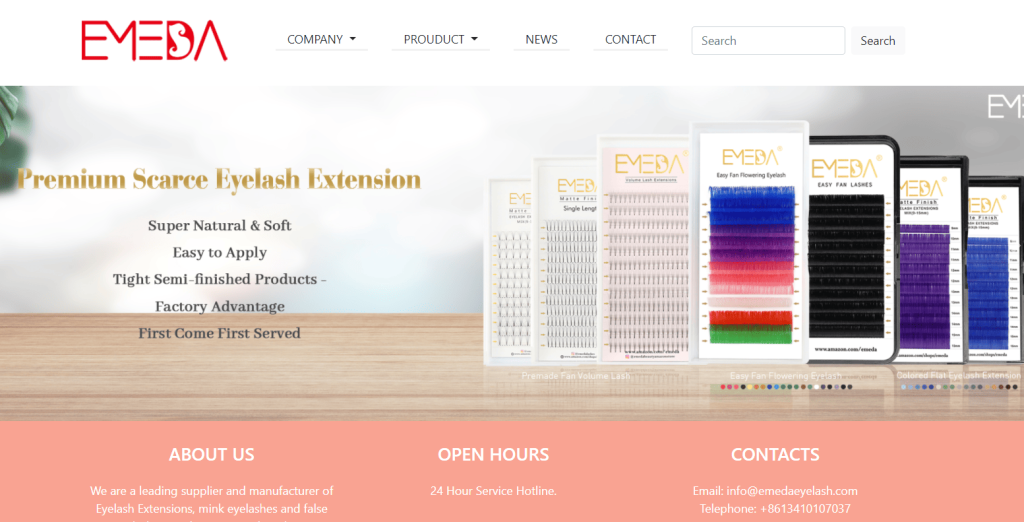 With Emeda, you can take advantage of their OEM services and design your own silk eyelash extensions or volume pre-made fans.
Unlike many "manufacturers" in China that are, in fact, trading companies, Emeda doesn't shy away when you mention customer visits.
In fact, they state on their website that all their clients are invited to visit their factory. They will even help you organize your hotel booking and pick you up for free. Great, right?
13. Elour Beauty
Our next supplier on this list is Elour Beauty located in Qingdao, China.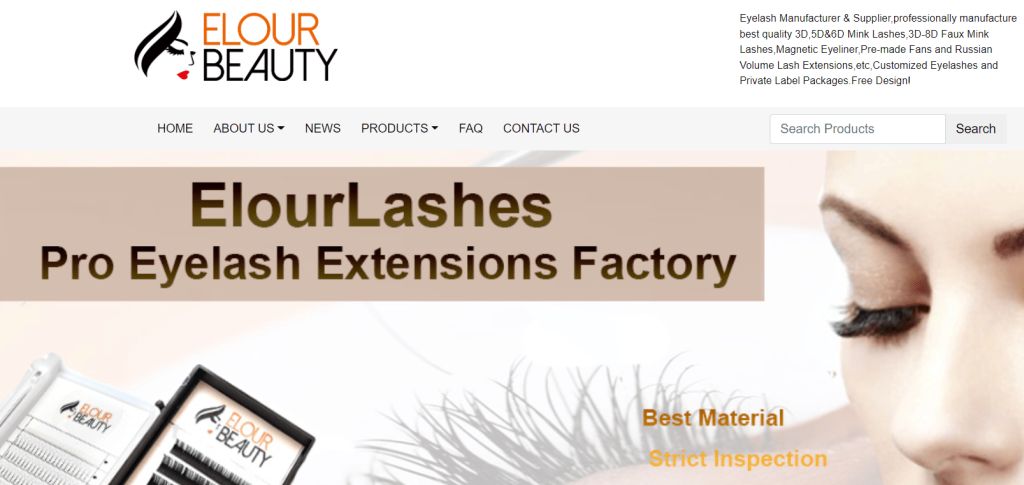 With Elour Beauty, you can buy all types of lashes including mink, horse, human hair or synthetic hair lashes, party lashes, lower lashes, and even eyebrow extensions.
Furthermore, they offer OEM and ODM services, and private labeling. So, you can customize both the packaging and the product itself (the lashes).
All in all, we believe Elour Beauty is a really good Chinese lash supplier that can come in handy.
14. Gianni Lashes
With MOQs as low as 10 pieces, Gianni Lashes is among the few actual manufacturers that accept quantities as low as this.
Gianni Lashes produce and sell different lash styles, and their mink lashes are made of Siberian mink fur.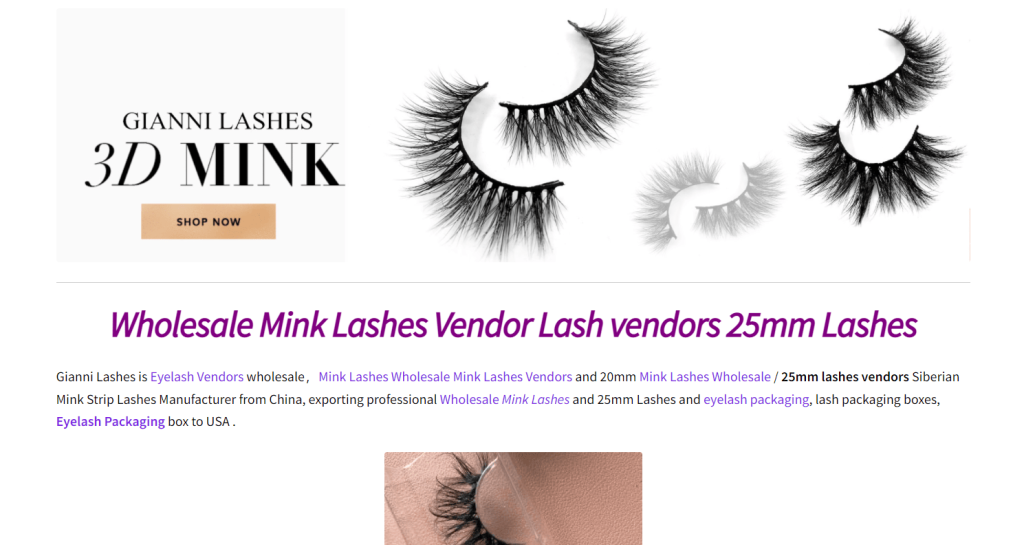 Additionally, they offer private label packaging which means you can get packaging designed with your branding, logo, and colors.
Generally speaking, Gianni Lashes is a solid supplier choice for wholesale lashes in China.
15. Global Sources
Global Sources is a well-known Chinese marketplace where you can find many different lash suppliers.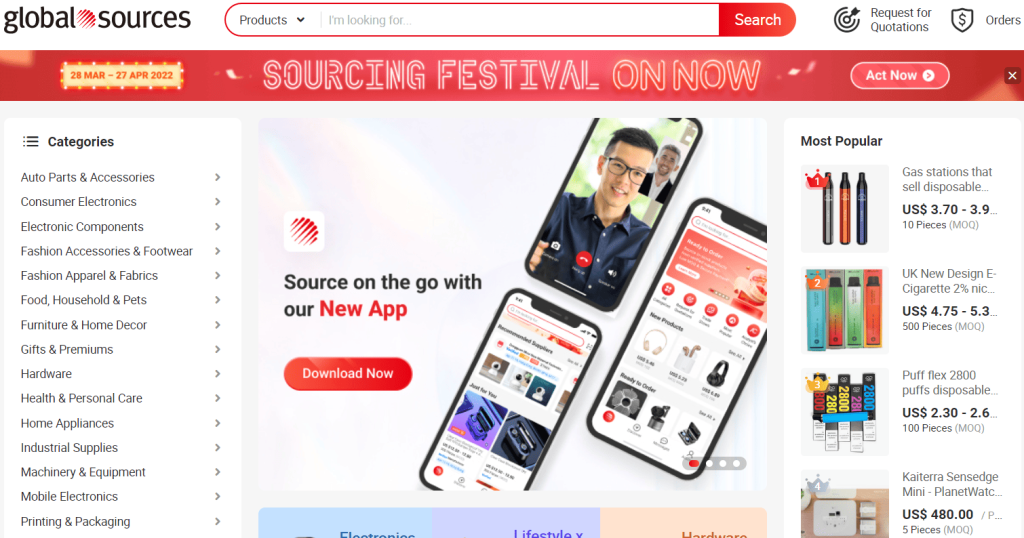 When browsing Global Sources to search for Chinese factories, make sure you see the sign Verified Manufacturer next to it.
Like this, you'll know that you're dealing with a genuine factory rather than a trading company that just presents itself as a manufacturer.
If you're careful about your choice of suppliers, Global Sources can be a great platform for buying wholesale eyelashes.
And, finally, when it comes to MOQ, it's worth noting that it can largely vary from one supplier to another. One supplier might have 1 set as an MOQ, another one 50 pieces, while a third one could have an MOQ of 500 sets. So, choose what you think fits you best.
16. Sunny Fly Beauty Limited
Sunny Fly Beauty Limited is our next eyelash manufacturer on the Chinese market.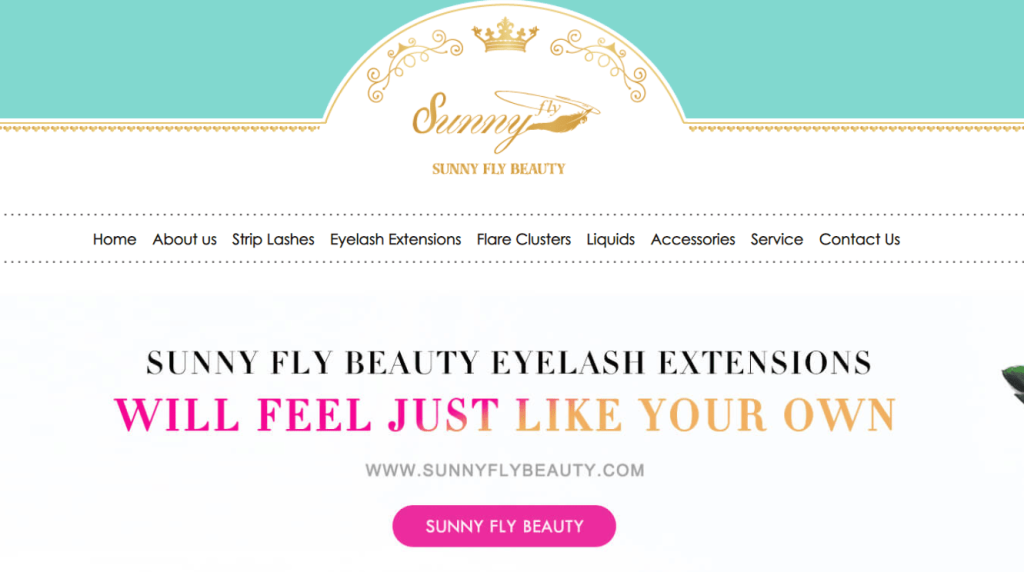 With Sunny Fly Beauty, you can buy strip lashes, eyelash extensions, pre-made fans, and cluster flare lashes made of different materials (real fur, faux fur, etc.).
Additionally, Sunny Fly Beauty offers a private label and OEM service for its clients.
All you need to do is reach out and let them know what you need, and they'll get back soon with an MOQ, lead time, and a quote (price).
17. SP Eyelash
SP Eyelash is a factory in Qingdao, China that produces all kinds of lashes, including pre-made fan lashes, strip lashes, lash extensions, eyelash tips, and more.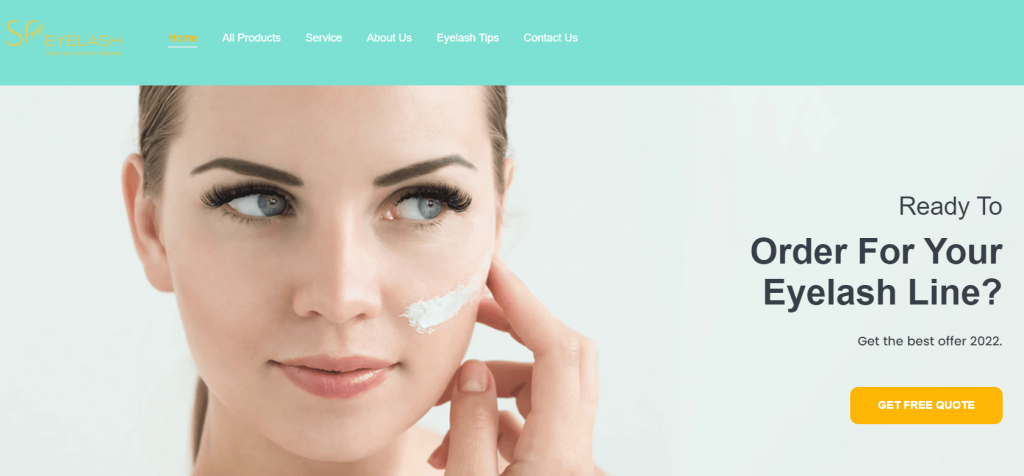 They have an MOQ of 10 trays for each size of lashes that you order.
Furthermore, SP Eyelash offers branding and customized packaging, making it a great option if you want to sell lashes under your brand name.
18. ReaYoung (Belashes)
ReaYoung is a Chinese lash manufacturer that offers an incredible product variety, and best of all – a "no MOQ" policy. You can order just one item if you want to!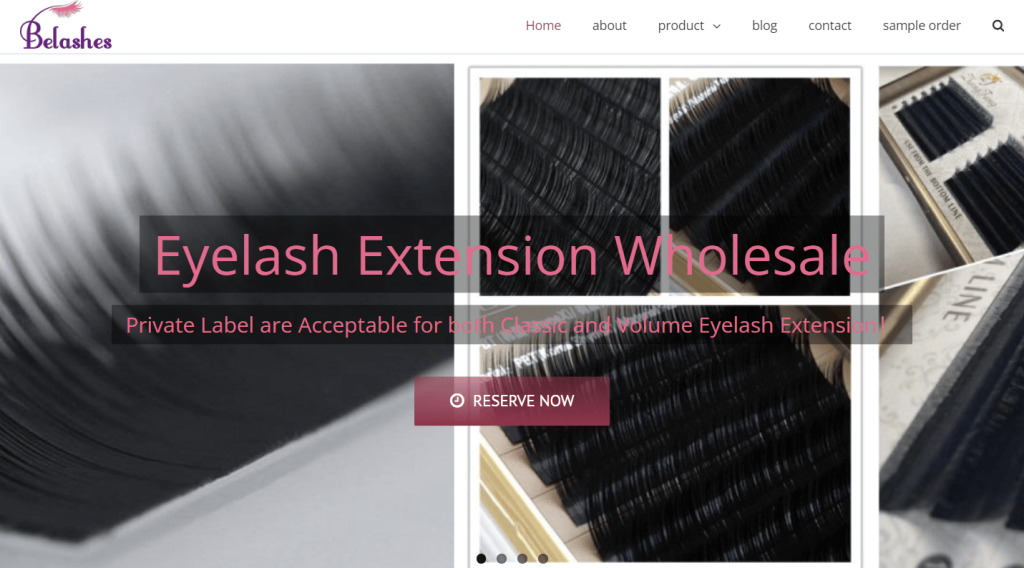 Because of this no MOQ rule, ReaYoung is also a dropship-friendly supplier. That makes them great if you're new in the industry and want to start with the traditional dropshipping model instead of ordering wholesale.
With ReaYoung, you never have to physically see the lashes that you're selling (although we don't recommend this). They can be your dropshipping supplier.
However, they can be great for more experienced eCommerce owners as well since they also offer OEM and ODM services.
19. JTFIL Eyelashes
Next, we have JTFIL Eyelashes – a manufacturer in China that offers eyelash extensions, strip lashes, and different false lash tools.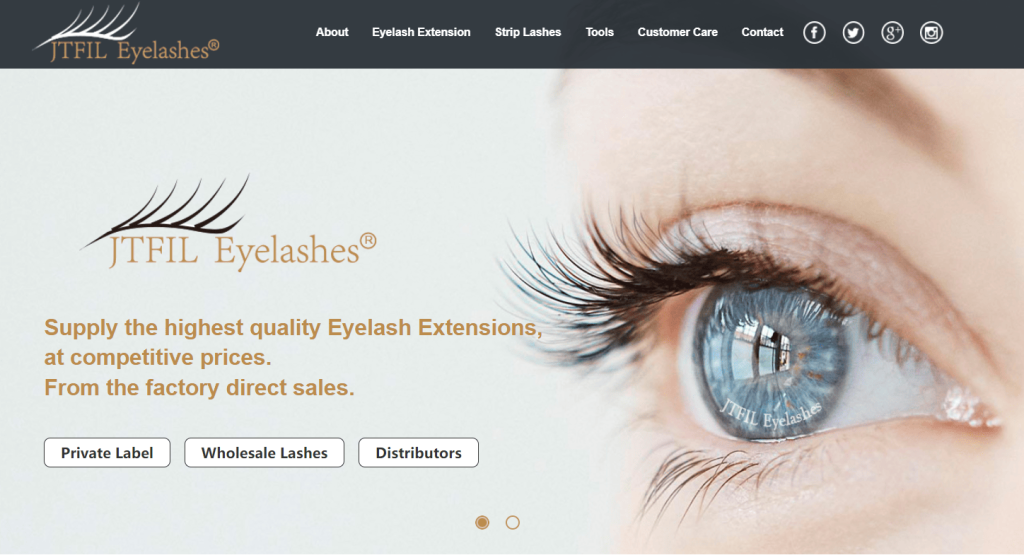 Their lashes are made of human hair, synthetic hair, and premium synthetic hair, all of which are cruelty-free.
JTFIL Eyelashes also offers private labeling, allowing you to start your eyelash brand.
Similar to Emeda Eyelash, JTFIL Eyelashes is also open to factory visits, which adds to their trustworthiness.
20. XIZI LASHES
XIZI LASHES is a wholesale eyelash manufacturer in China that offers incredible conditions and prices.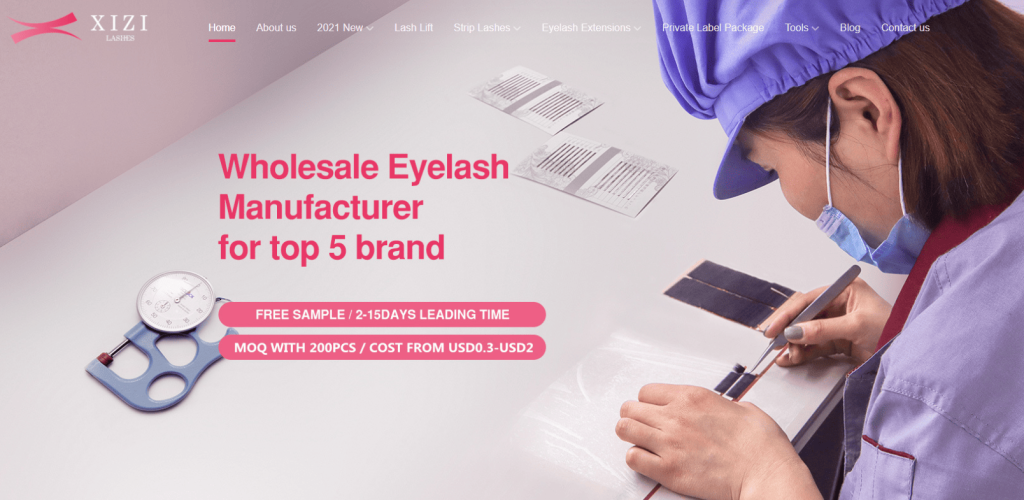 With XIZI LASHES as your supplier, you get:
A free sample
2 to 15 days lead time
An MOQ of 200/pcs
Cost from $0.3 to $2
6,100+ eyelash styles
Private labeling
As you can see, XIZI LASHES is a great supplier considering their price vs. value ratio. With these costs, an MOQ of 200 pieces is definitely reasonable.
21. Plumage Lashes
Our next supplier is Plumage Lashes, a Chinese manufacturer selling 100% real mink fur lashes.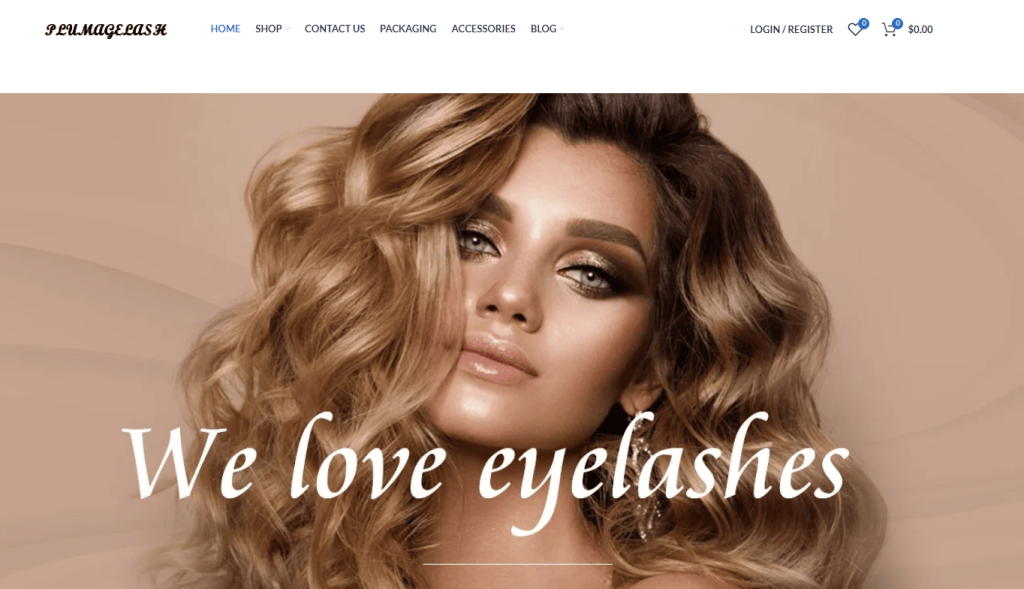 Their product palette includes different thicknesses 3D mink lashes, 5D mink lashes, and fluffy mink lashes.
Plumage Lashes also accepts OEM orders. All they need is your design or sample, and they can prepare your lashes exactly as needed.
They're a really good choice for a supplier, and they've sold their products in over 30 different countries globally, including the USA, UK, Germany, Canada, and more.
22. Niche
Last but not least, Niche is an industry-leading all-around sourcing agent in China with extensive experience in buying all types of products directly from Chinese factories.
We work on a no-risk and no-obligation basis, and we offer free sourcing quotes to prove what we can do with zero upfront costs. So, if you can't decide which supplier to choose, let Niche handle it.
All you need to do is focus on selling and marketing. Niche takes care of the rest:
FAQs about Buying and Selling Eyelashes
Now, let's make sure we answer all the frequently asked questions on buying and selling eyelashes.
How to Find the Best Eyelash Extension Vendors in China?
Here are some things you can do to search and isolate the best eyelash suppliers in China:
1. Bookmark this list
In the list above, we've already given you 22 great eyelash manufacturers and marketplaces in China. So, the first thing you can do is bookmark this list and get back to it when you're ready to choose a supplier.
2. Search on Google
Your second option is searching Google for something like "best eyelash manufacturers in China" or "China lashes factory". See the first two pages of the results and browse to see if you find a supplier that fits your needs.
3. Check Chinese marketplaces
The next thing you could do is go to B2B marketplaces like Alibaba, Made-in-China, or Chinabrands. In this list, we've mentioned a couple, but there are many others – 1688, Taobao, DHgate, etc.
4. Visit markets in China
Next, you could visit markets and trade shows in China, especially in regions like Qingdao. However, note that navigating through Chinese markets can be tricky, especially if you've never been there before and don't speak the local language.
5. Work with a sourcing agent
Finally, you could collaborate with a local sourcing agent that can help you source the best Chinese eyelashes at wholesale prices.
How Do I Start My Own Eyelash Brand?
Building your own eyelash business can be a lucrative opportunity when done right:
Step 1: Market and product research
Find gaps in the market and fill them. Consider your target buyer locations. Is there an underserved demand? Although you're selling lashes, see if you can narrow your target group further. Find your niche!
Step 2: Find your supplier
Scroll up to see the 22 great eyelash manufacturers in China we've gathered in this guide. See if you find one you like. Trusting the supplier you find is crucial to scaling and long-term success. Remember that your business success depends largely on the manufacturer you decide to work with.
Step 3: Order samples
No matter how cliche it sounds, always order a sample before buying in bulk. Why?
To check the product quality
To check the delivery time
To check the supplier communication
To take product photos and upload original pictures
Step 3: Build your store
The next thing you'll need is a storefront. Shopify and WooCommerce are the two most common options. But, you can also sell on marketplaces like Amazon or eBay – it's up to you.
Step 4: Inventory storage
Where are you going to store your inventory? Do you have a warehouse or storage space? Or will you work with a 3PL (third-party logistics) service?
Step 5: Order fulfillment method
How are you going to fulfill your orders? Will you fulfill them on your own? Or, will you use a dropshipping agent? Perhaps you've found a dropship-friendly supplier? Decide on this early in the process.
Step 6: Marketing and sales
Once you have everything decided and set up, it's time to start marketing and selling. Choose your sales channels and social media channels. Design your marketing strategies with your target group in mind.
Naturally, these steps are oversimplifying the job since there are many tiny steps in between (such as importing products, dealing with shipping, implementing payment methods, etc.). However, they can serve you as a guideline when building your brand.
What Are the Best Mink Lash Vendors in China?
If you want a good mink lashes manufacturer in China, check out Dolvlashes, Alibaba, Gianni Lashes, Emeda Eyelash, Elour Beauty, etc. Practically all suppliers on this list sell mink fur lashes, so it shouldn't be hard to find.
What Are the Different Types of False Eyelash Extensions?
There are many different eyelash styles and types out there. Here are some of the most common choices:
Real mink fur eyelashes
Faux mink eyelashes
Human hair eyelashes
3D mink lashes
5D mink lashes
Synthetic lashes (PBT fiber)
Magnetic lashes
Colored lashes
Silk lashes
Full-strip lashes
Individual lashes
Volume lashes
What Are 3D Mink Lashes?
Normal mink lashes are single lash extensions for each natural lash, while 3D mink lashes are cluster-style lashes giving a more dramatic look. 3D lashes have 3 lash extensions for each natural lash. That makes them more luxurious and full.
To Wrap Up
China is a hub of eyelash factories and manufacturers, especially places like Qingdao in the Shandong province. So, if you're looking for Chinese eyelashes at wholesale prices, you'll definitely have a wide choice in front of you.
Regardless of the choices, we understand that buying from a huge market like China can be confusing, especially considering the language barriers.
So, if you need any help sourcing wholesale lash extensions from China, Niche is at your disposal. Let us know the eyelash styles, material, and quantity you need, and get your free quote.
Hopefully, our list of the best eyelash manufacturers in China will help you find the eyelash factory you need to partner with and start growing and scaling!