Most online entrepreneurs recognize Amazon as a great e-commerce platform where they can sell a variety of goods and make a profit. This is partially why it attracts so many sellers from around the world.
Nevertheless, very few people fully understand the vast money-making opportunities that Amazon offers. Yes, you read that right. You do not have to go broke while you wait for your online sales to soar. You can explore other lucrative options.
So, are you tired of pinching pennies? Here is a detailed guide on how to make money on Amazon.
Become an Amazon Associate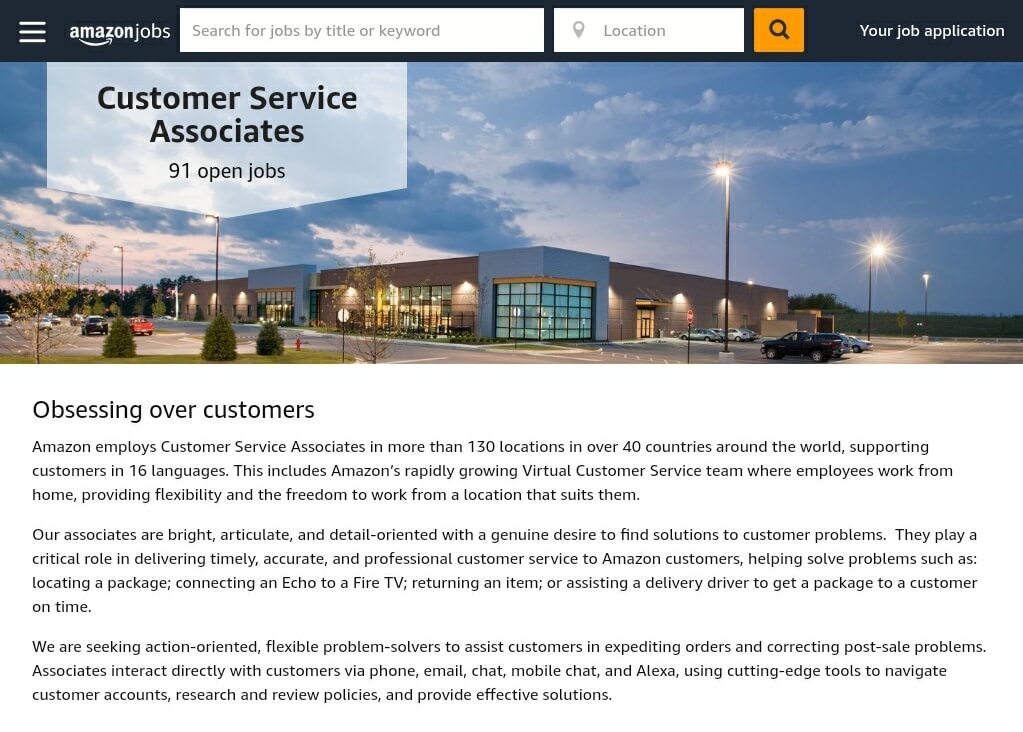 Amazon is a multifaceted business entity that serves a huge customer base. Subsequently, the company is often in need of associates (in addition to their core staff) to take up part-time or full-time roles such as:
Customer service representatives
Tech account managers
Trainers for different tech issues
Amazon associate roles are virtual and pay about $20 per hour, depending on the job.
Pros
You can literally work from anywhere you choose.
Applying for the roles is pretty straightforward as long as you have the required qualifications.
You can choose part-time or full-time roles based on your schedule.
Con
Amazon associate roles are only available in limited regions.
These opportunities are often seasonal and thus may not be dependable for regular income.
Join the Mechanical Turk Program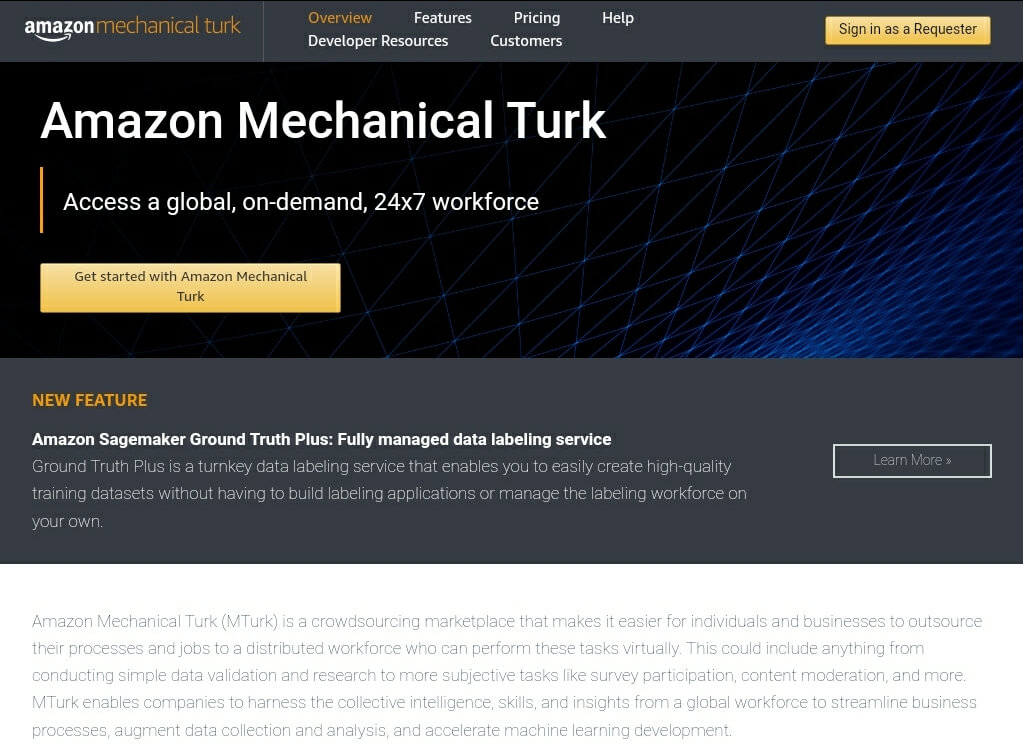 Amazon uses high-standard tech solutions to handle most of its repetitive tasks. However, some tasks require a level of human intelligence that no software can deliver.
Amazon thus set up the Mechanical Turk marketplace to connect workers that can perform such tasks and employers that need their skills. The tasks include:
Transcription
Categorizing images
Data entry
Taking surveys
It is fairly easy to get started. You only need to sign up as a worker on the MTurk website, figure out how worker requests work, and begin picking up tasks as they become available.
Pros
MTurk tasks are simple; you do not need to have technical skills to qualify.
The tasks are remote and thus you rarely have to contend with geographical restrictions.
You can pick up tasks at your convenience.
Cons
Some employers limit their roles to specific regions.
The pay is relatively low.
Amazon Merch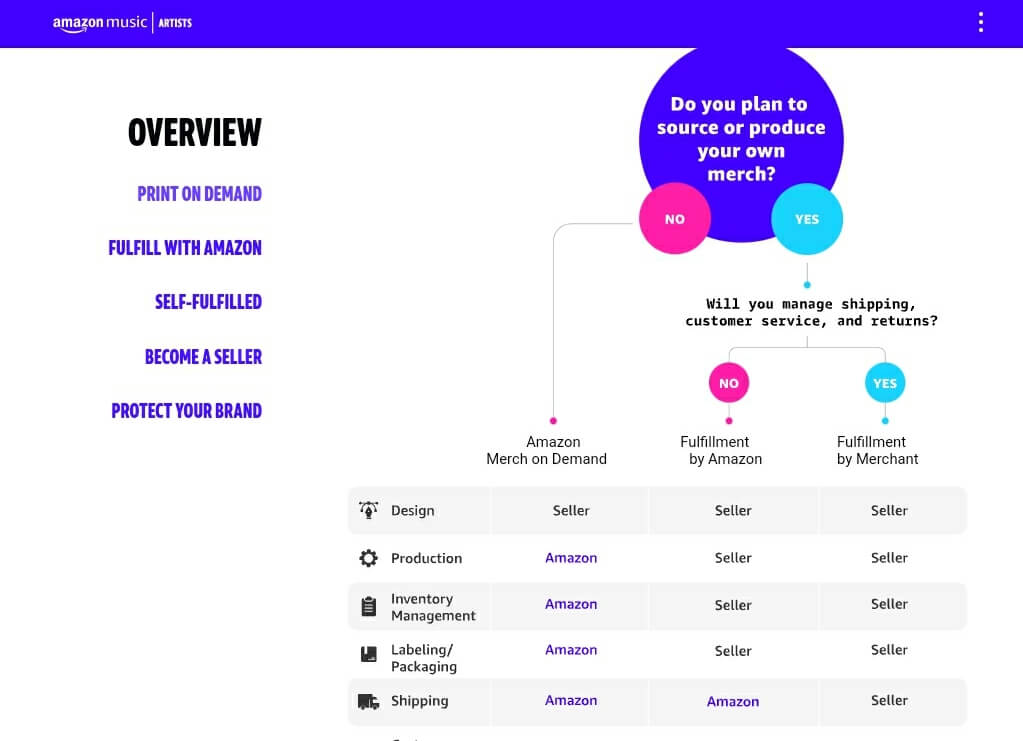 Are you great at creating trendy designs or catchy captions? Then Amazon Merch may be right up your alley. It is a print-on-demand service that works as follows:
Design graphics that can be printed on a t-shirt or other types of merchandise.
Upload the designs on Amazon Merch.
Set a price for the design.
Amazon creates a product listing showcasing your design on the merch.
When a customer chooses your design, Amazon prints the design on the merchandise and delivers it to the buyer.
Amazon pays you royalties every time your designs sell.
Amazon requires members of the Merch program to sign up for it. It then reviews your application and approves it if you meet its standards.
Pros
Amazon Merch sellers do not incur any inventory or fulfillment costs.
This approach requires little input beyond creating, uploading, and marketing your designs.
Amazon assigns you a dedicated page and thus you do not have to compete with thousands of vendors.
Cons
Amazon can sometimes take up to 3 months to approve your application.
Competition can get quite stiff as buyers have access to lots of designs and popular trends fizzle out soon enough.
Amazon CamperForce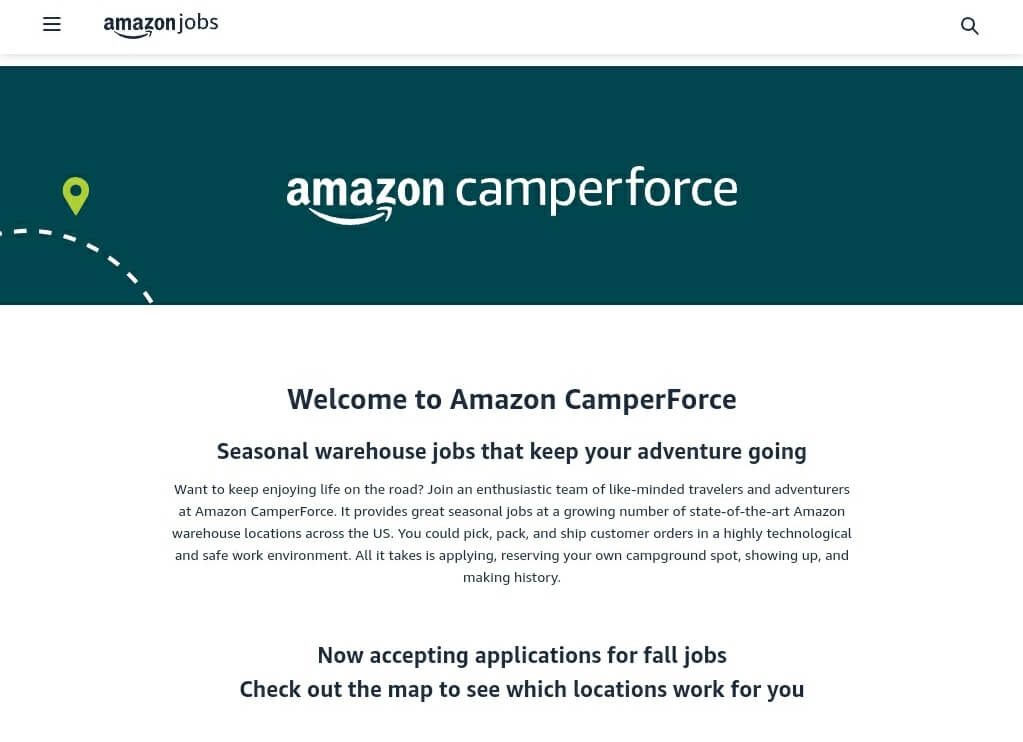 Lots of people now set off on long adventures where they tour different cities in RVs or tour buses. Of course, not many can afford such a lifestyle without a source of income.
On the other hand, Amazon often needs temporary staff to take up various in-person tasks in warehouses or handle deliveries. Ergo the CamperForce program that allows you to work for Amazon briefly while on a pitstop between destinations.
Some CamperForce roles include:
Warehouse inventory management tasks
Handling deliveries
Pros
Amazon offers great CamperForce perks like paying for your camping site fees.
The pay and perks during holiday seasons are quite good as Amazon has a high demand for workers at such times.
The work hours are fairly flexible as you can work a minimum of about 16 hours per week.
Cons
You have to commit to staying at a CamperForce program for a specific period. Cutting out early results in you being blacklisted for the season.
Only Amazon can choose and assign the tasks.
Amazon Services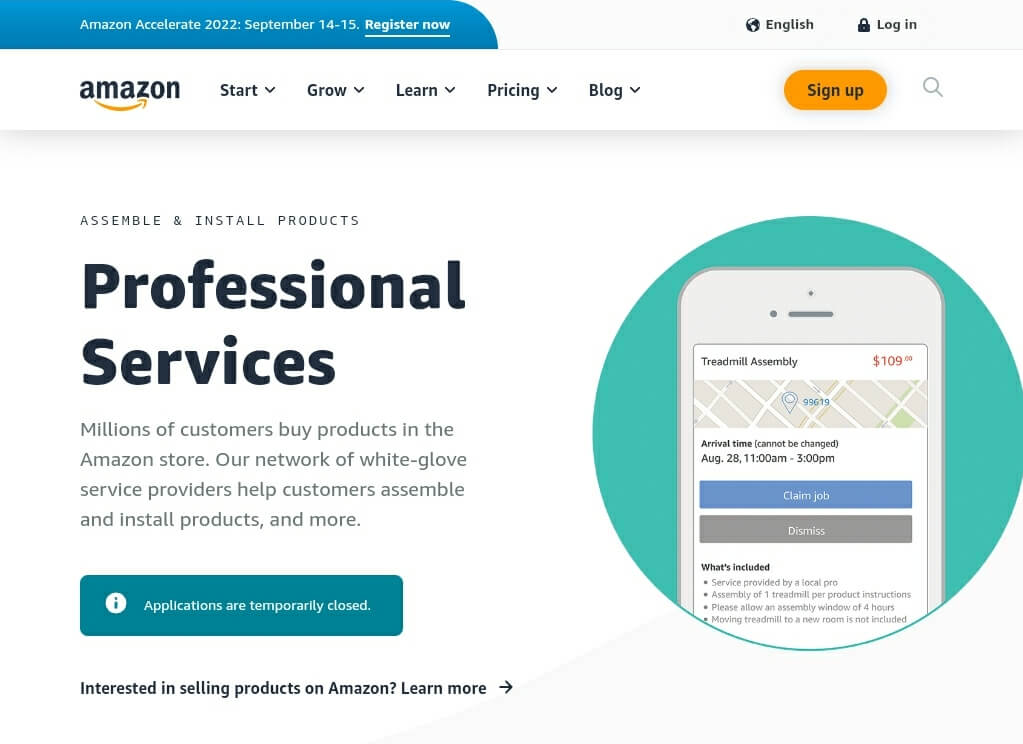 Amazon Services allows you to list your services for hire. It is ideal for skilled/professional plumbers, electricians, movers, event planners, cleaners, handymen, and any other service providers.
It is quite easy to get started. You only need to create a listing and enumerate the services you can offer and a billing rate, if possible.
Customers will be able to view your listing as they browse through different providers. Amazon charges a commission of between 15% to 20% for every job you get.
Pros
This is a convenient way to access a broad customer base.
You can easily monetize manual skills that are often overlooked and undervalued, using this platform.
Cons
You may have to charge relatively high fees to cushion yourself from Amazon's steep commission.
Amazon limits applications to prevent saturation so you have to strive to seize any open application windows.
Amazon Flex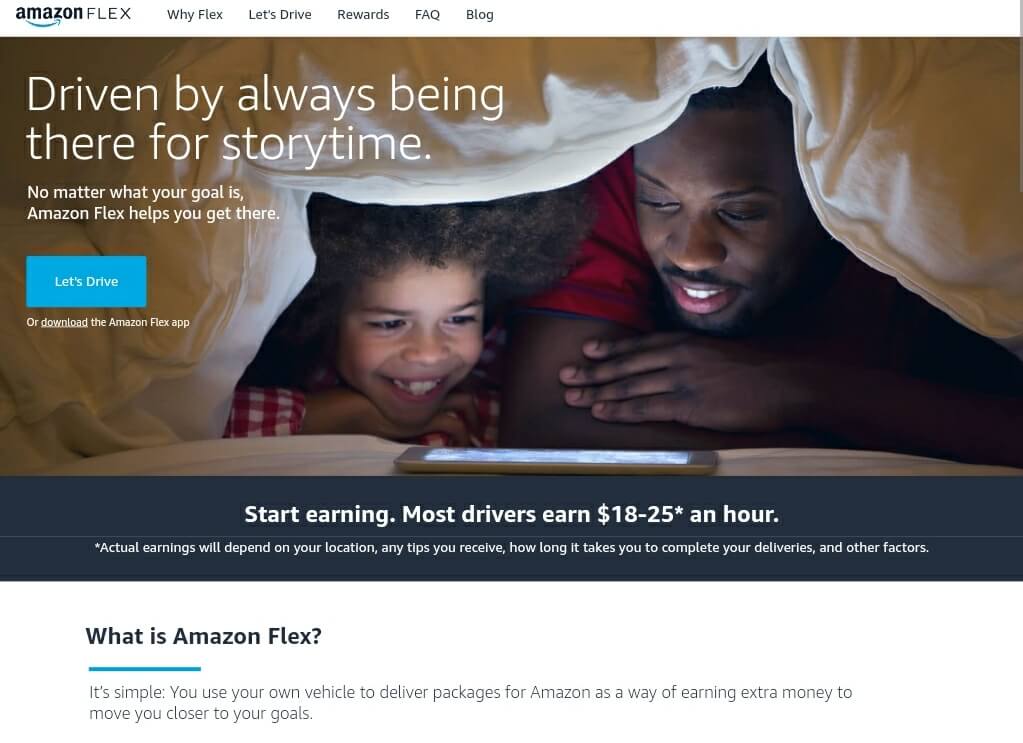 Amazon Flex is a program where you can sign up to deliver Amazon packages in your neighborhood. All you need is a smartphone, a car, and the Amazon Flex app.
The sign-up process is fairly easy but you have to provide some basic information for Amazon to gauge your eligibility. You also need to be able to commit some hours in a week so that Amazon knows when to assign deliveries to you.
If you qualify, you could be well on your way to making about $18 to $25 an hour.
Pros
The schedule is relatively flexible and you could still get paid in full even if you finish your shift early.
It pays comparatively well.
Con
Your success depends on how often people in your neighborhood shop on Amazon.
Amazon Affiliate Program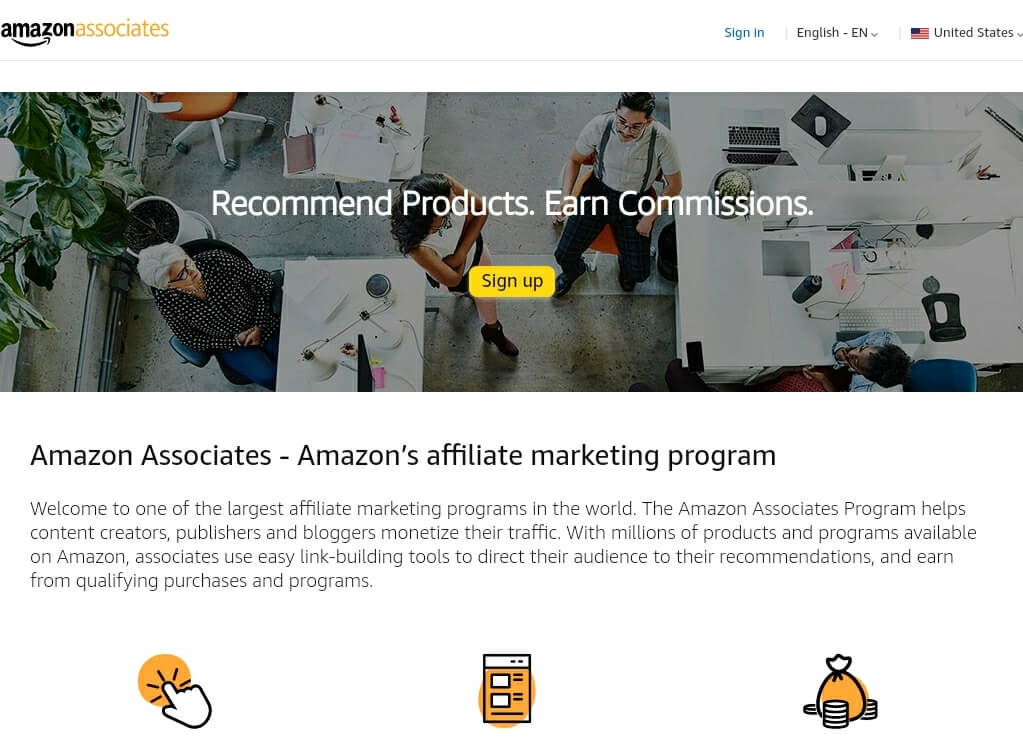 Do you run a blog with a significant following? The Amazon affiliate program could be a great fit for you.
The goal of the program is to promote products listed on Amazon on other sites, drive traffic towards them, and entice customers to buy them. It works as follows:
You sign up for the program
Amazon generates special product links for your affiliate account
You create organic content relevant to the products you will be promoting
Share your affiliate links in the content
Amazon will pay you a commission every time someone uses your affiliate link to buy the products you promote. The more traffic you drive to the products, the higher your chances of making sales and lucrative commissions.
Pros
It is a convenient way to make passive income.
You are free to share your links on multiple websites and platforms to make more of an impact.
Cons
It takes a substantial number of sales to make decent commissions.
It can sometimes be tough to identify products that may appeal to your niche audience and create relatable content to market them.
Publish an Ebook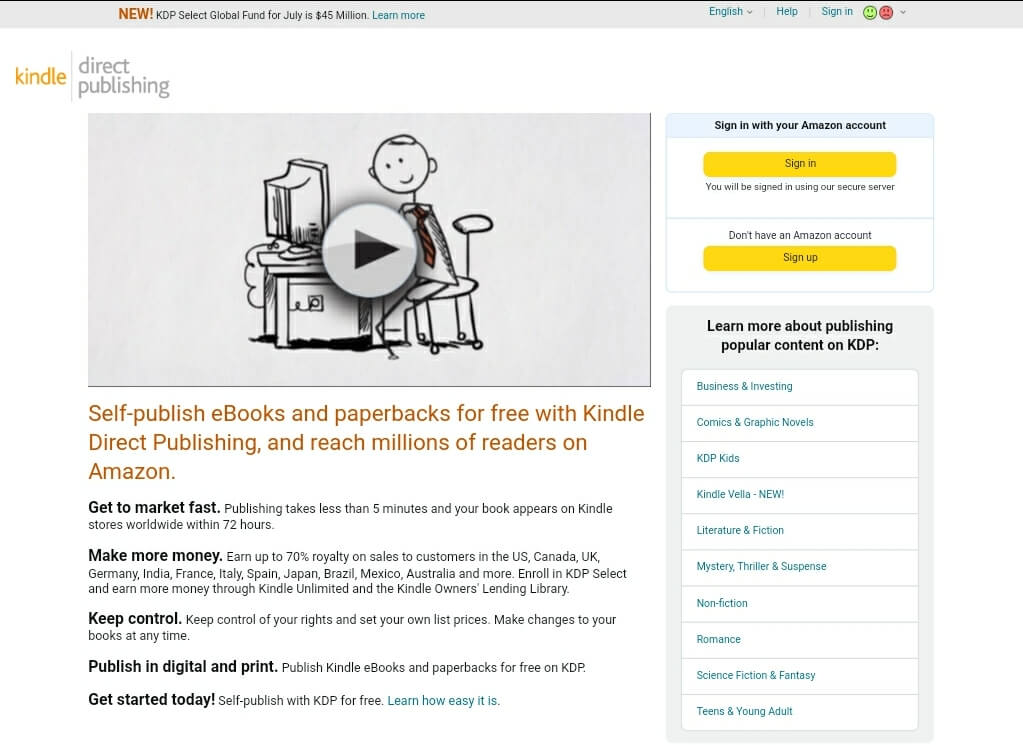 Knowledge never goes out of style. So, if you have any great tips or captivating stories in mind, write a book and watch the money roll in.
This opportunity is facilitated by Kindle direct publishing. Once you submit your work, they publish it into a digital book or print and you are all set to start selling in 72 hours (hard copies may take longer).
You will earn 70% of all sales as royalties for as long as your book is on sale. It, however, helps to keep writing new books as they tend to get readers' attention.
Pros
Being able to sell digital and hard copies allows you to cater to more customers.
You can market your book on different platforms and boost your sales.
Royalties can generate long-term passive income.
Cons
It can be tough for a first-time author to stand out among other well-known writers.
You may have to sell at low prices before you gain enough prominence among readers.
Amazon Private Labeling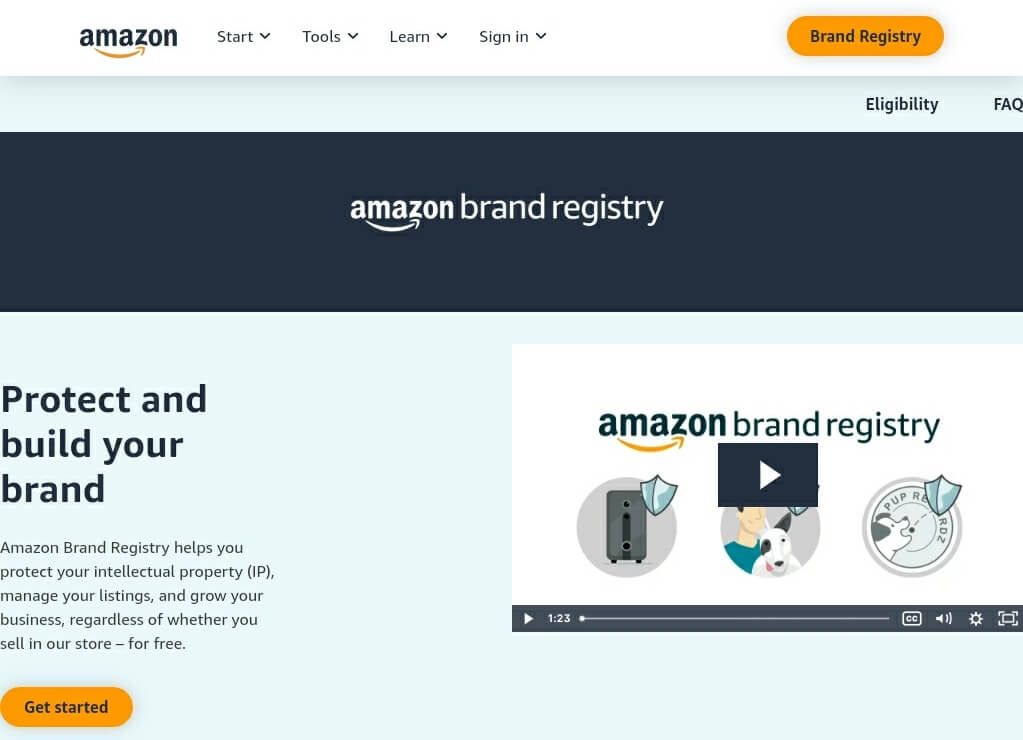 Developing your own brand of products to sell on Amazon differentiates you from many other sellers offering generic goods. This is a major advantage because increased visibility stirs customer interactions and could lead to high sales.
However, it is important that you:
Identify a niche with relatively high demand and low competition.
Develop products that offer unique benefits that other products may not.
Brand your products outstandingly.
Use Amazon's marketing tools to draw customers' attention to your brand.
Pros
The Amazon brand registry offers brands protection against unfair competition practices.
Private labeling allows you to justifiably sell goods at different prices from your competitors.
You can make great products if you find a well-priced private label manufacturer.
Cons
You bear full responsibility for your brand.
Private labeling is capital-intensive and takes time to implement.
Retail Arbitrage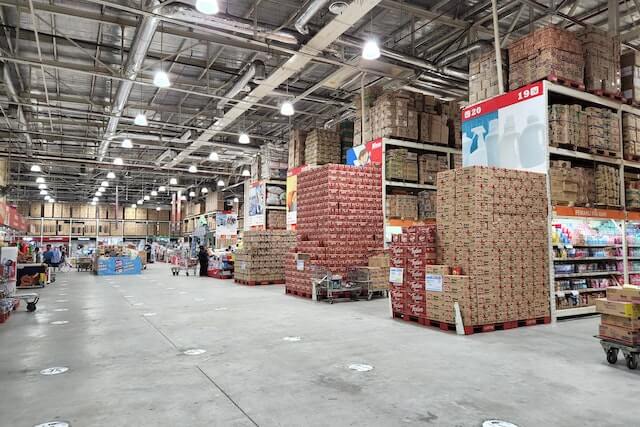 Retail arbitrage entails buying discounted products and selling them on Amazon at a profit. You could find such discounts at clearance sales or by buying the products when they are not in season.
Nevertheless, it is advisable to always research extensively before choosing which products to buy.
You could, for instance, look them up on Amazon to find out how much they sell for to know what your profits would be. Remember to also factor in the costs you may incur to get more realistic profit estimates.
Pros
The profits can be impressive if you find the right product and list it at the right time.
It is not a technical opportunity; only research skills and bargain hunting are required.
Cons
You need enough capital to buy the goods while they are on sale.
You may have to ship your inventory to FBA or hire storage space if you do not have enough room.
Amazon Handmade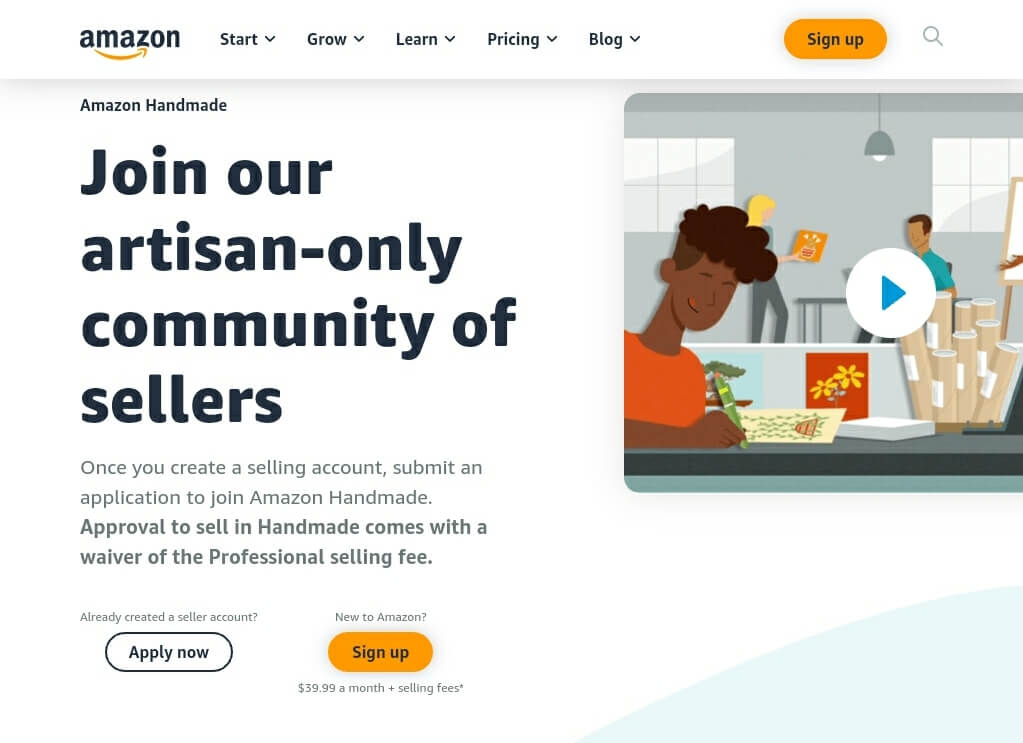 Amazon Handmade is a go-to platform for anyone that would like to sell handmade crafts, clothing, art, jewelry, and similar products. Think Etsy but an Amazon version.
You only qualify for Amazon Handmade if you hand-make, assemble, or have a direct role in the production of the goods you intend to sell. Amazon also charges:
A 15% commission per sale
$1 minimum referral fee
Pros
Amazon Handmade gives you access to a wide customer base that hand-made goods often do not get.
Amazon offers you a dedicated page to showcase your items to buyers.
Cons
Amazon Handmade rates are much higher compared to say, Etsy, which charges a 3.5% commission.
The membership rules are quite strict.
Amazon Trade-in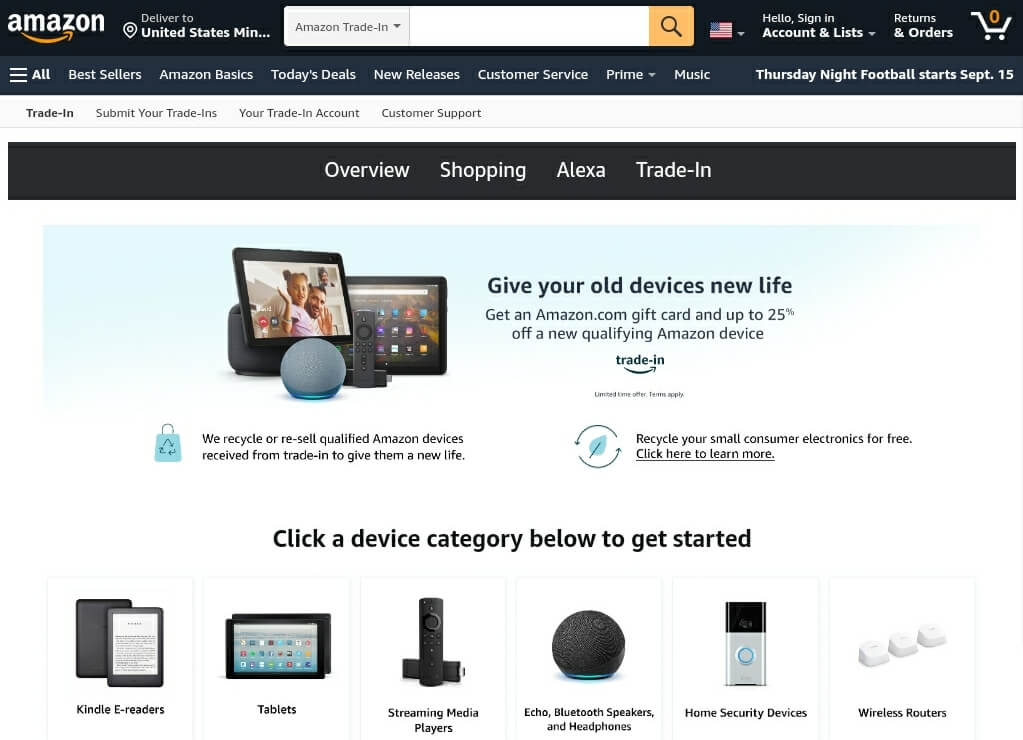 If you have been decluttering and are not sure what to do with stuff you no longer need, consider Amazon Trade-in.
Right off the bat, we have to say that this option does not pay in cash. Amazon only offers gift cards equivalent to the value it assigns to your products.
Still, it puts money in your pocket in a roundabout way because you can redeem your gift card for necessities or an appliance on Amazon that you would have otherwise spent cash on.
The trade-in works as follows:
Gather your stuff
Select appropriate categories for the items on Amazon
Provide any necessary details
Amazon creates an offer based on the information you provide
Pros
You just need to submit your items to Amazon if you accept the offer that you get and they will handle everything else from then.
It is a cost-effective way to rid yourself of clutter.
Con
Amazon is rather selective about the products that it accepts.
The average offer is usually about 25% of the original product value but it is generally unpredictable.
Amazon Influencer Program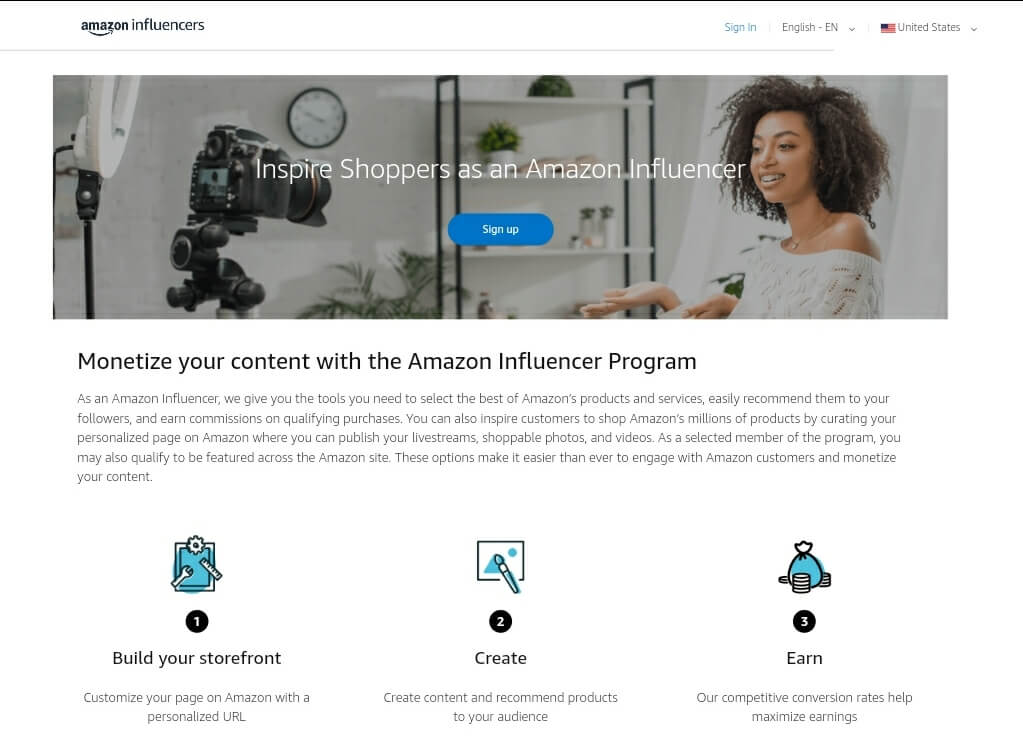 The Amazon influencer program is a lot like the affiliate program but they are not the same.
The affiliate program only requires you to share your affiliate links.
In contrast, the influencer program requires you to create content that inspires your social media followers to buy certain products. This is usually interactive lifestyle content of you using or reviewing the product.
Amazon has to review and approve your application before you can get started. You need high engagement rates and a substantial following to qualify.
Pros
The commissions can be lucrative if you choose strategic categories.
It is a profitable way to monetize your social media presence.
Con
You need to have both a large following and high engagements to qualify.
Amazon Vine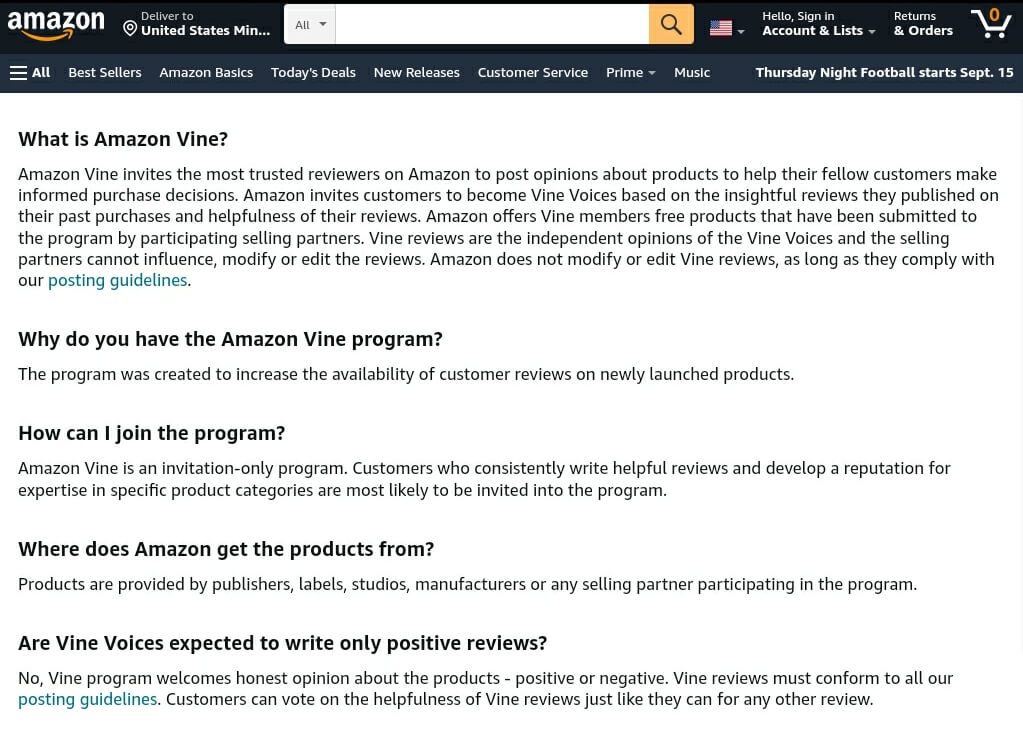 Amazon Vine offers participants free products in exchange for a review. Admittedly, it does not pay in cash but it could be a win-win for you if:
You like the products you get or they offer you some utility.
Need a steady supply of products that you can use to create content for your social media platforms without incurring any cost.
Pros
It is a great way to showcase your expertise to brands.
It is a low-effort job because you only need to give an honest review of products.
Cons
You only qualify if you have consistently been leaving reviews on Amazon.
Your reviews should, preferably, gain some traction for brands to notice you.
Work at Amazon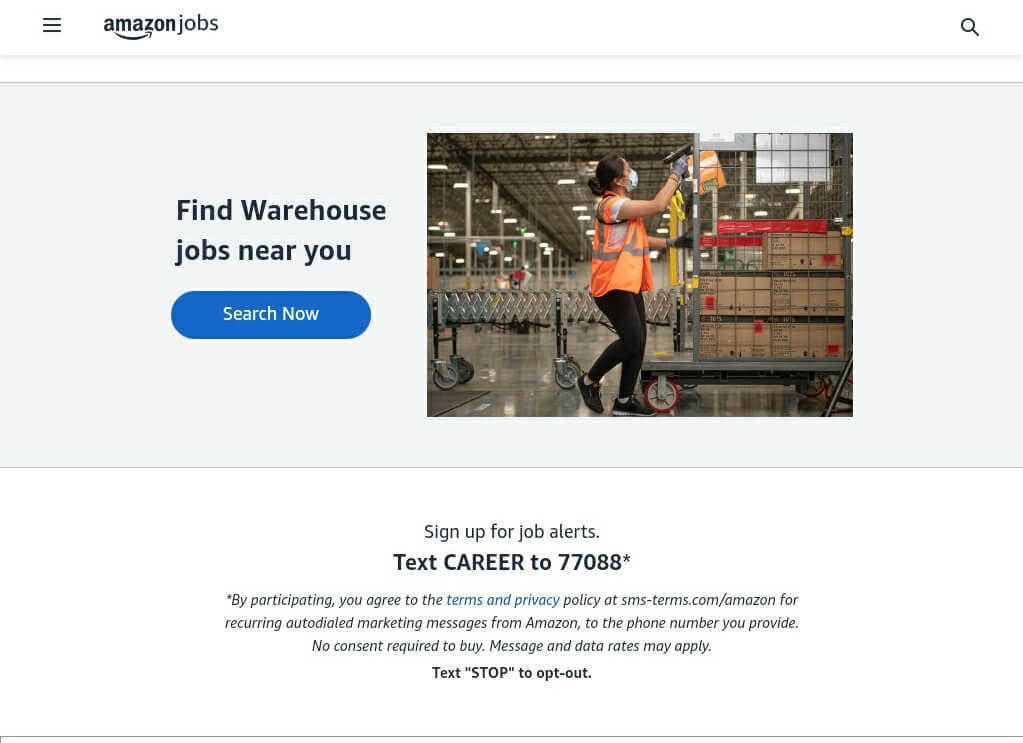 Amazon has plenty of warehouses and distribution centers across different locations. So, if you are looking for a more long-term role, you can always apply for a position in one of them.
You could also consider other roles such as a sales or advertising representative if you have the right skills for them. The average pay starts at about $18/hour.
Pros
Amazon has made strides in improving pay and benefits for most of its staff.
On-site jobs offer room for advancements.
Amazon staff get an annual discount on products sold and shipped by Amazon.
Cons
Amazon warehouse jobs often involve long shifts on your feet and can be repetitive and boring.
There have been multiple complaints about the safety and suitability of the working conditions in some Amazon warehouses.
Dropship on Amazon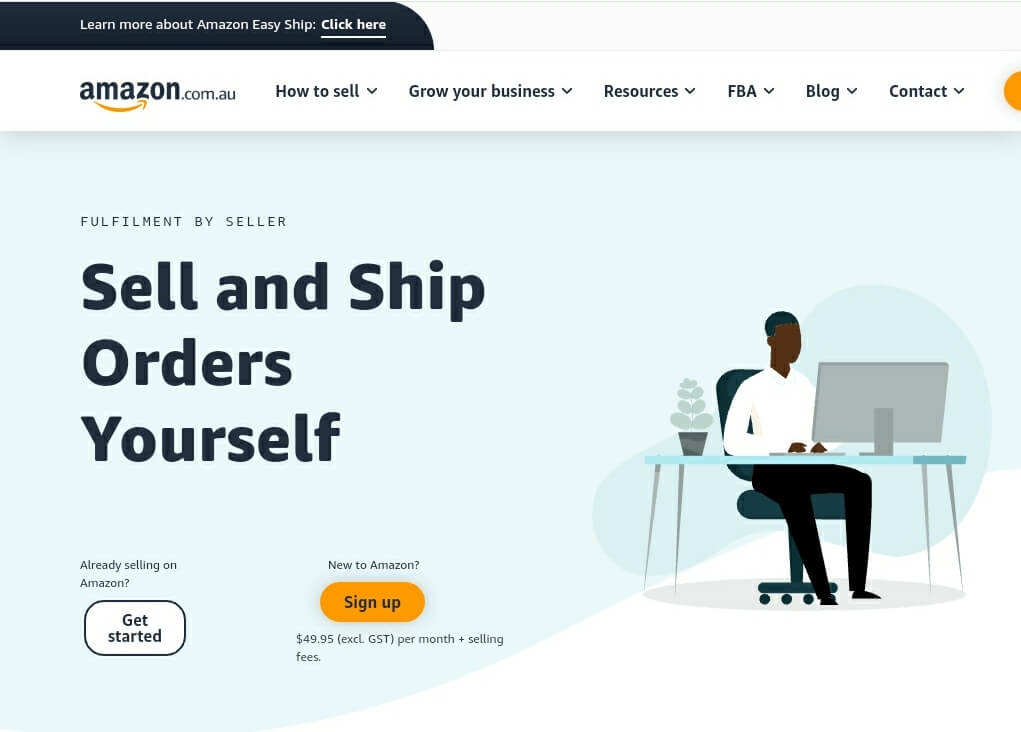 Most people may not know this but you can dropship on Amazon. It is not officially facilitated but it is certainly possible. Here is how:
Sign up as an Amazon seller
When selecting fulfillment options, choose 'Fulfillment by seller'
Handling your fulfillment means that you can share orders with your dropshipping supplier and they can ship directly to clients. The only caveat is that your dropshipping supplier needs to process and ship orders in good time to keep up with Amazon standards.
Pros
You would not require any capital to buy inventory.
You can easily take advantage of product trends because you do not have to sell off any inventory before moving on to something new.
Cons
Any shipping delays or product quality issues could have a significantly negative impact on your standing as an Amazon seller.
Amazon does not formally support dropshipping and thus may not be compatible with most dropship tools.
Sell on Amazon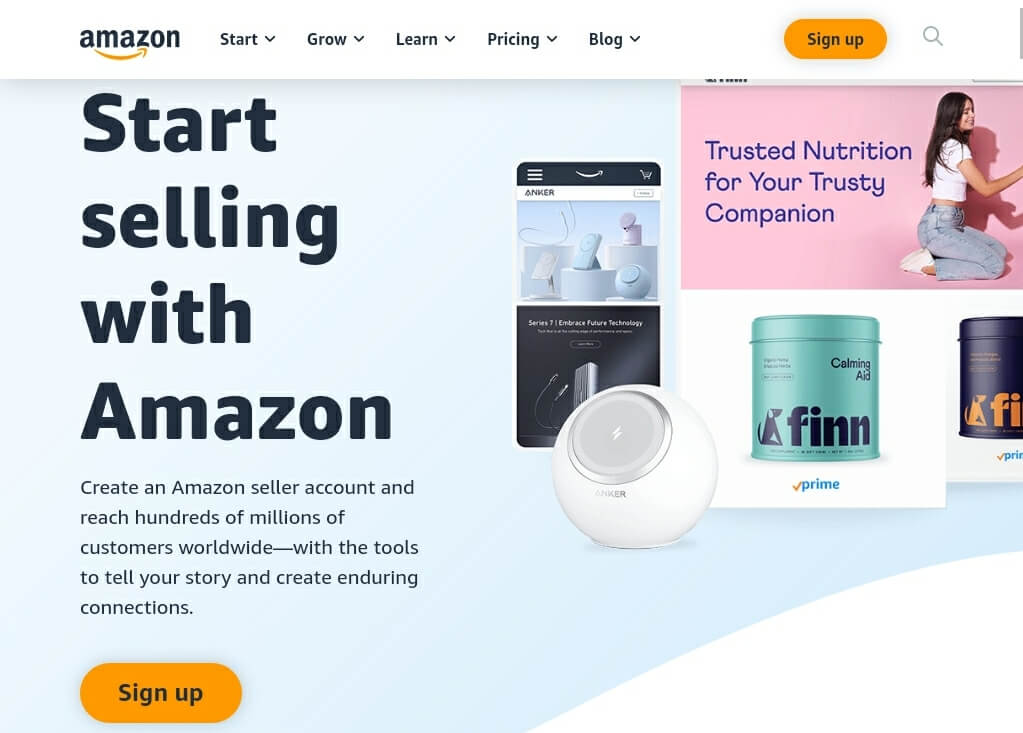 Last but not least, you could take the most natural route of them all and sign up to become an Amazon seller. You only need to:
Source quality products at affordable rates
Create killer listings
Market your store and your products relentlessly across different platforms
Strive to find a reliable wholesale product supplier; they are often a major key to succeeding on Amazon. More so if you plan to explore options like FBA where products have to be adequately prepped before submission.
Pros
It is profitable to buy wholesale products and sell them at Amazon retail prices.
The Amazon seller central platform is user-friendly and offers insightful reports.
You can keep your overheads low by choosing seller options that do not eat into your profits.
Cons
It can take a while to fully understand the cost of selling on Amazon and how to run your business cost-effectively.
Competition among sellers in most categories is quite stiff.
Tips on How to Make Money on Amazon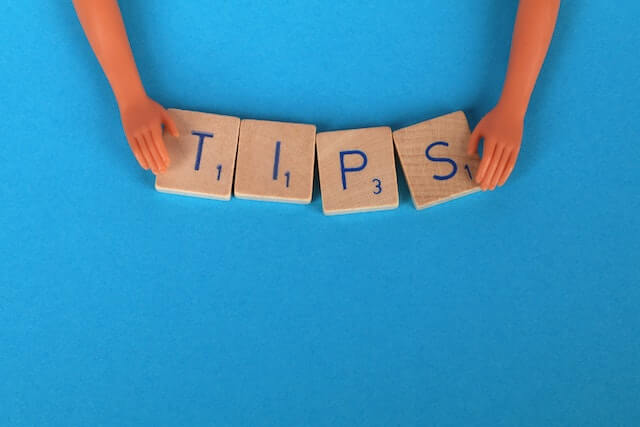 Pay Attention to Rules
As you consider different opportunities, take time to understand the rules and qualifications that Amazon puts forth for applicants.
It will keep you on the right path and may even prevent you from facing the suspensions or bans that Amazon metes out to rule breakers.
Be Forthright
Amazon does due diligence on most of the information that it seeks from applicants or sellers. Providing inaccurate or incomplete details may, therefore, put you at risk of disqualification. In severe cases, it may even bar you from future consideration.
Pay Attention to Application Windows
Programs like CamperForce or Amazon Services, take limited applications at various times. It is thus wise to stay tuned on upcoming windows and prepare to apply as soon as they open up.
Hedge Your Bets
Most of the opportunities we have discussed have great potential but they may not become lucrative overnight. Some are also seasonal and may only tide you over for short periods.
Subsequently, where possible, consider pursuing more than one opportunity. You may get better returns and building a strong reputation could improve your chances of qualifying for more opportunities in the future.
FAQs about How to Make Money on Amazon
Which Is the Best Way to Make Money on Amazon?
It would be misleading to point out one money-making strategy on Amazon and crown it above others.
A better approach would be to consider each option and identify which options you qualify for and look into those that align with your talents. Couple this with diligence and watch your earnings grow.
What Documents/Details Do I Need to Sell on Amazon?
Ensure that you have:
A valid phone number
A business email address
A government ID
Your tax details
A credit card that can be charged internationally
An operational bank account to receive payments from Amazon
Why Amazon?
There are lots of online platforms that you could explore, so, why Amazon?
Well, for starters, Amazon offers lots of legitimate opportunities to make an honest living. Everything is verifiable and above board so you never have to worry about scams.
Further, Amazon provides opportunities for different skill types and levels. You can take on more than one opportunity and also have the unmatched benefit of accessing a global customer base.
To Sum It Up
Lucrative opportunities are hard to come by in today's competitive world. Amazon is thus a rarity as it combines a myriad of opportunities with fair pay and flexibility. Plus, even if all other opportunities do not favor you, selling is open to all.
Wondering how to find top suppliers? Wonder no more. We, at NicheSources, have all the networks you need to source, develop, or brand products. We also provide reliable global shipping support and are fully conversant with shipping to FBA.
Simply send us your sourcing requirements, request a quote, and let's begin your journey to making profits on Amazon.