Sunglasses is one of the hottest niches with an ever-increasing demand. Many fateful retailers have successfully started their own profitable brands by selling private label sunglasses.
If you are into selling sunglasses of any kind, you have already entered the exciting field with higher chances of impulse buying and repeat orders. But the fierce competition in the sunglasses field will always want you to explore better suppliers.
That's why we have brought the ultimate list of the top 11 sunglasses manufacturers in China and the USA. For better understanding, we have split the list of manufacturers according to their countries and their private label offers.
Let's start.
Sunglasses Manufacturers in China
Let's kick off with the most desired and affordable options first. The following are the top sunglasses manufacturers in China.
1. Quick Wonder Glasses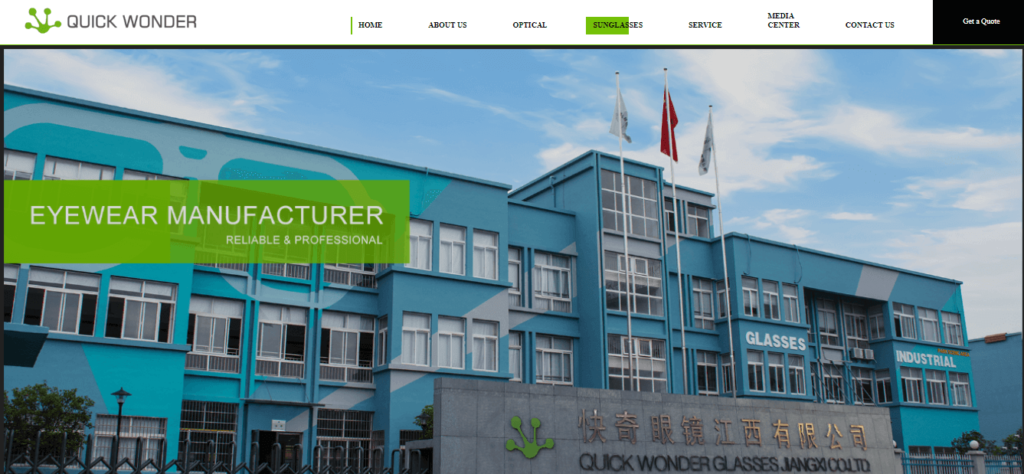 Quick Wonder is a specialized manufacturer of sunglasses in China. They came into this field after feeling the need to manufacture quality sunglasses by carrying out the whole operation at a single manufacturing facility.
They provide a variety of optical and sunglasses at wholesale prices. You can also discuss your customization requirements with them. They deliver samples as per the stated requirements and only start manufacturing after a green signal from their customers.
They also provide you with special guidance regarding your glasses. They have a design team with a number of specialists in the eyewear field. Their experts can help you turn your ideas into great sunglasses.
Their website does not mention the prices of the sunglasses. You have to ask them for a quote.
Features
Huge variety of sunglasses in multiple shapes, colors, and sizes.
You can find pairs of sunglasses for men, women, and children.
The glasses are made of acetate, metal, and plastic frames.
Their design team facilitates you in choosing the right material, shape, color, and other aspects of your sunglasses.
They have strict quality-checking procedures.
You can sort search results by category, gender, material, and shape.
The sunglasses are very briefly described on the website.
2. Concept Eyewear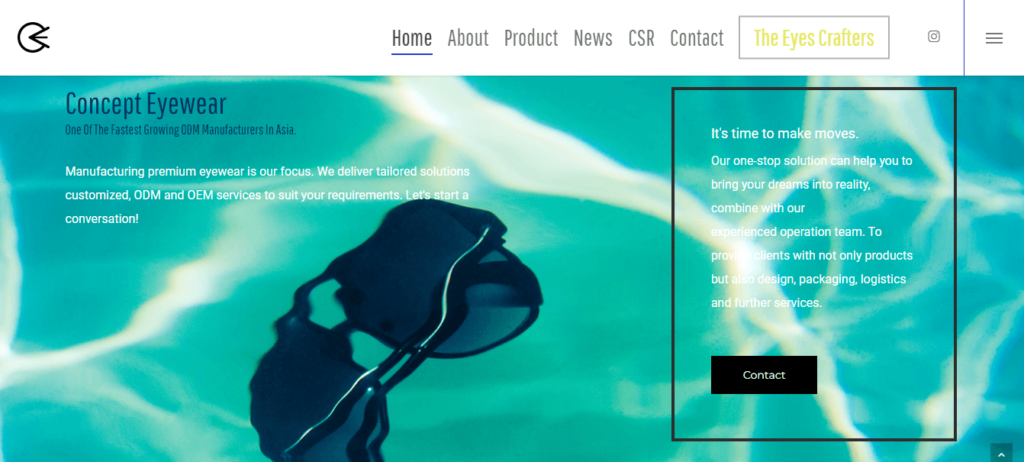 Concept Eyewear is a premium eyewear manufacturer in China that focuses on providing high-end and supreme-quality sunglasses.
A short and to-the-point video on their homepage explains their commitment to manufacturing quality sunglasses by showing the latest procedures and machinery. That's why they call themselves "The Eye Crafters."
They have a dedicated portion to create your own eyewear using their online tool. You have to select the type and color of the frame, temple, and lens. The online tool will display the final eyewear along with the price.
They have factories in China and Vietnam and registered offices in Japan and the UK. Their website doesn't show the prices of wholesale sunglasses. You have to contact them to discuss all the terms and conditions.
Features
A good variety of sunglasses designs and models.
They provide complete OEM and ODM services.
They help you with the design, packaging, logistics, and other services.
They are experts in providing tailor-made sunglasses according to the requirements.
They focus on manufacturing eco-friendly eyewear, so you can also impress your customers with the social responsibility of your business.
Their website has high-quality pictures and videos of their sunglasses.
3. Conchen Glasses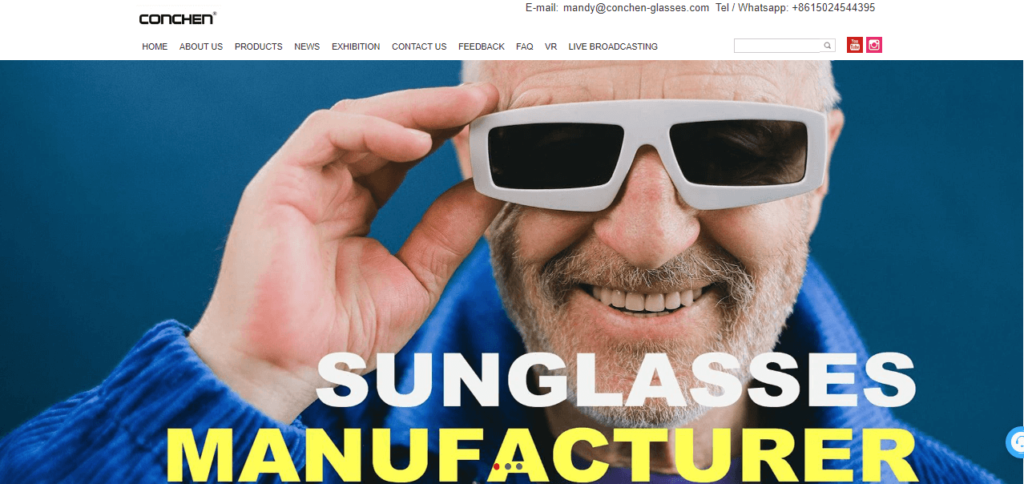 Conchen Glasses is a professional and expert eyewear manufacturer in China. Founded in 2006, this eyewear manufacturer quickly became a preferred supplier for multiple eyewear products, including sunglasses.
They provide a variety of sunglasses made of wooden, metal, and plastic frames. They offer high-quality sunglasses for men, women, and kids at highly affordable prices.
You can see pictures of their sunglasses on their website with all the available colors. They have also mentioned excellent and detailed descriptions of each product. You will also see zoomed portions of their sunglasses that describe the premium features.
You have to send your inquiries to them about the pricing, MOQs, and other terms.
Features
Innovative and premium sunglasses at affordable costs.
They have over 15 years of professional manufacturing and international delivery experience.
An ideal supplier for wholesale, OEM, and ODM services.
They offer over 1000 sunglasses styles.
Advanced R&D department to improve their eyewear items.
Ideal for finding sports, reading, and PC glasses.
They also provide optical frames and related accessories.
Strict quality control procedures.
Custom Sunglasses Manufacturers in China
Although sunglasses manufacturers mentioned earlier also accommodate customization, the following are the sunglasses manufacturers in China that offer customized sunglasses.
4. Hisight Optical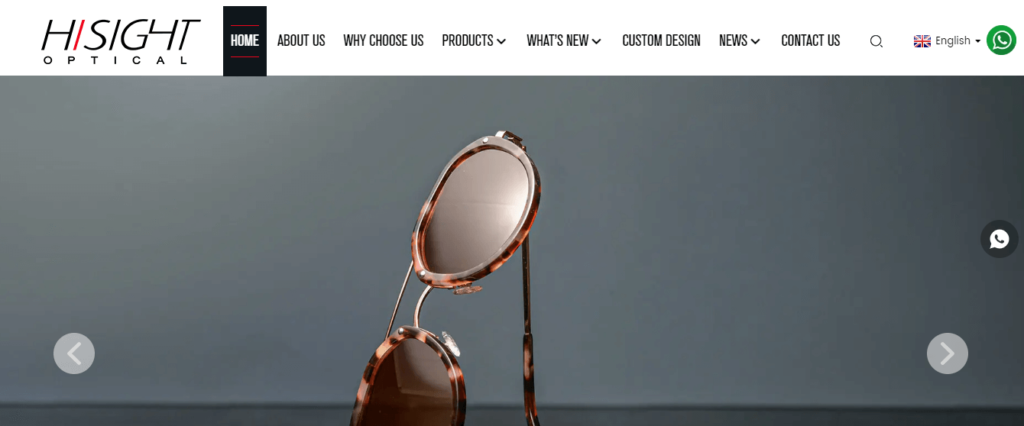 Hisight Optical is a leading eyewear manufacturer in China. It specializes in manufacturing and providing optical eyewear, sunglasses, reading glasses, and blue light glasses.
Established in 2005, this company rose to prominence by following its objective to provide high-quality glasses at the most competitive prices. They manufacture glasses made of metal, titanium, TR, and acetate.
They perform all the manufacturing operations within their factory and do not outsource any part of the manufacturing process to ensure premium quality.
Their custom services include metal casting, logo, metal foil, engraving, printing, hot stamp, laser, and metal chip. You have to contact them about the pricing and other requirements.
Features
A one-stop solution for your sunglasses sourcing requirements.
They prefer saving the environment by using eco-friendly materials in their manufacturing processes.
Multiple HD pictures of sunglasses are available with detailed and eye-catching product descriptions.
They use advanced machinery and the latest designs to cope with the ever-changing requirements of sunglasses.
They keep up with the latest trends in the eyewear market and keep their manufacturing processes up-to-date.
You can sort your search results by material, gender, shape, style, rim, and color.
It is easy to choose the sunglasses right from the main product page as it shows the available colors without going into the details.
They have multiple quality certifications, including CE, FDA, and GRS.
5. Viff Sunglasses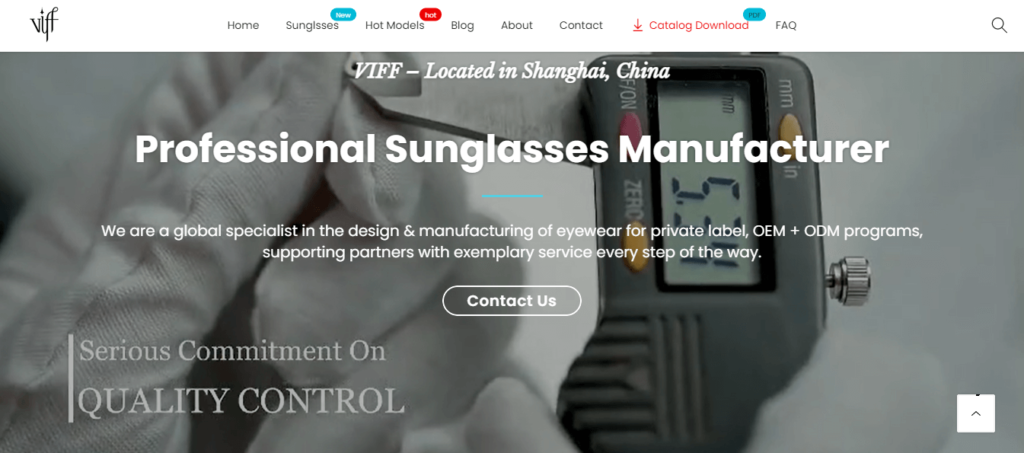 Viff Sunglasses is one of the leading custom sunglasses manufacturers in China. Founded in 2006, this company progressed quickly to become one of the most desired go-to suppliers for international retailers.
They specialize in manufacturing sunglasses made of acetate, metal, plastic, and other specialized materials.
They offer many customized services, including the shape, lens, material, and patterns of sunglasses. You can also ask them to customize the hinge or wire cores.
They also offer customized packaging for your glass covers, so you can sell them as a professional brand.
They offer affordable MOQs, as low as 5 items per item. The prices of their sunglasses are mentioned on their website.
Features
High-quality with reasonable prices.
You can sort sunglasses by gender, material, style, and shape.
The products are decently described on their website.
The website has a downloadable catalog with a comprehensive overview of their sunglasses.
You can have a bird's eye view of the available colors in every item on their website.
They have divided their sunglasses into 24 categories for an easy search.
6. Y&T Eyewear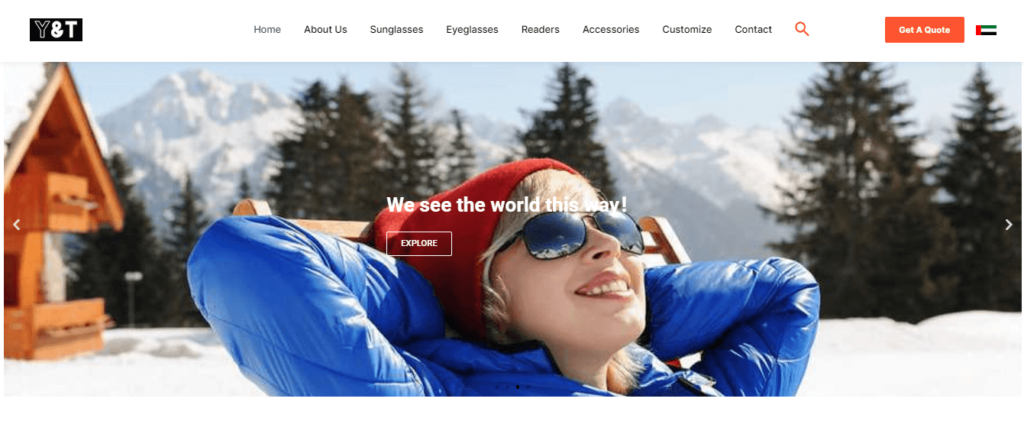 Y&T Eyewear is a promising name in the supply of customized sunglasses in China. They offer a variety of sunglasses and eyeglasses.
You can find multiple options in sunglasses for branding designs, so you can sell them under your brand's name. You can find glasses made from different materials, including acetate, metal, and titanium.
They specialize in designing special sunglasses from scratch by exactly following your requirements.
Features
Over 12 years of experience manufacturing various kinds of sunglasses.
They offer all kinds of OEM and ODM services.
More than 5000 styles to choose from.
They have an extensive R&D department to develop the unique and latest designs.
They offer exclusive sunglasses designed specifically for activities like cycling and other sports.
You can find sunglasses for all genders and age groups.
One of the few suppliers that offer wooden or bamboo sunglasses.
Great quality control procedures.
They also provide certified sunglasses with CE certifications.
7. Forever Eyewear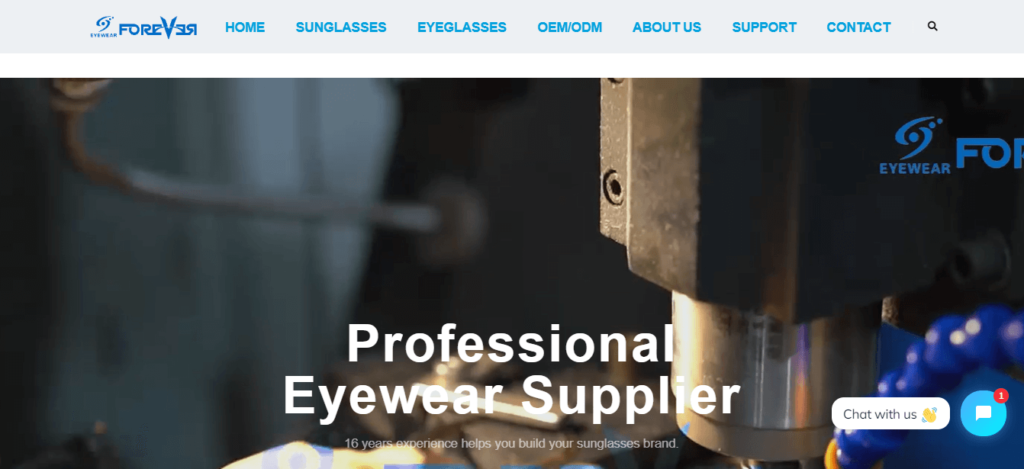 Forever Eyewear is a professional manufacturer of sunglasses. Based in China, this supplier provides multiple types of glasses. They offer oversized, special-shaped, and event-based sunglasses on their website.
You can find all the famous types of sunglasses, including rimless, cat-eye, geometric, and party glasses, from this manufacturer. They also provide reading glasses, optical frames, eco-friendly glasses, and sports sunglasses.
The prices of sunglasses are not mentioned on their website. You need to contact them for prices, lead time, MOQs, etc.
Features
Over 16 years of experience manufacturing glasses.
They offer over 10,000 styles of sunglasses.
They also offer special customization services that save you time and money.
Collaboration with over 200 famous sunglasses brands.
They quickly respond to queries within 24 hours.
Strict quality control procedures.
The sunglasses shown on their website have multiple good-quality pictures.
They have written detailed product descriptions for their glasses on their website, which is helpful for retailers in reselling.
Sunglasses Manufacturers in the USA
Now, let's explore a few of the best sunglasses manufacturers in the USA.
8. Ioves USA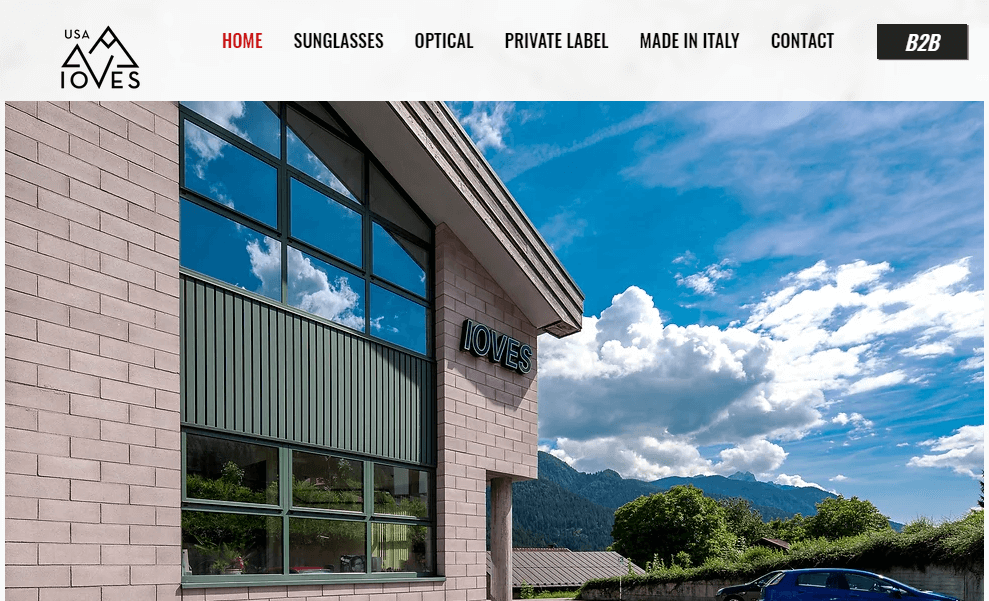 Ioves USA is a popular sunglasses supplier. Although this company is based in New York, USA, their manufacturing facility is in Italy.
They specialize in manufacturing high-quality sunglasses at competitive pricing. You can contact them to discuss your ideas about the sunglasses, and their design experts will help you develop the perfect sunglasses for your brand.
They use 3D design and the latest machinery to develop your desired sunglasses.
They have a dedicated subdomain for B2B inquiries. You need to create a wholesale account on their subdomain for your inquiries. You have to contact them to discuss the pricing, MOQs, and other terms and conditions.
Features
70+ years of eyewear manufacturing experience.
Leading private label sunglasses supplier in the USA.
Prototypes arrive within 14 business days.
Their website provides a few pictures of the sunglasses to get an idea of the shape, color, size, etc.
You need to contact them for product descriptions too.
9. T H Sunglass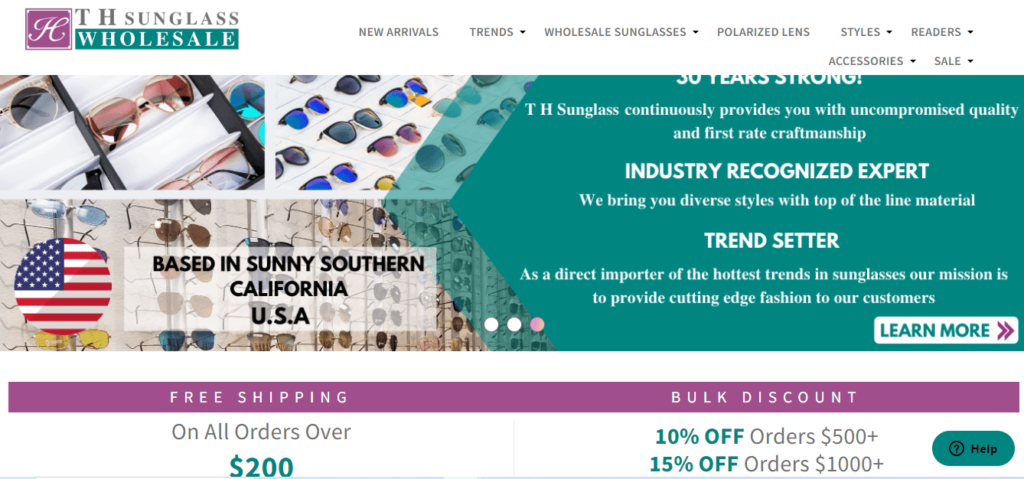 Established in 1992, T H Sunglass has been a name of trust and quality for sunglasses retailers in the USA. They try their best to help small, medium, and even successful businesses grow their selling potential by providing high-quality sunglasses at competitive prices.
This company manufactures sunglasses with the best materials, craftsmanship, and designs. Their sunglasses are CE-certified, ISO-approved, and provide protection from UV.
They have sunglasses for all genders. They have a dedicated portion for wholesale sunglasses. You can leverage their weekly sales, closeout deals, and promotional offers to get sunglasses at reduced prices.
The website mentions the sunglasses' prices along with the description and necessary specifications. You can also compare products using the compare feature on their website.
Features
Ideal for OEM and private label sunglasses business.
As they have no MOQs, you can use their website to dropship their sunglasses.
They have provided multiple pictures of the sunglasses.
They constantly take feedback and suggestions from their customers to develop products accordingly.
Dedicated portions on their website make it easy to find sunglasses according to trends, styles, and reader classification.
You can also find sunglasses-related accessories, like cases, pouches, and boxes.
Free shipping on orders over $200.
Discounts are available as per the increased order value.
Custom Sunglasses Manufacturers in the USA
Here are the most prominent manufacturers in the USA that offer custom sunglasses.
10. Glance Eyewear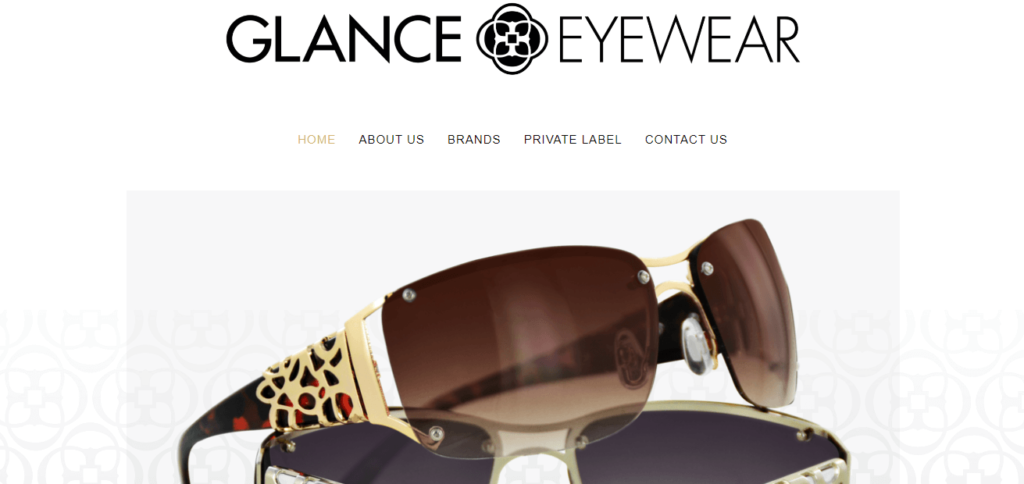 Glance Eyewear is one of the oldest and most promising eyewear suppliers in the USA. They are manufacturers, imports, and distributors of multiple types of eyewear.
This is a famous company for retailers in the sunglasses niche to get wholesale and private label services in the USA.
They have a showroom on Fifth Avenue. You can physically visit and check out the quality of their sunglasses before making a sourcing decision.
You have to contact them for your wholesale inquiries.
Features
Good history, reputation, and legacy in supplying eyewear since 1976.
A good choice to source the latest and fashionable sunglasses at affordable prices.
They have close collaborations with multiple renowned eyewear brands, including Jones New York and Hot Kiss.
They provide 100% satisfaction with their products and services.
They have limited pictures and details of the sunglasses on their website.
11. Frame & Optic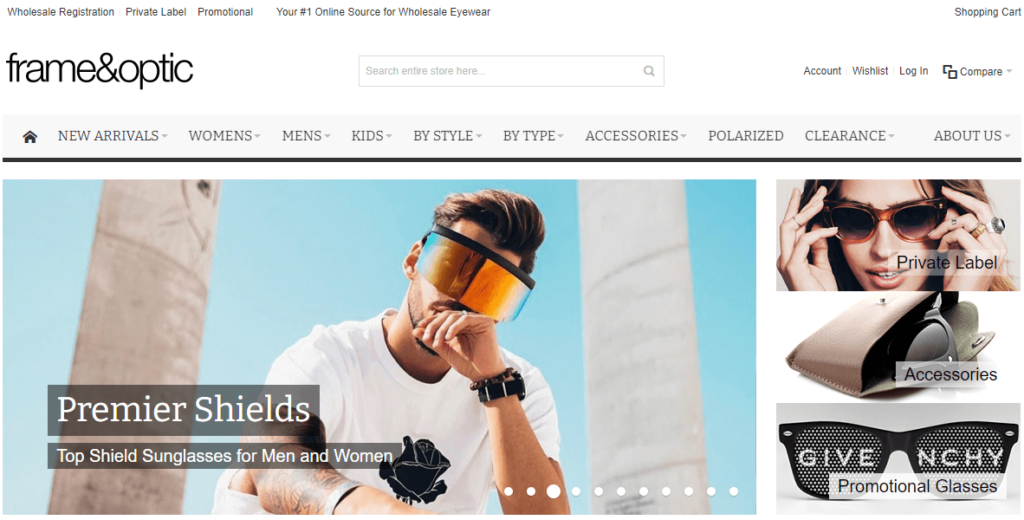 Did you ever feel short of variety in sunglasses? Try Frame & Optic. Established in 2012, this website is the planet of sunglasses. You will find almost every kind of sunglasses in a plethora of colors and styles. They offer wholesale and private label business options.
They make it super-easy for retailers to buy from them with no MOQs. Plus, they also offer pre-arranged samples of mixed sunglasses in packs of dozens.
They keep offering clearance sales on the wholesale stock of sunglasses. You can consider checking them out for increased profit margins.
Features
They offer over a thousand styles of sunglasses.
Their website has a dedicated portion for private label.
You can refine your search using the options to search by style and type of sunglasses.
They also offer accessories, including cases, micro-fiber pouches, display stands, and mirrors.
They tag their products with "trending" and "new" items so the retailers remain updated with the latest happenings.
The community polls on their website keep readers informed of all the latest trends in eyewear.
Fast delivery within the USA.
With no MOQs, you can start dropshipping their amazing sunglasses to check how it works for you.
FAQs about Sunglasses Manufacturers
The following answers to the most frequently asked questions will address your existing or potential queries.
What to Look For in Sunglasses Manufacturers?
In addition to the obvious factors like good pricing, fast shipping, and good customer service, you should consider the following factors while selecting from a list of sunglasses manufacturers:
Customization and private label services.
Ability to provide quality and compliance certifications.
Whether the stock is regularly updated as per the latest trends.
Eco-friendly manufacturing options.
Warranty and easy return policies.
Should You Source from Well-Known Sunglasses Manufacturers?
Sourcing from well-known sunglasses manufacturers like Ray-Ban, Oakley, Persol, Prada, and Gucci mostly suits their authorized retailers.
Plus, these manufacturers have stricter requirements like higher MOQs and reduced profit margins.
That's why small and medium retailers prefer sourcing from lesser-known brands.
What Are the Most Convenient and Profitable Ways of Sourcing Sunglasses?
If you want to source sunglasses yourself, you may consider exploring Chinese B2B ecommerce sites like Alibaba, Made-in-China, and DHgate. Multiple sunglasses manufacturers are present on each platform.
However, if you want to save time, money, and effort in finding the right manufacturer, opt for hiring a professional sourcing agent in China. A sourcing company like NicheSources knows exactly where to find quality products at the most competitive prices.
Final Words
Selecting the right supplier is crucial for success in selling sunglasses. With thousands of sunglasses manufacturers in the US, China, and other countries, choosing the right one may take forever.
You can always turn to the top 11 sunglasses manufacturers shared in this article. Just go through their introduction and features to make the right decision.
If you want to be sure of sourcing the best sunglasses at the most affordable prices, you can ask for a free quote. Our sourcing specialist in China will take charge of your sourcing requirements, and you can work on more important aspects of your business.