Ocean freight is a method of transporting goods via oceans or seas. It has been widely used internationally since its inception.
Whether you're a wholesaler or a dropshipper, you need to know the best method of transporting cargos, that is, to decide which one is most efficient and cost-effective.
So, what is ocean freight? How does it work and who should use it?
Let's find out.
What Is Sea Freight?
As the name suggests, sea freight or ocean freight is the process of delivering products or goods from one place to another via sea.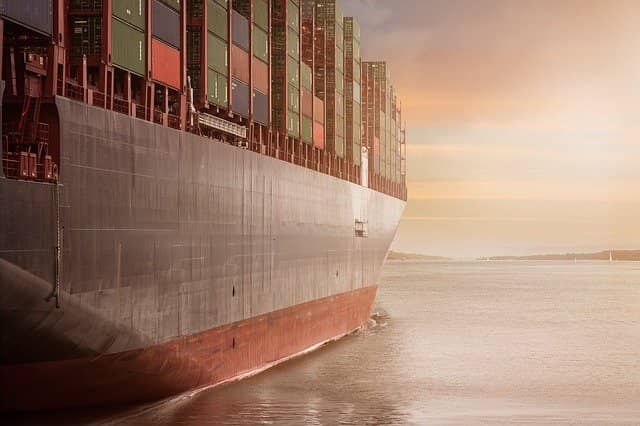 It typically applies to international shipping where a buyer orders large amounts of goods from a certain country and wants them delivered to his own country.
So, sea freight usually involves cross-border transportation, making international trade possible.
How Does International Ocean Freight Work?
International ocean freight services work with the help of ships that carry heavy goods and deliver them to destination countries. That's why you will hear the words like "shipping" and "carrier" if you enter this business.
Let's try to understand international ocean freight with an example.
Suppose you run FBA wholesale business on Amazon. You sell dog shoes and you start getting a lot of orders. Now, you want to buy dog shoes in large quantities so that you can place them at Amazon's warehouse in the USA.
You have already selected the supplier in China and now you want to import dog shoes to the USA where you sell them.
Pre-loading
You can either ask your supplier to ship your goods or choose a freight forwarding company to do it for you. In both cases, a container will reach your supplier's location where it will be filled with your products.
Depending upon the type of products, a container (usually 20ft and 40ft in size) can be loaded with multiple cartons stacked upon each other to optimize the space.
The container is then sealed and a tracking number is assigned to you so you can know the status of your goods.
That container will then be transported to the nearest seaport via road or large truck.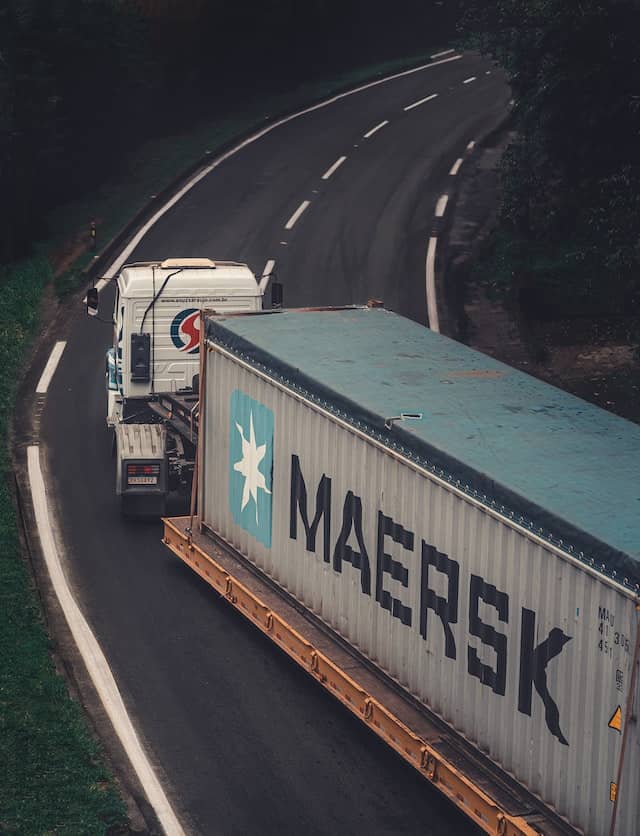 After all the paperwork, customs clearance, and inspections, the container is placed at a storage facility at the port. It is ready to be loaded onto a vessel or ship according to the planned schedule.
As an importer, you may be handed over the following documents.
Bill of lading
Certificate of origin
Invoice
Letter of credit
Goods details
Insurance certificates if any
Loading onto the Ship
Your container is placed along with other containers that are ready to be loaded onto ships according to a certain schedule. A large crane is used to lift your container from the storage facility and place it onto the ship along with other containers.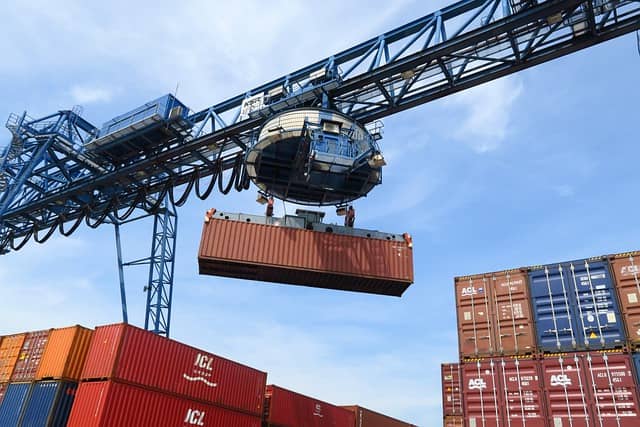 On the Ship
The containers are usually stacked upon each other to utilize maximum space on the ship. The containers are lashed strongly to protect them from falling or becoming loose.
The ship travels through the sea and delivers the containers to different ports as per their destinations. That's why the container placement is done with proper planning to save time – the containers to be delivered at the nearest ports are strategically placed nearer.
Offloading
When the ship reaches the destination port, the required containers are offloaded using large cranes. They are placed on huge trucks that carry them from the port to the storage facility.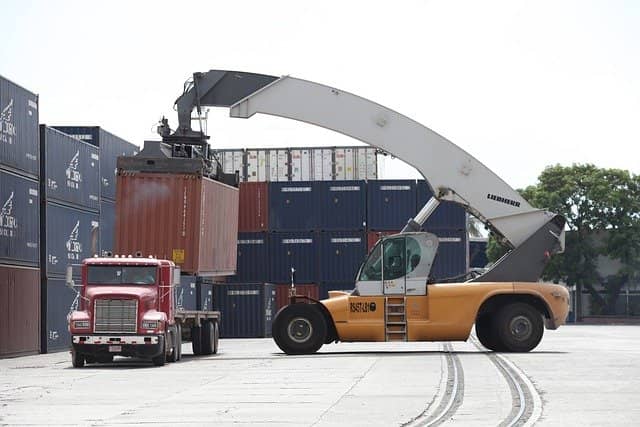 This is where you come in as an importer. You get your container cleared from customs after handing over the documents and performing other import formalities.
After the clearance, you are free to transport your goods in the container from the port so that they arrive at their destination as per your requirement.
What Type of Ocean Cargo Is Sent By Sea?
There are two main types of shipping cargo by sea. Let's discuss each of them below.
1. Containerized Cargo
As the name suggests, containerized cargo involves shipping goods in containers. This is also known as containerization.
Most e-commerce businesses involve container cargo to transport goods from the origin to the destination countries.
It comes with the following two main categories that you need to know about.
FCL Cargo
FCL is short for a full container load. If the quantity of your goods is large enough to fit in a full container then you should go for FCL shipments. It has a lot of benefits. A few of them are listed below.
Lower cost per item.
Items don't get mixed with the goods of other importers
Better item protection
Lower chances of damages
Easy handling
Quicker and dedicated shipping
LCL Cargo
LCL refers to less than a container load. In this type of cargo, your goods are mixed with other suppliers' goods and packed into one container. It mostly suits the needs of the importers who don't import in very large quantities.
This type of cargo is also prevalent in international shipping as importers cannot book a whole container if the volume of the loaded goods is less than one container. It won't remain cost-effective in that case.
So, you need to decide between FCL vs LCL considering the number of goods you want to import.
LCL cargo has the following benefits.
You don't have to pay for a full container
Still less expensive than air freight
No need to order extra items
Similar item protection like FCL
2. Non-Containerized Cargo
If the cargo or ship is not using containers to transport items, it would be referred to as non-containerized cargo.
The two most common examples of non-containerized cargo are mentioned below.
Roll On Roll Off
If the product is directly rolled over the ship without putting it inside the container, it would be called RORO (roll on roll off). In these cases, the product is placed on the ship and is transported via sea.
The most common examples of RORO are transporting vehicles, trucks, machinery, etc.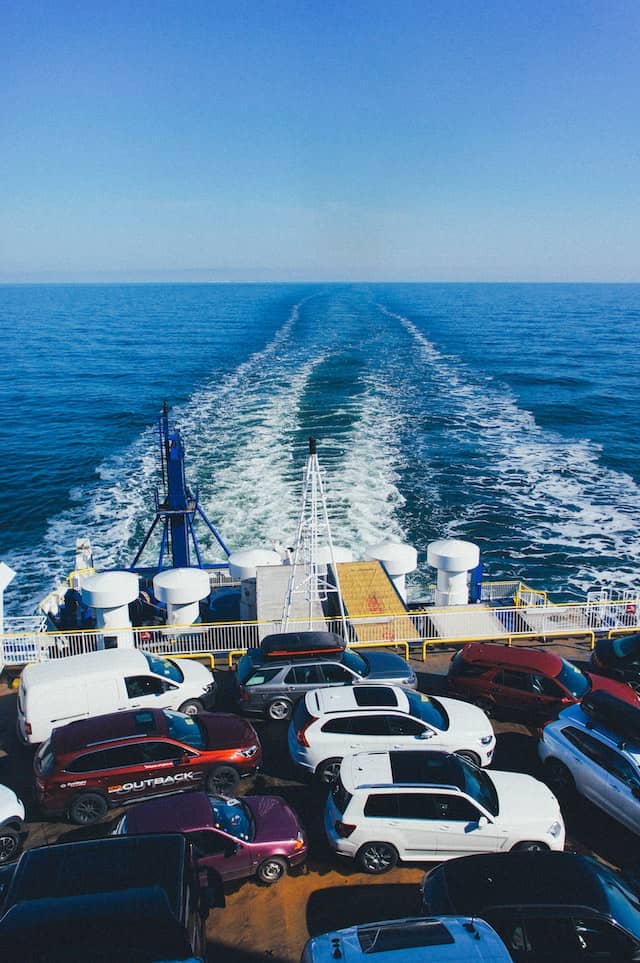 They are just placed over the ships and protected to keep them in place.
The goods are rolled off the ships at the destination port.
Dry Material Shipping
If you have to transport any dry material in bulk, you must use this type of ocean cargo. It can be used to transport any raw material like coal or cement, etc., from one country to another.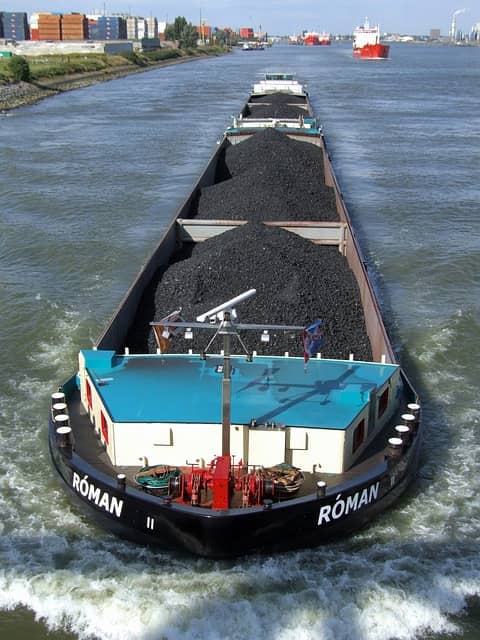 The material is just put onto the ship in raw form and is transported via sea. It comes with the increased risk of damage due to weather conditions inside the sea but it still remains the most cost-effective solution for transporting raw materials.
How Are Ocean Freight Rates Calculated?
Cost is probably the most important factor in choosing ocean freight shipping. If the cost to import products from another country becomes higher than your sale price, importing those products will become pointless.
So, let's understand how ocean freight rates are calculated.
Calculating ocean freight rates is pretty much the same as regular cargo charges. The rates depend upon the physical weight or the dimensions of the shipment. The rate applies to whichever is higher.
Therefore, you need to understand the concept of the volumetric weight of the shipment. It is calculated by measuring the dimensions of the shipment. That's why it is also called dimensional weight.
If there are two containers, one is loaded with the gym dumbbells and the another is loaded with paper, both containers will have different actual weights.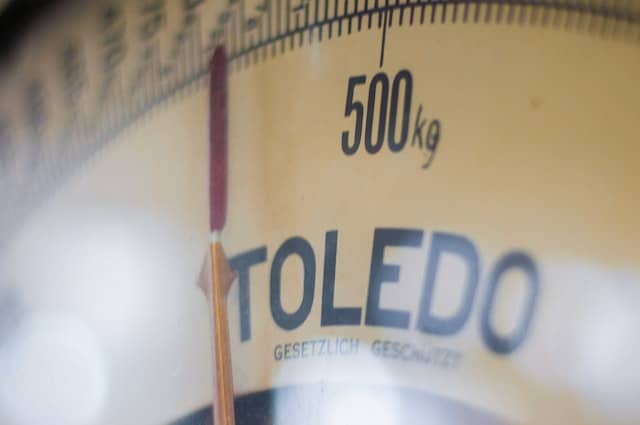 So, the shipping company cannot charge both containers equally. It will calculate the volumetric and actual weight of the containers and will charge against the higher value.
You must have knowledge of the international shipping Incoterms that apply to every shipping contract. It defines the costs and responsibilities of the sender and receiver in any shipping contract.
There are 11 incoterms out of which you have to choose one. This will determine who is going to do what from the start of the shipping process till the end. The eleven incoterms are listed below.
All of the above-mentioned shipping incoterms apply to sea or ocean freight.
What Affects Ocean Freight Rate?
Various elements affect the rates of ocean freight. These factors can increase or decrease the rates from time to time according to the situation.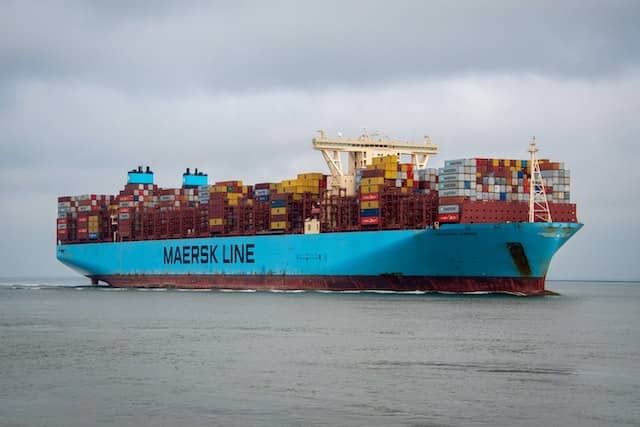 Fuel Prices
Just like every other transportation method, ships also run on fuel. So, this can be one of the main factors to determine the rate of ocean freight.
So, you can expect a huge spike in ocean freight charges in case two oil-producing countries are at war. The price of fuel going up would increase ocean freight charges.
Customs Charges
Depending upon the incoterm you choose for your shipment, customs charges can also affect ocean freight rates.
Shipment Inspection Charges
The ocean freight rate will also increase if there is an increase in the inspection charges or other services performed at the port.
Insurance Charges
If you are worried about your shipment getting damaged during transportation, you can go for insurance. But it will add up to your shipping costs and ocean freight will eventually rise.
Seasons – Supply and Demand Patterns
This factor is most pertinent to e-commerce. There are peak seasons for shopping in a few countries. The fourth quarter (Q4) is the most common peak season because it has many shopping events like Halloween, Black Friday, Christmas, and New Year.
Every seller wants to grab big sale opportunities during this season. So, the demand for goods is very high during Q4.
The rates increase as the rush increases on shipping companies during this season.
Another important event that affects shipping costs is the Chinese New Year. There are a lot of holidays in China during that time and a very people work during those days.
So, the demand suddenly increases after the event which eventually increases the freight prices too.
So, you have to act smartly if you want to optimize your shipping costs.
Why Use Sea Freight?
Before we dwell on the pros and cons of sea freight, let's discuss why sea freight is the most important part of international logistics.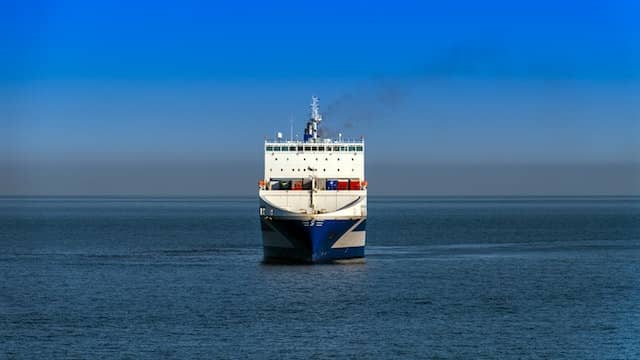 Ease of Shipping Large Quantities
First,, sea freight might seem to be the only option for transporting large quantities. While there are options to transport larger quantities via other mediums – road, rail, air- they might not work for international transportation.
The goods can also be transported internationally by air but they have to be in smaller quantities. This method also costs much higher as compared to sea freight.
Cost-Effectiveness
As we just discussed, cost is one of the most important factors in deciding the freight method. Transporting goods via airplanes, road trucks, and railway cargo is often more expensive than sea freight.
As a ship is loaded with many containers due to its huge capacity, the cost per container becomes much more affordable than other transportation methods.
What Are the Pros and Cons of Sea Freight?
Let's discuss the advantages and disadvantages of ocean freight.
Pros of Sea Freight
You will have the following benefits of using sea freight.
Big Space
If you are into wholesale business or want to import large quantities from another country, sea freight provides ample space on a ship to transport your large quantities easily.
Cheaper Shipping
Sea freight is much more cost-effective as compared to air freight. As a rule of thumb, air freight is at least 5 to 6 times more expensive.
Fewer Restrictions
There are more product restrictions if you transport them by air. Sea freight is more accommodating when it comes to restrictions on the types of products.
Eco-friendly Shipping
If you care about the environment, you should consider using sea freight as it spreads less harmful environmental emissions.
Cons of Sea Freight
You can have the following drawbacks of sea freight.
Slow Transportation
Sea freight is a slower mode of transportation. The maximum speed of a ship is around 34 mph. Additionally, it has to make many stopovers. So, it is naturally a slower process. You can wait for around a month for your products to be delivered from China to the USA.
Unexpected Delays
If there are any issues or natural calamities, your shipments can be further delayed.
When to Choose Sea Freight Shipping?
Shipping by sea is by far the most commonly used practice in international buying and selling but it may not be meant for everyone. So, when should you choose sea freight shipping?
You Should Choose Sea Freight Shipping If…
Your Goods Are Heavy
If the combined weight of your products is above 100 kgs, you should consider choosing sea freight as you will only be left with this option in most cases.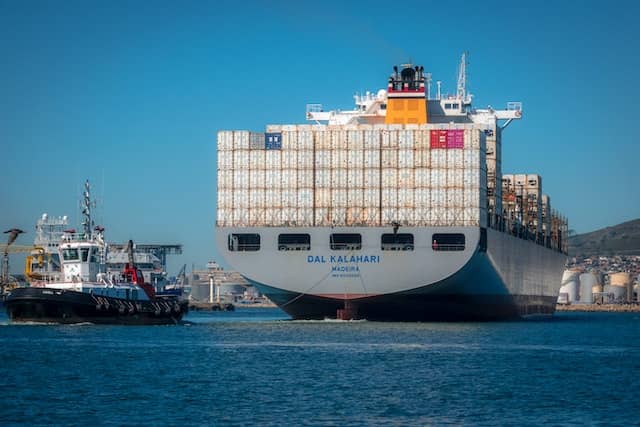 Goods heavier than 100 kg will not be feasible to be transported by air.
You Are Buying Across Borders
Another important factor in choosing sea freight is buying goods from across borders. Ocean freight usually involves transporting goods from one country to another.
Your Shipments Are Not Too Urgent
As we learned in the cons of ocean freight, ocean cargo shipping takes much time in transporting goods from overseas. So, if waiting for your goods for around 25 to 30 days is not disastrous to your business, you can consider choosing sea freight.
You Want Affordable Cost Per Item
Ocean freight is probably the cheapest solution to ship your items. Although the overall cost of shipping one container might seem high, it would look affordable if you calculate the per-product costs.
FAQs about Ocean Freight
Let's know the answers to the most frequently asked questions about ocean freight to have a clear understanding.
Should I Select the Shipping Company Myself?
It is up to you. Most suppliers, typically in China also provide shipping facilities along with the products.
If you decide to deal with the whole shipping process yourself, you just need to contact different shipping lines and take quotations from them after sharing your requirements.
You can also ask your supplier to share the shipping charges. You can go for the cheaper solution between both options to optimize your shipping costs.
What Are the Taxes That Apply to Ocean Freight?
The most common taxes that can apply to ocean freight are as under.
Import and customs duties
GST and VAT.
Excise tax on fuel levy, etc
Port entry charges
What Are the Major International Shipping Companies?
Based on their history and popularity, the list of major international shipping companies has been mentioned below.
Maersk Group
Hapag-Lloyd
China Cosco
CMA CGM Group
Evergreen Marine
Mediterranean Shipping Company
Summary
Ocean freight is the most important part of the international supply chain. Thanks to mother nature for spreading oceans to over 70% of our Earth. It is the ocean freight that provides cheaper products and cuts out the local monopoly.
It is better to plan your shipments ahead of your requirements so that you can use the most economical way of transporting your goods before you have to opt for an expensive way of getting your goods.
If you want to source goods from the best suppliers in China along with getting your products delivered through the most efficient and cost-effective ocean freight, ask for a free quote today. Our experts will guide you through this step by step.