Undergarments are a highly passionate, demanding, and evergreen niche. You may notice that many sellers selling undergarments won't consider other niches.
This is especially true for women's underwear, because women are more conscious and choosy about their underwear, bringing new and repeat orders.
But you must know the most important types of women's underwear before jumping into this arena. This article will briefly introduce every important type of women's underwear with its features and matched clothing.
Sit tight! The diversity of women's panties may also surprise you.
Let's jump right into the list.
1. Bikini Underwear

Bikinis have always been in demand. You won't understand it enough if you haven't watched Baywatch.
You may be wrong if you think bikinis are only meant for women with model-like figures. You can find bikinis in almost every size. But yes, they are most popular with women in good shape.
A typical bikini underwear is minimal in size and shape on the front. But it gives proper coverage to the hips while connecting the front with the back with a narrow yet protective strip. It keeps thighs open and exposed with just that connecting strip on them.
The bikini underwear is comfortable enough as stand-alone panties, but it can also be worn with supporting dresses as an undergarment.
Bikini underwear usually comes with the whole set. But women also buy it separately.
Key Features
Low-cut minimal coverage
Plain and smooth
No visible lines on the panties
Comfortable and stylish
High-ticket item
One of the most-demanded women's underwear
Comes with great variety and sizes
Attracts most women
A must-have for women's wardrobe
Different styles always keep bikini underwear in demand
Matched Clothing
Swimsuits
Fitness clothing
Summer clothes
Low-rise pants
Daily dresses
Clothing for sunbath
2. Caged Bikini Underwear

Bikinis enjoy such acceptance from women that they come in various subcategories. So is the case with bikini underwear.
Caged bikini underwear is usually made of cotton, nylon, or spandex. It can also be a mix of these fabric types.
A typical caged bikini underwear is relatively lightweight with more touch of transparency. It has some catchy designs to add further attraction.
It has a flexible and high-quality waistband for ease of wearing and removal. Just like normal panties, caged panties are also skin-tight.
Unlike normal bikini underwear, caged ones are slightly wider at the front while similar in size at the back. The leg openings are wide and comfortable, covering a minimal area of thighs.
It can have many straps to add beauty and comfort to it. For better wearability, most caged bikini underwear is made with a soft texture.
Key Features
Integral part of most lingerie
Mostly comes with multiple straps
Attractive style
Catchy look
High in demand
Matched Clothing
Sleeping suits
General purpose clothing
Bikini set
Relaxing dresses
3. String Bikini Underwear

Too many bikinis on this list, right? That shows how highly they are in demand. String bikini underwear is quite different from the rest.
As the name suggests, a string bikini relies heavily on the strings in its development. You can think of string bikinis as the essential linings.
It covers minimal areas on the front, back, and on legs. It is ideal for a female pool party.
Most quality bikini underwear is connected from front to back with a strong yet soft string.
It usually comes with a slightly wider lining on the front and back with a thin line on the thighs.
Key Features
Popular minimalist style
Cost-effective
Minimum designs
Minimum, yet high-quality fabric
Matched Clothing
Swimsuits
Pool party dresses
Steam bath
Beach suits
4. Boyshorts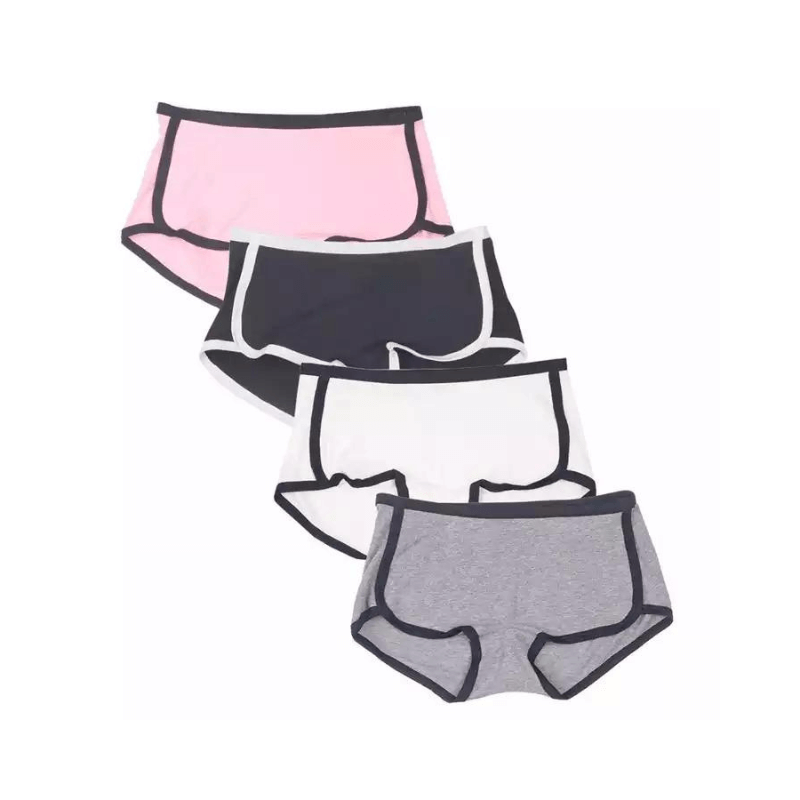 So, what's this boys' thing doing in the types of women's underwear? Believe it or not, it is popular with women too.
Boyshorts are just like wider underwear for men, specially designed for women. You can consider them the tighter version of men's boxers or narrow shorts.
Typical boyshorts for women are made up of cotton or polyester. They come in different shapes, sizes, and styles.
Female boyshorts usually cover the maximum area from the front, back, and sides. These are the types of women's underwear that many women wear comfortably in public areas.
Key Features
Maximum coverage in the underwear category
Come in packs or sets for a discounted deal in bulk purchase
Women can wear them outside their private spaces
Simple designs
Comfortable wear
Easy selling to new and old customers
Easy cross-selling with related items
Matched Clothing
General clothing
All-purpose dresses
Sleepwear
Standalone clothing
Jeans and pants
Skirts and ensembles
Loose frocks
5. Hipster Panties

Plain types of underwear are not just enough for a few women. Hipster panties are a combination of boyshorts and bikinis. Both combine to give the final size and shape of these attractive panties.
The core purpose behind hipster is to give the comfort of boyshorts and the look and appeal of a bikini.
Sometimes, a hipster panty may look like usual underwear with minor differences. It provides medium coverage to the front and back while nominally covering the thighs.
They come in various forms according to the requirements. The most important variations are according to the waist sizes.
Key Features
Provides necessary coverage
Comes in packs or sets
Trending and hot-selling item
Printed and non-printed variations
Continuous demand
Matched Clothing
Everyday clothing
Frocks and skirts
Intimate lingerie
Jeans and tops
6. Crotchless Underwear

Crotchless underwear protects a woman's body while giving maximum exposure to the skin. It is a wise choice for massaging and relaxation.
You may find various kinds of crotchless underwear depending on coverage and the positions of slits. Some of the types include crotchless teddies, bikinis, and thongs. The styles depend on the mood and taste of the individual.
These are perfect for bedtime. They can be used outside the bedroom with a bra or bandeau. Using crotchless underwear can be fun as they are comfortable and give a different type of confidence.
One should be mindful that they don't offer complete coverage. So, these may not be the best option if you want something least exposed.
Key Features
The crotchless area makes it different from other underwear
Wide openings
Incredibly attractive and comfortable
Gives easy access with more coverage
Matched Clothing
For an elegant look, it should be paired with a bra
It can be used like any other simple underwear
A thigh-high crotchless underwear looks perfect with a skirt
7. High-Waisted Underwear

Many women prefer this type over others as they provide decent body coverage and give more secure and comfortable feel.
High underwear is relaxing and soothing for women during special days or even post-partum conditions when the body is more vulnerable than usual.
They are more suitable for women with uneven waistlines. They provide proper support and keep the body in a reasonable shape.
If someone is conscious of the visible panty lines, she would prefer this type of underwear.
It follows the natural body creases and gives a toned-up look to the body. It is the favorite choice of gym enthusiasts because it matches the body's pace during exercises.
Key Features
Provides great coverage
Minimizes the belly fat and love handles
Not a hindrance to unusual body movements
Wider waistband gives proper support
Ideal for baggy bodies
Matched Clothing
High-rise pants
High waist skirts look perfect with high-waist undies
8. High-Cut Briefs

High-cut briefs are meant more for glamour than usual wearing. The wide and high holes on both sides give a sensual look and make the legs appear long and pretty.
A low waistline and high cut may not give sufficient support, but they always give an attractive look to the body.
These briefs cover the front and the back, giving a wider look to the thighs.
They slightly differ from bikinis, hipsters, and boyshorts as the curves of high-cut underwear are entirely different.
Like other undies, they come in various colors, styles, sizes, and fabrics. However, cotton and nylon panties are exceptionally favorite. They can be used under clothes that require a moist-free silhouette.
These briefs usually attract fashion lovers and social influencers.
Key Features
Wider and high holes for comfort
Glamourous look
Full front and back coverage
Attractive high sides
Breathable design
Matched Clothing
Under clothes with delicate fabrics
Jeans and low waist pants
9. Control Briefs

Control briefs are more like body shapers. They enhance the wearer's natural shape by controlling or hiding the unappealing sides of the figure.
They help shape your body while still maintaining to be comfortable.
Clearly defined lines of this underwear enhance the body appeal. It gives an alluring look to the body by flattening the stomach and lifting the buttocks.
Women are generally more concerned about their looks and want their body shape to look perfect. These control briefs are life-savers for obese women.
Key Features
Cozy and comfortable
Gives a desirable shape to the body
Highly passionate audience
Hides bulges and enhances curves
Matched Clothing
Fitness clothing
Stretchable garments
Body shapers
Cotton pants
Jeans
Formal dresses
10. Cheeky Underwear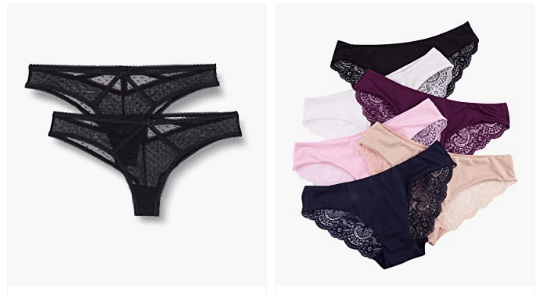 Cheeky underwear is somewhere in the middle of a thong and classic briefs. Where a brief gives a full cover and a thong reveals much skin, cheeky underwear is not too revealing and not much concealing.
It looks pleasing with its medium fit while still providing ultimate comfort. It has an adjustable shape. There is minimal chance of the waistband being rolled over, creating discomfort.
It comes in various fabrics like cotton and silk. Cotton is better to use in hot weather with breathable fabric. The silky fabric has its own charm because of its delicacy and premium look.
Cheeky underwear is ideal for women who want a perfect combination of appearance and comfort.
Key Features
Moderately revealing
Aptly supporting
Lies between the reveal of a thong and the concealment of a brief
Matched Clothing
It goes well with denim as it prevents the seams of the denim from digging in
Gives a decent look with tights
11. Sheer Panties

The sheer panties are made up of sheer mesh material. Sheer mesh is a very delicate and ideal material for making soft underwear.
It enhances the curves and outlines of the body. It has different types like a thong, boy-cut, high cut, bikini, and G-string.
They range from thin sheer panties to ones with wider holes. Some sheer panties have a thin piece of sheer fabric at the back, called a thong. High-cut sheer panties have wider holes.
As its name suggests, this type of panties shows the outlines of the body. But that doesn't mean that these are transparent or spice of colors. They can be found in exotic colors like black, pink, and multicolors.
Key Features
Delicate and appealing in design
Made up of sheer mesh
Reveals body contours
Semi-transparent
Laces and ruffles increase their appeal
Matched Clothing
Lace lingerie
Thin and slim fit clothing
12. Pregnancy Underwear

Pregnancy underwear is carefully designed according to the needs of a pregnant woman. It is also expected to protect the baby in the womb.
Its special stretchable design keeps pace with the changing shape and size of a pregnant woman's belly. It provides ease of walking and comfort while feeling safe and protected.
They range from high-rise to low-waisted underwear. Even high-rise maternity underwear is comfortable enough for a full pregnancy.
Key Features
Ultra soft and comfortable
Easy selling
Always in demand
Stretchable and adjustable
Made up of breathable material
Matched Clothing
Pregnancy clothes
Loose dressing
13. Garter Belts Underwear
A garter belt is a fabric band or a belt usually tied with a stocking and paired with a panty. It was used in the 18th century to give support to the stockings. With the invention of elastic, this tradition came to an end.
The garter belt is still used, but the purpose has shifted from necessity to fashion. These are considered one of the most alluring garments for women.
They come in various sizes and designs. Women have to choose the design according to their physique.
Narrower garter belts are for women with sleek waists and slim legs. Broader garter belts are meant for curvy and heavier women.
Various designs on the belts make them appear more enticing. Decorative laces, frills, and cuts are added for more attraction. Silk inserts give a more classy look.
Garter belts give ultimate feminine confidence. They will always make women exceptionally attractive if worn with suitable combinations. With all these attributes, do you think they can ever be out of demand?
Key Features
Decorative and fashionable
Visually appealing
Highlights sensuality and feminity
Matched Clothing
Intimate pieces such as panties, thongs, and briefs with sensual designs
Paired with tops and bralettes
14. Butt Lifters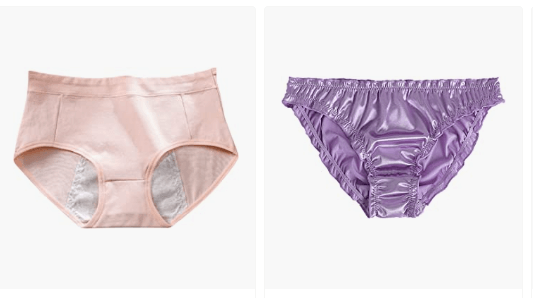 These are specific types of undergarments used for some intended purposes. These help obscure the sags in the skin and give a more captivating figure to the wearer.
These are usually worn under clothes so the body can appear more appealing. They camouflage unwanted areas, and a proper curvy shape is revealed.
They have two types. One has holes at the back. It is much more revealing but lifts the saggy body part. The other has padding at the back, which provides a fuller shape.
It provides a shortcut for women who want to hide unwanted areas of their bodies.
Key Features
Padded rear
Holes at the back
Body shaping
Conceals sagginess
High in demand
Matched Clothing
Fitted tops
Slim cut jeans
High waisted skirts and shorts
Wedding dresses and gowns
Fitness dresses
15. Tap Pants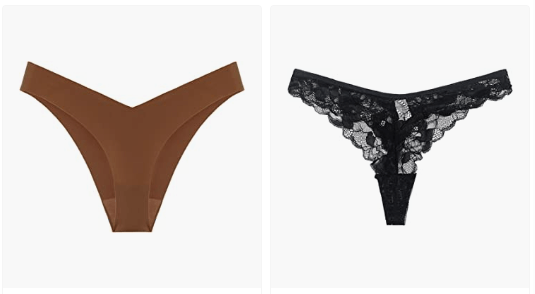 Tap pants are a kind of dance shorts with slits at the sides. Although they are not undergarments in the truest sense; we count them as underwear because they are a part of lingerie.
Tap pants are available in various fabrics, including silk, satin, rayon, cotton voile, etc.
They are usually simple and comfortable. Laces and frills are added without affecting their comfort quality.
These pants can be used with other garments and as undergarments depending on the pants worn.
Athletes also use them for comfort and liberty to move freely.
As they can be used in multiple situations and by people belonging to different classes and fields of life, you can have a greater audience to target for their sales.
Key Features
Loose fit and comfy
Wide usability
Use as an undergarment as well as outerwear
Also used as loungewear
Huge demand
Matched Clothing
Paired with a camisole
Fitness athletics suits
Simple t-shirt and trouser
16. Low-Rise Panty

Looking for anything that gives a desirable figure and does not expose its own self? Low-rise panties are invisible pieces that are desirable to the wearer's silhouette.
A woman does not have to be mindful of hiding it under clothes. They lie under the waistline and above the midsection.
The low position of the band of panty gives confidence and a sense of security and provides a fine curve to the body.
Key Features
Lies below the waistline
Invisible under clothes
Easy to adjust
Matched Clothing
Low-rise jeans or denim
Below low-rise tights and jeggings
17. Mid-Rise Panties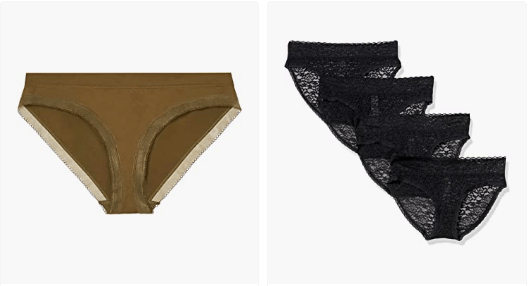 Mid-rise panty is an extremely comfy piece with an apt shape. It rests just below the navel and right on the waistline.
It gives moderate coverage and good support. The seamless mid-rise panties are much in demand. They provide a good fit along with the comfort of invisible panty lines.
These are meant for women who do not want unappealing panty lines to be obvious. These panties serve such purposes and give you a good chance of selling them in high numbers.
Key Features
Provides a good fit as it sits just below the navel
Provides great comfort and ease of use
Comes in various sizes, shapes, and styles
Stylish and trendy designs
Matched Clothing
Below low-rise denim and bottoms
Lose dresses like frocks
Skirts and lingerie
18. High Rise Panty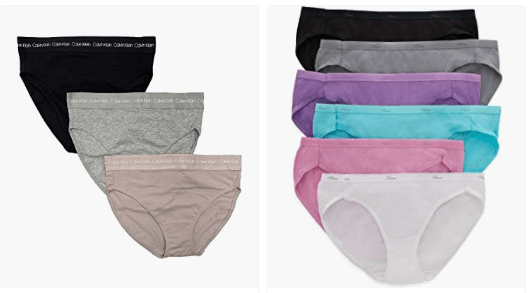 High-rise panties provide better support and cover to the body. They also make the belly look flat. Their specialty of giving the user a better look makes them high in demand. They are also known as tummy tuckers.
A high-rise panty's waistband rests above the waist and stomach. Hence it is well-adjusted and well-in-place. These are particularly popular with people who are more into exercise as they feel comfortable wearing them.
Key Features
Covers the waist area
Adjustable and comfortable
Provides a better cover
Offers a comparatively flattened belly
Matched Clothing
Under delicate fabric that can enhance bulges and untoned parts
Sportswear
Fitness wear
FAQs about Types of Women's Underwear
Following are the frequently asked questions about the types of women's underwear. The answers would further elaborate on your concepts about women's panties.
Which Type of Underwear Is Best for Females?
All types of female underwear have high demand. That's because women don't usually have a universal preference for a specific type of underwear.
Women have different phases in life. In those situations, they may have different preferences. As discussed in this article, almost all kinds of women's underwear are relevant to every female.
It is about what type a woman wants at a particular phase or event. So, a typical female would most probably have different underwear.
You will know this if you start selling female underwear. The same customer may buy different types of underwear from your store.
Which Fabric Is the Best for Women's Underwear?
The primary objective of wearing underwear is to feel comfortable. So, the best fabric for female underwear must be soft and provide comfort. Most of the time, cotton is considered to be the best fabric for female underwear.
Most cotton underwear is made of breathable fabric. This is, again, a matter of preference and circumstances. For example, you may not successfully sell silky underwear to females in hot areas. They may be more interested in buying breathable cotton fabric.
This may not be the case in cold areas.
How Should I Find the Best Supplier for Women's Underwear?
China is the first choice for sourcing almost every kind of product. But how to source from China if you don't know where the best manufacturers are?
While you may explore the direct manufacturers on online e-commerce sites like Alibaba, you have better solutions too.
The best way to source quality underwear is to hire a product-sourcing agent in China. A professional sourcing agent like us will assist you beyond your expectations.
You will save time and effort searching for the best manufacturers. You can communicate your messages directly to the manufacturer with an agent's help. Otherwise, you may always face a huge communication gap.
A China sourcing agent will deliver your messages and instructions to the manufacturer.
Moreover, you will save costs too. An agent will help you source products at the most affordable prices. You just have to pay a nominal commission fee. That's it.
You can just focus on sales and marketing of the products. You can leave everything else to an agent.
Which Shape of Underwear Is Best for Women?
Talking about the basic idea behind underwear, comfort seems to be the most important idea behind launching underwear. This is true for both men and women.
But if we leave fashion and style apart, we will know that boyshorts or boxers may be the best call for a woman to stay comfortable, protected, and covered.
How Can I Build a Brand around Selling Women's Underwear?
You need a brand name to make women believe that you will provide quality products. You can also discuss launching your private-label business selling women's underwear with us.
We can assist you in customizing products as per your guidelines.
Which Is the Best Platform to Sell Women's Underwear?
If you have decided to sell women's underwear, the sky is your limit. The best way to establish your business is to try out multiple platforms. You may also check different types of women's underwear to see which one sells best.
You may also do the same with the platforms like Shopify and Amazon. But you have to compete for a buy box on Amazon. The competition may be fierce and Amazon's charge would also be high.
This will not be the case on Shopify or Woocommerce. You can implement your strategies with liberty.
But if you want to sell on Amazon, you must agree to its terms and conditions. Amazon FBA may be the right option for you to start selling underwear.
Final Words
Women's underwear is one of the hottest niches with huge potential to earn high profit margins. Although this field is competitive, you always have to take the first step in building your business empire.
In this article, you learned the most important types of women's underwear. Just remember the little differences between each type. You can hit the jackpot just by selling the required underwear for your audience.
Do you want to source quality women's underwear at the most affordable prices? Ask for a free quote now and let one of our experts guide you through every step.