Amazon is an incredibly vast e-commerce platform. It receives over 2 billion site daily visits and has over 10 million products in its catalog.
Subsequently, performing research on details such as price, product demand, or estimating your potential profit margins can be quite difficult. The data is simply too extensive to process without helpful tools like Chrome extensions.
That said, tech speak is not every entrepreneur's strong suit. So, we've gone through all the options and put together a list of the best Chrome extensions for Amazon sellers.
Let's explore them, shall we?
What Is an Amazon Chrome Extension?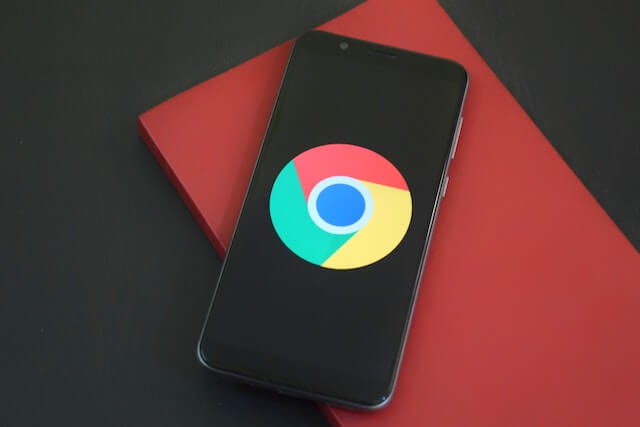 A chrome extension is a plugin that you can pair with your browser. They are usually designed to enable you to perform extra functions when using the browser to access certain websites.
Case in point, different Amazon chrome extensions could enable you to:
Sort through various kinds of data on Amazon
Monitor trends and changes
Find specific information quicker
Discover keywords
However, each Amazon chrome extension is unique. It is thus essential to define your requirements so that you can identify the best extension for your needs.
Keepa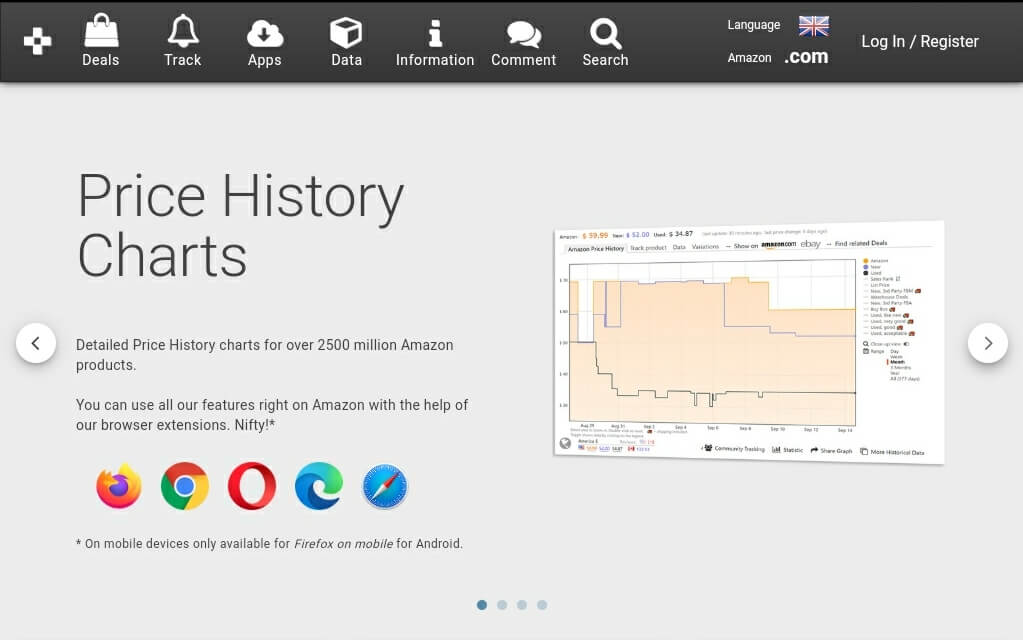 Keepa is a plug-and-play extension as it does not require you to provide any registration details. It is also free to use if you can make do with its basic features.
However, if you need more features, you can make in-app purchases or upgrade to a monthly subscription. The latter offers access to premium data.
You can use Keepa on both PC and mobile. It is, nevertheless, only compatible with Firefox on mobile for Android.
Features
You can use Keepa to:
Evaluate the sales and price histories of products.
Interpret price data using graphs and charts.
Set up alerts for increases or drops in price. (Premium feature)
Find products based on different criteria. (Premium feature)
SellerApp Chrome Extension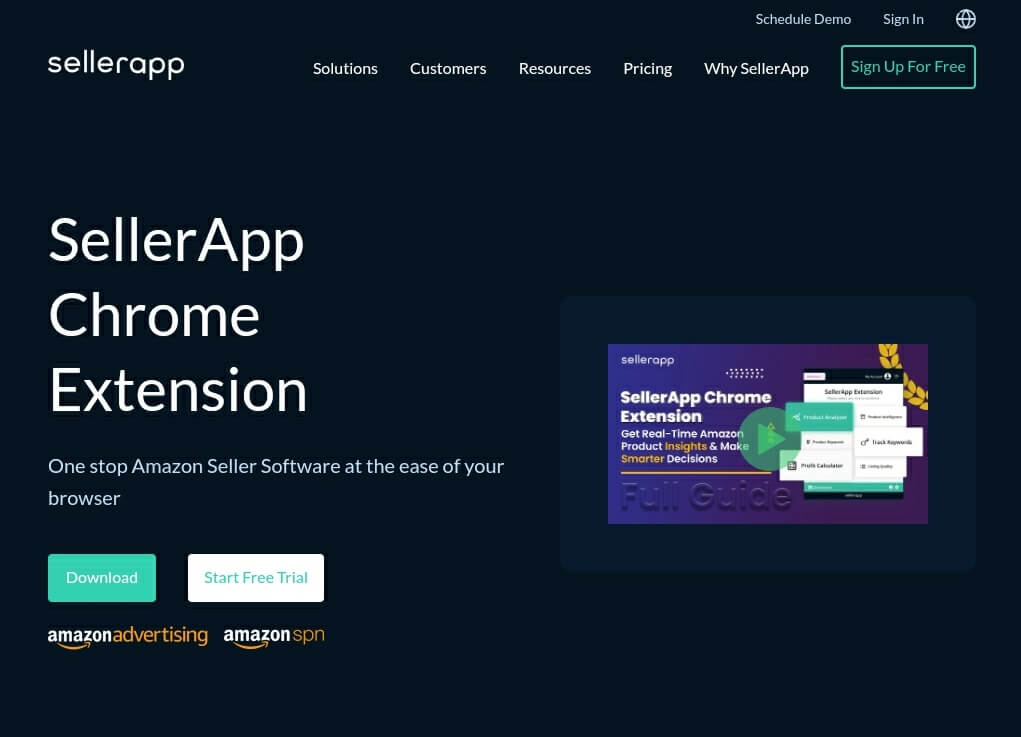 The SellerApp chrome extension offers a ton of insights that you could use to improve your sales approach, Amazon listings, and even product choices. Moreover, it provides real-time data and is optimized to high accuracy.
You can download the SellerApp chrome extension on the Chrome Webstore. It only works on desktops, laptops, iPads, and tablets.
Features
The SellerApp is optimized to:
Analyze keywords and their corresponding products to help you find the best pairings.
Track keyword usage to find the most competitive options.
Compare different products and help you find winning options in your niche.
Calculate product profitability in relation to FBA costs.
Help you evaluate and improve your product listings.
RevSeller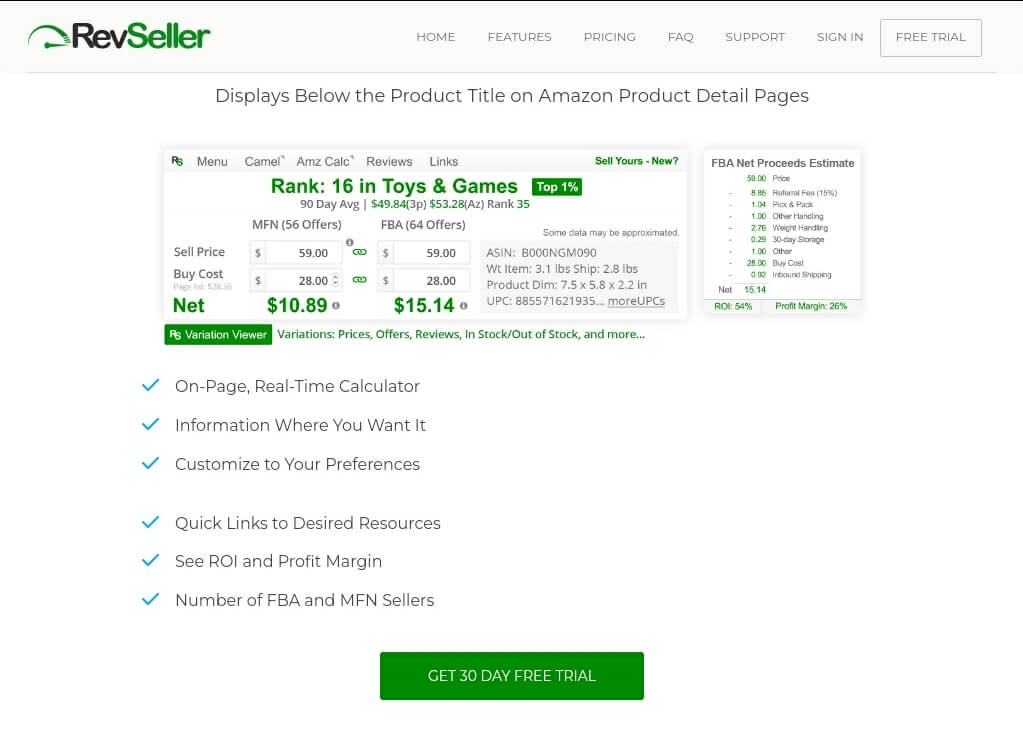 RevSeller's main selling point is that you can view all the Amazon data you need right on the product page. This is more convenient than most chrome extensions that redirect to a separate page.
Consider this chrome extension if you would like a quick way to analyze the profit potential and Amazon BSRs of different products.
RevSeller offers a free 30-day trial and a $99 annual subscription free after the trial. It is only compatible with the PC version of chrome.
Features
RevSeller:
Provides a revenue calculator for each Amazon listing.
Calculates profitability in detail by factoring in the costs of FBA or FBM.
Helium 10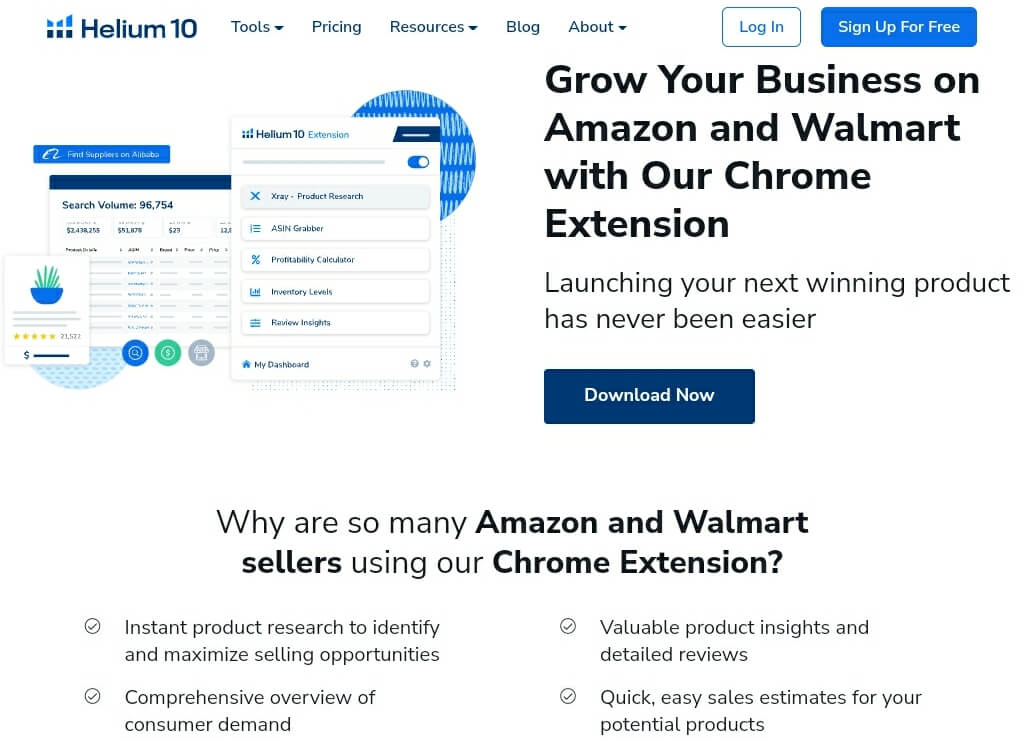 Helium 10 is compatible with different e-commerce platforms in different aspects. It may thus be an ideal option if you plan to spread your wings past Amazon.
That aside, Helium 10 is packed with a variety of features and is one of the smoothest chrome extensions.
Features
You can use Helium 10 to:
Perform keyword research.
Access over 450 million ASINs.
Obtain sales estimates.
Get product insights through highlights and in-depth product reviews.
Calculate product profitability.
Find suppliers on Alibaba.
Amazon FBA Keyword Research Tool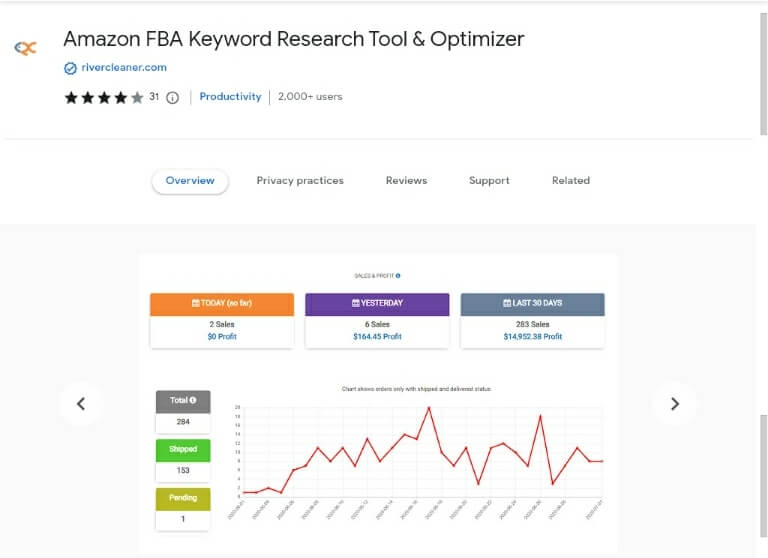 Keywords play a crucial role in Amazon rankings, search results, and even awards like Amazon's Choice.
The Amazon FBA Keyword Research Tool, therefore, leverages the power of keywords to compile insightful data and help you make informed seller decisions.
Features
The Amazon FBA Keyword Tool could enable you to:
Discover optimal keywords for your product listings.
Look up and evaluate your competitors' products using ASINs.
Evaluate keyword rankings in different locations so that you can target your listings and marketing more effectively.
Find out consumer habits and interests based on the keywords that they use in searches.
Receive email alerts on important issues such as suppressed listings or negative feedback.
JungleScout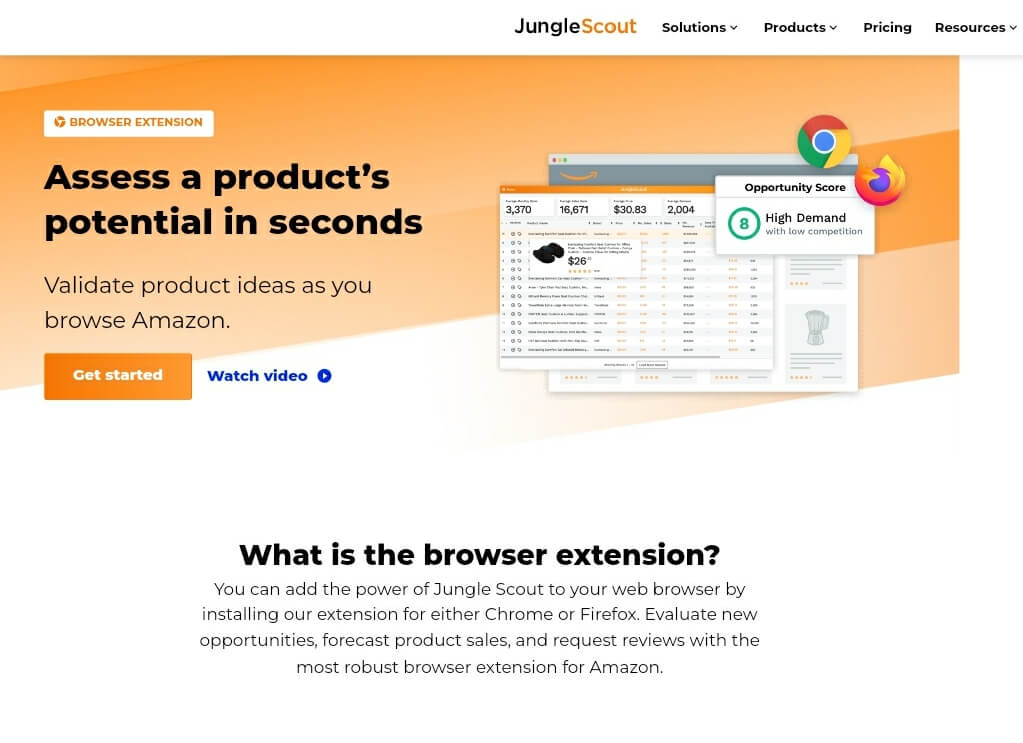 JungleScout is a powerhouse among other chrome extensions. It comprises lots of tools all in one but somehow manages to run fast and almost intuitively.
JungleScouts displays product insights on the product pages you click on or alongside search results. The data is presented in brief highlights for easy perusal but you can still choose to view a more in-depth report.
Features
JungleScout provides details on:
A product's sales history
BSR
Product ASIN
Potential profits
Potential FBA costs
Number of sellers in a niche
Amazon Buy Box price
This chrome extension also comes with a free review automation tool that you can use to prompt buyers to review your store or products.
AMZBase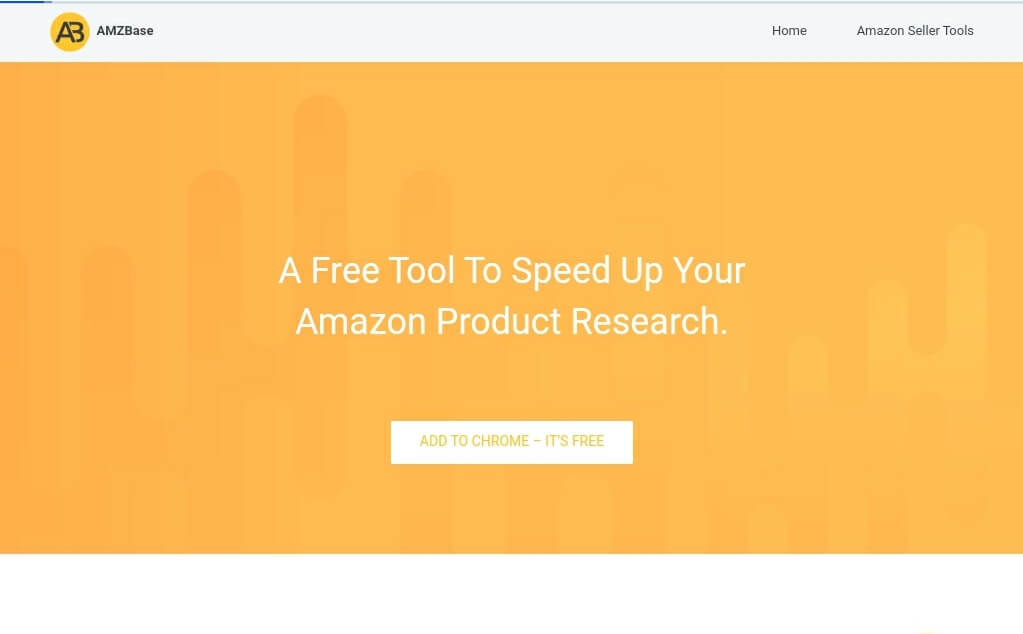 AMZBase does not often top the charts in reviews but it packs quite a punch, in terms of features. It also has a great user interface that makes it easy to quickly gather different bits of information about different products.
Features
AMZBase tools enable you to:
Obtain a product ASIN and the title description of its listing by hovering over its image.
Check out the listings of products across other platforms like AliExpress and eBay. (Tip: This could be helpful when you are uncertain about how to competitively price a product.)
Obtain and evaluate current and historical price data.
Estimate a product's profitability.
Market Intelligence Chrome Extension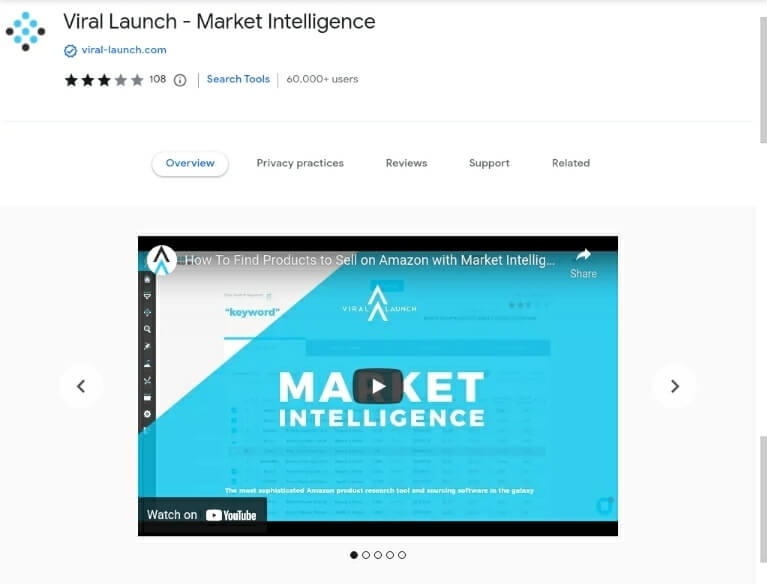 The Market Intelligence Chrome Extension provides Amazon sellers with insights to help them choose and begin selling winning products.
The catch, however, is that you need to sign up for a Viral Launch Market Intelligence subscription to access the chrome extension.
The subscription plans cost $56, $80, and $160 per month.
Features
The Market Intelligence chrome extension provides:
Historical price trends
Monthly sales estimates
Monthly revenue estimates
Keyword search volume data
A cost and profit calculator
AMZScout Pro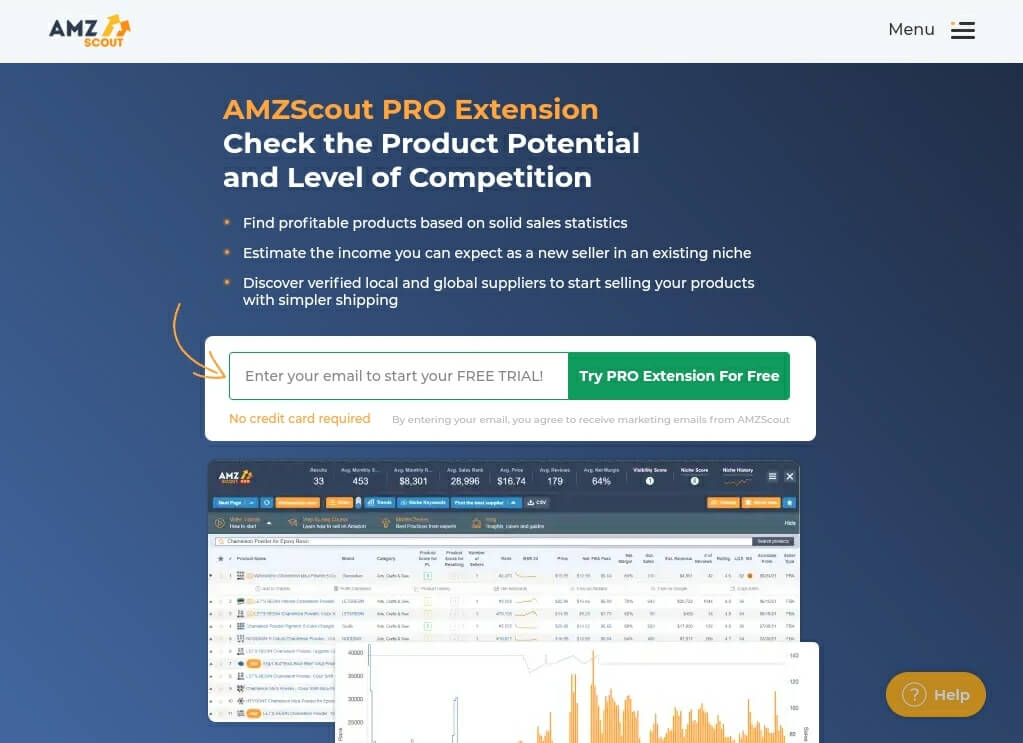 AMZScout Pro Extension is designed with both beginners and experienced Amazon sellers in mind.
The Pro Extension costs $45.99 per month. It offers access to multiple plugins/tools that offer a broad range of insights to sellers and an AMZScout seller's course.
Features
AMZScout can help you determine:
The monthly sales of a product
FBA costs and subsequent profitability
Lowest seller prices
Main product keywords
Inventory levels
Amazon KW Index and Rank Tracker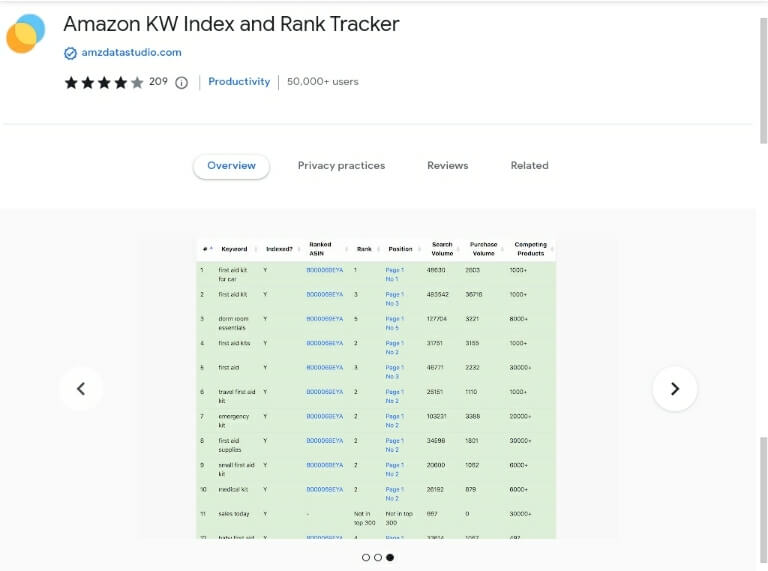 This is another great chrome extension to consider if you would like to get your keywords right.
Notably, unlike the Amazon FBA Keyword tool, this extension does not only help you discover keywords. You can also use it to analyze how various keywords rank.
The Amazon KW Index and Rank Tracker is free.
Features
Amazon KW Index and Rank Tracker can up your seller game by providing:
Exact backend keywords for products
Amazon keywords search volumes
Ranked and searched keywords
Analytics of your keyword rankings
Keywords for any ASIN
PriceBlink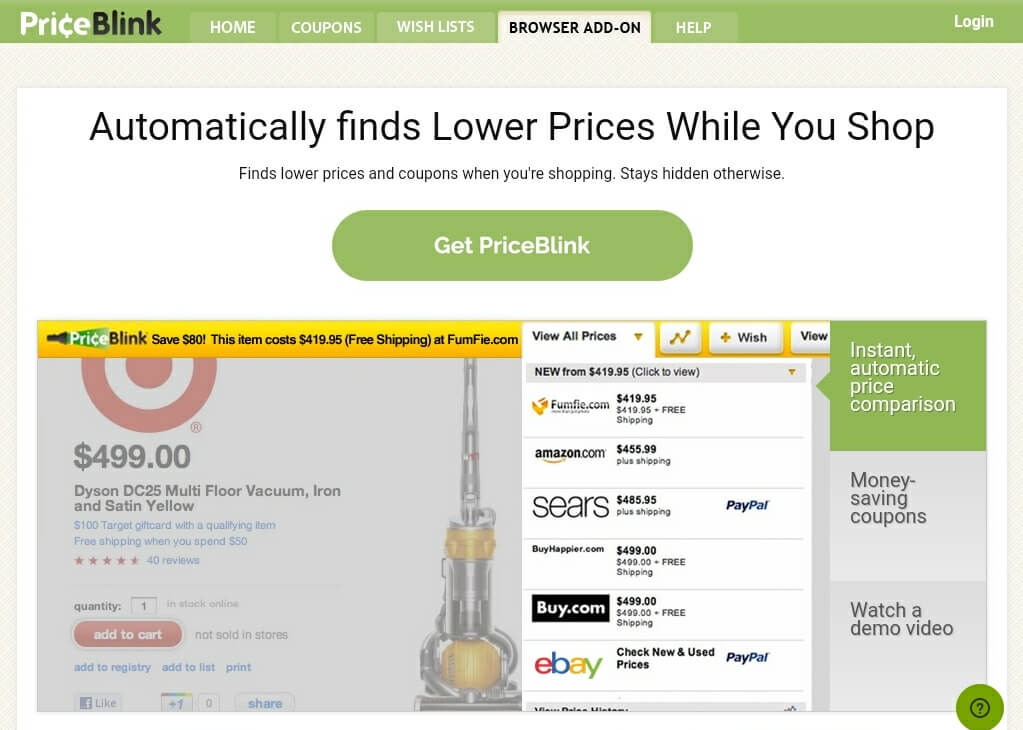 PriceBlink can be a worthwhile chrome extension if you practice retail arbitrage. You only have to find a product on Amazon, click on the PriceBlink icon, and the extension will recommend platforms that offer the product at the lowest prices.
PriceBlink is compatible with chrome for PC and Firefox for Android.
Features
You can use PriceBlink to:
The Camelizer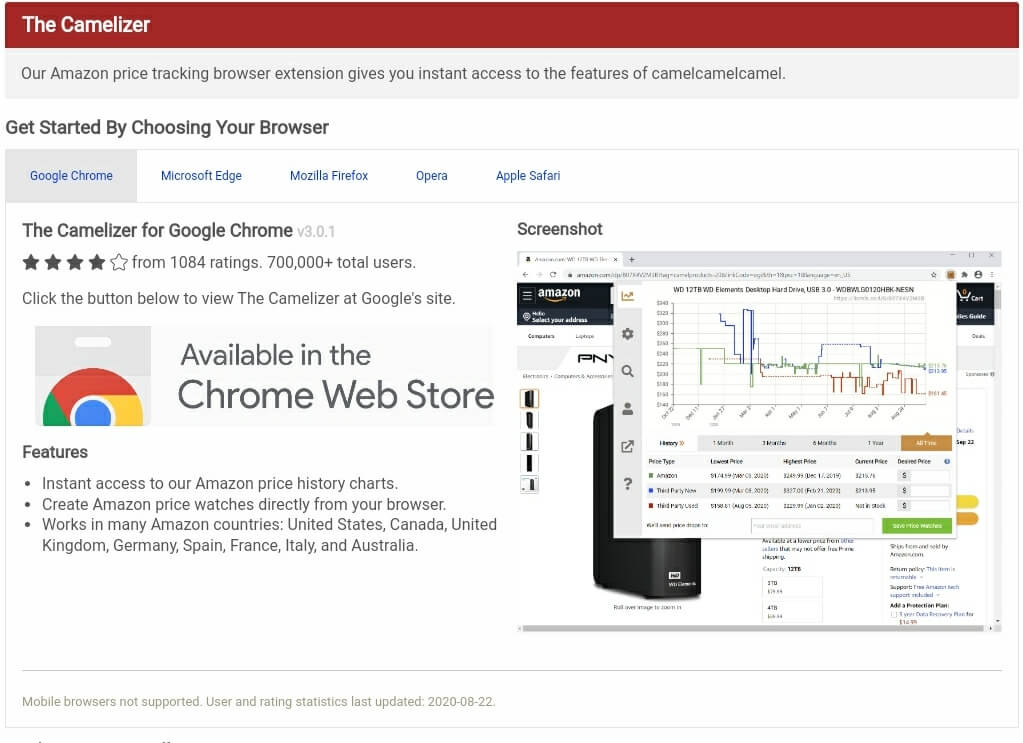 The Camelizer is an Amazon price tracker. At first glance, it seems more buyer-oriented, but it can be of great service to sellers too when it comes to analyzing prices.
The Camelizer is free but only compatible with PC versions of chrome.
Features
The Camelizer offers:
The ability to create Amazon price watches on your browser.
Access to Amazon price history charts.
DS Amazon Quickview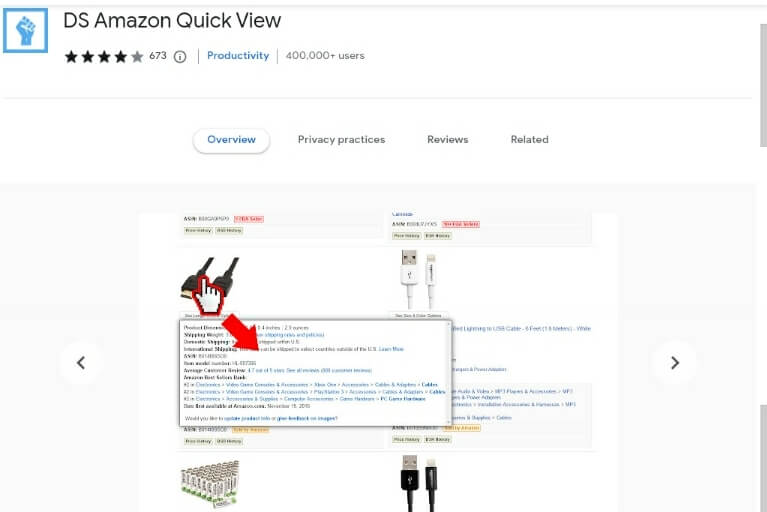 As its name suggests, DS Amazon Quickview allows you to get a glimpse of various Amazon data insights on the go.
The standard version only works on Amazon.com while the extended version is recommended for other marketplaces.
DS Amazon Quickview also offers a free and paid version. The latter may only be ideal if you reckon that you will need tech support.
Features
DS Amazon Quickview allows you to:
Hover over product images to get a full view of its data.
View sellers' rankings and other details from the search page.
FAQs about Best Chrome Extensions for Amazon Sellers
What Factors Should I Consider When Choosing an Amazon Extension for Chrome?
Pricing – some extensions only offer reasonable value if you are on a paid plan. Consider starting with the most affordable subscription just to gauge if the features are worth it.
Features vs needs – create a shortlist of the kind of data that you need and use it to identify the best Amazon chrome extension for your needs.
Data presentation – aim for an extension that presents data in a way that is easy for you to understand.
Compatibility – ensure that your preferred Amazon chrome extension is compatible with your devices.
Availability – some extensions can only offer data about specific Amazon marketplaces. Confirm that your country is covered before making any commitments.
Can I Use More than One Chrome Extension for Amazon?
Yes, you can.
Nevertheless, try and prioritize your top picks to keep the number of extensions low. Using too many of them can slow down your device and too many data insights can become counterproductive.
In Conclusion
Getting your research right is a crucial first step toward becoming a successful Amazon seller. Therefore, take your time and find a suitable chrome extension for Amazon as it is a companion that you will certainly need on this journey.
Speaking of companions, getting product insights is only half the task. Eventually, you will also have to source the goods. You can count on us, at NicheSources, to source your products at affordable wholesale prices or walk you through private labeling.
You can access our comprehensive services from anywhere on the globe. Simply send us a detailed sourcing brief, request a quote, and we will get right to work.