Candles were, for a long time, only considered a lighting source. However, in recent years, their significance has evolved. We now also use them for decorative purposes and even aromatherapy.
Consequently, the demand for candles has grown beyond just domestic use. Spas, restaurants, event planners, and many other establishments are now part of the target market. There's thus never been a better time to venture into the candle business.
That said, it is prudent to learn the ins and outs of a business before investing in it. So, read on as we discuss everything you need to know about how to make candles to sell.
Is Selling Candles Profitable?
Recent research studies show that the candle industry was worth about $8.3 billion in 2018. It is forecasted to grow to $13.72 billion by 2026.
This is a general indicator that candle-making is a profitable niche. However, let us break the math down to an individual business level.
The retail prices of most candles range from $1.99 to about $35. High-end brands, on the other hand, can fetch over $100. You can, therefore, make profits of between 30% to about 50% or more if you keep your candle production costs low and your prices fair.
Best Types of Candles to Sell
The candle market is quite vast, in terms of variety. It is thus essential to identify the best types of candles to sell and work with those that would be ideal for your target market.
Let's look into the top options, shall we?
Scented Candles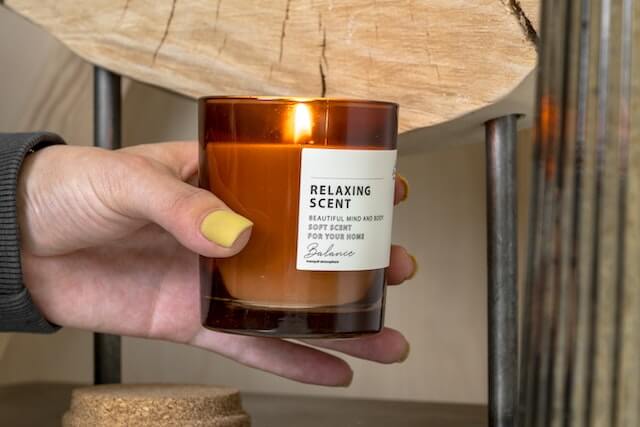 Scented candles are made using wax infused with different fragrances. They are highly popular because of their inviting scent when lit.
From a business perspective, they are a good type of candle to sell because they appeal to an extensive consumer market. You can market and sell them to:
Additionally, consumers associate scented candles with luxury and pleasure. Most are, therefore, often willing to pay a relatively higher price for them. This could see you earn good profit margins.
Soy Candles
Soy candles are made using wax derived from the soybean plant. They have grown increasingly popular among consumers because they:
Burn clean – their flame does not emit black soot, unlike paraffin candles.
Are environment-friendly – soy wax emits significantly less carbon dioxide than paraffin wax. It is also sustainable because it is sourced from plants.
Burn longer – soy wax candles last 30% to 50% longer than paraffin wax candles because soy wax burns at a cooler temperature.
Have a better scent throw – soy wax does not have to be mixed with any chemicals, allowing the scent of the candle to remain untainted.
Marketing these qualities to potential customers could help boost your sales.
Themed/Decorative Candles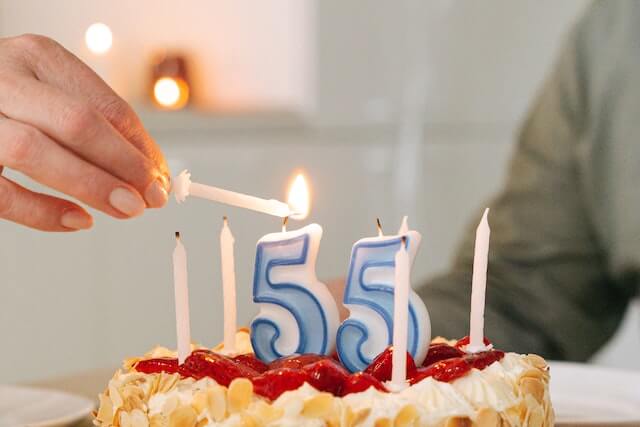 Candles are essential to various occasions like Christmas, Diwali, and birthdays. You could thus make a rewarding income by designing and customizing candles to suit such celebrations.
However, while birthday-themed candles are evergreen, Christmas and Diwali candles are in demand during specific times of the year. Selling them alongside other types of candles is advisable to balance their seasonality.
Vegan Candles
Vegan candles are made using wax from non-animal sources. They include soy wax, rapeseed wax, and palm wax, among others. Candle buyers prefer them because they are made without exacting any cruelty to animals.
Jar/Container Candles
Candles packaged in containers are:
Convenient to use and store.
Ideal gifts when packaged appealingly.
Besides these advantages, the containers offer prime space for branding, which could help you entice more customers to buy your candles.
Votive Candles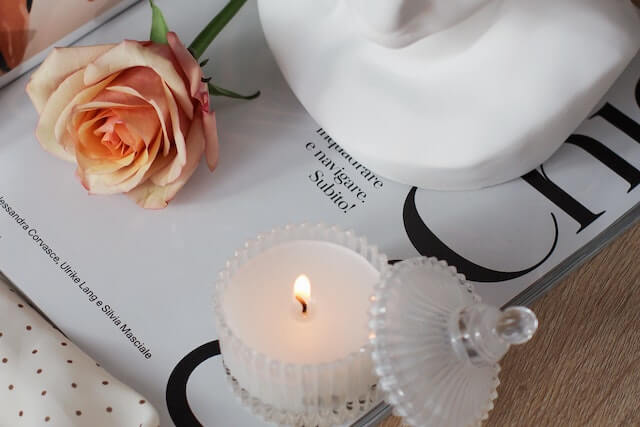 Votive candles are short candles often used in dining areas, churches, or for decorative purposes. While they offer a short burn time (7-20 hours), they provide ambient lighting and are usually unscented, making them neutral enough for dining areas.
Overall, they can be a good business choice because they require less wax to make yet sell well to multiple consumer categories.
Pillar Candles
Pillar candles are considerably long and thick. They, therefore, offer a relatively long burn time (depending on the wax). They are ideal for home spaces, places of worship, or events like weddings or banquets.
The main selling point of this type of candle is its longevity. However, you could also give your candles an edge by sprucing them up with some color or trendy branding.
How to Make Candles at Home to Sell
Candles mainly comprise two parts: a wick and wax. They are relatively easy to make, but it is important to follow the right steps to get the best quality candles.
Here is a quick guide to help you learn how to start making candles at home.
Source and Buy Candle-making Supplies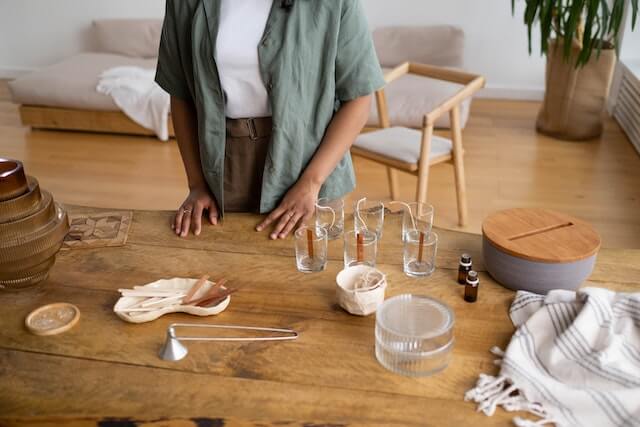 A basic list of candle-making supplies includes:
Candle wax
Wicks
Wax melters
Thermometers
Measuring tools
Candle wax dyes
Fragrances (if making scented candles)
Candle jars
Wick trimmer
Labels for the candles
Packaging
Compare different suppliers during your sourcing process to ensure you get quality supplies at the best prices. Provide product specifications too so that they deliver the right type, size, and design of supplies for the candles you plan to make.
Measure the Wax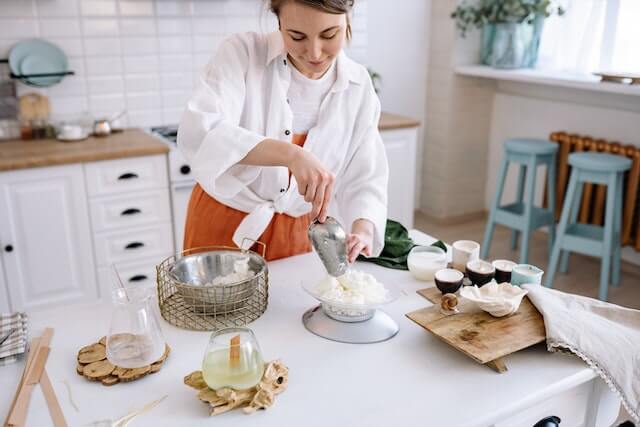 Take note of how much wax you will need based on the size of the candle jars you chose. For example, if you have a 12oz jar, you may need about 10oz of wax per candle. This will leave enough room for the wick and let the lid settle properly on the jar.
Prepare the Jars and Wicks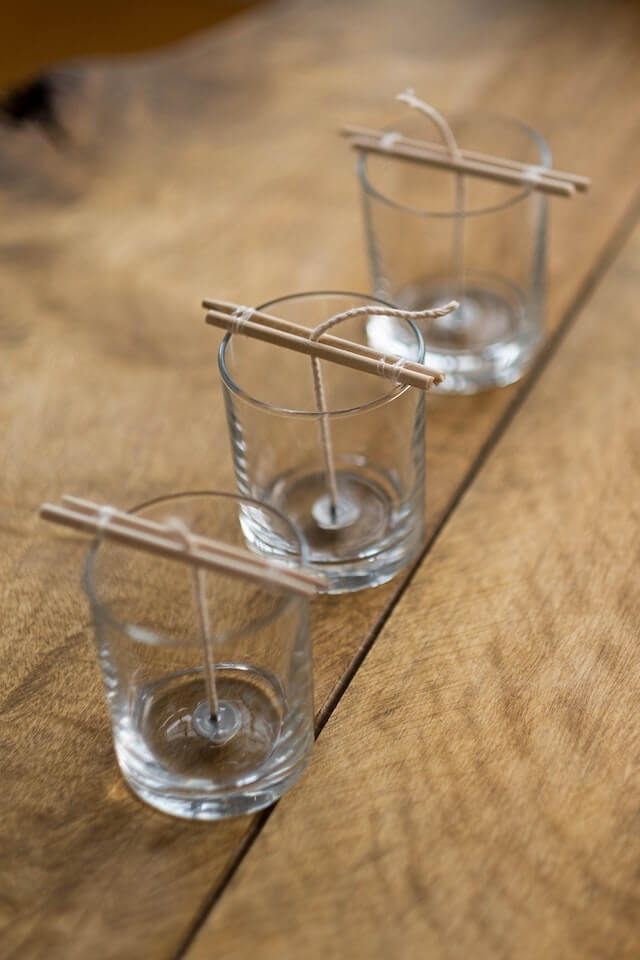 Set aside enough candle jars and attach wicks to them so that they are ready when you pour your candles.
Melt the Wax
Melt the wax you have measured. Where possible, use a double boiler to ensure that it melts without burning or degrading the quality of the wax. Additionally,
Pay attention to any instructions from the wax manufacturer.
Use the thermometer to ensure you achieve the right temperature.
Scent the Wax (optional)
Add a few drops of fragrance to the melted wax and stir so that the scent combines evenly with the wax.
Add Dye(optional)
Add a measured quantity of candle wax dye to the melted wax if you are making colored candles. Stir to blend the color into the wax.
Pour Your Candles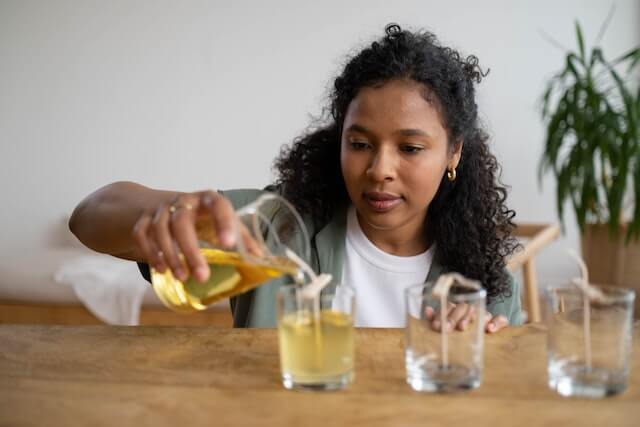 Take the wax off the melting pot and carry it to the candle jars you had prepared with wicks.
Confirm that each wick is properly situated before you start pouring the wax. You can do this by holding a wick up with one hand while you pour the wax with the other.
Try to pour as evenly as you can to achieve a neat look. You can also pour in a little more wax if your initial pour settles and you notice sinkholes.
Repeat this step for as many candles as you had set out to make.
Suspend the Wick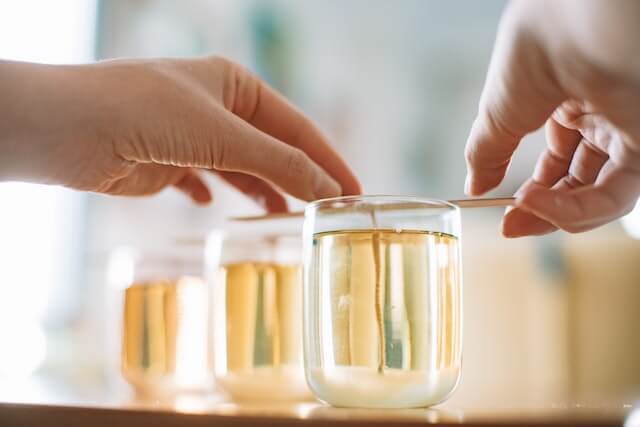 Secure a bamboo stick, spoon, chopstick, or firm straw across the mouth of the jar. Tie the wick to the item atop the jar so it stays upright instead of getting swallowed up into the melted wax.
Cooling
Allow the melted wax to cool and solidify completely.
Trim the Wick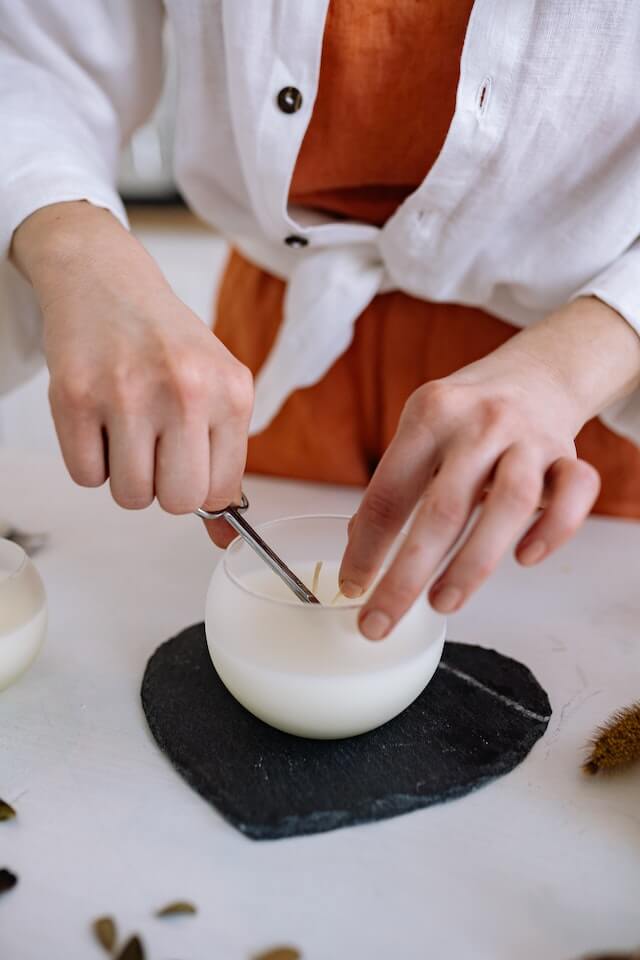 Use the wick trimmer to cut off the excess wick. Leave just enough for it to burn slightly above the candle.
Package Your Candles
Add your branding and warning labels then package your candles for sale.
Proper Storage
Store your candles in a cool dark area, away from direct heat or flammable substances.
How to Start a Candle Business at Home
Setting up your candle business entails creating a defined and legal framework for you to sell the candles you make. Here is a quick guide on how to navigate this process.
Research Your Market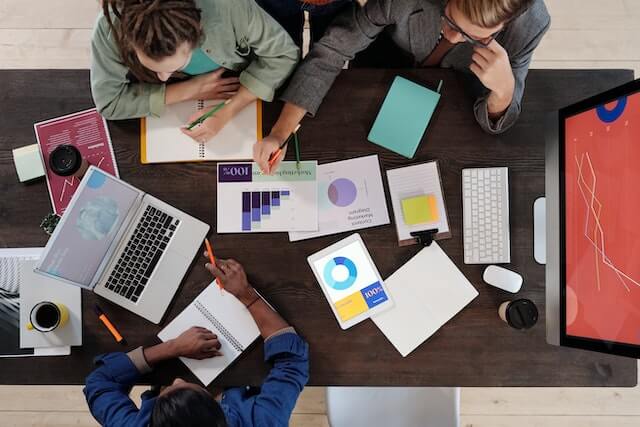 Researching your market is a key step because it helps you learn:
The type of candles your target customers need.
The competition you are up against.
The pricing and buying habits of consumers.
Gaps in the candle market that you could fill.
Marketing approaches that work in your target market.
Take note of these issues and any others that stand out. Study them to identify how you can optimize your candle business idea to succeed in that market.
Develop Your Candle Brand
Your candle brand will be the identity that customers can use to tell your products apart from those of other candle makers. Developing the brand includes choosing:
A brand name
A logo
Brand colors
A slogan (optional)
Packaging
Use your market research findings to develop a brand that appeals to your potential customers. For example, if your target market has a fair to high disposable income, they may appreciate and afford a luxury brand of candles.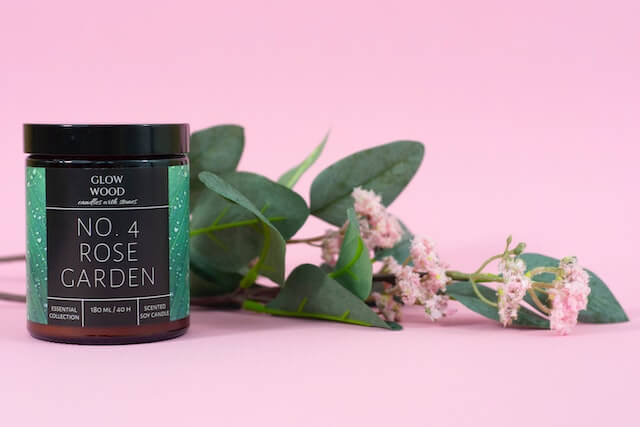 Alternatively, if incomes are low or candles are not a priority product, then you could target customers through:
A budget-friendly brand
Attractive gift packaging
Emphasizing other candle benefits like aromatherapy
Other factors like gender, age, and socio-cultural aspects (veganism, eco-consciousness, etc.) may equally be worth considering and incorporating.
Define Your Candle Business
Create a business plan that outlines:
The type of candles you plan to sell.
Your system of operation i.e. your production premises, your distribution network, etc.
Your business scale.
Any product inspection tests and certifications that you may need to be able to sell your candles.
Your budget.
Candle prices.
These details will help you prepare for the next step where things get more formal.
Register Your Business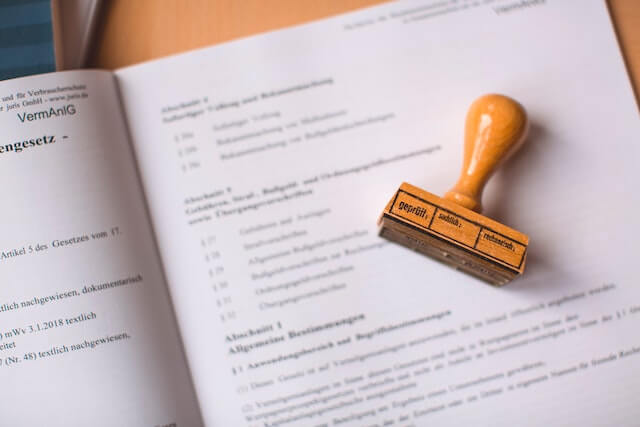 Registering your business gives you the legal authorization to sell your goods to the public. It may also come in handy in aspects such as protecting your products from being copied because when your business is registered, you can easily apply for a trademark.
More importantly, proper registration helps customers and retailers trust your brand more. This will go a long way in driving sales.
Create Your Online Store
Starting a candle business at home may not expose you to enough customers to keep your business profitable. You can, however, reach a much wider customer base by creating an online store.
Aim for an online store design that:
Highlights your brand
Offers customers a smooth shopping experience
Provides adequate information about your candles
Compare different e-commerce platforms in terms of their audiences, costs, and how convenient they would be for you and your customers. Have clear terms about the destinations you plan to ship to and other requirements such as a return policy.
Market Your Brand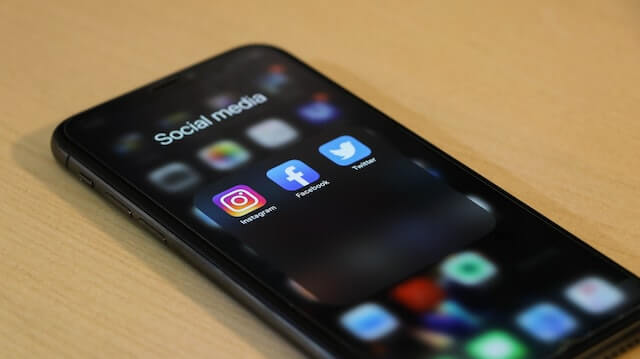 In today's business arena, marketing is not just about showcasing your product. It also entails cultivating curiosity and loyalty among your target customers. They need to know:
The type of candles you offer
Why they should buy your candles instead of a different brand
Your prices
Where to buy your candles
Where to access more information about your candle brand
You can, at first, relay this information through online ads, social media posts, or influencer marketing. The key, however, is to make your marketing content informative and relatable.
Ensure to channel your marketing campaigns through the right media to reach your intended audience. Time it correctly too so that customers will already be aware of and eager to try your candle brand by the time you launch it.
Make an effort to also keep marketing even after launching your candle brand. More so in offline spaces like among B2B customers or retailers that may require product samples to determine whether they can partner with your brand.
Make the Candles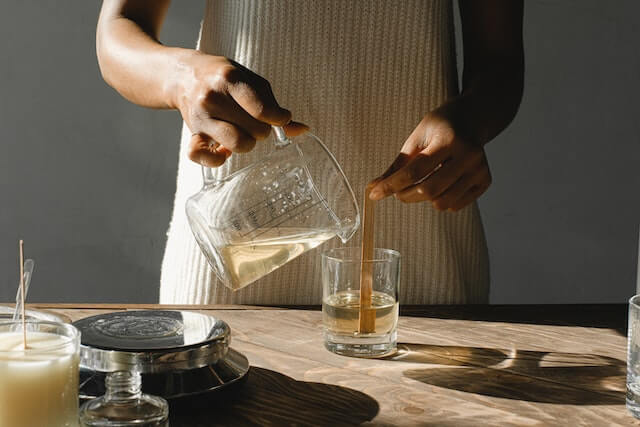 First, develop your candle designs and formulations.
Follow this up by sourcing an adequate amount of raw materials based on the number of candles you plan to launch in the beginning. It may also be cost-effective to source any packaging you require alongside these other supplies.
Strive for the highest possible standards of production. This is especially critical during your launch phase because the quality of the candles that you present will make a lasting impression on most buyers.
If the candle quality is good, it will easily attract more customers and cultivate consumer loyalty. In contrast, if the quality is low, you may suffer the impact of bad reviews, which can be hard for your business to recover from.
Launch Your Candle Brand
Launching your candle brand involves getting the word out that your candles are officially on sale. You can do this through:
A discounted online launch sale
Online promotions
A physical launch event (e.g. at a crafts show, Mall promotions, etc.)
Online approaches are ideal if you are working on a budget but want to reach a broad market. They may also allow buyers to pre-order, just in case your batch of candles sells out.
Physical launches can be effective if your market is skeptical of new products. They are also better to reach B2B customers like restaurant or spa representatives. You can display candle samples for guests to try, hold a sale, and have one-on-one interactions.
Market and Scale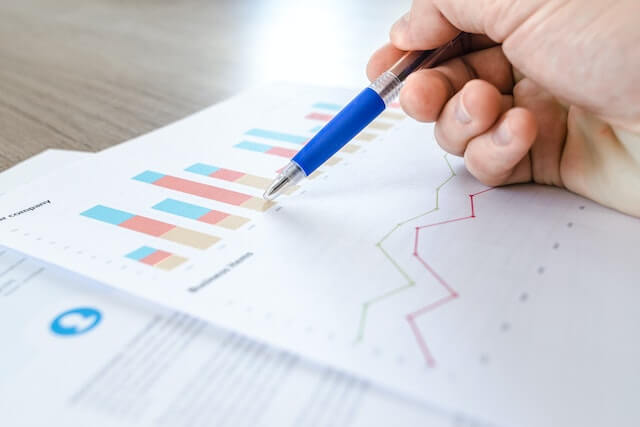 It is often exciting to make your first few sales but do not rest on your laurels after that. Make an effort to keep interacting with your customers through social media, email marketing, and other platforms.
Encourage feedback too so that you know how to improve your candles or what varieties your customers would like you to focus on.
On scaling, the growth of most businesses happens gradually. Keep track of sales and market trends to anticipate when you might need to make changes. It is advisable to also always keep some safety stock of raw materials to accommodate demand fluctuations.
How to Sell Candles Online
As we have mentioned above, selling candles online opens your business up to a broad customer base. Nevertheless, you will have to decide whether to:
Sell on an e-commerce platform
Sell on your own website
Selling on an E-commerce Platform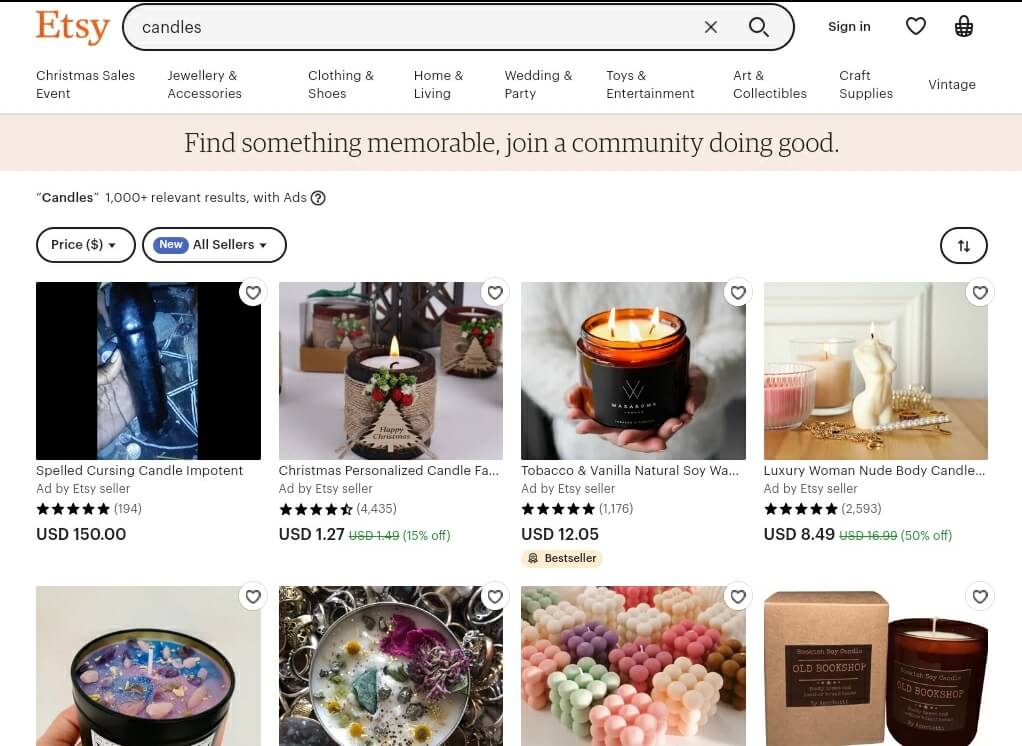 E-commerce platforms are websites where you can sign up as a seller, create listings of your candles, and begin selling to an already established customer base. Examples include Amazon and Etsy.
Pros
It is easy to start selling, you only need to create a vendor account and create listings.
You will have access to a vast and ready consumer market.
Some platforms, like Amazon FBA, allow you to delegate delivery and distribution.
The e-commerce platforms provide the convenience of ready-to-use cart and payment systems.
You can sign up for niche platforms like Etsy or Amazon Handmade that only accept handmade goods.
Cons
E-commerce platforms charge fees that may eat into your profits.
You may have to face stiff competition from other candle makers.
Selling on Your Own Website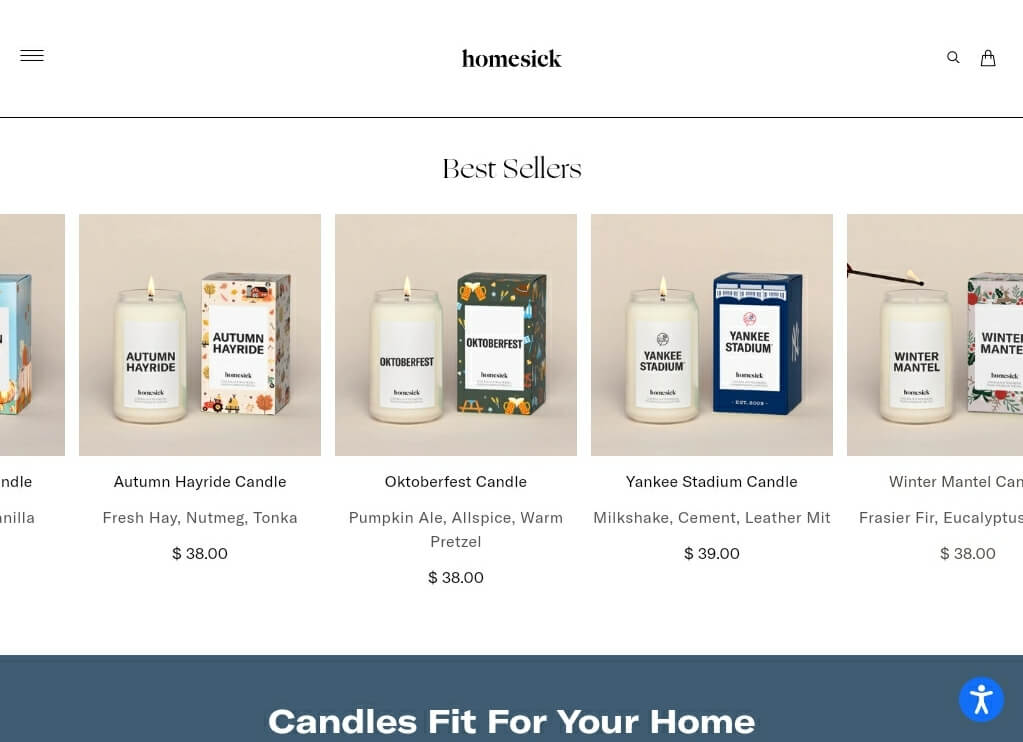 Creating an e-commerce website for your candle brand allows you to retain full control of your business. You will, however, need to:
Find a suitable platform to set up the website such as Shopify, Wix, etc.
Take time to create the website or hire a professional, if you are not tech-savvy.
Aggressively market your site to drive traffic toward it and make sales.
Pros
A website dedicated to your business gives your brand exclusivity.
You would not have to directly compete with other candle sellers on your site.
You would have ample space to showcase your candles and share as much information as you would like with your customers.
Cons
You will incur set-up and maintenance costs for the site.
It may take time and effort to drive customer traffic to your candle website.
On the upside, you can boost either of these approaches with well-placed ads and social media selling. It is also possible to start selling from a social media account on Instagram or Facebook before you advance to e-commerce platforms or a website.
Tips for Selling Candles from Home
Diversify Your Sales Channels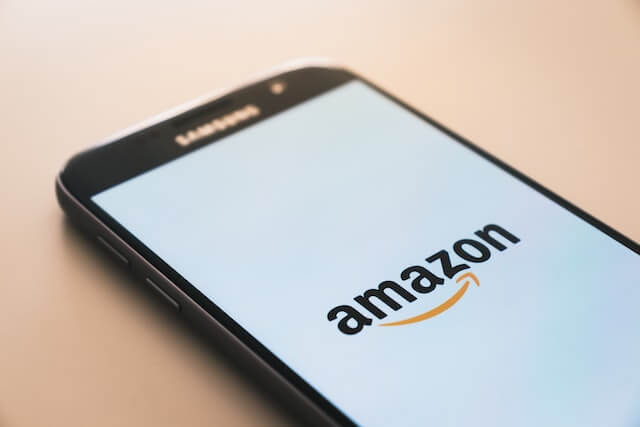 Try to market and sell your candles on multiple channels simultaneously. For example, you could sell online and offline or on multiple platforms. This will increase your brand visibility and boost your sales chances.
Offer Quality Customer Care Services
Strive to offer your customers prompt service, cordial responses, and effective solutions for any issues they present to you.
Similarly, ensure that you design an orderly shopping platform where customers can easily find the candles they need and buy them in a few clicks.
Request and Act on Feedback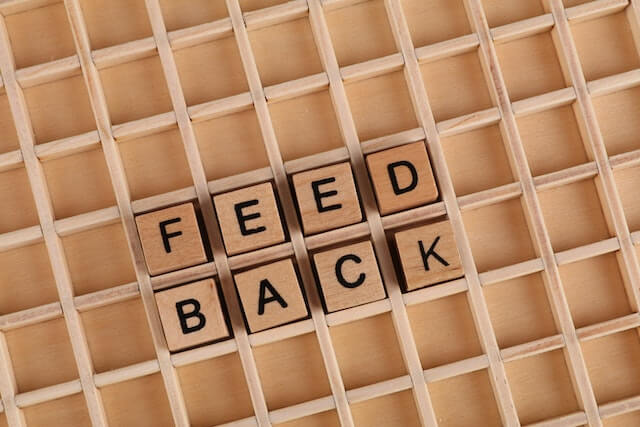 Encourage your customers to give feedback on your products. You can do this online or include it as a message in packaging inserts.
Carefully read their comments to learn what they like, what they may not like, and any suggestions they may have. Offer affirming responses and make an effort to make the necessary adjustments.
Keep Up With Trends
Trends interest consumers because they present new candle designs, fragrances, or decor concepts. Therefore, keep up with them so that you:
Cash in on the surge of sales that trend waves bring.
Avoid losing your customers to other candle brands that are more responsive.
Use Quality Images and Descriptions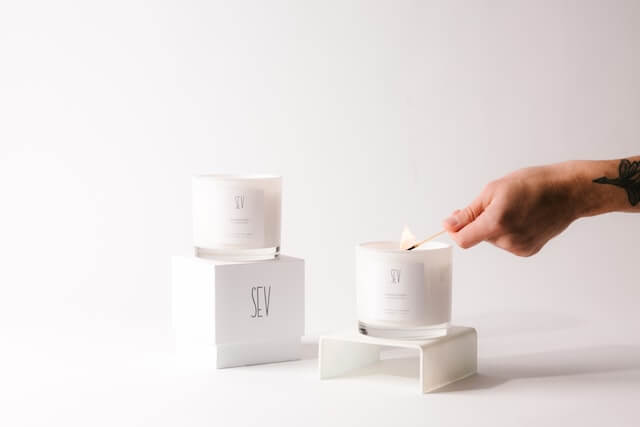 Quality images showcase your products in their best light and attract the interest of consumers. Aim for:
High-resolution images highlighting your candle design and logo.
Lifestyle images that show how customers may enjoy your candles.
Invest in Quality Packaging
Tasteful packaging draws customers to products long before they even know much about them. It would be a particularly nice touch for candles because great packaging makes them giftable, which could be a whole other revenue stream for your business.
FAQs about How to Make Candles to Sell
What Kind of Wax Makes the Best Kind of Candles?
This is debatable but soy wax ticks most of the right boxes. It offers:
A longer burn time
Better scent throw
A clean burn
Safer usage because it burns at a lower temperature
Sustainability
Which Are the Best Fragrances to Use for Candles?
Natural essential oils are highly recommended because they are potent; you will only need a small quantity to make a batch of candles. They are equally healthier than synthetic fragrances.
Aim for popular scents like pumpkin spice, vanilla, and lavender. You could also set your candle brand apart by developing exclusive scents.
How Do I Find Candle-Making Supplies?
You can run an online search to find manufacturers that offer candle-making supplies either near you or in other locations.
Alternatively, you can hire a sourcing agent to make your work easier. More so because they are better placed to help you find wholesale suppliers that can sell you the candle-making supplies you need at bargain prices.
In Conclusion
Starting a candle business is an affordable yet up-and-coming business. Now that you know what it takes, consider taking that leap before the industry is saturated.
We, at NicheSources, will work with you to develop an outstanding branding strategy, source the right candle-making supplies, and ship them on time. Ready to start your candle line? Send us your sourcing requirements, request a free quote, and we will get right to work.