Selling on Amazon offers grand growth opportunities for your business. However, it takes grit. Competition among Amazon sellers is quite stiff and so, it is easy to get outpaced if you do not find ways to stay on top of your game.
Making well-informed decisions and automating some aspects of your Amazon business can go a long way in helping you stay ahead. Especially given that there are now lots of free innovative Amazon tools for sellers.
Not sure where to find Amazon seller tools for free or what they can do for you? Then you have found the right blog. Read on as we review some top options and the outstanding benefits that they offer.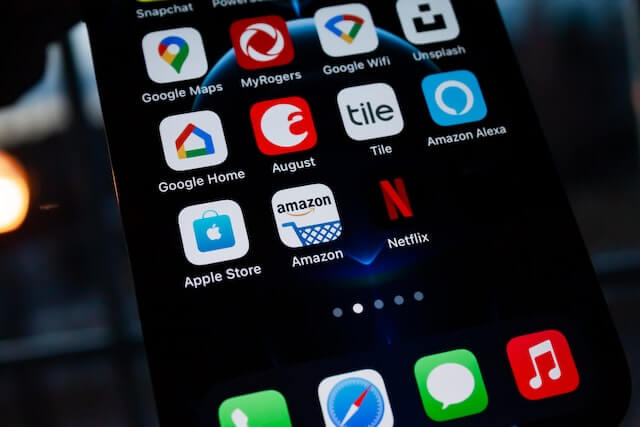 What Is an Amazon Seller Tool?
An Amazon seller tool is a plugin, chrome extension, or software designed to ease various tasks for Amazon sellers. Most of them are optimized to be automatically compatible with Amazon and thus hardly require any lofty tech skills.
Some tools require paid subscriptions but if you would like to save on costs, here are some helpful tools that you can access for free.
Unicorn Smasher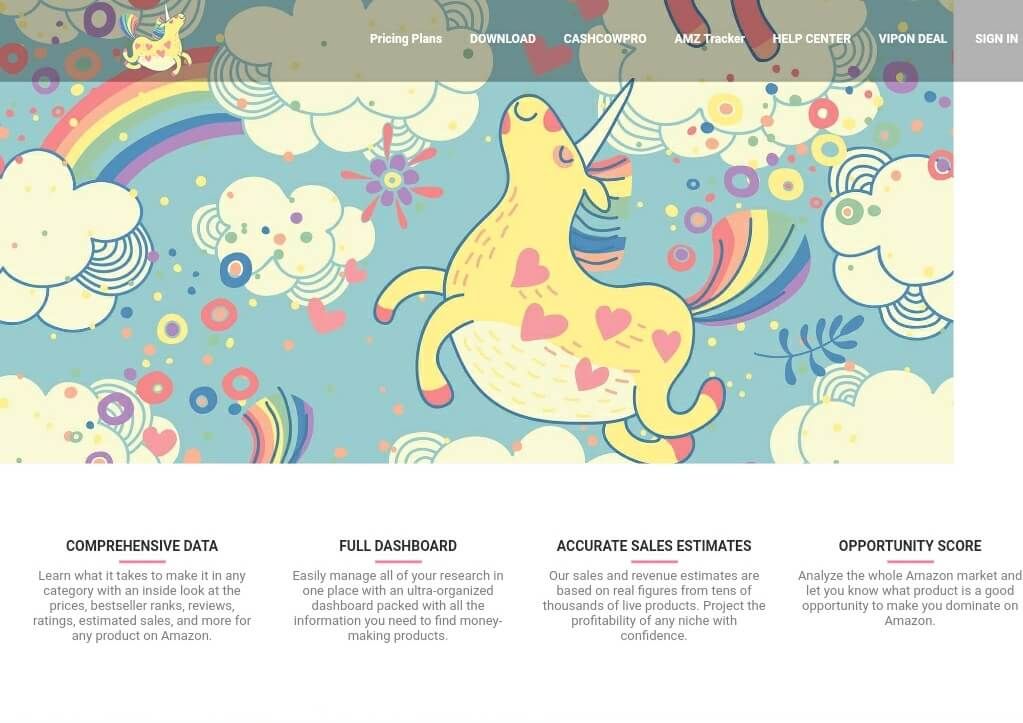 Conducting adequate research on Amazon enables you to gauge:
Whether your preferred niche and product are profitable
The level of competition you may face
The viability of your products versus other variants
Gathering such data would be tiresome and time-consuming. Fortunately, the Unicorn Smasher chrome extension gets you all the details you need in a matter of minutes. You only need to search for a product and it brings up all the insights you need.
Its user interface is simple yet highly effective. Its dashboard, in particular, makes it very easy to access and manage your product research.
Features
Unicorn Smasher can help you ace product research in the following ways:
It shows you the rank, estimated sales, estimated revenue, the number of reviews a product has, and its average customer rating.
You can add promising products to your Unicorn Smasher dashboard and refer to it later.
It can show you different product variants and their details to help you identify the best product option.
You can export your research findings to a CSV file and save it for future reference or share it with your supplier.
FBA Calculator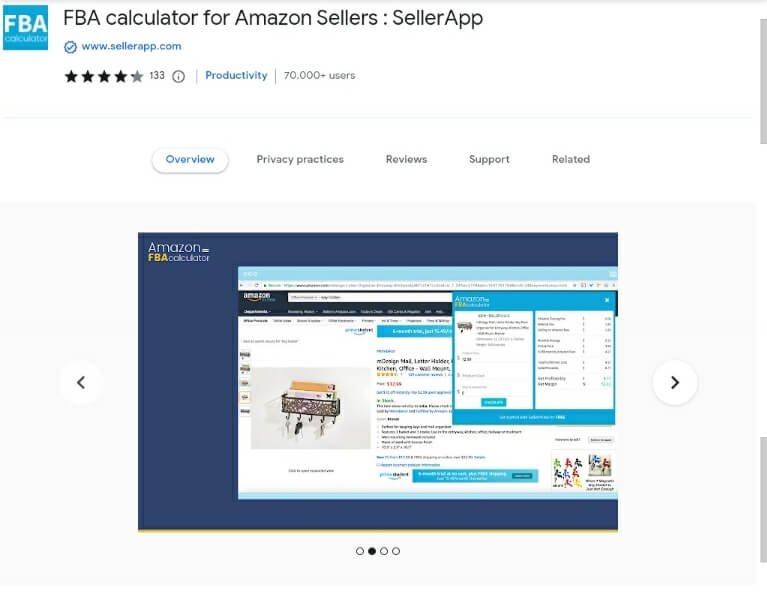 It takes a while to truly get the hang of FBA costs. Even when you do, it can be quite cumbersome to calculate the FBA costs of every product that you may consider selling.
The FBA calculator takes that burden off your shoulders. It can calculate the net profit, ROI, and FBA fees based on your product details. Alternatively, you can:
Open the Amazon website
Go to your preferred product page
Click on the FBA calculator icon to view the costs
You may encounter various FBA calculators from different providers but the chrome extension version is free and reliable.
Features
Here are some highlight features to look forward to from the FBA Calculator.
You can use it to compare the costs and choose between Fulfillment by Amazon (FBA) versus Fulfillment by Merchant (FBM).
It strictly uses the latest fulfillment rates Amazon provides to ensure higher accuracy.
You can use it to find a product's optimal profit point by using different price points or sourcing costs.
It works across all Amazon marketplaces.
Sonar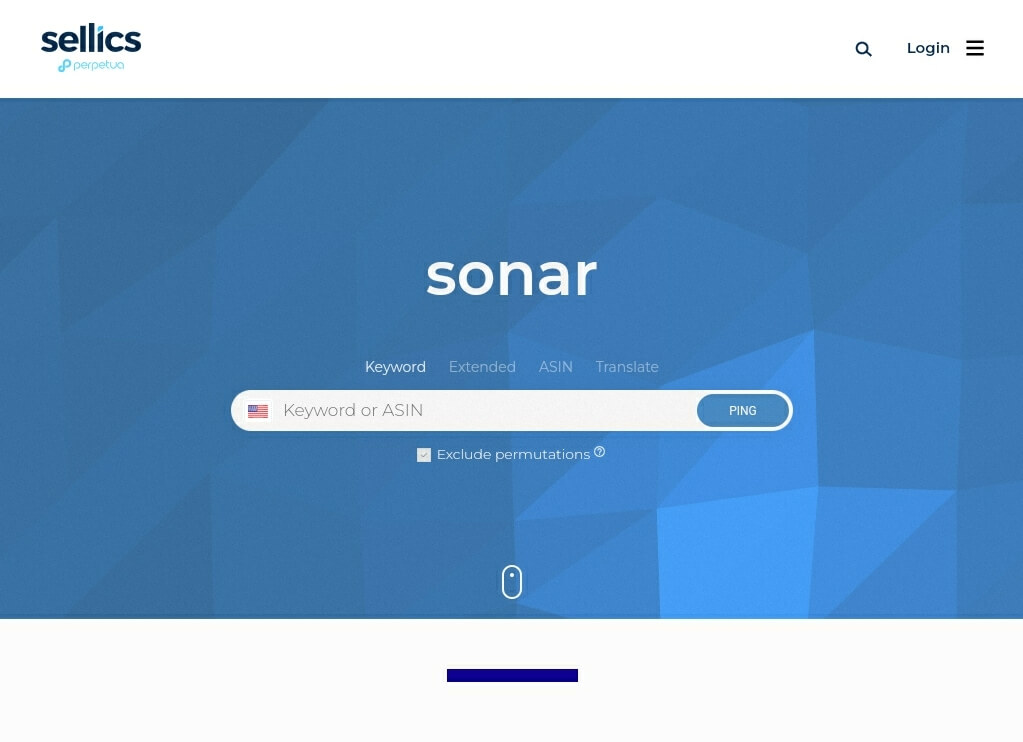 Sonar helps Amazon sellers find the right keywords for their products and increase their chances of:
Ranking better on Amazon search results.
Better visibility due to improved relevance.
How does it work? The Sonar homepage includes a search bar where you can enter the name of a product or its ASIN to discover its top keywords.
Features
Sonar:
Works for Amazon US and all Amazon EU countries.
Only shows keywords linked to ASINs that appear on the 1st page of Amazon search results. Using them could thus boost your listings to such highly coveted rankings.
Uses a unique prediction algorithm to show you real-time possible Amazon keyword search volumes.
Google Trends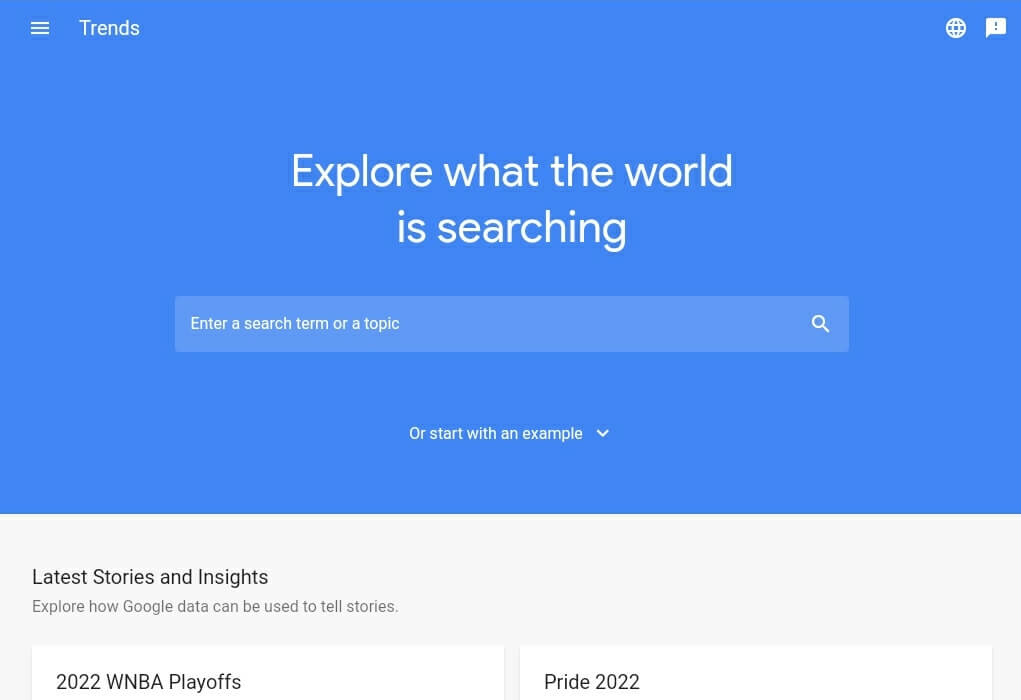 Admittedly, Google Trends is not dedicated to Amazon. However, this may very well be its winning quality because it offers broader insights into products outside the Amazon range.
This can be especially beneficial for new products that may not yet have lots of historical data or trends on Amazon.
Exploring trends and insights on Google Trends is also quite simple. You only need to:
Access the Google Trends website.
Enter a search term e.g. the name of a product you would like to sell on Amazon.
Analyze the feedback that Google Trends provides or enter another product name to compare its insights to those of your first product search.
Features
Google Trends:
Enables you to explore how much interest a keyword has generated on Google over time.
Allows you to compare the statistics of different keywords/products.
Can provide more relevant insights based on a specific timeline or geographical location.
Keyword Tool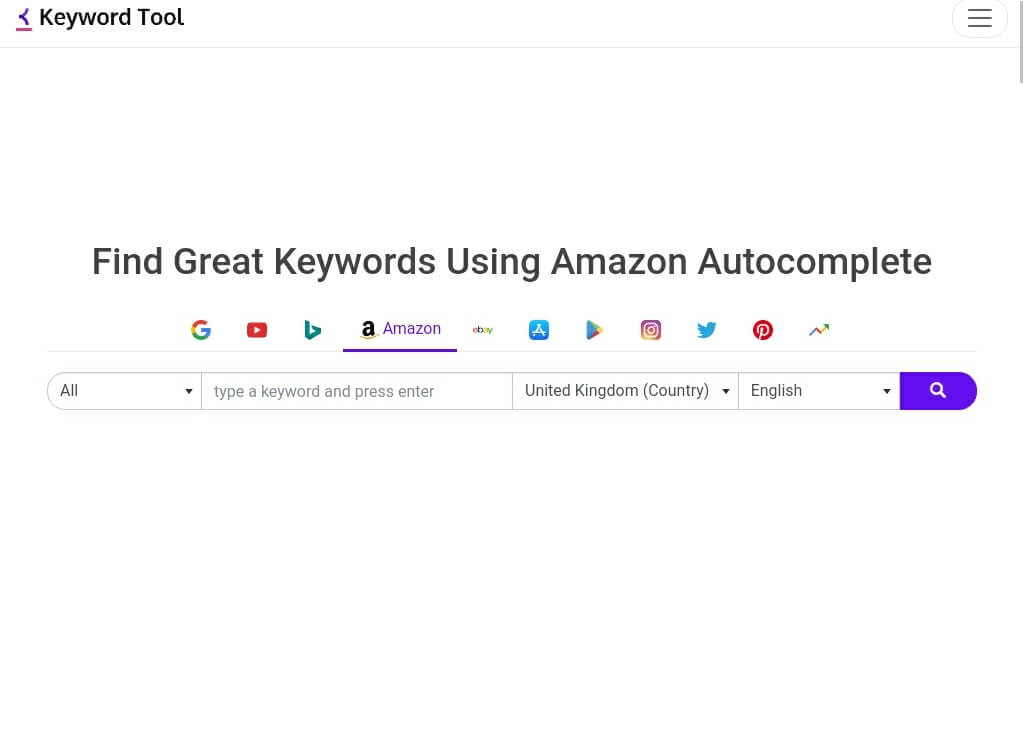 The Keyword Tool is a simple tool that you can use to discover keywords linked to your product. It works as follows:
Access the Keyword Tool site.
Set your preferred platform for keyword searches to 'Amazon'.
Select your preferred Amazon category or leave it as 'All' if you are uncertain.
Choose your preferred country and language.
Enter a product name.
Click 'Search'.
Features
The Keyword Tool:
Lists top keywords used on Amazon that you can use to optimize your product listings.
Note: Unfortunately, this free version does not offer corresponding keyword volumes. You would have to upgrade to the pro version to enjoy that feature.
Sellbrite
Sellbrite is a multipurpose tool that you can use to handle day-to-day seller responsibilities like managing inventory or your Amazon listings.
That said, its true value shines if you concurrently sell on Amazon and other platforms. You can use it, in such instances, as a central dashboard to manage all your seller accounts.
On the downside, the free version is only suitable for beginners handling fewer than 30 orders a month. Sellbrite automatically starts billing you when your orders start to exceed that limit.
Features
You can use Sellbrite to:
Create and manage product listings.
Keep track of inventory.
Fulfill orders; it is fully compatible with FBA.
Sell on multiple marketplaces or e-commerce websites.
Bindwise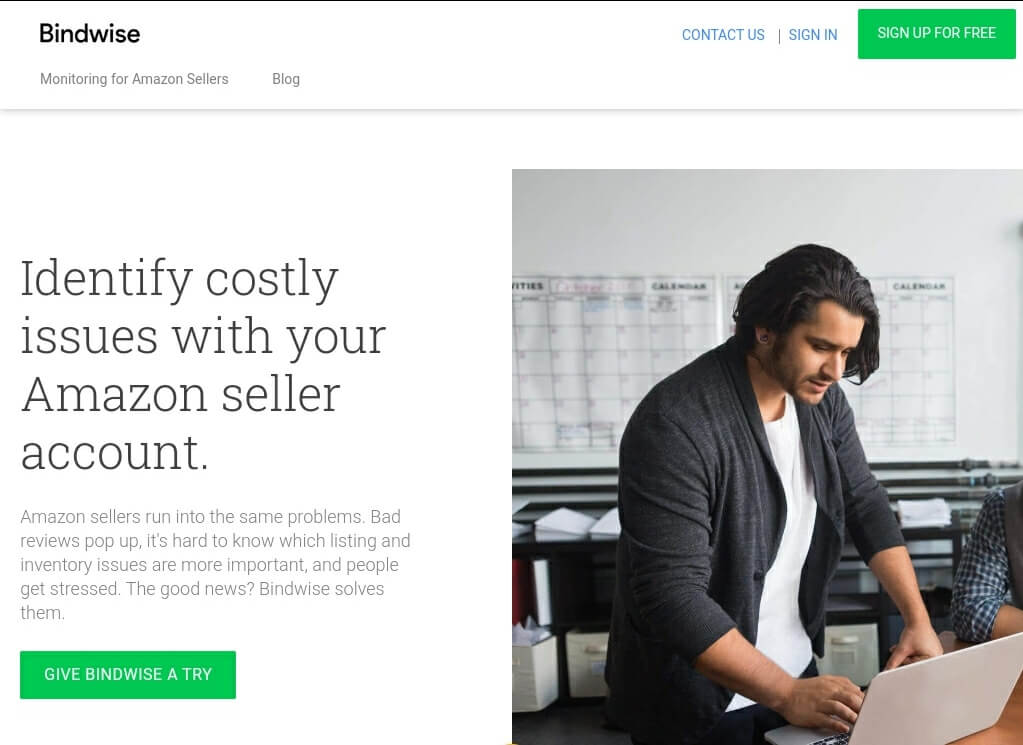 It is important to keep track of details such as customer feedback, opportunities to increase your rankings, or any negative issues impacting the success of your Amazon store.
Nevertheless, it is easy to miss out on such information because Amazon does not have alerts for most of them and your observation can only catch so much.
Bindwise solves these challenges by being your eyes and ears on all fronts and sending you detailed alerts regarding issues that you should pay attention to. The free plan only offers monitoring for 7 random days in a month but it is still better than having no insights whatsoever.
Features
Bindwise monitors and reports:
Negative buyer reviews
Amazon Buy Box losses
Errors in listings
Suppressed listings
Other sellers hijacking or piggybacking on your listings
Policy violations that you may overlook
Opportunities to optimize your listings
Teikametrics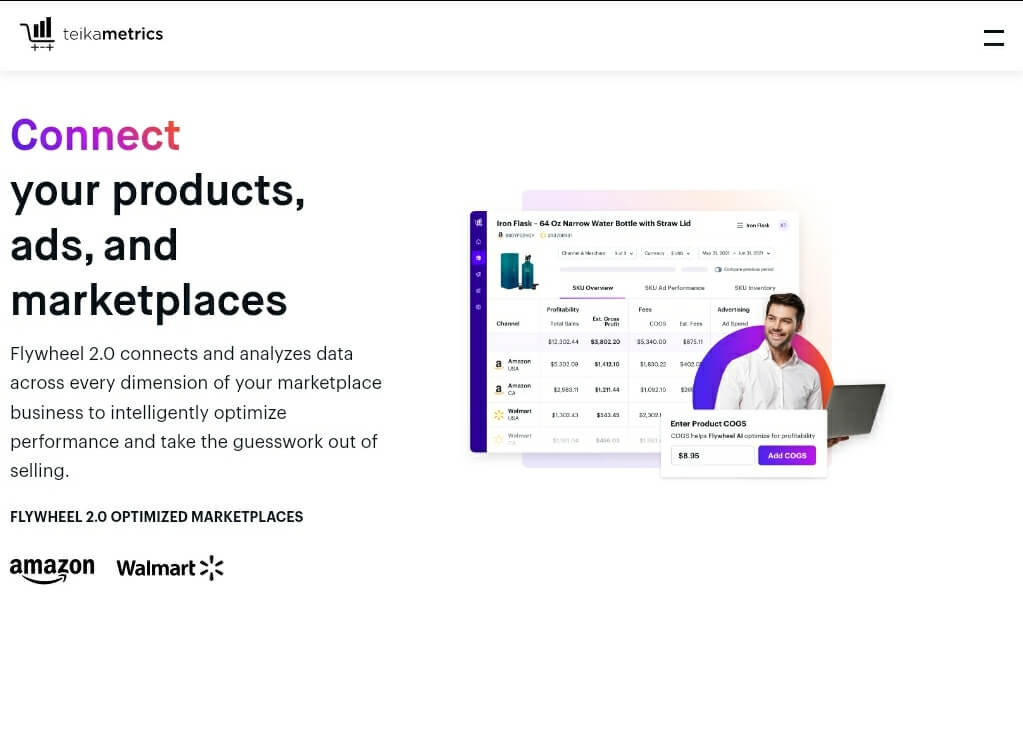 Digital marketing is an umbrella concept. Everything from setting an ad budget, and bidding for keywords, to creating ad campaigns can feel overwhelming if it is not your area of expertise.
Teikametrics uses AI technology to take the guesswork out of it all. The free plan, Flywheel 2.0 Basic, offers insights to help you make more informed ad and general Amazon seller decisions.
Features
Teikamterics' free package is ideal for:
Obtaining metrics on ad campaigns, ad groups, and keyword performance.
Gauging a product's profitability based on various costs (including advertising) versus its average selling price.
Receiving proactive inventory prompts and ad notifications.
AMZ Refund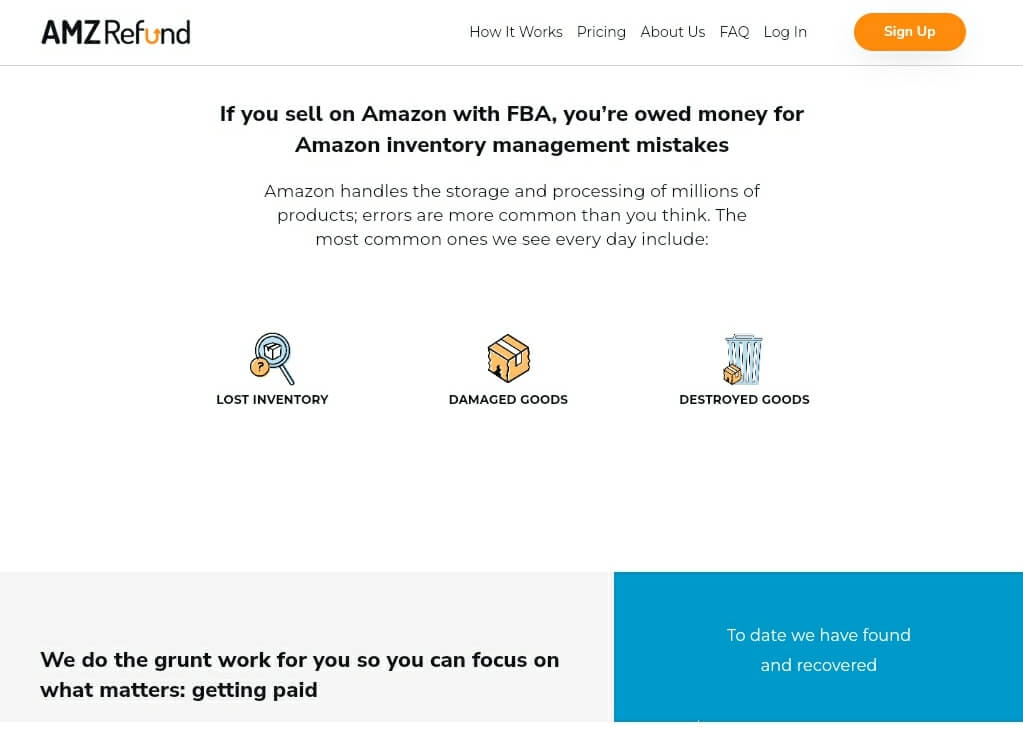 Amazon may owe you refunds from time to time due to errors made by the FBA team. You may be eligible for such reimbursements if:
Amazon does not credit your inventory when a customer returns an item.
Amazon charges you more than you should pay for FBA services due to errors in weight or volume calculations.
Amazon damages your inventory during handling or transport.
Amazon fails to credit the restocking fee to you when a customer returns a product.
It is easy to miss such errors amidst all the day-to-day tasks of running your business. On the upside, you can use AMZ Refund for free to check if Amazon owes you.
Features
AMZ Refund:
Audits your Amazon seller account, after you sign up, to find out if you have any unclaimed reimbursements.
Compiles a free report with the audit findings.
AMZ Super URL Tool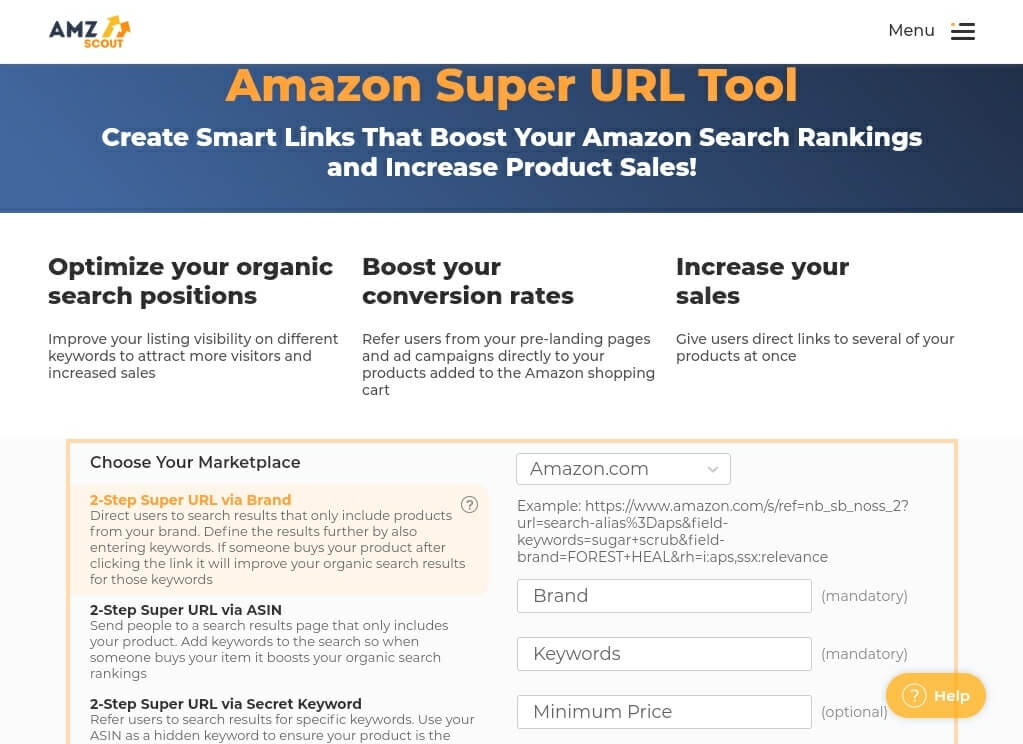 Creating custom links to your products could boost your rankings and overall performance on Amazon.
The AMZ Super URL Tool is designed to generate such links for you. It includes unique details such as:
Your brand name
ASIN
An exclusive keyword
An add-to-cart redirect
A 'buy together' redirect if you are product kitting
You only need to provide the details and the tool will generate the link.
Features
The Amazon Super URL Tool:
Generates smart links that can optimize your organic search positions.
Can customize your links to ensure that they only direct customers to landing pages to add your products to your cart.
Generates links that can lead customers to multiple listings under your seller account.
Amazon Sales Estimator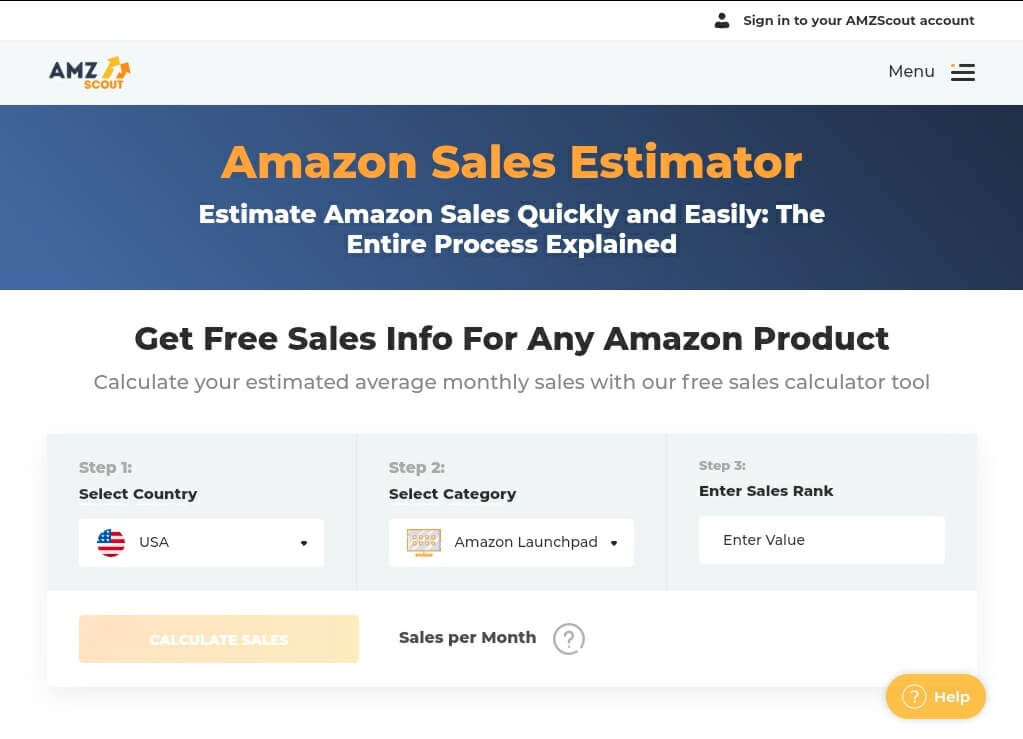 The Amazon Sales Estimator is another free tool from AMZScout. It provides sales projections of products listed on Amazon based on key indicators like Amazon BSRs.
It works as follows:
Access Amazon
Find the particular product that you need sales estimates for
Locate its BSR among its product details
Copy the BSR
Open the Amazon Sales Estimator
Paste the BSR in the 'sales rank' field
Select the country
Select an appropriate category
The Amazon Sales Generator will then bring up projections based on the sales data that it gathers from Amazon.
Features
The Amazon Sales Estimator:
Is accessible online without complex installation procedures.
Only provides monthly sales projections.
Amazon Review Request Tool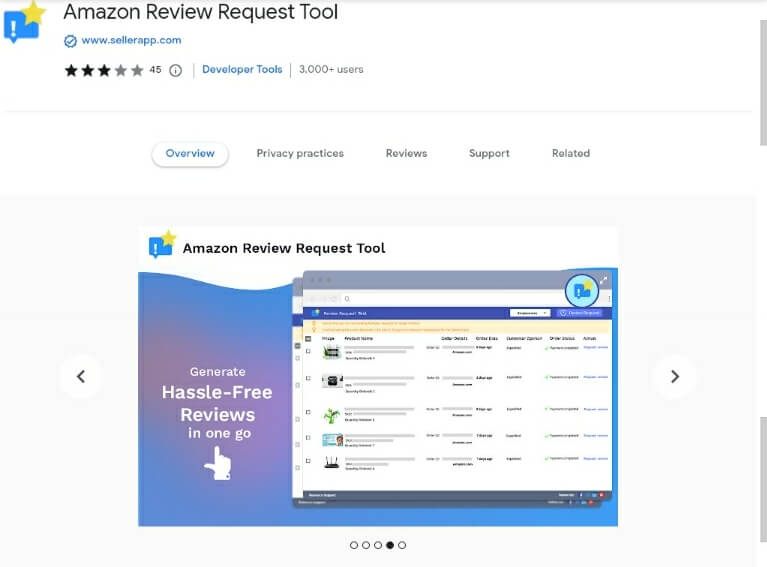 Amazon allows buyers to review your products or services at will. Still, you can choose to be proactive and request reviews from customers because:
Customer feedback can show you how to improve your business and attract more customers.
Getting more reviews can help build your Amazon seller reputation.
Requesting a review from a buyer can endear you to them because it shows that you care about their satisfaction.
Requesting reviews using this tool works as follows:
Install the Amazon Review Request extension
Log in to your Amazon seller account
Click on the extension's icon
Select your preferred Amazon Marketplace
The extension brings up the orders eligible for review requests
Select those that you would like to seek reviews for
Click 'Request Review'
Features
The Amazon Review Request extension:
Allows you to request multiple reviews at a go.
Only displays orders eligible for review requests 4 to 30 days after delivery.
FAQs about Free Amazon Seller Tools
What Are the Benefits of Amazon Seller Tools?
Amazon seller tools:
Make researching a lot easier because they are built to gather data very fast.
Allow you to evaluate different Amazon Marketplace dynamics, make wise decisions, and have a better chance of becoming a successful Amazon seller.
Save you money that you could have lost due to bad decisions or paid to experts to provide you with the same insights you can get from the tools.
Most of them are plug-and-play solutions that any seller can use.
What Is the Best Amazon Seller Tool?
Every Amazon seller has different goals and business aspects that they need help with. Therefore, it is best to simply choose a tool or a combination of tools according to your needs.
In Conclusion
E-commerce is rooted in tech and innovation. It is thus only right to embrace tech solutions, like those listed above, when running such a business. It goes a long way in creating harmony, cost-efficiency, and ease in your operations.
We too, at NicheSources, have fully embraced tech solutions. This is evident in our seamless product sourcing solutions, quick turnaround times, and global accessibility. You can count on us to source within your budget and fulfill Amazon's high FBA standards.
Reach out to us with your sourcing requirements at any time, request a quote, and we will promptly get back to you.