The shoe industry has seen upward growth since its inception. Different fashion items for men and women always keep trending every year. That is why selling shoes is always a good idea.
Most shoes are made in China and supplied all over the world. Therefore, you need to know the best shoe manufacturers in China.
In this article, you will find the list of top shoe manufacturers that you can find in China and can start your shoe business conveniently.
Let's start.
The following is the list of top shoe manufacturers in China. The list is with no specific order because your preference will depend upon the nature and requirements of your business.
1. Range Cover
Range Cover is a Chinese shoe manufacturing factory. They supply shoes at wholesale rates.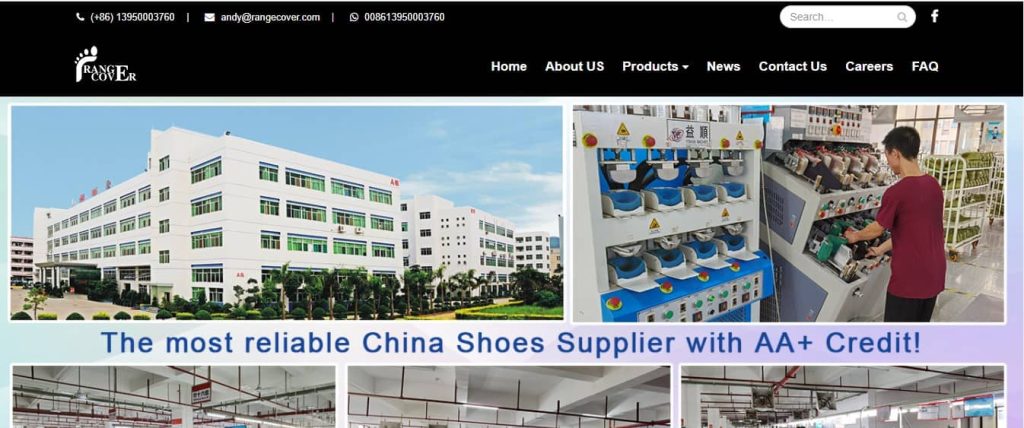 As per their website, they offer wholesale shoes in the following categories.
Sneakers
Women leather shoes
Heels
Flat shoes
The special aspect of this shoe manufacturer is that it offers customized shoes also. So, if you want to start a private label business of shoes, this factory can be a great choice.
They make different kinds of shoes for men and women. The list of shoes they specialize in manufacturing is mentioned as under.
Sports shoes
Running shoes
Training shoes
Luxury leather shoes
Sandals
Hiking shoes
You can contact them via their website or WhatsApp and discuss their requirements for doing business with them.
They may surely be having some minimum order quantities. So, you must ask such questions from them before selecting this factory as your next vendor.
2. Longho Shoe Factory
Longho is a shoe manufacturing factory in Dongguan, Guangdong, China. The factory was launched in 2012 and since then, they have been the leaders in providing footwear all over the globe.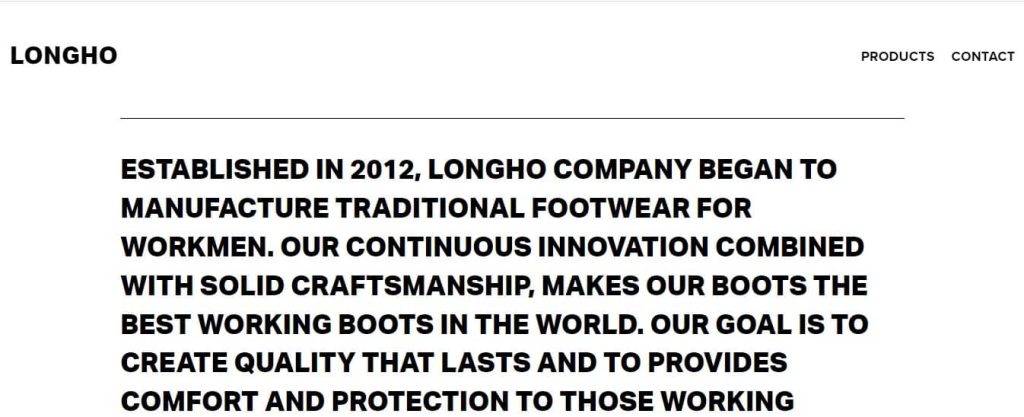 They claim to have the finest research and development technologies to come up with high-quality shoes.
The good thing about this factory is that they are committed to making this world safe to live in.
So, you can also use a similar tagline to attract more customers by telling them that you sell shoes that are made in eco-friendly ways and they do not harm the environment.
They specialize in manufacturing men's shoes. Following is the list of men's shoes they manufacture.
Leather boots
Work shoes
Chukka boots
Waterproof boots
Chelsea boots
Mid-calf hiking boots
Tactical military boots
Western boots
They have different sizes, styles, and types of shoes that are mostly made of premium leather.
3. Zhejiang Huanqui Shoes Co., Ltd
This is a shoe factory with a fabulous history of manufacturing and selling shoes of high quality. The company was established in 2002. It is located in Xinjiang in China.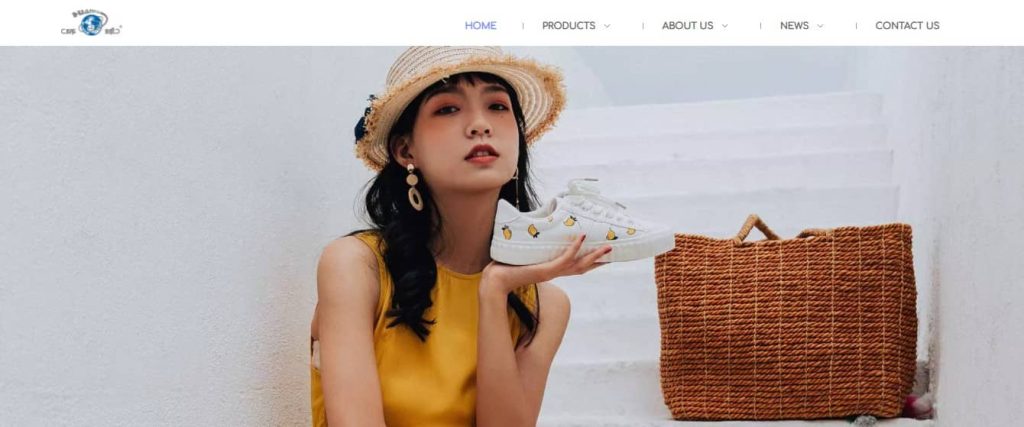 They have been recognized as the top 100 shoe manufacturing factories in China for vulcanized shoes.
The company sells the shoes with its brand name in China and also deals in exporting shoes to different parts of the world.
They have different Minimum Order Quantity (MOQ) for different types of shoes for men and women.
Following are the types of shoes they manufacture in their factory.
Sneakers
Women's shoes
Men's shoes
Kids shoes
Sandals
These are the broad categories that they have mentioned on their website. You will find a lot of different styles and types of shoes under each category.
With more than 10 production lines, they can manufacture above 20 million shoes annually.
It is worth mentioning that they have big brand names including Tommy Hilfiger, Marvel, and Disney as their partners.
4. Huadeli Shoes
Wenzhou Huadeli shoes is a Chinese shoe manufacturer that focuses solely on exporting shoes.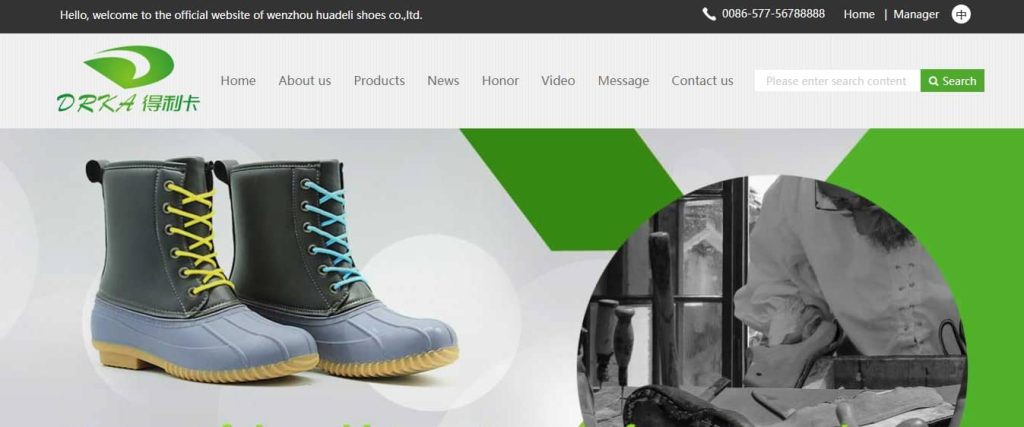 It started its operations in 1979 and since then, they have been manufacturing shoes of different kinds.
They have been exporting shoes all over the world for more than 30 years. They are specialized in manufacturing leather shoes for different niches. Some of the shoe series they manufacture are listed below.
Children's shoe series
Snow boots series
Baby shoes
Canvas shoe series
Casual shoes
Boots series
Rain boots shoe series
Slippers series
Duck boots
Sports shoes
They have also mentioned some shoe certifications on their website which shows that they are quality-conscious and make shoes as per international standards.
They take pride in describing the technology and precision they use in manufacturing shoes with premium material, latest designs, and flawless finishing.
Prices and MOQs are mentioned on their website. So, you would have to contact them via their website, email, or contact number to discuss your business prospects with them.
5. Green Shoe
Green Shoe is a Chinese manufacturer of shoes based in Jinjiang, China.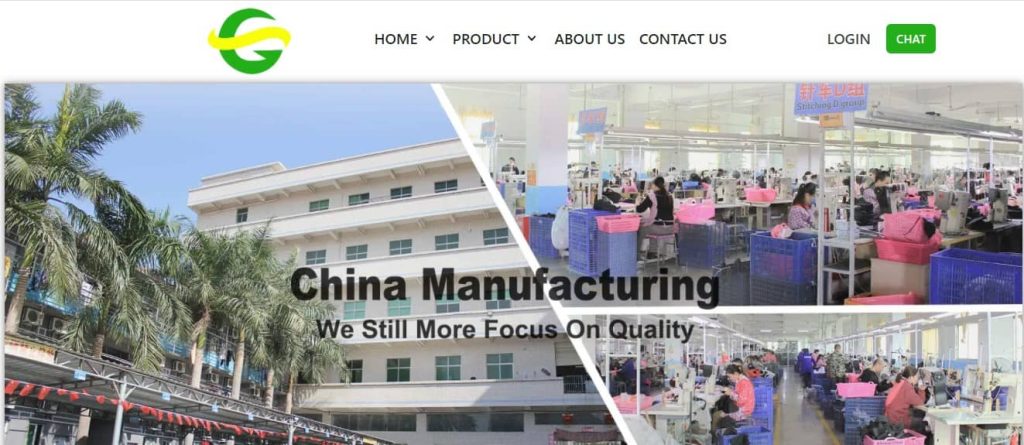 It was established in 1994 and since then, this factory has been manufacturing shoes of different kinds.
The company mainly focuses on producing sandals.
This company is vibrant in developing its sales and marketing networks.
They have the following shoe products to offer.
Fashion Sneakers
Printing Shoes
Sports Shoes
Shake Shoe
Slides Sandals
This factory is a proud partner with big brands including Versace, Walt Disney, Everlast, etc.
They claim to use the finest raw material and the latest technology in manufacturing shoes. They have multiple production lines and
Unlike many other shoe manufacturers in China, they also maintain their social presence over Facebook, Instagram, YouTube.
They have also displayed multiple certifications on their website from the inspection organizations like SGS. This means that they have a dedicated focus on quality.
They have mentioned decent shoe information along with their sizes on their website. You will not find the shoe prices and MOQs on their website.
You may contact them and discuss how this factory can help you in providing shoes for your retail or wholesale shoe business.
6. Fuzhou Risheng Shoes
Fuzhou Risheng Shoes Co., Ltd is a relatively newer manufacturer of shoes in China.
It started in 2018 and has been manufacturing shoes of different kinds including sandals, casual shoes, flip-flops, etc. They are also called Risen Shoes.
Don't raise your eyebrows at the recent start of this company because the top management of the factory claims to have a huge experience in the shoe industry since 2003.
They claim to have the highest taste for fashion and quality in the footwear industry.
The list of shoe types they manufacture is mentioned below.
Garden Shoes
Flip Flops
Indoor Drag
Sandals
Casual Shoes
So, if you have a plan to start a business in these categories, you can consider contacting them for quotes and MOQs.
They have partnered with brands like Marvel and Disney.
7. Wenling Kaijun Shoes
Wenling Kaijun shoes co., Ltd is a shoe manufacturing company in China. It is located in Zhejiang province.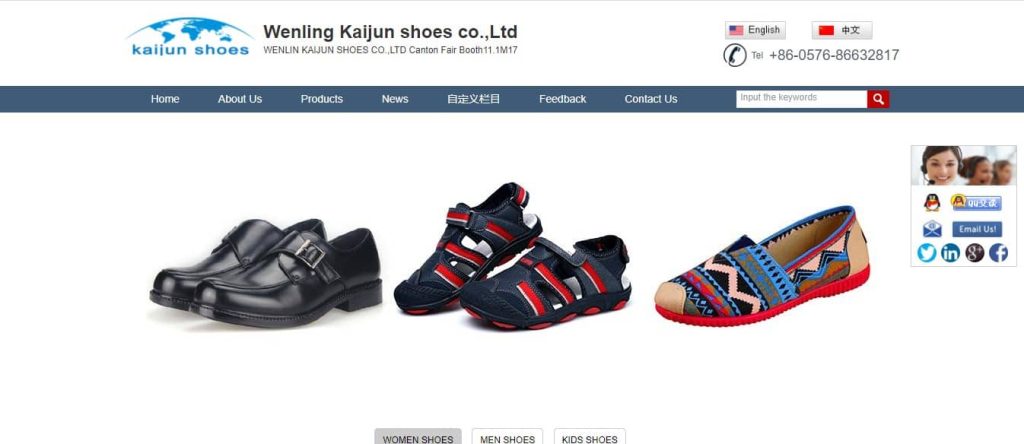 This shoe manufacturer seems to take his business quite seriously as it has mentioned the time it takes to reach the factory from the train station and the airport in Wenling city in China.
This certainly means that they must be expecting visitors or businesses from around the world.
The list of shoe items that they manufacture and offer is mentioned below.
Ladies shoes
Men's shoes
Kids shoes
Moccasin shoes
Sports shoes
Sandals
They have mentioned the general shoe information on their website. For complete information regarding price and MOQs, you may have to contact them via their website.
You can access the information regarding the lead time and sample times, etc from their website. You can also find the booth number of this factory for their presence at the Canton Fair.
8. Marcusius Shoes
Marcusius is a trustable name for shoe manufacturing in China. It manufactures a variety of shoes that mostly include stylish shoes with special textures.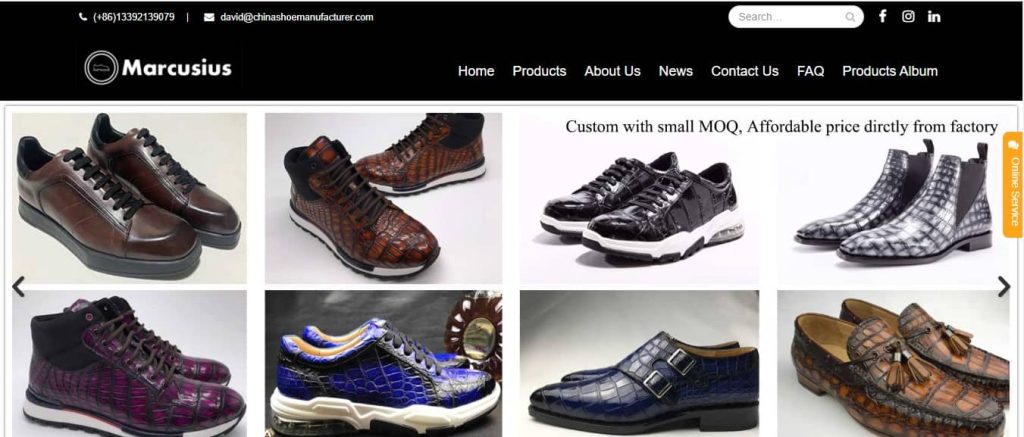 They like to call themselves "China Shoe Manufacturer" as the name of their website says.
They are quite aggressive with their sales and marketing operations. That is because, unlike other Chinese manufacturers, they are available 24/7 for customers' support.
You can find the following types of shoes from this manufacturer.
Casual Shoes
Dress shoes
Goodyear shoes
Alligator Shoes
Crocodile Shoes
Lizard Shoes
Python Shoes
Ostrich Shoes
Exotic Skin Sneakers
In addition to shoes, they also manufacture some accessories including belts, bags, hats, etc.
They also offer shipping shoes directly to your warehouse in any country.
They claim to have more than 2000 shoe styles that they offer at wholesale prices.
The best part about this factory is that it also offers shoe customization. So, you can start your brand of shoes with their help.
Another great and unique feature of this factory is that they offer as low as 1 pair as an MOQ for leather shoes.
Do have a look at their manufacturing lines on their website to see the quality of manufacturing shoes at their factory.
They have the objective of making business easier for their customers. This is what every business would want from its vendor.
9. AMC Shoes Factory
AMC Shoes Factory is a promising shoe manufacturing company in China. It was established in 2002 and has been providing shoes all over the world. It is located in Dongguan, China.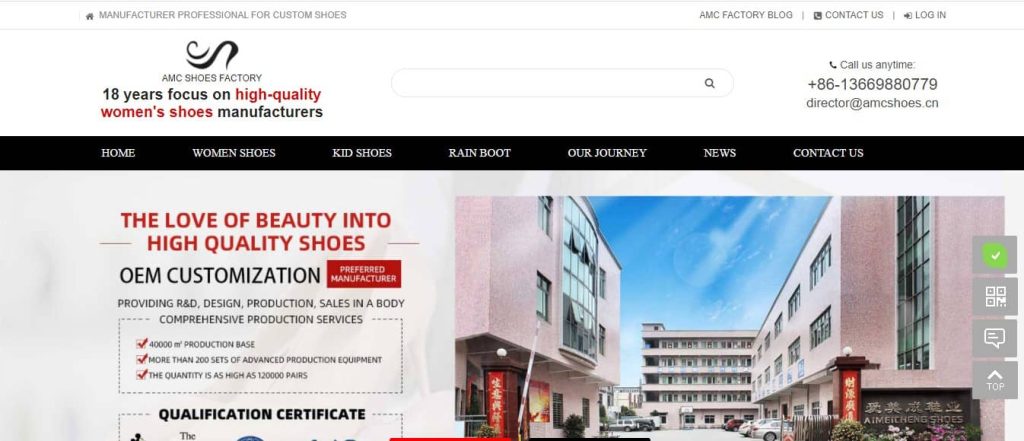 They believe in providing quality shoes to ensure full customer satisfaction. They also maintain international certifications showing their high standards for quality.
They are also capable of handling big orders as they claim to be working with the OEMs worldwide. They offer shoes in the latest fashion.
They have a MOQ of 300 pairs only. Following is the list of shoes that they manufacture.
Women's shoes include pump shoes, casuals, sandals, boots, sneakers, and slippers.
Kid shoes for girls and boys.
Rain boots including long and short boots.
The only drawback that this factory may have is that they do not offer shoes for men.
They also offer shoe customization. so, you can ask them to manufacture your personalized designs.
The prices are not mentioned on the website. You only have the option to contact them on their website to discuss your business requirements.
10. Olicom Shoes
Olicom Quanzhou Import and Export Co., Ltd is yet another great shoe manufacturer in China. The shoe factory was established in 1997. Some people in China know this factory as Huakai Shoes.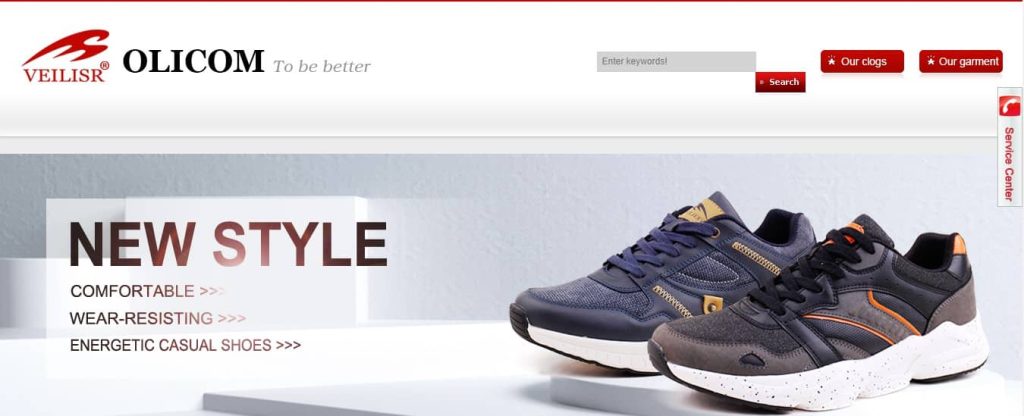 Olicom is a big name in China for footwear. Their shoes are sold with the registered trademark of VEILISR.
The types of shoes you can have from this factory include the following.
MBT health shoes
Hiking boots
Sneakers
Sports shoes
EVA clogs
Roller shoes
Skateboard shoes
Casual shoes
Steel toe work boots
Sandals
Slippers
Flip flops
Football boots
Quite a huge list to work on, right? Yes, you can start your business by procuring any type of shoes from this factory.
Olicom has its presence in the famous trade fairs including Canton Fair, Riva Garda Fair, and GDS Fair.
The factory also manufactures some accessories that include handbags, keychains, bracelets, etc.
11. Spider King
Spider King is a great Chinese brand in China that is also a factory with the same name. Rather than being a single factory, Spider King has around 11 different manufacturing units in China. It is located in Zhejiang, China.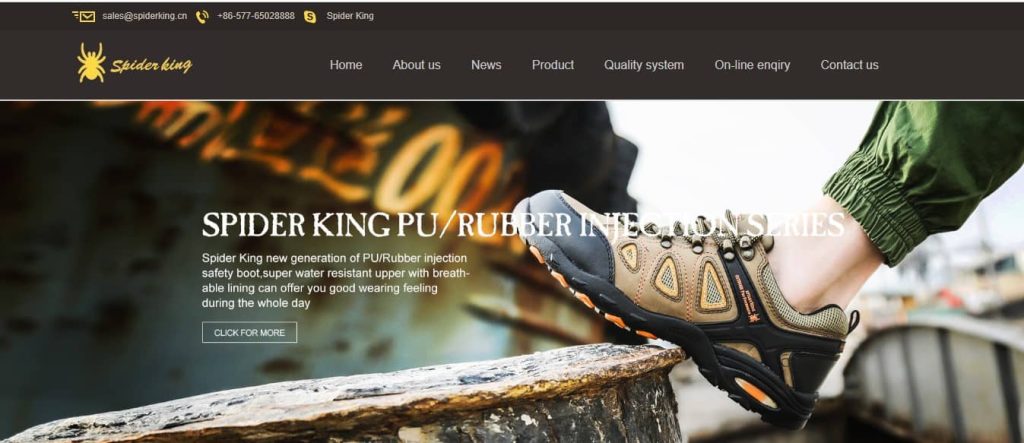 It is known for manufacturing top-class casual shoes. They use the latest technology to manufacture shoes that also meet international requirements for quality.
That is the reason they have garnered a strong place in the regions including the Americas, Europe, and Africa.
They take special care of quality. That is why they have mentioned the certifications on their website.
They specialize in manufacturing casual shoes for men. They have categorized the series of their casual shoes as follows.
Desma Injection Series
Lightweight Cement Series
The website lacks information regarding the prices and MOQs of the shoes. It only shows the pictures of the shoes. The necessary information regarding the shoes is also not there on the website.
They may want their customers and prospects to contact them for the information so that they can make a deal.
12. Zhejiang Aokang Shoes
Zhejiang Aokang Shoes Co., Ltd. is a well-established shoe manufacturing company in China. They had established the\ir manufacturing facility in 1988.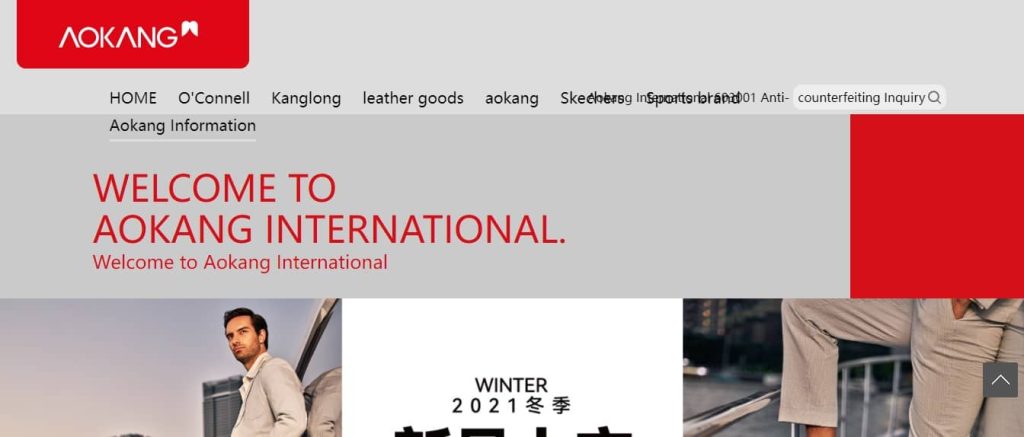 They have gone on to become one of the largest shoe-making companies in China since then.
The level of their research and development is so huge that they have established a proper institute to research the latest technology on shoes. They have attained many awards for manufacturing quality shoes.
They categorize shoes with broader terms that are mentioned below.
Fashion Shoes
Sports Shoes
Leisure Shoes
Urban Shoes
Lifestyle Shoes
They have around three shoe manufacturing sites in China.
The website is in the Chinese language but you can access this website using the Google translator to contact one of their representatives.
13. Yue Yuen Shoes
Yue Yuen Industrial (Holdings) Limited is a Chinese-based footwear manufacturing company. It dates back to 1969. Since then, the company has grown to the height of success in the shoe industry in China.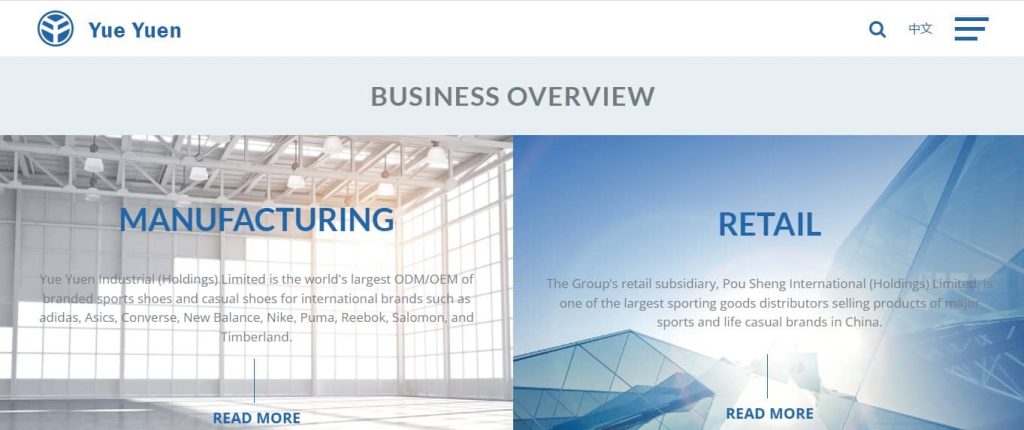 They manufacture shoes for the OEMs that include some of the biggest names in the industry including Adidas, Nike, Puma, Reebok, etc.
This company is so huge that it manufactures and supplies almost 20% of the global needs for casual sports and sports shoes.
As the company prefers to work with the OEMs, you need to have a really big requirement for them to manufacture shoes for your business.
14. Santic Shoes
Santic shoe factory is an expert in manufacturing specialized shoes meant for professional cycling. The company was established in 2004.
The good part about this manufacturer is that they also offer customization. So, it can be a good choice for you if you want to sell shoes with a specific brand name.
They also run an online shop to sell the same shoes with their brand name.
In addition to the shoes for cycling, they also provide accessories for cycling. So, if you want to target an audience that is passionate about cycling, Santic can be a great choice for you.
So, this was the list of the top 15 shoe manufacturers in China. Now, let's move on to the FAQs.
FAQs about Shoe Manufacturers in China
We have answered the top FAQs regarding shoe manufacturers in China. Read the answers for further clarity on the topic.
Where Are Most Shoes Made in China?
Dongguan, Guangdong is the shoe manufacturing hub in China. You can find thousands of shoe manufacturing companies in this area that are manufacturing different kinds of shoes.
That is the reason this place is also referred to as the largest footwear manufacturing place in the world.
How to Find Shoe Manufacturers in China?
Finding shoe manufacturers in China can be a difficult task. While it seems easy to just Google the list of shoe manufacturers in China, it is not that simple.
Most shoe manufacturers in China have not developed their websites as per international standards. Even if they have made their websites, they would not have been SEO-friendly.
This means that whenever you search for Chinese shoe manufacturers, you may only get the results for the websites that have done their SEO correctly.
As a result, you may miss out on the list of manufacturers who could have offered you good shoes at cheaper prices.
That is why we have brought the list of Chinese shoe manufacturers in this article.
Other methods to find shoe manufacturers in China are as follows.
Social media is such a great platform that it has also brought businesses together. Most manufacturers maintain their presence on social media to interact with their customers.
You can try finding shoe manufacturers in China using these platforms. The most relevant social media platforms to reach footwear manufacturing companies include the following.
Facebook
Instagram
YouTube
LinkedIn
Pinterest
E-commerce Platforms
Online shopping is the new normal in today's world. You can find shoe manufacturers in China by searching for them on the following e-commerce platforms.
Alibaba along with its subsidiaries including AliExpress, Taobao, and 1688.
Made-in-China
HKTDC
DHgate
China Brands
ChinaVasion
Most Chinese manufacturers have their presence on these e-commerce platforms because these are Chinese-centered platforms.
You just have to search for shoes on these platforms and look for the suppliers in the results. There is a way to contact suppliers on these websites. You can find real manufacturers in no time.
Trade Fairs
Another great way of finding shoe manufacturers in China is to attend trade fairs and business expos. International fairs mostly host manufacturers from all around the world.
Attending fairs that are happening in China gives you more chances to inch closer to the Chinese manufacturers. These fairs include the following.
Canton Fair
Yiwu Trade Fair
Micam Fair
Magic Fashion Trade Show
Online Directories
Online manufacturer directories are also great sources to find shoe manufacturers in China. You can try out the directories like DNB, Global Sources, mfg, Thomas Net, etc.
What Country Makes the Best Quality Shoes?
China is the global leader in manufacturing the best quality shoes. Even the leading shoe brands like Nike and Adidas have their major portion of manufacturing in China.
With over 11 billion pairs manufactured every year, China is the global leader in shoe manufacturing. So, that is why China is the country that makes the best shoes in the world.
How Do I Get My Shoes Manufactured in China?
If you want to get your shoes customized by a manufacturer in China, you would have to find manufacturers who offer shoe customization.
Getting customized shoes comes with a specific cost. There will be very few factories that would be willing to make a single pair of shoes with customization.
A brief flow of the steps you have to follow to get your shoes customized from a manufacturer in China is as follows.
Write down all of your customized shoe manufacturing requirements including the raw material and shoe design, etc.
Find manufacturers in China that offer shoe customization.
Discuss your requirements with them and ask for the quotes.
Compare the costs and MOQs offered by each manufacturer.
Select a seller and ask to get a sample of your shoe within a specific time frame.
Sign a shipping agreement with relevant Incoterms.
How Can I Import Shoes from China?
Importing products from China is a process that requires a lot of care and experience. So, if you are new to importing products from China, you may require assistance.
If you want to buy from China, you would have to follow the process of finding a shoe manufacturer in China who exports shoes to other countries.
After discussing the requirements and agreeing on Incoterms, you would place the order for shoes after making the payment to the manufacturer or the seller in China.
You will have to decide whether you want to purchase shoes from a manufacturer in China or a wholesaler or retailer. The simplest way of importing shoes from China is to buy them from websites like Alibaba.
But if you want pepper guidance and want to save costs by selecting the right supplier in China, the best option for you is to hire a sourcing agent in China.
NicheSources provides top-notch product sourcing services in China and helps buyers source products from the best manufacturers and wholesalers in China at affordable prices.
What to Look for in Shoe Manufacturers in China?
If you want to import from a factory in China, you would have to check for the following points in a shoe manufacturer. This is to confirm the manufacturer's credibility and authenticity and make sure that your money is in safe hands.
Ask for the manufacturer's factory location with a complete address.
Ask for the samples of shoes that you want to order.
Check their official website and look for pictures of their manufacturing facility.
Ask for their manufacturing capacity.
Look for their customers' reviews and feedback for their previous orders. You can check it from their social media or their website.
Check what raw material they use to manufacture shoes and which international quality control standards they follow.
Hiring a professional product sourcing agent like NicheSources solves these issues. We have already taken care of all of the above-mentioned factors to make sure that the deal is safe and secure.
Summary
There are a lot of shoe manufacturers in China. Finding the right shoe manufacturer that fulfills your requirements can be a hectic task.
The list of shoe manufacturers that we shared in this article is for your assistance so that you may save time while you look for Chinese shoemakers.
If you want to save your time and costs, you can quickly ask for a free quote from us. We are always there to help businesses increase their profit margins by helping them source quality products from China at affordable prices.