The products you choose to sell on Amazon determine whether your business will thrive and how long it may take to achieve such success. It is also a high-stakes choice because you will likely have to invest significant capital to buy inventory.
Most Amazon sellers, therefore, research various products extensively before making a choice. Unfortunately, Amazon is a vast platform, making research difficult and time-consuming.
On the upside, you can avoid such challenges by using Amazon product research tools. They can gather data and perform comparative analysis, among other tasks, quickly and accurately.
Ready to start your research? Here are some top tools you should certainly consider.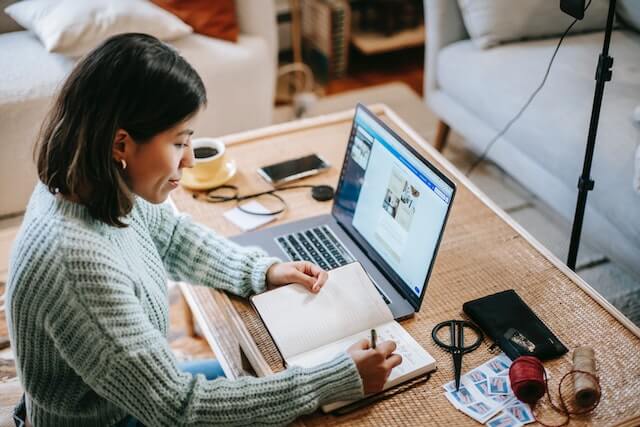 FBA Wizard Pro

FBA Wizard Pro can help you find winning products for retail arbitrage or private labeling. You can also use it to investigate whether products from a wholesaler would be profitable on Amazon.
It runs research for retail arbitrage opportunities by scanning over 1,000 stores to identify which of them have the best deals for the products you would like to sell.
On the other hand, if you would like to venture into Amazon private labeling, you can:
Look up the product on FBA Wizard Pro.
Set your preferred criteria using the filters that the tool provides
The software will then provide feedback such as the profit potential and competition level of the product.
FBA Wizard Pro offers a 2-week free trial and costs £67 a month thereafter.
Features
It conducts research by gathering data from external suppliers and comparing them to Amazon data.
It offers different types of filters to make your research parameters more concise.
You can only use this tool if you have an Amazon Pro Seller account.
Pros
FBA Wizard Pro runs on the cloud and thus you can access your research from different devices.
You do not have to install any software.
The tool is compatible with desktop, laptop, and mobile browsers.
FBA Wizard Pro offers free training resources.
Cons
You have to export product details from Amazon to FBA Wizard Pro to run your research.
It is a fairly user-friendly tool but it takes some learning to truly understand all its features and how they work.
AMZBase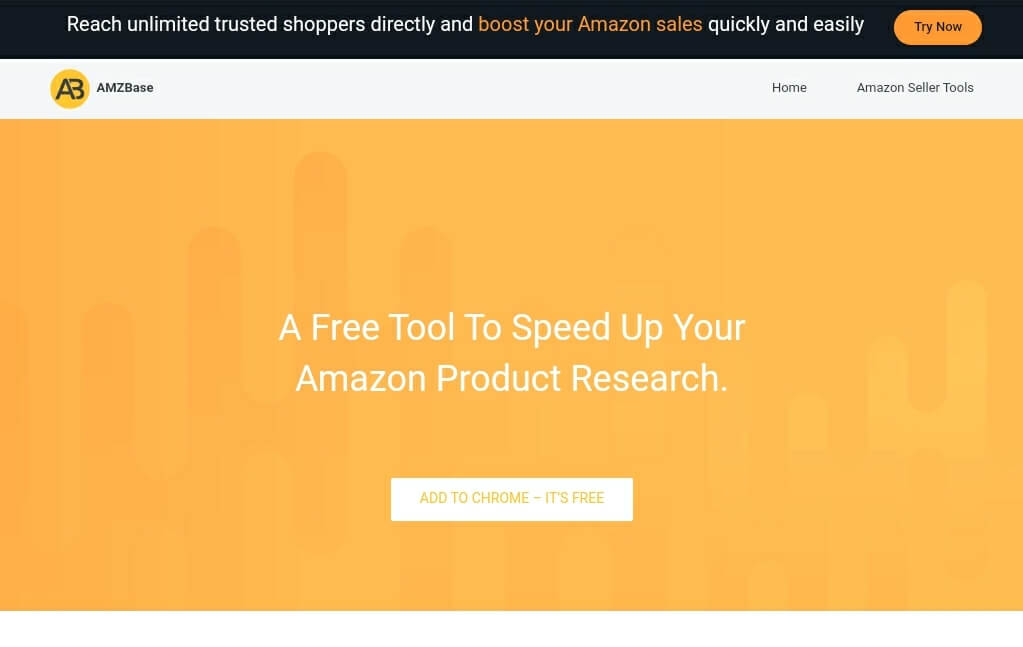 AMZBase allows you to explore:
The profitability of a product on Amazon.
The FBA costs of selling a particular product.
A product's price history and trends.
The wholesale prices and other listing details of the product you are researching on B2C platforms like Alibaba.
AMZBase is free.
Features
AMZBase is a Chrome extension that you install on your device.
It comes with access to other research tools like CamelCamelCamel, Google, and B2C sites.
Pros
It is free.
You can install it in a few easy steps.
You can view research information right on the Amazon product page.
It is easy to use with intuitive functions like hovering over a product image to obtain its ASIN.
Con
It offers a limited perspective as you may be unable to identify important details like the seller population in a niche.
Unicorn Smasher Pro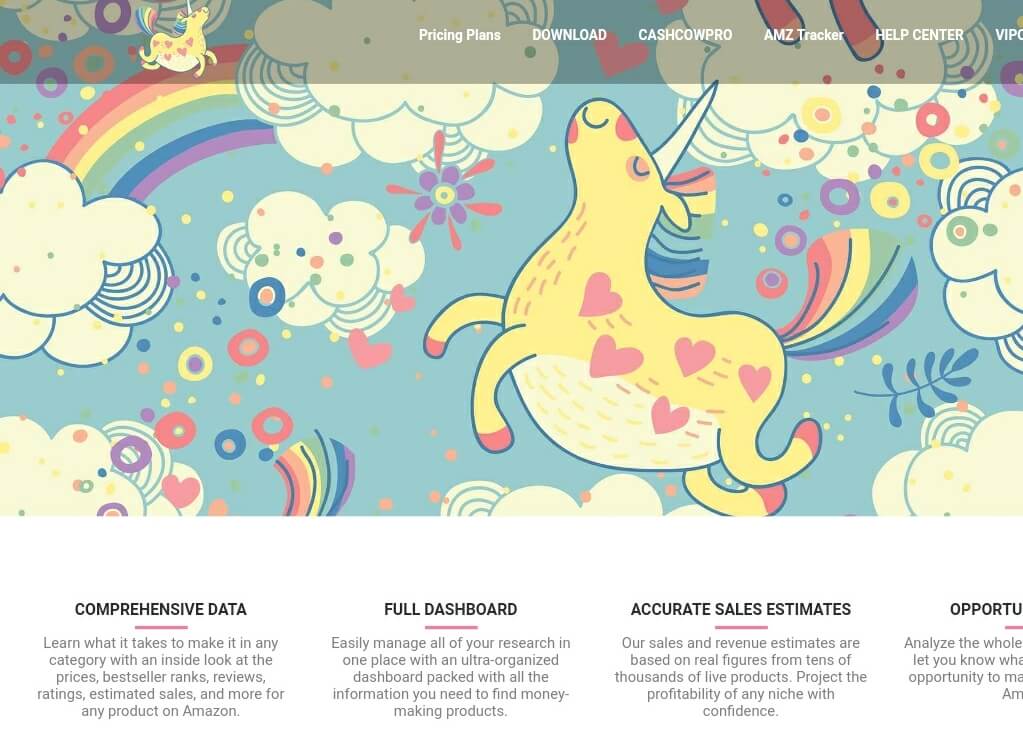 Unicorn Smasher Pro scouts through tons of data on Amazon to help you find all the information you need to decide whether a product is worth selling.
Take, for example, that you plan to start selling pilates equipment on Amazon. When you use Unicorn Smasher Pro to research the viability of the idea, it will evaluate the niche of Amazon and present a feedback sheet that includes:
The sales estimates of pilates equipment
Price details
BSRs of other pilates equipment
Reviews and ratings of your potential products
Revenue estimates in that niche
The number of sellers in a niche
Unicorn Smasher Pro subscriptions start at $49.99.
Features
Unicorn Smasher Pro is a Chrome extension.
You can keep track of different products that you research on the Unicorn Smasher dashboard.
You can export any research spreadsheet by downloading it as a CSV file.
It is available in the USA, UK, France, Italy, Spain, and Canada.
Pros
You only pay a one-off lifetime subscription fee for your preferred package.
It is one of the few tools that offer comprehensive data in a very organized presentation.
You can view product research details on the Amazon product page or the dashboard in more detail.
You can discreetly share your research findings using the CSV file.
Cons
Unicorn Smasher Pro does not offer a free trial where you can gauge its features.
The customer support is not very reliable on weekends despite being marketed as a 24/7 live chat.
ZonGuru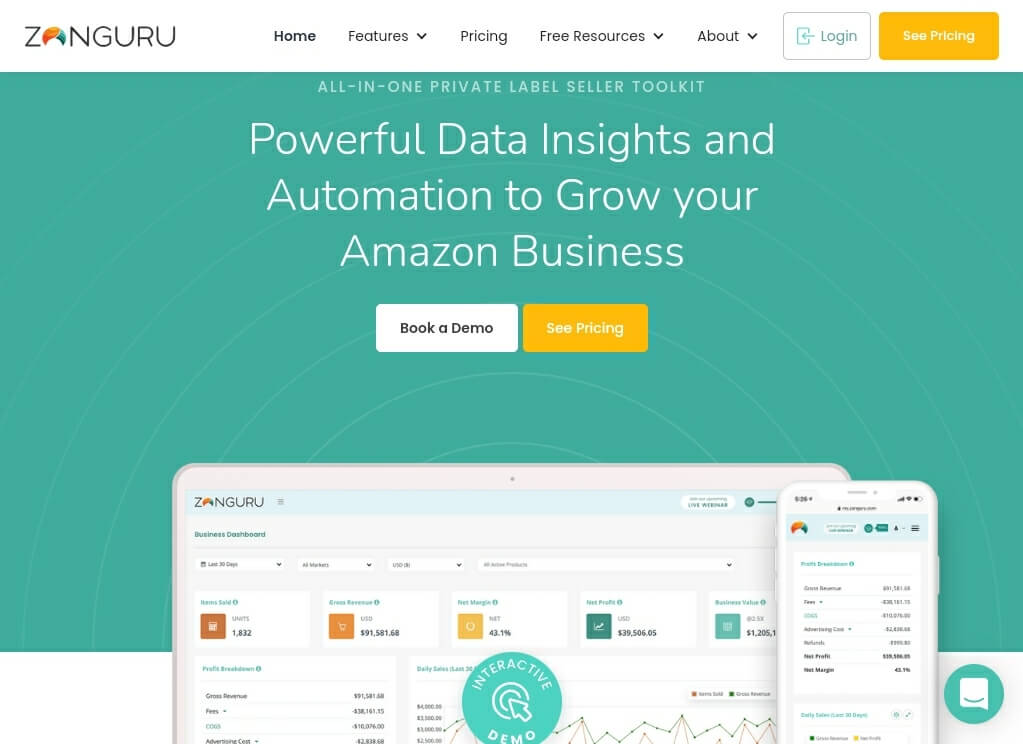 ZonGuru is a suite of many different tools that Amazon sellers can use to optimize their businesses. The various informative research tools include:
The Niche Finder – you type in a keyword, set relevant filters, and it scans Amazon to find you the winning products across different niches.
The ZonGuru Chrome Extension – you can use it to look up potential products and get feedback on their demand, revenue potential (considering FBA costs), competition, and how much you may need to invest.
Sales Spy – it is ideal for tracking monthly sale estimates for a product you are considering.
The Love-Hate tool – it researches the popularity of a product based on its reviews and ratings.
The ZonGuru Researcher plan costs $39 per month.
Features
Only one of the tools is a Chrome extension, the rest are readily available when you log into your ZonGuru account.
The data does not appear altogether because there are separate tools for different research aspects.
Pros
ZonGuru has custom plans that allow you to only pay for specific types of tools.
The research tools cover all the essential product performance aspects that you may need to evaluate.
Feedback is well organized and easy to understand.
Con
It gets confusing as you go back and forth between tools trying to gather information.
IO Scout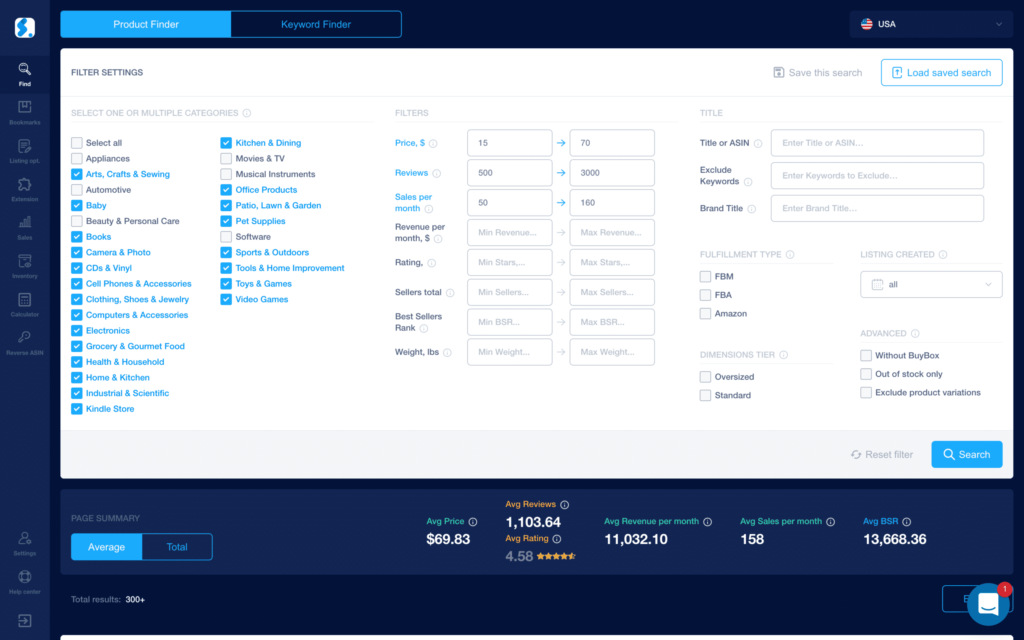 IO Scout is a software designed to help Amazon sellers excel. It comprises 10 tools. Most of which you can use for different types of product research.
You can control all your research sessions and even keep a record of them on your IO Scout dashboard. Research findings are presented in a spreadsheet but you can also view specific information in more depth by clicking on a particular tool.
IO Scout subscription plans cost between $25 and $39 per month.
Features
Product Finder – it enables you to look up products in different variations and get feedback on their potential.
Product Tracker – it monitors the general performance of a product over time based on BSR and sales.
IO Scout Chrome Extension – this allows you to view product insights on an Amazon product page.
Sales Analytics – it provides details on price, monthly sales, and the potential profitability of a niche.
Keyword Research – it helps you discover the keywords linked to a product.
Pros
You can view research data per tool or as a comprehensive spreadsheet summary.
IO Scout offers a 5-day money-back guarantee if you are discontent with the tools after signing up.
Customer support is reliable.
It works across different Amazon marketplaces.
Con
Only the Chrome extension is compatible with mobile devices.
SellerApp Chrome Extension
The SellerApp Chrome extension is a simple yet reliable tool that you can turn to for research. You only need to install it on your browser to start exploring different product options.
The extension is only compatible with laptop, desktop, tablet, and iPad browsers. The basic subscription is ideal for beginners and is free, albeit with limited features. Other plans cost $39 and $79 per month.
Features
Product analyzer – you can look up products on Amazon and click on the product analyzer to get insights about them. The insights include BSR, Buy Box details, opportunity score, daily and monthly sales, and revenue estimates.
Product Intelligence – this tool option shows you the performance trends of a product over time so that you can tell whether it is truly a winning choice.
FBA calculator – you can use this tool to find out how much it will take to sell a product on FBA as well as the profit margins to expect.
Pros
You can view research feedback right on the Amazon page.
It works on most Amazon marketplaces.
You can sign up for a free trial or use the free plan until you are ready for an upgrade.
Cons
Freemium and Prolite plans come with research limitations that could limit your exploration.
The Freemium plan does not include customer support and does not allow you to export any of your research findings.
Seller Lab Pro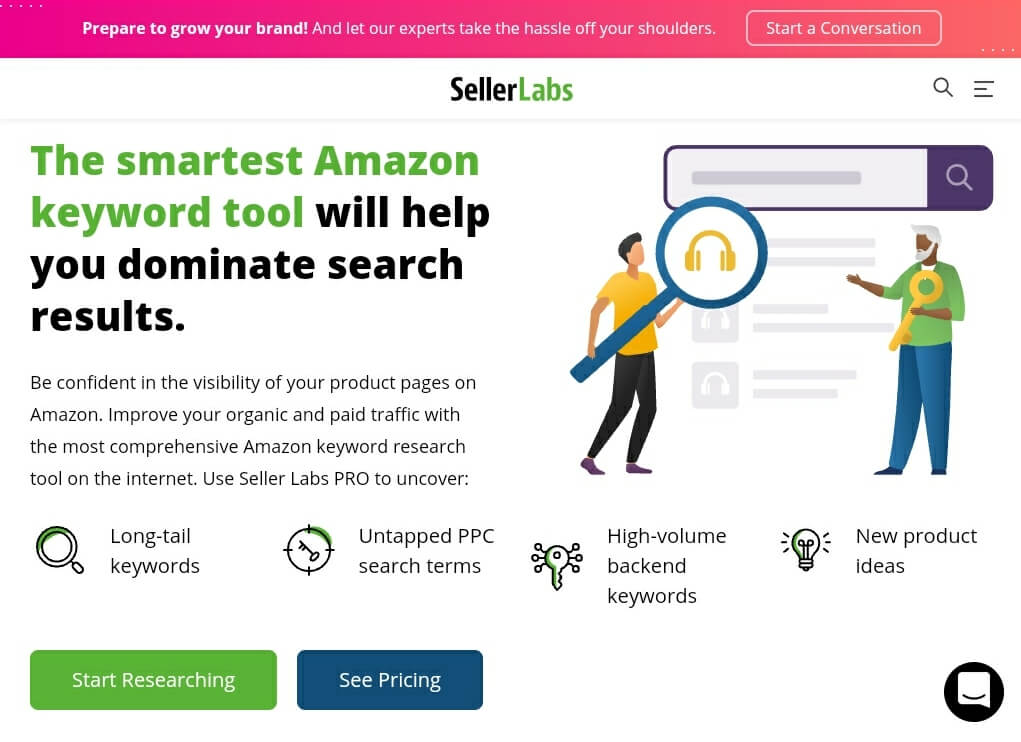 Seller Lab Pro is often overlooked as only a keyword research tool but it covers much more. You can use it to explore:
The FBA costs of a product
Price history
Sales estimates
BSRs of a product in a niche
Advertising suggestions for products
The monthly plan costs $49 but you can also start with a 30-day free trial.
Features
You can use it across international marketplaces.
Seller Labs Pro provides research reports and tracklists to help you keep up with the different products you are considering.
Pros
Customer support is available on the web and by phone.
This is one of the few tools that provide advertising insights.
You can learn more about how to use Seller Labs Pro by taking a virtual tour or using the free trial.
Con
The pricing plan is based on a sliding scale where your subscription fees increase as your revenues rise.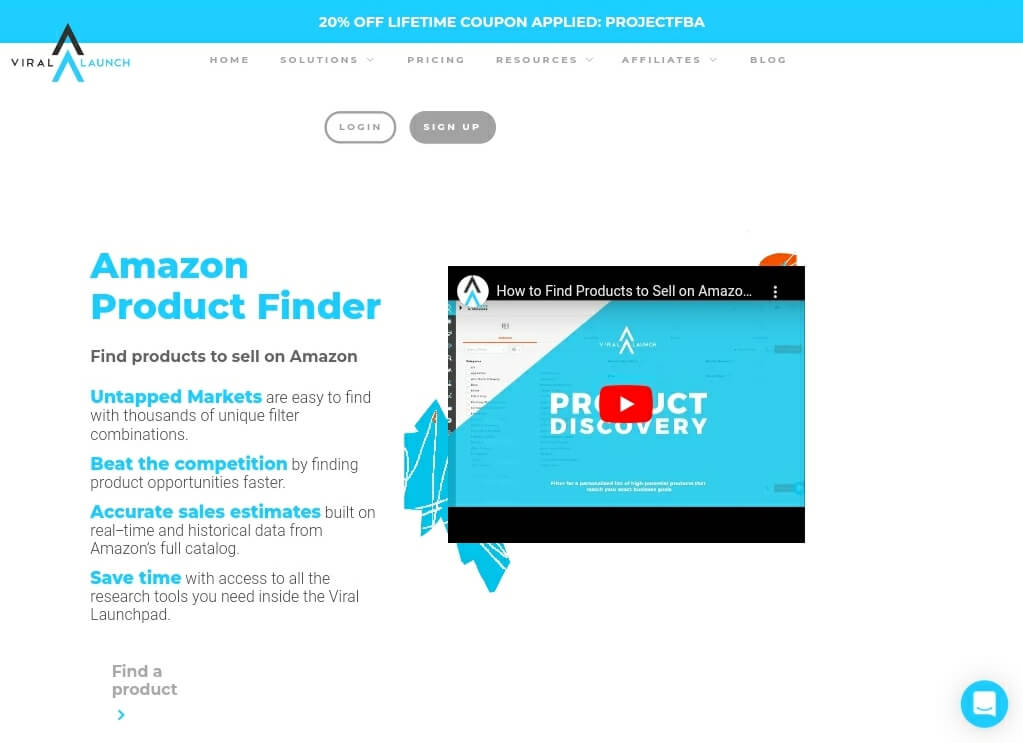 Viral Launch is all about finding winning products and opportunities to earn better profits. It works as follows:
Install Viral Launch.
Enter search parameters for the kind of products/niche you are considering.
Viral Launch brings up a list of winning products and brands that match your search terms, potential marketplaces, as well as sales and pricing data.
Viral Launch offers a free trial and subscription plans cost $69, $99, and $199.
Features
Amazon product filtering – you can run product or niche searches to discover new opportunities and product ideas.
Viral Launch browser extension – allows you to get real-time insights on an Amazon product page.
Guidance – all plans offer access to webinars and tutorials.
Global data – Viral Launch gathers data from different marketplaces to offer you a more wholesome perspective.
Pros
The user interface is simple and all the tools work in sync to provide a pleasant user experience.
You can rely on the customer support team to help you solve problems or understand how features work.
Higher plans offer access to tracking features where you can monitor your competitors and changes in rank and make any necessary changes.
Con
The most affordable plans come with limits regarding the details you can explore and the number of searches you can run.
AMZScout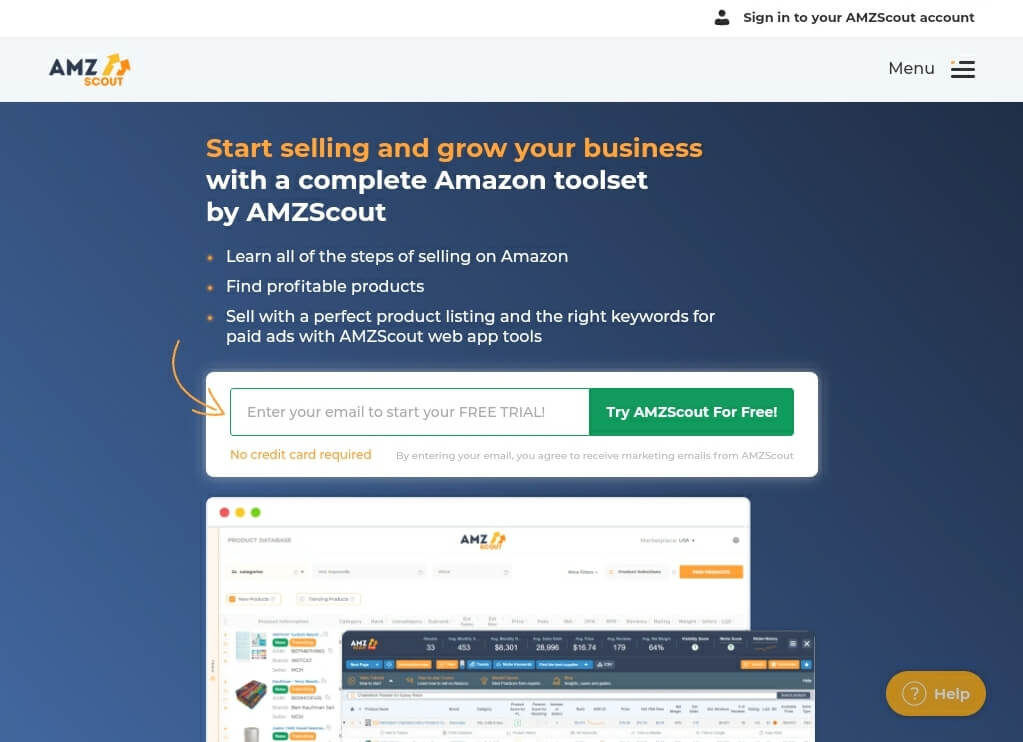 AMZScout is available as a software and a Chrome Extension.
The Amazon Seller Bundle software comprises tools that you can use for research and insights on growing your Amazon business. The Chrome extension, on the other hand, is ideal if you would like a nifty tool to gain quick insights as you scroll through Amazon product pages.
The Amazon Seller Bundle subscription costs $29/month while the Pro Extension costs $16.49/month.
Features
Exclusive Amazon Products – AMZScout shares reports highlighting 19 of the top 1% profitable products each week.
Product Database – this is a treasure trove of products in different niches organized by rank and profit stats.
Product Tracker – you can use this tool to track the performance of a product over time.
Quick view – this tool gives you a summary of a product's sales estimates.
Stock stats – you can use this tool to find out how much stock your competitors hold, estimate their sell-through rates, and in turn gauge demand.
Pros
Both plans offer access to an AMZScout seller course.
There is no limit to the products that you can research.
Both plans have a 10-day money-back guarantee.
The filters make it easy to keep your search results relevant.
Con
Key research tools and provisions like the Exclusive Amazon products report are only available if you are on a monthly plan.
Helium 10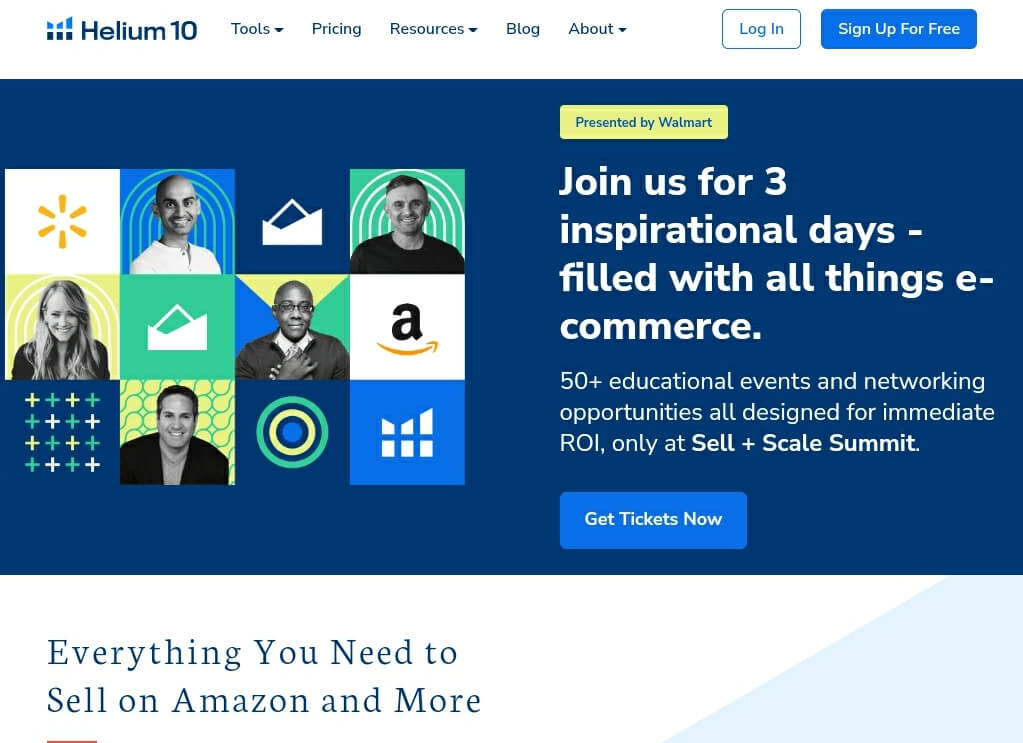 Helium 10 is an all-in-one software for Amazon sellers looking for reliable insights that can help them build thriving businesses. It consists of different tools that you can use to research products, keywords, and your competitors.
The Starter, Platinum, and Diamond plans cost $29, $84, and $209 respectively per month.
Features
Helium Black Box – it is a product database with over 450 million products that you can search through (using keywords or ASINs) to find winning options in different niches.
Review Insights – this tool aggregates product reviews and ratings to help you determine a product's popularity.
ASIN Grabber – this tool enables you to find multiple ASINs in bulk and use them to research various products.
Trendster – it finds and presents price, sales, and demand trends of the products you look up.
X-ray – it makes it easy to do a deep dive on a product by providing data on revenue and sales estimates as well as price information.
Calculator – it easily tells you how profitable a product will be based on sourcing expenses and FBA costs versus potential Amazon prices.
Pros
The tools cover all the essentials of product research and much more.
Data presentation using charts and graphs makes it easy to interpret your findings and compare product options.
Most tools allow you to evaluate more than one product at a time.
Con
It can take a while to master how the tools work even with all the resources that Helium 10 offers.
MarketScout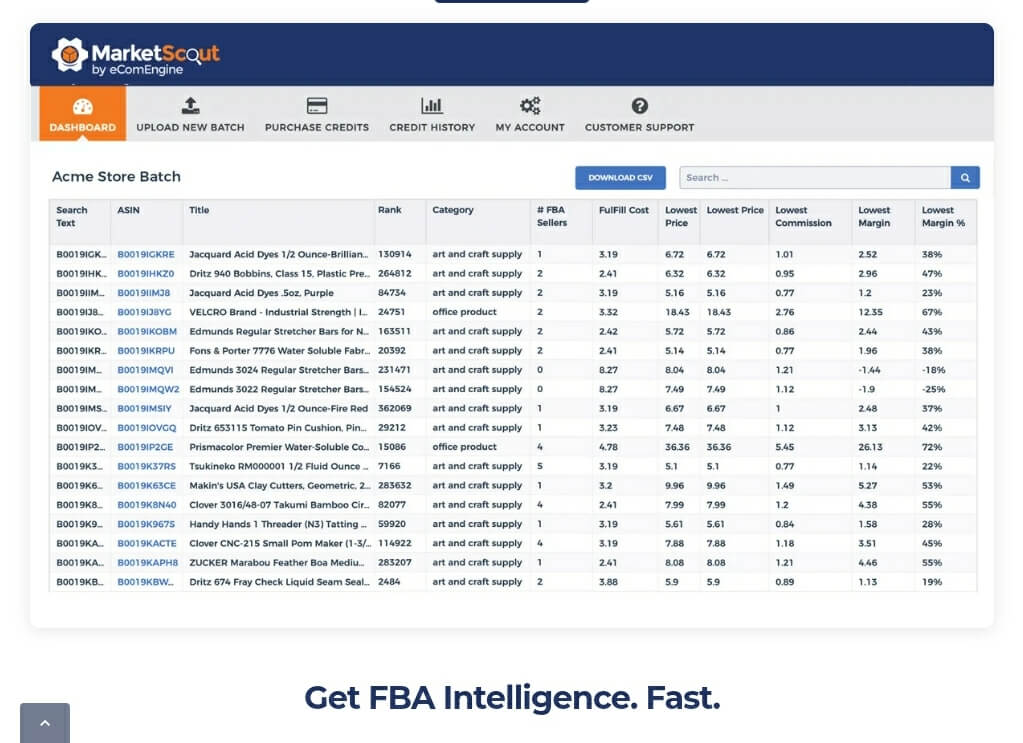 MarketScout may appeal to you if you prefer a tool that offers spreadsheet reports that you can analyze and use to make your decisions. You only need to run a search for the product you are researching on MarketScout and it will provide its:
Item title
Model number
Manufacturer
Amazon product sales rank
Category
Number of sellers
Lowest price
FBA fees
Lowest margin
Unit weight
Profit estimates
You can use keywords, UPC, or ASINs to run a search. The latter 2 are, however, more ideal if you would like to research multiple products in one go.
MarketScout offers a pay-as-you-go subscription where you pay $0.003 for every ASIN/product you research.
Features
You can download and export your research data using a CSV file.
All types of Amazon sellers (FBA, FBM, etc.) can use MarketScout.
Pros
Conducting multiple searches concurrently is highly convenient.
The pay-as-you-go model, allows you to only pay for the software based on your usage.
MarketScout offers accurate data based on the most recent Amazon findings.
The first 100 product checks are free.
Con
MarketScout is only available in English.
AmaSuite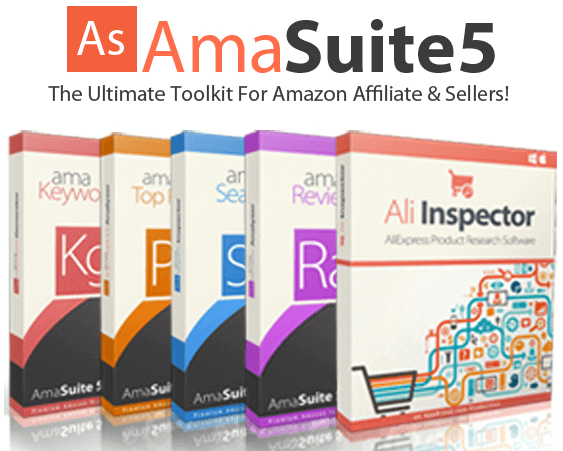 AmaSuite is customized to help you ace your research for products to sell via FBA or promote through the Amazon affiliate program. Like most options on this list, it is a software bundle that comprises 5 research tools:
Top Product Analyzer
Search Analyzer
Keyword Generator
Review Analyzer
Ali Inspector
You can make a one-time subscription payment of $197 or pay 4 $67 installments.
Features
Top Product Analyzer – this tool can help you identify the 100 hot-selling products in different niches. You can also filter them based on shipping options, price, ratings, and the number of sellers in the niche.
Search Analyzer – analyze search results in depth to get more insights on top product recommendations.
Review Analyzer – it evaluates product reviews and ratings to help you discover popular products.
Ali Inspector – you can use this tool to find popular products on AliExpress and import their listings and images.
Pros
AmaSuite 5 provides training for FBA sellers and affiliate marketers.
You have a 30-day money-back guarantee for any subscription you choose.
You get lifetime access for a single payment.
Cons
It takes one or some prior skill to learn how to use this software.
The presentation of research feedback could be better if it were in report form.
AmazeOwl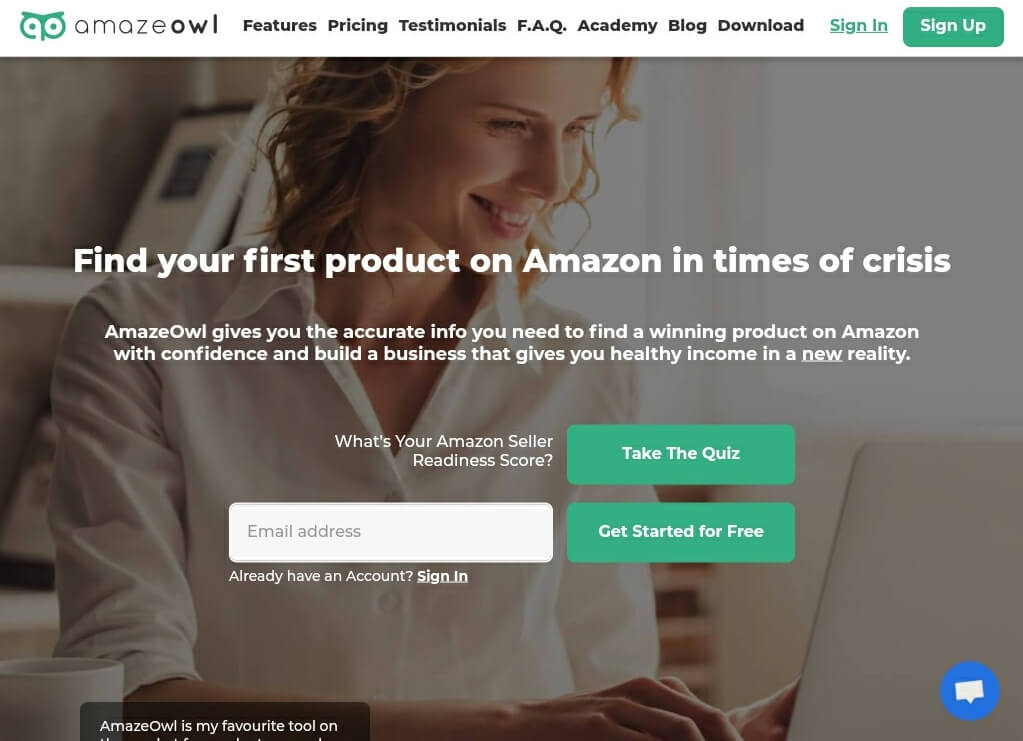 AmazeOwl is a beginner-friendly Amazon research solution. Right from the start, it provides a test to help you gauge where you are in your seller journey and get an idea of the kind of tools you need.
Additionally, it provides layered research data to help you quickly pick out promising products and create a shortlist for further analysis.
The 3 subscription plans cost $0, $12.99, and $19.99 per month.
Features
AmazeOwl product database – it consists of 600 million products from 11 marketplaces. You can use it to find winning products across different categories.
AmazeOwl validation – this is a secondary tier of research where you choose a product and explore its performance and opportunity score in depth.
Competition analysis – this segment allows you to find out how many other sellers are in a niche and track changes in their prices and listings.
Pros
All plans are fairly affordable and come with a 10-day money-back guarantee.
AmazeOwl verifies product information across credible platforms and thus provides accurate information.
It is easy to use and comes with tutorials.
Con
The installation process can be rather challenging.
ZonResearch Tool (Zonbase)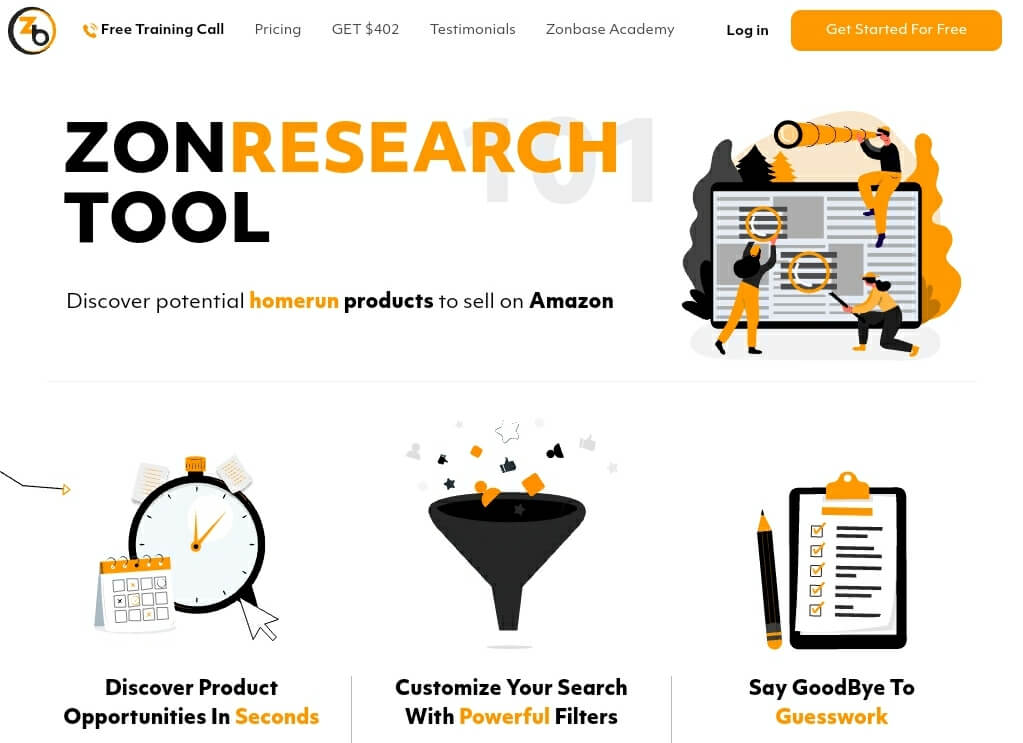 The ZonResearch Tool promises to find you high demand, low competition, and high-profit products in seconds. It does this by scanning through the Amazon database and performing a comparative analysis of product listings, price, and sales data.
You can get started with the 7-day free trial or choose between the $49 and $97 monthly plans.
Features
ZonResearch Chrome extension – you could install this on your browser and use it to get product insights when browsing on Amazon.
Product validator – when you have a promising product idea, this tool can tell you how viable it truly is on Amazon.
Sales estimator – discover how many units a product sells each month and your potential profit margins.
Pros
The filters are well-chosen and make research a lot easier.
Both the software and extension run smoothly and quickly.
You can download your research as a CSV file.
Cons
Your research capacity is limited based on your plan.
ZonResearch only works in a handful of marketplaces.
JungleScout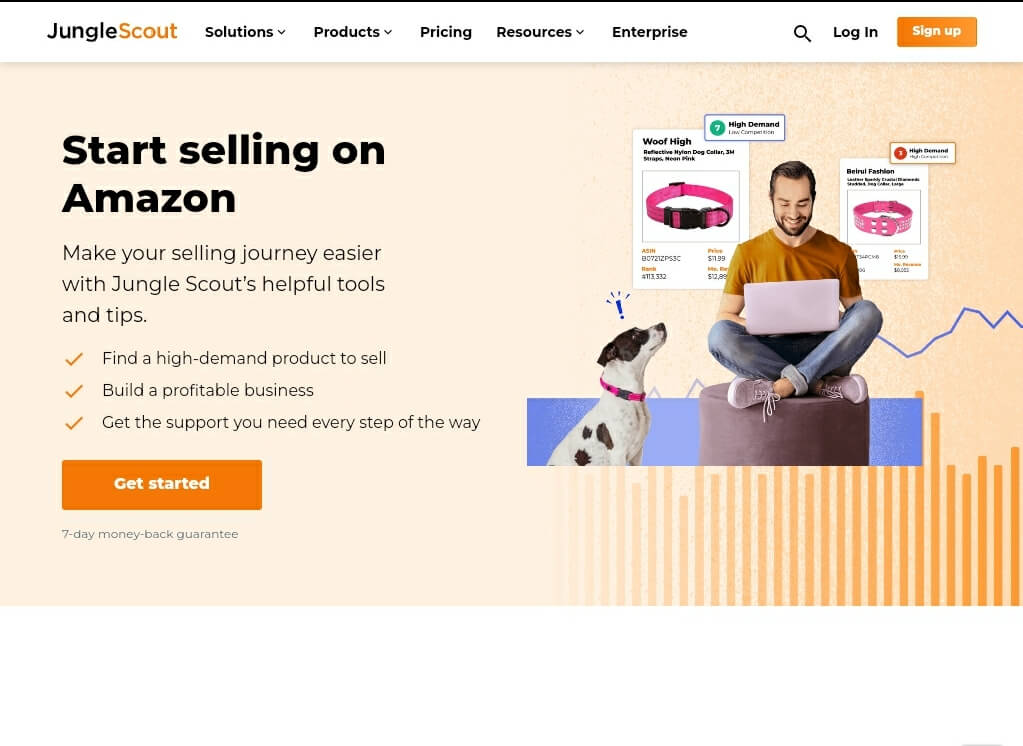 JungleScout is a renowned tool among Amazon sellers. This is mostly because it offers solutions for almost all aspects of running an eCommerce business.
Its 'Start Selling on Amazon' option introduces you to a variety of tools that can help you:
Find winning products
Understand their profit potential
Learn how to successfully position yourself in a niche
JungleScout offers a 7-day free trial as well as paid suite plans at $189 and $349 for 3 and 6 months respectively.
Features
Opportunity Finder – you can use this tool to identify budding product trends with high-profit potential and low competition.
Product tracker – this tool comes in handy when evaluating a product's performance through different seasons.
JungleScout Chrome extension – this tool identifies winning products on Amazon product pages or search results.
JungleScout product database – research your product ideas and find new ones by looking them up on this database.
Pros
JungleScout is a comprehensive tool that offers insights in great detail.
All subscribers get access to training resources.
Every plan comes with access to helpful JungleScout tools both related and unrelated to product research.
Con
The subscription plans are relatively more expensive compared to other tools.
FAQs about Amazon Product Research Tools
What Should I Consider When Choosing an Amazon Product Research Tool?
Affordability – aim for a tool with a subscription price that is within your budget. Consider that you may have to use it for a couple of months to truly get on the right track.
Research capabilities – figure out what kind of product feedback you would like to get and prioritize tools that can provide such information.
Ease and compatibility – look out for product research tools that are easy to use, install, and compatible with your device/browser.
Data presentation – some tools present research data in graphs, charts, or reports. Pick an option that would be easy for you to interpret.
How Accurate Are Amazon Product Research Tools?
Accuracy levels vary between tools depending on:
How the tool evaluates data
Its source of information
The intervals at which it collects data i.e. in real-time, daily, or monthly
Using a Chrome extension could help you obtain more accurate data as most of them source information in real time. Alternatively, you could compare insights from different tools just to be sure.
How Long Will I Need an Amazon Product Research Tool?
It is advisable to stay on your toes when selling on Amazon. Therefore, you may need research tools long-term to keep up with trends and market changes.
Still, you could save on subscription fees by downgrading to a lower plan after a major research period or choose to renew your subscription once every quarter.
To Sum It Up
Information truly is power. So, before you take that leap and start sourcing a product, look it up to ensure that it will be a fruitful investment.
Once you identify some promising options we can provide accurate quotations, find you samples, source the goods for you, or even work with you to develop a private label line. We take on all the hard work so that you can focus on running your Amazon store.
Have you found your winning products? Send us a detailed brief, request a quote, and we will find you the best supplier options.