It is no secret that Amazon remains one of the most lucrative yet competitive e-commerce platforms. So, it is easy to get dissuaded if you are an Amazon seller or planning to become one. But, you do not have to. You can, instead, choose to outsmart your competition.
How? Through Amazon competition analysis. It sounds complex at first but it simply entails figuring out who your competitors are and creating a selling strategy to beat them.
So, in today's blog, we discuss how to conduct Amazon competitor analysis, what to look out for, and how to gainfully use the information that you gather.
Let's get right into it, shall we?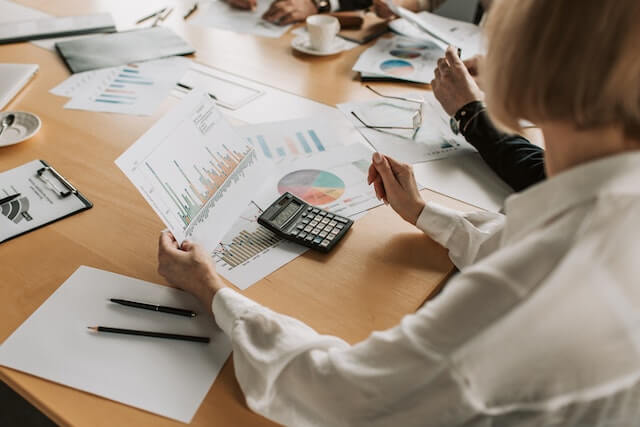 Why Perform Amazon Seller Competitor Analysis?
Amazon competitor analysis is all about gathering helpful information. It is essential for 2 key reasons:
Decision-Making
Researching and analyzing your competitors helps you understand whether an Amazon niche is viable, profitable, and how best to position yourself in it.
Consequently, you can make more strategic business decisions or even explore other options if you reckon that your idea is a non-starter. This is a far more favorable outcome than making uninformed choices only to end up incurring losses.
Discovering New Ideas
Studying your competitors introduces you to new ideas. You can easily spot what they are doing right to attract customers, keep their stores running smoothly, or boost their Amazon performance rankings.
You could also discover helpful insights like product variations, pricing strategies, or effective fulfillment solutions in your niche.
All these tidbits could enrich your Amazon seller plan by encouraging you to try out concepts that you may not have considered.
How to Find and Define Your Competitors on Amazon
You can only analyze your competitors after finding out who they are and what role they play in your niche. So, let's begin by discussing how to find and define your competitors, shall we?
You can find your competitors on Amazon by:
Performing Keyword Research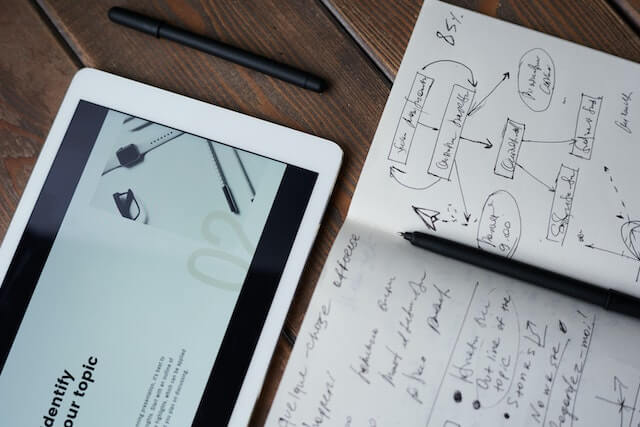 Keywords are phrases or terms that are commonly used to describe or refer to a product. Customers are also likely to use them when looking up a product.
Amazon sellers thus use relevant keywords in their listings so that the algorithm can pick them up when scanning for search results to present to customers.
For example, if you plan to sell knives, you and other knife sellers may share keywords like 'kitchen knives', 'chef knives', or 'pocket knives', as they are the terms that shoppers are likely to look up.
Subsequently, if you find the keywords for any niche you are considering, then you can identify other sellers bidding/ranking for them. In other words, you will have found your competitors.
Tip: You can use an Amazon keyword research tool to help you obtain a more comprehensive list.
Identify Your Competitors
Once you have a comprehensive list of keywords, you can trace them back to your competitors as follows:
Look up the keyword on Amazon.
Make a shortlist of the sellers in the first 1 or 2 pages of Amazon's search results.
Repeat this for other keywords.
The sellers that rank high in Amazon search results are likely to be your most formidable competitors. It is thus advisable to focus on them more than the many others that make up the bulk of search results.
Define Your Competitors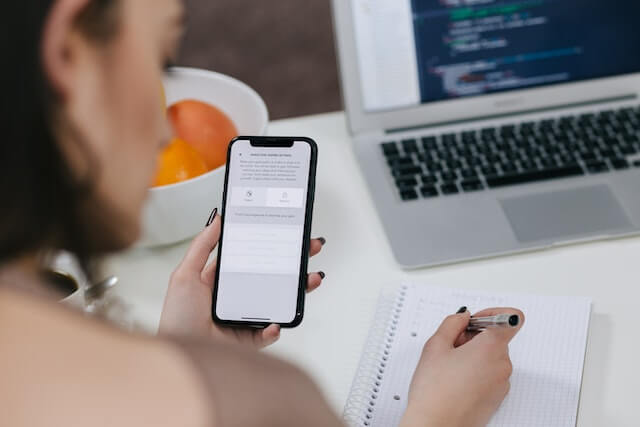 At this point, you will likely have a long list of competitors. However, it is inefficient to analyze such a large pool of sellers. As such, it is best to refine it down to your immediate and most relevant competitors.
Pay attention to:
Sellers that offer products and product variations that are highly similar to yours.
Sellers with distinctions such as Amazon Best Seller or Amazon's Choice badges.
Sellers with more than one listing in the top search results (page 1 or upper part of page 2).
Sellers that target the same customers you do.
The sellers described above would make up your core list of competitors. Nevertheless, you could also create a secondary list of sellers as they could offer you a broader perspective and fresh ideas.
Such a list may include sellers who:
Sell products that are related to or can substitute the products that you sell. For example, if you sell combs it is wise to keep tabs on hairbrush vendors.
Sell lower or higher-end variations of your products.
Be sure to outline these lists separately. Consider jotting down some highlights about all core, secondary, and tertiary competitors too. It may make your final analysis much easier.
How to Analyze Competitors on Amazon
Finding and defining your competitors is only the preliminary step. Analyzing them, on the other hand, is what gives you the context and information that you need to come up with a winning strategy.
Here are some vital factors to evaluate as you analyze your competitors.
Product Title
According to Amazon, an ideal product title should consist of the brand, model, and product type. The backpack listing below, for example, aptly executes this recommendation.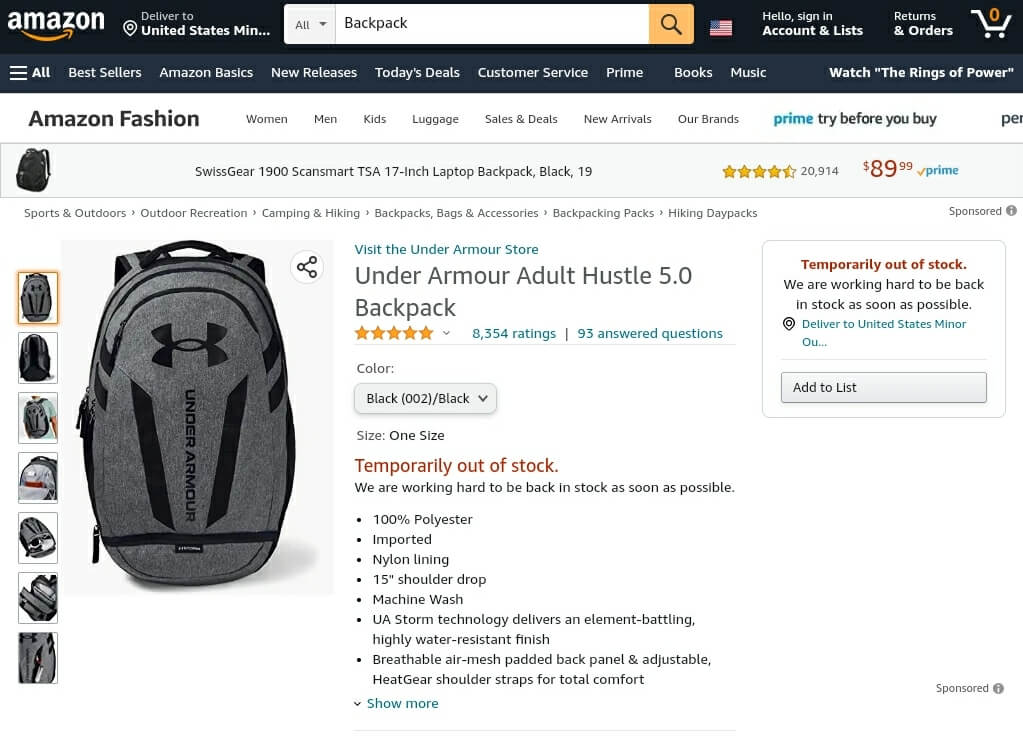 Take note of competitors that pull this off well and see how to use their example to improve your product listing.
Product Images
Pay attention to listings with product images that catch your attention and display your competitors' products well.
Are they lifestyle images? How are the photos staged? Do the images teach the audience anything about the product?
Product Description
A product description should adequately but concisely inform buyers what a product offers. It should also be appealing enough to make customers interested in the product.
So, as you look at your competitor's listings, pay attention to:
Their descriptive language
How they outline features and advantages
Any information gaps that you can avoid
The Q&A Section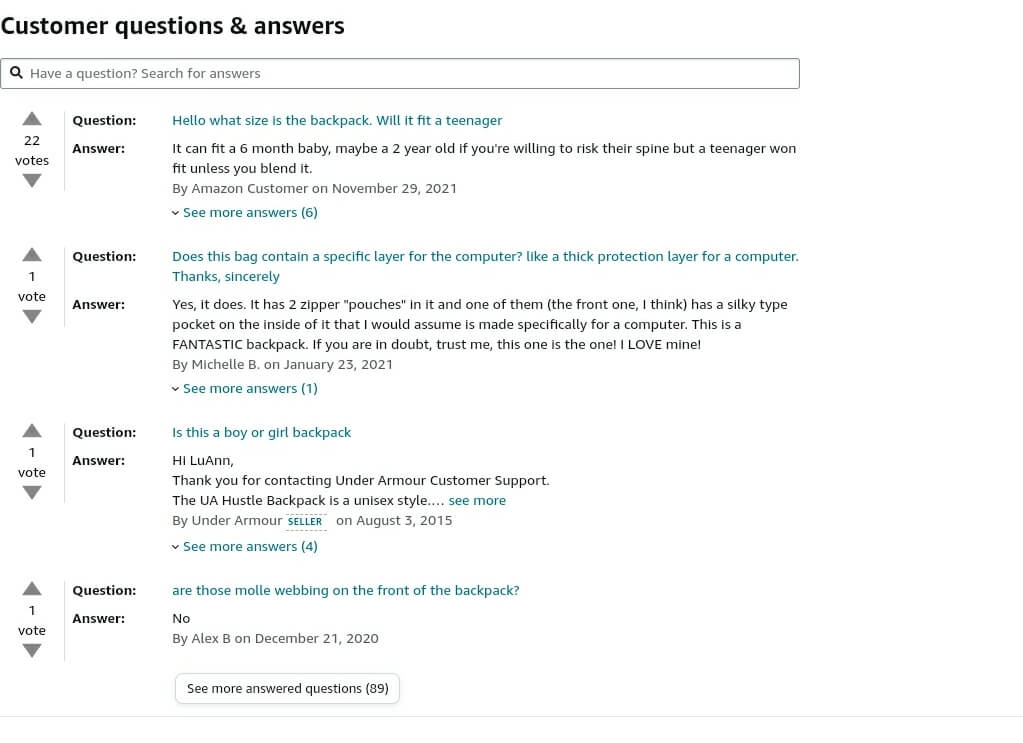 The Q&A section of a product listing can help you pick up on:
Issues that customers do not understand about a product.
Any important product details that a seller did not highlight.
Product details that misled customers.
Take note of the shortcomings that you find in these sections of competitors' listings and ensure not to replicate them in yours.
Keywords
Most Amazon sellers have a hard time choosing the right keywords and using them organically in their listings. It is thus wise to look out for competitor listings that use keywords effectively and learn from them.
Further, consider using Amazon keyword tools to gain deeper insight into your opponents' keyword usage.
For example, backend keywords are never visible to shoppers but play a major role in product rankings. Using a tool like Sonar to find out how other sellers in your niche are using them could equip you to implement the concept.
Reviews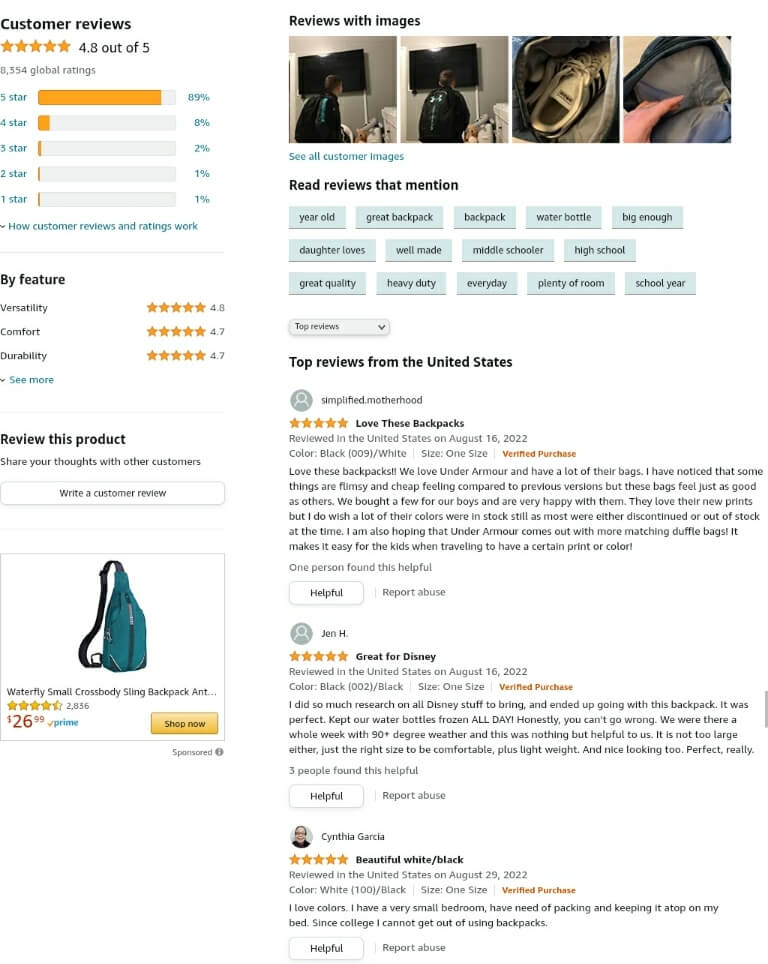 Reviews are game-changers on Amazon. They can persuade or dissuade customers from buying a product and also impact Amazon KPIs like your account health rating.
As you analyze your competitors, the reviews that they receive can teach you:
The strengths and shortcomings of the seller's service.
The seller's customer service strategy i.e. how they handle reviews, their promptness, etc.
Advantages and disadvantages of the product (as experienced by consumers).
Pricing
Start by researching the wholesale prices of the products you would like to sell. This will give you context as you look through the prices set by your competitors.
Compare the wholesale versus retail prices listed by sellers on Amazon. Use the difference in the prices to establish the profitability of the niche and an ideal sourcing price. The prevailing prices on Amazon can also give you an idea of how to competitively price your products.
Fulfillment Methods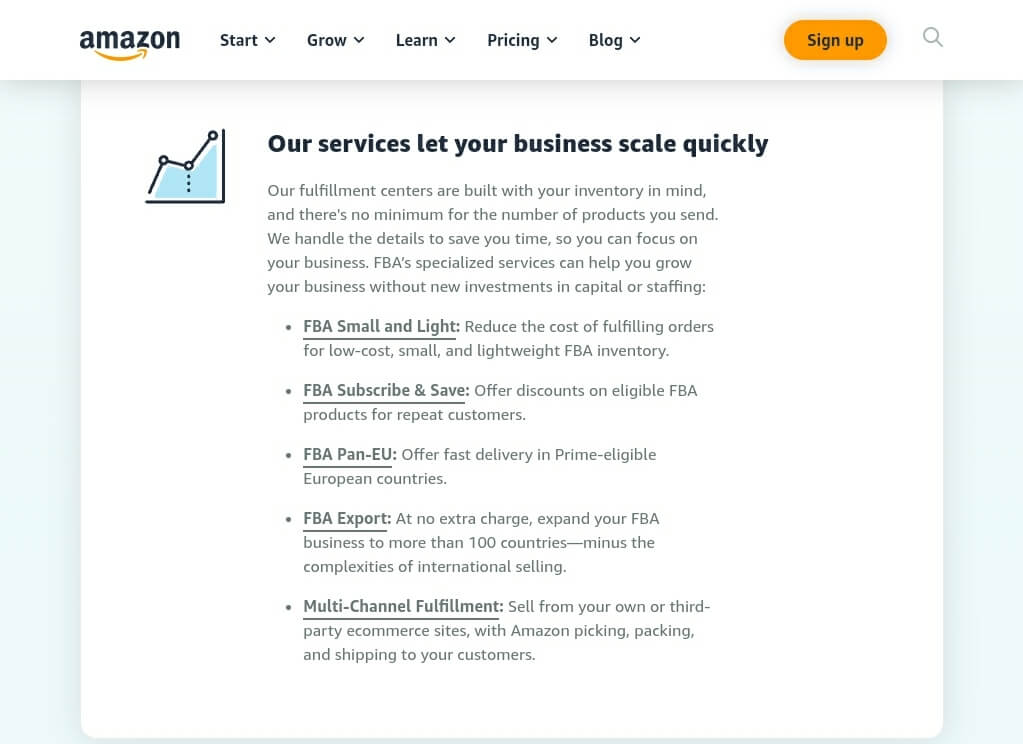 Amazon offers a variety of fulfillment options for sellers such as Fulfillment by Merchant (FBM) and Fulfilment by Amazon (FBA). Each of them comes at a different cost but you get to decide which of them is ideal.
You can easily calculate the FBM or FBA costs of selling a product using an Amazon seller tool. However, evaluating the fulfillment methods your competitors use could give you a more practical context and help you decide what approach to take.
Monthly Sales
Your competitors' monthly sales are a great illustration of the demand in a niche. It is also the level of sales that you are likely to make.
It is impossible to estimate the sales of any seller from their Amazon profiles. So, you will need an Amazon research tool. Most of them only require you to enter an ASIN and they will gather all the sales information you need.
Prioritize products with consistent sales trends. Study the trends to also find out if the demand for the product is evergreen or seasonal.
Campaign Ads
Great ads entice customers to click on a product, learn more about it, and buy it.
The catch, however, is that you and other sellers in your niche will be competing for the same customer base. You thus need to create ads that will stand out enough to win over more customers.
Amazon seller tools like Helium 10 can help you explore your competitors' advertising strategies. Find their:
Campaign keywords
Click-through rate
Ad costs versus the returns they earn
Ad placement
These factors may give you leads about how to invest in ads cost-effectively and placement advantages that your competitors may be overlooking.
Further, pay attention to the messaging in competitor ads. What are they highlighting? What kind of audiences are they targeting? How can you curate your ads to sway your target market in your favor?
Branding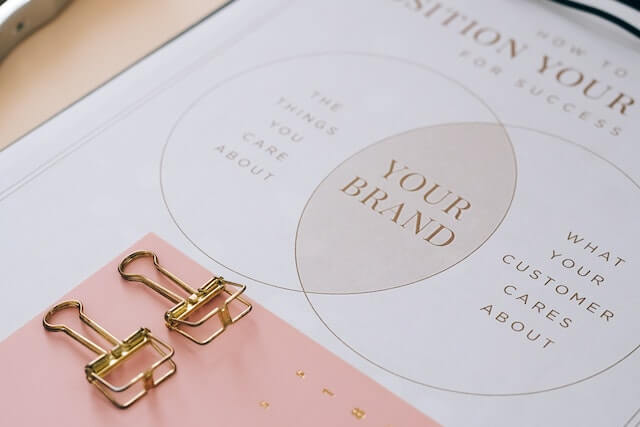 Branding is a key marketing aspect to consider if you plan to venture into Amazon private labeling. Your logo and product packaging, in particular, can:
Create a unique identity for your business to which customers can relate.
Give your customers a sneak preview as to why they need your products.
Analyzing your competitors' branding gives you a chance to figure out how to make your branding stand out. Aim for unique colors, fonts, packaging designs, a great user experience, and safety features.
Social media has evolved into one of the top frontiers of e-commerce. Sellers are now using it to:
Create brand awareness
Generate interest in products
Share Amazon links that shoppers can use to buy goods
Make an effort to look up your competitors on TikTok, Instagram, Facebook, Twitter, and other platforms. Take note of:
How they present their products to online audiences i.e. images, product reviews, etc.
How they interact with audiences
Their CTAs
How to Use the Information You Gather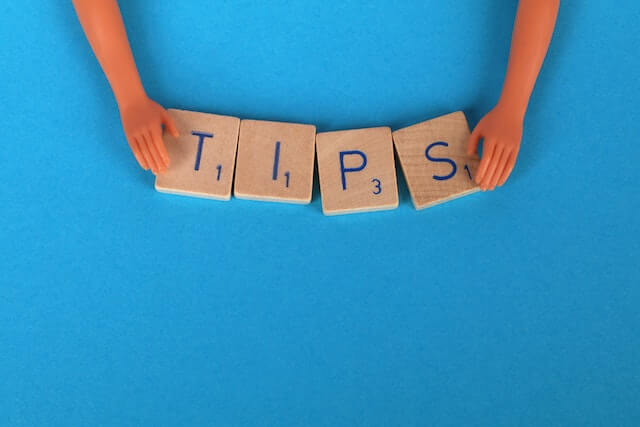 The analysis process is all about identifying different strategies, shortcomings, and opportunities from various competitors. Still, that is only half the battle. You will need to implement what you have learned to conquer the other Amazon sellers.
Here are some tips to help you do just that.
Choose the Right Products
Choosing what to sell often seems like a very simple choice but it hardly is. For example, if you choose to sell sneakers, you have to decide on sizes, and colors, and choose a design that would appeal to your target market.
On the upside, the analysis process will shed some light on the kind of products that customers need. So, choose the high demand low competition products.
You could also test the market with a few new products if your research shows that your customers would be keen to try them. Amazon private labeling could be a good way to go about this.
Offer Fair Prices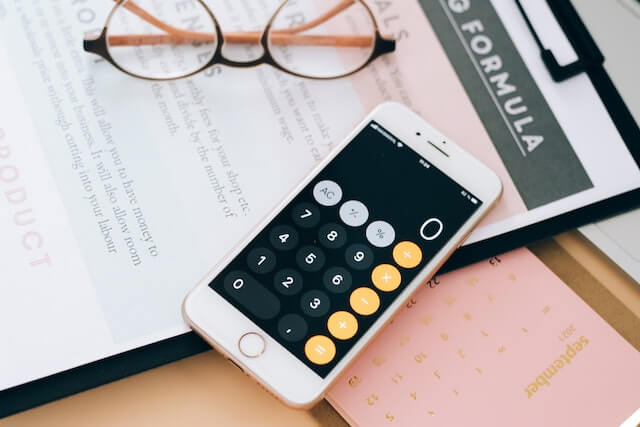 Product prices on Amazon vary quite a bit. The trick, however, is to price your products at competitive levels while ensuring that customers also feel that they are getting value for money.
Take, for example, that you sell pilates equipment. If other sellers offer identical products, a buyer may choose the listing with the most budget-friendly price.
In contrast, if your products offer extra value then the customer may be willing to pay a little more.
Create Winning Listings
Creating a winning listing will require you to implement all the insights you gathered while analyzing the product titles, images, descriptions, and keywords of other sellers.
Nonetheless, the idea is not to copy-paste what you learned. Rather, use it to create a product listing that:
Can rank high on Amazon
Gives you a better chance of winning the Buy Box
Appeals to buyers based on its content quality
If you are uncertain about the listing you come up with, consider running it through an Amazon seller tool like Viral Launch which has a listing quality analyzer.
Invest in an Effective Ad Campaign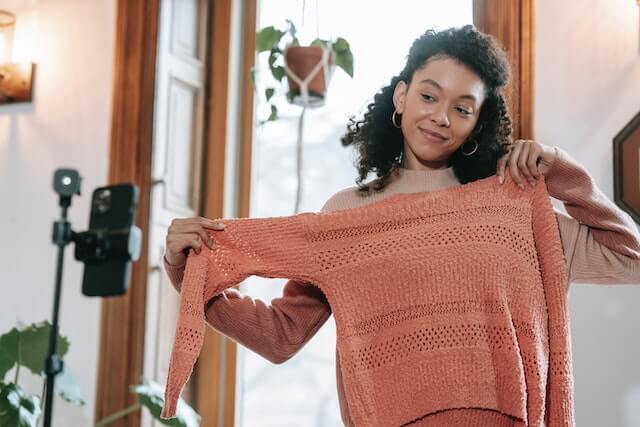 A successful ad campaign is built on 3 key foundations:
A well-defined strategy – this should include a defined approach on how to get customers to buy from your Amazon listings. Will you solely rely on ads or throw in sweeteners like discounts or subsidized shipping?
A quality ad – aim for an ad that catches the attention of buyers but also makes enough of a memorable impression. A catchy tagline or creative product photos could help with this. Be sure to use keywords too.
Effective placement – choose advertising mediums that can reach your target audience. Social media, for example, is a great tool for targeted ads. Amazon also offers great ad options, you just need to identify the best one for you.
Advertising is one of the most competitive aspects of retail, even in eCommerce. So, keep your competitors in mind as you develop your ads and aim for that x-factor that will draw customers to click on your ads.
Go Beyond Amazon
Studies show that approximately 2 billion people access Amazon in a day. However, this does not automatically mean that you will benefit from this traffic because your competitors could beat you to it.
You may have a better chance of scoring some traffic to your listings if you directly lead customers to them. How? By sharing your product links on blogs and social media alongside product videos or other forms of content that may interest your target audience.
FAQs about Amazon Competitor Analysis
When Should I Perform Amazon Competitor Analysis?
You can conduct competitor analysis at any stage; before, during, or after you start selling in a niche.
However, you may gain more from it if you do it before you start selling. It would help you go in prepared and avoid making costly mistakes later on. You would only need to run analysis occasionally thereafter to keep up with ongoing changes.
How Much Does Amazon Competitor Analysis Cost?
You could perform a substantial portion of competitor analysis at no cost. All you will need is internet access and good research skills.
Nevertheless, some details such as competitor ad campaigns and sales data are not readily accessible on Amazon. You may, therefore, need to invest in an Amazon research tool that can do the reconnaissance for you.
On the bright side, a good tool will make your analysis a lot easier and faster. Think of it as spending money to save time and gain information.
How Do I Know Whether I am Using Amazon Competitor Analysis Data Correctly?
By evaluating your feedback and Amazon KPIs.
If you use the data that you gathered correctly, you will likely experience some positive effects on your business. Your rankings could improve, you may get more traffic to your listings, or you may start to make sales.
Naturally, the change may not be very huge but you should be able to notice an upward trend when evaluating your KPIs.
Final Thoughts
Amazon competitor analysis may seem like an unnecessary hurdle when you are eager to get your business up and running. However, all the effort you put into it will likely pay off handsomely because you will know how to optimally source, price, and market your goods.
Moreover, you do not have to do all the heavy lifting alone. You can share the findings of your analysis with us, at NicheSources, and rely on us to source or develop any products you need. We also offer impeccable branding services and ship worldwide.
Reach out to us with your sourcing brief at any time, request a free quote, and let us help you get ahead of your competitors.