Etsy stands out from other e-commerce platforms because it focuses on authentic creative products. This is particularly advantageous in these times when consumers are keen on well-developed products with wellness or eco-friendly benefits.
Still, as with any other online marketplace, you must offer appealing products to attract customers to your Etsy shop. This is often a hurdle for most sellers because every great product niche seems to be saturated.
Well, don't throw in the towel just yet. We have done our homework and cherry-picked some Etsy shop ideas that, if well implemented, can give your competitors a run for their money. Curious? Cozy up and read on.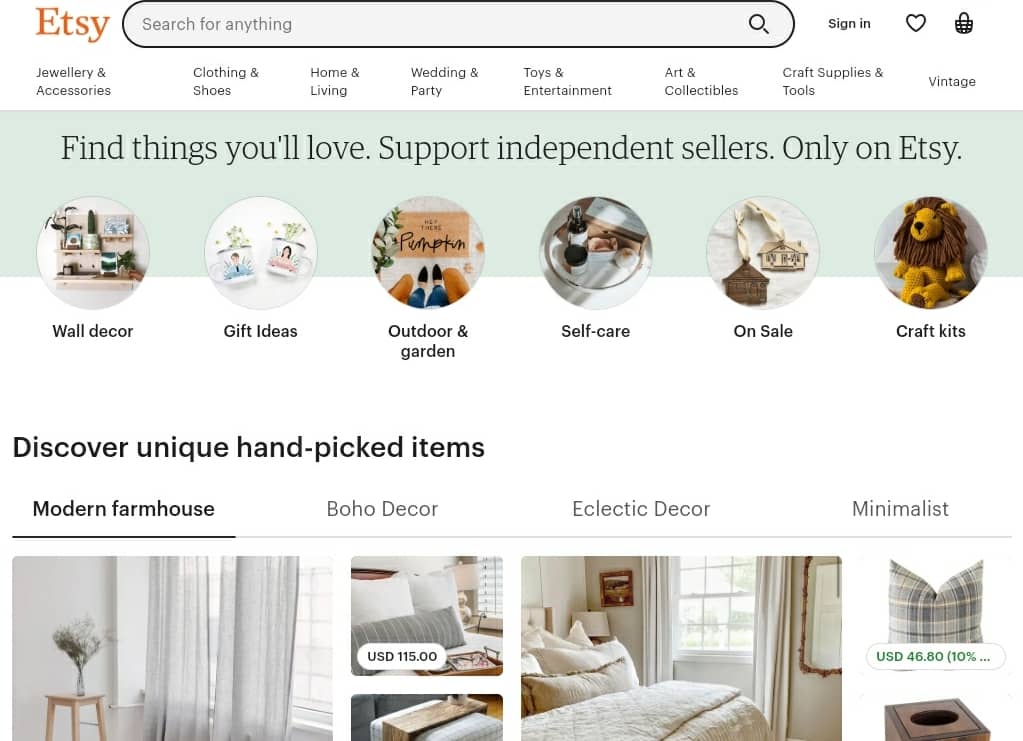 What Can You Sell on Etsy?
Etsy has strict rules about the products that its vendors can and can not sell. So, the challenge is to find product ideas that can be profitable but also meet Etsy's rules.
For context, the rules state that:
Etsy vendors can only sell products that they have directly participated in manufacturing.
Vintage items have to be 20 years or older.
Sellers can list and sell craft supplies produced by other manufacturers.
Sellers are prohibited from repackaging products and passing them off as their own creations.
Now that we understand the guidelines, let's dive into the ideas, shall we?
Custom Journals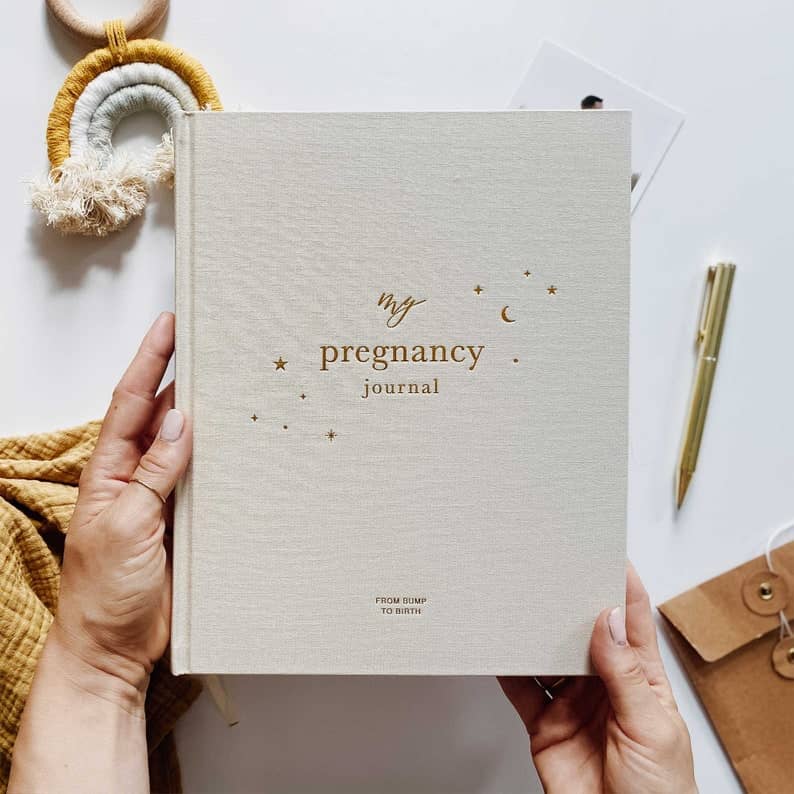 Journals offer people space to jot down their thoughts and day-to-day plans. They are, therefore, usually quite popular among Etsy shoppers. More so if you can come up with quality designs to suit different preferences.
However, it would be a good idea to set yourself apart by designing niche journals for specific needs. Examples of such journals include:
Financial planning journals
Bible study journals
Business management journals
The unique bit about these journals is that their pages have templates where users can write down certain information relevant to their goals. They can then use the information as a point of reference or as a way to monitor their progress.
Pros
Custom journals are highly popular among goal-oriented people.
Shoppers may be more inclined to buy such journals due to the extra value they offer.
Cons
You may have to do lots of research to understand the interests worth making such journals for.
Custom Calendars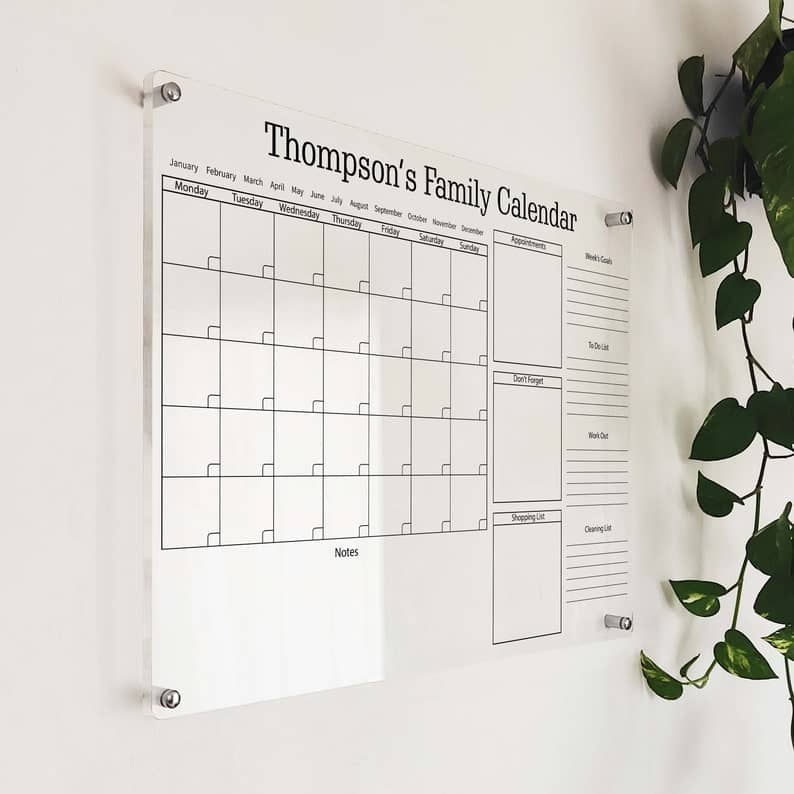 Custom calendars may seem like old news given that we now all have calendars on our devices. Nevertheless, in some cases, custom calendars are invaluable because they make it easy to schedule events on the go while also serving as a visual reminder.
Try and customize your calendars based on the needs of your target market. This could include custom calendar designs for:
Household chores
Family activities
Work assignments
It is equally advisable to make your calendars using durable material that is erasable and does not tear easily. They should also be easy to mount on various surfaces.
Pros
The utility of such calendars makes for a great selling point.
Calendars are easy to design.
Con
You may face stiff competition from digital alternatives.
Invitations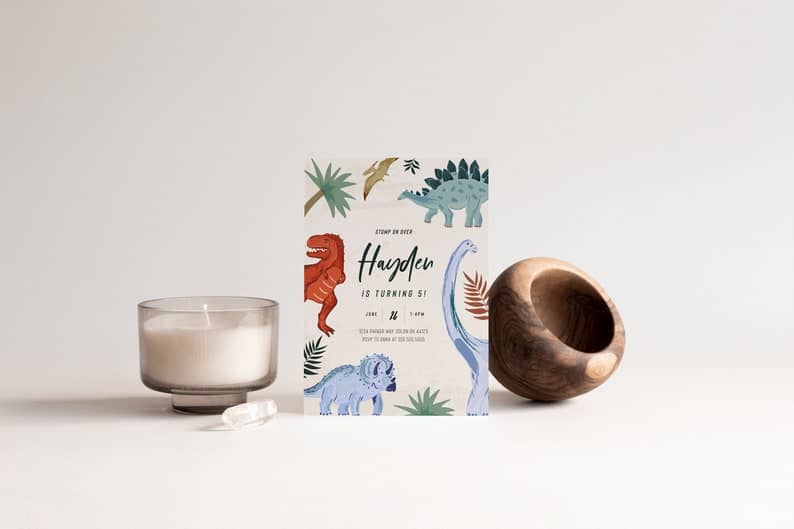 Classy invitations are essential for any event but can also be pricey. As such, lots of people turn to Etsy when they need well-designed invites on a budget.
The trick here is to offer a wide variety of designs for different occasions. Aim for elegant but legible fonts and a sweet tone. Pay attention to current trends too so that your invites stand out. Examples of trends include:
Popular kids' cartoons
Covid 19 protocols
Dress code provisions
Pros
The costs of creating invites are low thereby increasing their profit margin.
You would not have to worry about logistical details like shipping if you opted for digital invites.
Con
You would have to refresh your designs often as most shoppers prefer unique invites.
Wedding Stationery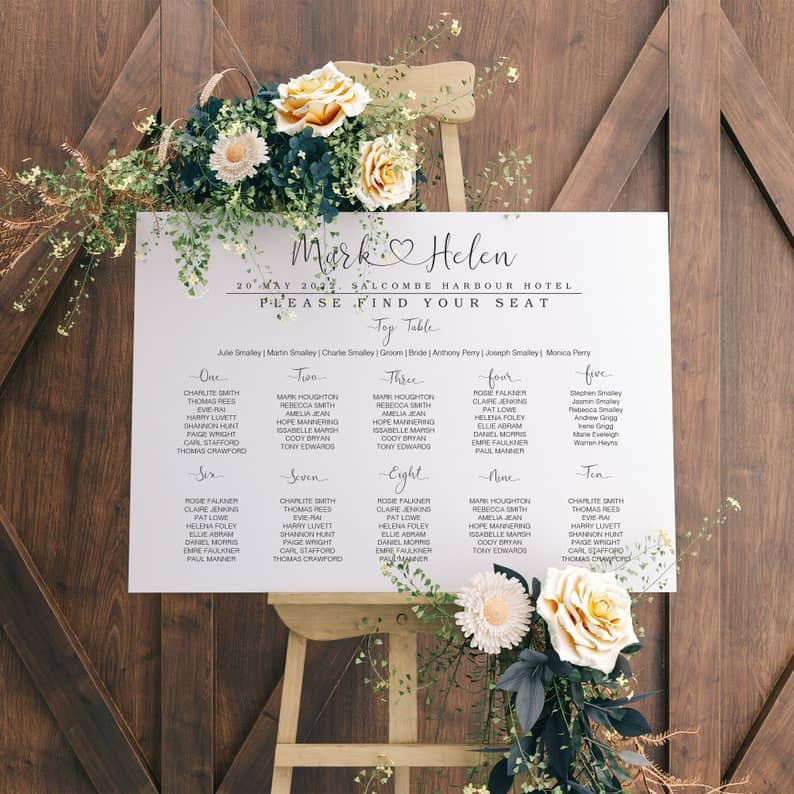 Planning a wedding can be exciting but also thoroughly overwhelming. You can thus tap into this billion-dollar industry by providing solutions that make the process much easier.
Some winning solutions you could work with include:
Wedding planning journals
Seatings charts for different styles of dining
Wedding autograph walls
Classy scrolls for vows
Pros
This is a broad niche that offers lots of creative freedom.
You could make good returns by creating a wedding bundle that offers multiple solutions.
Con
You may need to advertise vigorously as most people may not typically turn to Etsy for wedding supplies.
Coloring and Doodle Books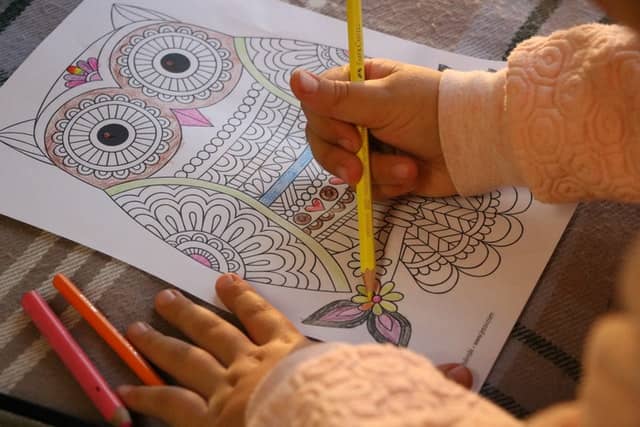 Coloring and doodling are simple yet useful ways for both children and adults to pass time or hone their art interests. So, why not offer them interesting books for it?
Be sure to use quality paper that does not blot or tear easily. Consider other priorities too such as:
Developing beginner, intermediate, and advanced coloring templates.
Creating fun templates that keep users interested.
Pros
Shoppers may be drawn to your coloring or doodling books because they offer constructive entertainment.
Catering to both kids and adults widens your market.
Con
It may take significant effort to win over the adult market.
Custom Wallpaper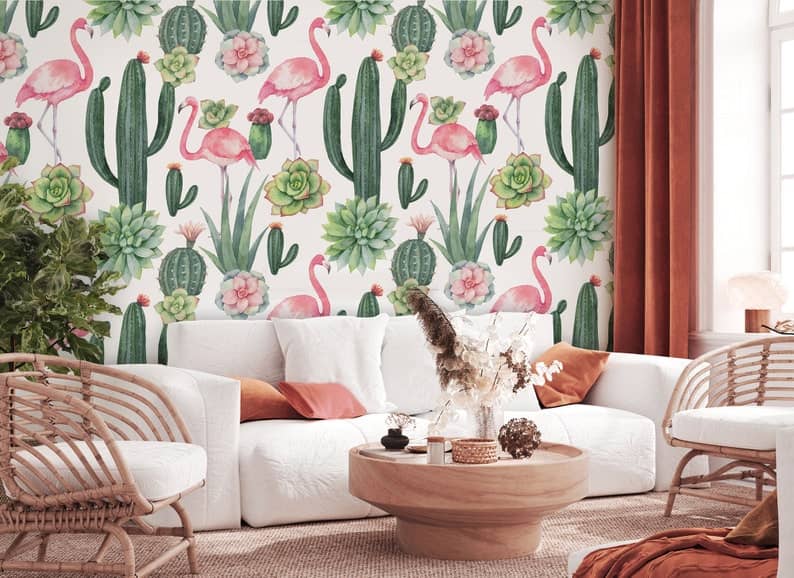 Have you ever shopped for the wallpaper but simply could not find anything to suit your decor preferences? Why not consider it your sign to develop hip non-conventional wallpaper designs?
You could explore interesting concepts like:
Pros
You can find plenty of wallpaper design ideas from nature, customer feedback, and decor research.
Shoppers may be drawn to print-on-demand wallpaper because it allows them to get exactly what they prefer.
Con
While the print-on-demand approach is promising, it can sometimes be challenging to navigate.
Bamboo Products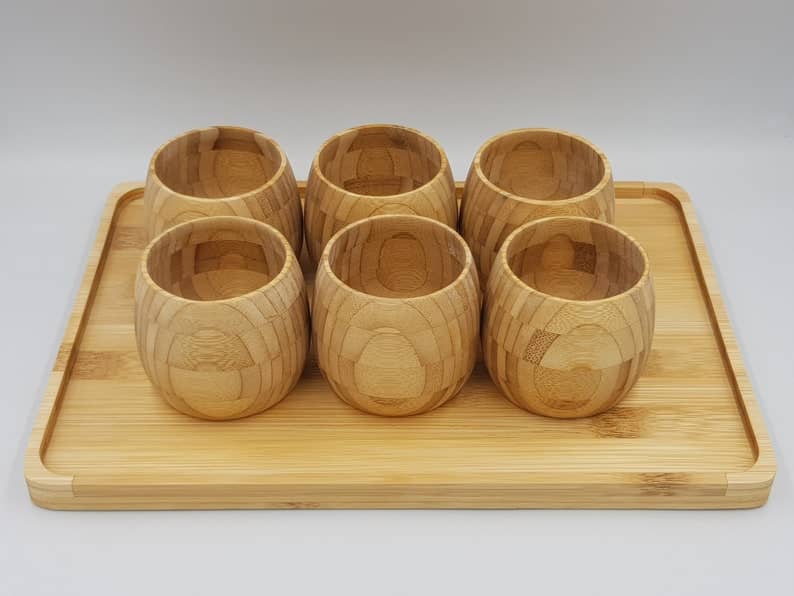 Bamboo is lauded for being highly eco-friendly and lightweight. However, it is also a very strong, versatile, and durable material. You can use it to make:
Chopping boards
Desk organizers
Bowls
Cutlery
Trays
Combs
Notably, these are run-of-the-mill items that buyers can find from any other vendor. The winning strategy would be to distinguish your designs by:
Using color contrast
Engraving fun messages on the items
Pros
Bamboo is cheaper than wood.
The eco-friendliness of bamboo is a huge selling point.
Con
It takes effort to design everyday items uniquely.
Crocheted Baby Clothes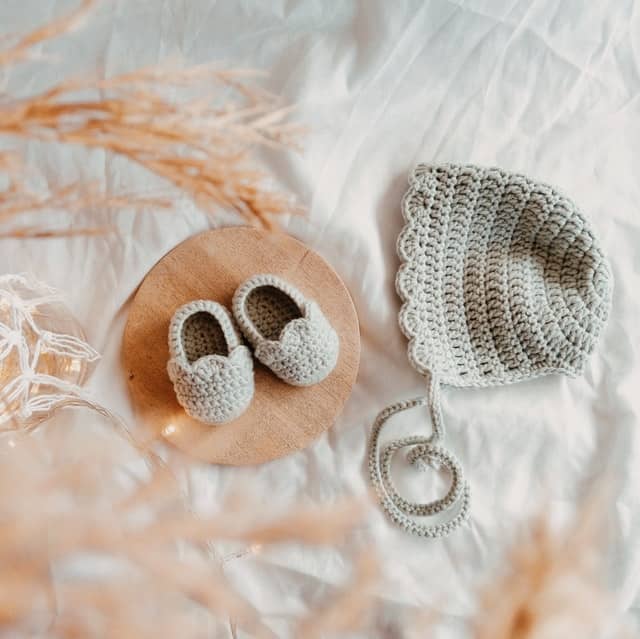 Crocheted baby booties, mittens, headbands, cardigans, and other clothing items can be quite appealing when neatly done.
Try to use high-quality yarn so that you can offer your customers premium products. Consider adding some flair to your designs using materials such as lace or ribbons.
Pros
Most customers appreciate the effort and care it takes to hand-make such items.
Premium crochet baby clothing is not a saturated niche.
Con
Crocheting can only be done manually and is thus highly labor-intensive.
Crocheted Adult Clothing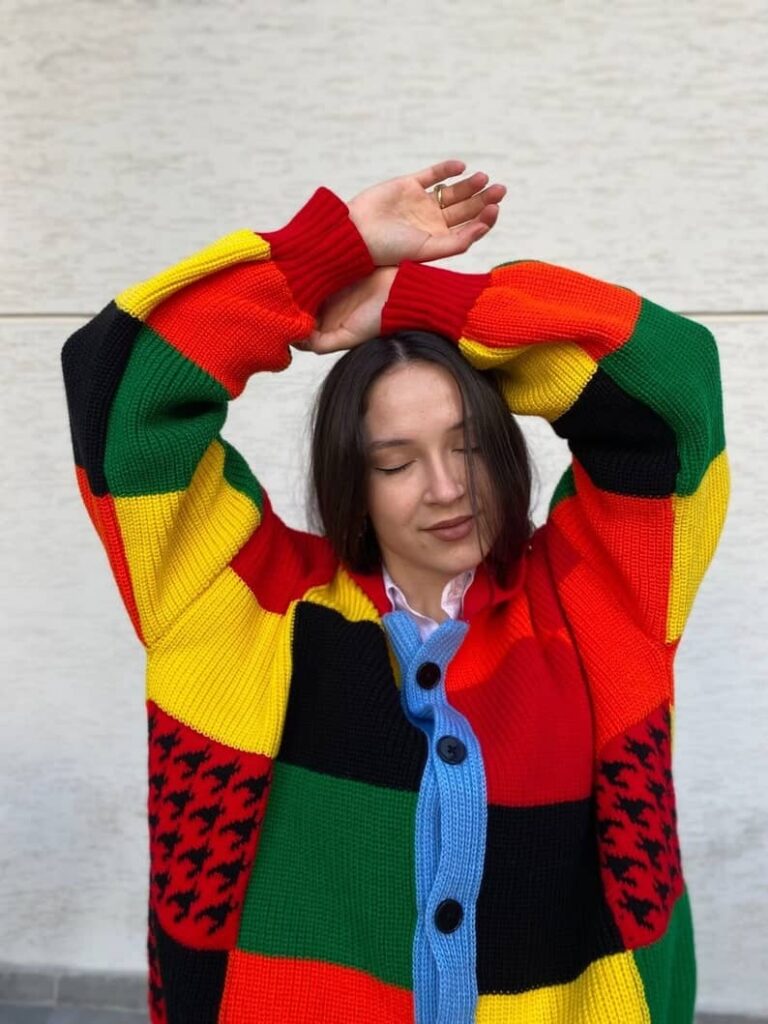 From cozy pullovers to resplendent scarves, crocheted adult clothing items are simply indispensable. You only need to make them stylish and comfortable with neatly executed patterns.
Further, given that crocheted items are often worn during cold seasons, consider livening things up with warm bright colors. Mustard, wine red, and pastels, for example, may be a nice change from the common neutral shades.
Pros
Many people are drawn to the cozy feel of quality crocheted items.
You could outdo your competitors by simply using appealing colors or incorporating slivers of chic fabric.
Cons
You may only be able to handle a limited number of orders.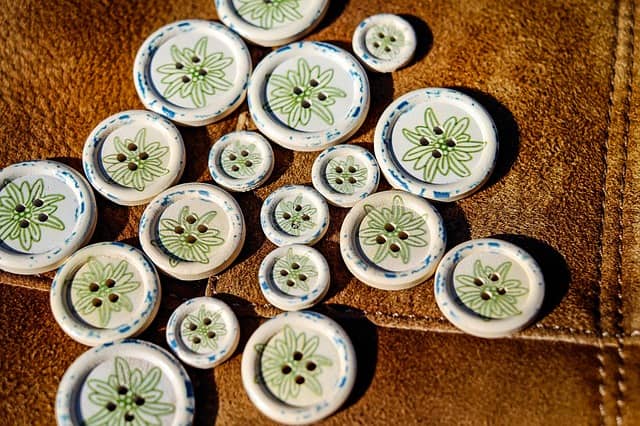 It can be quite a letdown when the zippers or buttons on one of your favorite outfits fall apart. Fortunately, instead of throwing out the outfit, customers can turn to Etsy to find replacement zippers or buttons.
Your Etsy store can rake in high sales by offering quality zippers or buttons to such customers. You can also target B2B customers such as tailors and fashion designers that require such stylish accessories to complete their designs.
Pros
You may enjoy the benefit of both B2B and B2C customers.
You could distinguish your product selection by offering colorful zippers and interesting button designs.
Con
The profit margins may only be rewarding if you make wholesale sales.
Sewing Supplies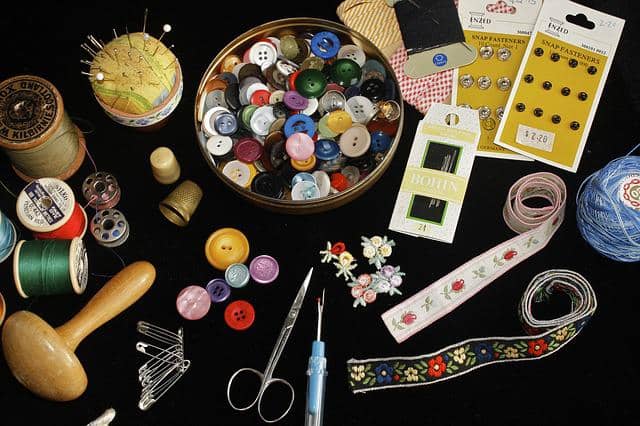 Sewing supplies are essential for both home and professional use. It may thus be helpful to create kits for each application.
The professional kit could contain:
Sewing machine needles
A tape measure
Tailor's chalk
Rotary scissors
A rotary mat
A seam ripper
Threads
Home-use kits, on the other hand, could contain:
Sewing needles
A thimble
Threads
A tape measure
Scissors
Try to package each set in a safe compact set. It may also be a good touch to brand your packaging.
Pros
You do not have to manufacture sewing supplies because they fall under the craft supplies category.
Con
This niche may require you to perpetually seek out new customers because sewing supplies are often a one-off purchase.
Fabrics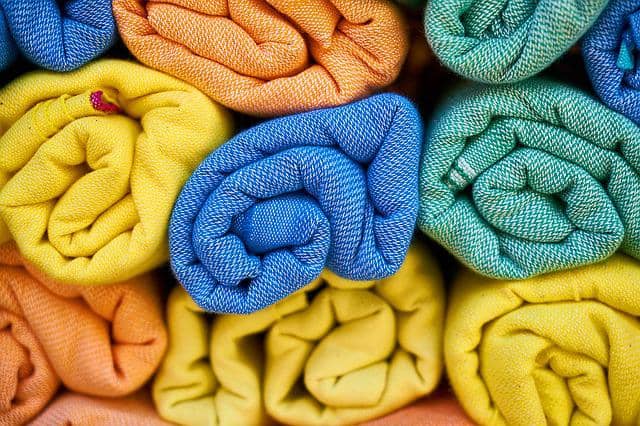 Fabrics are a staple requirement for fashion-oriented businesses. Some retail customers also buy fabric to match special outfits or furniture.
Where possible consider venturing into interesting fabrics that are not necessarily mainstream. Examples of such fabrics include Afghan, Mexican, and Indian print fabrics.
Pros
This is a dynamic niche because you can create special fabric prints for your store.
You can manage your costs by first developing a small batch of fabrics within your budget.
Con
While this niche can be profitable, it is also competitive.
Glassware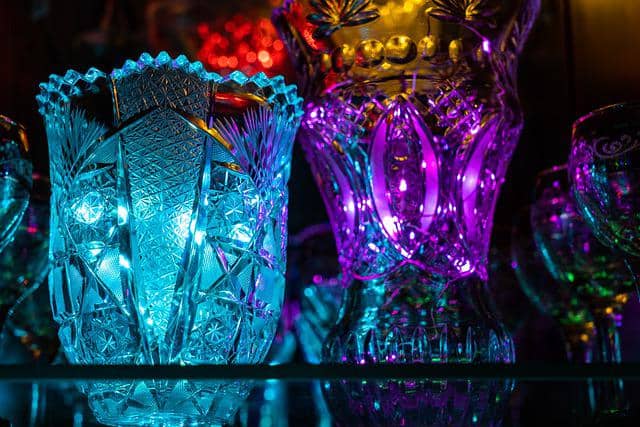 Glassware is beloved for its elegance but you could always put a twist on it and make it fun. How?
By designing shot glasses that ascend in size.
Branding beverage glasses with funny messages.
Using colored glass to make your pieces stand out.
Using glass to make items that are not typically made of glass e.g. trays, jewelry boxes, saucepans, etc.
Look out for types of glassware that most vendors may not have caught on to as well. Colored glass wind chimes, for example, are rare but rather have the potential to make great sales.
Pros
Glassware is a vast niche, making it easy to create new interesting products.
You can save on production costs by recycling other glass items.
Con
The fragility of glass makes shipping a tricky affair that often requires very specific types of packaging.
Gift Wrapping Supplies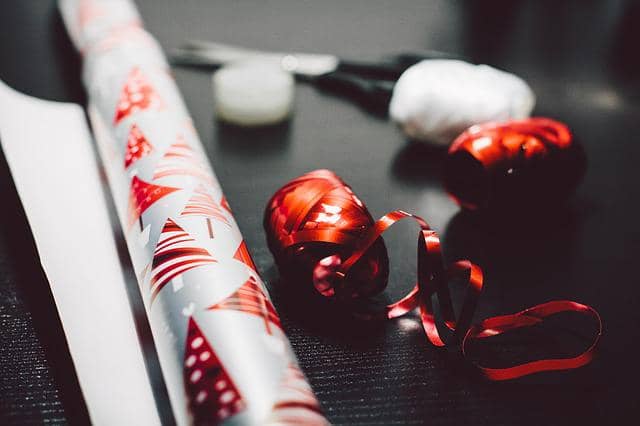 The presentation of a gift is almost just as important as the gift itself. Your Etsy customers may thus appreciate a steady supply of gift wrapping products like:
Elegant wrapping paper
Ribbons
Bows
Gift boxes
Gift bags
Gift wrapping tissue
You will probably not be the first person selling these supplies on Etsy. However, you can distinguish your store by focusing on eco-friendly gift wrapping supplies. You could also offer custom solutions like print-on-demand wrapping paper.
Pros
You can easily source these products from different suppliers at a bargain because they fall under craft supplies.
Eco-friendly gift wrapping supplies are a game-changer as gift wrapping generates an enormous amount of waste.
Con
Gift wrapping supplies are mostly only profitable during certain times of the year.
Games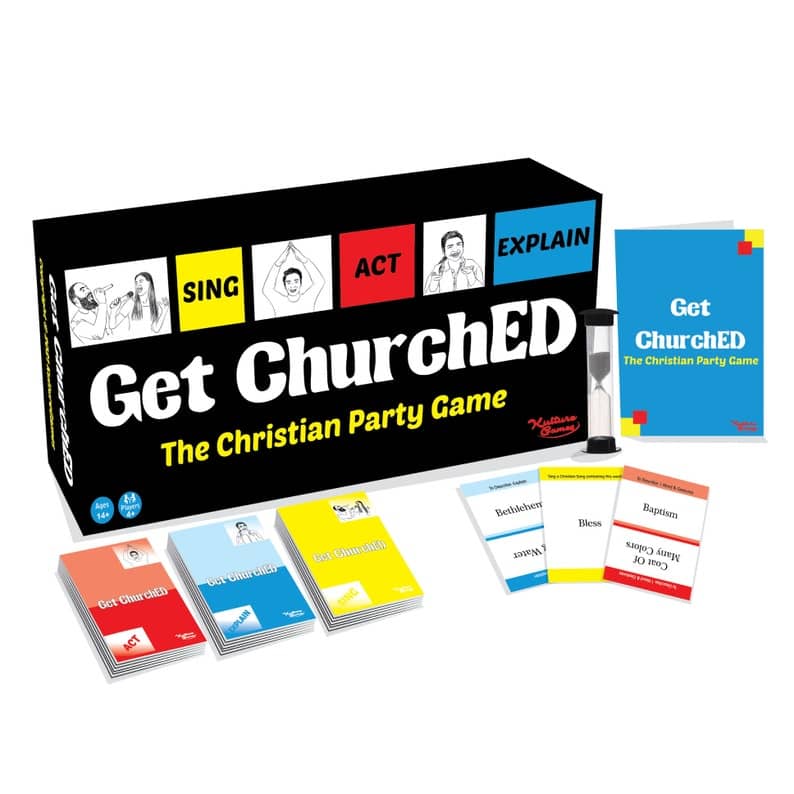 Card games and board games are becoming increasingly popular because they provide great entertainment for parties and other gatherings.
You may rake in huge profits if you can develop an engaging theme that is either fun, intellectually stimulating, or can initiate conversations. Check out games like 'What Do You Meme?' and 'Cards Against Humanity' for inspiration.
Pros
The fun aspect of games makes them an easy sell if you get the concept right.
Your game would be a fully unique product that no one else on Etsy can sell.
Cons
It takes time, effort, and considerable resources to develop a game.
Recycled Decor Items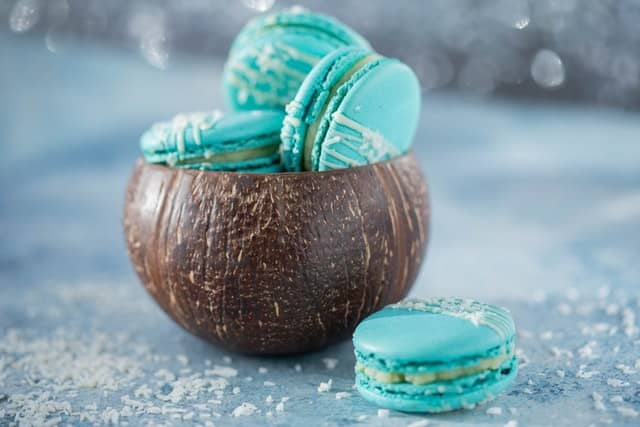 The secret to creating recycled decor items is to keep an open mind. It will help you identify value in stuff that seems worthless after its original use. Here are some examples to get you going:
Repurpose old/faulty washing machine drums into lighting fixtures or fire pits.
Reinforce stalled bicycles to create table bases.
Clear and desiccated coconut husks and repurpose them as bowls, decorative knick-knacks, or even lighting fixtures.
Pros
Recycling is a great initiative for the environment and society.
Repurposing products in unusual yet useful ways could draw lots of attention to your Etsy store.
Con
Sourcing and repurposing recyclable materials are tasking and require dedication.
Preserved Flowers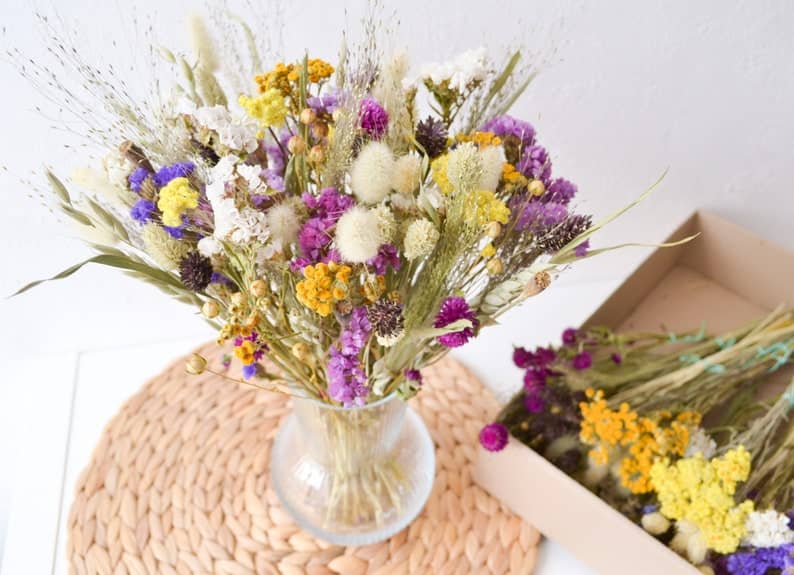 If you are a florist or simply have an affinity for flowers, consider selling preserved flowers in your Etsy store. The niche has a moderate number of sellers, so there is still time and room for you to make your mark.
Factors like the quality of your arrangements, packaging, and branding could all help you catch buyers' eyes. You could also offer additional care instructions and a scent that buyers can use on or near the flowers if they wish.
Pros
This is not an overcrowded niche.
Preserved flowers have a long shelf life, so you can sell them to customers near and far.
Con
You will require substantial knowledge of flowers to take on this idea.
Wall Art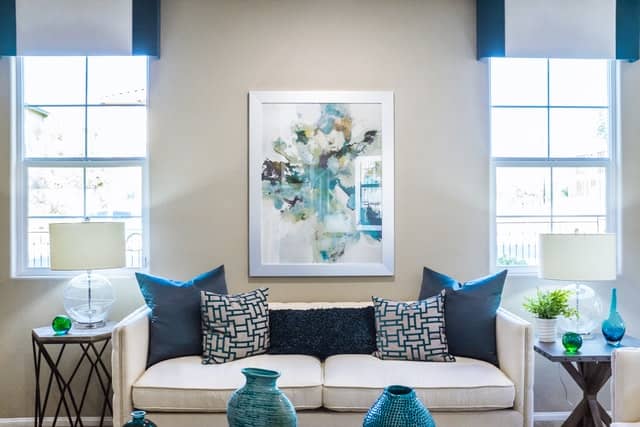 Selling wall art on Etsy is a hit-or-miss affair; most stores either become very popular or get swallowed up among the 7 million+ listings in the category.
That notwithstanding, go for it if you have a great concept in mind. Just make sure you consistently push your listings through targeted ads so that they get the traction they deserve.
Alternatively, you can hedge your bets by selling wall art alongside other decor items like wallpaper or picture frames. This may attract more buyers as you would be a one-stop shop.
Pros
Successful sellers in this category make a good number of sales.
There is no limit to what you can create. You can choose vintage, funny, sophisticated, cultural, or even foreign language designs.
Cons
The wall art category is a very crowded niche.
Ceramics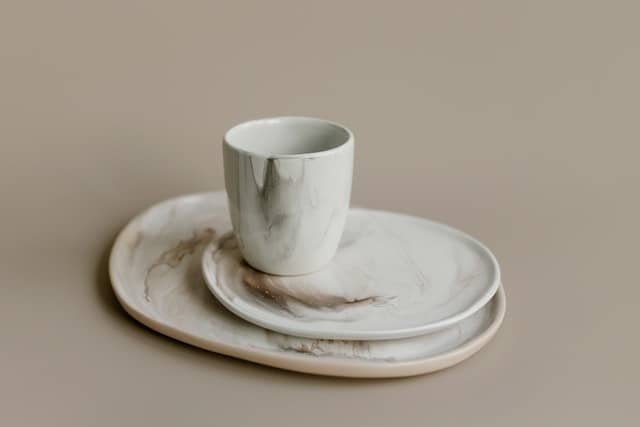 The ceramic items listed on Etsy range from cups, bowls, and spoon holders to plates, vases, salt shakers, and more. The category is quite competitive so you would need to bring your A-game to get by.
Aim for quality durable designs. Do not shy away from using color either or giving some character to your pieces to make them more eye-catching.
Pros
Ceramic designs hardly ever look identical so your designs would have a fair chance to compete against those of your competitors.
This is one of the few niches where you can test the reception of your products before going all in.
Cons
Ceramics are fragile and require extra care.
Paintings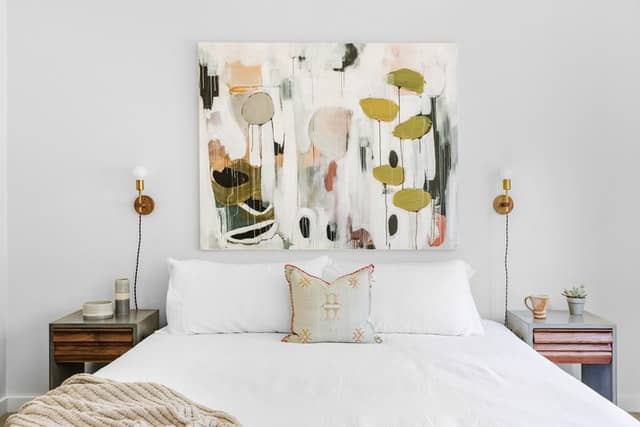 Painters and similar artists were the original vendors for whom Etsy was designed. It would thus be a great platform to sell your pieces or get feedback on your work no matter your category or style of expertise.
Pros
Original paintings give you an edge because buyers know that each piece is one of one.
You can work at your own pace and create as few or as many pieces as you like.
Con
You may have to compete with printed art which is much cheaper.
Beachwear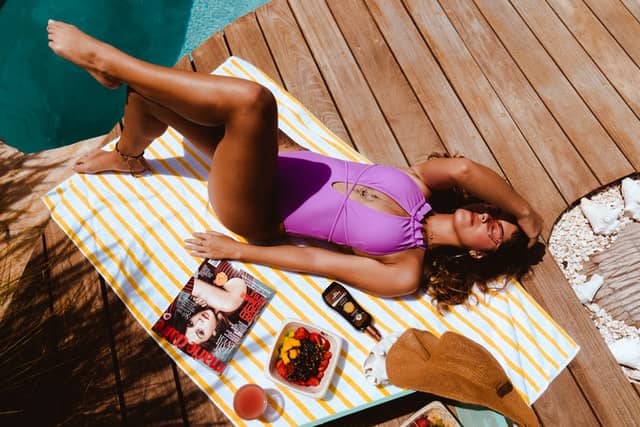 Beachwear comprises items like:
Bikinis
Swimming trunks
Cover-ups
The category is currently still unsaturated compared to others. Scrolling through it also reveals very few sellers selling all-inclusive collections that offer a diverse range of beachwear in a variety of sizes. These gaps may just be the opportunities you need.
Pros
Competition among beachwear vendors is still manageable.
This category allows you to focus on one or more products.
Con
Branded Apparel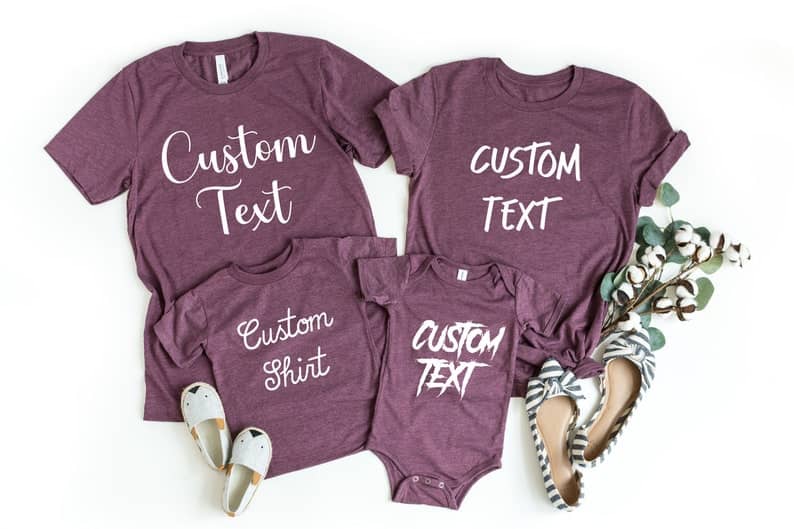 Fashion is all about identity. It is why consumers enjoy the idea of wearing items that share a message or image that they relate to. It is also why branded t-shirts and hoodies have universally stood the test of time.
Ensure that the quality of your t-shirts and hoodies can handle the printing or embroidery procedures used during customization. You may also need to decide whether you will offer print-on-demand services or simply customize your collection with trendy graphics.
Pros
Interesting graphics or text on branded apparel draw customers' attention more than plain apparel.
Branded apparel fetches fair prices.
Con
It may be easy for other brands to copy your ideas.
Leatherware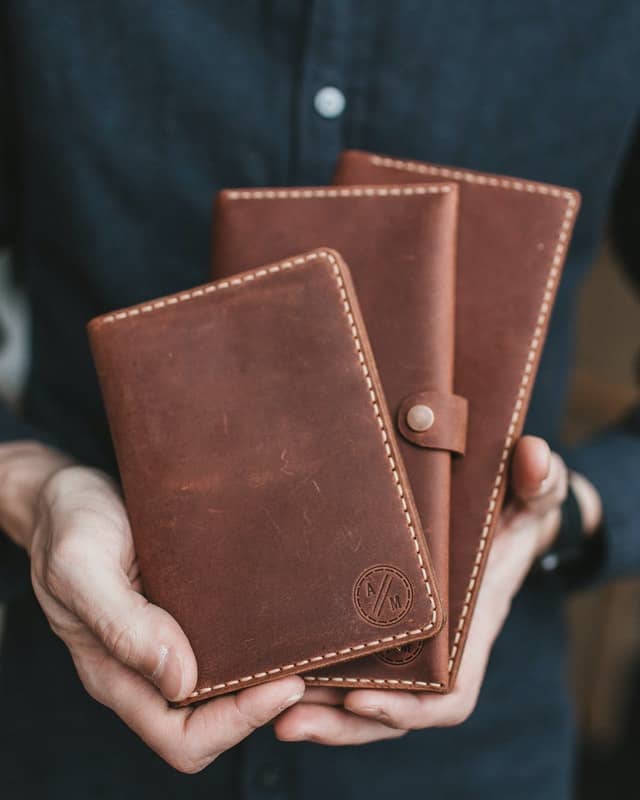 Properly crafted authentic leather is not only stunning but also quite valuable. It has an impressively long lifespan and thereby offers buyers durability too.
If you have the skills or resources to craft leather, here are some products you could develop for your Etsy store.
Wallets for both men and women
Belts
Card carriers
Toiletry bags
Handbags
Sandals
The allure of the leather will go a long way but ensure to balance great design work and functionality.
Pros
Quality leather products are popular among shoppers due to their durability and elegance.
There are many product options to explore in this niche.
Con
Sourcing and processing top-grade leather can be an expensive venture.
Digital Products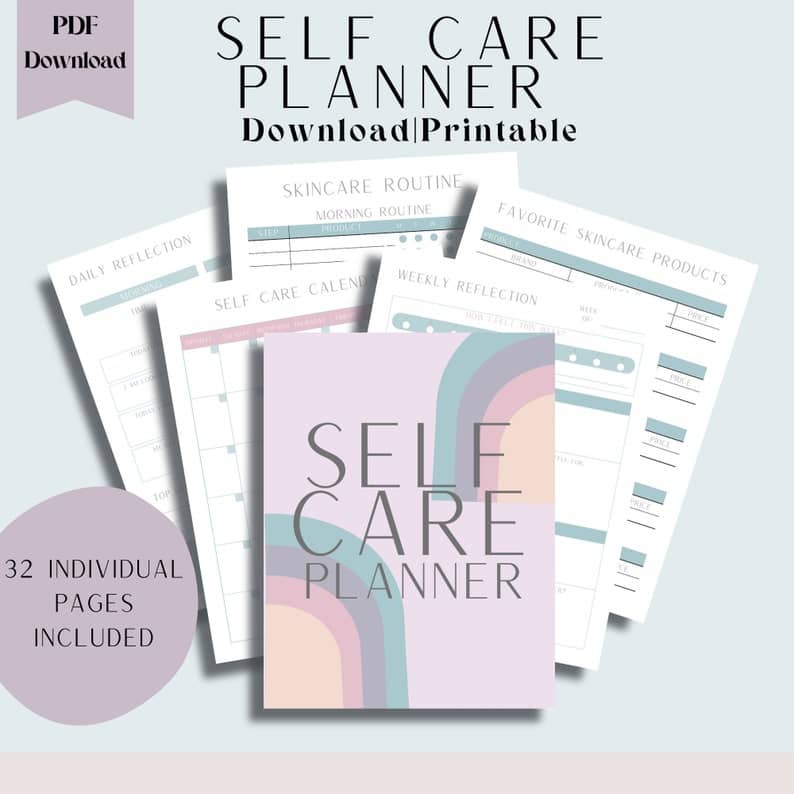 Digital products are items that buyers can download upon paying the vendor. They include:
Art
Embroidery designs
Digital planners
Resume templates
Custom portraits
Digital greeting cards
This would be a worthwhile product category to consider if you would like a low-budget venture or simply enjoy creating digital solutions.
Pros
Digital products cater to a large market as they are not limited by shipping logistics or costs.
The low production costs would allow you to make fair profits.
Con
You may have to compete against sites that offer some of these digital products for free.
Gift Sets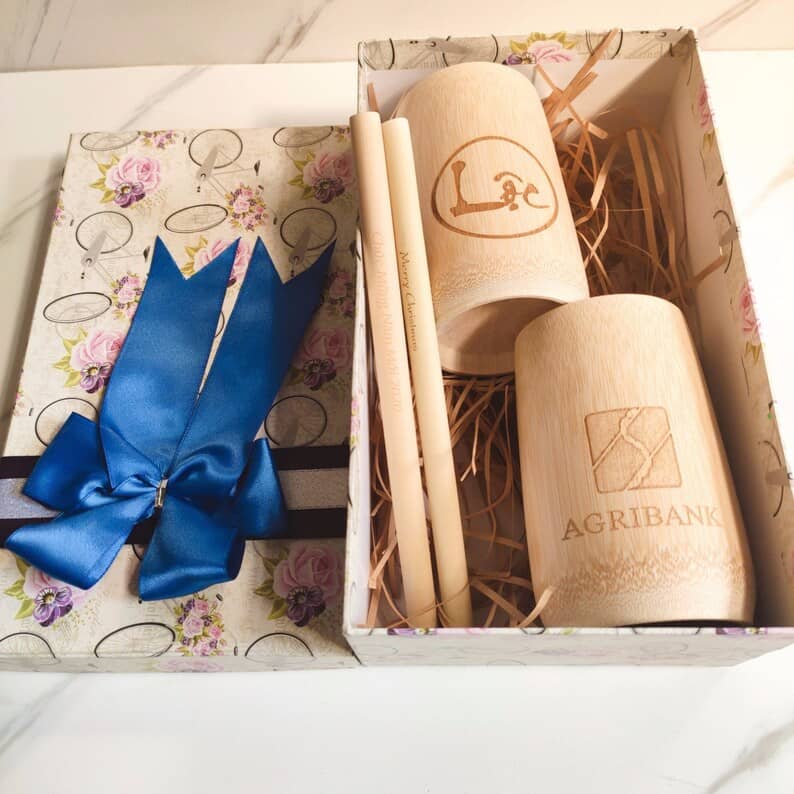 Gift sets make it easy for your customers to appreciate their loved ones or for companies to reward their staff. However, you would need to create enticing packages and also offer value for money.
Consider creating a short list of products that you can include in your gift boxes. You can then create packages of these products for different budgets or occasions.
That said, try to keep your selection of products within related or simple niches to make your work easier and keep production costs low.
Pros
Gift boxes fetch good prices.
Customers favor gift packages due to their convenience and all-in-one price deals.
Con
It can be tasking and costly to develop different products for your gift packages.
Factors to Consider When Choosing What to Sell on Etsy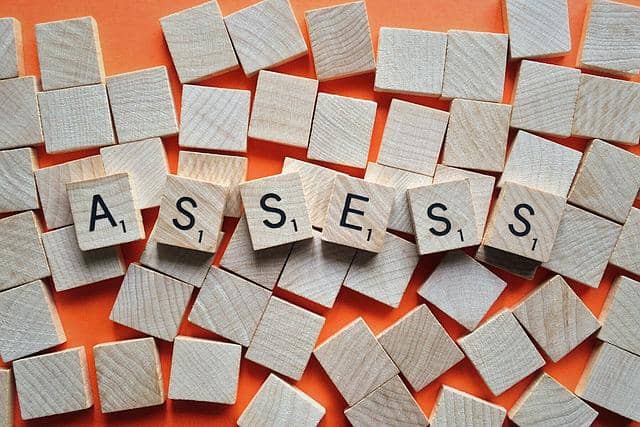 Before you commit to any Etsy shop idea, consider:
The Competition
Saturated markets are highly competitive. It is also harder to connect with buyers in such circumstances because the product listings from different sellers are overwhelming.
Consequently, it is better to aim for markets with low to medium (less than a million) listings. They offer a better chance for your Etsy shop to thrive.
Your Interests and Capabilities
What types of products are you interested in or knowledgeable about? Figuring this out could help you identify a niche in which you can excel.
If you are not artistically inclined, consider selling craft supplies as you are allowed to source them from other manufacturers. Alternatively, if you can design the products, there is no harm in partnering with someone that has the skill to produce them.
The Cost of Production
Define your product budget right at the start. This will make it easier for you to identify Etsy shop ideas that are suitable for you as you do your research.
However, compare the cost of production to the selling price even for projects that are within your budget. Remember, a good idea should not just be affordable; it should also be profitable.
Your X-factor
Every good product idea on Etsy probably has more than one seller trying to make the most of it. So, the question is not whether you will face competition but rather how you can overcome it.
Try to add a remarkable aspect to any idea you take up. You can do this through design, improving the functionality of a product, using uncommon materials, or outstanding packaging and branding.
FAQs about Etsy Shop Ideas
How Much Does It Cost to Sell on Etsy?
The cost of selling on Etsy may vary from one seller to another due to Etsy's billing approach.
Etsy charges:
A $0.20 listing fee for every item you list in your shop. The fee is billed once every 4 months or if the item sells and you have to relist it.
6.5% of the total sale price of each item you sell.
A 3% commission for every payment that you receive through Etsy pay channels.
A $0.25 standard payment processing fee.
On the upside, Etsy does not charge any subscription fees, domain fees, or hosting fees.
How Can I Succeed on Etsy?
Make an effort to:
Use quality pictures to display your products.
Advertise, advertise, and then advertise some more. It will drive traffic directly to your shop and give you prominence over your competitors.
Maintain premium product quality standards.
Serve your customers well and take their feedback into account.
Create interesting and informative product descriptions. Use keywords too for favorable rankings among search results.
Is Selling on Etsy Worth It?
Yes, and here is why:
The costs of selling on Etsy are fair and the platform offers good value for money.
Etsy is user-friendly whether you are a beginner or an e-commerce pro.
While the rules may feel restrictive they make Etsy different from other e-commerce platforms where the pool of products is similar.
Etsy is a conducive platform for beginner brands that could easily get run out of the market on other platforms by established manufacturers.
Etsy allows partnered production while peer platforms, like Amazon Handmade, prohibit it.
Who Pays for Shipping on Etsy?
Sellers are responsible for shipping on Etsy.
This allows you to:
Pack your goods appropriately for your customers.
Choose shipping carriers that you reckon are affordable and can deliver effectively.
In Conclusion
Selling on Etsy is not as hard as many entrepreneurs assume it to be. You only need to understand the rules and do your research to identify shop and product ideas that could work for you.
Not sure how to navigate product development, branding, manufacturing, or shipping? Let us help.
We are a reputable sourcing company that understands Etsy rules. Our experts can work with you through all the development stages and help you find suitable production partners for your ideas.
Ready to set up your Etsy shop? Simply send us your product ideas and requirements, request a free quote, and we will promptly get back to you.