Like most aspects of fashion, the lingerie industry keeps evolving and growing each year. However, despite all the changes, it remains a highly profitable industry, currently worth well over USD 76 billion.
More importantly, this niche is fairly evergreen because we all need one form of undergarments or another. So, if you have been weighing whether to venture into the lingerie business, consider this the affirming greenlight you needed to get started.
Not sure where to source lingerie? Read on as we highlight some leading lingerie manufacturers worth considering.
Lingerie Manufacturers in the USA
Atelier Amelia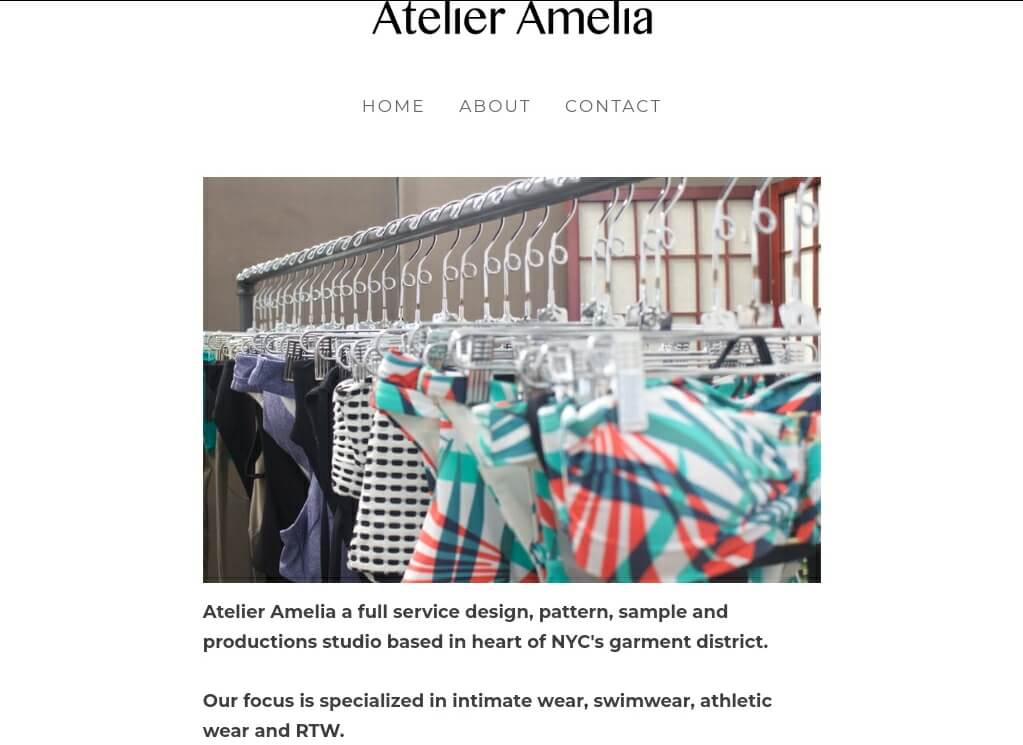 Atelier Amelia manufactures custom lingerie for different brands. It has a sterling reputation with a client list that features top lingerie brands like Alexis Mera and Araks Intimate Wear, among others.
It provides a full scope of lingerie manufacturing services including:
Design and pattern service
Fitting development
Line building
Fabric sourcing
Production
The Atelier Amelia factory has a production capacity of 3,000 to 5,000 pieces per month. Its MOQs are also flexible based on the details of your lingerie order.
Key Products
Bras
Panties
Bodysuits
Chemises
Slips
Location:
Dynashape Intima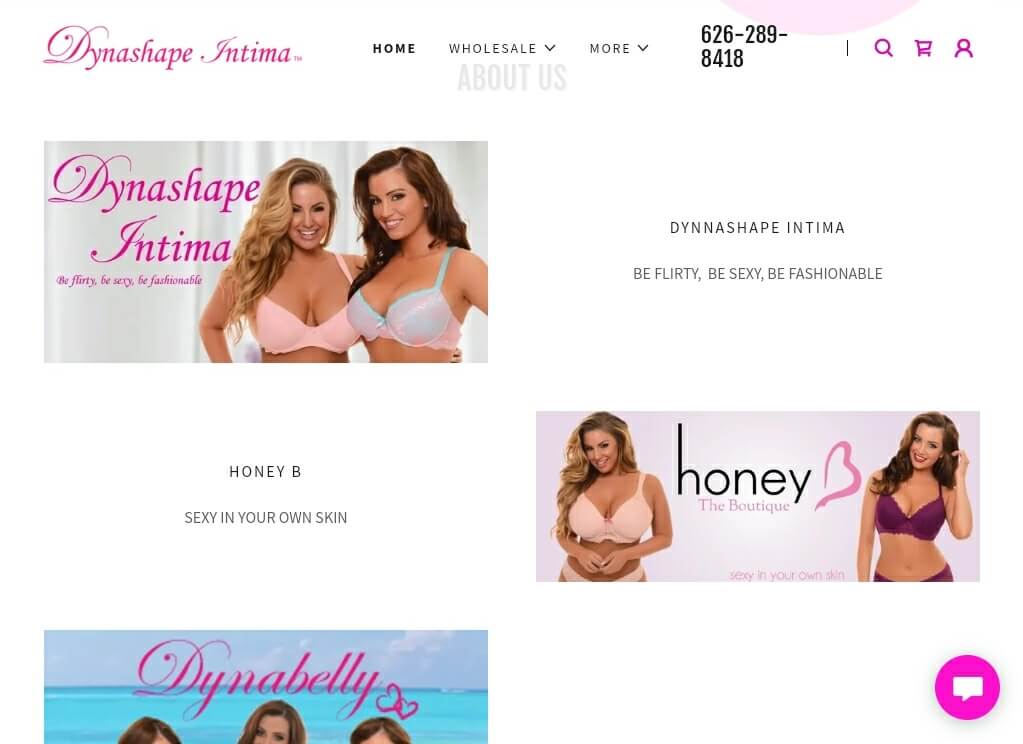 Dynashape Intima has been manufacturing intimate apparel since 1984. It began as a brassiere manufacturer but has expanded into producing other lingerie items.
The company is based in California but owns four factories overseas. It is thus able to handle bulk orders and offer fair wholesale prices. Its private label lingerie services include:
Product development
Manufacturing
Branding
Key Products
Seamless shapewear
Seamless panties
Stockings
Camisoles
Lingerie sets
Maternity/nursing sleepwear and underwear
Location:
Impish Lee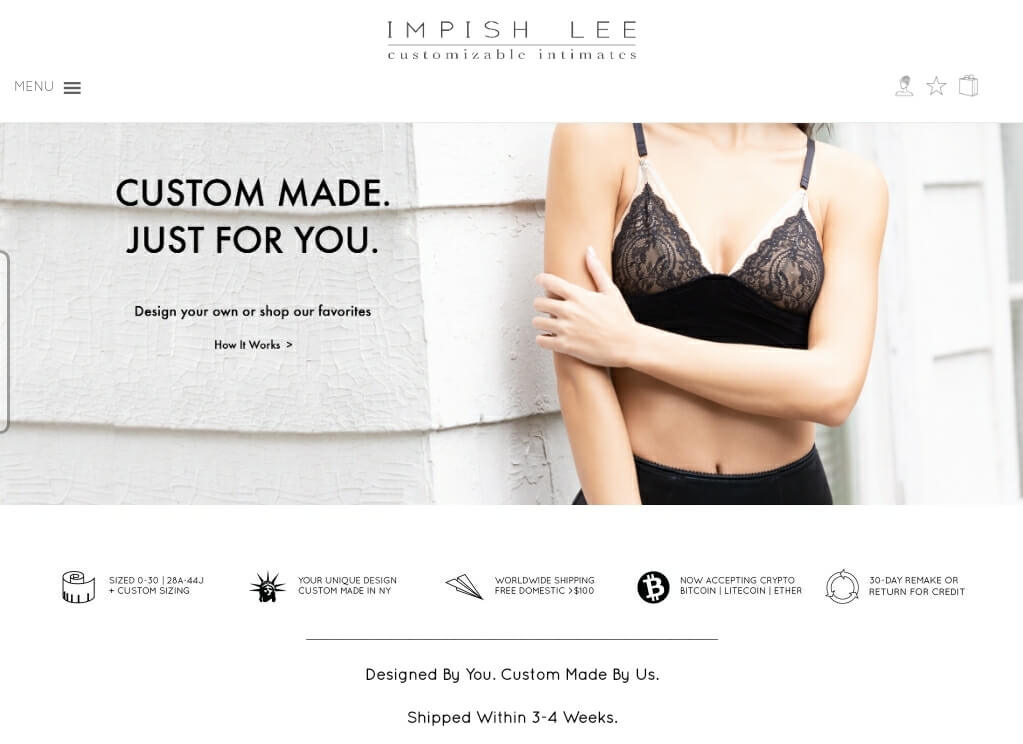 Impish Lee is a lingerie manufacturer that adheres to sustainability and ethical trade practices. It also offers the best of both worlds in that you can buy lingerie designs from its collections or place a custom order.
Wholesale customers can access perks such as over 90 bra size options and more than 60 different fabrics. Impish Lee is, additionally, committed to high production standards. It has 100% quality control as it manufactures all orders at its New York factory.
Its range of services comprises:
Custom lingerie pattern development
Branding
Worldwide shipping
Key Products
Custom bridal lingerie
Lingerie sets
Garter belts
Bras
Robes
Panties
Location:
Affix Apparel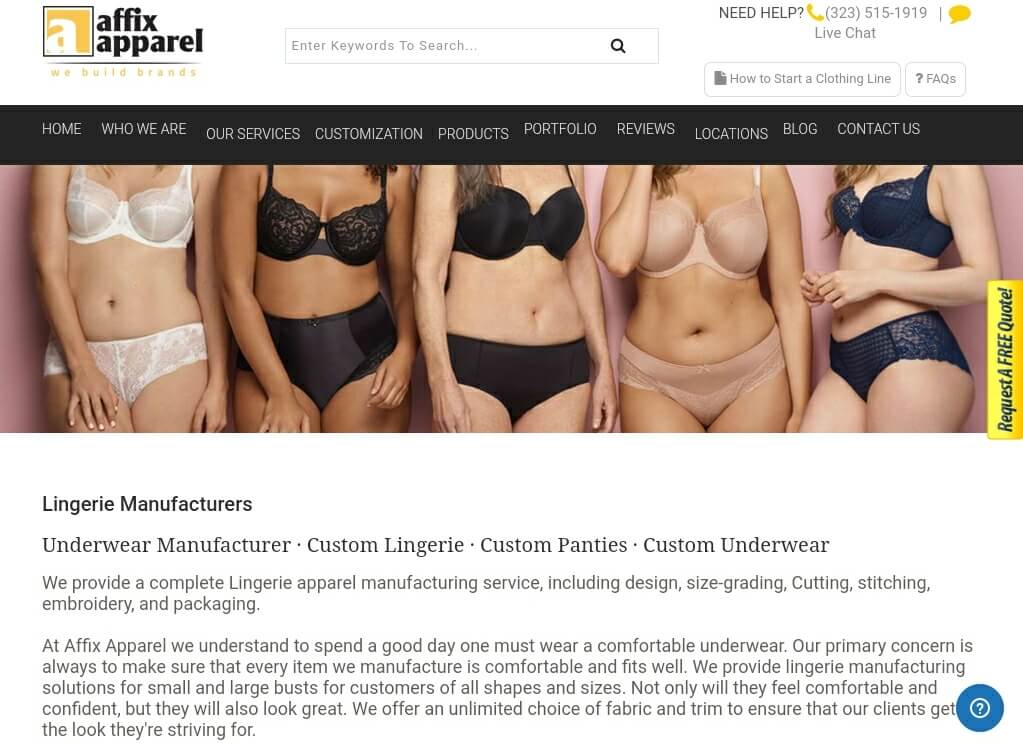 Affix Apparel manufactures lingerie for both small and large brands. It consults directly with clients regarding size, fabric, and custom lingerie designs through its company headquarters in California but outsources production to a partner factory in Pakistan.
The company offers a broad range of fabrics and lingerie size options (small to plus-size). It has a production capacity of over 100,000 pieces per month, and its MOQ ranges between 50 to 72 units depending on design details.
Affix Apparel also offers:
Product samples
Label design and printing
Locations:
Los Angeles, California – Company Headquarters
Karachi, Pakistan – Production Factories
Lefty Production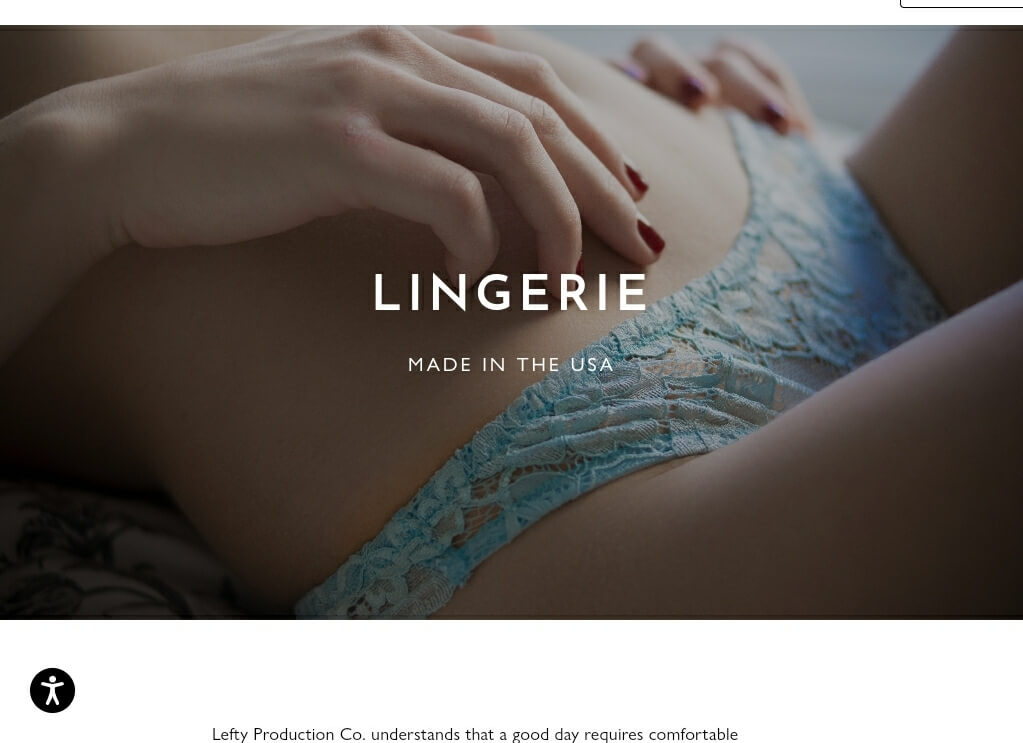 Left Production prides itself on designing and producing lingerie that fits well and looks even better. It is also well-experienced in producing a vast range of lingerie for all body shapes.
The company offers lingerie manufacturing services in flat-rate packages and discounts for wholesale buyers. Its teams can also work with you through lingerie production processes like:
Fabric sourcing
Concept development and design
Sampling
Production
Online consults
Key Products
Custom bridal lingerie
Bra and panty sets
Bralettes
Slips and robes
Location:
Argyle Haus of Apparel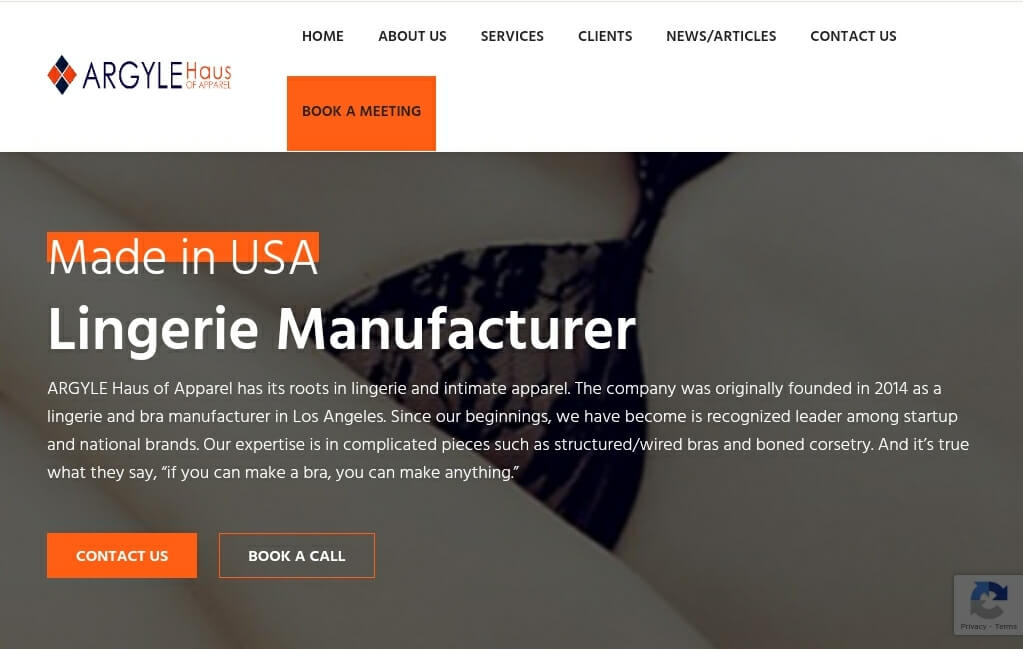 The Argyle Haus of Apparel was initially only a brassiere manufacturer when it launched in 2014. It now offers a more diverse range of lingerie production services.
Its average MOQ is 500 pieces, but this can go lower for bulk orders. You can also have different colors and sizes in each set of 500 pieces.
Further, it provides:
Design services
Lingerie development services that include pattern, sample, fit, and tech pack design.
Key Products
Bra and panty sets
Corsets and bustiers
Camis and babydolls
Garter sets
Robes and slips
Locations:
Los Angeles, California – Showroom
San Fernando, California – Factory
Elegant Moments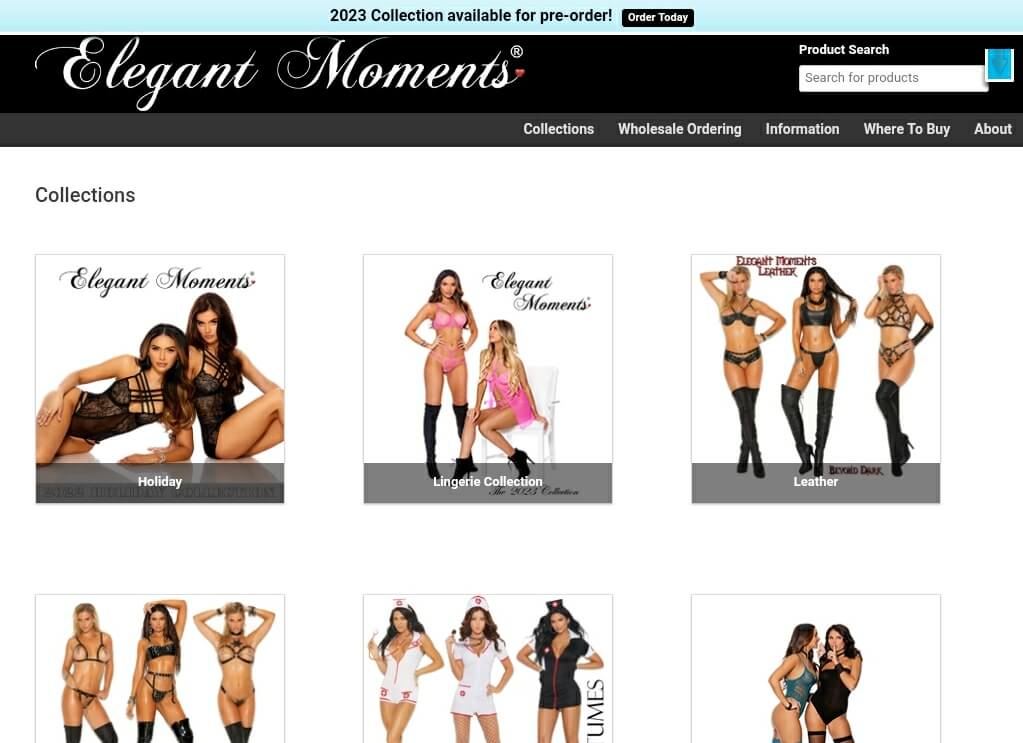 Elegant Moments may be worth taking note of if you are looking for a lingerie manufacturer with no MOQ restrictions. It welcomes orders from startups and well-established firms alike.
The company releases catalogs sharing various lingerie designs that you can choose from and place an order. You can also select the types of fabrics that you would like for your lingerie order.
This manufacturer has a robust shipping system and also provides dropshipping services.
Key Products
Bodysuits
Baby dolls
Lingerie sets
Bralettes
Bustiers
Lingerie costumes
Body stockings
Hosiery
Location:
Alanic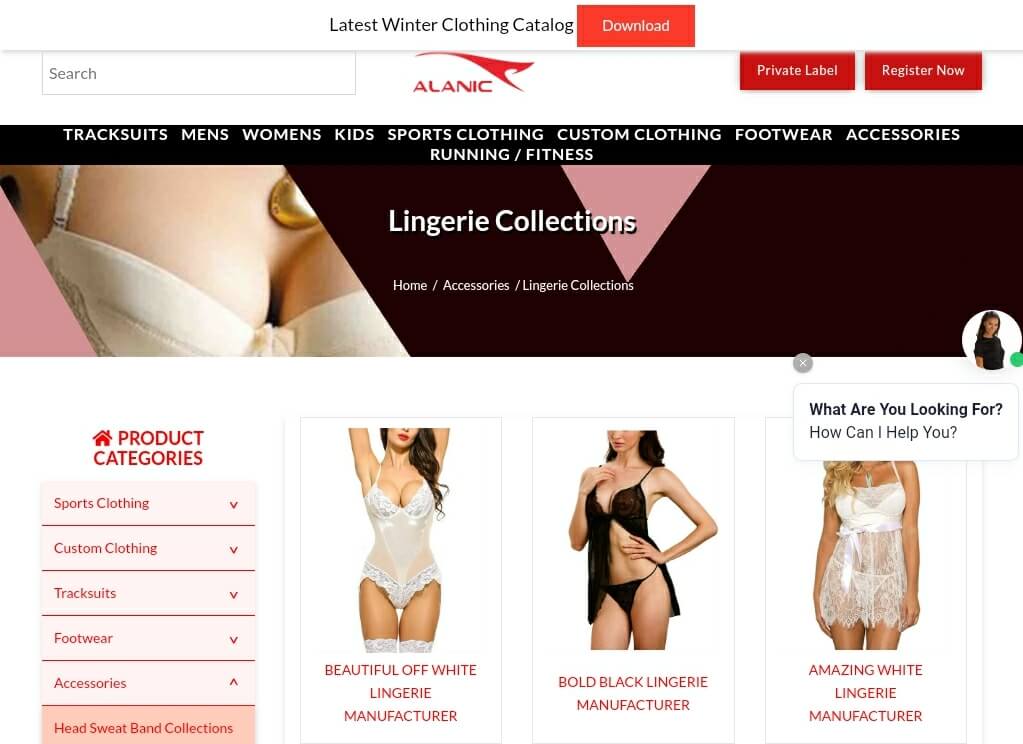 Alanic is an apparel wholesaler and private label manufacturer. It, however, has a department dedicated to lingerie.
Its production services cover all the essential provisions from design and fabric selection to sampling, production, and custom labeling. MOQs are determined by the size of your order, design details, and fabric choices.
Key Products
Babydolls
A wide selection of bras and panties
Lingerie sets
Slips
Bodysuits
Location:
Beverly Hills, California – Company Headquarters
Satellite locations in Australia, Dubai, Canada, Europe, Russia, UAE, UK.
Lingerie Manufacturers in the UK
Divaurae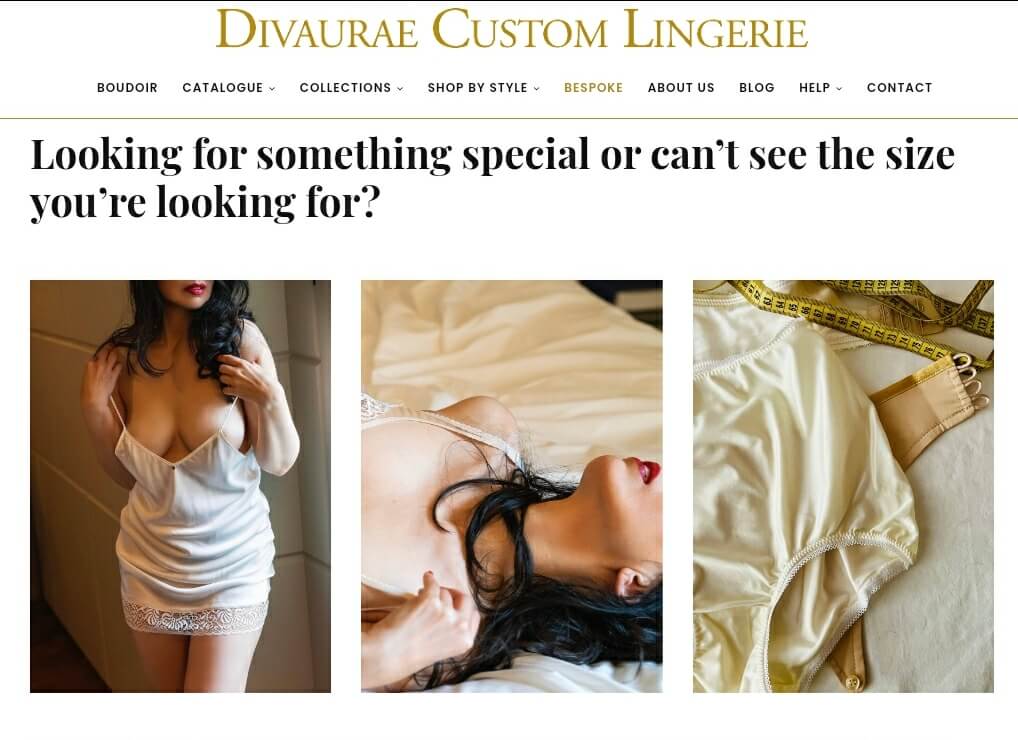 Divaurae would be a top partner to consider if you would like to source lingerie that makes your store stand out.
It is one of the few manufacturers that produce tasteful underwear for men and women. The collections also feature lingerie options for couples as well as interesting themes such as glamour, burlesque, vintage, and wedding.
You can order the designs in the Divaurae catalog or place a custom order. The latter allows you to make design alterations and choose custom fabrics and sizes.
Key Products
Bras
Briefs
Camisole
Garters
Gowns
Panties
Babydolls
Delta Connex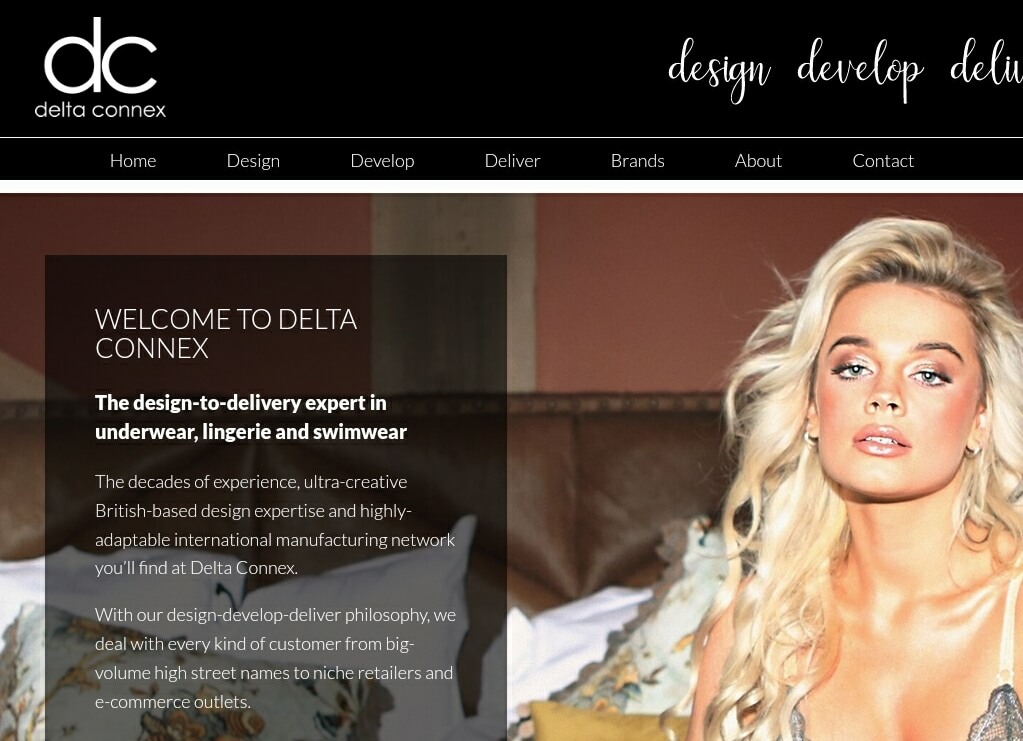 Delta Connex manufactures lingerie and swimwear. It is open to partnerships with both small and large brands. It has a stellar reputation with a client list featuring top-tier brands like Boux Avenue.
The company handles all client relations directly but has a broad network of partner factories. Still, it has a well-defined quality management approach and adheres to fair trade practices. Its manufacturing services include design, concept development, and logistical support.
Notably, this wide network of factories allows Delta Connex to deliver orders in a short turnaround time. It also makes it easy to work with them even if you are not in the UK.
Key Products
Bras
Bodysuits
Bralettes
Bra and panty sets
Slips and gowns
Locations:
Leeds, UK – Company Headquarters
Europe, China, Myanmar, Bangladesh, India – Delta Connex Partner Factories
Inspire Intimates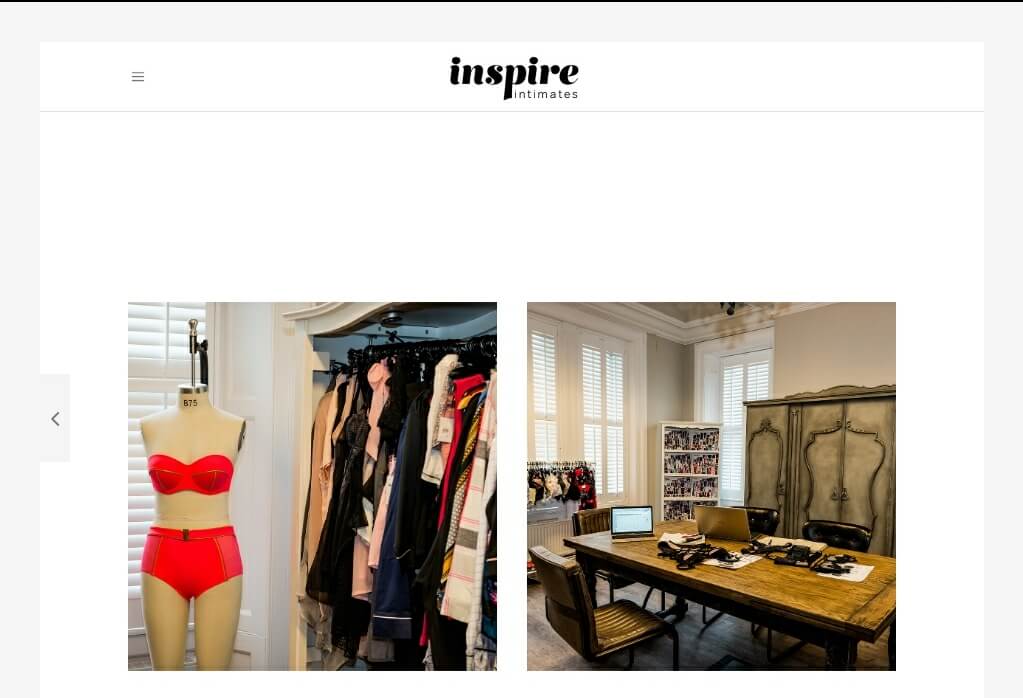 Inspire Intimates is a well-experienced lingerie manufacturer that also produces sleepwear and underwear. It provides a start-to-finish range of services that you can take on as a package or choose individual services that you need. They include:
Design
Sourcing materials
Fit approval
Color approval
Manufacturing
Delivery
After-sale support
The company outsources manufacturing overseas but has quality control teams to ensure that all lingerie items are made to high standards. Working with satellite factories also allows Inspire Intimates to:
Offer more MOQ flexibility
Deliver bulk orders within short lead times
Key Products
Garter sets
Bras
Panties
Bustiers
Negligees
Bodysuits
Locations:
Harrogate, UK – Company Headquarters
Dongguan, China – Affiliate Factory
Emma Harris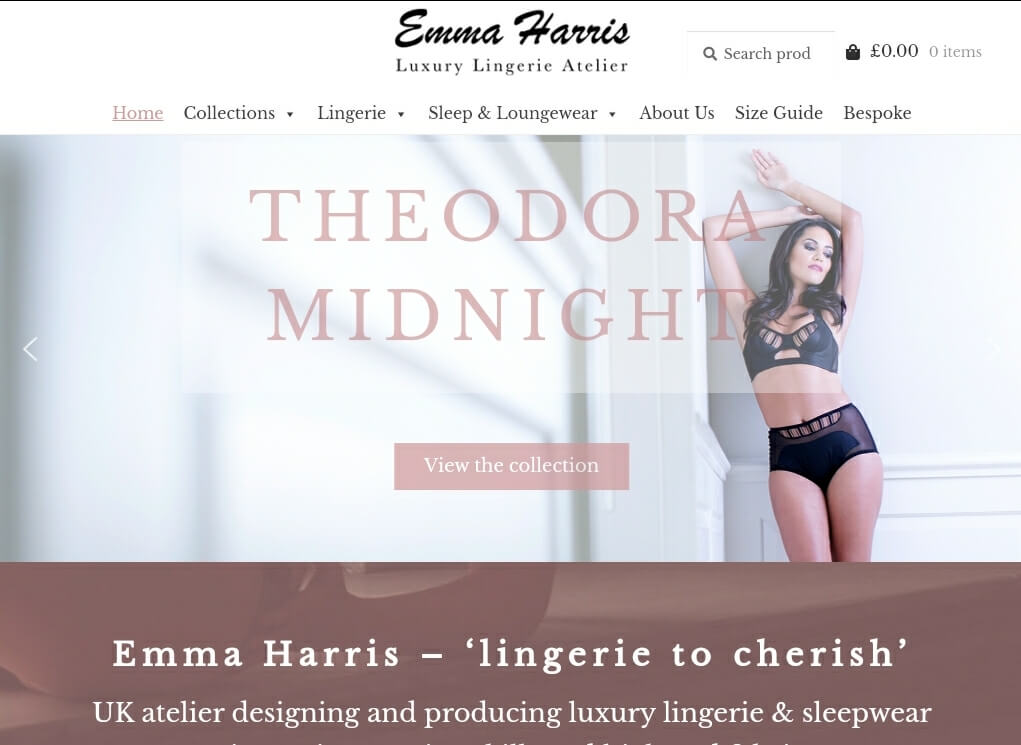 Are you looking for a lingerie manufacturer that can deliver luxury pieces for high-end customers? Then allows us to introduce you to Emma Harris.
This luxury lingerie atelier does not just churn out everyday lingerie items. Each piece of lingerie they make is achieved through artisan sewing using the finest fabrics. The result is delectable pieces that customers are likely to find irresistible.
Emma Harris handles all production at its lace mill in the UK and thus has very hands-on control over key processes like:
Design
Fabric selection
Fitting
Manufacturing
The company does not hold inventory and instead sews all lingerie orders on demand. You can order catalog designs as they are or request fabric, size, or color customization.
Key Products
Briefs and thongs
Robes
Camisoles
Chemises
Bra and panty sets
Garter sets
Location:
Aura Lingerie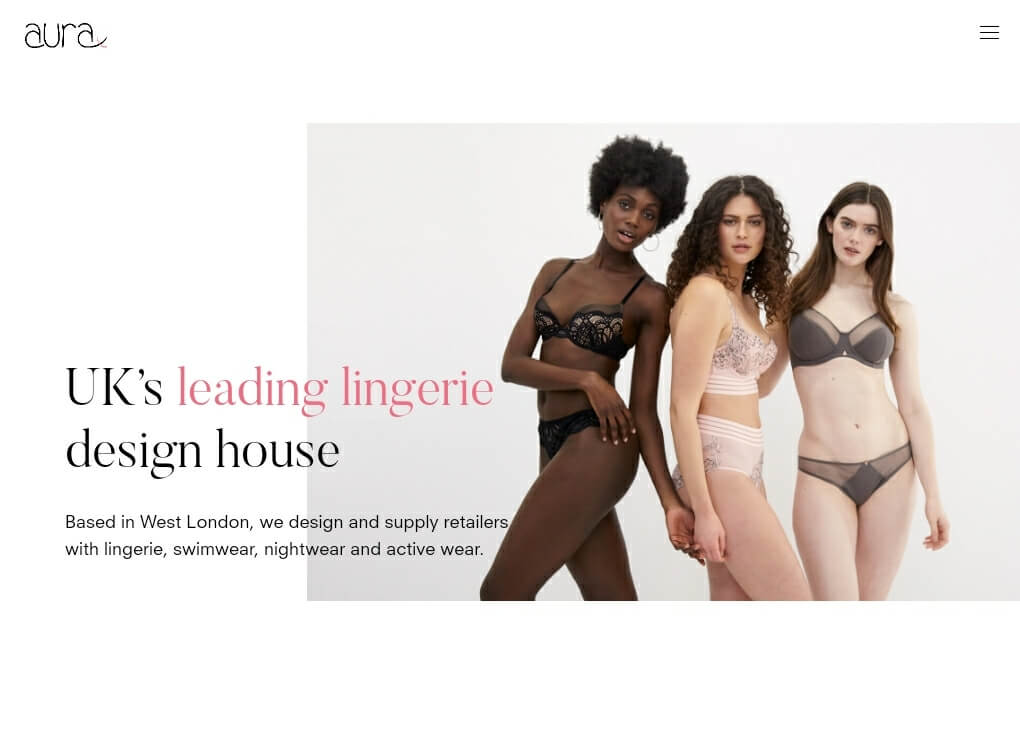 Aura Lingerie is a leading lingerie supplier to retailers and brands in the UK and beyond. It is renowned for both the quality of its lingerie products and precision in delivering a brand's vision.
Partnering with Aura lingerie allows you to choose between ready designs or custom-making your lingerie line. If you choose the latter, the Aura team is equipped to guide you through:
Concept development
Pattern-making
Fit approvals
Size-grading
Impressively, the company is adept at designing lingerie in a broad array of sizes such as AA to L-size bra cups. It also offers a vast selection of fabrics and can source custom fabric choices.
Aura Lingerie outsources production to overseas affiliate factories.
Key Products
Bras
Camisoles
Garter belts
Panties
Lingerie sets
Locations:
High Park Road, London – Company Headquarters
China, Sri Lanka, Bangladesh – affiliate factories
iMake Lingerie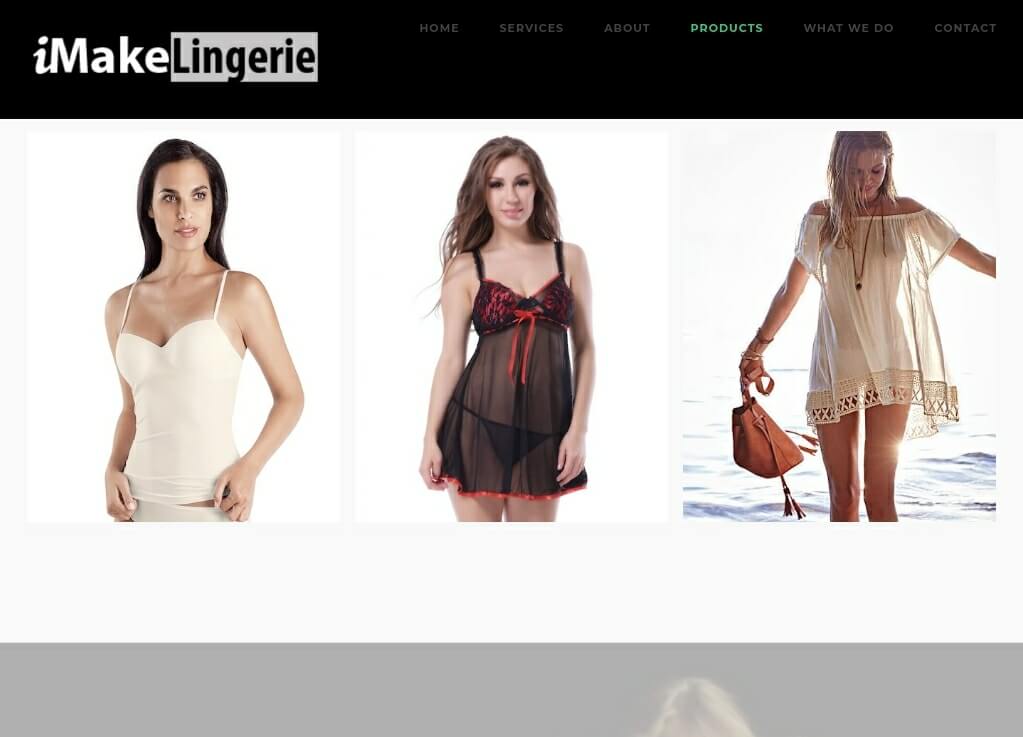 iMake Lingerie is a veteran manufacturer in the industry since 1947. Therefore, working with them gives you access to lingerie designers and production experts with over 30 years of experience.
You would be right at home with this manufacturer, whether experienced or new to the lingerie industry. This is because they implement custom designs but can also work with you to develop, sample, and produce your lingerie items.
The company works with partner factories overseas but ensures that client requirements are fully implemented to the highest standard. Outsourcing production also allows them to offer better wholesale prices and short turnaround times.
Key Products
Bras
Panties
Camisoles
Chemises
Locations:
Regent Street, London – Company Headquarters
India, China – Affiliate Factories
Lingerie Manufacturers in China
Freeflow Lingerie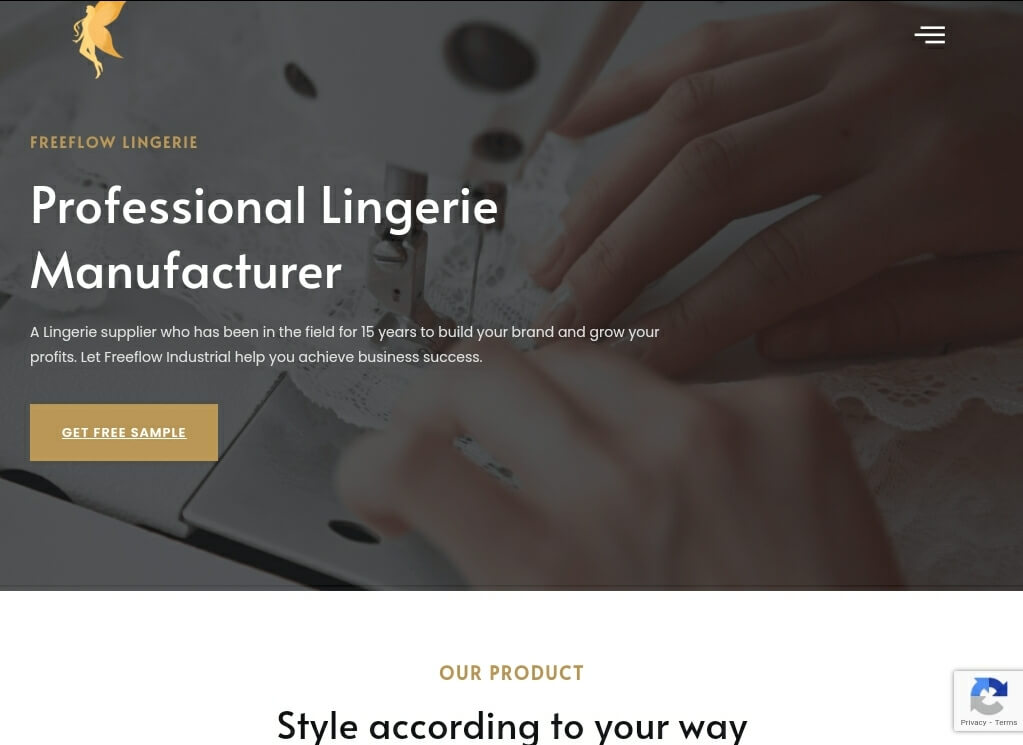 Freeflow Lingerie has over a decade's worth of experience in lingerie manufacturing. It commits to producing comfortable, stylish lingerie to suit the needs of different women across the globe.
The Freeflow team comprises designers, a commercial team, and quality control experts. As such, the firm can offer all the support you need to develop your custom lingerie, sourcing materials, market strategies, and quality inspections.
Speaking of quality, you are welcome to rely on the in-house quality control team or hire independent inspectors. You also get to decide on details like fabric, colors, trims, and production techniques i.e., cut and sew, laser cutting, and seamless.
Key Products
Bras (padded, unpadded, wireless, wired, strapless, soft bras, etc.)
Corsets
Camisoles
Chemises
Briefs
Control panties
Bikinis
Thongs
Playsuits
Locations:
Kowloon, Hong Kong – Company Headquarters
Guangdong, China – Factory and sales office
Casland Garments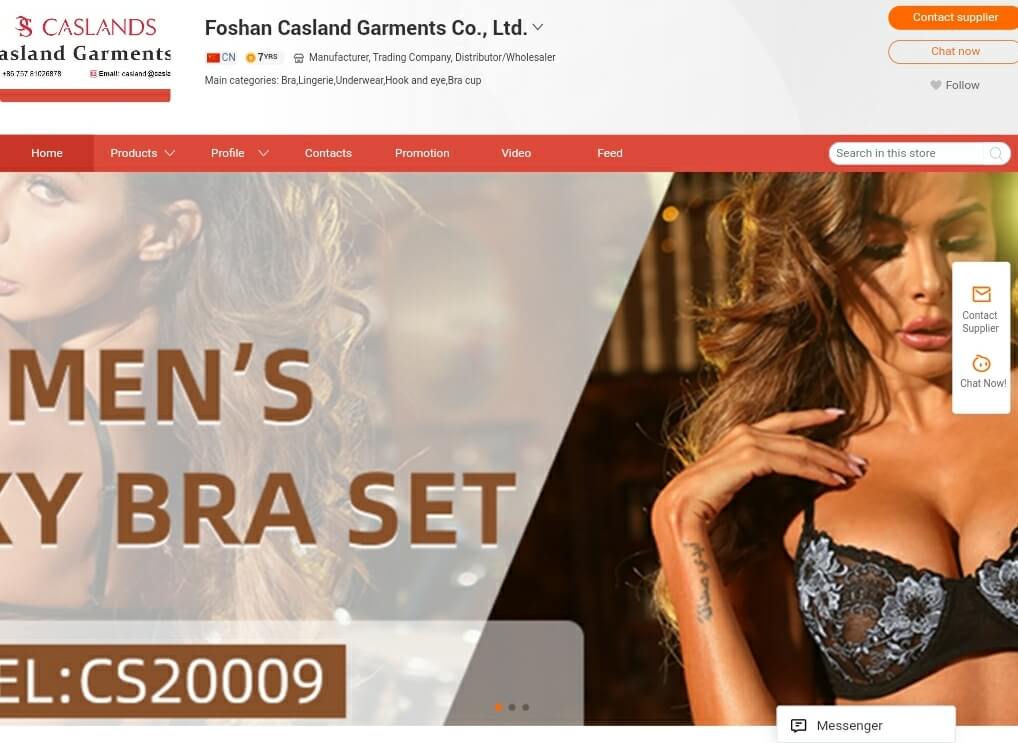 Casland Garments provides a unique twist from most manufacturers. It produces both lingerie and lingerie accessories like replacement hooks and eyes, bra straps, and bra adjusters.
You can thus source a broader range of lingerie items from them and make your store/brand a one-stop shop for customers needing such items.
Notably, this manufacturer is well-versed in working with global brands and thus can produce lingerie that suits your target market. It also attends trade shows and may be easily accessible to you that way if you are outside China.
The services provided include research and design support, production, and logistical support.
Key Products
Babydolls
Chemises
Bralettes
Lingerie sets
Bodysuits
Bra accessories
Location:
Yanbu Nanhai, Guangdong, China
Douai Lingerie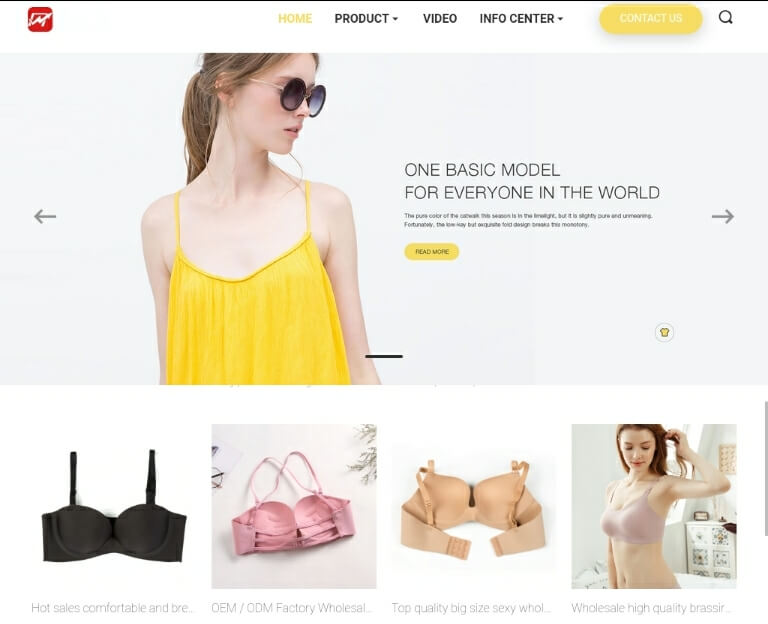 Douai Bra could be a good fit for your business if you are looking for a lingerie manufacturer that offers trendy designs.
Its research and design team keeps pushing the traditional boundaries of lingerie design to create solutions that fit the dressing and comfort needs of the modern woman.
The firm offers ODM and OEM lingerie manufacturing services. The MOQs, however, vary based on your customization needs.
On fabric, Douai is equally innovative. It offers traditional options like silk, cotton, or spandex as well as alternatives like aseptic pure cotton that have a superior seamless effect.
Key Products
Seamless panties and bras
Lace panties and bras
Sports/yoga bras
Deep U bra
Front button bra
Three-quarter bra
Location
Yuexie District, Guangzhou
QLingerie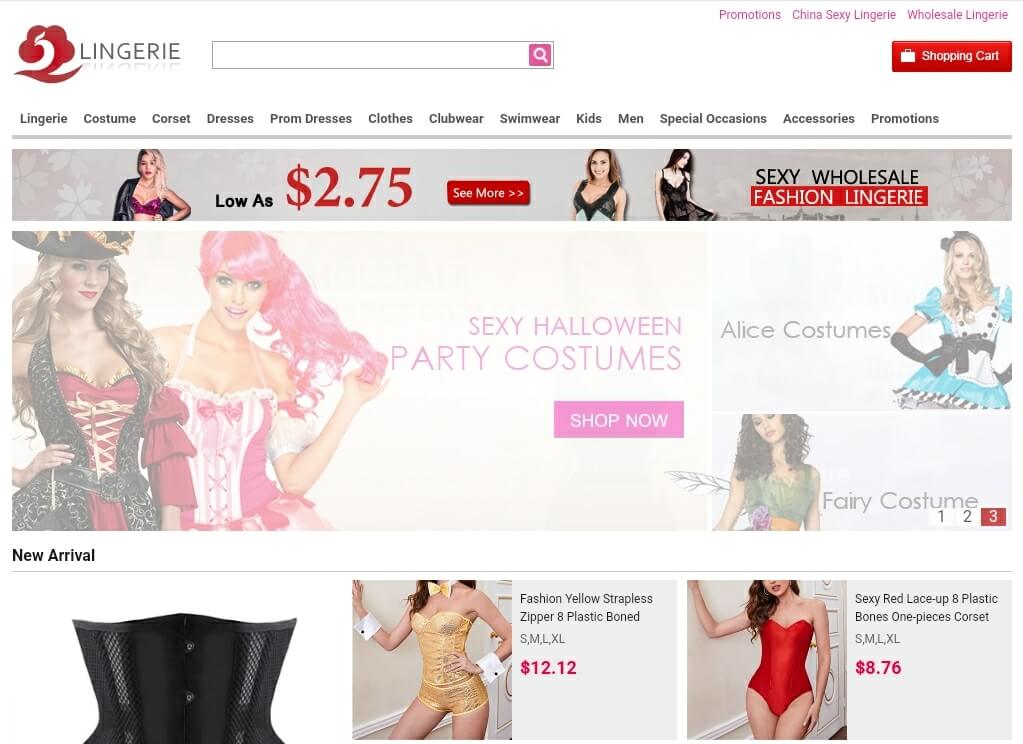 QLingerie produces and sells an impressively large variety of lingerie. Whether you are looking for costumes, bras, or underwear sets, this manufacturer will deliver.
The only catch to QLingerie is that you can only order what is in stock because it does not take custom orders. On the other hand, it offers great discounts for wholesale buyers and ships internationally.
Key Products
Sexy costumes
Corsets
Bustiers
Babydolls
Teddies
Panties
Bras
Gowns
Stockings
Garters
Location
Mainly accessible online via its website.
Guangdong, China – Company Headquarters
Beeten Garments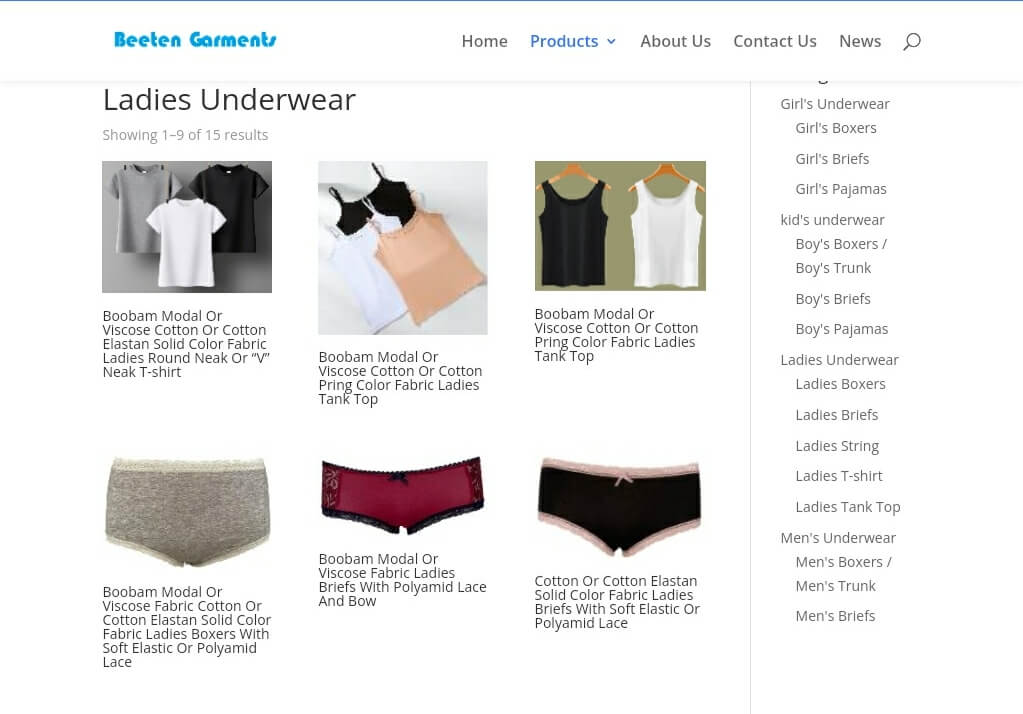 Beeten Garments offers comfortable lingerie with understated elegance. It may be the right manufacturing partner if you face a slightly conservative target market or customers who prefer practical yet stylish lingerie items.
You can buy generic lingerie designs that Beeten Garments offers or share your design requirements for a custom order.
Key Products
Cotton camisoles
Briefs
T-strings
Location:
LJ Vogues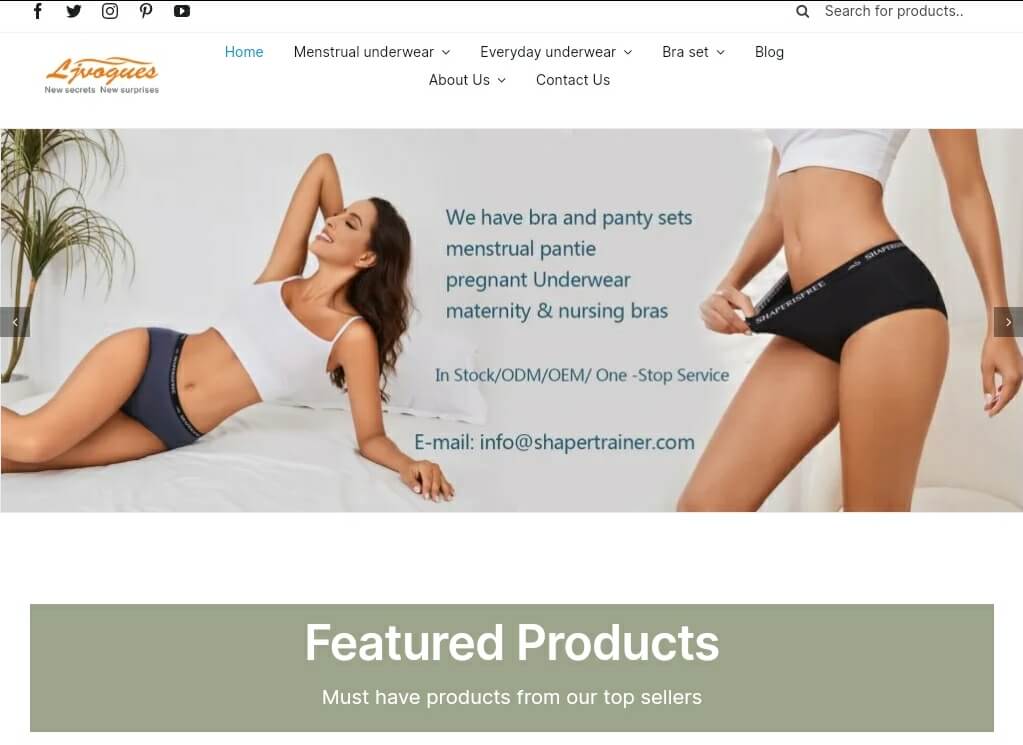 LJ Vogues can be a silver bullet in your lingerie sourcing journey. It combines style, innovation, and functionality to deliver outstanding lingerie collections.
On innovation, the firm has developed reliable period panties that are not just a great convenience but also have a stylish look. It is also one of few manufacturers that have successfully embraced bamboo fabric in lingerie production.
The order process is fairly simple and works as below:
Share your lingerie requirements and customization details or pick a design from the LJ Vogue catalog
Order a sample
Request a quote
Manufacturing
Quality inspection
Delivery
The MOQs are fairly flexible but bulk orders attract better wholesale prices. Samples take 3 to 15 days, while the lead time for orders is 25 to 35 working days.
Key Products
Briefs
Thongs
Seamless and nursing bras
Bra and panty sets
Menstrual underwear
Bamboo-fabric panties
Location:
Shenzhen City, Guangdong Province, China
JSpeed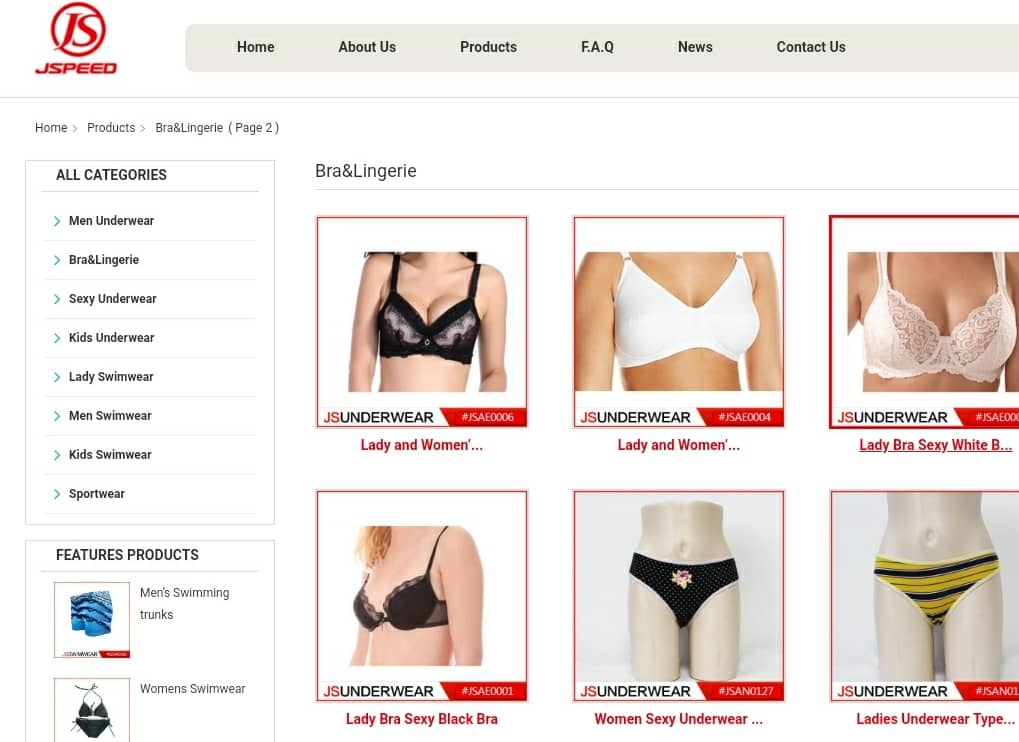 JSpeed is largely known as a swimwear and underwear manufacturer. However, it also has a competent lingerie production department. The quality of its products has also earned it manufacturing partnerships with famous brands like Target.
The JSpeed factory has a production capacity of 900,000 lingerie pieces per month. The average lead time is 35 to 55 days after sample approval, while the MOQ is 3,000 pieces per color.
The company accepts OEM and ODM orders. It also provides design services with well-outlined design fees.
Key Products
Bras
Bra and panty sets
Briefs
Lace panties
Location:
Zhongchun Road, Shanghai, China
Wonder Beauty Lingerie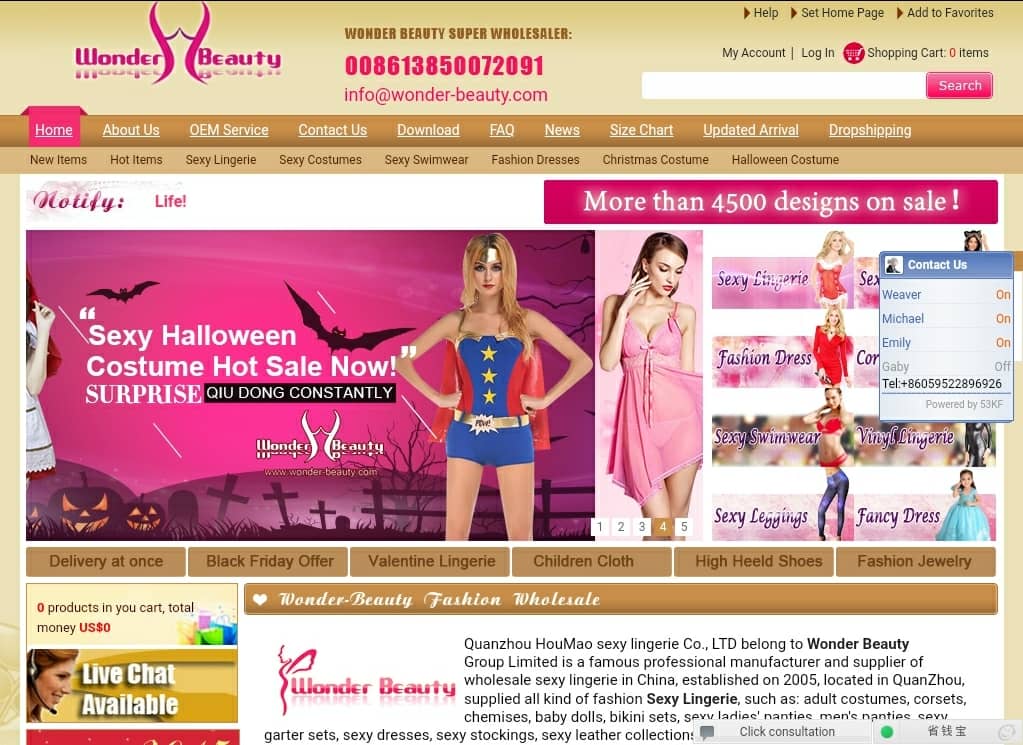 Wonder Beauty Lingerie will have you spoiled for choice. It manufactures and wholesales a broad selection of lingerie to resellers across the globe.
Unlike most wholesalers with such a wide variety, this manufacturer offers OEM services, and so you can buy ready-made or custom lingerie. You can also request a mixed order.
The minimum order value is $200, and you can earn discounts ranging from 5- 8% based on your order size. Wonder Beauty Lingerie offers shipping support.
Key Products
Sexy costumes
Corsets
Chemises
Babydolls
Garter sets
Stockings
Leather lingerie
Bras and panties
Location:
Young Source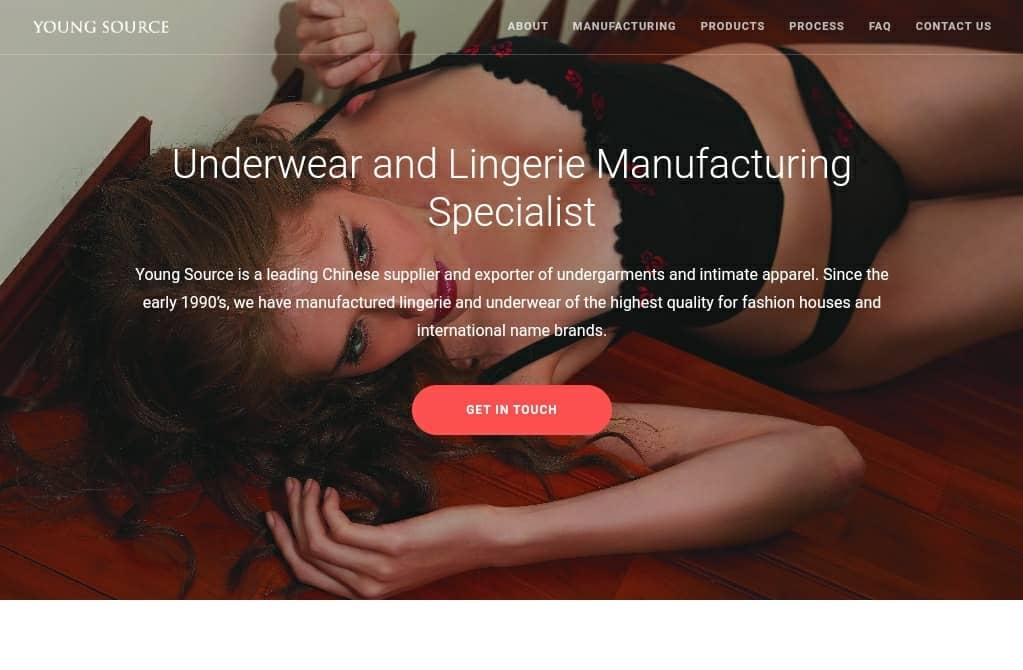 Young Source has been manufacturing lingerie for different brands for over 30 years now. One of its key selling points is that it is well-experienced in export procedures as well as the lingerie quality standards of different international markets.
Beyond that, Young Source still excels in the manufacturing aspects. Its factory and staff are well-equipped to handle cutting, sewing, and embroidery production techniques. You can also access various other services such as:
Design support
Size-grading
Packaging
Women's lingerie has a lead time of about 90 days. The firm accepts an MOQ of 500 pieces per color and a total order MOQ of 3,000 pieces. This may, however, be negotiable depending on the specifics of your tech pack.
Key Products
Thongs
Garters
Shorty's
VPL knickers
Babydolls
Basques
Briefs
French knickers
Bodysuits
Camisoles
Location:
Anmajy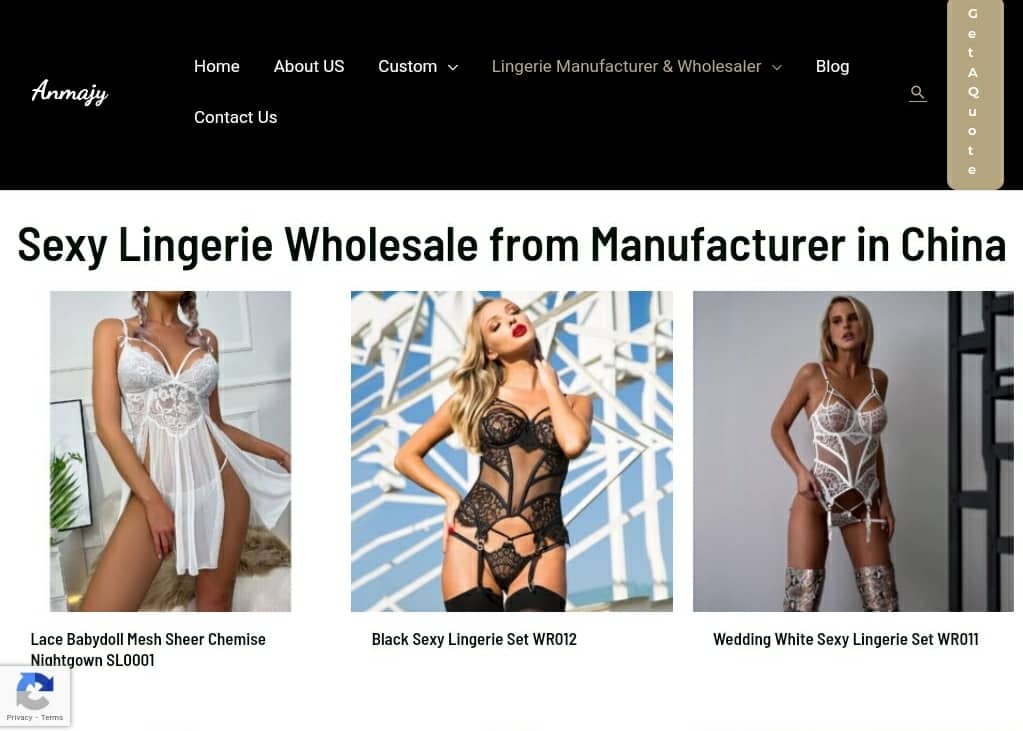 Anmajy is undoubtedly experienced when it comes to manufacturing lingerie for brands. It also stands out because it offers all the 3 typical arrangements of manufacturing partnerships:
Wholesale in-stock purchases
White labeling
Private labeling
The Anmajy factory has a production capacity of 100,000 pieces. The MOQs are 5 pieces for wholesale lingerie orders and 50 for white label custom orders. Private label order MOQs differ between orders.
You can present your tech pack for custom orders or design one from scratch with the Anmajy team. Other services like quality inspections and shipping support are also included if you choose to work with this manufacturer.
Key Products
Bras
Panties
Babydolls
Bodysuits
Garter sets
Shapewear
Location:
Tianhe District, Guangzhou
FAQs on Lingerie Manufacturers
What Factors Should I Consider When Choosing a Lingerie Manufacturer?
Evaluate potential manufacturers':
Fabric options
Production techniques
MOQ stipulations
Scope of services
Pricing
Customization capabilities
Production capacity
Lead times
Reliability and reputation
What Countries Are Best for Lingerie Manufacturing?
It may be difficult to single out one country because sourcing preferences can differ from one person to another.
However, Asian countries like China, Pakistan, and India rank quite highly. They offer:
Low production costs
Access to a broad selection of fabrics
Well-organized shipping capabilities
High production capacities
Lots of factory options
Which Are Better, OEM or ODM Lingerie Manufacturers?
This too depends on your sourcing goals.
OEM or private label lingerie manufacturing allows you to develop a custom lingerie line. It is a suitable approach If you would like to:
Offer your customers unique designs or lingerie items that offer enhanced lifestyle solutions.
Differentiate your lingerie from what competitors offer.
Increase your be and visibility.
ODM or white label lingerie manufacturing, on the other hand, may be a good alternative if you only require minimal customizations on aspects like lingerie:
Admittedly, it may only differentiate your brand's lingerie to a small extent, but it can still be an effective strategy. More so if you are:
Working on a tight production budget.
Prefer a low-risk investment.
Still learning the consumer habits of your target market.
In Conclusion
Finding the right lingerie manufacturer can seem tough and time-consuming. Still, take your time and strive to pick one that is reliable, maintains high quality standards, and can deliver the vision you have for your brand.
On the other hand, our professional sourcing services can ease this process for you. We have the skill and resources to find and evaluate high-ranking lingerie manufacturers that can meet your needs. We also offer product development, branding, and shipping support.
Tired of reading through lingerie manufacturer credentials? Leave it to us. Send us a detailed sourcing outline, request a free quote, and we will find you exactly what you need.